Please note: There's a good chance that this post contains affiliate links from which we earn a small commission at no extra cost to you.
I recently embarked on a solo camping trip at Wilgus State Park, here in Vermont. It rained for much of the trip, and I was stuck inside my tent with a pile of books. If you know me, you also know this wasn't much of a problem. On the contrary — I was delighted. I've been doing some serious researching in my spare time, and for this trip, I was outfitted with books about Vermont and that's it. Many of the books were from my home collection, but plenty of others were new to me, picked up at the Northshire Bookstore on a cold, winter day.
I was engrossed for most of the weekend, and several of the Vermont books kept me up way past my bedtime, and even past the life of my headlamp battery. These treasures are the books I want to share with you. Because even if you've yet to visit the Green Mountain State, you will someday. And you need to be ready. Of course, you can find out lots of stuff online these days, but if you're anything like me, you'll appreciate the comfort of a dog-eared book to accompany you on your travels.
My Favorite Books about Vermont
Vermont Curiosities: Quirky Characters, Roadside Oddities & Other Offbeat Stuff (Curiosities Series)
Vermont Curiosities, published in 2009, is full of delightful information — historical, whimsical, and useful. It is definitely my favorite book for discovering Vermont attractions. The book is divided into chapters based on location, and it will have you laughing to yourself and inspiring you to read out loud to your travel companions. Read about the first canal in the United States, the one and only covered bridge museum (in my hometown!), and a graveyard that memorializes ice-cream flavors. To sweeten the pot, if you bring Vermont Curiosities along on your next road trip and stop by the author's house in Saxtons River, he will sign your copy and provide with milk and cookies.
Northern New England: Vermont, New Hampshire, and Maine (The Smithsonian Guides to Natural America)
This book was published in 1995, but the geological and natural wonders of Vermont haven't changed much since then. It's divided into sections based location, with each section delving pretty deeply into geological processes, plants, animals, and unique natural areas of the region. I'm a sucker for unique natural areas, and now I know where Vermont's largest peat bog is located, where to see the most moose and the tallest trees. I learned about hiking trails and quiet ponds that I never knew existed, and I can't wait to explore them all this summer! The photos in this book are certainly dated, but the information is incredibly interesting. I have only read the Vermont section so far, but will happily move on to New Hampshire and Maine on my next camping trip.
Delorme New Hampshire Vermont Atlas & Gazetteer (Delorme Atlas & Gazetteer)
You may think that maps are totally obsolete and that GPS will always save day, but you'd be wrong. If you want to road trip like a local, this is the only way to go. Our family has trusted our road trip adventures to DeLorme for years, and we rarely get lost unless we truly want to. Every road in the state is included, along with trails, mountains, lakes, and rivers. It's topographical too, which is handy for hikers, hunters, and photographers. In short, we don't leave home without it, and you shouldn't either.  
The Walker's Gd To Vermont
Put out by the Green Mountain Club, The Walker's Guide to Vermont is subtitled Ramblers for a Half an Hour or Half a Day. The walks in this book are not exactly hikes. For the most part, they are lovely strolls — around ponds, through meadows, and along rivers. There are a few mountain trails, but even these are relatively short and easy. We picked up this book many years ago, because we wanted to be able to stop and explore with our kids during long road trips.  Just about every Vermont State Park is covered, along with many town forest trails and conservation areas. This paperback can live in the glove compartment of your Vermont rental car so you'll always be able to find the perfect spot to connect with the natural world.
Vermont Waterfalls
 by Russell Dunn
Vermont Waterfalls is a gem of a book, covering the most popular waterfalls in the state, as well as more obscure and hidden cascades. The book is divided into sections based on region, and each waterfall entry includes detailed directions, a bit about the history, and a good description. Use this book in conjunction with the DeLorme Vermont Atlas and Gazetteer and you'll never get lost. Vermont Waterfalls doesn't include information about swimming, but I'd advise packing swimsuits and towels if you're traveling in the summer. Swimming holes are an institution here, part of Vermont's landlocked heritage.
Scenic Driving Vermont: Exploring the State's Most Spectacular Byways and Back Roads
 by Stewert M. Green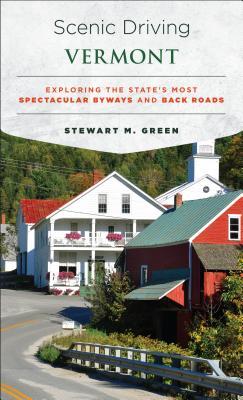 This book was just published in February of 2016. I've had it since March, but haven't had time to dig into it until now. The author chose some of my favorite road trips to highlight, and I wouldn't hesitate to recommend any one of them to you. My only complaint might be that he didn't include enough of them. Still, if you're visiting from away, these eight trips will give you plenty to do and see, and the beginning of each chapter details campgrounds and services so you can plan ahead. Scenic Driving Vermont is a great starting point for photographers hoping to capture some of Vermont's hidden magic, but you'll learn a good deal of history, as well as some great ideas for hiking and picnicking.
Outdoors with Kids Maine, New Hampshire, and Vermont: 75 of the Best Family Hiking, Camping, and Paddling Trips (AMC Outdoors with Kids)
Subtitled 75 of the Best Hiking, Camping, and Paddling Trips, this book wasn't around when my kids were little, but I wish it was. It's the details that make it special — you can plan ahead and find trails, swimming holes, and adventures perfect for your family. Each entry includes information about restrooms, safety, parking, etc., plus tips for maximizing your fun as you explore New England.
I'm sticking closer to home this year – I'll be focusing on outdoor adventures in my home state of Vermont, and I can't wait to share them with you. In the meantime, check out these awesome Vermont books, and please make plans to visit out the Green Mountain State sometime soon! 
Want to read more about visiting Vermont and the Green Mountains? Read these:
7 Beautiful Places to Visit in Bennington, Vermont
Woodford State Park: Four Seasons in Vermont
A Leaf-Peeping Weekend in Southern Vermont
I'd be eternally grateful if you'd pin this image: