Please check to make sure destinations are open to visitors before planning a trip and follow local guidelines. We earn a commission from affiliate links that may be included in this post.
Let me start by saying that I love, love, love our national parks in the United States. They are breathtakingly beautiful and chock-full of opportunities to get outdoors in some of the most dramatic settings on earth. What I don't love are the traffic jams, the crowds, and the general chaos that often goes along with a national park visit.
Sure there are ways to bypass these issues, but sometimes you just have to hit up the Grand Canyon when your kids are on school vacation. I'm definitely not going to advocate for skipping a visit to these national treasures, but I do want to suggest some alternatives for those days when you just need a break from the throngs of people and cars waiting in long lines to catch a glimpse of a lonely moose meandering across a field.
Please, dear reader, follow this advice if you can, and explore your national parks with every bit of your heart and soul. BUT, when the going gets rough and the crowds are just too much, here's your alternative — awesome mountains, forests, canyons, campgrounds, vistas, and wildlife that are every bit as amazing as the national parks that we know and love. These are YOUR national forests, and they are treasures beyond measure.
Instead of Yosemite National Park, Check out the Sierra National Forest
Just south of Yosemite is a vast wilderness covering approximately 1.3 million acres between 900 and 13,986 feet in elevation. This slice of heaven is characterized by the alpine landscape of the High Sierras – meadows blazing with wildflowers, breathtaking scenic vistas, and cold, clear rivers, streams, and lakes. There are over a thousand miles of trails, groves of giant sequoias to explore, and even an abundance of secluded hot springs. Ready to delve into this treasure? Grab a camera, and follow me.
How to get there: If you're day-tripping or weekending from Yosemite National Park, leave by the south gate on highway 41 and make your way south and east through the mountains.
Highlights of Sierra National Forest
Scenic Vista Byway – This 100-mile drive meanders through some of the most scenic landscapes in California. The whole route takes about five hours to complete, and there are plenty of stops along the way for hiking, picnicking, and camping. The small and secluded Sweetwater Campground is a favorite — surrounded by running water that is as refreshing as it is beautiful. This is a great spot to find camping near Yosemite without the crowds. Be sure to stop at the Mile High Overlook for a dizzying view of the surrounding mountains. To plan your journey on the Scenic Vista Byway, check out the map.
Mono Hot Springs – Mono Hot Springs is not exactly getting away from it all, but you will find awesome primitive camping, a full-service resort, incredible hiking opportunities, and yes, beautiful hot springs. There's a nice mix of developed and rustic pools. Some are super hot, others are just warm. Be prepared for some nudity or just get naked and embrace this awesome experience.
Nelder Grove – This sweet grove of giant sequoias sees very little traffic during the week. Nelder Grove encompasses 1006 giant sequoias, the primitive Nelder Grove Campground, and an interpretive trail that meanders along a creek and through the forest. It's majestic and serene and the towering giants make you feel incredibly tiny and insignificant.
Instead of Yellowstone National Park, visit Shoshone National Forest
Just east of Yellowstone, you'll find 2.4 million acres of snow-capped peaks, sagebrush flats, sprawling meadows, and expansive forests. Shoshone National Forest is a spectacular wilderness that was set aside in 1891 as the country's first national forest.
How to get there: Leave Yellowstone by the northeast gate and head east on route 212. Take Route 296 toward the town of Cody.
Highlights
Chief Joseph Highway – Route 296 is the Chief Joseph Highway. It follows the route of the Nez Perce Indians and Chief Joseph as they fled from the US Cavalry in 1877. The 46-mile route is spectacular (keep your eyes on the road). Head through at sunset and be sure to make use of the pull-offs, specifically Dead Indian Summit, so you can drink your fill of this beautiful world we live in. You'll find patches of snow up here, even in the summer. Nothing beats a little snowball action in June to make you feel young again!
Cody, Wyoming – Named after "Buffalo Bill" Cody, the town of Cody embraces the wild west in a big way. You'll find modern (if a bit touristy) dining and shopping opportunities, a myriad of nightlife venues, and several museums documenting everything from the life of Buffalo Bill Cody, wildlife, guns, and World War II, to art and murals of the western landscape. Western-themed lodges, ranches, cabins, and motels are plentiful in Cody, just be sure to reserve ahead of time in the summer.
Find Lodging in Cody, Wyoming on TripAdvisor
Camping: If you're looking to pitch your tent outside of Yellowstone for a night, a weekend, or even a week, Shoshone National Forest has you covered. Dead Indian Campground on route 296 is tiny and doesn't see much use. The nearby trailhead will take you all the way up to Dead Indian Summit if you're up for the challenge. Beartooth Lake Campground on route 212 is a bit busier in the summer, perhaps because of its proximity to several beautiful mountain lakes and the incredible Beartooth Pass (10,947 feet).
Instead of Great Smoky Mountains National Park, visit Nantahala National Forest
Cherokee for "land of the noonday sun," Nantahala National Forest encompasses 531,158 acres in western North Carolina, just south of Smoky Mountain National Park. The park itself sees more than 6 million visitors each year, and yes, the surrounding national forest does get some of that overflow.
The incredible Blue Ridge Parkway winds through Nantahala National Forest. It's an amazing drive, especially in the fall, but like the nearby national park, it's characterized by amazing scenery and traffic jams during the busy season. You can have the same taste of awe-inspiring wilderness without the crowds simply by sticking to the far western corner of the national park and the national forest. Here's the scoop.
How to Get There: From the western edge of Great Smoky Mountains National Park, head south on route 129. When the road splits in Topton, travel west to the town of Murphy, then east on route 64. This is a beautiful drive through the mountains without the throngs of people. You can thank me later.
Highlights
Santeetlah Lake – With a full-time population of just 67 as of the 2010 census, Santeetlah Lake offers plenty of opportunities for solitude, reflection, and recreation. The 2,800-acre lake is an oasis for water babies, anglers, paddlers, and floaters. Highlights of this paradise include the Cheoah Point Campground, with campsites overlooking the massive lake, and the Wauchecha Bald Trail, which offers up breathtaking scenic vistas and connects you to the world-famous Appalachian Trail. The trail is rated as strenuous, and the path is shared by hikers and mountain bikers.
Standing Indian Mountain and Campground – According to Cherokee mythology, Standing Indian Mountain is the remains of a warrior who turned to stone because he failed to remain at his post. In the Cherokee language, it is called Yunwitsule-nunyi, which means "where the man stood." At 5,499 feet, the summit of Standing Indian Mountain offers a panoramic view of the surrounding landscape. The trail to the summit is part of the Appalachian Trail System.
During April and May the trail, shelters, and campgrounds become populated with northbound thru-hikers. A minor inconvenience for those seeking solitude, but thru-hikers are generally an amazing bunch of folks, and we've always found it a pleasure to spend time with them when we can. Standing Indian Campground is located on the headwaters of Nantahala River. It's an awesome spot for casting a line or cooling off on a sweltering summer day.
Gorges State Park – This spectacular and underutilized park is located on the North Carolina-South Carolina border. It is characterized by plunging waterfalls, gorges that cut deep into the earth's crust, sheer rock walls, and rare wildlife. Primitive camping is available, along with rugged (definitely not casual) hiking. Horses and mountain bikes are permitted on certain trails. Bring your camera for this one, folks — you just never know what secrets you'll uncover here.
I think I've rambled on long enough for one post. I have many, many more parks and highlights to discuss, but I'll save them for another day. We are planning to head back to some of these areas this summer, so I'd love to hear your own recommendations for connecting with the natural world while avoiding the crowds.
If you found this post helpful, please share it with others on Pinterest or your favorite social media. I'd really appreciate it, and don't forget to visit our national park camping and hiking page for more great resources.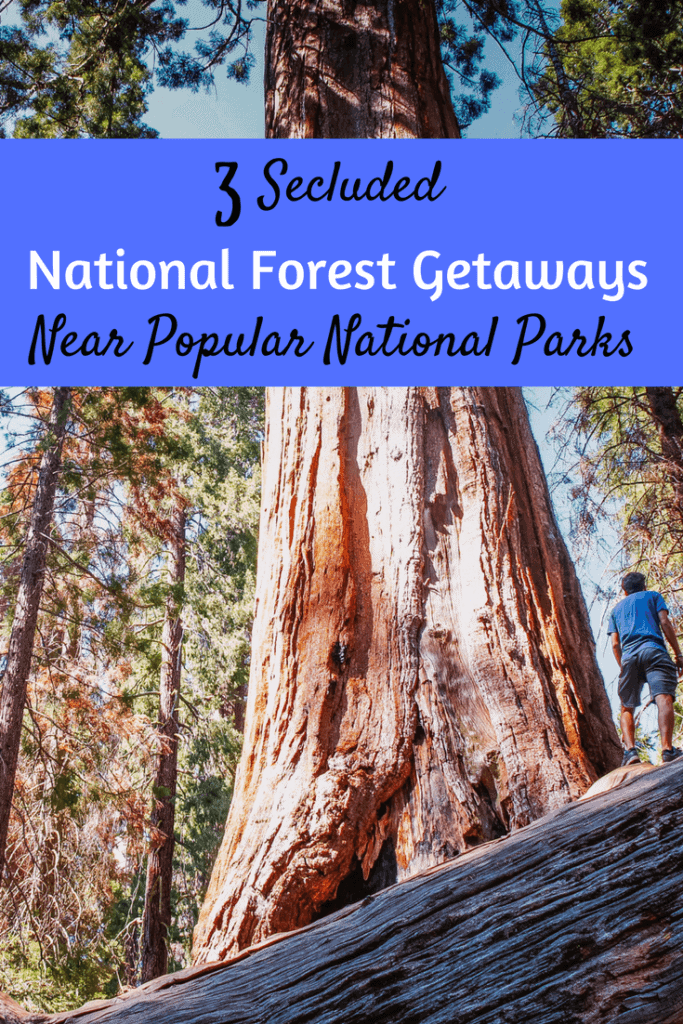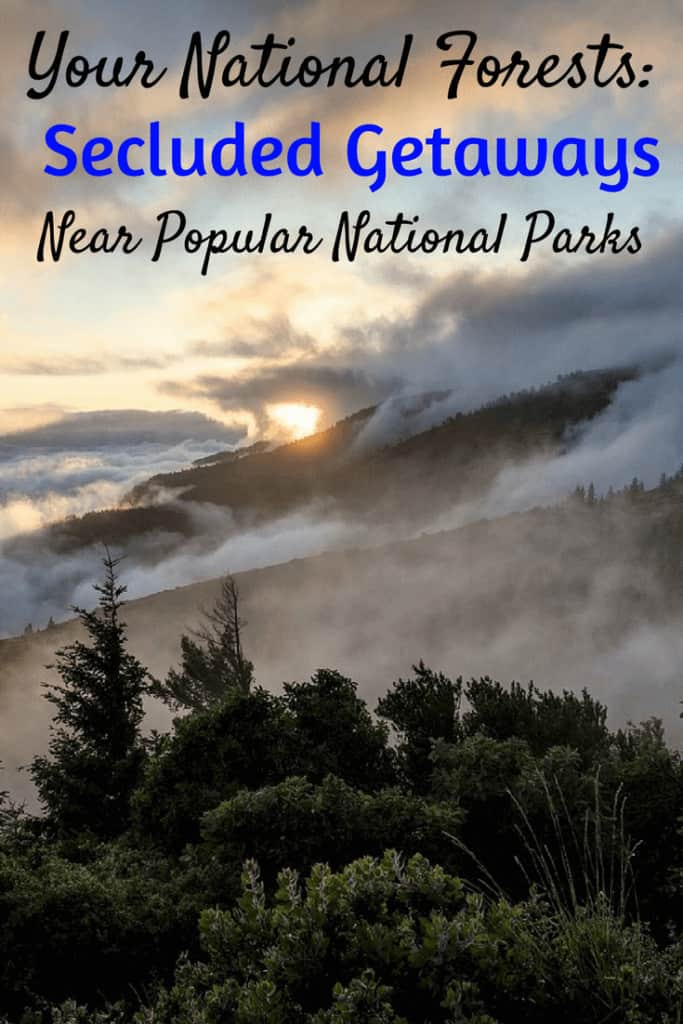 If you love America's public lands, check out these books (click on the photo for more info):