Vermont is beautiful in all four seasons, and exploring the mountains and valleys on foot is one of our favorite pastimes. We've been trekking and meandering the hiking trails in Southern Vermont with our kids for the past 15 years, and we figured it was high time we share our favorite trails with you.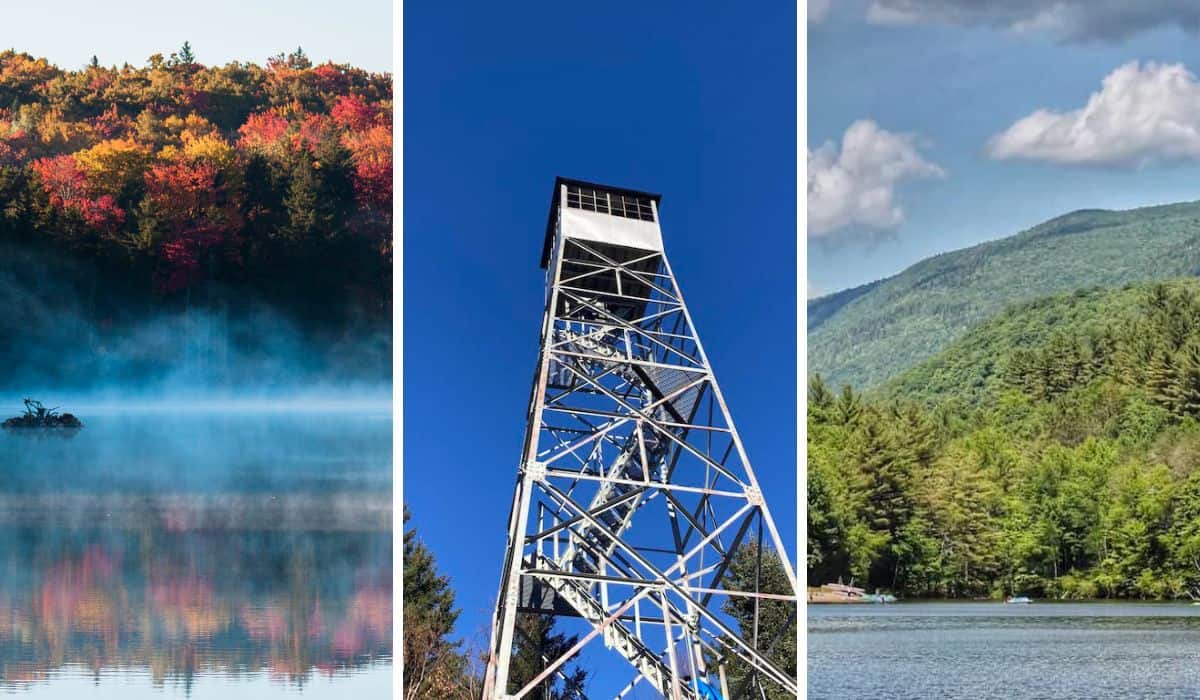 The following hikes, rambles, and walks are perfect for novice hikers or families with children. Most are under five miles, and all have a kid-friendly feature to help entice them along.
The best way to encourage my own kids down a trail is with the promise of water for swimming, at least during the hottest days of summer. We've got a few more tricks up our sleeves for hiking with kids if you're interested, but hiking on trails that surround lakes, meander along rivers, or end up at the bottom of waterfalls always does the trick!
Today, we're going to focus on easy day-hiking in Southern Vermont, including trails in Bennington, Manchester, Dorset, Stratton, Wilmington, Brattleboro, and Putney.
Easy Hiking Trails in Southwestern Vermont
Southwestern Vermont is our home turf, so we have lots of suggestions for hiking with kids in Bennington, North Bennington, and Shaftsbury.
Lake Shaftsbury State Park: Shaftsbury, Vermont
Difficulty level: easy
Length of trail: 1-mile loop
Kid appeal: swimming, a boardwalk through wetlands, decent fishing, boat rentals
Dogs: on-leash, but not on the beach or picnic area
Fee: $4 for adults, $2 for children
Official park website
Lake Shaftsbury trail map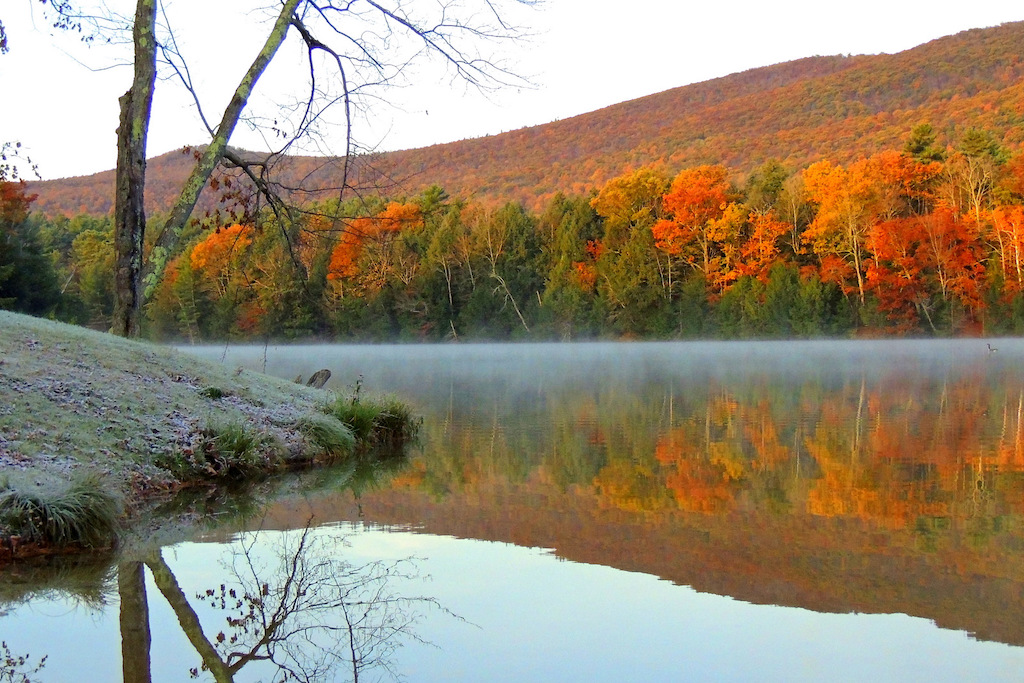 This 84-acre park is small but well-loved. It is most popular as a picnic and swimming spot for local families, but the trail around Lake Shaftsbury is underappreciated and quite lovely.
The hike around Lake Shaftsbury is more of a ramble — a mile in length, meandering through the woods, then wetlands, then back into the woods, with a constant view of the lake. Waterfowl are plentiful most of the year, and we've also spotted bald eagles and osprey on numerous occasions.
After your hike, your kiddos will want to spend some time on the water, and the beach is the perfect spot for relaxing with a good book. Finally, once you've had your fill of the view, drive south on Route 7A for another mile and visit the Chocolate Barn for the best ice cream you're ever likely to taste in Southern Vermont.
For more on this hike, check out Lake Shaftsbury State Park in all Four Seasons.
---
Woodford State Park: Woodford, Vermont
Difficulty level: easy to moderate
Length of trail: 2.7-mile loop
Kid appeal: swimming, playground, boat rentals
Dogs: on leash
Fees: $4 for adults, $2 for kids
Official park website
Woodford State Park trail map
The hiking trail in Woodford State Park brings you around Adams Reservoir, a gorgeous, tree-lined lake nestled in the Green Mountains. Woodford State Park is much more secluded than Lake Shaftsbury, and much cooler (temperature-wise).
We've seen moose up here and spent days on the water without running into another person. The trail around the lake isn't difficult, but at 2.7 miles, it might be hard for younger kids to make it around. You can cut a mile off of your hike by walking around the west side of the lake and then walking back to your car on the campground road.
We love how dark and mossy the trail is. There are several easy stream crossings, and you may even see the carnivorous sundew plants if you look very carefully along the shore.
Want to learn more about Woodford State Park? Check out: Woodford State Park: A Park for All Seasons
---
Mile Around Woods: North Bennington, Vermont
Difficulty: easy for all ages
Length: 1-mile loop
Kid appeal: farm animals, wildflowers, rocks for climbing
Dogs: on leash
Fees: None, unless you take a tour of the mansion
For a trail map, please visit the Fund for North Bennington.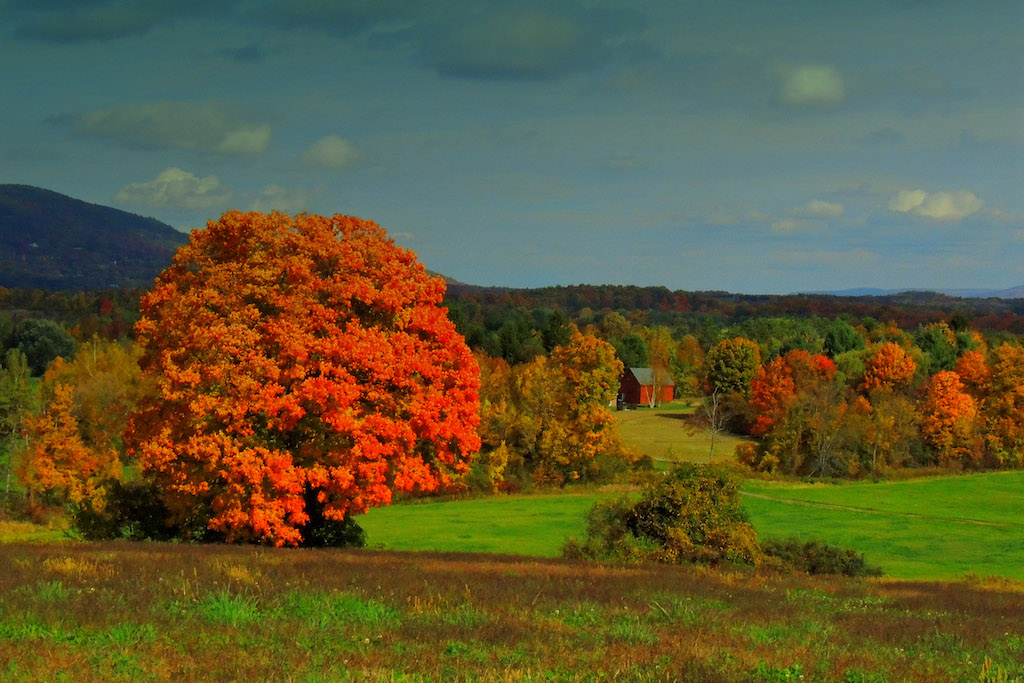 The Mile Around Woods trail is one of the best hikes in Southern Vermont. It sits behind the beautiful Park McCullough house in North Bennington, Vermont. Start by walking along a wide carriage road through fields of grazing horses, then meander through a hardwood forest on a lovely, wide path.
The forest loop is exactly a mile long, but you can make the adventure last by traipsing across several adjacent fields, or by visiting the Historic Park McCullough House and Hiland Hall gardens. Park McCullough House is open for tours on Friday, Saturday, and Sunday from May to October, plus there are special events throughout the year.
The Hiland Hall gardens have been meticulously restored and are located behind the main house.
---
Emerald Lake State Park: East Dorset, Vermont
Difficulty: easy, although the campground trail is kind of steep
Length of trail: The lake trail is .5 miles and the campground trail is .4 miles, one way. You can walk back to the beach and parking lot on the campground roads, or turn around and retrace your steps.
Kid appeal: awesome swimming, a rope swing for big kids (on the island), bird watching, boat rentals
Dogs: They're allowed in the campground and on the trails (on leash), but not at the beach or picnic areas.
Fees: $4 for adults, $2 for children
Official park website
Emerald Lake State Park trail map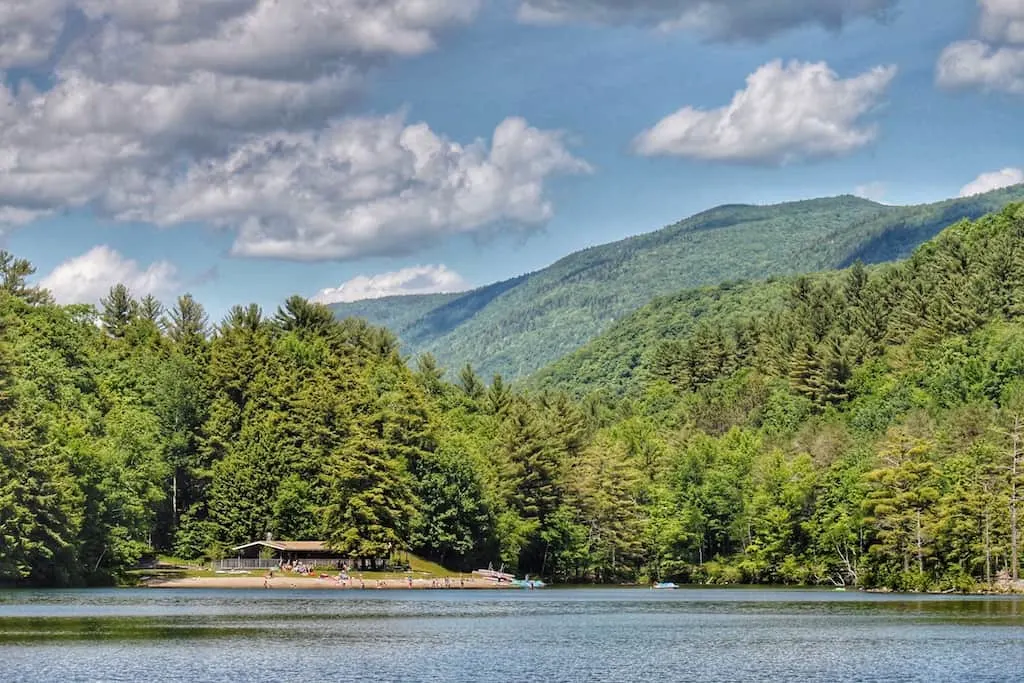 Emerald Lake State Park is nestled in a deep valley between the Taconic Mountains to the West and the Green Mountains to the east. The two mountain ranges are only a few hundred yards apart here, and they rise up steeply on either side of the lake.
Covering just 20 acres, Emerald Lake isn't big, but what it lacks in size it makes up for in beauty. There are several hiking trails in Emerald Lake State Park, and if you and your kids are into views, I recommend checking out the Vista Trail, which is a steady climb with awesome views of the lake.
I have to say that our kids much prefer the lake trail, which hugs the shoreline, with side trails into the three campground loops. We like taking the trail to the "C" loop because it travels through the wetlands at the south end of the lake, perfect for some kid-friendly birding adventures.
For more about Emerald Lake trails, check out: A Summer in Vermont: Exploring Emerald Lake State Park
---
Gettysburg Quarry: Dorset, Vermont
Difficulty: easy to moderate
Length of trail: 2.5-mile loop
Kid appeal: Abandoned quarries
Dogs: yes
Fee: Free
Hike Dorset website and trail map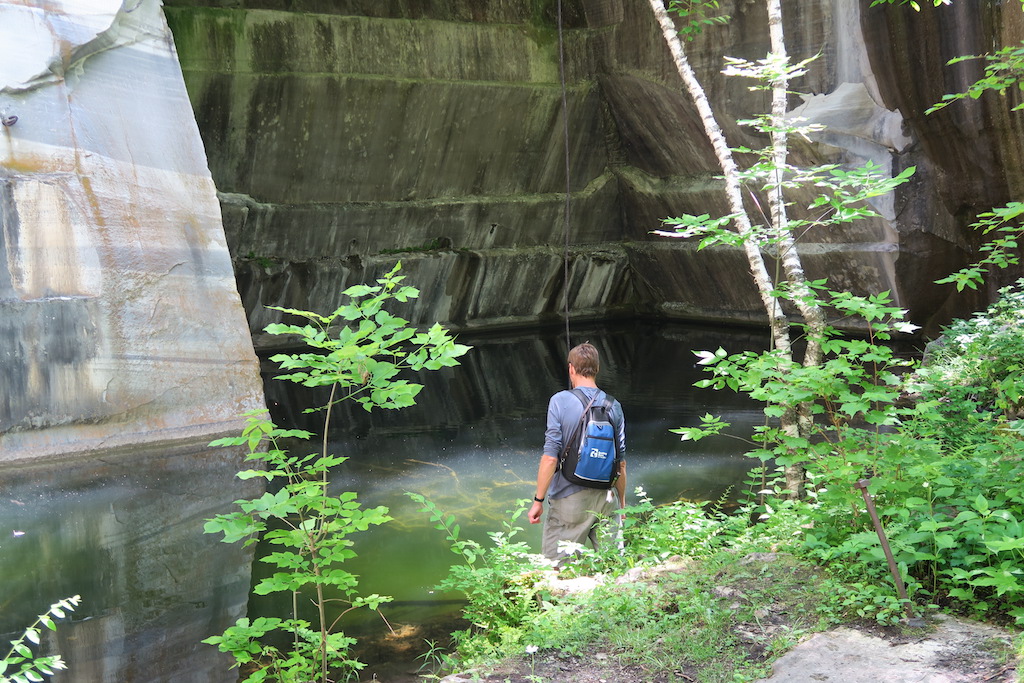 The Gettysburg Quarry hike in Dorset is a 2.5-mile loop that is perfect for families, history buffs, and nature lovers!
The hike to Gettysburg Quarry is a moderate route through a beautiful hardwood forest that leads to an abandoned marble quarry. The unassuming Owl's Head Town Forest hides a rich geological and human history that includes old marble quarries, stone cellar holes, and abandoned industrial equipment.
The abandoned quarries here aren't suitable for swimming, but the nearby Dorset Quarry is perfect for a summer dip!
Read the complete trail guide for this Gettysburg Quarry hike in Dorset.
---
Merck Forest and Farmland Center: Rupert, Vermont
Difficulty: easy to moderate
Length of trail: varies
Kid appeal: swimming, farm animals
Dogs: Dogs are allowed on the trails, but if you want to visit the animals, you should leave your dog at home.
Fees: Free
Merck Forest & Farmland Center webiste
Need a trail map? Here ya go!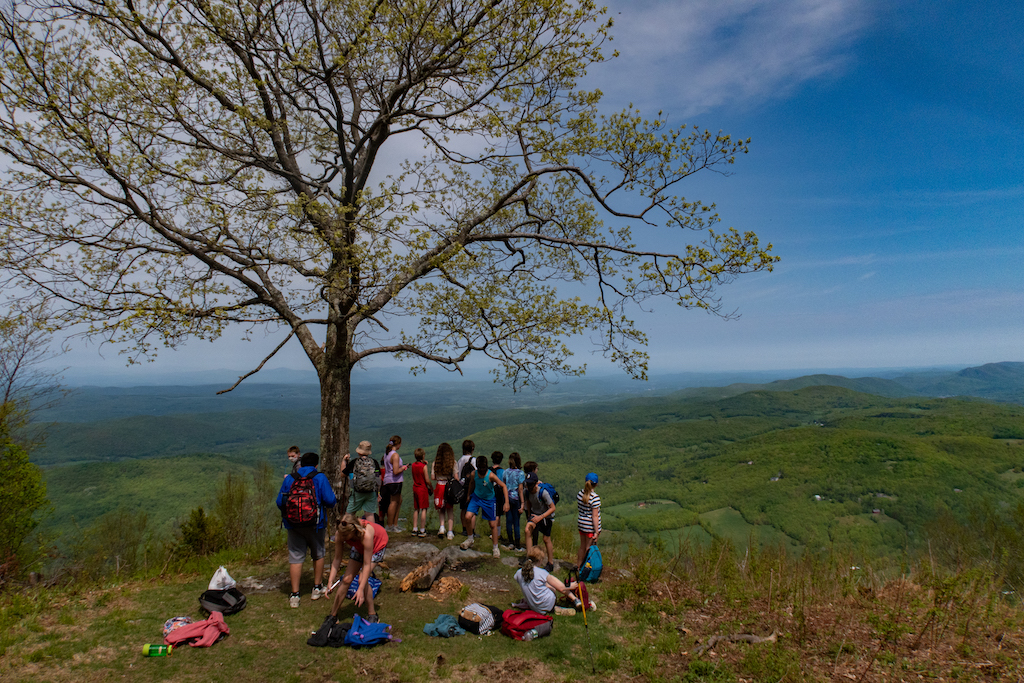 Merck Forest and Farmland Center is a nonprofit educational center and outdoor stewardship organization that maintains 3,162 acres of woods and farmland in Rupert, Vermont.
There are more than 30 miles of hiking trails to explore, plus cabins for camping. We like to stroll around the farm, visit the animals, check out the maple tap house, and then head up to Birch Pond for a dip and a picnic, which makes for an easy three-mile loop.
Looking for something a bit more difficult? Climb to the top of Mount Antone (2,600 feet)! This 5.8 mile hike gains just 800 feet in elevation, but the views are spectacular. The grassy summit is the perfect spot for a picnic.
Read more about Merck Forest here: Cabin Camping at Merck Forest
---
Easy Hikes in South Central Vermont
The Green Mountains run north to south through the center of the state. The following hikes are located in the southern Green Mountains, which are gorgeous in all four seasons!
Stratton Mountain Fire Tower, Stratton, Vermont
Difficulty: easy
Length of trail: 1.4 miles round-trip
Kid appeal: gondola ride, fire tower
Dogs: on-leash
Fees: It's $52 for a family of up to six people to ride up the mountain in a gondola cabin. Dogs are permitted as well!
Stratton Mountain Resort webiste
At 3,940 feet, Stratton Mountain is Southern Vermont's tallest peak. The hike to the Stratton Fire Tower from the base of the mountain gains 1,700 feet in elevation and is a tough six miles, round trip. This is a great hike to aspire to, but it's probably not suitable for young children unless they are avid hikers already.
Fortunately, there's a shortcut. During summer weekends, and every day during the fall foliage season, you can hop aboard the gondola at Stratton Mountain Resort. From there, it's an easy, 0.7 mile hike to the fire tower, which provides unparalleled views in all directions.
The Stratton Mountain Blog has a good overview if this adventure. Check out: Venture Vermont: Stratton Fire Tower Hike
---
Mt. Olga, Molly Stark State Park: Wilmington, Vermont
Difficulty: moderate
Length of trail: 1.8-mile loop
Kid appeal: ruins, Fire Tower
Dogs: on-leash
Fees: $4 for adults, $2 for kids
Official park website
Molly Stark State Park trail map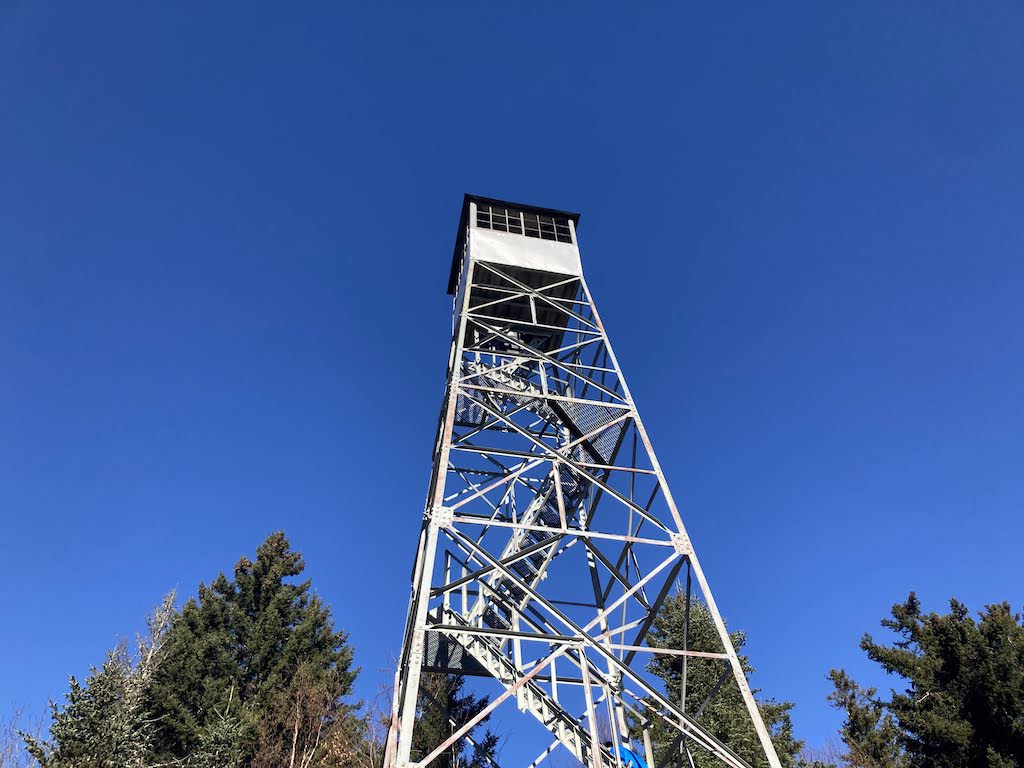 Mt. Olga is a great day hike for folks visiting Wilmington, which by the way, is one of my favorite Vermont towns. It's a 1.8-mile loop to the top of the mountain.
Older kids will appreciate that they are actually climbing a mountain, but it's not so hard that it's frustrating. Still, it is all uphill, so prepare yourself and your kids with an incentive for reaching the summit. We usually opt for cookies and ice tea.
When my kids were little, we would read a chapter of their favorite book at the top. If you explore the summit a bit, you'll find ruins of the defunct Hogback Ski Resort up here, which are fun to poke around.
For more about exploring Wilmington, check out: The Complete Guide to Exploring Wilmington, Vermont
---
Little Rock Pond: Mt. Tabor, Vermont
Difficulty: easy
Length of trail: 4 miles, round trip
Kid appeal: swimming, rock jumping, beaver activity
Dogs: yes
Fees: none, although there is a nominal fee for camping
Little Rock Pond recreation guide and trail map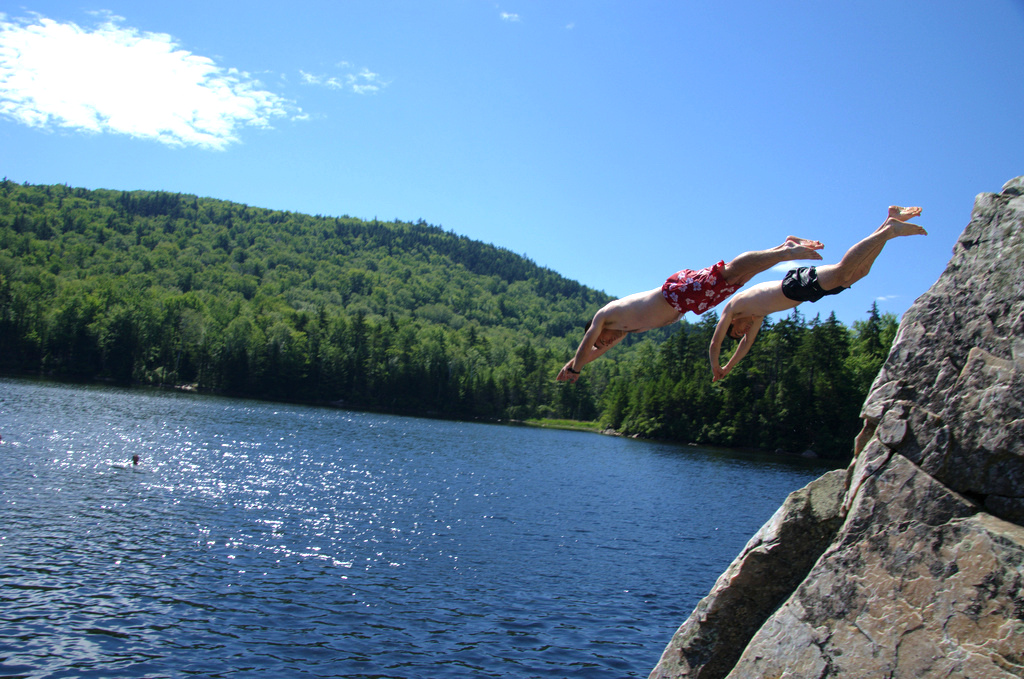 Looking for a nice hike to a pristine mountain lake? Little Rock Pond sits just off the Appalachian / Long Trail and it's perfect for families with kids. The hike is four miles round-trip, but it gains just 350 feet in elevation.
Little Rock Pond is just far enough from civilization that it is never crowded, but close enough that it can be a nice day trip for a hike, picnic, and swim.
Other hikers have seen leeches in Little Rock Pond, but I never have, and we've been there dozens of times. Just something to be aware of. There is a lean-to shelter and several tent platforms set up near the lake for hikers, which also makes this hike the perfect first backpacking adventure for your family.
For a trail description and directions, check out this article in the Castleton Spartan.
---
Hamilton Falls, Jamaica State Park: Jamaica, Vermont
Difficulty: easy on the rail trail, but a steep climb to the falls
Length of trail: 6 miles round-trip
Kid appeal: River swimming, playground, waterfall
Dogs: on leash
Fees: $4 for adults, $2 for kids
Official park website
Jamaica State Park trail map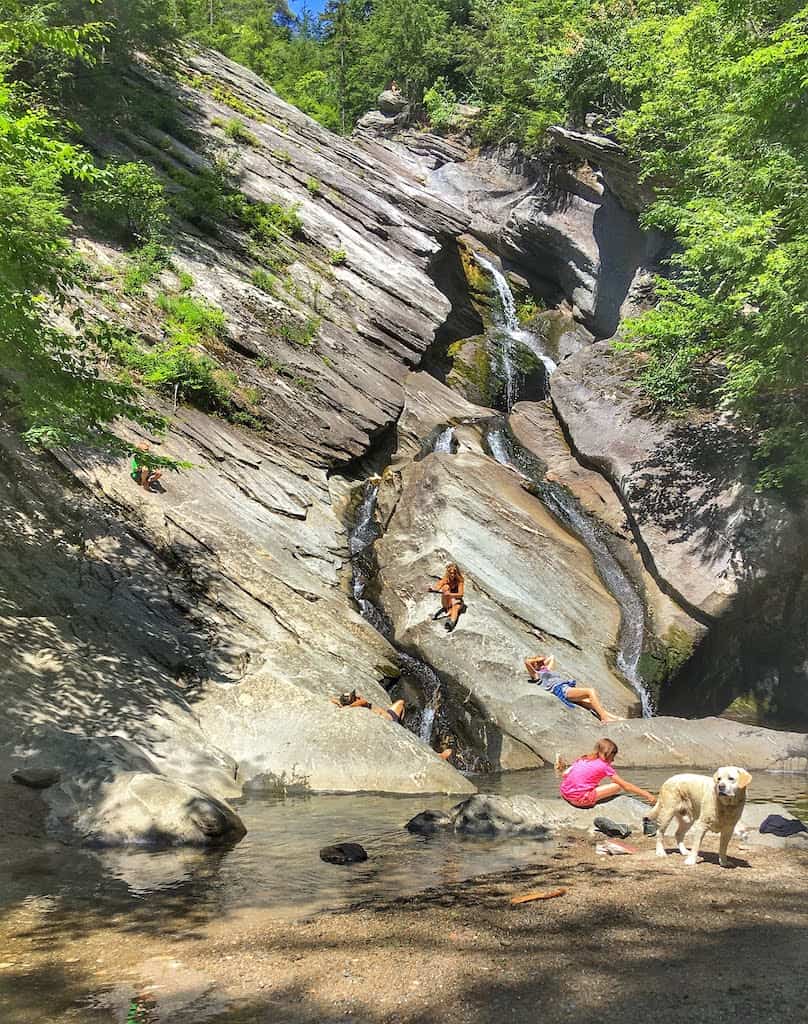 Jamaica State Park is one of our favorite Vermont State Parks. It includes an awesome rail trail that hugs the West River, which is a gem for swimming. As you hike or bike this trail, you'll find lots of secluded swimming holes.
If you have little kids, I recommend sticking to the West River Rail Trail, which goes all the way to the Ball Mountain Dam. The hike to Hamilton Falls is probably the most challenging on this list. It's 6 miles round-trip — two miles on the rail trail, and then a 1.1-mile climb to the base of the falls. We often shorten our trip by biking the rail trail and then locking our bikes up to a tree while we hike to the falls.
Another option is to hike the two-mile overlook loop, which begins next to the Hackberry lean-to in the campground. This is a moderate hike up to a rock outcropping with beautiful mountain views.
Read Next: 7 Memorable Things to do in Jamaica State Park
---
Easy Hikes in Southeastern Vermont
Now let's head east to the Connecticut River Valley, characterized by rich bottomland, rolling hills, and small rocky peaks.
Mount Ascutney State Park: Windsor, Vermont
Difficulty: moderate
Length of trail: 2-mile loop
Kid appeal: hang gliders, awesome views, fire tower
Dogs: on leash
Fees: $4 for adults, $2 for kids
Official park website
Mount Ascutney State Park trail map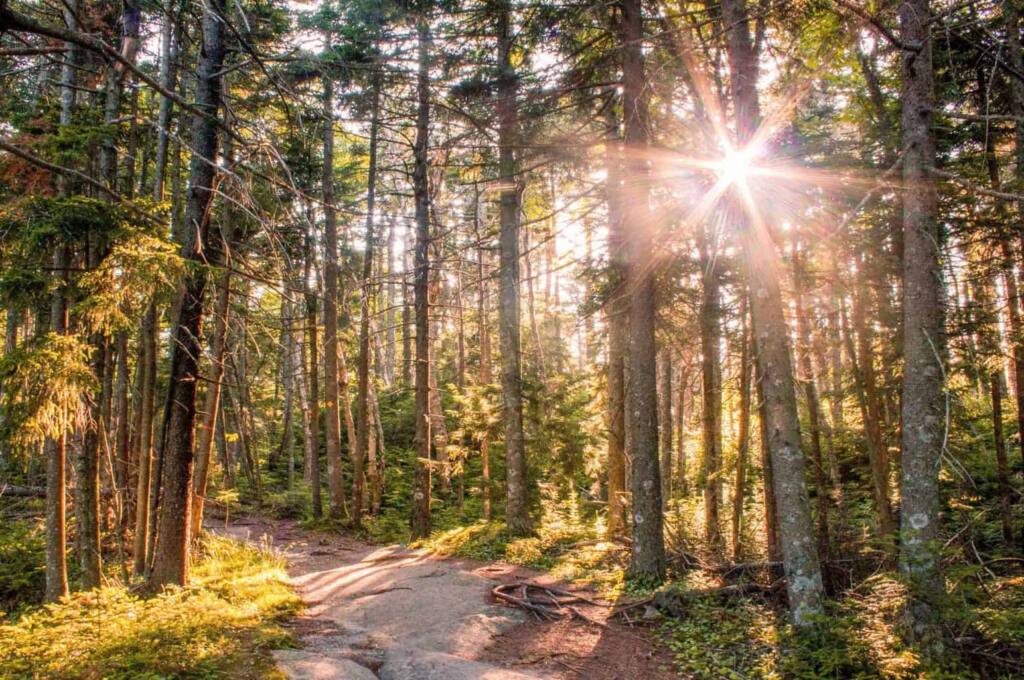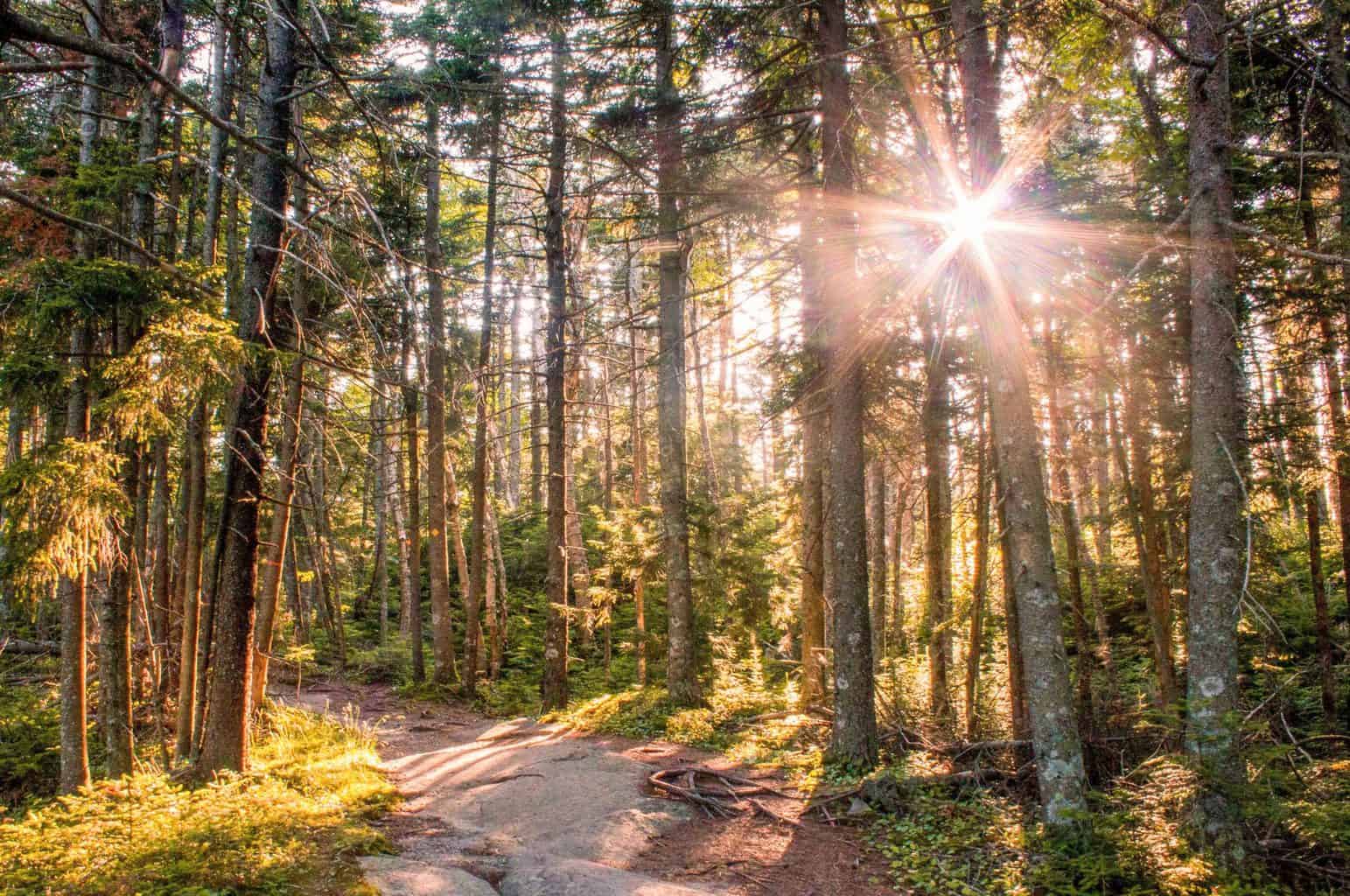 There are several hikes up Mt. Ascutney, a beautiful monadnock overlooking the Connecticut River Valley, but if you're hiking with small children, or you want a more relaxing day trip, you can drive right up the mountain to a summit parking area.
Once at the top, the summit trails are easy and fun to explore, with incredible views, a fire tower, and a hang glider launch pad. In fact, Mount Ascutney is one of the premiere hang gliding destinations in the northeast.
There are several trails crisscrossing the summit, but if you want to climb the fire tower and watch the hang gliders, I recommend taking the summit trail to the Weathersfield trail to the hang glider's trail. The whole loop is about two miles.
Want to read more about Mt. Ascutney State Park, check out: Vermont's Mighty Monadnock
---
Black Mountain, Dummerston, Vermont
Difficulty: moderate to difficult
Length of trail: depends – see above
Kid appeal: blueberries, wildlife, good birdwatching
Dogs: no
Fees: none
Black Mountain trail map and guide
At 1,280 feet, Black Mountain isn't huge, but it is an unusual ecosystem for Southern Vermont, boasting lots of mountain laurels and blueberry bushes (ready in late July or early August), and exposed granite. The property is owned and managed by the Nature Conservancy.
When you get to the top, it pays to explore a bit for more exposed outcroppings of rocks and better views. There are two trails up the mountain, from either Rice Road or Black Mountain Road. The Rice Road trail is 1.5 miles and steep. The Black Mountain Road trail is 2.5 miles, but a more moderate climb. Choose the one most suitable for your family.
Because of the sensitive ecosystem on Black Mountain, dogs are not permitted.
---
Putney Mountain: Putney, Vermont
Difficulty: moderate
Length: 1.2 mile loop
Kid appeal: vista, hawk watch
Dogs: on-leash
Fees: none
For a directions and a detailed trail map, visit Windam Hill Pinnacle Association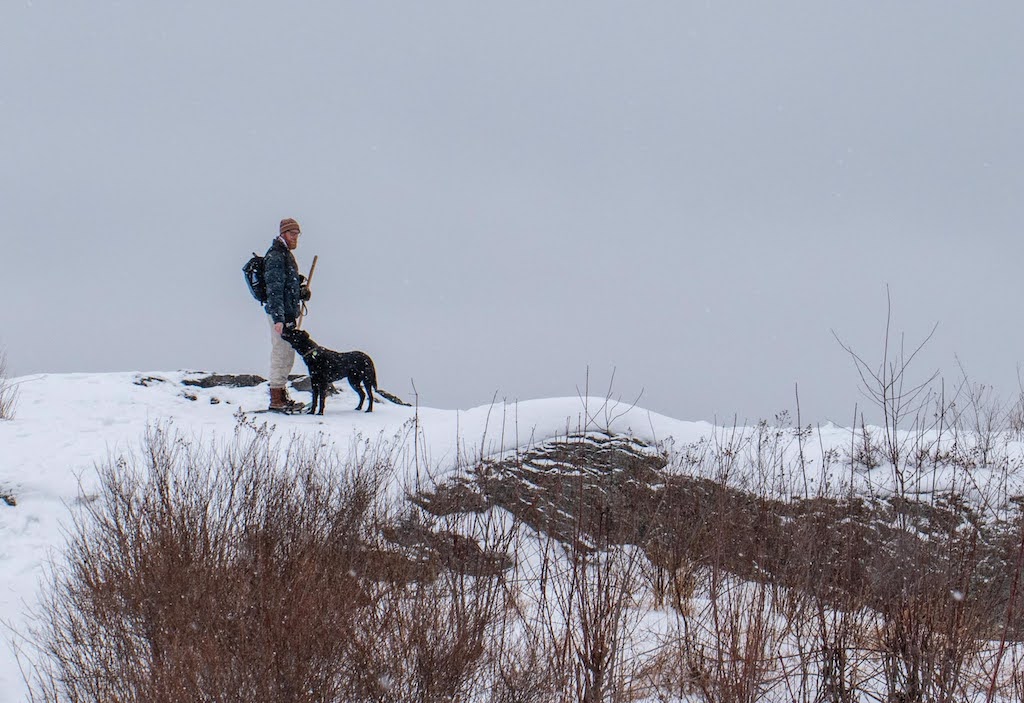 There is a whole network of trails here, maintained by Windham Hill Pinnacle Association and the Putney Mountain Association.
The Putney Mountain trail is easy enough for families with small kids, provides awesome views of the Green Mountains to the west, and is one of the premier spots to watch migrating hawks in the spring and fall.
Once you reach the summit, you can continue on the West Cliff Trail for a longer hike, or loop around back to your car for a total of 1.2 miles.
When is the best time to hike in Southern Vermont?
We hike the trails in Southern Vermont year-round, so don't let the temperature discourage you. Our favorite time to hike in this area is early October because the fall colors are incredible, but fall is also prime tick season, so be sure to protect yourself from those nasty critters.
Summer is our second favorite time to hike in Vermont. The days are long, the weather is warm, and we can cool off with a swim during or after our hike. The trails are busiest in the summer, but even on the most popular trails, there's plenty of room to spread out.
Finally, all of these trails are totally doable (and beautiful) during the winter months. You made need to bring a pair of snowshoes or microspikes, but because these trails are pretty short, you should be able to accomplish them without issue.
What to Wear Hiking in Southern Vermont?
Layers! It doesn't matter what time of year you're hiking in Southern Vermont – layers are your friend. Here's what we wear when hiking Vermont trails.
Resources for Finding Great Southern Vermont Hiking Trails
We hope that Back Road Ramblers is a good resource for finding hiking trails, but we will never be able to hike and write about them all. So, here's where we look when trying to find great trails to hike in Vermont.
---
Looking for more opportunities to hike in Vermont? Visit our sister site, Vermont Explored, where we explore the outdoors in Vermont with and without kids.
---
Follow us on social media!
Pin for Later?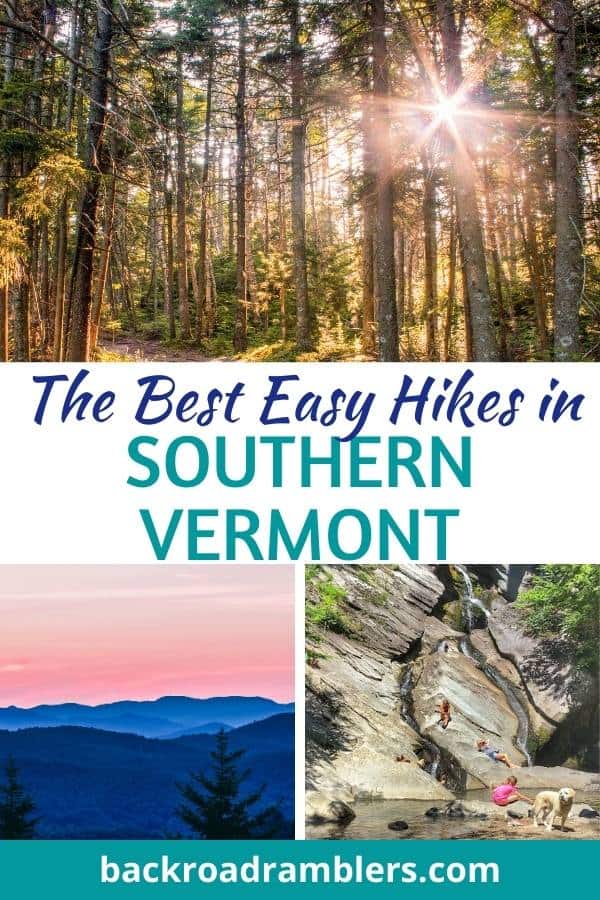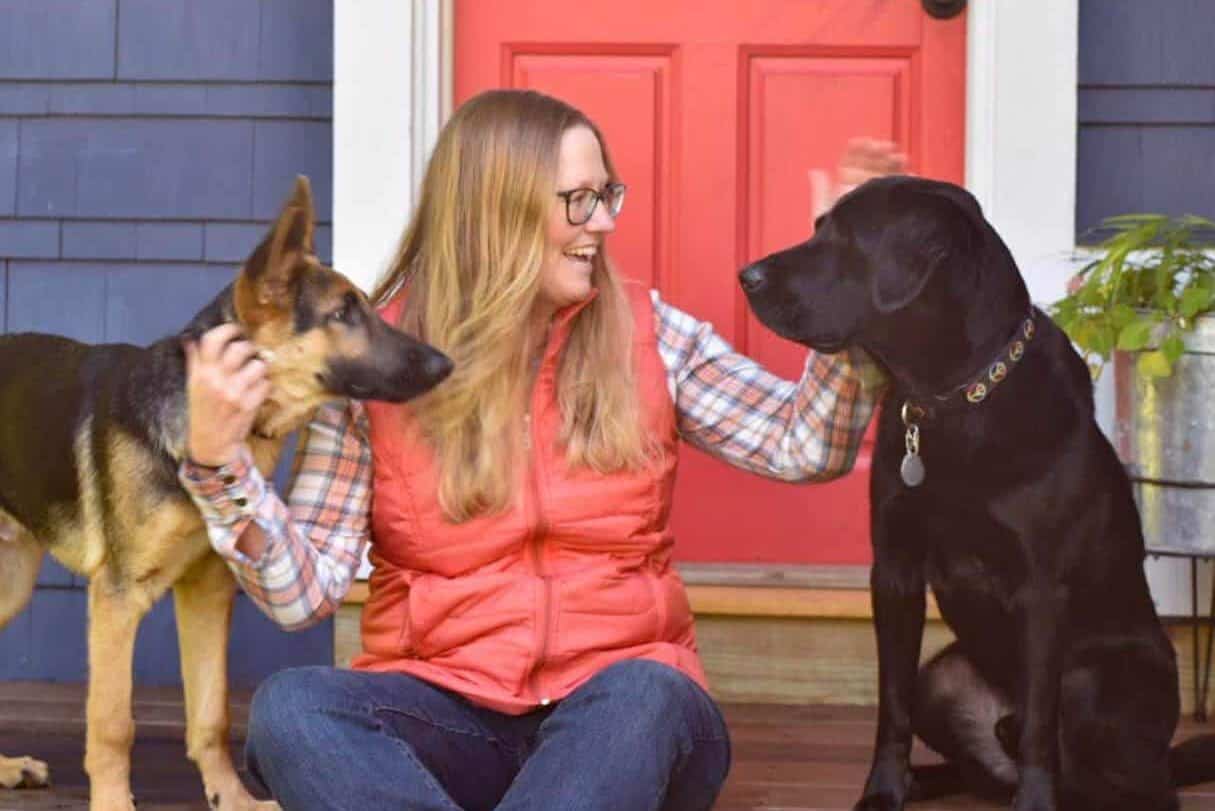 Tara is a freelance writer and travel blogger with a passion for outdoor adventures. She currently blogs at Back Road Ramblers and Vermont Explored, where she shares travel tips, adventure destinations, and vacation ideas for the wanderer in everyone.
Our Favorite Resources for Road Trips and Outdoor Adventures

These are the resources we use to plan road trips, save money while traveling, and shop for outdoor gear.

Car Rentals: While we use our own car most often for road trips, we also enjoy flying into major airports and then renting a car for more regional road trips. We use Kayak to compare prices and find deals from dozens of car rental agencies at once.

Flights: We use Kayak to search out flight deals.
Money-saving tip: If you find yourself using the same airline repeatedly (we are huge Southwest fans), consider joining their loyalty program and getting an airline credit card. With our Southwest Rewards Visa, we earn a few free flights each year.

Hotels: When it comes to lodging, we seek out small boutique hotels or quirky roadside motels. First, we search for hotels on TripAdvisor so we can read reviews from other travelers. Then, we use Booking.com to make reservations (they have the best prices, plus a flexible cancelation policy).

Camping: Camping is one of our favorite things to do on long road trips. It allows us to explore the outdoors, cook our own food, and save money. We use They Dyrt Pro to find campsites and read reviews before booking on Recreation.gov or state park websites.

Glamping and Vacation Rentals: For weekend getaways and shorter vacations, we love glamping (check out our glamping resource guide). We book glamping properties through Tentrr, Hipcamp, and Airbnb. For cabins and vacation rentals, we like to use VRBO (they have fewer fees and a better cancelation policy than Airbnb).

Guides and Maps: If we are visiting a new region, we usually invest in a Moon Travel Guide for the area. We pass them on to friends and family after our trip. If we are planning on hiking, we also purchase a Falcon guide in the Best Easy Day Hikes series.

Outdoor Gear: We are REI Co-Op members. It cost us $20 for a lifetime membership, but we get a yearly dividend based on our purchases, plus great deals and coupons throughout the year. REI also has a great return policy.

Check out our complete guide for planning a road trip on a budget