Please don't travel until it's safe to do so! Our travel posts are great for making future plans or dreaming about your next escape. Please check with each state/destination for its current COVID-19 guidelines before planning a visit. Also, please note that this post may contain links from which we earn a small commission.
** Update 5/8/2020: The Hydro Flask Journey is no longer available for sale.
It's been many years now since Hydro Flask revolutionized the water bottle industry with colorful insulated bottles that keep your drinks frosty while the temperatures soar. I got my first one more than eight years ago, and now I can't imagine a summer with them. The Hydro Flask product line has definitely expanded since then, but nothing has excited me quite as much as the new Journey series of hydration packs.
The Hydro Flask Journey is an insulated hydration pack that let you hike or bike in comfort with ice-cold water on your back. Seriously. I've never even owned a hydration pack, but there is nothing like cold water on the trail, and as soon as I heard about this innovative day pack, I had to get my hands on one!
I've had my Hydro Flask 20L Journey hydration pack for about a month now, and it's been hiking in the mountains of Virginia and Vermont so far. It's definitely my new go-to daypack for hiking. Here's my full review and what I've learned about hiking with the Hydro Flask 20L Journey.
Specifications and Features
Volume: 20L
Weight: S/M 3.5 lbs.
M/L 3.6 lbs.
Water Capacity: 3L
Dimensions: S/M 18.5"H x 11.5"W x 10.2"D
Exterior Pockets: 4
The Hydro Flask Journey Series is promoted as an entirely waterproof day pack with an insulated hydration system that keeps water cold for more than four hours. Features include taped seams and coated zippers, fully adjustable shoulder, sternum, and hip straps, an insulated reservoir, and a neoprene reservoir sleeve with a reflective lining. There are two internal compartments with mesh pockets for organization, plus smaller top and side pockets for stashing smaller items.
The High-flow HydraPak® Blaster™ Bite Valve self-seals after each sip and features a twist on/off bar to prevent leaks when not in use. The HydraPak® Plug-N-Play™ connect system lets you easily disconnect the hose (an auto shutoff valve prevents leaking) and remove the reservoir from your pack for convenient refilling and cleaning.
The 20L hydration pack comes in three colors – black, graphite, and cobalt. I went with the graphite, which is a nice light gray.
Performance and Durability
The Hydro Flask Journey is advertised as a mountain biking pack, probably because of its mesh back panel that lets air flow between rider and pack to keep sweating to a minimum. I'm not a mountain biker, but I appreciate a cold drink while hiking. As I mentioned above, I've had my Hydro Flask Journey for about a month, and I've hiked roughly 20 miles with it so far. It has suffered through a couple of downpours and gotten pretty beat up during a hike while worn by teenage son.
Aside from a lot of dirt, the hydration pack is holding its own and then some. The zippers operate flawlessly, and the fabric has proven to be puncture proof and tear-proof, even when mauled by a rogue puppy who was visiting last week. The bite valve, which seems to be a weak point in many hydration packs has held up flawlessly — no leaks, and super high flow in all situations. It's still too early to tell, but based on the past month, I definitely envision the Hydro Flask journey lasting for many years without issue.
If things do go south, I'm happy to know that the Hydro Flask Journey comes with a lifetime warranty against manufacturer defects.
Comfort, Usability, and Ventilation
My first concern upon trying on the Journey is that it's a bit heavy. 3.5 pounds on its own, and of course, significantly heavier when the water bladder is full and you've got the basics packed inside. I'm glad I didn't write it off based on that initial concern. It is heavy, but the comfort of the padded mesh panel in the back and the padded straps more than made up for the weight. After my first mile, I didn't even notice that it was heavy, and of course, it was getting lighter and lighter as I sucked down the water.
The articulated and padded back panel did a great job contouring with my back while allowing lots of air flow and breathability. As Hydro Flask promised, back sweat was a non-issue, even as I hiked in 90-degree temps through the Virginia Highlands.
Another early issue that I had with the pack is that the fabric was so stiff to start out with and it was hard to fit what I needed into the main compartment when the water bladder was full. This issue has been totally resolved. The pack just needed to be used — the fabric has loosened up a bit and seems to be aging gracefully.
Does the Hydro Flask Journey Really Keep Water Cold for Four Hours?
This is what you really want to know, isn't it? The insulation qualities of the Hydro Flask Journey series is what sets it apart from other Hydration Packs. This is what Hydro Flask excels at — keeping the cold stuff cold.
I am happy to say that after a month of testing that yes, my ice water stayed frosty on several 90-degree hikes, even after an hour in the back of my hot car. It doesn't take long for the water in the hose to heat up though, which is an interesting juxtaposition that isn't altogether unpleasant — a burst of warm water, followed by icy cold with every draw on the valve.
Bottom Line: Our New Favorite Day Pack for Hiking in Hot Weather
Truth be told, I'm not actually much of a hydration pack person, but I can tell you with 100% certainty that I will be using the Hydro Flask Journey for all of my hot-weather day hikes, because — more honesty — I'm not much of a hot weather person either, and the cold-water-sipping-ability is a game-changer for summer activities.
The Hydro Flask Journey series of Hydration Packs promises to be a durable, comfortable hydration pack that makes it entirely worth the higher-than-average price point. As of this writing, the 20L pack retails for $200 on the Hydro Flask website. The smaller, 10L hydration pack is available for $165, and it comes in three awesome colors – black, brick, and jade.
Do you have a favorite hydration pack for hiking? Drop us a comment and let us know what you recommend.
---
Looking for more gear reviews? Here are some of our favorites for outdoor adventures:
---
Pin for Later?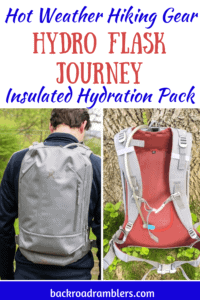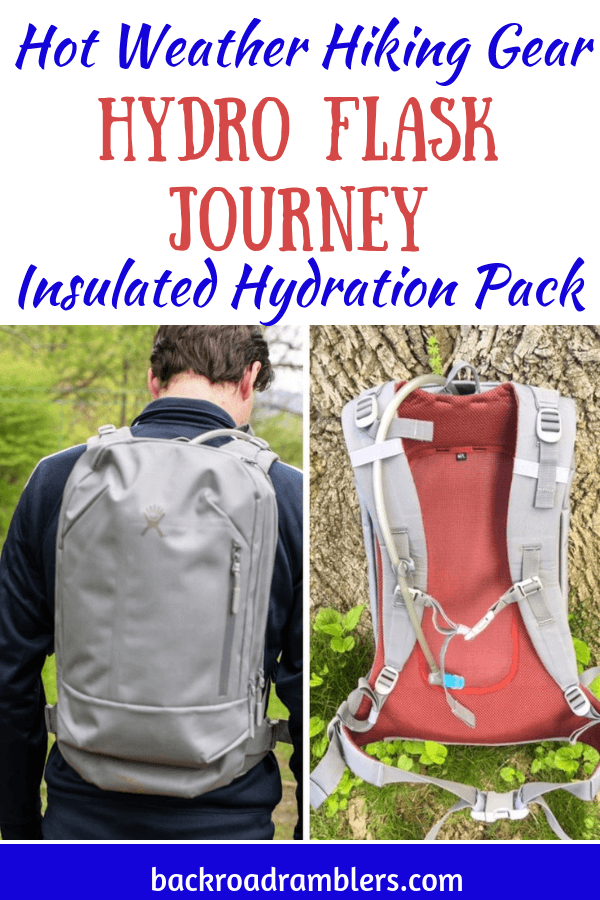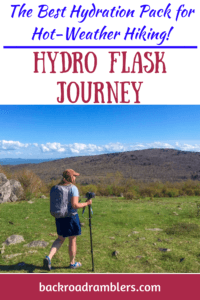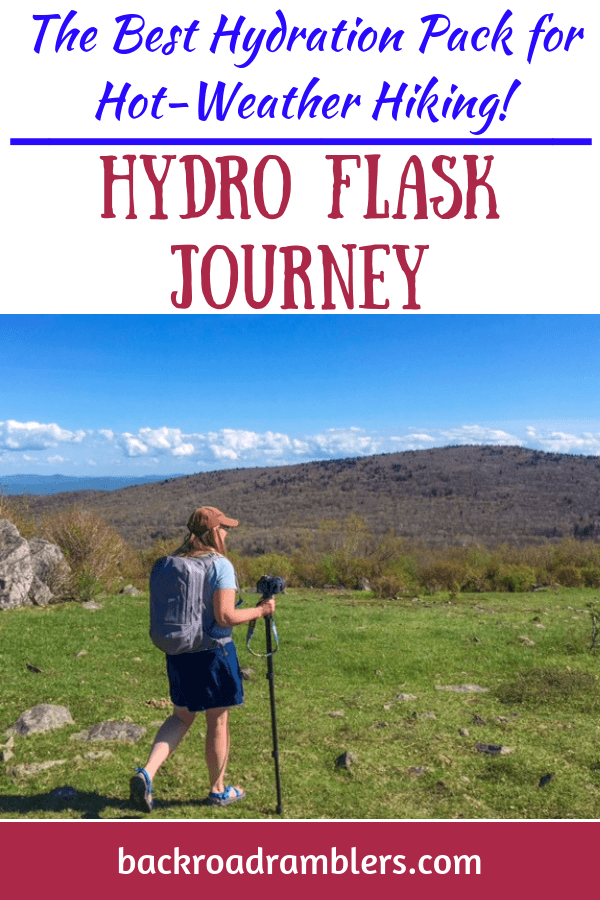 Please note: We were given a Hydro Flask Journey for review purposes, but we only recommend products that we use and love. Promise!