If you're lucky, you've got fond memories of adventuring in a ramshackle treehouse during some long-ago summer vacation. And even if your childhood didn't include sweltering afternoons in treetop forts, there's a good chance that the iconic treehouse was part of your prepubescent dreams.
Unfortunately, every kid grows up and every treehouse dream becomes a distant memory. Luckily for all of us adults, there are some amazing treehouses in Vermont that embrace, and even surpass all of those childhood dreams. Swiss Family Robinson ain't got nothing on these incredibly cool Vermont treehouses. And the best part? They're all available to rent for your next vacation.
Treehouse glamping in Vermont allows you to immerse yourself in the natural landscapes of Vermont while still sleeping in a real bed each night. Each Vermont treehouse is unique. Some are rustic. Some are luxurious. And all allow you to relive your childhood dreams!
How We Find Unique Glamping Properties
We use five different websites when searching for glamping opportunities – Tentrr, Hipcamp, Glamping Hub, VRBO, and Airbnb. There are plenty of similarities between them all, but once you start using them to search for properties, you will find subtle differences in how you can filter properties to meet your needs. We talk more about each of the different booking platforms on our New England Glamping page.
I would also suggest reading the fine print when you find a listing that you love. Each destination and booking platform handles cancelations and refunds differently. It's like the wild west out there, and you have to do your homework before booking your stay.
Now, let's head into the treetops!
Rent One of These Amazing Vermont Treehouses for Your Next Vacation
The following Vermont treehouse rentals are located all over the state of Vermont. Some of them are also really popular, so if you are interested in booking one for your next Vermont vacation, do it as soon as you know your dates. Happy glamping!
Treehouse Village Inn: South Newfane, Vermont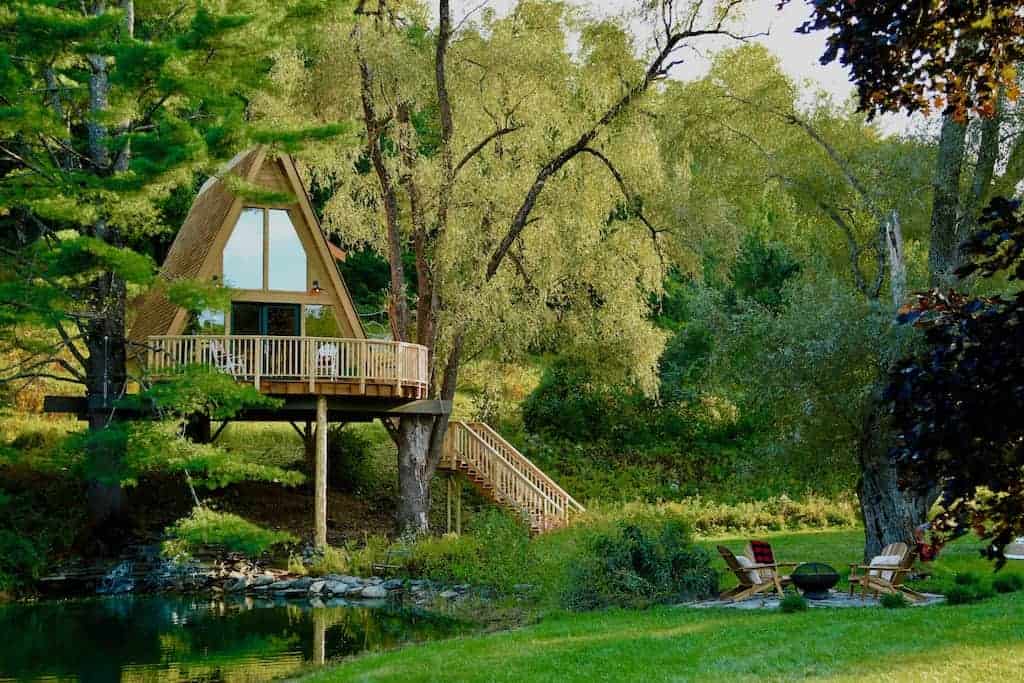 A stay at Treehouse Village Inn is a unique experience that is perfect for special occasions. Located in the mountains of South Newfane, Vermont, this beautiful property combines the fairytale magic of sleeping in the trees with the posh lodging experience of an upscale bed & breakfast. It's posh and rustic, secluded, but well-appointed. In short, the perfect place to unplug and unwind without sacrificing a bit of comfort.
The Newfane treehouse includes a gorgeous sitting area, a small kitchenette, a full bathroom, and a spiral staircase that leads to a queen-size bed. Wi-fi, a smart TV, and air conditioning are also included. There's a balcony for relaxing with your morning coffee and an outdoor fire pit with a seating area at the base of the treehouse and next to the pond. When you want a unique getaway, but you don't exactly want to rough it, this is the place you'll want to book!
---
Stone City Treehouse in Hardwick, Vermont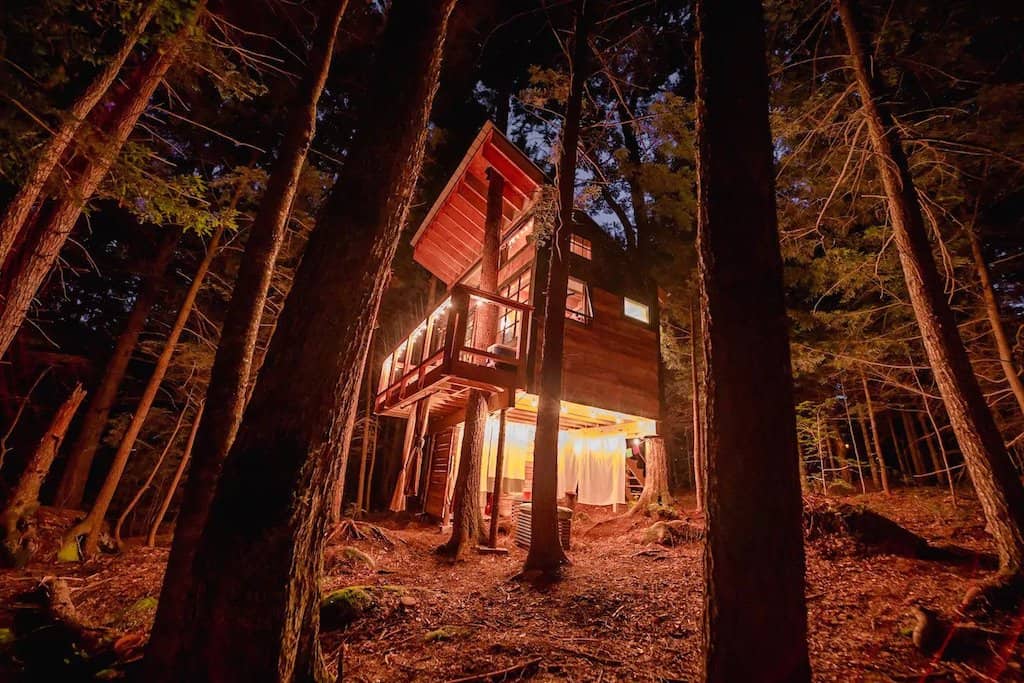 Tucked away in the woods near a gurgling stream, this unique treehouse in Hardwick was created using local, natural, and recycled materials. Features include a woodland deck overlooking the stream, a mini kitchen for creating basic meals, and a cozy, full-size bed in the sleeping loft. The bathroom includes a composting toilet, and an outdoor fire pit and sitting area are perfect for taking in the beauty of the woods. There's even a treehouse swing for guests who want to relive their childhood dreams of living in a treehouse!
While Stone City Treehouse offers plenty of solitude, the main house is nearby. Guests are welcome to use the main bathroom and luxurious shower or borrow kayaks for paddling on nearby Nichols Pond.
Hardwick, Vermont is a small community of just 3,000 people, but the area provides an amazing array of recreational activities for the outdoor lover. In addition to swimming and paddling in Nichols Pond, be sure to hike up to Nichols Ledge for a fantastic view of the pond and the surrounding mountains.
Be sure to spend some time in historic downtown Hardwick. For dinner, we can't say enough great things about Positive Pie (pizza), and you won't want to miss the incredible cinnamon rolls at The Magic Spoon Bakery.
---
Three-Bedroom Treehouse on Bliss Ridge Farm in Moretown, Vermont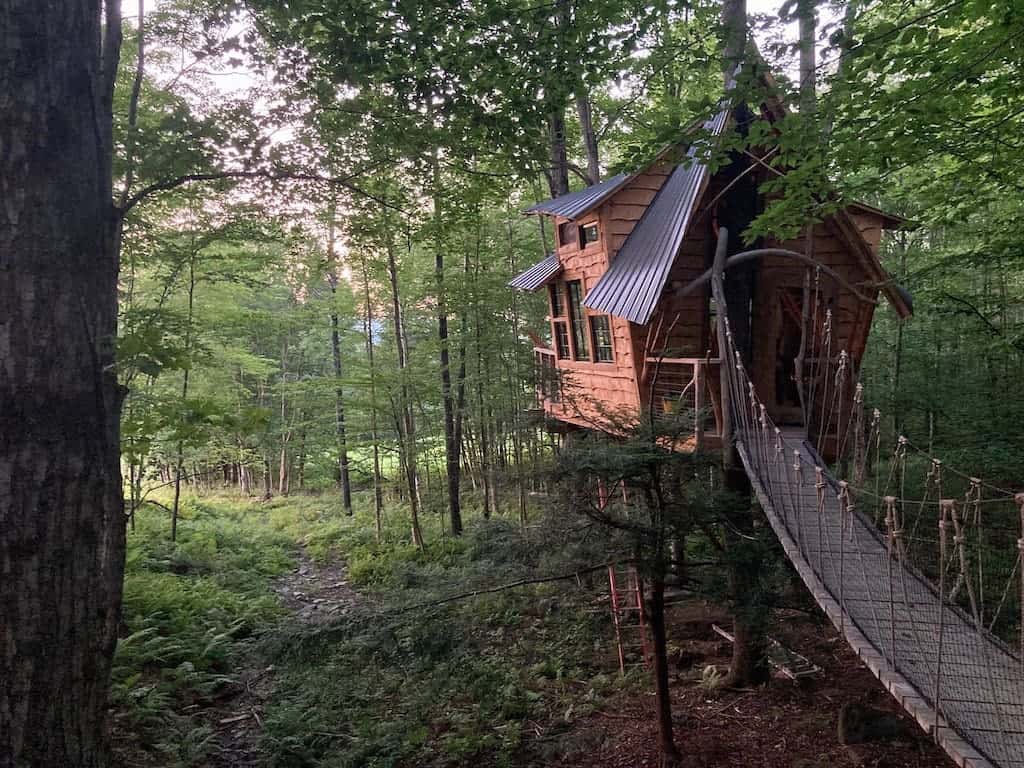 This magical Vermont treehouse is located at the top of an 88-acre organic farm and surrounded by more than 1,000 acres of wilderness for total seclusion. Built within and around living trees, this Dr. Suess-inspired dwelling includes a whimsical suspension bridge, two lofts that can be accessed via ladders, and even a kitchen and bathroom.
Outside of the treehouse, you'll find a woodland fire pit, trails for hiking, and ponds for swimming in. Incredible views of the Worcester Range are just steps from your door, and the Mad River Valley and Route 100 are just a few miles away.
The location of this stunning Vermont treehouse is absolutely perfect for a family vacation, with many kid-friendly attractions nearby, including the Ben & Jerry's Factory, Cold Hollow Cider Mill, Waterbury Center State Park, and Stowe Mountain Resort. A stay in this awesome treehouse is truly a one-of-a-kind experience.
---
Moose Meadow Lodge and Treehouse in Waterbury, Vermont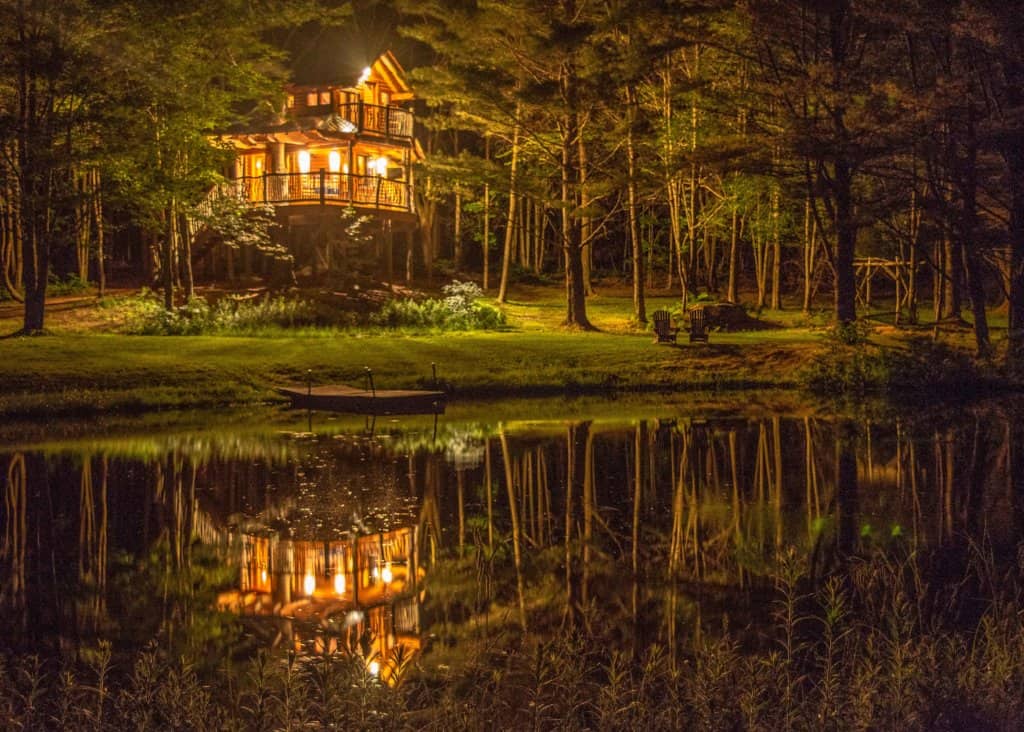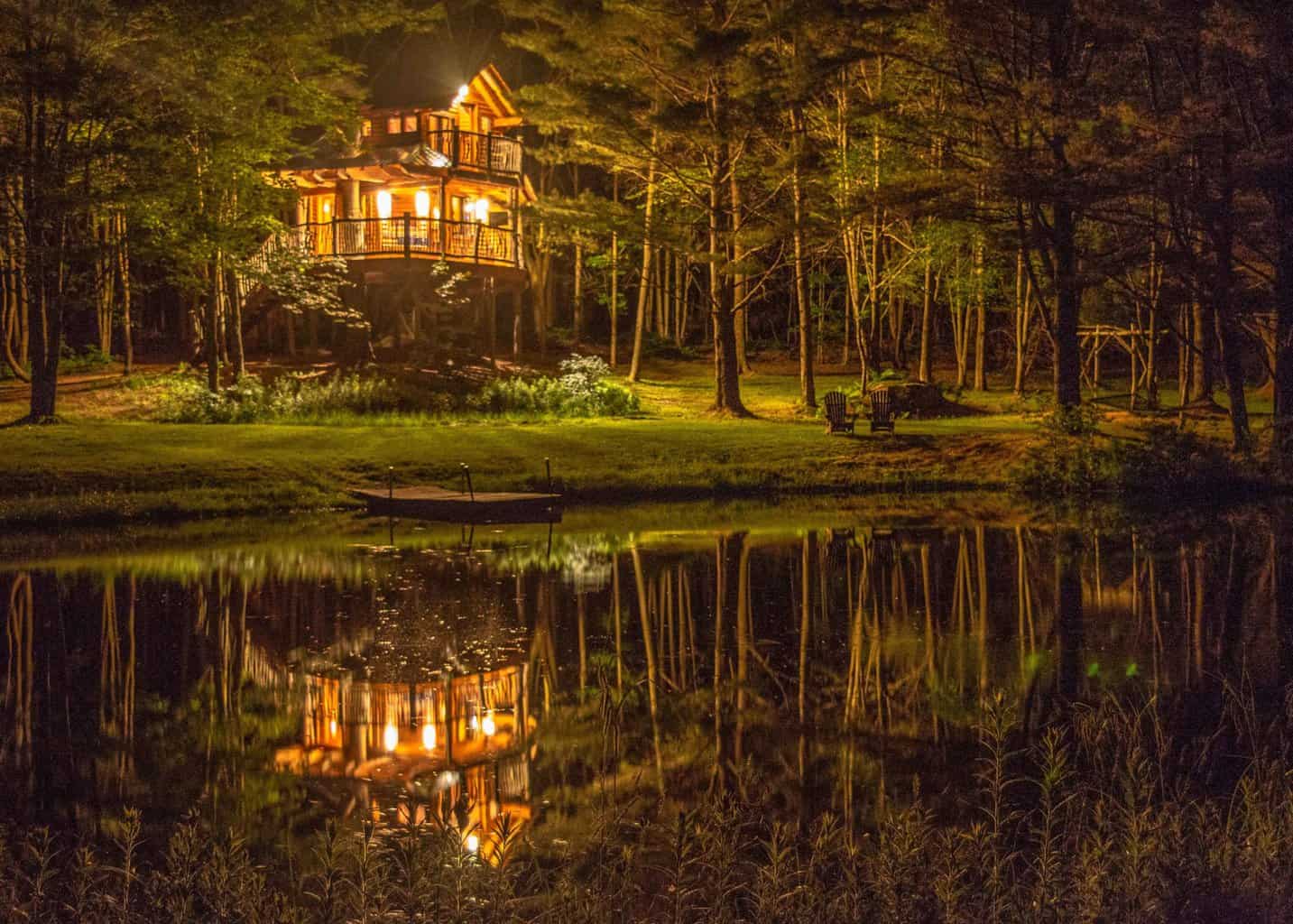 The Moose Meadow Treehouse is part of Moose Meadow Lodge, an incredible bed & breakfast that somehow manages to be rustic and incredibly luxurious at the same time. Located just outside of Waterbury, Vermont, this is the spot you want to go for a little romance, and it's perfect for a honeymoon suite, anniversary celebration, or simply a magical night away.
Nestled in the woods next to a small pond, the small, unique touches to this treehouse are the ones you'll never forget. An outdoor shower gives you unparalleled views of the mountains, and a gas stove will keep you toasty on chilly evenings. The queen size bed is tucked into a cozy nook on the second floor, with a cozy balcony just steps from your sleeping area. There's also a full wrap-around deck off the main living space.
Treehouse guests are treated to a full breakfast each morning and have access to the hot tub in the main lodge, as well as an abundance of hiking trails that criss-cross the property. We can't imagine why you would want to leave such a paradise, but the town of Waterbury has lots of great restaurants, including the world-famous Hen of the Wood and Prohibition Pig.
Wondering if a stay at Moose Meadow Treehouse is worth the money? Read more than 200 five-star reviews on Tripadvisor before booking directly with Moose Meadow Lodge.
---
Read Next: Green Mountain Luxury at Moose Meadow Treehouse
---
The Outpost Treehouse in St. Johnsbury, Vermont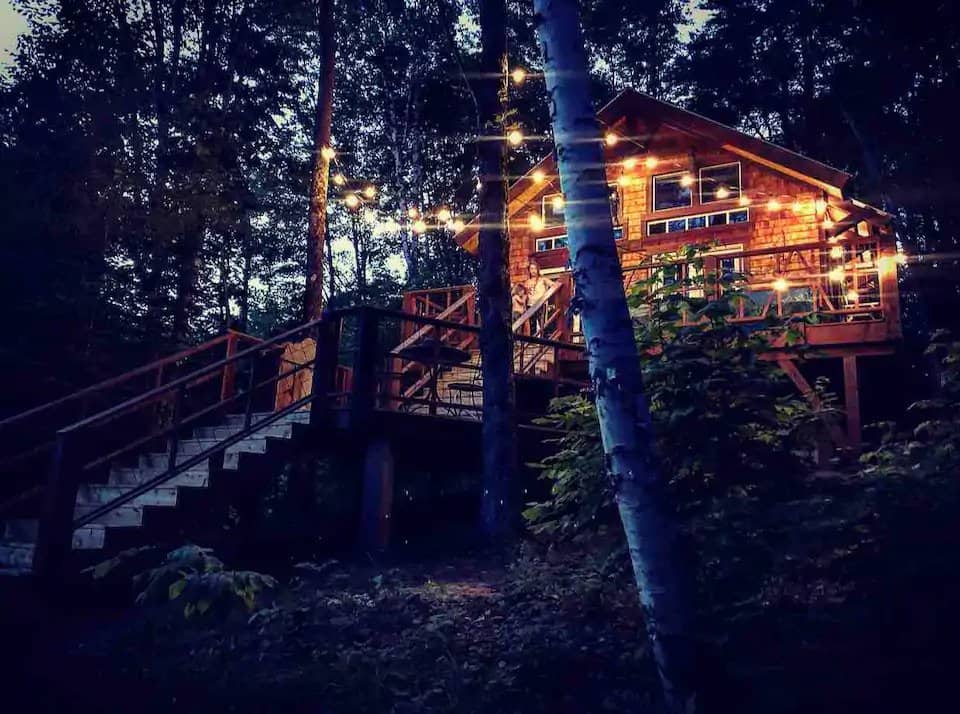 This epic Vermont treehouse is located right next to Dog Mountain in St. Johnsbury, and yes, well-behaved dogs are permitted in the treehouse for an extra fee. The Outpost Treehouse is definitely not camping, and even a step above glamping. Visitors have electricity, a gas fireplace, a mini gourmet kitchen, and even a full-sized bathroom with a sink, shower, and toilet. There are outdoor seating and dining areas with a table for 10 people, a large fire pit, and three beds suitable for up to six guests.
St. Johnsbury is a fun destination and the main hub of Vermont's Northeast Kingdom. I've already mentioned Dog Mountain, which is a must-visit for all dog lovers, but you should also check out the Fairbanks Museum and Planetarium. For craft food and beer, be sure to visit Kingdom Taproom and Table. Yes, the menu is small, but it's so yummy!
---
Walker Pond Treehouse in Coventry, Vermont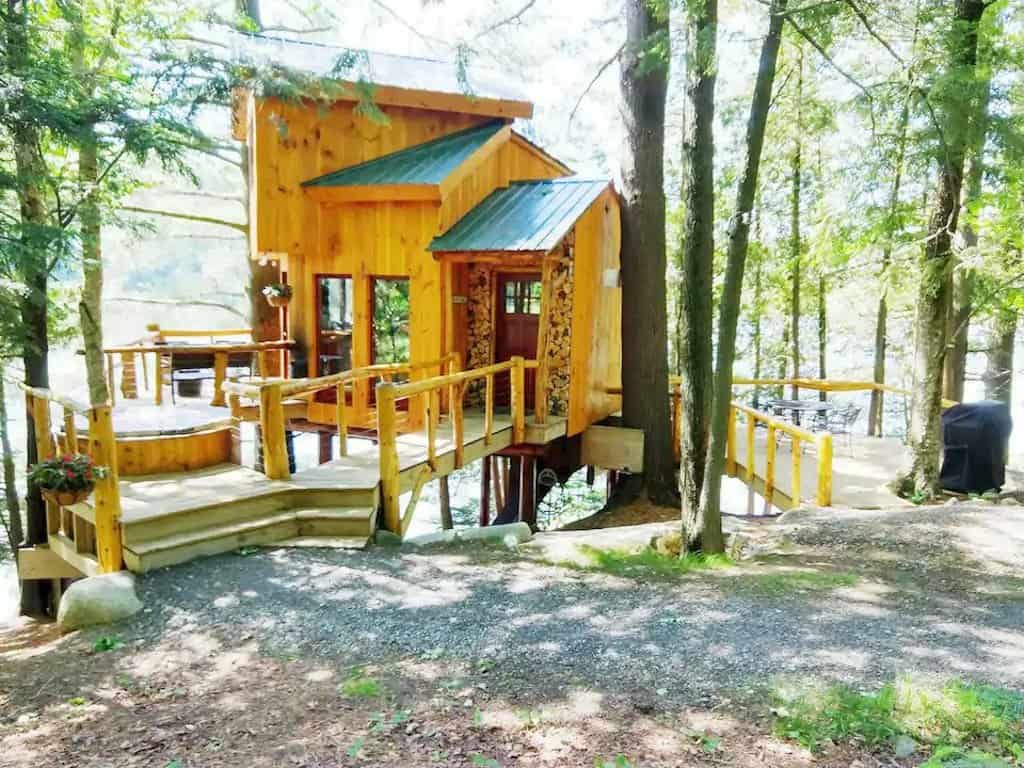 Is anyone else dreaming about a pondside treehouse on 40 acres with a hot tub? Yeah, me too! The Walker Pond Treehouse is located in Coventry, Vermont, just a stone's throw from Canada. The treehouse includes a queen-size bed, a full-size pull-out sofa, a private balcony overlooking the pond, and all the amenities you need for a comfy stay, including a TV, grill, mini-kitchen, and bathroom with a shower.
While the treehouse is cozy enough to spend your whole vacation inside, you won't want to miss paddling and fishing on Walker Pond, hanging next to the fire pit, and exploring the trails on the property.
Looking for an urban adventure? Head to nearby Newport on Lake Memphormagog, where you can shop at the quirky Main Street stores, meander along the lake that stretches well into Canada, or grab some authentic Thai food at Dusit Thai Cuisine.
---
Want to explore more of Vermont from your favorite treehouse? Be sure to visit our sister website, Vermont Explored, or visit these posts!
---
Follow us on social media for more glamping ideas!
Pin for Later?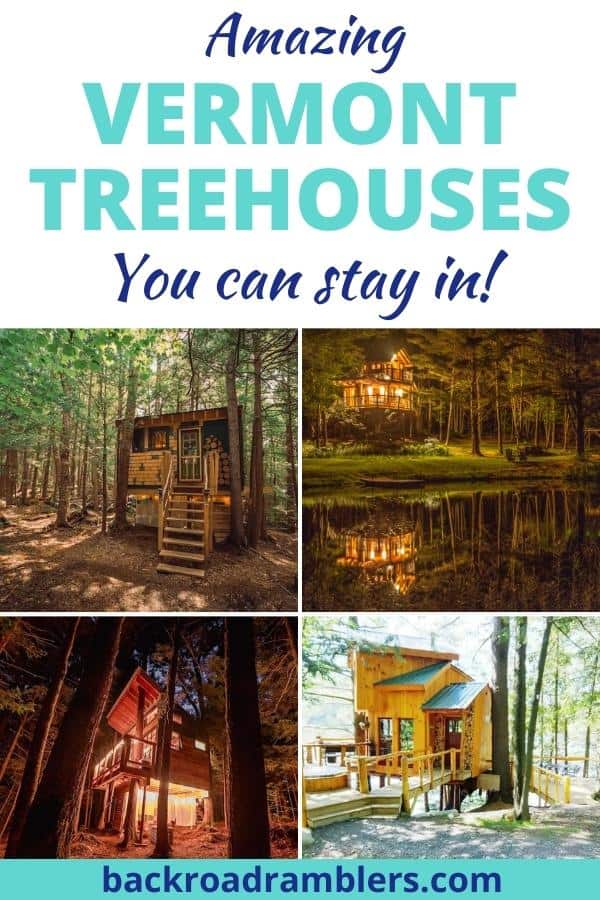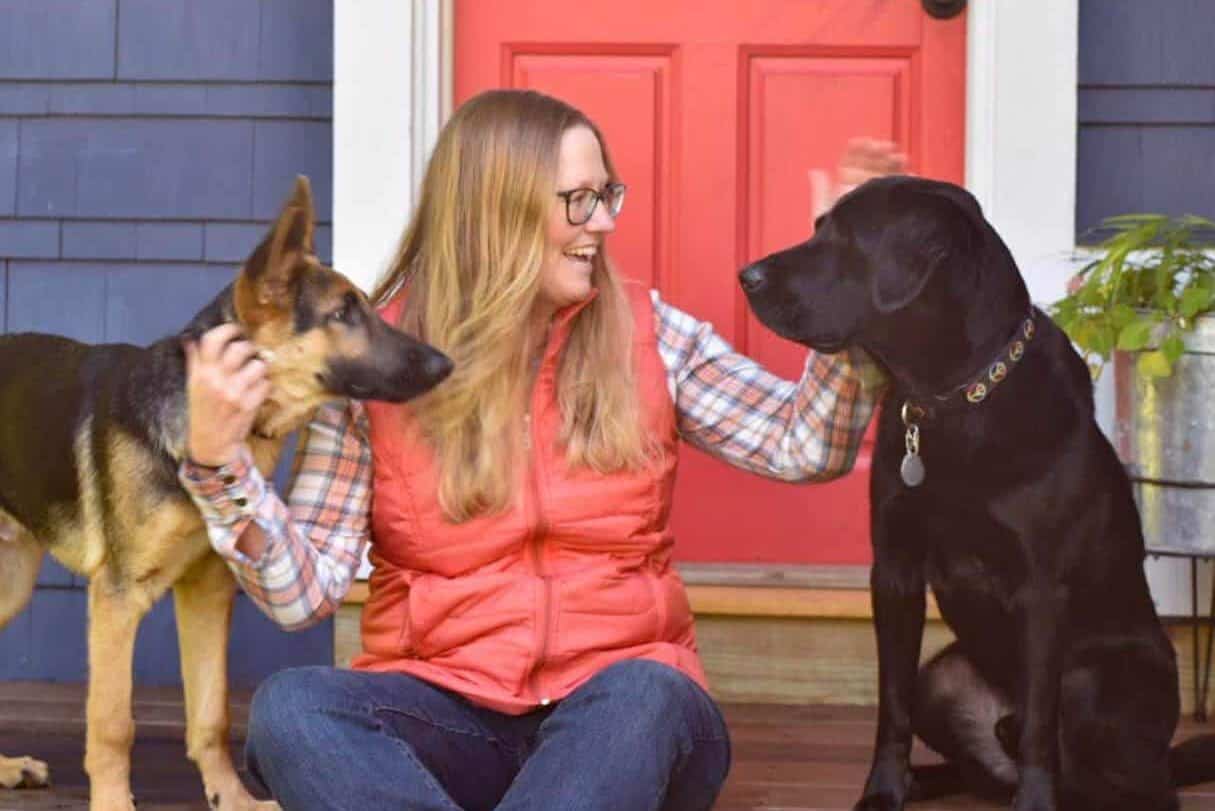 Tara is a freelance writer and travel blogger with a passion for outdoor adventures. She currently blogs at Back Road Ramblers and Vermont Explored, where she shares travel tips, adventure destinations, and vacation ideas for the wanderer in everyone.