It's not really summer until you dust off your Chacos and embark on an outdoor adventure, whether it's meandering along a sunny stream, hiking a trail, or paddling your favorite lake. We are long-time fans of Chaco sandals, but up until now, we've stuck with the traditional all-black design. We didn't know what we were missing!
Over the last few years, Chaco has introduced some pretty funky strap styles, allowing customers to choose from a variety of solid colors, as well as unique designs featuring avocados, camouflage, Pac Man, the Grateful Dead, and lots more.
**2021 Update** Chaco gives you the ability to customize your sandals using dozens of designs, but you can no longer use your own artwork on your straps.
This year, Chaco rolled out a new design tool — the ability to upload your own photography or artwork to create one-of-a-kind straps for yourZ/1, Z/2, ZX/1, ZX/2, and flip flop sandals. We gave this a shot and were able to customize a pair of men's Z/2 sandals for Eric. Even though summer is just getting started here, we're pretty thrilled with the results so far.
In case you're thinking of designing your own Chaco sandals using the MyChacos Print Shop, here's an overview of the process and some tips for creating the most unique sandals ever.
Introducing Print Shop by MyChacos
The new Print Shop by MyChacos gives you full creative control over the design of your sandal, from the straps to the footbed, and even the logo badge. Here's your step-by-step guide for creating the most unique sandals on the planet.
Step one: Choose Your Sandal
You've got five choices when customizing your Chacos, and your first decision will be which Chacos are right for you. Our family is equally split between loving the extra toe loop and preferring to set the toes free. In case you are curious, Tara finds the Z/2 with the toe strap too confining and goes for the Z/1 or the ZX/1 every time. Eric prefers the extra stability that the Z/2 provides. If you have a favorite Chaco style we'd love to hear your opinions.
For our Chacos customization, we chose the Men's Z/2. Here's the blank canvas:
Step two: Choose the Design for the Straps
You have the option to separately customize each strap of your Chacos, including the main strap, the heel leash, the heel riser, and the buckle strap. The main strap of your Chaco sandals includes the strap that crosses over the top of your foot and the toe loop. The heel leash is the strap that runs behind your heel. The buckle is a small piece of strap that comes up from the footbed to attach to the heel leash, and the buckle strap connects the heel leash to the main strap.
The main strap is the only strap that you can customize with your own artwork. If you click on the main strap, you can choose from solid colors, a huge variety of custom designed styles, or upload your own photo or artwork. This is such a fun option, but it does take some experimenting.
Step 3: Choosing Artwork for Your Custom Chacos
As a canvas, the straps are quite narrow, and it can be difficult to find the perfect artwork to adorn your straps. Of course, experimenting is part of the fun. Here are some of the designs we came up with before settling on the one we eventually chose. From top to bottom, the photos we experimented with include: curly kale, fall foliage, witch hazel blossoms, and a landscape from Arizona.
We tried lots of different ideas for the strap, but it was super challenging to find one that actually looked good. Fortunately, the Chaco website gives you a good idea of what the finished product will look like. Here is the strap design we finally went with — a sunset scene from a recent visit to the Grand Canyon.
Step 4: Customize your Buckle, Stitching, and Logo
Once you find the perfect design for your Chaco straps, the rest is easy. Choose a solid or print colored buckle, solid colored stitching, and a logo badge. The Chaco logo is a cute gecko, and you can choose to add it in several different colors to the heel riser. You can also choose to forgo the logo altogether, which is what we did.
Step 5: Choose Your Chaco Footbed and Sole
You've got two choices for your Chaco footbed — classic or cloud. All Chaco sandals come with a LUVSEAT™ dual-density PU midsole, and the cloud option provides an additional level of cushioning for active support. Worth the extra $10? We're not sure yet, but we'll update this post as soon as we've tested them adequately.
As for the sole on your new Chacos, you've got three options — ChacoGrip, Colorado, and Terreno. The option you choose will depend largely on what you use your Chacos for. Here's an overview of the sole designs that are offered, taken from the Chaco website.
ChacoGrip™

: Made by us, for us. Our proprietary outsole design features non-marking rubber in men's and women's-specific tread designs. Traction on the toe provides excellent uphill and downhill grip, while the lug design provides footing on both dry and slippery surface. It is built to perform and built to last.

Colorado

: Lightweight, low profile sole that maximizes surface area for excellent traction in slick environments. Made in the USA.

Terreno: Our 4.5 mm of lug depth will give traction and durability on any trial. This sole is excellent for hiking trails and rocky terrain. Made in the USA.
Step 6: Choose Your Size and Order Your Chacos
The last step is the easiest. Choose your size and add your Chacos to your cart. We find that our Chaco sandals run pretty true to size. They come in whole sizes and medium and wide. While both Eric and I have wide feet, the medium has always been perfect for us.
Tips for Ordering Your Custom Chacos
We found the whole process of designing and ordering our Chacos to be pretty painless. Once you add them to your cart, your sandals are created in Rockford, MI and delivered to your door.
Here are some things you should know before ordering your custom Chaco sandals.
Chaco Sandals come with free shipping when ordered online.

Unfortunately, custom sandals can't be returned. So make sure you check and double check your design before adding your Chacos to your cart.

According to the Chaco website, your sandals will take about 10 days to design and ship. This probably depends on the number of custom orders they receive, but we received ours in five days.
Final Thoughts on Our Custom Chaco Sandals
While there are dozens of ready-to-go Chaco designs to choose from on the Chaco website, it was still fun to create a design from one of our photos. We love the way they came out and wouldn't hesitate to try other designs to make our Chacos 100% unique.
We did have to contact customer service for a minor issue, and they were super helpful and responsive. This is our first custom pair of shoes, but we have worn Chacos for years and years and can say with 100% honesty that they are incredibly rugged and durable. If you are looking for a unique way to feature your own artwork on a pair of awesome sandals from a great company, definitely check out the PrintShop by MyChacos.
---
Looking for more gear reviews from some of our favorite outdoor brands? Read this next:
---
Pin for later?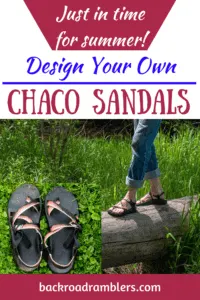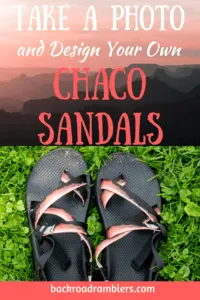 Please note: We were given access to the Chaco design tools on their website so that we could design a pair of complimentary Chaco sandals. We truly love our Chaco sandals and these are our honest opinions about the design process and the finished product.