Please check to make sure destinations are open to visitors before planning a trip and follow local guidelines. We earn a commission from affiliate links that may be included in this post.
By Alissa from Exploring Wild
Every August the streets of small-town Downieville, California fill, even more than usual, with mountain bikes. Little kids hop curbs on pint-size full-suspension rigs. Expert riders in race jerseys make hurried mechanical adjustments. Spectators in swimsuits sip beer in the river while daredevils hurl themselves off bike jumps into the crisp cool water. It's Downieville Classic race weekend, and if you like mountains in the summer and have even a casual appreciation for bikes, it's the perfect long weekend getaway.
Amateurs and professionals alike come from near and far to show their grit during two grueling bike races, while families and spectators come out to eat ice cream in the sunshine and cheer them on. Despite its legendary status, the Downieville Classic has a festive old-school vibe that outdoorsy folks will appreciate from either side of the finish line.
A Special Weekend in Downieville, California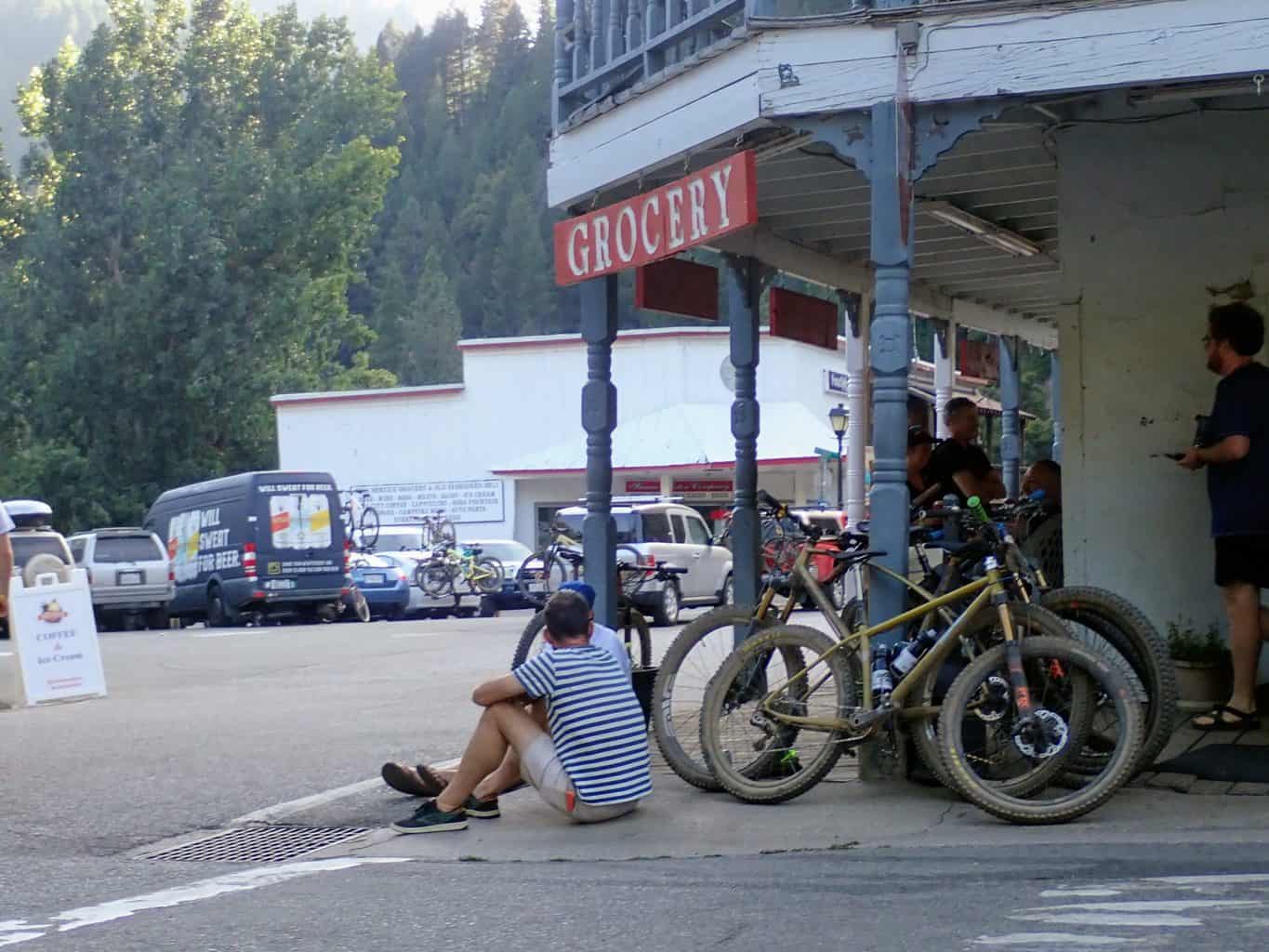 My husband and I love the Lost Sierra region of California for its scenic trails and lakes, challenging outdoor recreation, and charming mountain towns. We've actually ridden the Downieville Downhill course outside of the race, just for fun, and marveled at how the racers can turn in finish times 3-4x faster than ours. So this past summer we thought it would be fun to take another trip to Downieville specifically for race weekend and soak up as much of the dirty, gritty, outdoorsy MTB goodness as possible.
The Downieville Classic did not disappoint. As expected, the vibe – half race, half party – was a ton of fun. We ate ice cream, swam in the river, and cheered for both the All-Mountain World Championships and the amusing log pull competition.
Beyond all that, we were delighted to find that a little extra effort scored us front-row seats to race action that most spectators miss. While most folks watched from the finish line in town, we sat directly beside a gnarly section of the course, cheering on racers and chatting with volunteers. On our way back we spent time cheering up a forlorn racer, his tire irreparably flat, as he wheeled his bike down a side road into town. By the time we sipped our final local beer in the cool river on Sunday afternoon, we felt like part of the event. We felt, dare I say it, like Downieville Classic groupies.
If this sounds like fun to you, read on for an insider's guide to getting the most out of the Downieville Classic mountain bike race and festival weekend.
Getting to Downieville and the Lost Sierra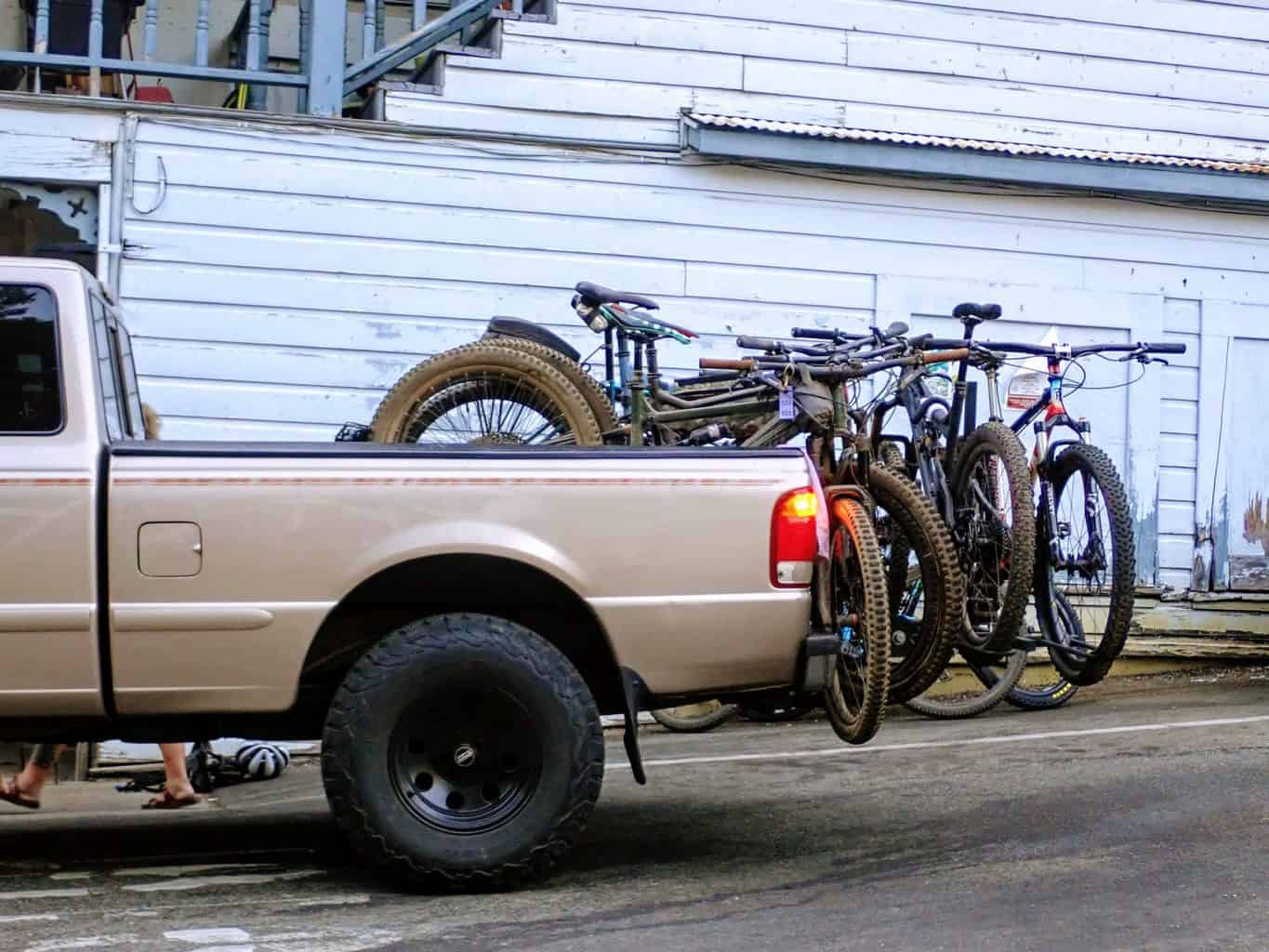 Downieville lies along scenic Highway 49 as it winds through the Sierra Nevada mountains of California. By road – which is pretty much the only way to get there – it's about two hours northeast of Sacramento or 1.5 hours northwest of Tahoe.
The region, which also includes Sierra City and Graeagle and vast stretches of rugged mountains in between, is evocatively known as the Lost Sierra. Stunningly scenic and rich in gold rush-era history, it somehow manages to avoid the hordes of summer tourists who descend on more popular areas like Tahoe. It's still far from empty on sunny summer weekends, especially the Downieville Classic weekend, but the atmosphere remains appealingly relaxed.
Downieville Classic Schedule Overview
The festival usually runs from Thursday through Sunday at the beginning of August, with the main action centered around the races on Saturday and Sunday. The date and schedule change a bit each year so be sure to check the event website for the latest. Attending the festival and watching the race are free and there are no tickets needed.
The event technically begins on Thursday with some sponsored events like meals, merch booths, and maybe a film screening. If you're a mountain biker yourself and want to see what all the fuss is about, you can do shuttled rides on the downhill course on Thursday and Friday.
Saturday is the cross-country race, required for all riders who wish to compete in the downhill the next day (and on the same bike!). It starts in Sierra City, climbs 4500 feet into the mountains, and spits exhausted riders out a few hours later in downtown Downieville. Finishing times range from an impressive two-ish hours to around five and a half. After the race Downieville transforms into a bike-themed party with a gear expo, river jump contest, log pull competition, and live music in the evening.
Sunday is the main event: the downhill race. It starts at Packer Saddle, about a 20-minute drive north of Sierra City, and ends once again in downtown Downieville with finishing times ranging from around 45 minutes to 2 hours. The festivities wrap up a bit earlier on Sunday with a kids river jump competition, but there's still plenty of fun to be had down by the river in the afternoon as racers and spectators enjoy the end of the weekend events.
Downieville Classic Course Overview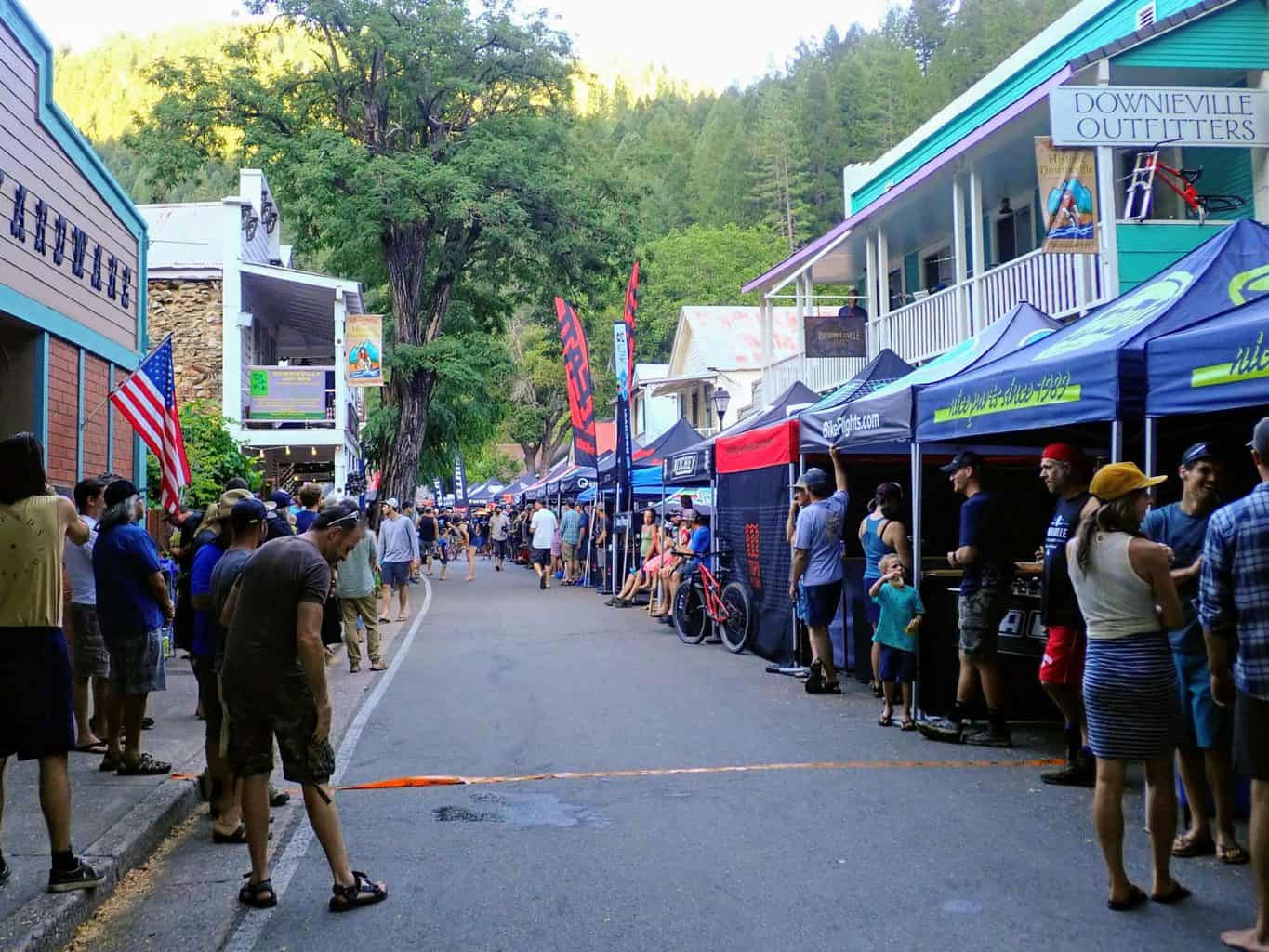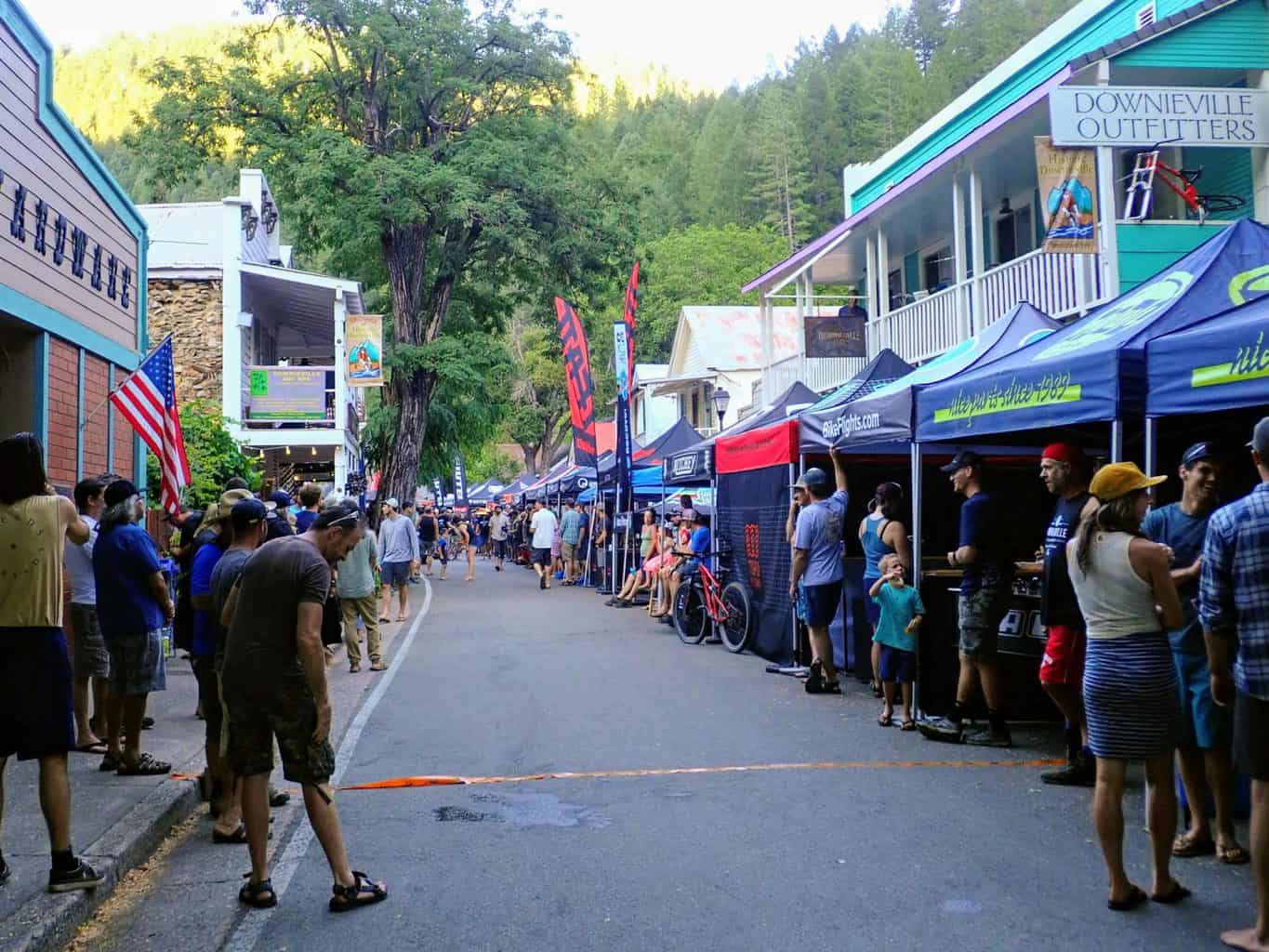 If you're interested in watching some of the race action up close, you'll need a basic understanding of the course. Here's a map for the cross country race and here's one for the Downvielle Downhill race; both can be downloaded in the Trailforks app.
A Suggested Itinerary for Downieville Classic Weekend
There are plenty of options depending on where you're staying and what you prefer, but here's an itinerary that we loved. It gave us a chance to watch both races up close, get in a few trail miles ourselves, and still have plenty of time to enjoy the festivities in town.
Saturday
Morning: Cheer on the cross-country racers
You can watch the cross country start in Sierra City, or the finish in Downieville (between roughly 2 – 5 hours after the start). However, we found it very rewarding to instead drive up to Packer Saddle (as far as you can get before they close the road) and hike up to where the course intersects Butcher Ranch Road. It's a steep but short hike, and you'll be rewarded by a trail-side spot as riders huff and puff their way up the epic climb from Sierra City.
The front of the pack comes through around half an hour after the start, and the back of the pack will make appearances until around 2.5 hours post-start. If you wait until most of the field has passed through, you can even hike on a section of the course (technically also the Pacific Crest Trail) while you're up there. Be sure to stay out of the racers' way, and respect whatever the race volunteers may tell you about whether this is ok.
Afternoon: festivities in downtown Downieville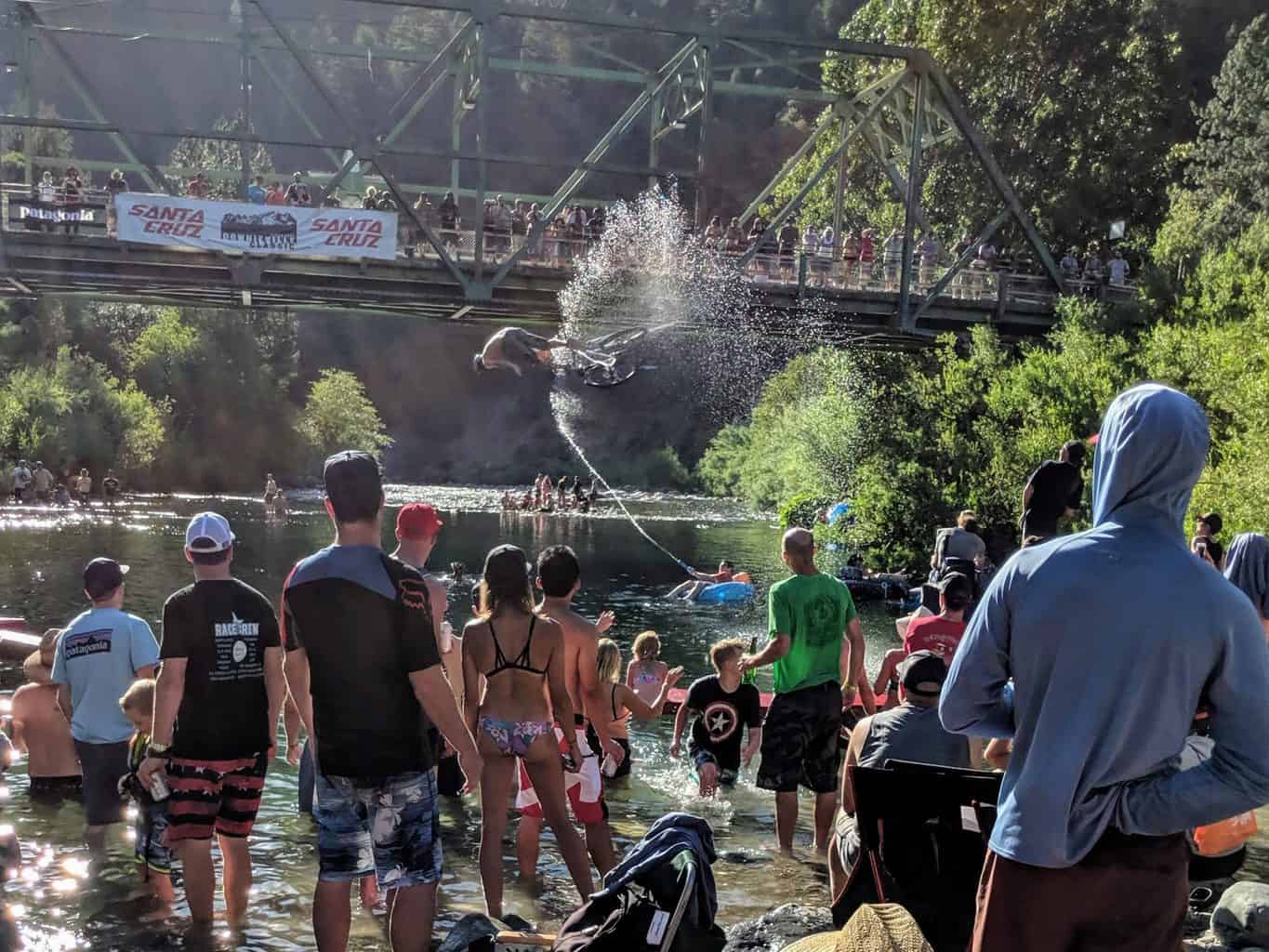 Once the cross country race has wrapped up, grab a can or two of craft beer from the local grocery store and plant yourself at the river to watch the jump contest. For some magical reason, open container laws don't exist in Downieville, and no one hesitates to take advantage of this.
Evening: Log pull competition and live music
In the evening hours, grab a bite to eat at a restaurant or food truck and gather to watch the log pull contest. This unapologetic show of brawn – riders drag a log behind a bike as quickly as possible and then chug a beer – is even more entertaining than it sounds. Later in the evening, dance to live music in the town streets.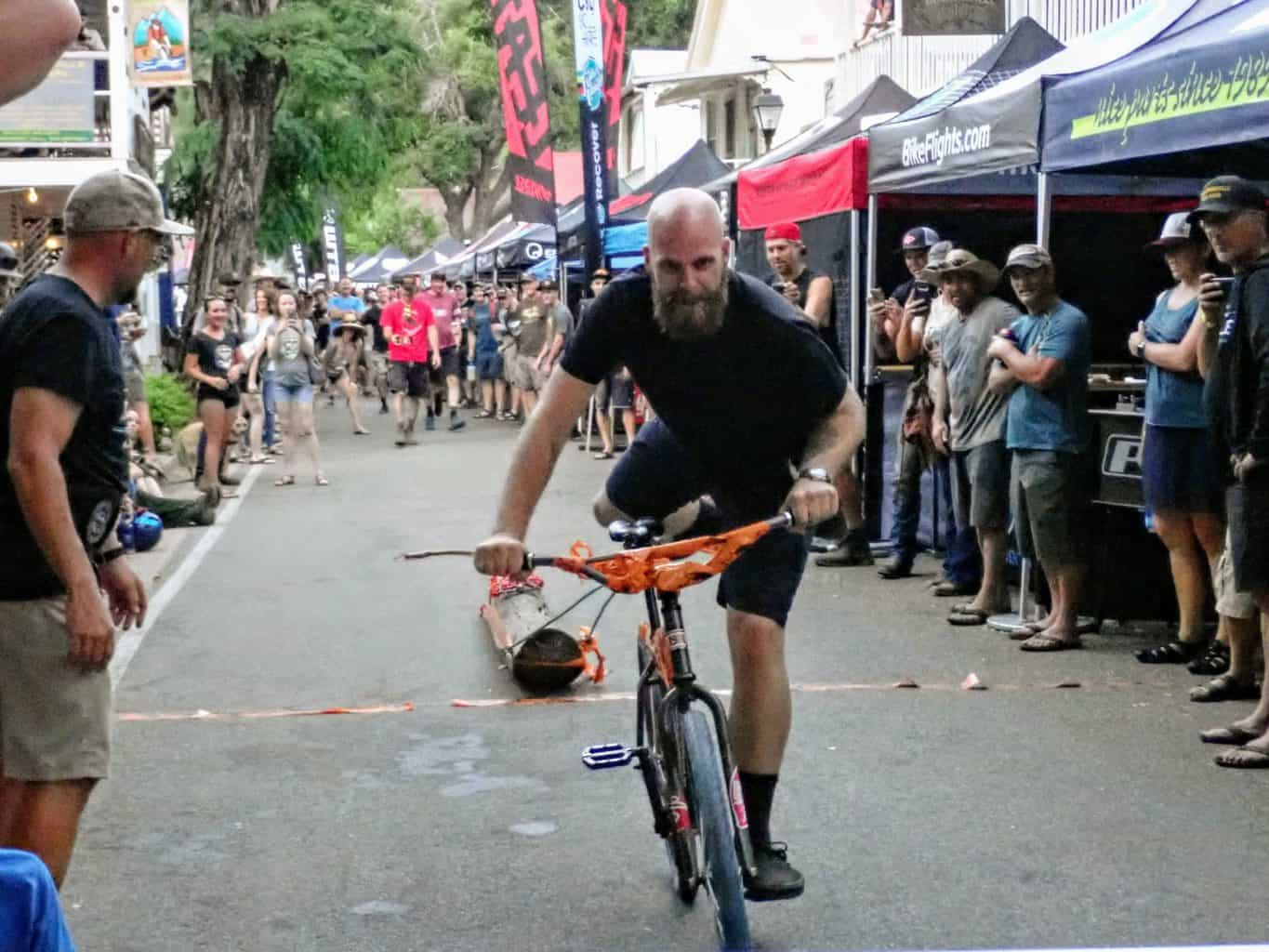 Sunday
Morning: trail-side seats to Downieville Downhill
Most people gather in Downieville on Sunday morning to watch the finish on Main Street. But if you have a bike and/or are willing to walk a few miles, you can get a front-row seat and watch skilled athletes doing what they do best: shredding dirt.
To do this, I suggest carefully heading up Lavezzola Road before the first racers arrive, as the section heading out from town is actually on the course. As you head further from town, there are three good spots to watch racers come through (mile counts are rough distances from downtown):
1. 0.75 miles, where First Divide Trail spits out at Lavezzola Road 2. 2.2 miles, where First Divide Trail intersects Lavezzola Road 3. 3.3 miles, where First Divide Trail merges into Lavezzola Road. If the volunteers allow it, you can carefully walk down the trail a bit and watch riders navigating a tricky section.
We rode our bikes up Lavezzola Road to all three of these locations, half expecting to be turned away from getting too near the course, but were happily welcomed by the race volunteers at each spot. We really enjoyed watching the riders come through, cheering them on and chatting with the volunteers. If you're going to do this, it's very important to stay out of the way as racers come hurtling through, and listen to whatever direction the race volunteers give you. If spectators start getting in the way, I'm sure the race organizers will start closing off access.
Afternoon: hang out at the river
If you missed the river jump on Saturday, or just can't get enough sun by the river, check out the kids' House of Big Air competition on Sunday afternoon. Enjoy the last few hours of race weekend festivities as riders and their families finally get the chance to relax post-race.
Where to Camp for the Downieville Classic
Downieville and Sierra City both have a small selection of cabins and rustic resorts, but the numerous camping opportunities in the Lost Sierra are definitely one of the area's charms. Campgrounds nearest to the action, such as Loganville, Wild Plum, and Union Flat on Highway 49, are great if you can snag a spot but tend to book up early for race weekend.
The campgrounds up near Packer Saddle are also a good bet and sometimes a little less crowded. They're farther from Downieville (about 30 minutes by car) but they're very close to the downhill race start and perfect for watching some of the cross-country race on Saturday as it passes nearby. Check out Packsaddle, Berger, and Diablo campgrounds in this area.
Farther north up Gold Lake Highway, you'll find plenty of lakeside camping such as Goose Lake, Gold Lake, and Snag Lake campgrounds. These are farther from the race action, but nice if you plan to combine your visit to Downieville with fishing or hiking.
Finally, if you're having trouble finding spots elsewhere, Sierra and Chapman Creek campgrounds on Highway 49 are large and often have spots available, even if they aren't particularly close to lakes or the race action.
Other Things to do Near Downieville, California
If you're going to head all the way to Downieville, it's definitely worth taking an extra day or two to explore the Lost Sierra region. See this post for some fun ideas. Highlights include hiking to the Sierra Buttes lookout tower, biking on the area's numerous trails, and enjoying the lakes along Gold Lake Highway.
Other Must-Know Downieville Classic Tips
Don't get in the way of the racers! I almost hesitate to share these tips on how to get closer to the race action, because even a single oblivious person in the wrong place at the wrong time could be disastrous. If you're going to explore near the course, do so with utmost caution and respect for the racers, and always listen to direction from the race volunteers.
Parking in Downieville is extremely difficult during the race, especially since certain streets are closed for the festivities. Consider parking along Highway 49 and walking in to avoid the worst of the congestion.
Cell reception in the entire area may be spotty depending on your carrier, so don't rely on it. Download some maps in the Trailforks or MTB Project apps (for course info and trails) or Google Maps (for driving directions) before your trip.
Downtown Downieville has a public restroom and drinking fountain by the swimming area at the river. There's also a small grocery store, food trucks, and a few restaurants.
Finally, note that the entire Downieville Classic weekend is a fundraiser for the Sierra Buttes Trail Stewardship. This rad organization is responsible for the creation and maintenance of nearly 1000 miles of trail in the broader area, a huge benefit to all who enjoy outdoor recreation. So come join the annual bike party in Downieville, marvel at the impressive racers, and enjoy the summer sunshine, all while supporting a good cause.
---
Want to read more about back road adventures in California? Check out these posts!
---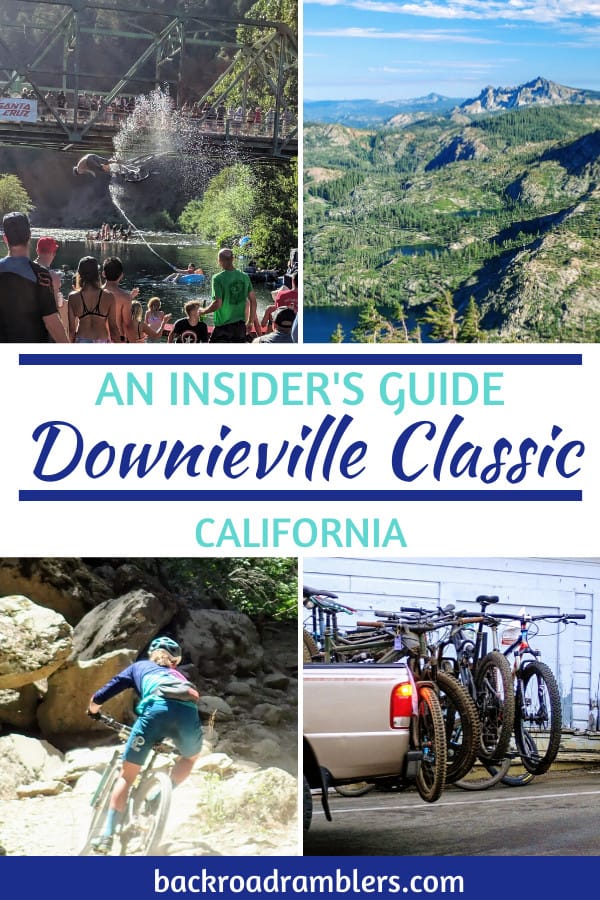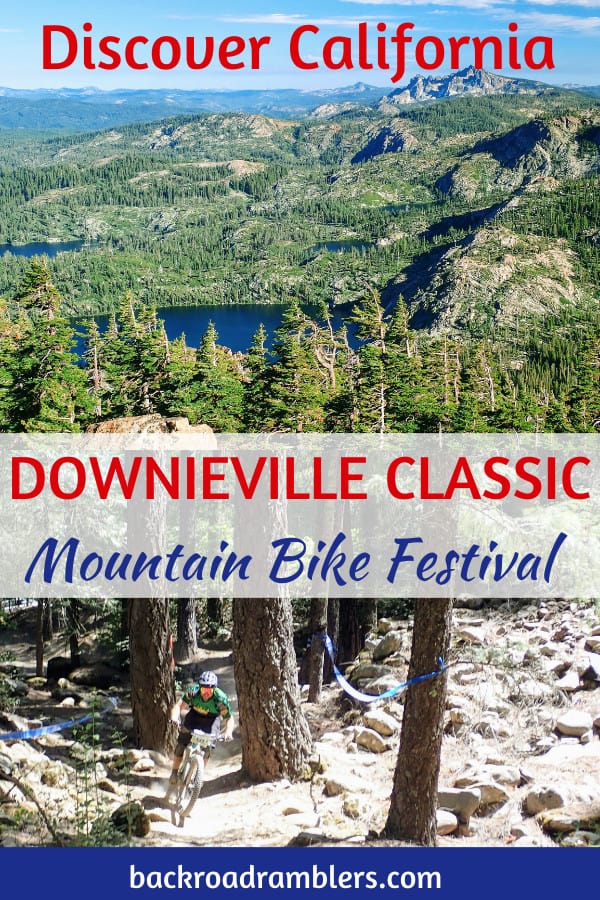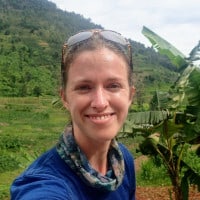 Alissa loves wide open spaces, thoughtful travel, and human-powered adventure in the great outdoors. She shares what she's learned on her website, Exploring Wild, to help you explore your adventurous side in wild places.