Please don't travel until it's safe to do so! Our travel posts are great for making future plans or dreaming about your next escape. Please check with each state/destination for its current COVID-19 guidelines before planning a visit. Also, please note that this post may contain links from which we earn a small commission.
*by Meesh
Hi y'all, I'm Meesh from Right Where I Left Off! My hometown is technically San Jose, CA, but I generally call all of the Bay Area my home town. Growing up, my parents would take us out to explore new parts ranging from the beautiful beaches in Santa Cruz to wonderful hiking spots in the North Bay.
Today I'm going to share some of my top spots to visit in the Bay Area, specifically, my favorite Bay Area beaches, museums, and hikes.
Best Free Museums in the Bay Area
If you've ever been to San Francisco, you know that there are more museums than you can count, let alone visit while on vacation. I've narrowed it down to my top three museums in the Bay Area.
Stanford Rodin Sculpture Garden in Palo Alto, California: I may be biased because Rodin is one of my favorite artists, but it's a great way to check out the beautiful Stanford campus and rub shoulders with some of the best and brightest. My favorite sculpture is the Gates of Hell; I can stand and stare at it for ages. Every time I go back, I find something new that I never noticed before!
Parking is limited around the museum, but it is free in metered spots after 4 pm. The Stanford Rodin Sculpture Garden is every day except Tuesday. Here are the hours:
Monday: 11 AM–5 PM
Tuesday: Closed
Wednesday: 11 AM–5 PM
Thursday: 11 AM–8 PM
Friday-Sunday: 11 AM–5 PM
The de Young Museum in San Francisco: technically it's only free the first Tuesday of the month for everyone and the first weekend of the month if you're a Bank of America customer. On other days, entrance to the de Young costs $15 for adults. Kids under 18 are free. This is a solid museum that has constantly changing special exhibits that are truly great.
The permanent collection is vast, featuring more than 1,000 paintings from distinguished American Artists, a rich collection of African art, and a vast array of textile art, photography, and graphic art pieces. Plan to spend a full day at the de Young Museum, which is open from Tuesday – Sunday from 9:30 am – 5:15 pm.
San Jose's Tech Museum: Also known as the Tech Interactive, this hands-on tech center is "technically" only free the second Sunday of the month for everyone and the first weekend of the month if you're a Bank of America customer. The museum is full of great tech activities for the young and old. My favorite is the wheelchair races!
Best Beaches in the Bay Area, California
Half Moon Bay's Surfers Beach: Maybe it's because I love to people watch and the eye candy – maybe it's because I like to surf myself. Either way, it's a great place to do both. Surfers Beach is located just outside of the rock jetty near Pillar Point Harbor on Highway 1. The beach almost completely disappears during high tide, but you can also visit nearby Harbor Beach, which is protected from the waves and has more of a sandy beach to relax on.
The multi-use California Coastal Trail is right behind the beach and is perfect for walkers, runners, and joggers. Parking for Surfer's Beach is available next to the Pillar Point RV Park, along the highway shoulder, and across the highway on Obispo Road in El Granada.
Santa Cruz's Seabright Beach: It's between to the Santa Cruz Boardwalk and Santa Cruz Harbor and can get a bit crowded in the height of summer, but it's a fun, bright, family-friendly beach perfect for a few hours of sunbathing. The beach stretches out for a half-mile and is well known for its dog-friendliness and as a great spot to catch the sunset. At the tip of the jetty, you'll see the Walton Lighthouse, a 40-foot tall whitewashed structure that makes for beautiful photos.
Looking for a fun adventure while visiting Seabright Beach? At one end of the beach, a sandstone arch leads through to the San Lorenzo River, which makes its way down to the shore from the Santa Cruz Mountains. At low tide, visitors can walk through the cave and see beyond the river to the Santa Cruz Beach Boardwalk.
Enter Seabright State Beach at the main entrance near the Santa Cruz Museum of Natural History on East Cliff Drive or near the harbor off Atlantic Avenue.
San Mateo's Bean Hollow State Beach: Get away from the crowds of other beaches by going to Bean Hollow! It's also dog friendly, so you can spend the afternoon playing fetch with your pup without worrying about accidentally knocking someone's sand castle over by a wayward ball or tail.
My Favorite Hiking/Outdoor Spots in the Bay Area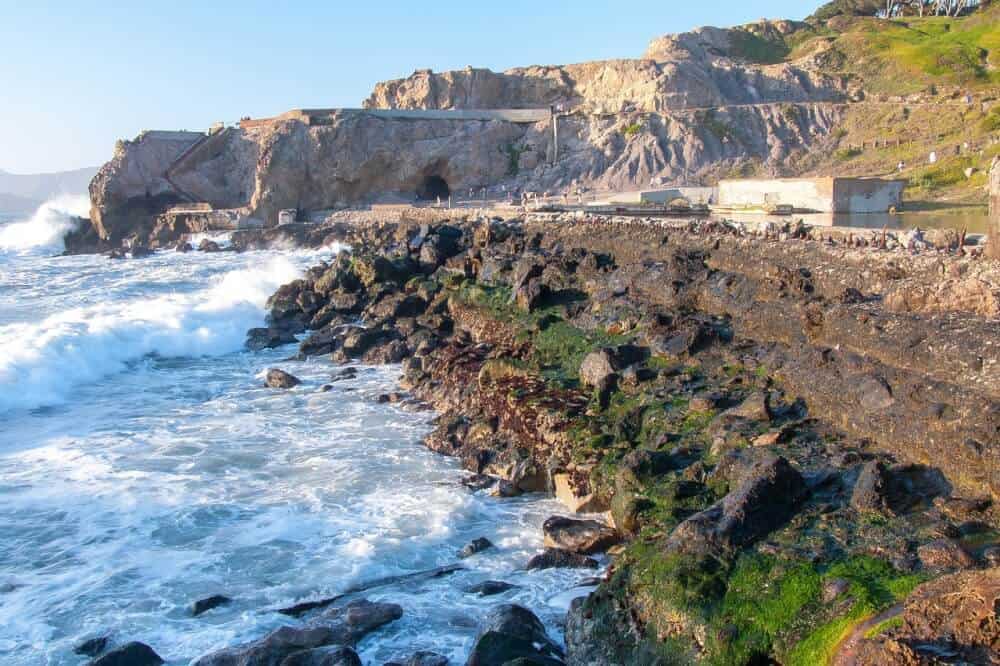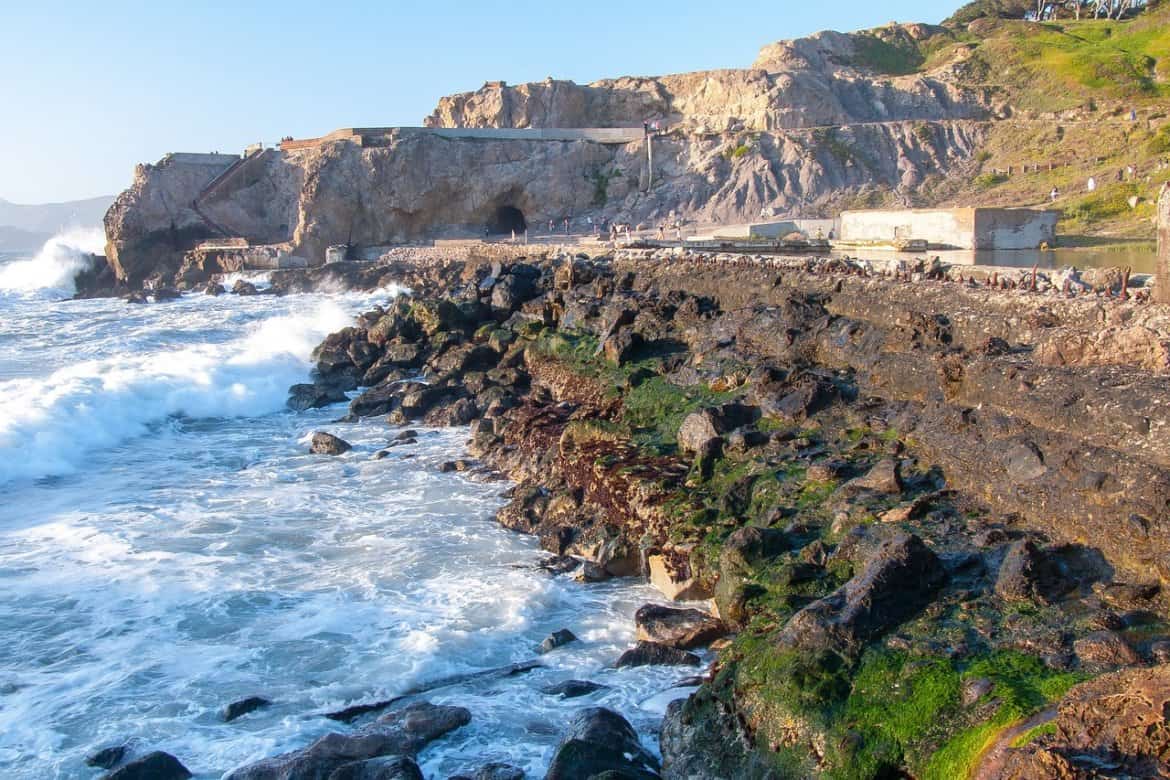 San Francisco's Land's End: It's a bit touristy, but still worth it for the views alone. It's an easy, short trek to get to and has great views of the bay and the Golden Gate Bridge. You can continue hiking around the area past the labyrinth too!
Cataract Falls: I found this gem from The Bold Italic's list of 7 Best Waterfall Hikes. I'm working my way through the list slowly this year and so far it has not disappointed! They range from easy to difficult, a short hour-long hike to an all-day eight hour one.
Los Gatos' Castle Rock: It's a popular place for rock climbers, but there are several trails that range from easy to moderate that you can easily do quickly in an afternoon; my favorites are the Ridge Trails. It's also extremely fun to watch the rock climbers or search and rescue teams practice on the boulders all around the park.
Never been to San Francisco or the Bay Area? Here's a great San Francisco guide for first timers!

For more from Meesh's little corner of the world, check out her awesome blog, Right Where I Left Off. You can also find her on social media: Instagram Facebook Twitter.
For more information about exploring San Francisco, check out San Francisco in a Day by VeraVise Wow Travel. San Francisco is also a great starting point for a Pacific Coast Highway Road Trip, which meanders along one of the most beautiful roads in America.
Want to learn more about exploring the San Francisco Bay Area? Check out these books (click on the photo for more information):

Pin for Later?