Please check to make sure destinations are open to visitors before planning a trip and follow local guidelines. We earn a commission from affiliate links that may be included in this post.
Today we continue the Exploring My Hometown Guest Post Series with Lori from Encourage Your Spouse. Lori and her husband are a couple after my own heart, living the nomadic lifestyle and exploring America together. I'm so excited that Lori offered to share a bit about her current hometown with us.
Why You Should Visit Raleigh, NC
-by Lori Ferguson
Robert and I have been traveling in our RV for almost two years, however, we started our journey in Raleigh, and have been back here for a number of months. (OK – there have been a few side-jaunts to other states and Canada.) We're both writers, and Rob speaks to business leaders about values and does consulting work, so a life on the road has worked for us. So far we are still friends, even though our living space is 282 square feet.
But, where is home? Right now, our RV is parked in Raleigh, NC, and our adult kids live here (along with our first grandboy), so I guess this is our hometown. Let me share some basic facts about Raleigh, NC first before I delve into some of our favorite spots around this city.
Raleigh is the capital of North Carolina – a southeastern coastal state in the USA, and the city is two hours (more or less) from the Atlantic Ocean and two hours from the Appalachian Mountains, by car.
Raleigh, NC is known as the "City of Oaks", because… you guessed it, there are a lot of oak trees. But not only oaks, but Raleigh is also a hugely forested city with all kinds of deciduous and coniferous trees. When driving on the highways, it's sometimes hard to realize you're in the middle of a city, as houses and shops are hidden behind trees.
Raleigh is rural at heart. Though it's a state capital, home of more than 10 post-secondary institutions, global businesses, and world-class entertainment and restaurants, Raleigh is very rural in character. You're never less than a short drive from farmers' fields, forests, and outdoor walking/biking opportunities. Raleigh is very kid-friendly, with lots of parks, museums, and family-friendly events.
Robert and I have been married for more than 30 years, and we've traveled all over North America, including Canada from coast to coast. We love to learn and discover new things. Raleigh, NC provides many opportunities to learn and discover, so let me tell you about some of our favorite spots.
Biking, Walking and Hiking in Raleigh, NC
One of the prettiest trails in Raleigh, NC is the Neuse River Greenway. It's a 28-mile, 10-foot wide, asphalt paved walkway, spanning a few river crossings, and following the Neuse River. It's the longest greenway in North Carolina and enjoyed by hikers, bikers, and walkers alike. At various points, there are places to launch canoes, so it's a river-lovers paradise also.
It's February in North Carolina right now, so the trees don't have their leaves – just imagine this trail all shaded and pretty in the spring/summer and the color of the leaves in the fall…
Another great place for hiking in Raleigh, NC is William B Umstead Park. This park is a nature-lovers paradise, with 22 miles of hiking trails, bridle paths for riding your horse, off-road biking trails, and several lakes to fish, and canoe. There are camping sites for tents and trailers (no water or electricity), and picnic shelters with huge stone fireplaces for an afternoon with friends and dogs.
The shelters were perfect for our group – with a huge fireplace that kept the chill of the day away. The cost was minimal. Summer or winter, Raleigh has an outdoor venue that's good for families and friends. (and dogs!)
Go Camping in Raleigh
One of the best spots to do a bit of camping in Raleigh, NC is at Jordan Lake State Recreation Area. It's also a great destination for day hiking, fishing, boating, and swimming. There are more than 1000 campsites, which are perfect for both tents or RVs. If you reserve your spot early, you can snag a fabulous waterfront site to launch your canoe from!
Raleigh Museums
Raleigh is home to a world-class art gallery and two museums which are completely free to visit. The North Carolina Museum of Art (NCMA) has both a permanent collection building and an east building with visiting art collections. The East building does charge a nominal entrance fee.
The art museum hosts events, and programs for all ages and learning styles. In addition, the 164-acre Museum Park is home to more than a dozen monumental sculptural works of art.
The tree in the picture above isn't a "real" tree – it's a sculpture of a tree, made from stainless steel. (Because what's one more tree, huh?) Take a look at a slide-show of all the sculptures. This art park is another opportunity to walk in a natural environment, right in the middle of a city.
In downtown Raleigh, NC there are two other free museums – the North Carolina Museum of Natural Sciences and The North Carolina Museum of History. They're all day touring kinds of museums, and if you have a few weeks to enjoy Raleigh, just take a couple of hours every day to soak in some learning and fun. It's free, after all!
Another great Raleigh museum is Marbles Kids Museum – it's a hands-on museum where your kinesthetic learner will be engaged from opening to close, and the price is minimal. I visited with a friend's toddler, and had as much fun as he did! Add a bit more to the cost and watch a nature movie (or popular movie) at the IMAX next door.
Historical Houses in Raleigh
Being a city established in 1788, Raleigh, NC has a bit of history still available to tour. For example, there's the Mordecai House in downtown Raleigh, where, after strolling through the exhibits, you can catch a trolley to tour the rest of the city. Another favorite is the North Carolina Executive Mansion, which is home to the governor. The Executive Mansion was completed in 1891 and remains one of the state's finest examples of the Queen Anne style of Victorian architecture.
Our favorite historical spot is the Oak View County Park, a 19th-century historic farmstead that interprets North Carolina's agricultural heritage and rural history. There are livestock (goats) to feed, a herb garden, and other farming buildings which really bring to life the historic rural culture of the area.
State Farmer's Market in Raleigh
To underscore the natural bounty of the area, we love the State Farmer's Market in Raleigh. It's 75 acres of indoor and outdoor food and restaurants, all highlighting the fruit, vegetables, and other good stuff grown in North Carolina. The State Farmer's Market is a must-visit destination for everyone visiting Raleigh, NC.
You Have to Visit Raleigh, NC
So, what's left to know about Raleigh, NC? Oh, wow! So much more! I've barely begun to scratch the surface of all the options available to see and do in Raleigh. Even as a capital city, Raleigh still has a small-town feel. You just need to get off the main roads. Ramble along a few backroads, and you'll find another park or some historic houses, and if it's summertime, there will be farmers on a corner, selling their watermelons from the back of a pickup.
In the spring, the azaleas bloom everywhere with abandon, and I'd definitely recommend touring some gardens, especially the JC Raulston Arboretum at North Carolina State University. Take a trip to Raleigh – check out some of the rural notes inside a state capital. And the trees.
Resources for Visiting Raleigh, NC
Ready to plan your visit to Raleigh? Here are some resources to help with trip planning:
Visit Raleigh – The Visit Raleigh website has more information than you can consume in one visit! Bookmark this site to learn about the best places to visit and things to do in Raleigh, NC. We especially love their events calendar, and are reminded again and again that we haven't explored enough of Raleigh!
Hiking in Raleigh, NC – If you're going to be spending a lot of time outdoors, we'd recommend investing in the book, Best Easy Day Hikes Raleigh-Durham. We love the Falcon Guide Day Hike series for their detailed descriptions. The Raleigh hikes are all relatively short and easy.
Where to Stay in Raleigh, NC – Camping is often our favorite way to go, but when exploring historic towns and cities, we love when our home base is right downtown so we can walk everywhere. In Raleigh, we love the Sheraton Raleigh Hotel, which has a heated indoor pool for relaxing after a day of exploring. When we visit for more than a few days, we prefer using Airbnb so we can choose a place with more room to spread out and cook our own meals.
---
Want to read more about visiting North Carolina? Check out these posts:
Magic in the mountains: Boone and Blowing Rock
Dog-Friendly Excursions in Blowing Rock, NC
---
Pin for Later?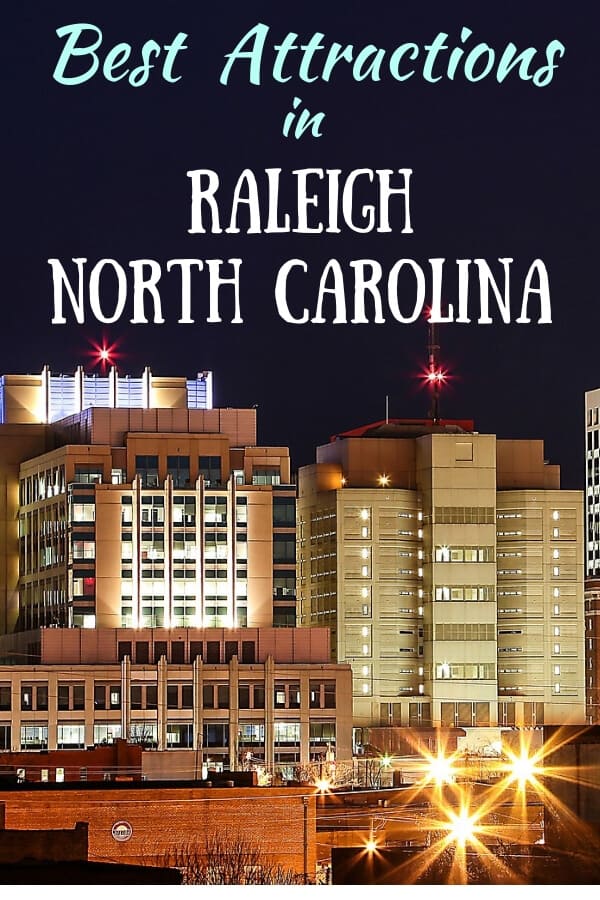 Lori Ferguson is a writer, wife, and mom to grown kids. She's on an adventure with her husband of 32 years – living in 282 square feet, traveling North America with their 5th wheel and F150. Lori writes about encouragement in marriage at EncourageYourSpouse.com Connect with her on Twitter as @Ready2Encourage and see some of her travels on Instagram as Rober_and_Lori.