Please check to make sure destinations are open to visitors before planning a trip and follow local guidelines. We earn a commission from affiliate links that may be included in this post.
It wasn't the pitter-patter of raindrops on the walls of my tent that woke me, but the incessant whine of Dolly, the black lab puppy who had been sharing my sleeping bag. I reached for my headlamp and my sandals and fumbled with the zipper of my tent. The rain, combined with the totally starless night, made it impossible to see more than a few feet in front of me. I hoped Dolly would do her business quickly so we could make a quick retreat back to the tent before we were thoroughly soaked.
As I stood there with a wet leash in one hand and rain dripping off of every part of me, I wondered again what I was doing here. Alone with a puppy in a Vermont forest, standing in the rain at three am.
---
I applied to be a photography intern for Vermont State Parks during the summer of 2016. I was hoping to up my photography game while exploring more of my home state. When I was accepted, and gleefully told my family our plans for our summer vacation, they smiled lovingly and quickly reminded me of summer camps and work commitments that would keep them from accompanying me on my adventure. "Fine," I told them, "Dolly will go with me." And that was that.
Why Did I Sign Up for This?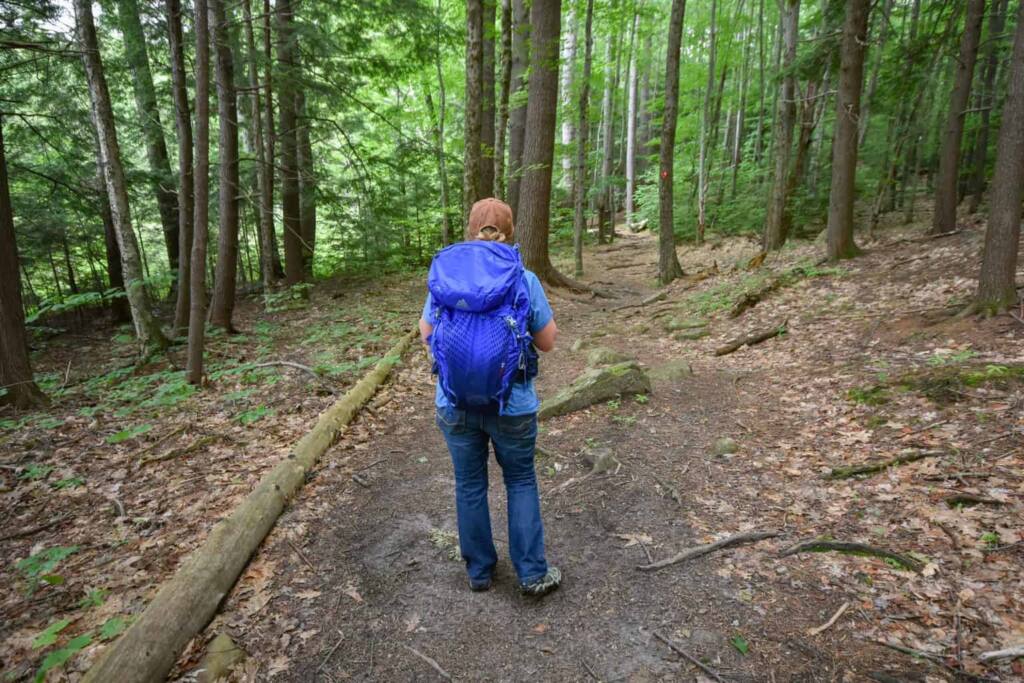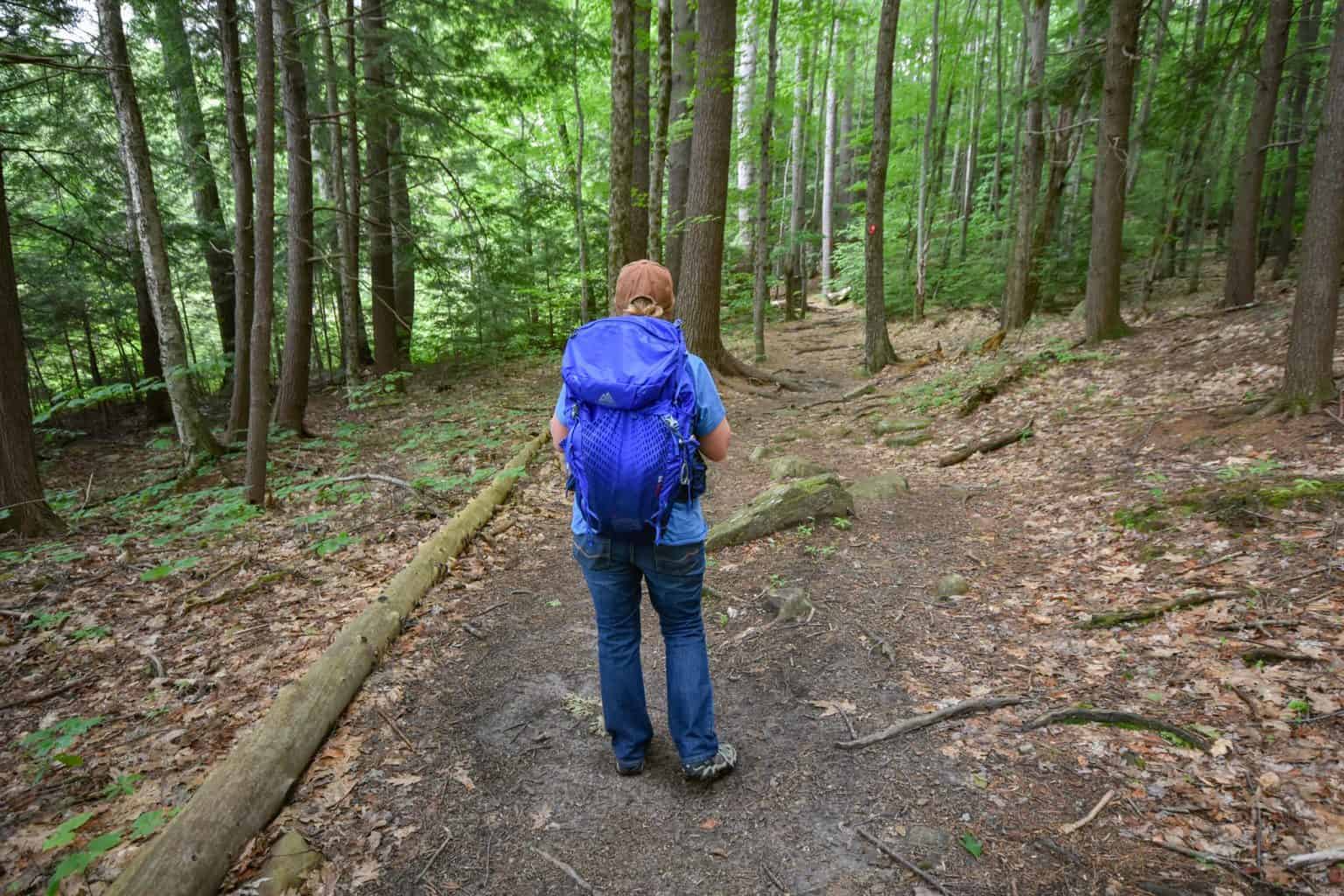 I did not grow up in a family that camped, hiked, or spent time outside, unless you count frolicking in a suburban pool and schlepping to Little League games. I have tried to remedy the situation with my own kids, so I'm not a complete stranger to roughing it in the woods. But, as of 2016, I had never camped alone. Not for a single night, and certainly not for a whole summer.
My plan was to visit 22 of Vermont's 59 state parks with my camera and my pup — I would camp, hike, paddle, and swim for the whole summer while documenting my experience with photos and blog posts for Vermont State Parks. My family agreed to meet me as time allowed. It would be a perfect summer of outdoor adventures.
Or at least that's what I thought.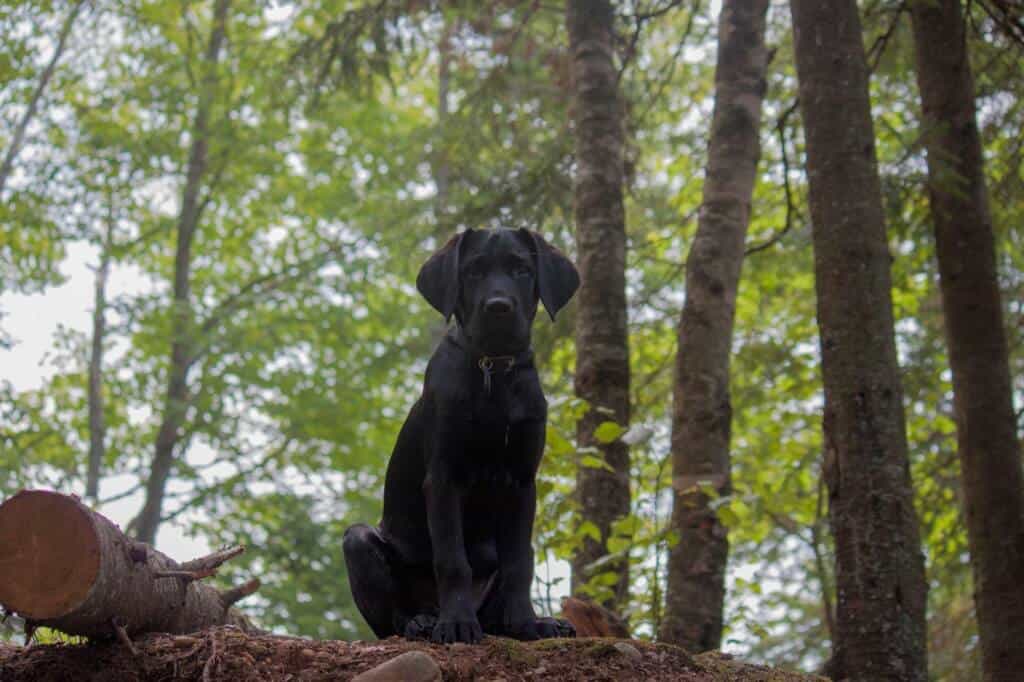 While setting up camp during my very first night alone, I realized that I didn't have all the outdoor skills I thought I had. When you hike and camp with a partner or your family, you tackle jobs based on your personal strengths, while others handle the things that you don't know how to do and aren't interested in learning.
It seems that solo campers and hikers don't have that luxury. My camp-food game was spot on, but I have never been able to tie a good knot. That first night at Emerald Lake State Park, my tarp collapsed onto my cookstove, and my hammock and clothesline both succumbed to gravity.
I will freely admit that the first week or two exploring Vermont State Parks on my own was a lesson in perseverance. My campfires died prematurely and I failed to wash my dishes after meals. I went to bed way too early because the bugs drove me crazy, woke up to a missing canoe (it had drifted away in the night), and got lost twice while hiking when I definitely should have known better. Standing in the rain with Dolly at 3 am that night during my second week of camping, I wondered why I had signed up for such a miserable experience.
Finding My Groove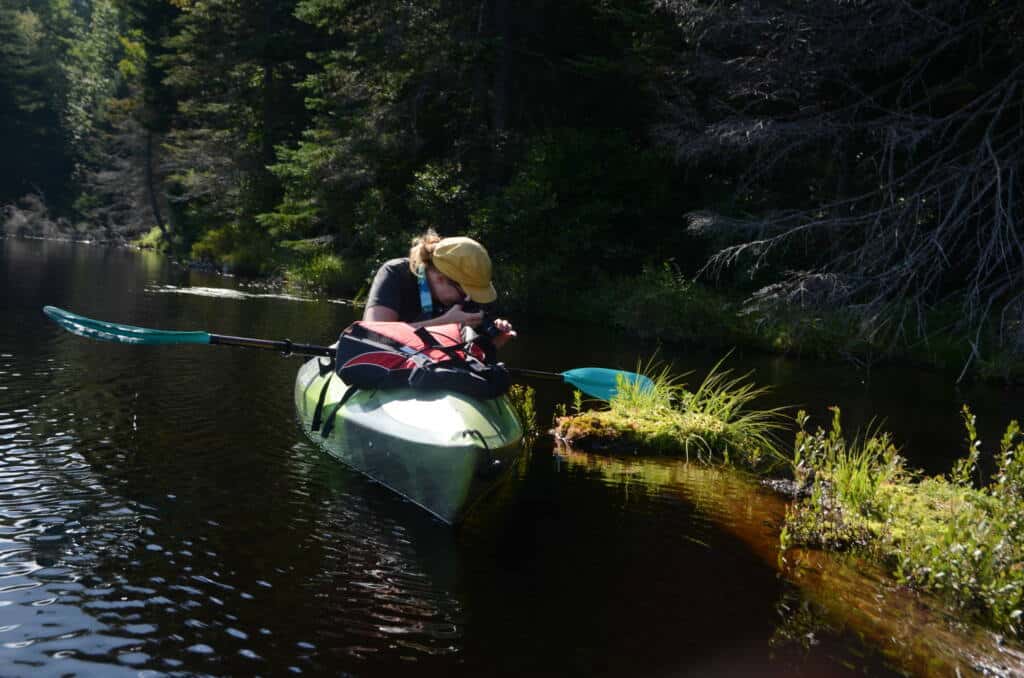 The next morning, I woke with the sun as it rose over a line of dark trees on the horizon. I was camping on the shore of Green River Reservoir in northern Vermont, and the weather was finally clearing. I threw my gear into the canoe, loaded Dolly, and headed out for a morning paddle. The water was perfectly placid, the clouds lifting to reveal the possibility of a gorgeous summer day.
I paddled into the morning sun while the loons played hide-and-seek from my camera, and the beavers headed back to their lodge to sleep away the day. As I steered the boat past a flotilla of lily pads and came around a bend, I looked up to spot a moose, knee-deep in the water near the distant shore. Despite living in Vermont for most of my life, I've only seen a handful of these beauties, and I caught my breath at the sight. I stopped paddling and took aim with my camera. It was a pretty fruitless attempt to capture a moment I will never forget. Early morning, alone in a canoe at sunrise. With a moose!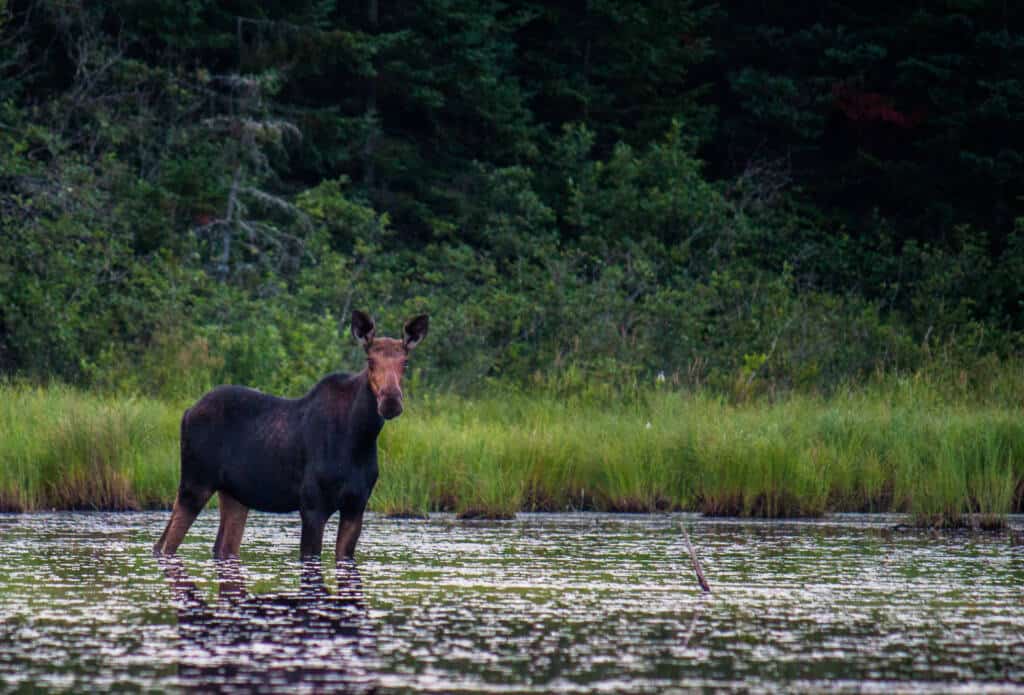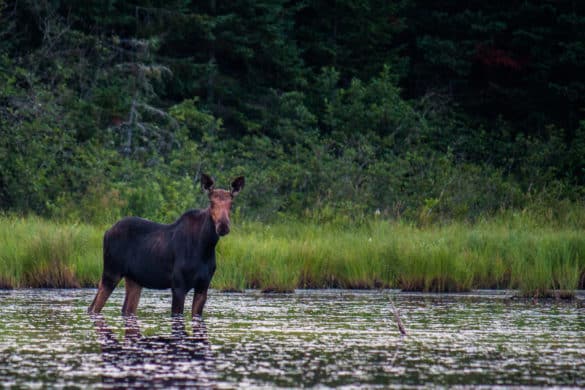 That morning was the turning point of my summer. Paddling back to camp I realized that every adventure will only be what we make of it. Rain, mud, and minor catastrophes don't have to ruin an otherwise beautiful adventure. In fact, it's the struggles we experience that are most deeply ingrained in our memories. Dolly and I went on to explore 23 Vermont State Parks that summer. We hiked 75+ miles, paddled on 8 Vermont lakes, and took about 3,000 photos (Dolly didn't have anything to do with that part).
Spending a summer alone in the woods taught me to find comfort in my own company, to rely on my own resourcefulness, and tie my own knots. And while I still prefer exploring the outdoors with my family, I will never forget that summer of adventure that belonged only to me and a black lab puppy.
Vermont State Park Highlights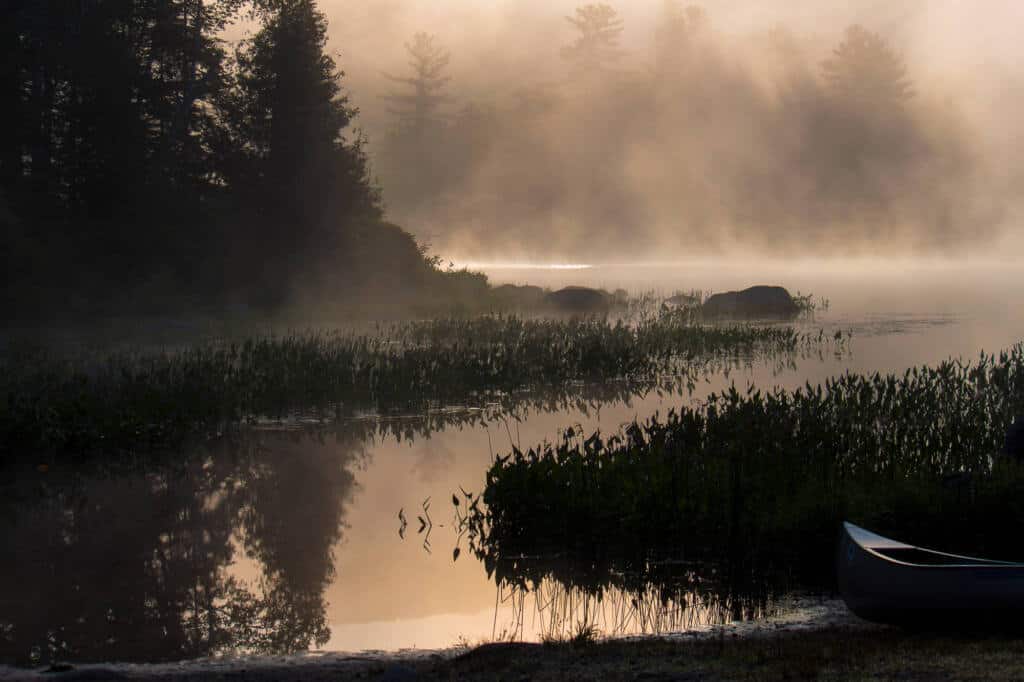 I can't sign off without sharing a few practical tidbits about my favorite state. If you're ever in the Green Mountain State, don't neglect Vermont State Parks! Here are some of my favorite experiences.
Favorite Campsite: Burton Island State Park, St. Albans, Vermont
Best Park for Kids: Little River State Park, Waterbury, Vermont
Best Hiking: Underhill State Park, Underhill, Vermont
Best Paddling: Green River Reservoir State Park, Hyde Park, Vermont
Best Sunset: Mt. Philo State Park, Charlotte, Vermont
Best Swimming: Alburg Dunes State Park, Alburgh, Vermont
Best Park for Dogs: Woodford State Park, Woodford, Vermont
Pin for Later?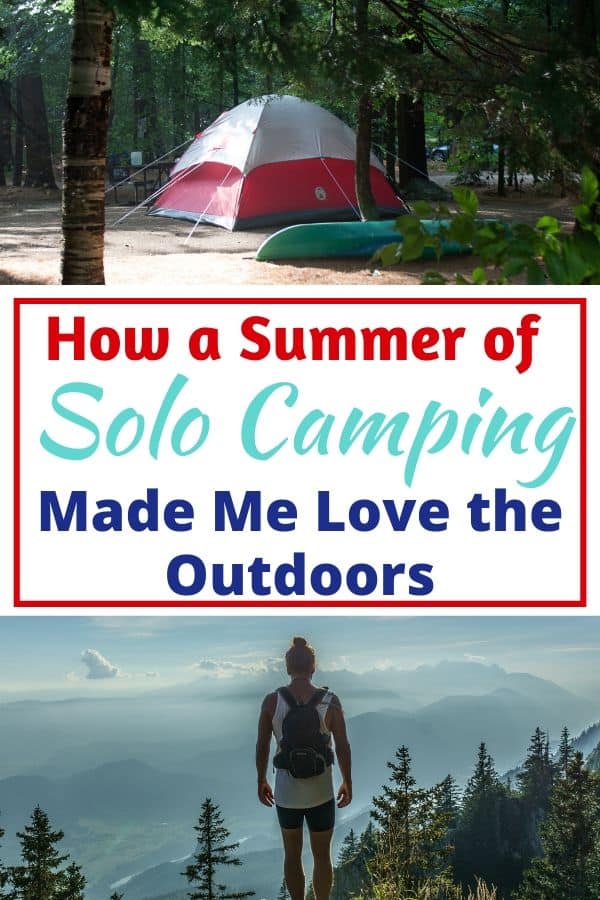 A variation of this post first appeared on the Oboz Footwear Community Blog.