Please don't travel until it's safe to do so! Our travel posts are great for making future plans or dreaming about your next escape. Also, please note that this post may contain affiliate links from which we earn a small commission at no extra cost to you.
Last year I was invited to participate in the Trip that Changed My Life Book Project to raise money for Unbound. The brainchild of Hung Thai from Up Up and a Bear, the Trip that Changed My Life was a way for travel bloggers to come together and help children around the world through words and photographs. The final project included stories and photographs from more than 70 writers, and it ultimately raised more than $3,400 for charity.
In the middle of of the project, my husband, Eric, was injured at work and ended up couch-bound for several months. The injury was hard on the whole family, but Eric was obviously the most miserable . To help him pass the time, I recruited him as a writer for Back Road Ramblers, and I encouraged him to submit an essay to Hung as part of The Trip that Changed My Life project. Eric had nothing but time, so he got busy writing. The story that follows is his contribution to the book, which, by the way, is now on Amazon.
All profits from the sale of The Trip that Changed My Life will continue to support children's charities, and you can get your copy on Kindle or as a paperback. Be inspired by writers from all over the world as they wax on poetically about the trip that changed their lives. Here's Eric's story – and yes, the trip that changed his life is also the one that changed mine.
Finding Light on a Dark Highway
-by Eric Schatz
To cross the divide between youth and adulthood, sometimes you need wings to fly. I found mine one brilliant summer on an epic, cross-country road trip I took with my wife, Tara. It was a definitive moment in the evolution of our relationship. We were good friends at the time—young, career-less, recently freed from dead-end relationships, and maybe a little unsure of ourselves. At the time I think we were both dreamers without a dream, but ready to try anything.
My part of the story started in May. After an eight-day walk on the Appalachian Trail failed to revive a three-year-old relationship with my girlfriend, we soon went our separate ways. My seasonal job had ended, I had no interest in college, and I was confused about what to do next. My soul ached for clarity, purpose and…freedom. The time was ripe to travel and to find, somewhere in this supposed land of the free, a light to lead me out of the darkness.
It took me two weeks to fix up my old green VW Scirocco for the journey—a tiny car with just room enough for me, my dog Amos, and the barest essentials for the road. The repairs were mostly complete when I drove away with Amos riding shotgun. The Scirocco ran better than it had in months, and for one idyllic hour we rolled along in the golden afternoon sun with the windows open wide and the scenery flying by in a blur of summer greens.
Then it happened. My car started coughing in hysterics, and I was forced to pull off the road. Luckily, we hobbled right into the entrance of a quiet wooded picnic area. I listened to the car take its last desperate gulps of sweet summer air from an otherwise promising early-June afternoon. The silent forest surrounded us as shafts of sunlight slanted to the ground through crowns of pine and oak.
There were payphones in those days, and I used one to call my friend Tara. I wanted to say goodbye in person but wouldn't be able to make it—my car was dead. Maybe I could get it running again soon, but my traveling mood was quickly souring, and side trips were now out of the question. My summer quest was about to end before it had even begun.
It wasn't clear to me then, but this moment would become the flashpoint that ignited the adventure of a lifetime. Her voice full of excitement and anticipation, Tara said to me, "I just told my landlord I was moving out. My things are all packed and my boss knows I won't be in tomorrow or anytime soon. Why don't I drive down and pick you up and we'll go west together in my car?"
I was stunned. Wasn't this supposed to be my journey? Well, yes. But I was so touched by Tara's readiness, her tone, and her desire to share this trip with me, that I couldn't think of a reason to say no. Not that I even tried. The idea made me feel lighter, and feeling this lightness, I said yes. After the call, I tinkered under the hood. Amos and I walked in the park. We rested under a tree, and we waited for Tara. The sun was setting, and through the cooler pine-scented air of dusk came the call of a wood thrush trilling its evening song.
Tara arrived a few hours later, and once we got my car settled in a place it could stay for a while, we made our preparations. The benefits of companionship soon became clear and as we pooled our resources, things even started to feel cozy. We laughed at the day and dreamed about our trip. It was dark and late by the time we finished packing. I drove straight through that first night, trying to leave everything behind, and pushing myself to the point of exhaustion.
That night, phantom thoughts about the past and future worried me and filled me with terrible feelings of regret. Had I made good choices? Would I really find answers out here on the road? As I struggled to cast the demons out, Tara slept dreamily with her head against the window, and all around us the world flew by in a blurred mix of shadows and trails of lights. When the pale eastern sky began to brighten, I remember watching her wake, slowly at first, then fresh and glowing like the sunrise itself.
A feeling of great peace and contentment settled over me. The worries, regrets and fears dissolved like shadows in the light. I knew they would return but I would not let them in. I would put my trust in every moment of this trip and let the dead bury the dead. Tara would be my one true friend and partner. Other truths would unfold through the years but I can think of nothing to compare with that initial gesture of love and friendship, and that first morning, when dawn was breaking and my world was filled with light and understanding.
What followed was the journey of a lifetime. We drove thousands of miles over four months, across the continent on scenic highways, byways, and backroads, stopping and starting whenever and wherever we liked. Our only purpose was to find beauty anyplace we could find it, and wake up each morning to ask: where should we go today? It was our own summer of love and by the time we made it to the west coast, we were creatures of light, free and focused on each moment and each other. It was like having a ticket to ride on the air itself. I could fill a whole book with our experiences from that summer–stories of love and friendship, mischief and good deeds, great fortune and terrible dangers–but the end result would be the same: my life was complete. I had found everything I was looking for in Tara and the unique adventure we shared. Within a year, we married and started a family. I went on to finish school and found a job in my field.
A few grainy photos are all that's left today, but memories of our trip remain strong, if not a bit romantic in the retelling. Traveling now is like a family trade. It's part of who we are, and gives us wings to fly when we need to. Road-tripping together taught us to trust in and depend on each other in difficult times. It renewed in us a childlike wonder for discovering new places and people. But most importantly for me, our cross-country trip taught me to let the past fade like stars vanishing one by one in the growing light of day–to let my soul fill with the brightness of each moment–just like that morning in June, with the sunrise setting our path on fire, with Tara bright and waking in the new light, and with the journey of a lifetime stretching out on the road before us.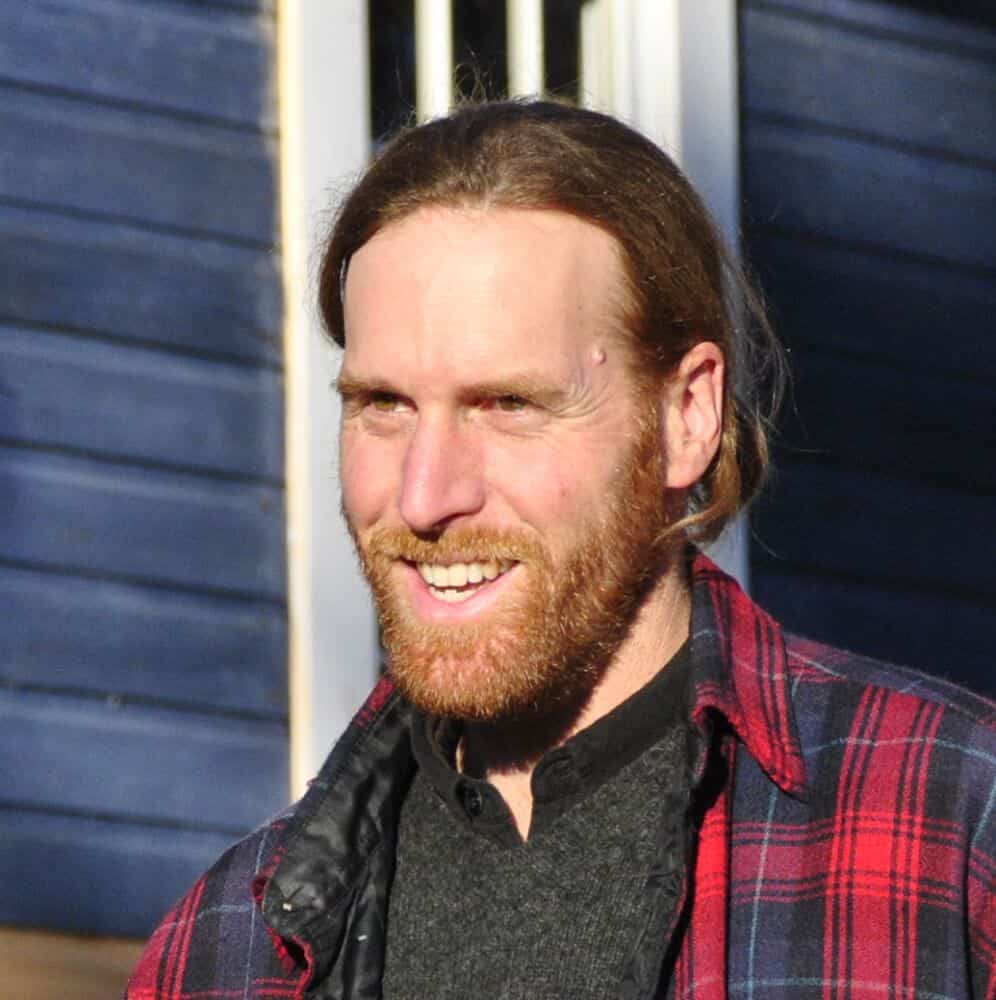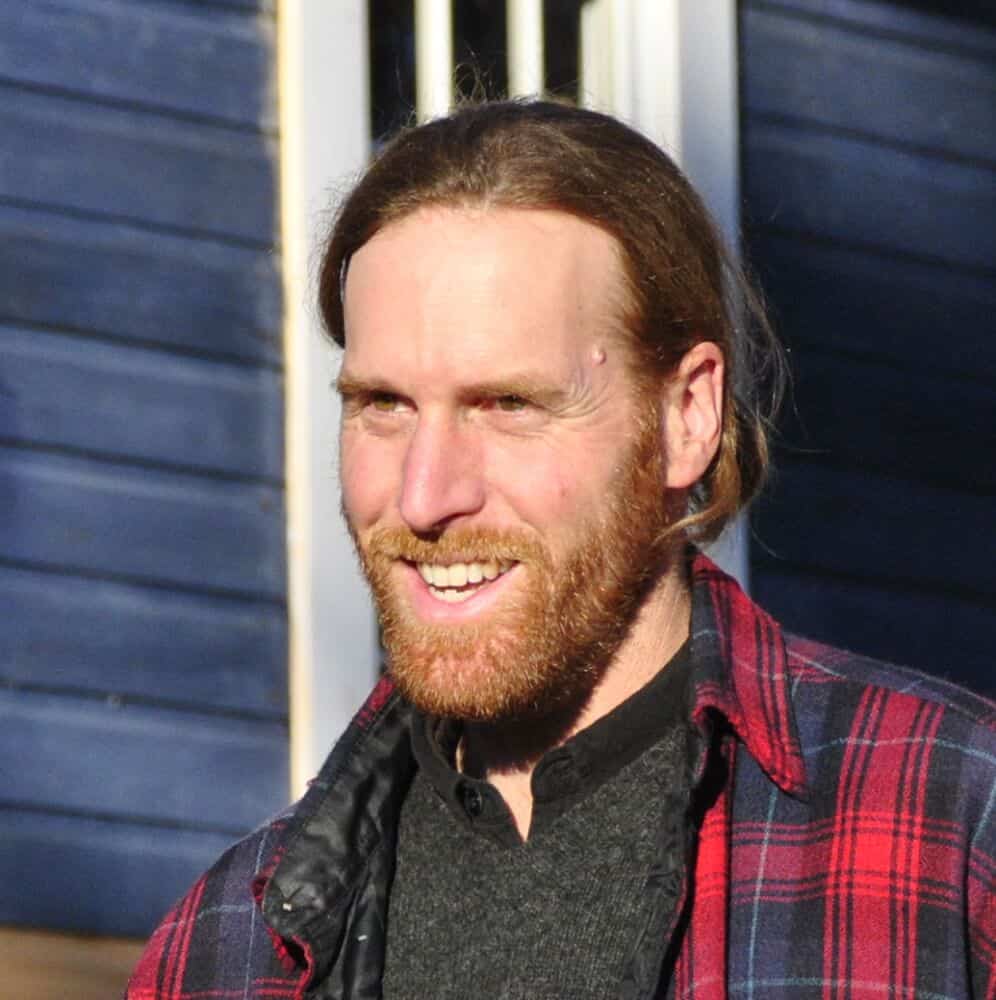 Eric is an elementary school teacher in Vermont and contributing writer for Back Road Ramblers. He's passionate about music, woodworking, and the outdoors. When he's not in the classroom, Eric can be found rambling around the countryside with his wife and two sons.