Gorgeous mountain vistas, an array of unique hiking trails, and a beautiful family-friendly campground – Mt. Ascutney State Park is a playground for nature lovers, history buffs, and outdoor adventurers. Its close proximity to Wilgus State Park on the Connecticut River means you can hike to spectacular vistas in the morning and paddle the meandering river in the afternoon. What more could you ask for in an outdoor vacation?
Built between 1935 and 1938, Mt. Ascutney State Park was one of the very first state parks established in Vermont. The mountain's first hiking trail was created way before that — in 1825. It was the very first organized mountain hiking trail in Vermont, and some accounts suggest it was the first in the country. Today, hikers can scale the mountain from one of four trailheads, or they can explore a series of summit trails after driving up the 3.7-mile toll road (free for campers and other park visitors).
Mt. Ascutney State Park is one of our favorite parks in Vermont. It's got some incredible hiking trails and some unique features that are fun to explore. Keep reading to find out about our favorite trails, activities, and secret swimming holes near Mt. Ascutney State Park.
---
Planning your Vermont vacation? If your idea of a good time is paddling, hiking, and back-road adventuring, check out our Vermont Vacation Guide for Outdoor Lovers, where you'll find all kinds of tips, road trip ideas, our favorite campgrounds, hiking trails, and photography hot spots.
---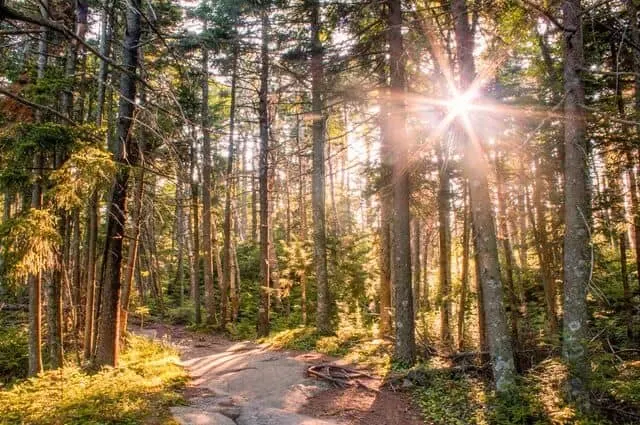 Mt. Ascutney is unique as far as Vermont mountains go. It's a monadnock — an isolated mountain of erosion-resistant rock, in this case, granite. It's a conspicuous mountain, towering 3,144 feet above the Connecticut River Valley below, but it's not part of Vermont's Green Mountains. Geologically, it has more in common with the Whites of New Hampshire, but geographically, it stands alone.
I've explored lots of Vermont State Parks, but I'd never been to Mt. Ascutney before until last summer. I hate to pick favorites, but this mountain has totally stolen my heart, and I'm already planning a camping trip for the fall.
Highlights of Mt. Ascutney State Park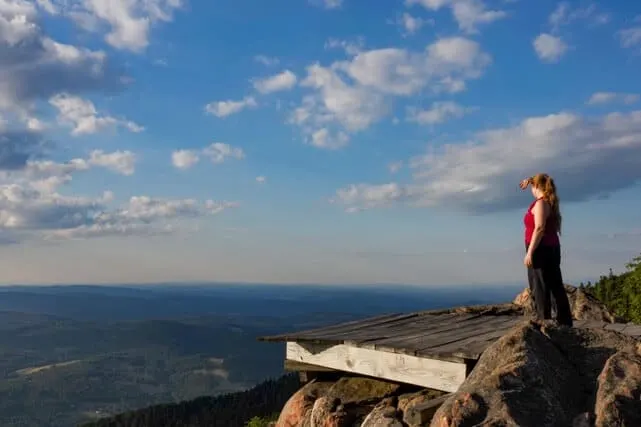 There are four trails heading up to the summit of Mt. Ascutney, and everyone I talked to had a different opinion as to which one was their favorite. I can't call myself an expert, because we didn't have time to explore them all, but here are some highlights of our recent visit.
Futures Trail to Bare Rock Vista to the Summit of Mt Ascutney
At 4.6 miles, the Futures Trail is the longest trek up to the summit and the only trail the begins in the campground. This was a plus for us, so we decided to give it a go. Like many mountain hikes, this trail is characterized by moderately strenuous switchbacks through mostly hardwood forests, which transitions to evergreens as you gain elevation. If you're looking for a shorter hike, perhaps to watch the sunrise, the Futures Trail will take you to Bare Rock Vista after a mile of hiking. The views here are incredible, and there are lots of great spots for a picnic here as well.
Mt. Ascutney Summit Trails
Don't have the time or energy to hike to the top of Mt. Ascutney? After driving up the toll road to the parking lot near the summit of Mt. Ascutney, you'll be rewarded with stunning views of the green mountains. Take any of the boulder-encrusted trails that meander around the summit and you'll find yourself in a dark, enchanting forest that smells like Christmas because of the abundance of spruce and fir trees. Every hiking trail leads to more incredible views, and as you hike, a thousand birds will serenade you with their sweet songs.
The Mt. Ascutney Observation Tower
For a 360° view of the Green Mountains and the White Mountains of New Hampshire, climb the 24.5-foot high observation tower. Interpretive signs name the distant peaks in all directions, and it's a pretty good spot for a selfie.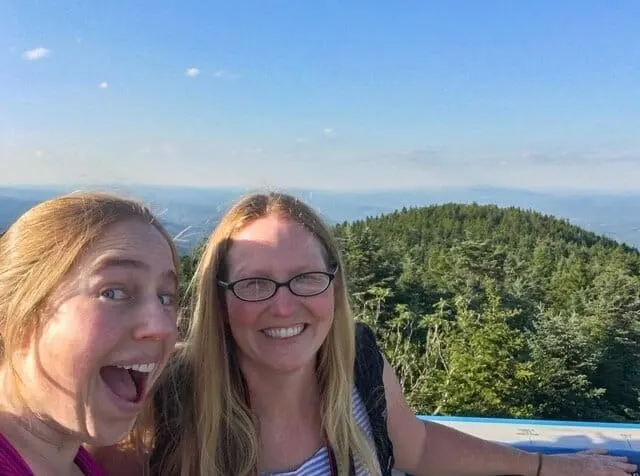 The Hang Gliders on Mt. Ascutney
Did you know that Mt. Ascutney is one of the top hang gliding destinations in New England? And that even if you're not a daredevil, you can watch them take off and glide through the air? There's a hang-glider launch on the west and south peaks and you can easily access both from the summit parking lot. I imagine it's pretty thrilling to ride the thermals, but for me, it was enough to watch the hang gliders soaring across the clear blue sky. We didn't get to witness a launch while we were there, but we've heard that it's a pretty common occurrence on just about every nice day.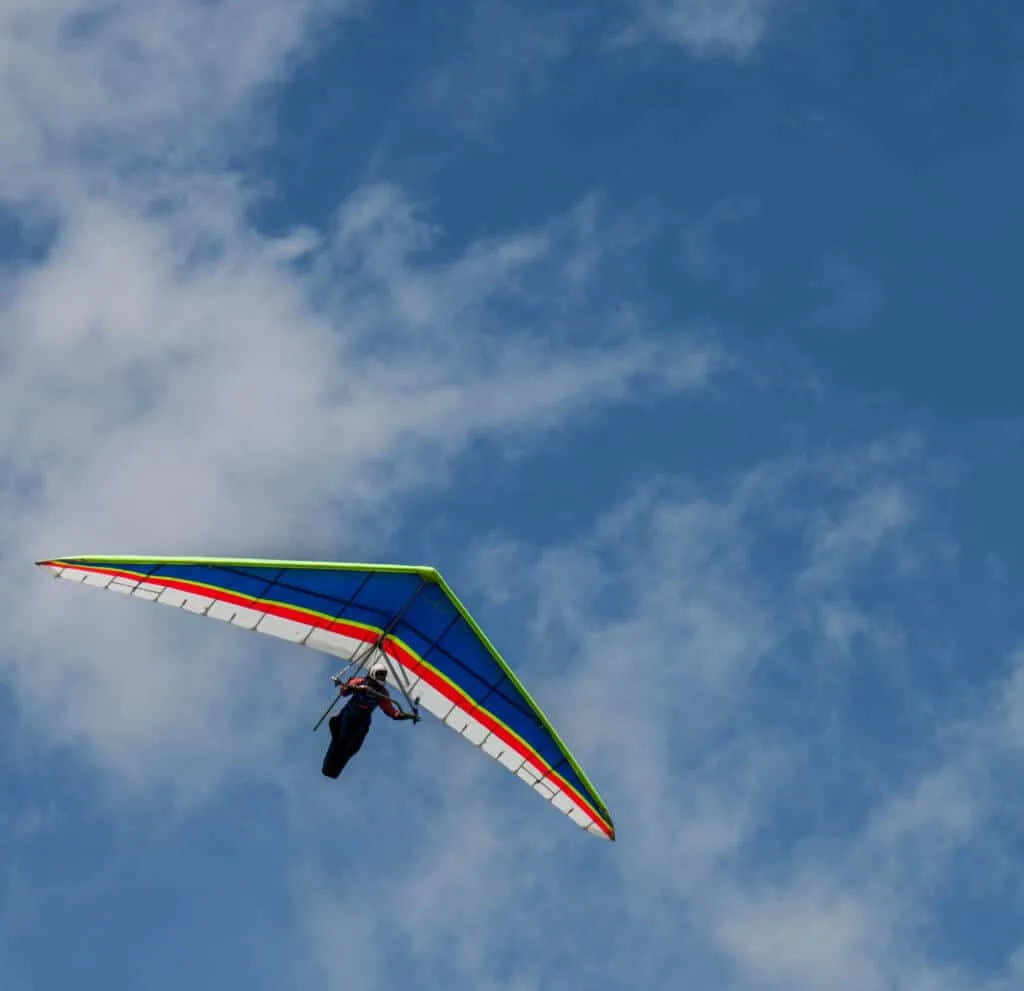 Camping at Mt. Ascutney State Park
The park has 38 wooded tent/RV sites and 10 lean-to sites that are arranged within two camp loops. Each loop has a restroom providing modern plumbing and coin-operated hot showers. There is a sanitary dump station for RV's, but there are no hookups. There are also five cabins that you can rent – each with bunks for sleeping, electricity, a table, and an outdoor fire pit.
The sites are fairly private, and the hiking trails are easy to access from the campground. Ice and firewood are both available for sale. A two-night stay is perfect for exploring all that Mt. Ascutney has to offer.
Tips for Visiting Mt. Ascutney State Park and the Surrounding Area
Get your game on. There's a lovely rec field just below White Birch, Cherry, and Cedar lean-tos. For some reason, it's not on the map, but it's a fantastic place for a game of Frisbee or football, and the stargazing is pretty amazing from here.
Porcupines are plentiful! We saw two porcupines on our recent visit. They're cute, but can be a real danger to dogs who don't know better. Dogs are permitted within the park and in the campground, but you should definitely keep them on a leash at all times.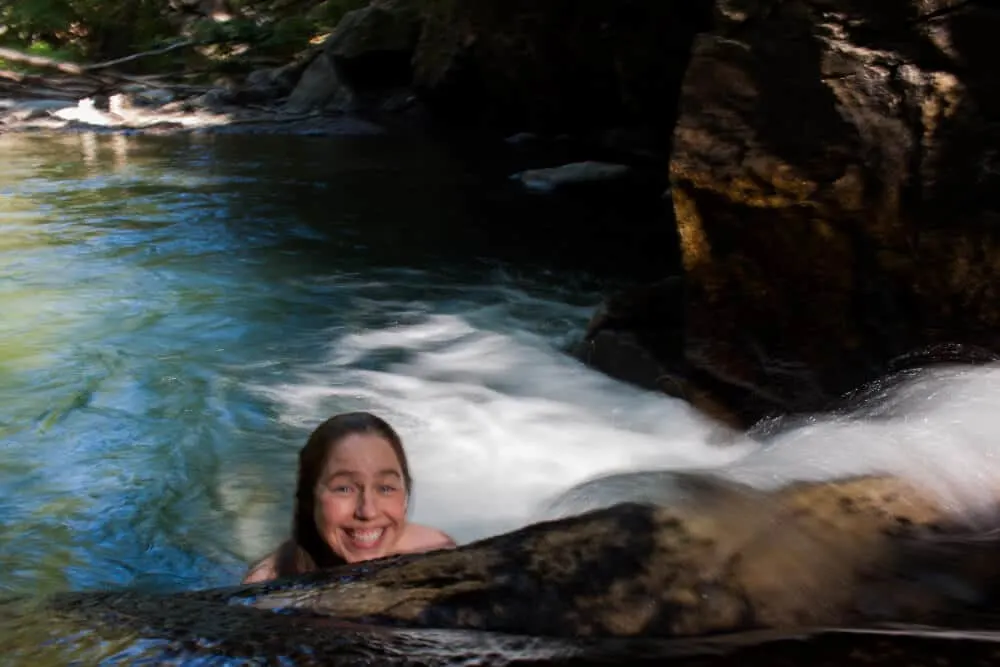 Did someone say swimming? While there's no place to swim on the mountain, you'll find a pretty magical swimming hole just a short drive from Mt. Ascutney State Park. Twenty-Foot Hole in Reading is the perfect place to cool off after a long hike.
You can paddle too! Wilgus State Park, just 4 miles from Mt. Ascutney State Park, is perched on the slow-moving Connecticut River. Rent a canoe or kayak to explore the shores of Vermont and New Hampshire. This was our base camp when we paddled a short section of the Connecticut River with Great River Outfitters.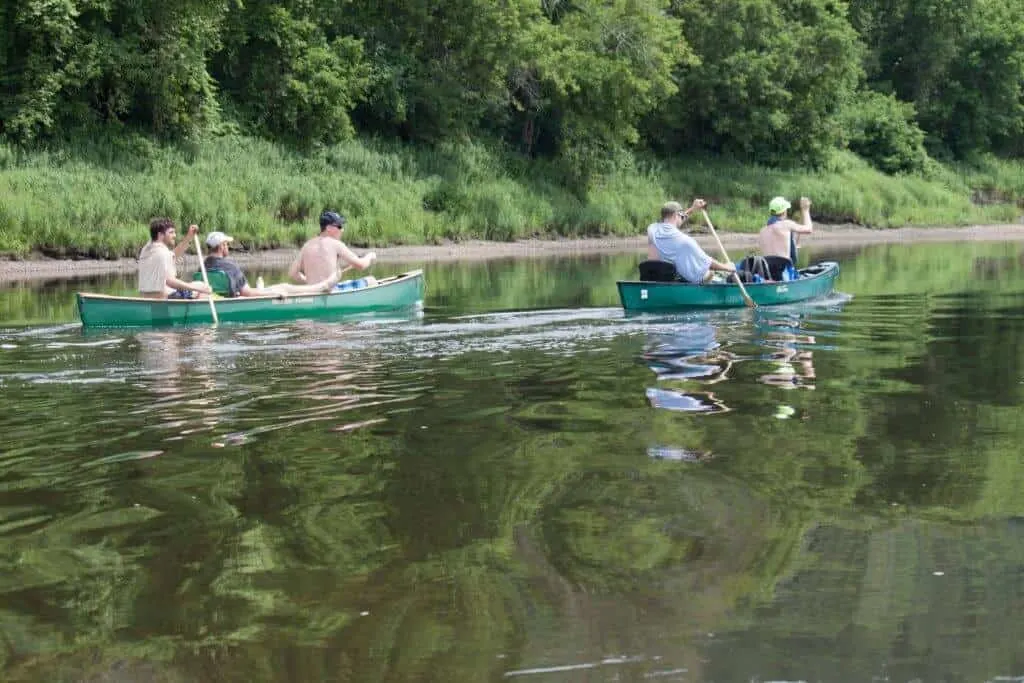 Vermont's only monadnock, Mt. Ascutney is a wild and enchanting mountain. Whether you visit for the day or spend the weekend with your family, you're sure to fall in love with Mt. Ascutney State Park. Check out the Vermont State Park website to learn more about camping and hiking within the park. Need to download a trail map? Grab one here.
A few things you'll need for your trip to Mt. Ascutney State Park
Whether you're heading out for a day hike or spending the weekend, here are a few items that will make your trip to Mt. Ascutney more memorable.
---
Want to read more about outdoor adventures in Vermont? Check out these posts:
And don't forget to check out our comprehensive Vermont Vacation Guide!