Please don't travel until it's safe to do so! Our travel posts are great for making future plans or dreaming about your next escape. Also, please note that this post may contain affiliate links from which we earn a small commission at no extra cost to you.
-by Eric Schatz
Here in the Northeast, rain is a year-round staple in our weather forecast. No matter if it's a January thaw with "mixed precipitation," a leaf-stripping November Nor'easter, an April soaker, or a hot July thunderstorm–wet weather is just a fact of life. So when I'm headed out to hunt for chanterelles in a spring rain, running the dogs down a muddy trail, or camping with my honey on a wet weekend, I make sure my raincoat is close at hand.
This fall, I had the opportunity to review My Trail's affordable Storm UL rain jacket and it couldn't have come at a better time. The following is my experience of the Storm UL Jacket from My Trail over the past month.
**2020 Update: Unfortunately, this product is no longer available for purchase. We are still using and loving the Storm UL Jacket and are bummed that My Trail has shuttered its doors for good. **
Specifications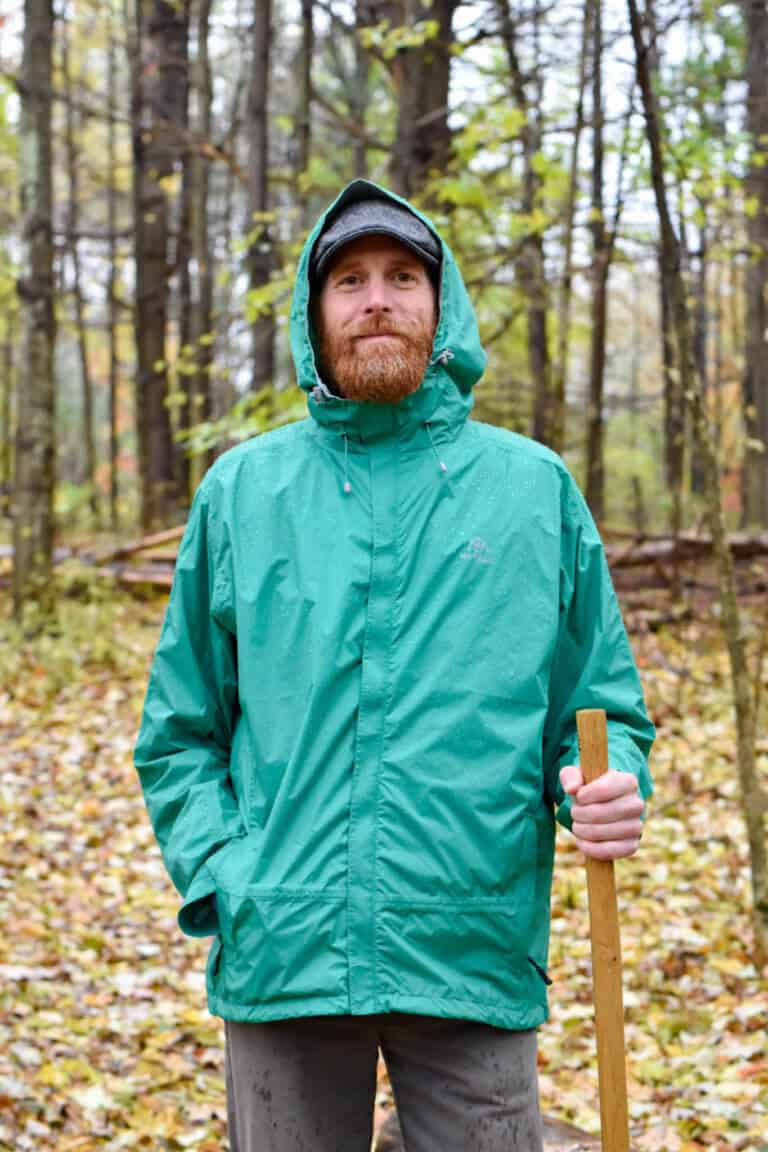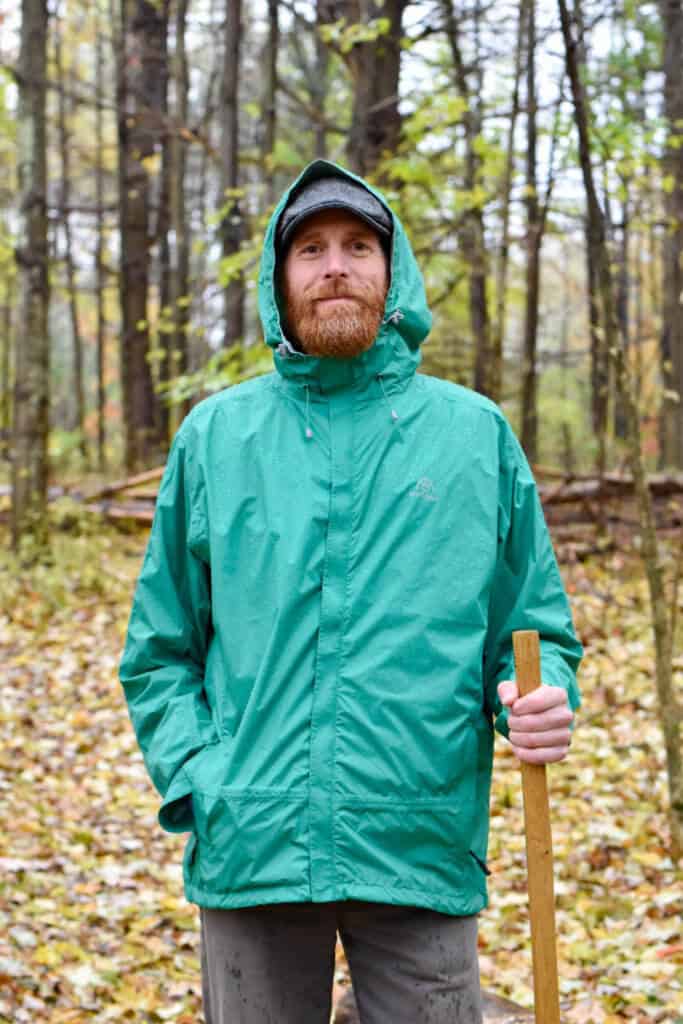 Weight: 10 oz. (men's XL)
Shell: Breathable nylon with a DWR – durable water repellent finish
Interior: Waterproof/breathable polyurethane
Seams: Waterproof, taped seams
Hood: Adjustable and stowable
Zippers: watertight
Fit and Features of the Storm UL
This October and November have been the wettest autumn months I can remember having here in southern Vermont and so far, the Storm UL has been a faithful companion for all of my rainy outdoor jaunts. Unlike the yellow rubber raincoats I used to wear as a kid sailing with my grandpa on the Hudson River, the My Trail Storm UL is very lightweight and breathable.
I chose the color sea-green and am impressed with the many comments I've had about the eye-catching contrast it adds to our steel-gray New England skies and colorful autumn forests. It fits my long limbs very comfortably in an XL and provides additional room for a sweater or down vest – critical for wet days that also happen to be bitter cold.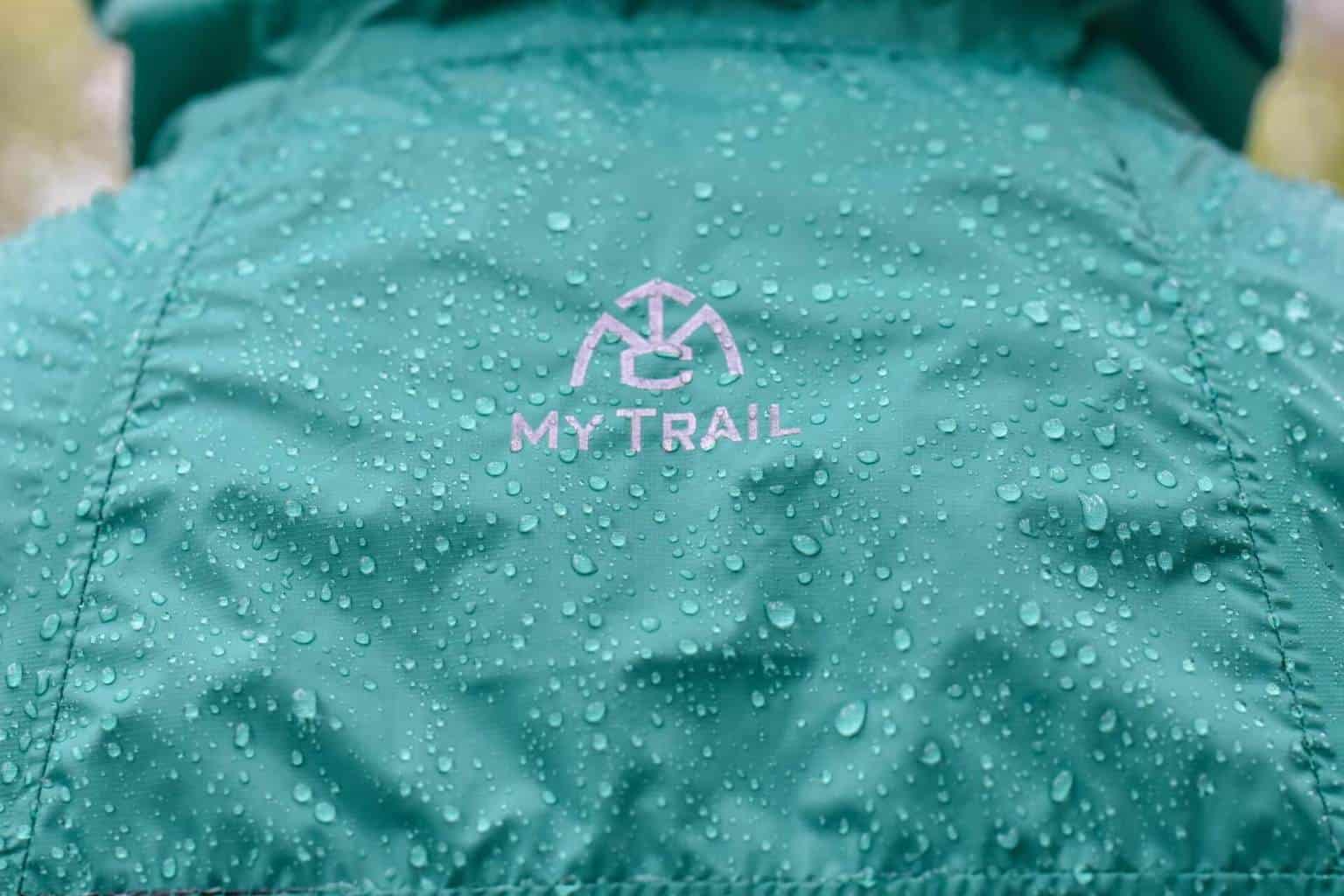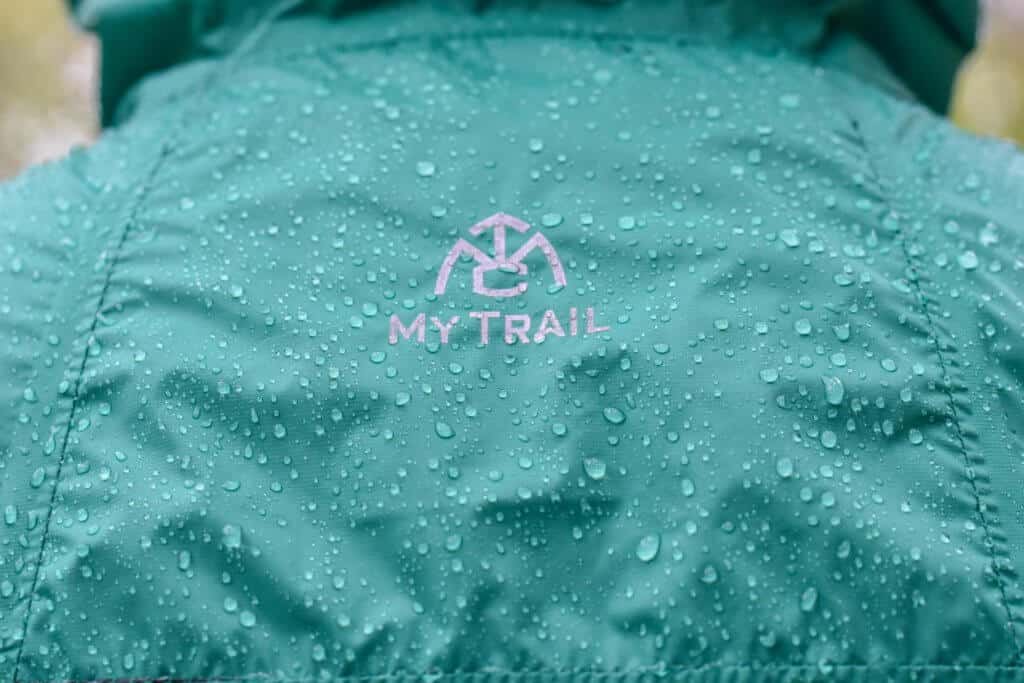 The hood is comfortable and fits well over my favorite hat while easy-to-grab toggles help tighten things up and keep you covered even when the wind is suddenly gusting up to 40 MPH. For those rare autumn days when the the rain and wind stay away, the hood stows neatly away in the hood garage. Cuffs are neatly angled and wrap up tight with the help of two generous strips of hook-and-loop fasteners.
Lengthy pit zippers run from the top of the side pockets all the way to my biceps, which means that I stay dry even wen things get steamy. Extra ventilation can be attained by unzipping the pockets which are mesh on the inside. Deep pockets and storage are a must for me and the Storm UL doesn't disappoint.
The outer pockets zip up tight and kept my dog's treats dry for the duration of our rainiest walks this fall. Two large inner mesh pockets are large enough for the geekiest phones as well as eyeglasses, snacks or even a worthy paperback.
At 10 oz., there's really no excuse not to have the Storm UL in the bottom of your pack or stowed in your briefcase. Packed up, this jacket will fit in the glovebox of a VW, a fanny pack or even in your back pocket if that's all you've got.
Performance in the Weather
It's fall here in the north country, and getting wet is one of the worst things to experience when you're outside in colder temperatures. I can't think of much that's worse than counting on your gear and having it fail. Short-term testing on the My Trail Storm UL shows it to be a reliable performer, especially for its comparatively low price point.
For this review, I was "lucky" enough to be out working in the woodpile when a strong wind picked up and rain fell heavily for nearly an hour. Riding out the sudden squall, the Storm UL kept me both comfortable and dry on top and shed water happily (but not so happily onto my pant legs)! The only parts of my upper body that got wet were my shirt cuffs, but I would owe that to working with my hands and having water run down my wrists even with the Storm UL's cuffs fastened tightly.
At the time of this review, I have yet to test this jacket for an all-day soaking or long-term durability. My previous lightweight raincoats didn't last as long as I would have liked nor did they keep out the rain for as long as this jacket did, so I'm hoping MyTrail's claim of durability will hold true.
One drawback some might notice about the lightweight material this jacket relies on for comfort, breathability and weather protection, is that it does have a crisp, dry, leaf-like sound when you move. For me, this is not an issue but I thought I would mention it for all you silent hikers out there.
Bottom Line
So far, I'm very happy with my Storm UL jacket from MyTrail It's lightweight, comfortable, and above all–waterproof! It fits me well and looks good according to my wife and a few keen observers. After about four good soakings, the jacket continues to shed water and shows no signs of darker spotting where water would be soaking into the nylon. I need to do a bit more testing to determine the overall durability of materials and construction, but so far, I'm loving this jacket. The My Trail Storm UL is currently on sale for a relatively affordable $79 and is available in six different colors.
Pin for later?
Please note: This is not a sponsored post, but I did receive this product for free in order to test it. As with everything you find on Back Road Ramblers, all thoughts expressed below are my honest opinions and observations.