Please check to make sure destinations are open to visitors before planning a trip and follow local guidelines. We earn a commission from affiliate links that may be included in this post.
Today, I want to welcome Sarah Lawrence from The Family Explorer, a blog dedicated to finding unique family travel experiences and family volunteer vacations. Sarah lives in Orange County, California, and today she's going to tell you about her home town as part of the Exploring My Hometown guest post series.
---
Exploring Orange County, California
Tucked between Los Angeles and San Diego on the Southern California coast is an expansive coastal area known as Orange County. Made up of 34 cities and 42 miles of beaches, many people know of Orange County from shows like The Hills, The OC, and The Real Housewives of Orange County that showcase the glitz, glamour, and drama of the millionaire lifestyle. Fortunately for the majority of us, life is a bit more relaxed!
My husband and I are both transplants to Southern California- he's from Seattle and I'm from Wisconsin. We met at a local bar and decided to make Orange County our home. I've been here for almost 10 years now, and for the past decade, I've been able to explore Orange County and have gotten to know many of the spots that attract so many people here each year.
Many people come to Orange County to visit Disneyland or Knott's Berry Farm, but there is so much to do beyond the theme parks! An outdoor family could easily spend a week hiking and hitting up our local beaches. Below are a few of my favorite places, and I would definitely consider these some of the best things to do with kids in Orange County, CA.
The Best Orange County Beaches for Families
There are many beach towns along the coast, each with its own vibe, and it's fun to discover what each stretch of sand has to offer. From north to south, here are a few of the best beaches to visit in Orange County.
Check out Surf Culture in Huntington Beach
Known as Surf City USA, Huntington Beach is the epitome of a surf town. To live the laid-back life of a surfer for a day, start off with a surf lesson at a local surf school. HB Surf School offers lessons for kids ages 8 and up, and the program stresses beach safety and fun. You'll have to get up pretty early as the best waves are in the morning, and usually fizzle out by the afternoon.
Near the pier you'll find surf shops and you can learn more about surf culture at the International Surfing Museum and at the Surfer's Hall of Fame. Spend the rest of your day biking on the boardwalk or snag a spot for some beach volleyball. Slightly south of the pier you'll find some bonfire pits where you can relax in the evening and cook up some s'mores!
Events at Huntington Beach: Each August, top surfers from around the world come to compete in the US Open of Surfing, a 10-day surfing competition. Huntington Beach is also known for being the place to be in Orange County to celebrate the 4th of July. With a giant parade and tons of festivities, this is one of the most fun things to do with kids in Orange County.
Newport Beach
You'll find a slew of beachy activities on the Balboa Peninsula of Newport Beach which includes the northern Newport Pier and southern Balboa Pier. On one side of the peninsula you'll find the ocean and on the other side you'll find the Back Bay.
The Back Bay is great for kayaking or paddle boarding with kids, and you'll find numerous places to rent equipment for both. Water in the Back Bay is calm and great for beginners. My husband and I have spent many afternoons kayaking around the various islands in the Back Bay. You'll likely come across a few sea lions during your adventure as well!
At the Newport Pier, you can also rent bikes to ride down the boardwalk to the Balboa Pier (about 1.5 miles). Down by Balboa pier you'll find the Fun Zone with arcades and a Ferris wheel, which is a great Orange County adventure with kids of all ages. You can also hop on a ferry and head over to Balboa Island where you can walk around shops and treat yourself to a famous Balboa bar – a vanilla ice cream bar on a stick dipped in chocolate and candies of your choice! The Fun Zone is also a common departure point for whale watching and sport fishing excursions.
At the very end of the Balboa Peninsula you'll find a surfing and bodyboarding spot called The Wedge where waves regularly get to 15-20 feet, and sometimes up to 30 feet! Rip currents are pretty strong and the waves break really hard on the shore, so don't attempt to join in if you're not experienced. Watching can be just as fun!
Step back into Beach History at Crystal Cove
Nestled in between Newport Beach and Laguna Beach is this awesome historical beach called Crystal Cove. Crystal Cove was built as a beach colony in the 1930's and 40's. There were originally 46 cottages in this little colony, 29 of which have been restored and preserved in 1940's fashion. Sixteen of those are available to be rented out overnight. These beach cottages are in high demand! If you want to rent a cottage, bookings open seven months in advance on the first of every month (at 8AM sharp!) and fill up within minutes.
Located in one of the restored cottages is the Beachcomber Café, a now-famous spot on this beach. You'll need to make reservations pretty far in advance or be prepared for a long wait if you try to walk up.
A trip to Crystal Cove with kiddos wouldn't be complete without a stop to Ruby's Shake Shack. Sitting on a cliff overlooking the cove, the Shake Shack has been a staple since 1945 (though their ownership by the popular Ruby's franchise is relatively new). They've got a full menu of diner food, but my favorite is the shake that made them famous- the date shake!
Laguna Beach
Laguna Beach is beautiful and artsy, and a favorite beach of both locals and visitors. You'd have no trouble spending a whole day in the downtown area wandering in and out of the art galleries, shops, and restaurants. Downtown Laguna Beach is adjacent to Main Beach, where most visitors head.
My favorite beach in Laguna is a bit further south, called Thousand Steps Beach. This beach is a bit more secluded and named for all of the steps you have to go down (and then back up!) for beach access. You'll see multi-million dollar homes on the cliffs above you and waves crashing against unique rock formations along the shoreline.
Laguna Beach also has a few great areas to explore tide pools, which are fun for kids of all ages to explore. Best seen at low tide, you'll get a glimpse of life under the sea. Both Main Beach and Treasure Island Beach (near Montage Resort) are known to have tide pools, and have docents that can teach you all about these fragile marine ecosystems.
To learn more about Southern California's marine life, stop by Pacific Marine Mammal Center. This center rescues marine animals that are sick or injured, rehabilitates them, and then releases them back into the wild. They regularly rescue seals and sea lions, and have a temporary holding facility for small whales and dolphins. They are open daily for visitors, and is a great place to spend a rainy day with your kids in Orange County.
Regardless of where you plan to visit in Laguna Beach, make sure you plan to be there early in the day. The main road going into and out of this beach town can get really backed up and parking can be hard to find.
Events in Laguna Beach: Each summer, Laguna Beach is home to the Pageant of the Masters, where actors recreate famous paintings. Tickets can be a bit pricey, but it's definitely worth seeing at least once!
Easy Hiking Trails in Orange County for Families
Orange County also has some great hiking trails that are suitable for beginners and families. Here are a few of my favorites:
El Moro Canyon– Right across the Pacific Coast Highway from Crystal Cove Beach is El Moro Canyon. Along your hike here, you'll have great views of the canyon and ocean. There are plenty of inclines to get your heart pumping! There are several hiking trails in and around the canyon, and you can hike as little as 3.5 miles or as many as 9. Make sure you get a map at the ranger's station to help you stay on your intended path.
Bommer Canyon– Wander through Irvine's rustic open lands on this quick and relatively flat trail. You can hike the 1.6 mile loop, or head up into the hills on one of the adjacent trails to extend your adventure!
Peters Canyon– Peters Canyon is in the city of Orange (right in the middle of the county), and is one of the most popular places to hike in Orange County. This hike is about 6.5 miles, and although you're pretty far inland, you'll get high enough on the hills that you'll see the coast on a clear day.
Holy Jim– You'll find Holy Jim Trail at the base of the Saddleback Mountains in Cleveland National Forest, and there are two popular trails to hike. For the more ambitious hiker, you can hike to Santiago Peak, a strenuous, 15 mile trek. There is also a much shorter, 3 mile hike out to a waterfall. If you go in the summer, the waterfall might be dried up, but the hike is still worth it! (Side note- in Southern California, we're pretty fast and loose with the word "waterfall." You're not going to see anything resembling Niagara Falls here!) The ride to the trailhead is an adventure in itself, and it's best to have a high clearance vehicle to get there.
San Juan Capistrano
San Juan Capistrano is a city in South Orange County that is seeped in local history. Mission San Juan Capistrano has been the center of this historic area for over 200 years. Originally built to expand the territorial boundaries of Spain and convert the Native Americans to Christianity, this mission is the 7th of 21 missions along the California coast. It has been the property of three different countries- Spain, Mexico, and the USA- and is now owned by the Catholic Church. When wandering through here, you'll find lush gardens, buildings, and monuments that pay homage to the Mission's Native American, Spanish, and Mexican heritage.
Down the street from the Mission is the Los Rios District. Known as the oldest neighborhood in California, mission ranch workers made their homes here in the late 1700's. Some of the forty remaining homes have been converted to small restaurants, cafes, and shops.
Events: The biggest event in San Juan Capistrano is the Swallows Day Parade in mid-March. Every winter, swallows head down to Argentina and return to California every March to rebuild their mud nests at the Mission San Juan Capistrano. This event celebrates the return of the swallows with an old western parade!
My Favorite Day Trip in Orange County
If you're looking for a quick day trip, my favorite place to go is where "the turf meets the surf" at Del Mar Race Track. Put on your floppy hat, pick your favorite horse, and hopefully cash out a big ticket! You can bring your own chairs to set up along the side of the track or spend a few extra bucks to get a seat in the grandstands.
During the summer, they often have beer festivals in the infield or concerts after the races, so it's a great destination for families. Check their website for racing schedules as this track is seasonal. Del Mar is roughly an hour drive south of Orange County. If you plan to drive, make sure to leave early as traffic can get quite heavy by mid-morning. Many people prefer to take the train and not deal with the hassle.
So there you have it- my hometown in a nutshell. My family loves to spend time outdoors, and with so many options here, I don't think we'll ever get bored!
Resources for Visiting Orange County, California with Kids
Do you need a car to get around in Orange County?
Unfortunately, public transportation is rather inefficient in Orange County, and having a car will make a trip with kids a lot smoother. We recommend renting a car unless you are going to spend your Orange County vacation in one place. Yes, there is quite a bit of traffic, and the best advice we can give you for that is to travel early in the morning and book lodging near where you want to spend most of your time. If all else fails, invest in our favorite audiobooks for kids to help pass the time.
Where to Stay in Orange County with Kids
Our first piece of advice – unless you are going to Disneyland or Knott's Berry Farm, try and stay as far from that area as you can. Prices are inflated and traffic is unbearable. A few kid-friendly hotels we'd recommend:
Where to Camp in Orange County with Kids
If camping is more your speed, you'll find lots of different options in Orange County, from waterfront state parks to private RV campgrounds. Be sure to make your camping reservations well ahead of time, as campgrounds fill up quickly, especially on holiday weekends. As for where to camp, check out this Orange County campground list for ideas.
Do you have any favorite things to do with kids in Orange County? We'd love to hear your recommendations in the comments below.
Pin for later?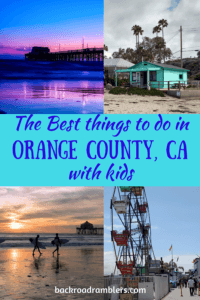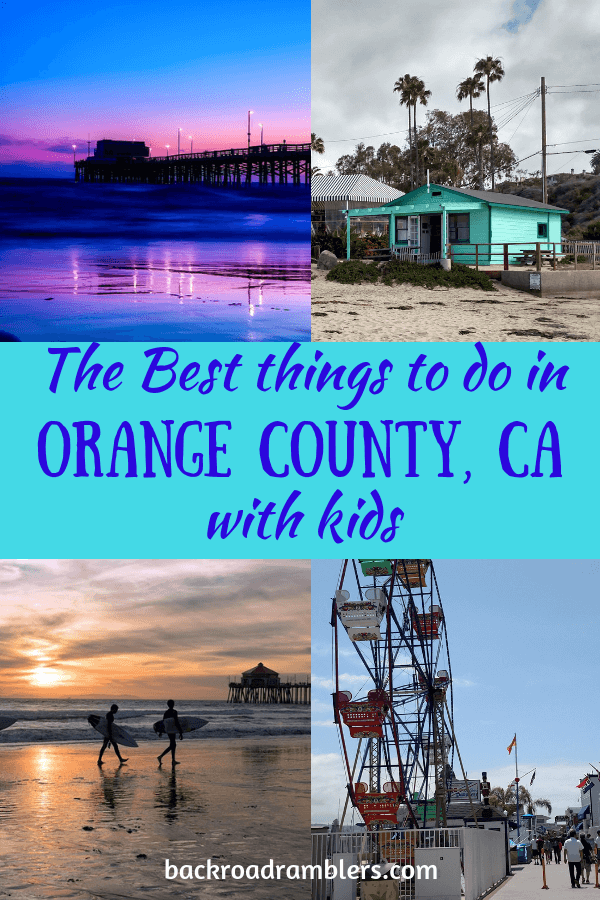 Sarah is a new mom from Orange County, California who hopes to travel the world with her family. The Family Explorer is her ultimate list of travel experiences to have with her family and a chronicle their adventures along the way!