Please check to make sure destinations are open to visitors before planning a trip and follow local guidelines. We earn a commission from affiliate links that may be included in this post.
Whether we're out training and walking the pups, hiking a New England peak, or road-tripping across the country, we've always got a rain jacket at the ready. New England summers are notoriously unpredictable and keeping rainwear handy means we can enjoy the day no matter what the weather throws our way. I recently had the opportunity to review the Panorama Point Jacket from Outdoor Research, and it couldn't have come at a better time!
The Panorama Point and I became intimately acquainted over the course of a 6-day hiking road trip through the Blue Ridge Mountains, where I rarely saw the sun. I'm happy to say that the jacket was a champ at keeping me dry through torrential downpours! In fact, it's my new go-to rain jacket for hiking. Here are my honest opinions about the Panorama Point Jacket from Outdoor Research.
Specifications and Features
Weight: 9.6oz/273g (woman's large)
Fabric: 100% polyester and 50D mechanical stretch ripstop (waterproof)
Center Back Length: 32"/81.28 cm
The Panorama Point Jacket by Outdoor Research is touted as being totally waterproof and windproof, while still maintaining breathability. Features include fully taped seams, an adjustable wire-brimmed hood, pit zips, and zippered hand and chest pockets. There's a carabiner key clip in the left-hand pocket, which also doubles as a stuff sack. Elastic cuffs with hook-and-loop adjustments and an elastic drawcord hem make it easy to create a custom fit. The Panorama Point Jacket comes in six colors, including the lovely "Typhoon Herringbone," which was my choice.
Performance in the Rain
The most important feature for me is the jacket's ability to keep out water and wind. The Outdoor Research website claims that you will be able to forge through rain, snow, and gusty storms with waterproof protection delivered by Ventia™ technology and a 40D mechanical stretch ripstop for durable resilience against foul climates.
I ran the jacket through its paces for sure, encountering numerous storms on a recent hiking trip, and while I didn't experience snow, I did wear it during two heavy downpours and a thunderstorm with plenty of wind. My verdict? Aside from the water running off the jacket onto my shorts, I was totally dry and warm. I have been wearing it for the past four weeks, and it's performed incredibly well in that time period. I have not washed the jacket yet, but if the performance suffers after washing, I will definitely update this post.
2019 Update: Well, friends I am disappointed to say that after two washings, the Panorama Point suffered greatly in the water resistant category. The sleeves and cuffs now become saturated during heavy rains. To remedy the situation, I purchased a can of spray-on waterproofing, which worked flawlessly, but I imagine that I'll have to do this after each washing. Here are some more great suggestions for good waterproof jackets for men, women, and kids.
The adjustable hood did a decent job keeping the rain out of my face when cinched tight, but I should also admit that I wear glasses and often wear a baseball hat for added protection from the rain.
Ventilation
I would rate the ventilation on the OR Panorama Point as average. The pit zips are great and pretty roomy, plus there is extra ventilation if you leave the zippered pockets open, because they are mesh on the inside. I didn't find the fabric particularly breathable though, and definitely worked up a sticky sweat that was only alleviated when I unzipped the jacket during a lull in the downpour.
Comfort, Sizing, and Mobility
In my opinion, one of the best things about this jacket is how comfortable it is. The fabric provides quite a bit of give and is easy to move in, plus it's whisper-light and very quiet. I will say that I think it runs a bit small, and if given the chance, I would size up so I could add layers in the winter.
The zipper pulls are easy to use, but I don't love the hook and loop closure at the top of the zipper — mainly because my long hair gets stuck on it. I also find that the cord locks for the hood are a bit small, especially if you're trying to maneuver them while wearing gloves.
Weight and Packability
At 9.6oz, the Paramount Point is extremely lightweight, which is probably why I find it so comfortable. I no longer have an excuse not to have a rain jacket in the bottom of my day pack, which means I'm more prepared than most of my hiking buddies! When packed into the pocket-stuff-sack, the Paramount Point Jacket about 9"X6"X3", but I prefer to keep it stuffed in the bottom of my day pack so it's easier to get on during foul weather. Whether you use the stuff sack or not, this jacket packs up very small.
Bottom Line: Our New Favorite Rain Jacket for Hiking
The Panorama Point Jacket is one of the most comfortable rain jackets I have owned. It's easy to move in, extremely quiet, and light enough to take on a day hikes or long backpacking treks. My only major complaint is the breathability of the fabric, but that would not stop me from recommending it. If you're unsure about sizing, I'd go bigger, which would be better for layering.
Because I've only owned this jacket for a month, I can't vouch for its overall durability and longevity. I imagine that it could be worn as a waterproof layer in the winter, which is another reason to go up a size. As of this writing, the OR Panorama Point Jacket resales for $179.
2019 Update: The OR Panaroma Point Jacket currently retails for $53!
Do you have a favorite rain jacket for hiking? Please share it with our readers in the comments below.
Are you on Pinterest? We'd love it if you'd pin this post for later!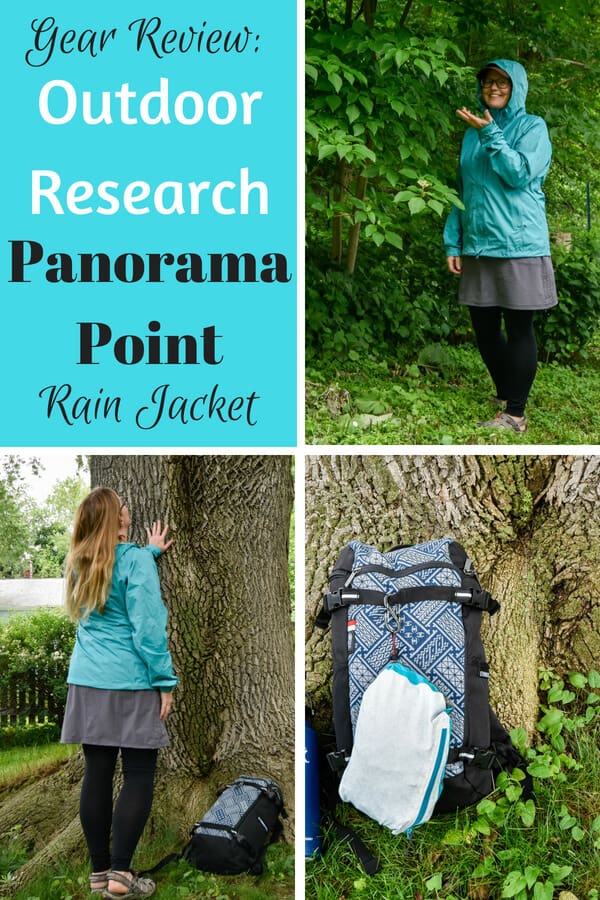 Please note: This is not a sponsored post, but I did receive this product for free in order to test it. As with everything you find on Back Road Ramblers, all thoughts expressed below are my honest opinions