Please check to make sure destinations are open to visitors before planning a trip and follow local guidelines. We earn a commission from affiliate links that may be included in this post.
Hey, fellow road trippers! Time to prepare for another season of open windows, impromptu picnics, roadside attractions, and curated Spotify playlists. As you can imagine, road trip season is an institution around here, and we've got a whole lot of adventures planned for our tiny car this year.
Before we start gallivanting around Vermont in our tiny car, I wanted to share some of our favorite road trip essentials with you — products that have made our lives easier and more fun on the road less traveled.
Road Trip Essentials for Outdoor Families
These road trip essentials make awesome gifts for families who love to travel and love the outdoors. Here they are, in no particular order.
Road Trip Essentials for Eating and Drinking While Traveling
One of the best ways to save money while traveling is to prepare your own road trip food. While this might seem daunting at first, it actually provides a lot of flexibility.
If you have kids, you're probably well aware of what happens when the little monsters aren't fed on time. Keeping food and drink on hand allows you to hit the back roads, hike that secret trail, and keep everyone happy. And there's nothing quite like a road trip picnic to get everyone in the groove.
Here's what we're loving right now for eating and drinking on the road.
Photo Credit: Tara Schatz
We've been using Hydro Flask water bottles since they first came out and we still think they are totally amazing. I love that you can leave home with an icy cold drink that lasts all day, and there's no slick condensation collecting on the sides of the bottle (which totally attracts dog hair in our car).
The Hydro Flask 64-ounce insulated growler is like a water bottle on steroids, perfect for big adventures and family outings. It's also great for impromptu stops at local breweries. You can fill it up like any growler and indulge in fresh, cold beer when you get to your campsite.
Another way to use the Hydro Flask growler? Hibiscus iced tea! This is our favorite summertime drink and it's easy to make with dried hibiscus flowers steeped in boiling water. Add a bit of maple syrup for sweetener and pour it into a growler full of ice. This amazing for a post-hike beverage. I carry my regular water bottle on the hike and return to the car for in ice-cold bliss.
Photo Credit: REI.com
There are a million things to love about this soft-sided cooler from REI. First, I love the unique print as I'm always trying to add a bit of color to our road trips. Soft-sided coolers work well for our family because when not in use, they pack up flat and take up less room (essential when traveling in a small car).
This cooler holds 17-liters of food and keeps things frosty for 32 hours. The padded shoulder straps make it easy to carry your food from car to campsite or picnic area and the interior is leakproof and easy to clean.
We love having this cooler on hand for weekend adventures, trips to the grocery store, or day trips that involve picnicking.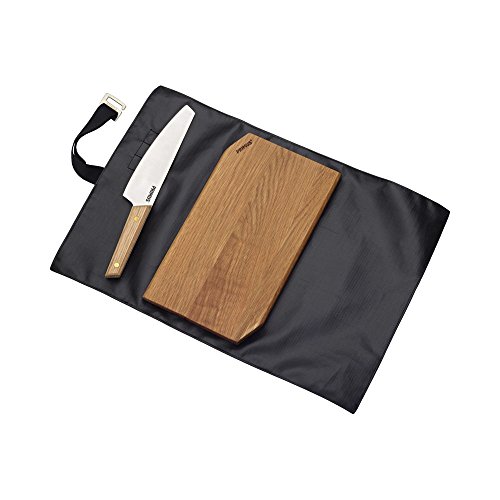 Photo Credit: Amazon.com
Every road trip food kit needs a sharp knife and cutting board for snacking and meals. We have fallen in love with this campfire cutting set from Primus and it pretty much lives in my daypack all summer long.
We also bring it with us on picnics and day trips, and wouldn't go camping without it. The chef's knife is super sharp and lightweight and the board is a light bamboo that's easy to clean. It all wraps up in its own carrying case, making it incredibly portable, not to mention safe for road-tripping families.
You guys, we bought ours at full-price last year for $80, and it's on sale right now for half that. Should've waited...
Road Trip Essentials for Staying Connected While Traveling
When it comes to technology and travel, I feel like I'm always behind. The more I travel, though, the more I realize that I have to get with the times, especially since I'm doing more and more work on the road.
In addition to my usual bag of tricks — cameras, laptops, tablets, and chargers, here are three new additions to our trunk-based office: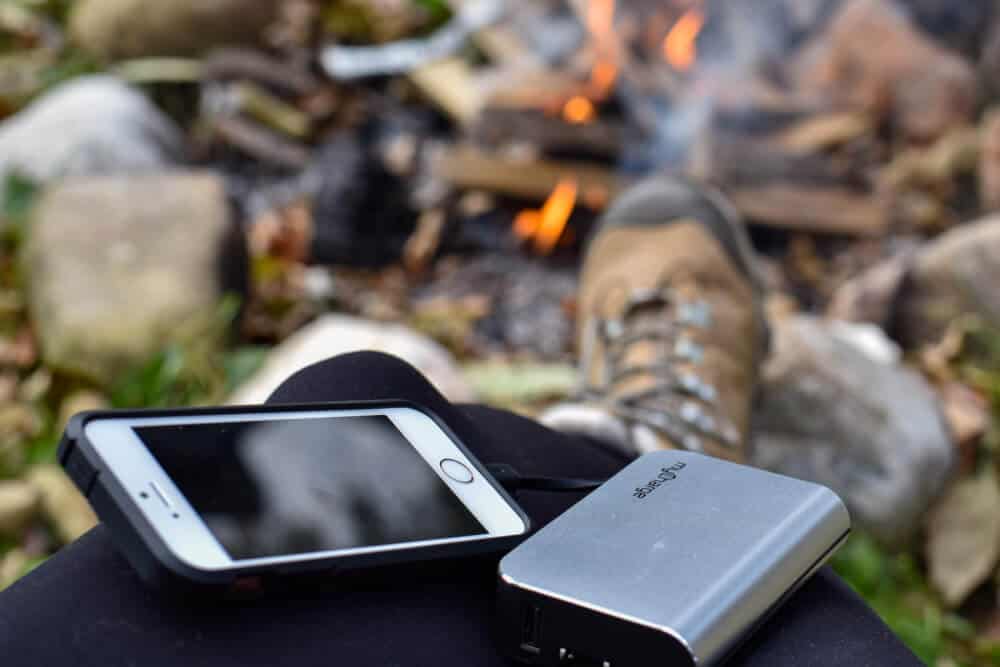 Photo Credit: Tara Schatz
A portable charger is essential for road trips, especially if your trip will be taking you on outdoor adventures with kids. One of the things I love about the MyCharge HubPlus portable charger is that the charging cables are built-in so you're not always searching for missing cables.
The HubPlus comes with a built-in micro USB and lightning cable, so your power bank is always ready to give your devices an extra boost. Additional features include a folding wall prong and 6,700 mAh for charging your devices up to four times. I usually charge my HubPlus before a weekend trip, and it will go two to three days before it runs out of juice. Plus, it's the size of a credit card, so there's no reason not to pack it!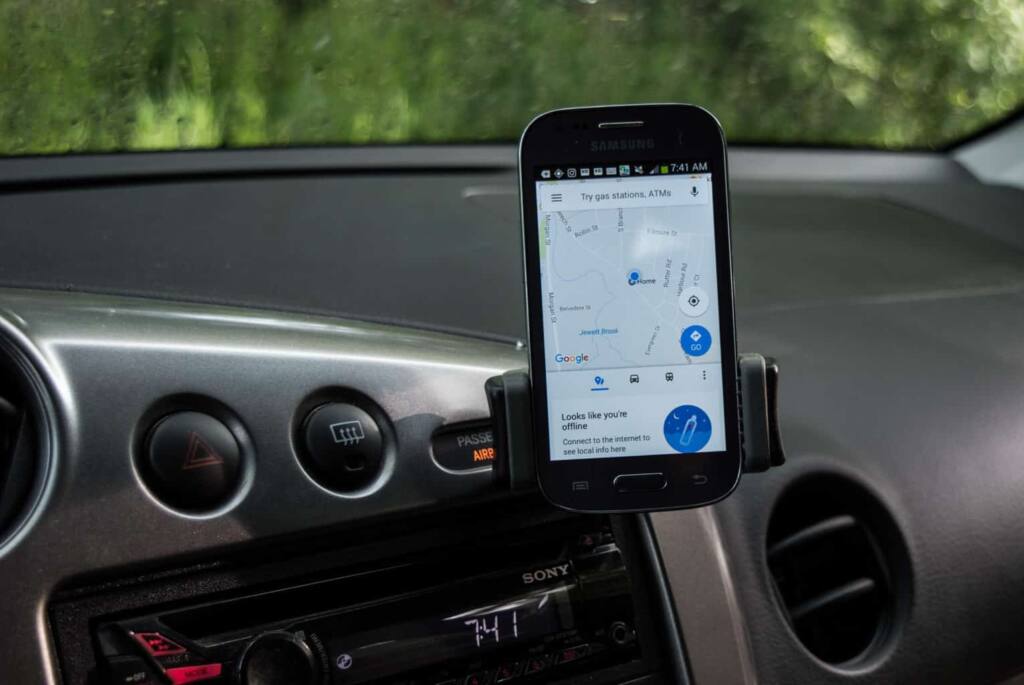 Photo Credit: Tara Schatz
We've tried a lot of dash mounts for securing our phones in the car, but ultimately they end up crammed int the cup holder or on the floor. The Nite Ize Original Steelie Freemount Dash Kit is super durable and comes with an adjustable free-mount arm attachment for use with phones of any size. The powerful ball magnet allows for a variety of viewing angles — perfect for listening to music or online navigation.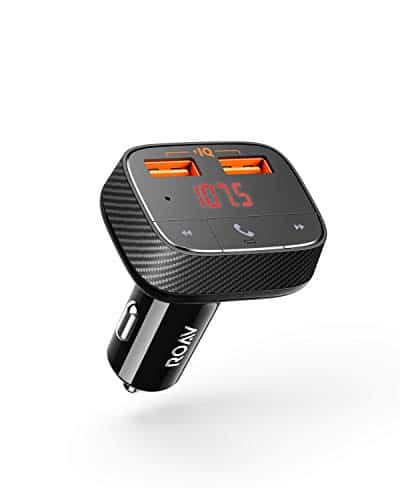 Photo Credit: Amazon.com
If you've got an older car whose stereo system isn't equipped with Bluetooth technology, you'll love this little gadget. It basically uses your FM radio to connect to your phone via Bluetooth, enabling you to stream your music through your car's sound system.
Yes, I realize that most of you aren't driving cars that are 15+ years old, but for those that are, this is awesome. It plugs right into your charging port and comes with two USB ports for high--speed charging of your devices. You can also use it for hands-free calling.
Photo Credit: www.findmespot.com
A 2-way satellite messaging device is essential for times when you're traveling away from reliable cell service. We use the SPOT X messaging device, which uses GPS satellite to keep us connected when we're off-grid.
In addition to being able to communicate with our contacts via text, the SOS feature on the SPOT X can be used in emergency situations. connecting you with search and rescue services that nobody thinks they will ever need until they do.
The SPOT X has a built-in compass, a GPS tracker, and a stand-alone Querty keyboard. Oh, and did I mention that it weighs just 7 ounces? You do need to pay a monthly subscription fee to use it, but the peace of mind it provides you and your family will make it 100% worth it!
Road Trip Essentials for Fun and Relaxation
've become a bit of an expert at mixing work and pleasure on road trips. These fun additions make impromptu picnics, games, and shenanigans easy like Sunday morning…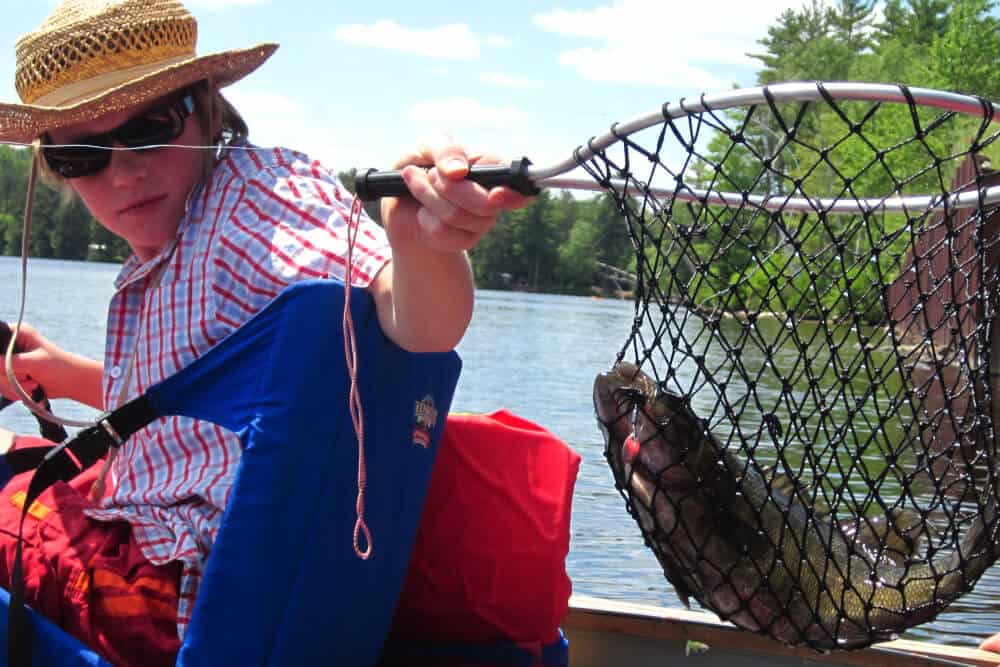 Photo Credit: Tara Schatz
Our love for Crazy Creek chairs isn't exactly new, but they are such an essential part of our road trips that I had to include them here.
These babies fold flat for easy storage, and they live in our car all summer long. We had itty-bitty ones for our toddlers, and now we've got one for each of us so we can relax in the most beautiful spots across the country.
Also, these are our go-to gifts for outdoor-loving friends and family. If there's one thing that I will never forget on a road trip, it's these chairs!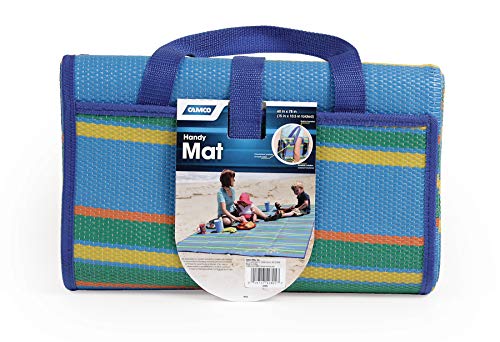 Photo Credit: Amazon.com
This is another road trip essential that lives in the car and gets used at least once a week. The Camco Handy Mat is 60″ x 78″, big enough for the whole family. It cleans up easily and is mildew resistant.
Spread it out at the beach, the park, or the ballgame, and you'll be all set. Because it's so lightweight (2 pounds), I recommend weighing it down with your picnic cooler on windy days.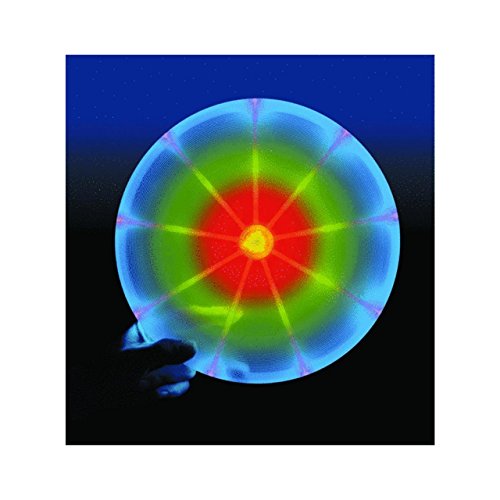 Photo Credit: Amazon.com
Impromptu disc games ease our road-weary bodies on long road trips, and they're perfect for rest stops and wide-open spaces.
TheNite Ize Flash Flight Disc-O is special though because it lights up the night sky and allows you to play any time. It's super bright, and we've yet to replace our lithium-ion batteries after six months of pretty heavy use. We've also tried the Flashflight LED Dog Discuit with our pup, but he's still obsessed with his ball. We'll keep working on it.
Photo Credit: mpowerd.com
Have you guys seen these Luci Outdoor – Inflatable Solar Lights?
We have found them for sale all over the place, and just love their versatility! They pack up really small, charge in the sun, and can be blown up for all kinds of situations where you need an extra light.
We use them mostly for camping, but we also keep one in the glove compartment for emergencies. These guys float too, so make a great addition to the canoe or kayak.
Health and Beauty Essentials for Road Trips
For looking and feeling good on the road and in the woods – these are our favorite health and beauty finds for travel.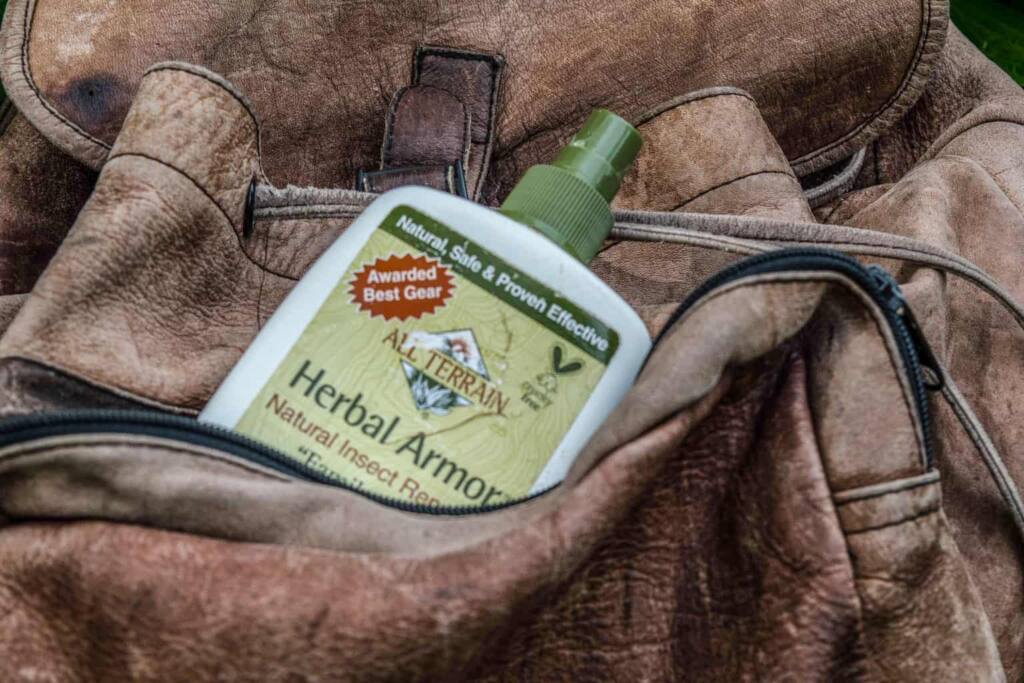 Photo Credit: Tara Schatz
I've tried a lot of different all-natural bug sprays over the years, and All Terrain Herbal Armor is my favorite so far. It smells pretty good, keeps away all but the most persistent flying pests, and doesn't contain DEET.
Active ingredients include soybean oil, citronella oil, peppermint oil, cedar oil, lemongrass oil, and geranium oil. I've read that cedar oil is really great for repelling bugs, so last year I added an extra 20 drops or so to our spray.
The only downside to this spray is that it does stain some clothing. For really buggy evenings, we use Sawyer insect repellent with picaridin on our clothes and Herbal Armor on our bare skin.
Photo Credit: Tara Schatz
Have you ever tried to dry a big, cotton beach towel while road tripping? They stay damp forever, and then, of course, they start to smell, and nobody wants to use them.
But, you do have to have towels for road tripping – you just never know when that perfect swimming hole, lake, or river is going to magically appear in front of you.
We keep a few REI pack towels in the trunk for these special occasions. The XL size will wrap all the way around your body, and it dries really quickly and is ready to go again in a few hours. These are also our go-to towels for all of our camping, backpacking, and canoe trips.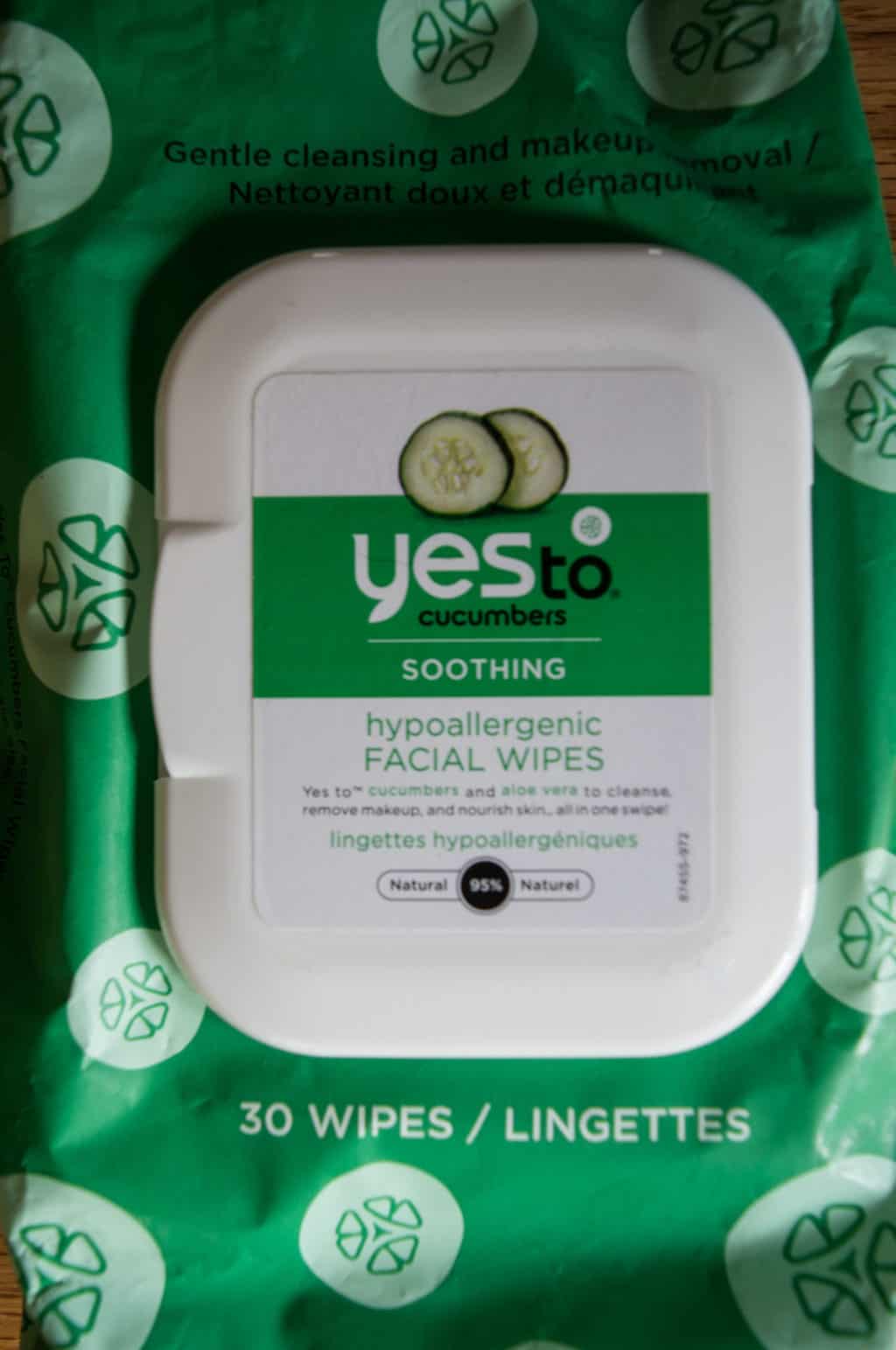 Photo Credit: Tara Schatz
Because we are often traveling between campgrounds, showering is not always possible. On days when I can't rinse off the grime of the day, I rely on these.
I have really sensitive skin, and this is one of the few products that my skin doesn't react to. The wipes are enriched with aloe vera and green tea. They are soft and compostable, and they smell lovely. I use them on my face and all my other dirty parts before bed. I also keep them in the car for a quick freshen up when I'm traveling. Life saver!
So, there you have it, our favorite road trip essentials for summer adventures. Now bring on the sunshine back-road explorations!
---
---
Want to read more about our favorite travel and adventure gear? Check out these posts:
---
Pin for Later?