Please note: There's a good chance that this post contains affiliate links from which we earn a small commission at no extra cost to you.
The Vermont camping season is short, and for a small state, there are a whole lot of beautiful places to lay your head.  Our favorite campsites this year have been farmstays – campsites on the Vermont farms that contribute so much to our rural landscape and way of life. Private campsites give campers the opportunity to connect with the natural world in a whole new way. Whether it's frolicking with baby goats, harvesting your evening meal, or simply pitching a tent in a pasture, each experience is unique (and awesome).
Managing private campsites also gives farmers an additional income stream, which can be a lifesaver during economic downturns. As a bonus, you often have an opportunity to meet the farmers and sample some of the best food money can buy. We'd love to share some of our favorite Vermont camping experiences from the past year. Farmstays may just be my new favorite way to pitch a tent.
Stony Pond Farm, Fairfield, Vermont
Vermont glamping at it's best, this rustic cabin is located on an organic dairy farm in Fairfield, Vermont — not far from St. Albans and the shores of Lake Champlain. Stony Pond Farm is a bustling working farm, but the cabin is nestled deep in the woods, giving campers a sense of seclusion. It's a perfect retreat for a couple, with a king-size bed in the loft and a small pull-out futon in the living space below. A woodstove will keep you toasty through the fall, but because the composting toilet is open to the air, we wouldn't recommend it for winter glamping.
The small kitchen and eating area can handle simple or gourmet meals, and all your cookware is provided, as is firewood, drinking water, and extras like tea and spices. While this is an awesome spot to unplug and relax, we'd also recommend exploring St. Albans and checking out the Missisquoi National Wildlife Refuge (the only national wildlife refuge in Vermont). You can book your stay at Stony Pond Farm through Airbnb or Hipcamp. We've also got a more detailed review of our stay here.
Our favorite thing about the mountain cabin at Stony Pond Farm: Hanging out with the cows and the farm pups. Oh, and the steaks were divine.
Something to consider: The open-air toilet isn't for everyone.
Free Verse Farm, Chelsea, Vermont
Free Verse Farm grows herbs in the mountains of Central Vermont. It's a bucolic setting and it's up there with some of the best camping views we've ever experienced. Misha and Taylor sell their herbal teas, remedies, culinary treats, and body-care products online and at local farmer's markets. Lucky for us, they've also started renting pasture campsites for campers looking to get away from it all. The private campsites are set on the side of a hill with killer views of the valley. Beef cattle roam the pastures, and wildflowers dot the landscape.
The dirt road up to the sites is suitable for most vehicles, but probably not RVs or trailers. Basic campsites include a picnic table and a fire pit, and the outhouse is a short walk from camp. Misha and Taylor have a wide range of herbal products for sale at the farmhouse, as well as seasonal produce from their kitchen garden. Book one of their beautiful campsites or their sweet vintage camper on Hipcamp.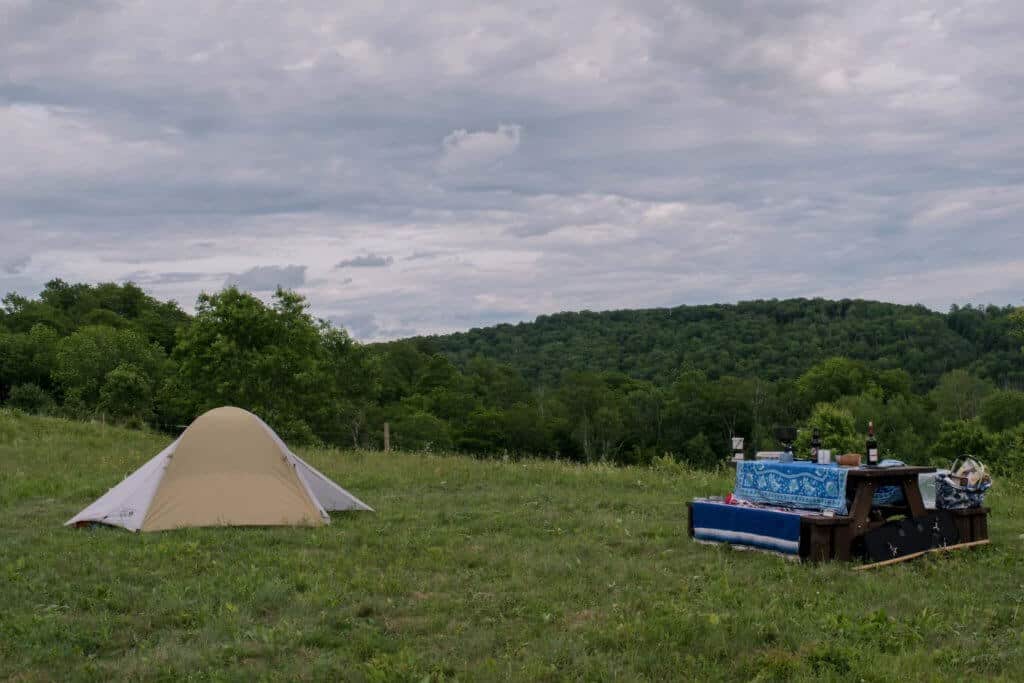 What we loved about Free Verse Farm: The view!!
Something to consider: Potable water, a shower, and a sink are all available at the farmhouse, but it may be a bit of a walk from your campsite.
Mountain Home Tent Sites, Tunbridge, Vermont
Just a few miles south of Free Verse farm is a the perfect spot for a mountain getaway. Mountain Home Farm is a 200-acre dairy farm specializing in artisan butter, buttermilk, and ricotta cheese. Expansive pastures are surrounded by wild forest, and the views from the hill-top camping area are spectacular.
A common area with a huge fire pit and a picnic area is perched on the top of the hill, and four private campsites are dispersed along the edge of the forest. Hiking trails crisscross the land, taking you through fields and forest, downhill and back up again. If you call ahead, Evan will be happy to thaw out some ground sausage for your camp meal, and the hand crafted butter is a must. You can book a night or a week at Mountain Home Farm on Hipcamp.
What we loved about Mountain Home Farm: Total privacy. And the butter.
Something to consider: The road to camp is suitable for 4X4 vehicles only, but you can park at the bottom and walk up, or hitch a ride with your gear in Evan's truck. Also, there is no potable water at camp, so be sure to pack it in.
Tanglebloom Flower Farm, Brookline, Vermont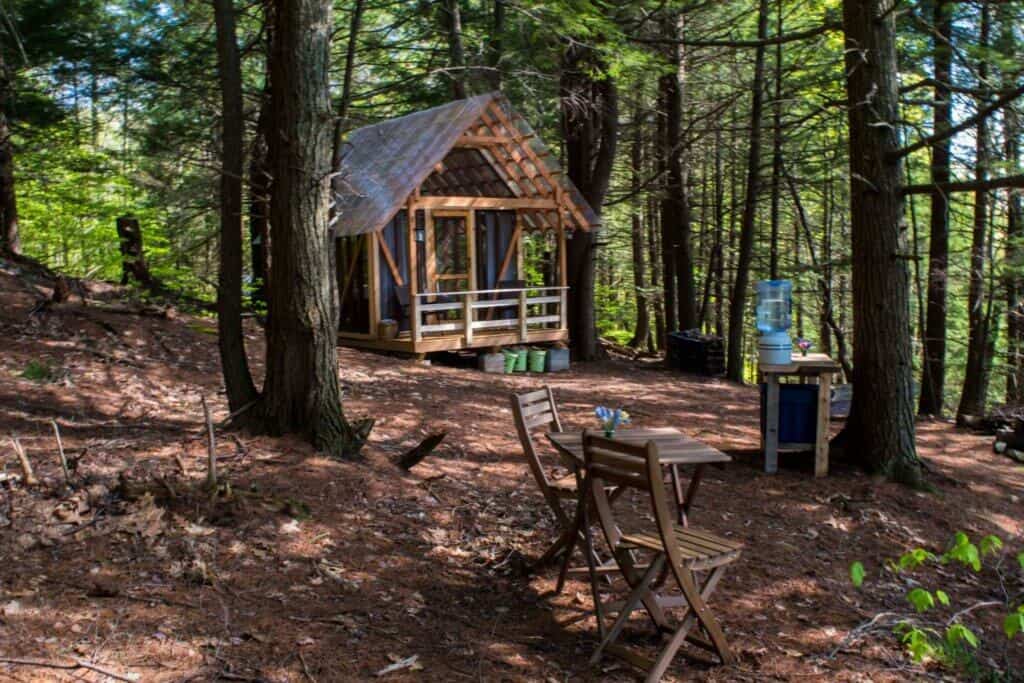 If ever there was an idyllic setting for a romantic retreat, Tanglebloom Flower Farm has got to be it! A variety of flowers are cultivated on a sunny acre surrounded by trees in Southern Vermont, not far from the bustling town of Brattleboro. Just paces from the  rows of colorful blooms is a secret path that meanders into the woods.
The rustic, open-air sleeping cabin is just big enough for a bed, a small table, and a chair, yet it is airy and open to the sights, sounds, and smells of the surrounding forest. Relax near a crackling fire, take in the peekaboo view, or meander through the woods as the sun sets. A night at Tanglebloom is truly good for the soul. Book your stay on Airbnb or Hipcamp.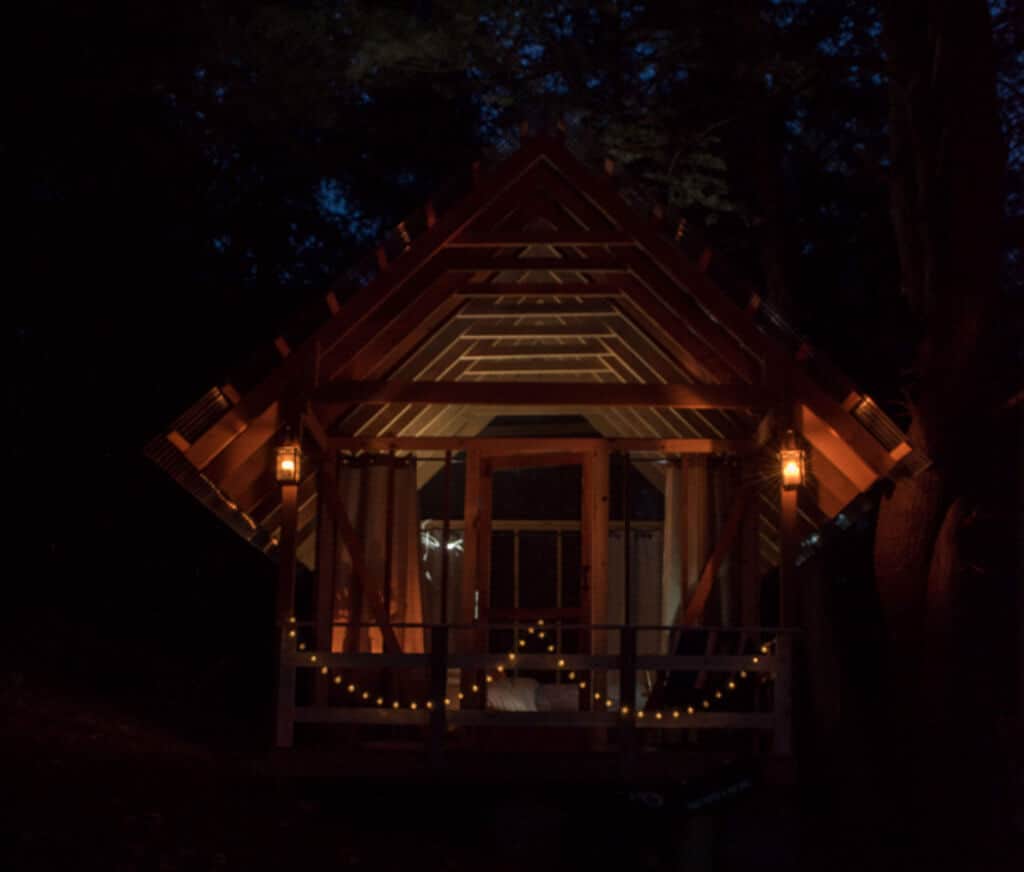 What we loved about Tanglebloom Farm: Flowers everywhere!
Something to consider: There's an awesome swimming hole under the West Dummerston Covered Bridge, about 6 miles south of the cabin.
Private farmstays are a great alternative to busy campgrounds — offering plenty of privacy, along with gorgeous scenery, unique accommodations, and oftentimes fabulous food. If you're looking for something different to do this weekend, I highly recommend these beautiful and unique campsites and cabins. Support Vermont's local farm economy and book a night or a weekend away. I promise, you won't regret it!
Did you enjoy this post? I'd be delighted if you'd pin it for later.