The little slice of wilderness called Woodford State Park is nestled in the mountains of Southern Vermont.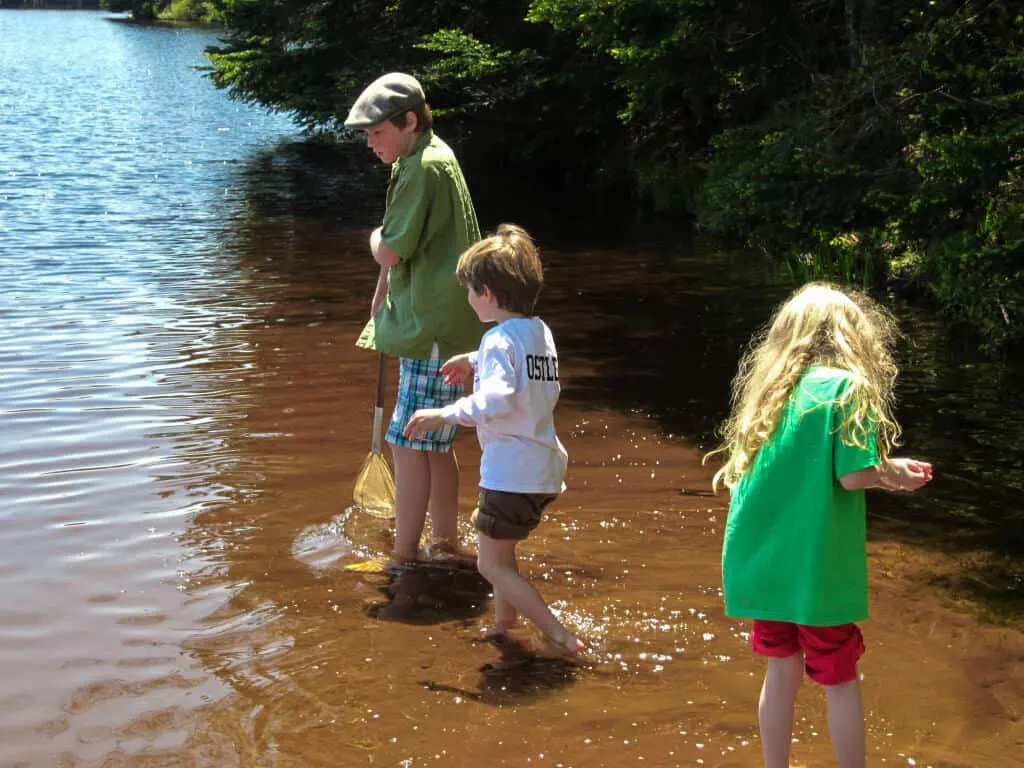 It's not exactly a tourist destination, but it beckons to certain people with its quiet mountain lake, secluded hiking trails, and beautiful waterfront campsites. I am definitely one of those people. Woodford State Park is my happy place — A place my family and I have been exploring in every season for more than ten years.
The centerpiece of Woodford State Park is a small, shining lake called Adams Reservoir. The lake is surrounded by forest, with pretty campsites nestled into the trees along the shore. At 2,400 feet in elevation, this is the highest campground in the state. The park itself is just 398 acres, but it's bordered by the George Aiken Wilderness and the Green Mountain National Forest, so there are unlimited opportunities for exploring.
Woodford State Park is officially open from Memorial Day until Indigenous People's Day, but visitors are welcome to explore in the off-season, provided they park their vehicle outside the park gates. We love Woodford's beauty in all four seasons and recommend it to everyone who visits southern Vermont. Here's what you need to know about visiting this gem of a park year-round.
Spring at Woodford State Park is for Hiking and Fishing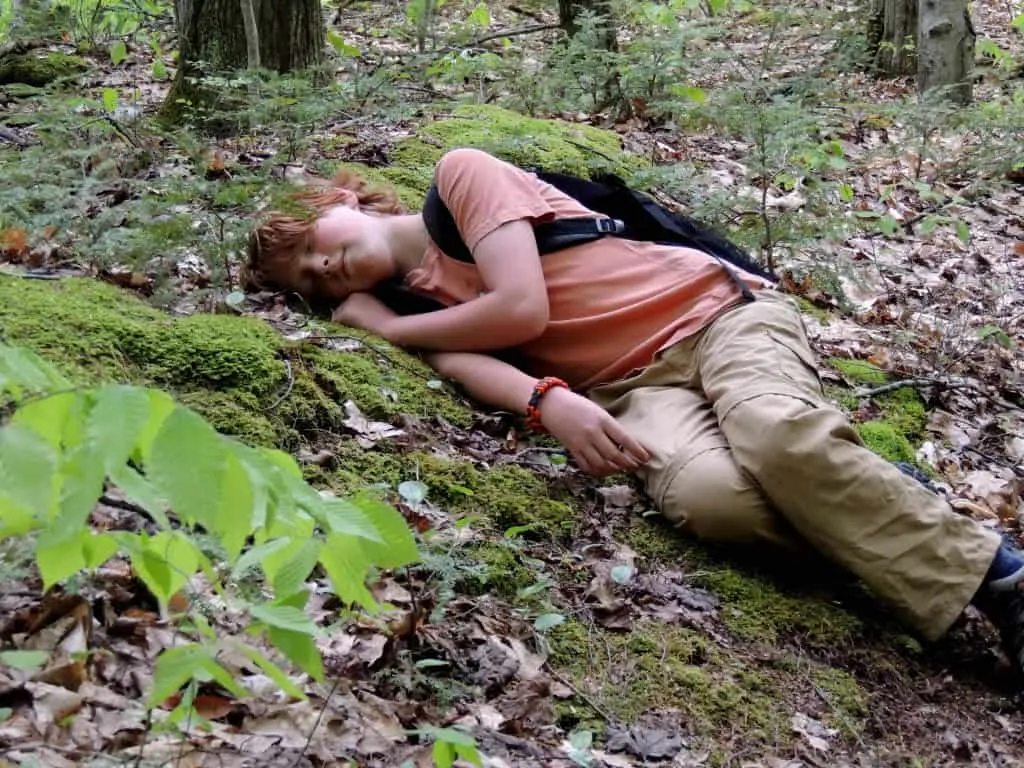 There's nothing like the brisk days of late spring for an exhilarating hike, and actually, sometimes it's a snowshoe trek or a skiing expedition because the snow sticks around until at least May. The trail around Adams Reservoir a 2.7-mile loop through a dense softwood forest, but you can also shorten the loop by a mile if you cut into the campground and walk back to your starting point on the campground road.
The temperature at Woodford State Park remains chilly well into June, so be sure to plan for weather extremes if you visit in the spring.
Adams Reservoir is stocked with trout some time in April, and then you'll find the locals with their tackle boxes and picnic baskets lining the shore. The more patient fisherpeople will sit on the banks from morning till the sun sets hoping for a good catch to stock the freezer. If you want to fish in Woodford State Park, you can buy a Vermont fishing license at the park office.
Summer at Woodford State Park is for Camping and Water Sports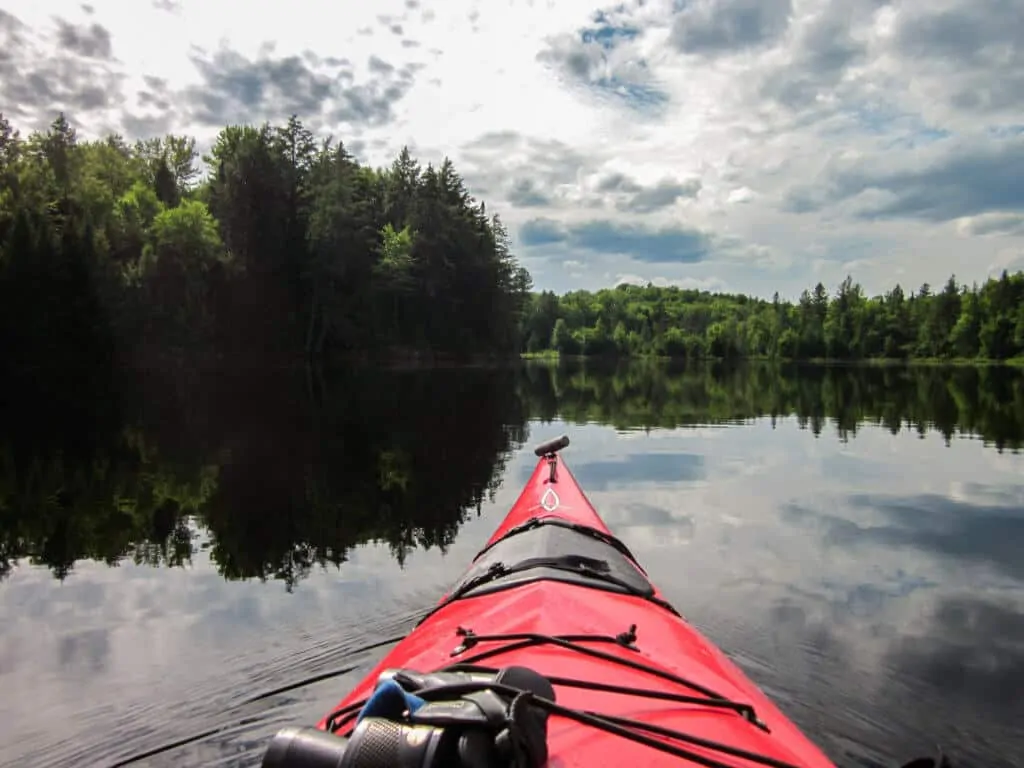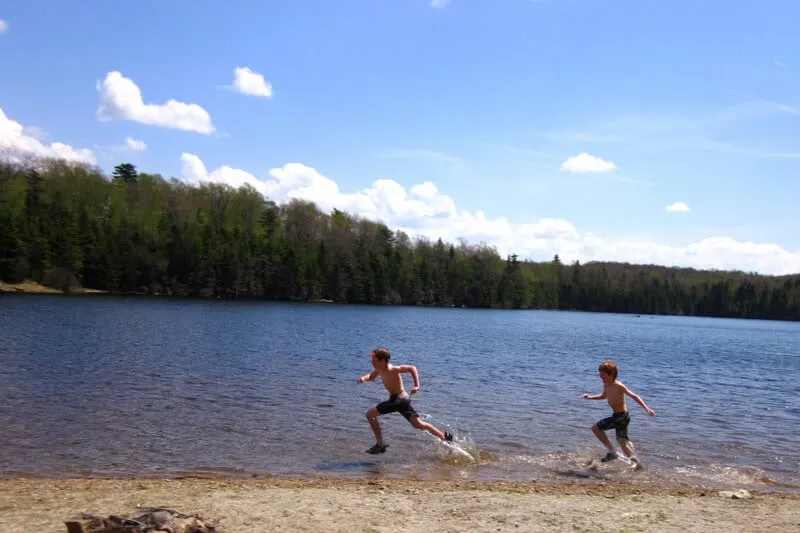 Summer is an awesome time to visit Woodford State Park. The best way to experience the lake and the laid back atmosphere is to reserve one of the 103 campsites that surround the lake. You can choose from 90 tent/RV sites (some are waterfront), 20 lean-tos, and four camping cabins, one of which is dog-friendly.
We live fairly close to the park, in the valley below. When it's 90 degrees at home, we can count on it being 10 degrees cooler at Woodford State Park, but let's be honest – it's rarely 90 degrees in Vermont.
If you're planning a camping trip in the mountains, bring your woolies, even in the summer! Also, this is one of the few state parks that allows leashed dogs year-round. That's a huge plus for us.
You can rent kayaks, canoes, and paddle boats from the park rangers for an itty-bitty fee, but the best is the swimming. On the hottest days, there's nothing like a dip in this mountain lake to restore the senses and fall in love with the world. Try it. I know you'll agree!
Fall in Woodford State Park is for Leaf-Peeping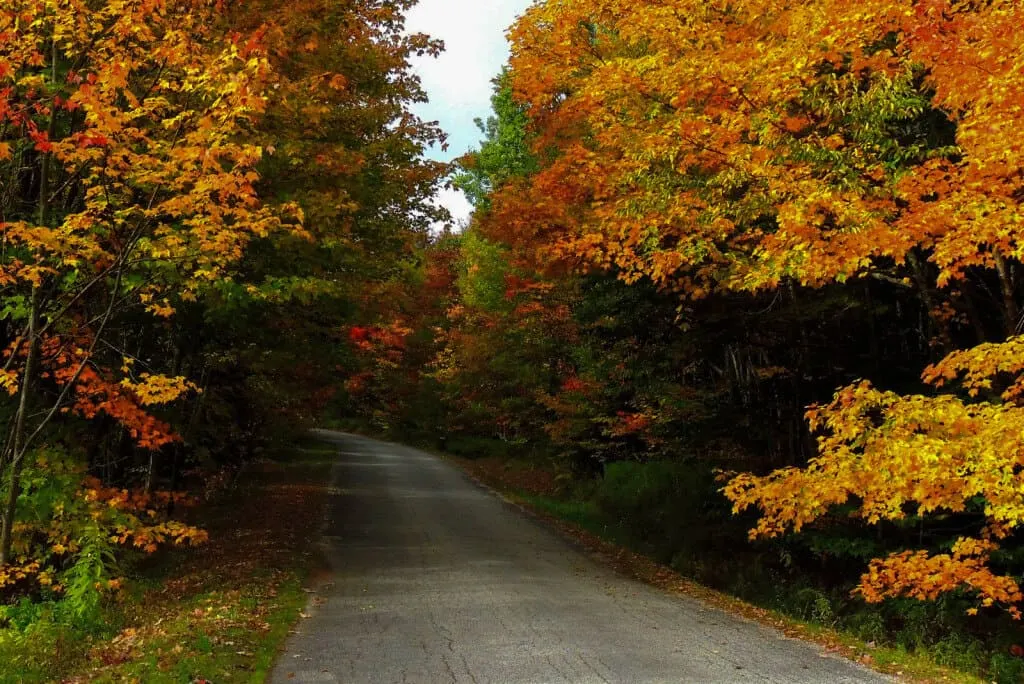 Late September brings oranges, reds, and yellows to the forests of Vermont. It also brings leaf peepers from all over the world. At Woodford State Park, you'll find leaf-peepers, but because the forest is mostly Birch, Spruce, and Fir, it doesn't explode with color like some other parts of the state.
It still makes a fabulous home base for exploring autumn in Vermont. The campground is open until Indigenous People's Day in the fall, and if you're not sure about camping in the cold, reserve one of the four cabins in the park – Lady Slipper cabin is pet friendly.
Winter at Woodford State Park is for Skiing and Snowshoeing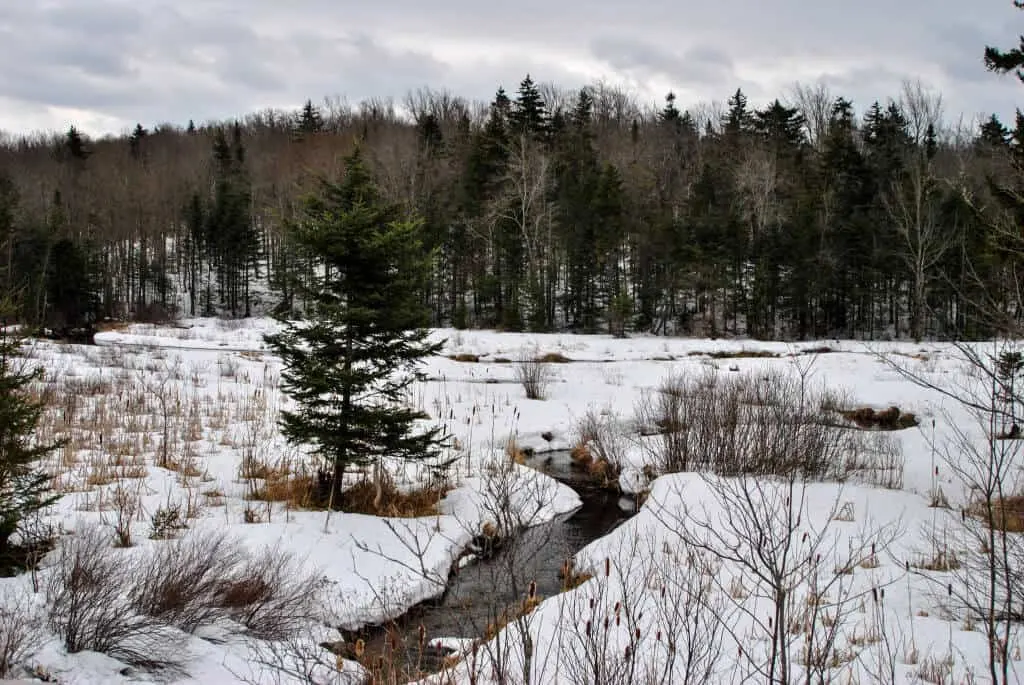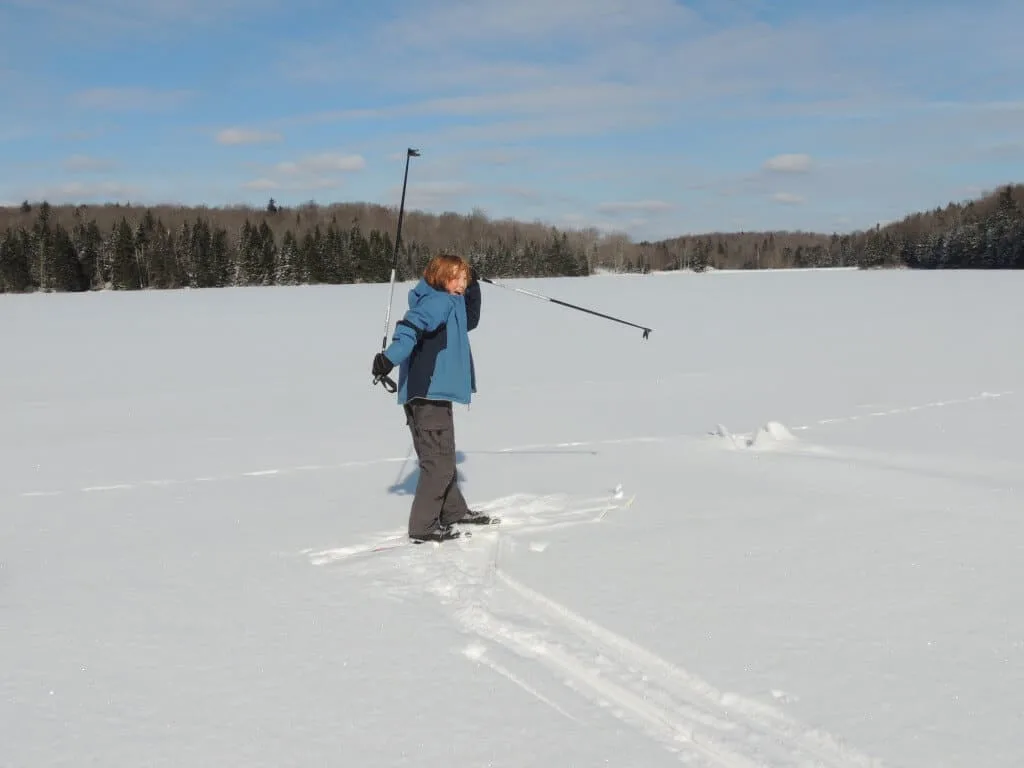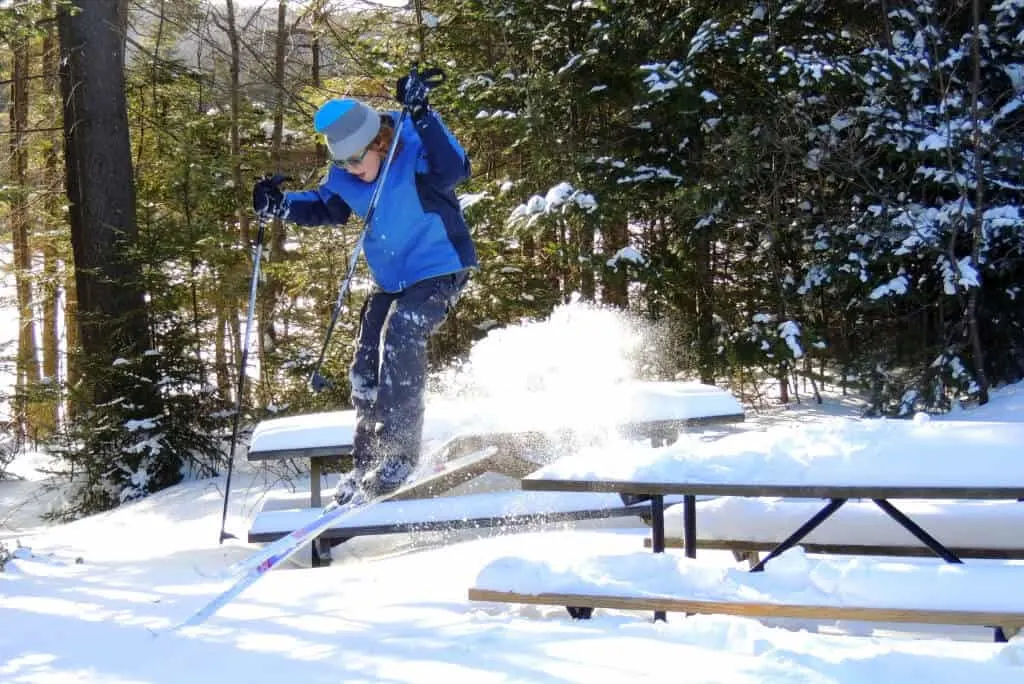 Winter is an awesome time of year to head into the Vermont backcountry. Cross-country ski trails criss-cross the Green Mountain National Forest, and during snowy winters, there's a pretty well-marked trail through Woodford State Park and the surrounding wilds. The frozen lake makes a fine playground, skating rink, and ski-track all rolled into one. The park is officially closed in the winter, so you have to park your car in the snowmobile lot across the street.
Are you convinced that Woodford State Park is the sweetest little hidden spot in Vermont? Then come on up for a visit — I'll meet you there!
For trail maps and campground reservations, check out Woodford State Park's official website.
---
For more about my home, the beautiful Green Mountain State, check out these posts:
---
If you're on Pinterest, please share the love: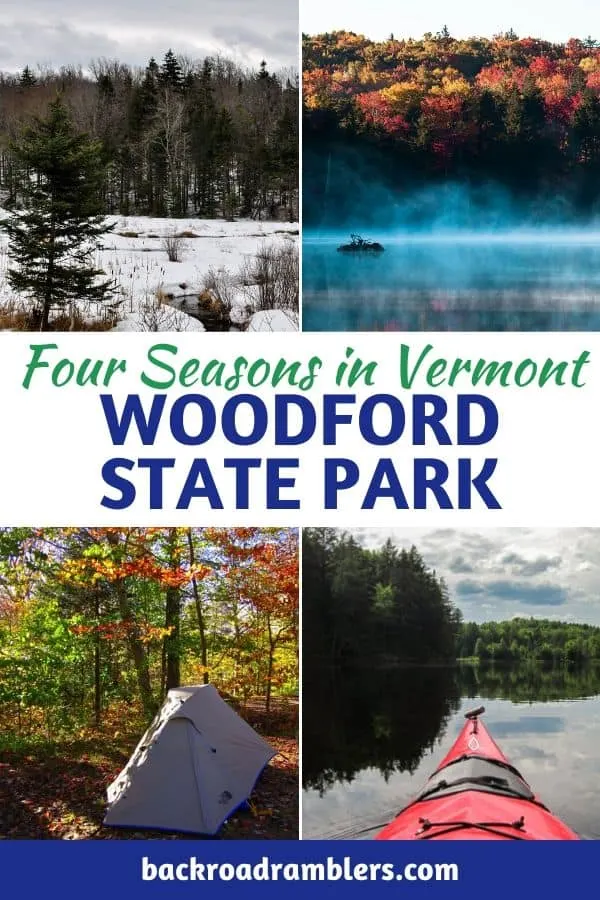 Our Favorite Resources for Road Trips and Outdoor Adventures

These are the resources we use to plan road trips, save money while traveling, and shop for outdoor gear.

Car Rentals: While we use our own car most often for road trips, we also enjoy flying into major airports and then renting a car for more regional road trips. We use Kayak to compare prices and find deals from dozens of car rental agencies at once.

Flights: We use Kayak to search out flight deals.
Money-saving tip: If you find yourself using the same airline repeatedly (we are huge Southwest fans), consider joining their loyalty program and getting an airline credit card. With our Southwest Rewards Visa, we earn a few free flights each year.

Hotels: When it comes to lodging, we seek out small boutique hotels or quirky roadside motels. First, we search for hotels on TripAdvisor so we can read reviews from other travelers. Then, we use Booking.com to make reservations (they have the best prices, plus a flexible cancelation policy).

Camping: Camping is one of our favorite things to do on long road trips. It allows us to explore the outdoors, cook our own food, and save money. We use They Dyrt Pro to find campsites and read reviews before booking on Recreation.gov or state park websites.

Glamping and Vacation Rentals: For weekend getaways and shorter vacations, we love glamping (check out our glamping resource guide). We book glamping properties through Tentrr, Hipcamp, and Airbnb. For cabins and vacation rentals, we like to use VRBO (they have fewer fees and a better cancelation policy than Airbnb).

Guides and Maps: If we are visiting a new region, we usually invest in a Moon Travel Guide for the area. We pass them on to friends and family after our trip. If we are planning on hiking, we also purchase a Falcon guide in the Best Easy Day Hikes series.

Outdoor Gear: We are REI Co-Op members. It cost us $20 for a lifetime membership, but we get a yearly dividend based on our purchases, plus great deals and coupons throughout the year. REI also has a great return policy.

Check out our complete guide for planning a road trip on a budget