Please check to make sure destinations are open to visitors before planning a trip and follow local guidelines. We earn a commission from affiliate links that may be included in this post.
Because I love reading about how other people plan their days and stay productive, I thought I'd share my current work-from-home routine with you.
I've been working from home for nearly a decade, and my morning schedule changes depending on the time of year. Right now, we are in the middle of a pandemic and I'm working from home with two other people, which makes it a little more challenging, but I'm still managing to stay productive and check lots of stuff of my work to-do list every day.
Here's the work-from-home routine that's working for me right now.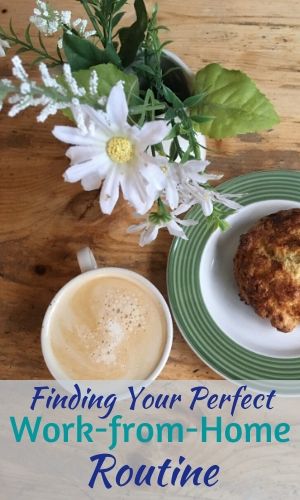 Morning Work-from-Home Schedule
6:00 am: My dog, Flynn hears my alarm before I do and comes to my side of the bed to lick me awake. It's a little slobbery, but there are worse ways to wake up! Flynn and I head downstairs, put the kettle on, and let Malinda out of her kennel.
Both dogs go out to do their business while I get down to business making coffee. After the dogs come in and eat their breakfast, I sit down with my coffee and my plan book while the house is still blissfully quiet. I check emails and make a plan for the day.
7:00 am: Once I have a rough plan for what I need to accomplish, I head upstairs for a quick yoga/stretch session. If I don't do it know, the day will get away from me, and I'll forget. I put on some decent clothes (not PJs or loungewear), make the bed, and put in some laundry.
8:00 am: The dogs and I head out for a walk. Sometimes we can take a full hour to romp in the woods by our house. Sometimes I have a tight schedule and can only take 30 minutes. Either way, we use this time to exercise and be in nature before the day begins.
9:00 am: Work time! I make breakfast, pour another cup of coffee, and sit down to do freelance and editing work. Morning is when I work on projects that have deadlines and anything that feels pressing. I save my blog work and other creative endeavors for the afternoons.
11:30 am: Dog training. Malinda is currently eight months old and trying her best to prepare to be a guide dog for Guiding Eyes. For the next half hour, we work on her skills and commands. She knows the drill and loves working.
12:00 pm: Lunch! My husband is currently working from home (a school teacher in the middle of a pandemic). In a perfect world, we will eat together and catch up. It doesn't always work out, though. What's for lunch? Usually, leftovers from the night before.
Afternoon Work-from-Home Schedule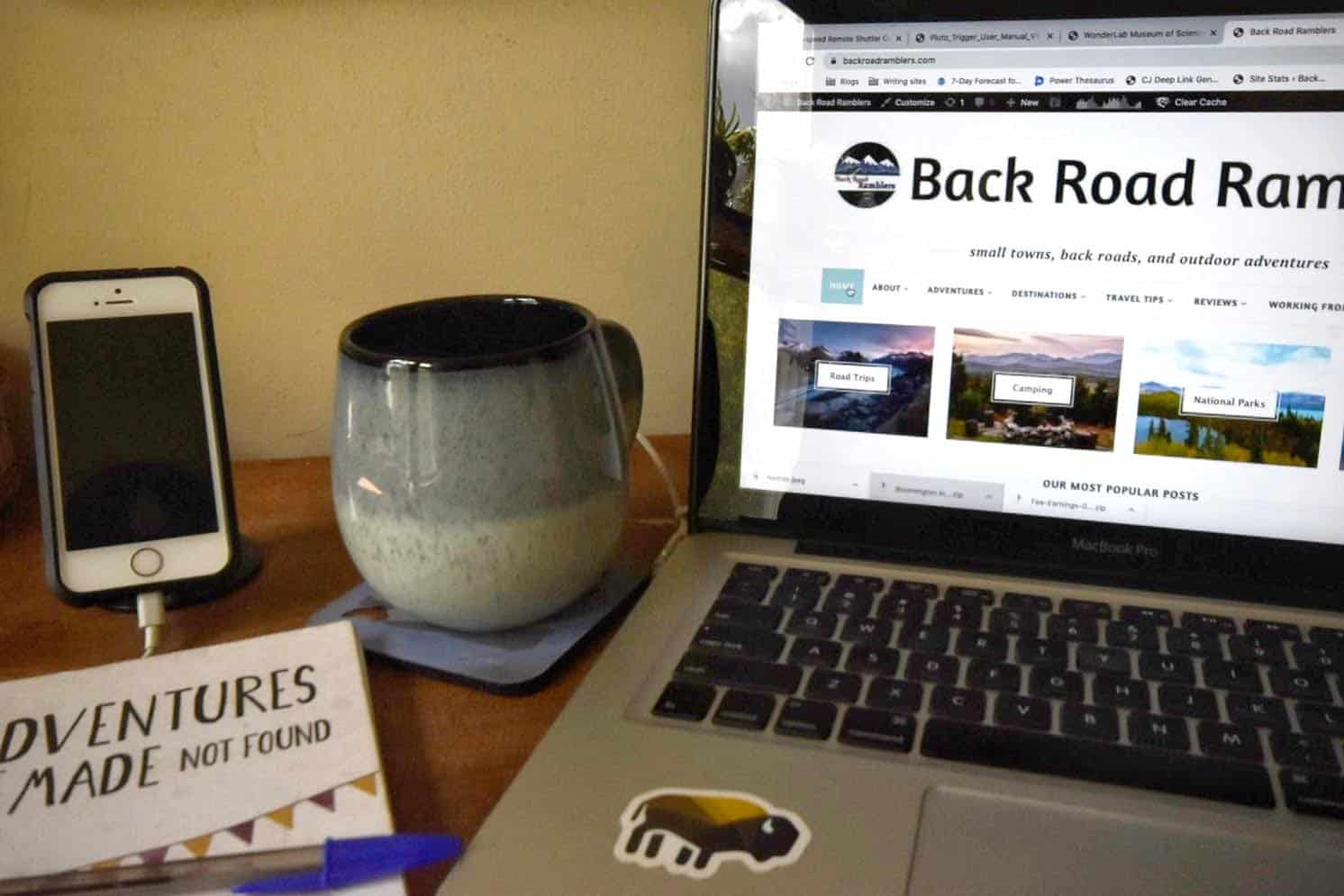 1:00 pm: Blog work! This is my favorite time of the day. I use it to write posts, edit photos, plan my content calendar, network within my community, and pitch new projects and collaborations. No two days are exactly the same, which is just the way I like it.
3:30 pm: More dog training. After I've put a dent in my blog work, I head outside with one or both of the dogs. Depending on the weather, we will either go for a hike or do some training and socialization activities in our town or neighborhood.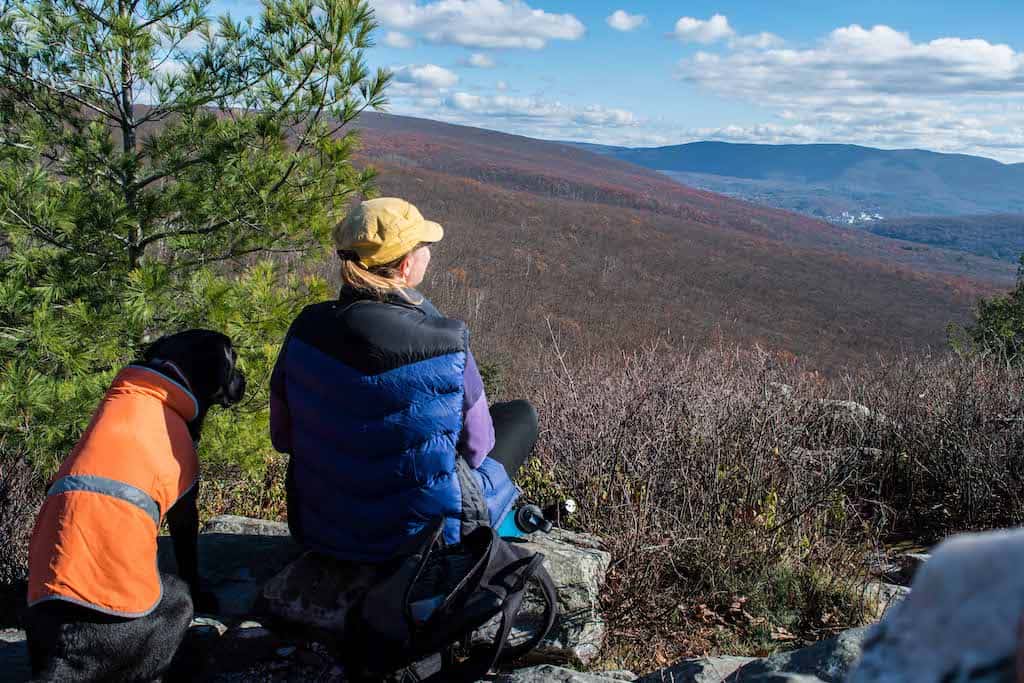 5:00 pm: Make dinner, do household chores, answer emails. This is when I try and wrap things up for the day. It mostly works out, but sometimes I have big projects due that keep me working late.
A Few Tips for Staying Productive While Working from Home
I've often wondered where my time goes each day, and writing this out has made me realize just how much time I spend with my dogs. They're totally worth it, though! Also, according to this schedule, I only work four hours a day. This isn't quite accurate because I work some evenings and plenty on the weekends. I do all the heavy-lifting in the mornings so that I can keep the afternoon open for fun projects.
Here are some tips that I live by to stay sane and productive while working from home.
Set a timer – I divide my day into blocks of time that are one to two hours long. To keep myself on task, I set a timer when I start a project. When the timer goes off, I stand up, stretch, and drink a big glass of water before getting back to work.
Close extraneous tabs you aren't using – It's so easy to keep Gmail, Facebook, and Instagram open on my computer all the time so that I can jump over to them when I need a break. This is a major time suck, and I've learned that if I really want to get my work done I have to close the darn tabs.
Check emails three times a day – I can get lost in email pretty quickly, and before I know it, minutes have turned to hours and my work is waiting for me, untouched. I solve that problem by turning off my email notifications. I check emails first thing in the morning, over lunch, and again at the end of the day.
Try and shut out distractions – Just a few weeks ago, I was home alone most of the day. I worked all over the house — on the front porch, in the living room, and in my office. Now that Eric and Gabe are home too, I head to the office and shut the door. It makes me feel official, and it helps me stay on track.
Are you currently working from home? Share your routine and/or tips with us in the comments below!