Massive thundering waterfalls, deep river canyons, and beautifully walkable downtown — welcome to Twin Falls, Idaho, a small city located on the southern rim of the Snake River Canyon.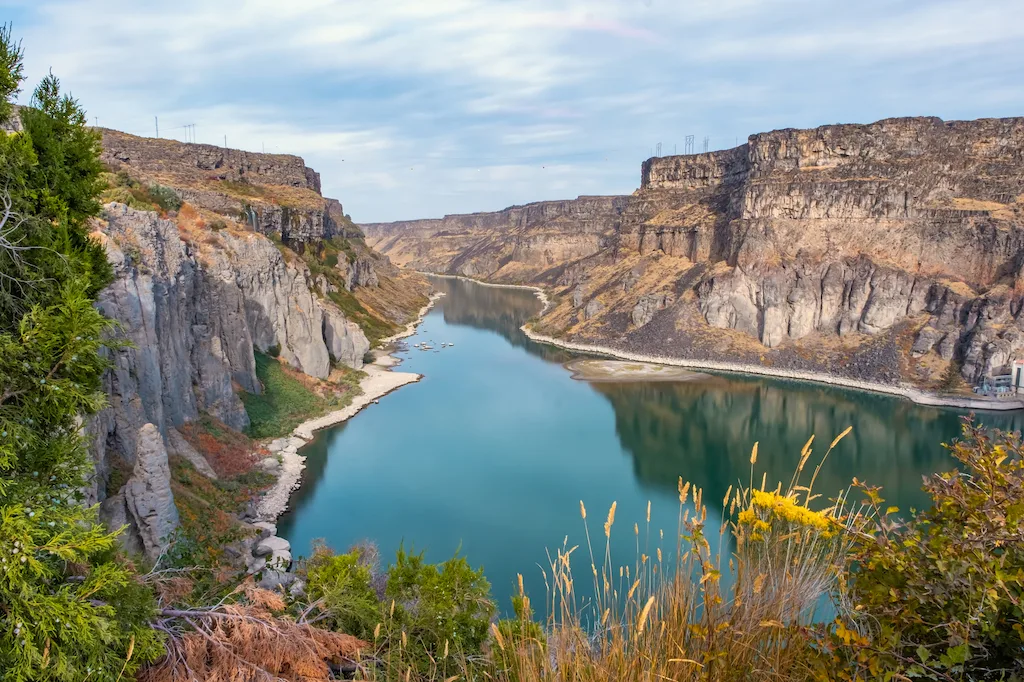 Whether you're an adrenaline junkie or into more mellow adventures, Twin Falls makes the perfect destination for a recreation-based getaway!
Twin Falls is the regional commercial hub of south-central Idaho and a wildly popular destination for outdoor lovers.
The city gets its name from the massive waterfalls on the Snake River. Twin Falls is actually a bit of a misnomer because there are actually more than 30 waterfalls within the city limits of Twin Falls, but Thirty Falls just doesn't have the same pleasant ring to it.
The 50-mile-long Snake River Canyon is responsible for many of the awesome recreational activities available in Twin Falls. You can easily hike or bike on the Snake River Canyon Rim Trail from downtown, and there are both trails and roads that travel down into the canyon.
Whether you want far-reaching views or exhilarating climbs, you don't have to travel far from Twin Falls to find them.
My husband and I were fortunate enough to spend a summer weekend recreating in Twin Falls while on a cross-country road trip, and even though the heat did its best to keep us down, we managed to cram a whole lot of hiking, kayaking, eating, and relaxing into our visit to Twin Falls, all in the name of research!
Below you'll find some of the best things to do in Twin Falls Idaho – perfect for your visit any time of year. Whether you're just passing through or planning a mega Idaho adventure, a stop in Twin Falls is an absolute must!
10 Fun Things to do in Twin Falls, Idaho
Twin Falls is a city that was meant for outdoor lovers, whether you like to stroll arm-in-arm through the park with the one you love, hike a rugged and exhilarating trail, rent bikes and ride along the canyon rim, or kayak the Snake River.
I will not say that there's something for everyone in Twin Falls, but if you love beautiful scenery and outdoor recreation, this place is definitely for you!
You will have no trouble creating an outdoor-based itinerary for a full weekend, but if you need some ideas for the best things to do in Twin Falls, here are our recommendations, based on our own summer adventures in this beautiful city of waterfalls!
The Best Things to do in Twin Falls: Explore Shoshone Falls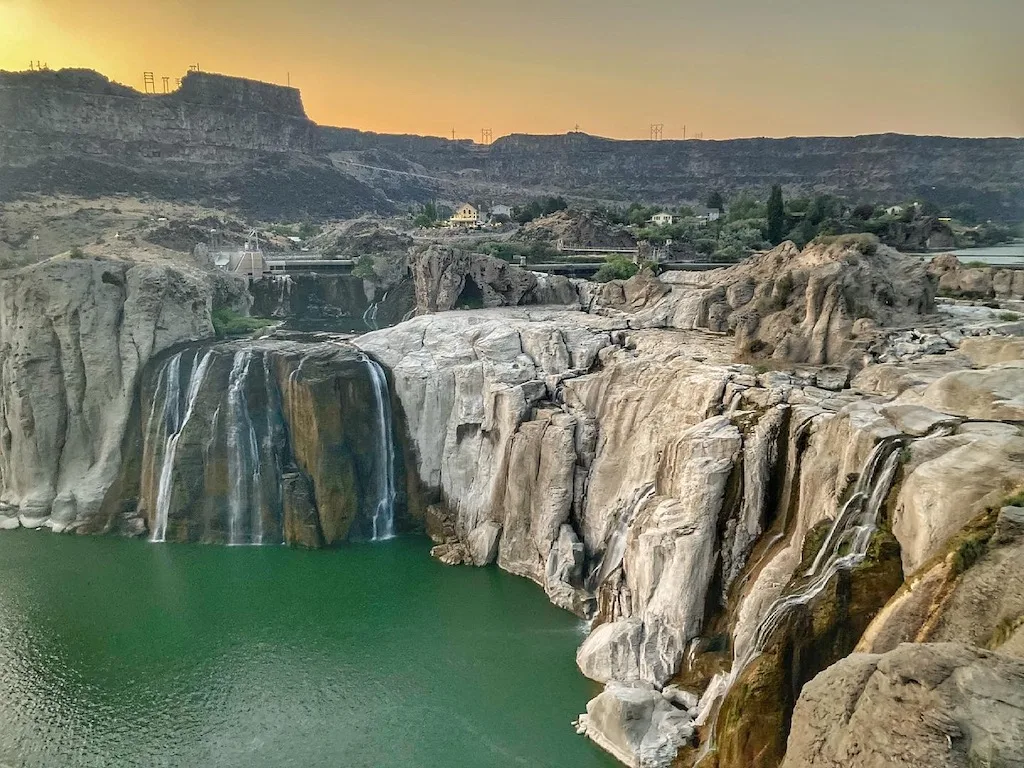 What do you know about Shoshone Falls? Have you already heard that it's the called Niagara Falls of the West? That it's a mind-blowing 212 feet tall (by the way, that's 45 feet taller than Niagara Falls), that it's been a tourist attraction since the 1860s?
Yeah, it's all of that, and worth a visit, even in the summer when the water levels are substantially lower than the thundering cascades you'll see in the spring (the photo above is from a summer visit).
Visiting Shoshone Falls is one of the most popular things to do in Twin Falls, so be sure to put it on your itinerary!
Shoshone Falls Park is beautiful, with manicured lawns, shady picnic areas, and viewing platforms from high above the falls. Be on the lookout for yellow-bellied marmots, the world's cutest rodents, and don't forget your camera to capture your view of the falls.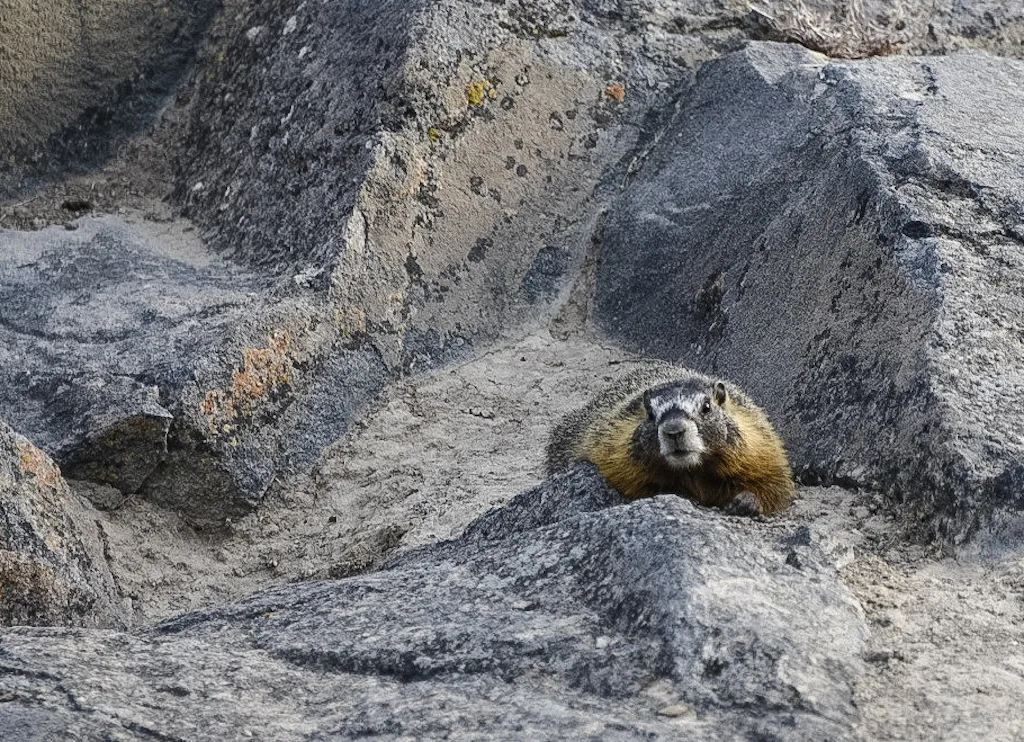 Wondering what time of day to visit Shoshone Falls? If you're staying nearby, it's worth checking out in the morning (fewer crowds) and at sunset when the sky does all kinds of amazing things over the canyon.
According to a traditional story told by the Shoshone-Bannock people, Shoshone Falls was accidentally created by Ejupa, the coyote, when he spilled a basket of fish. To try and stop the water he had spilled from carrying his fish away, he built a series of dams. Those dams became three iconic Snake River waterfalls — Idaho Falls, American Falls, and Shoshone Falls.
The road to Shoshone Falls twists and turns, with gorgeous views as you get closer and closer to the canyon.
Between March 1st and September 30th, you will have to pay a $5 parking fee to enter Shoshone Falls Park. This gives you access to the picnic areas, restrooms, viewing platforms, and Dierkes Lake, which we'll talk about next.
Insider tip: Did you bring your bike to Twin Falls? You can ride on the Canyon Rim Trail from the Twin Falls Visitor Center all the way to Shoshone Falls (it's about four miles one-way). The trail is traffic-free, and the views don't stop for the whole ride! More on biking the Canyon Rim Trail below.
Swim, Hike, or Paddle at Dierkes Lake Near Shoshone Falls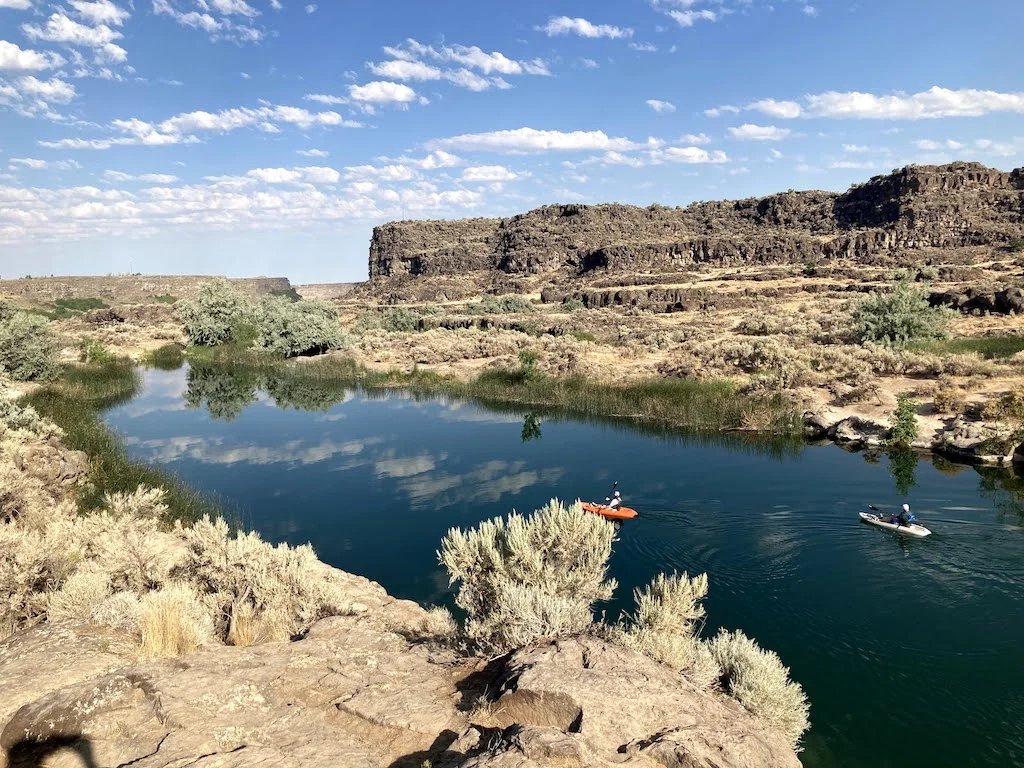 You've ooohed and awwed over Shoshone falls, taken some amazing photos, and maybe even enjoyed a picnic on the lawn.
Before you pack up and head back to Twin Falls, be sure to check out Dierkes Lake! This beautiful lake has a lifeguarded swimming area (June to August), a playground, picnic tables, and an easy hiking trail with secret swimming spots.
The Dierkes Lake Trail is an easy 1.7-mile loop with some stairs and moderate elevation gain.
Bring along your swimsuit and towel because you won't be able to resist the lure of the water on a hot summer day, especially if you like cliff jumping. If you have kayaks with you, Dierkes Lake is also a great spot for an early morning paddle.
Kayak to Pillar Falls on the Snake River with AWOL of Twin Falls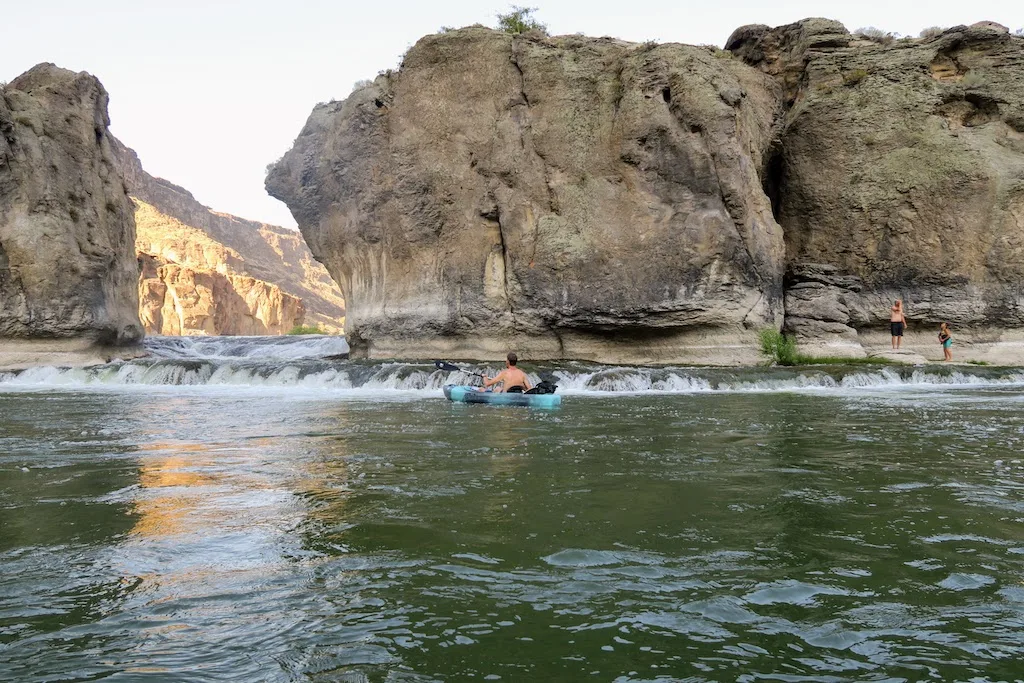 The Snake River between Centennial Park and Pillar Falls is an easy upstream paddle that you can complete in under four hours with extra time for exploring.
Start by reserving a solo or tandem kayak from AWOL Adventure Sports in Centennial Waterfront Park($20 for 2 hours, $30 for 4 hours, or $40 for 6 hours). All rentals come with a paddle and life jacket. Bring your own sense of adventure!
The four-hour trip is perfect for those wanting to see and explore Pillar Falls. If you want to portage around Pillar Falls and continue to Shoshone Falls, you will probably want the six-hour rental.
We rented our kayaks starting at 5 pm in July (they're open until 9) because we didn't want to paddle during the hottest part of the day. This worked really well for us and we arrived back at the rental stand at around 8:30 pm.
Even though we paddled upstream to Pillar Falls, the river was slow-moving and the paddling was pretty easy.
We kayaked under Perrine Bridge, which gave us a really cool perspective of this iconic structure. There were lots of other kayakers, paddleboarders, and boaters on the river, but there was also plenty of room to spread out so it never felt crowded.
When we got to Pillar Falls, we beached the kayaks, had a picnic dinner, went for an amazingly refreshing swim, and meandered around the falls. The rock formations are fun to explore, and the falls are gorgeous!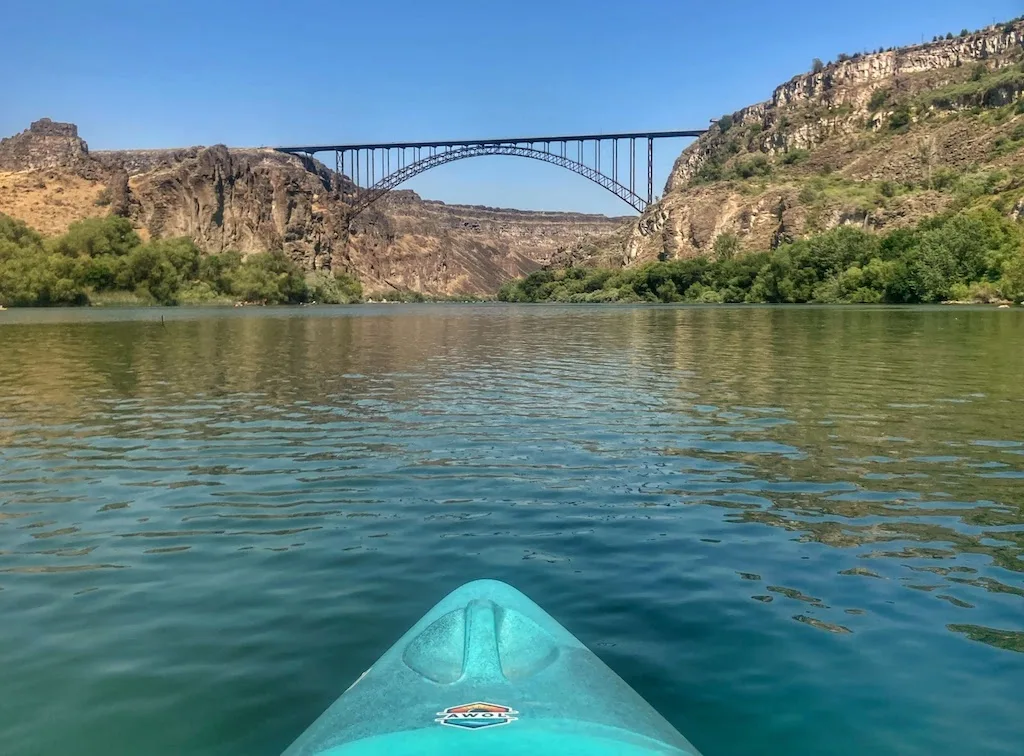 Our Snake River paddle to Pillar Falls was definitely the highlight of our trip to Twin Falls. If you don't have time to do everything on this list, try and make time for this experience.
For both paddling and swimming, this is truly one of the best things to do in Twin Falls.
See Shoshone Falls from the Water! You can take an eight-hour excursion via boat and kayak to Shoshone Falls with AWOL Adventure Sports. The first portion of the tour, from Centennial Park to Pillar Falls is on a Pontoon Boat. From Pillar Falls, you take a guided kayak trip four miles upriver to see Shoshone Falls.

This trip is only available between June and August and only from Friday to Sunday. If you are fortunate enough to be in Twin Falls on a summer weekend, you should check it out!
Walk Behind Perrine Coulee Falls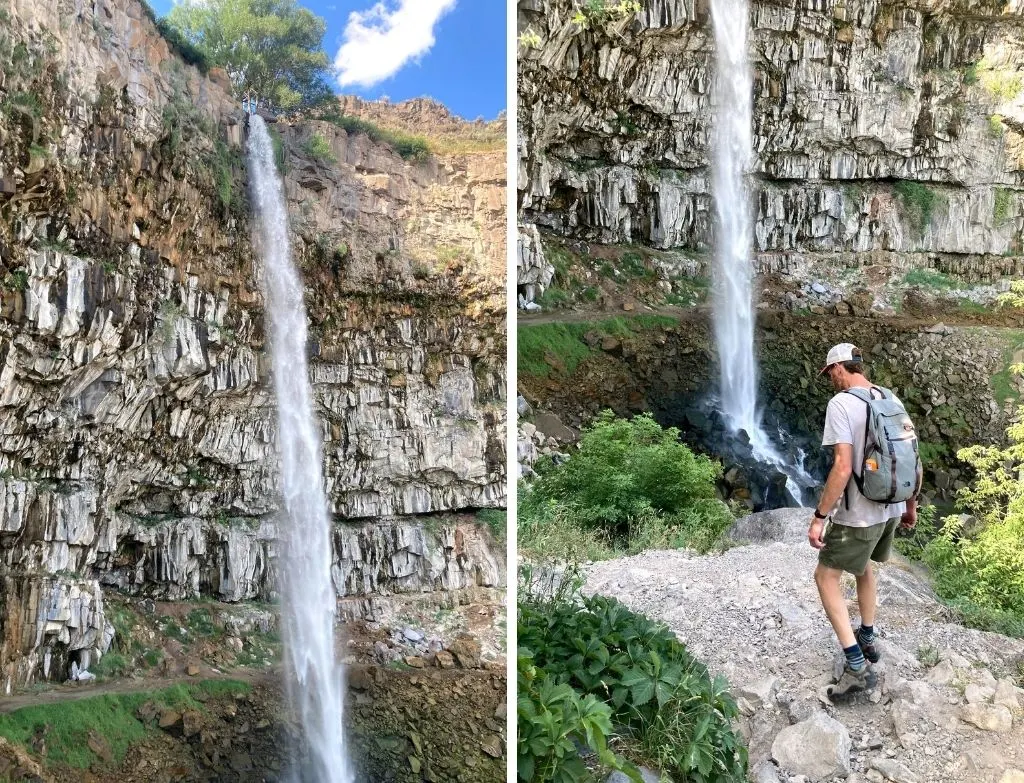 It's easy to understand why paddling and hiking to awesome waterfalls is one of the best things to do in Twin Falls!
We've got another waterfall experience to share with you, and it's an easy one too! On your way to or from Centennial Park from Twin Falls on Canyon Creek Road, you will round a bend and find a small on-street parking area for Perrine Coulee Falls.
If you do this little side trip early in the morning or late in the evening, you should have plenty of room to park, but you might have trouble in the middle of the day (location on Google Maps).
Once you park your car, it's a very short walk to Perrine Coulee Falls. This is a narrow, year-round waterfall that drops almost 200 feet into a small stream on its journey toward the Snake River.
Because it is cascading off the rim of the Snake River Canyon above, there is room for the trail to hug the canyon wall behind Perrine Coulee Falls. Yes, you'll get a little bit wet, which will feel so good on a hot summer morning as you walk behind the falls.
You can continue on the trail all the way to the bottom of the canyon, but we chose to return to our car after viewing the falls.
Hike the Auger Falls Park Loop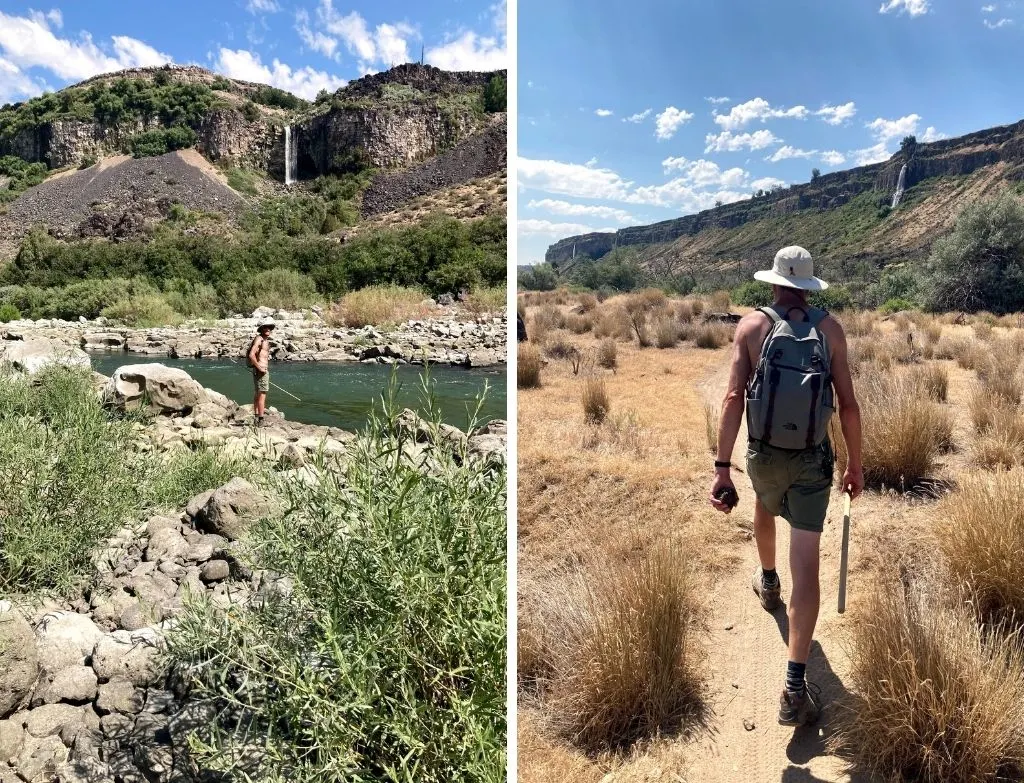 If you're looking for easy Twin Falls hiking trails, definitely check out the loop to Auger Falls. This four-mile loop is relatively flat and great for hiking, trail running, or mountain biking. In fact, there are dedicated mountain bike trails in the park, and there were times when we got off our planned route and ended up on the bike trails.
We used Alltrails+ to stay on course, and since you're in the canyon between the Snake River and the canyon wall, you can't really get lost.
In the summer, this is a very hot hike, as there is little shade and the temperatures are warmer inside the canyon. Start early if you can and bring plenty of water and snacks.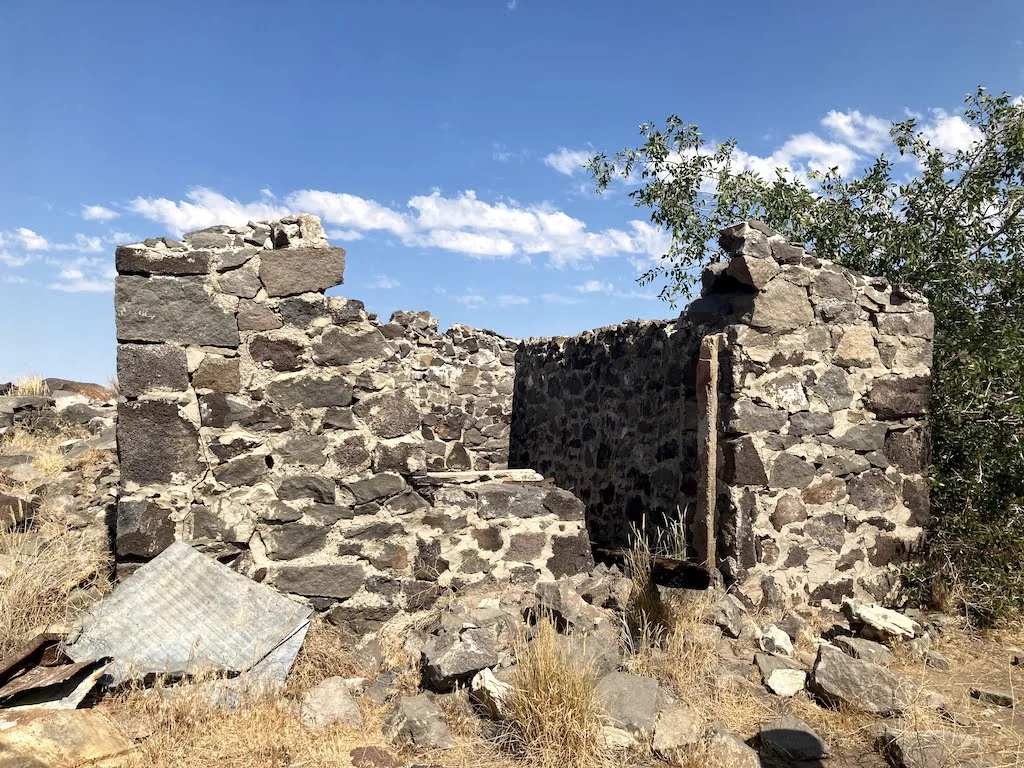 The Auger Falls loop meanders through an old homestead site called the Urie Homestead. The Urie family lived here from 1915 to 1948.
You can still see remnants of the homestead, including the foundation of the farmhouse. It's a lovely, quiet trail with great views of the Snake River, Auger Falls, and some other beautiful waterfalls that cascade from the canyon wall in the distance.
Rent Bikes to Ride along the Canyon Rim Trail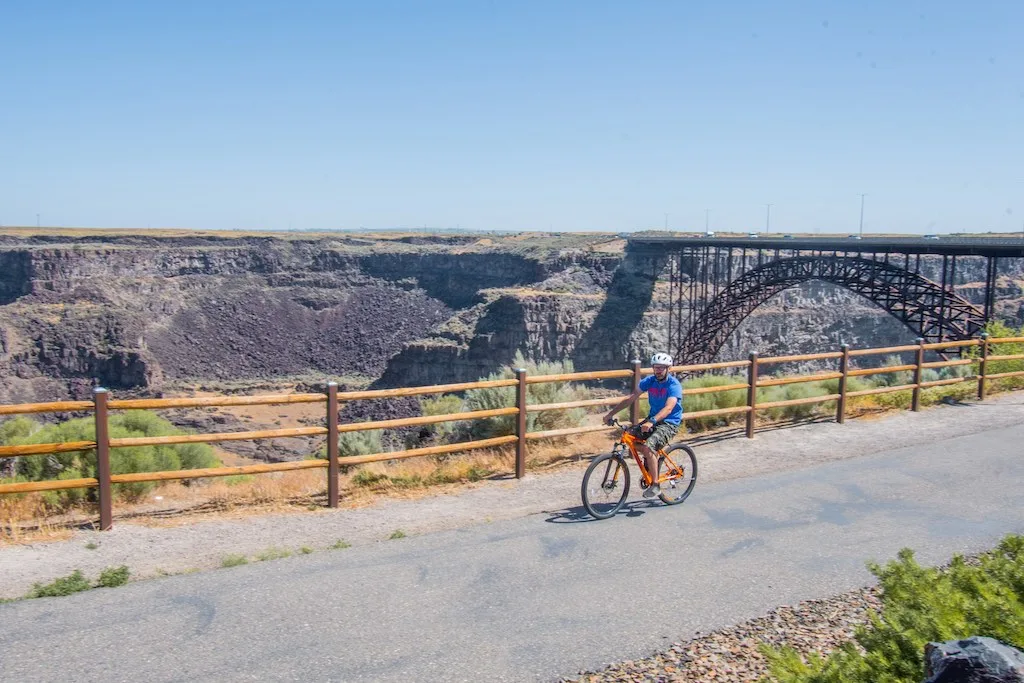 The Snake River Canyon Rim Trail is an exhilarating and gorgeous spot to spend an afternoon in Twin Falls. You can walk it, of course, but it's even more fun to rent a bike from Pertt's Bike Rental in Twin Falls and feel the wind in your hair as you coast along on the edge of the canyon with views in every direction.
Pertt's Bike Rental is a mobile bike rental service that will bring your bike rental to you at several locations throughout Twin Falls, even your hotel!
You can easily book your rental online — choose from a mountain bike or a comfort bike, request a time, and choose your drop-off location. Your bike will be waiting for you at your requested time and location. You can also reserve a helmet and lock to complete your rental. Traveling with kids? Pertt's also rents bike trailers for young riders.
The most convenient way to rent bikes and explore the Canyon Rim Trail is to have your bikes delivered to the Twin Falls Visitor Center. From there, you can ride all the way to Shoshone Falls and Dierkes Lake, about four miles from the Visitor Center.
There are picnic tables and benches along the paved pathway, so pack a lunch to go with those beautiful vistas.
Be sure to stop at the Evel Knievel jump site (just 1/8-mile from the bike path). This is the spot where the world-famous daredevil tried to jump across the Snake River Canyon on his motorcycle in 1974. The earthen ramp is all that is left of an event that drew thousands of spectators and was televised around the world. While Evel Knievel didn't actually make it over the canyon, the event lives on as part of Twin Falls's history.
Here's a Canyon Rim Trail Map to help you plan your two-wheeled adventure.
Watch the Sunset from the Twin Falls Visitor Center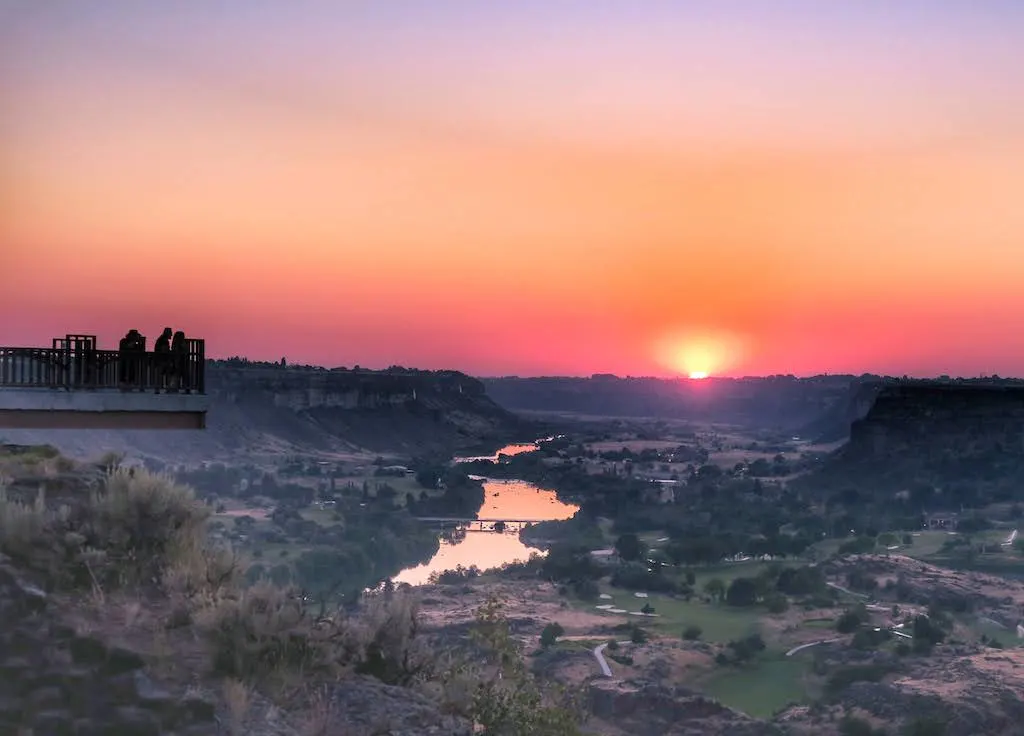 The Twin Falls Visitor Center should be your first stop in Twin Falls.
Not only will you find all kinds of great information about the history, economy, tourist attractions, and natural resources around Twin Falls, but you won't find a better spot to watch the sun sink behind the walls of the Snake River Canyon.
Browse the gift shop inside because they've got a bunch of Idaho gifts that you can bring home to your relatives and your dog sitter. Relax on the grassy lawn after your long day of exploring. The Visitor Center is also the perfect starting point for exploring the Canyon Rim Trail, by foot or by bicycle. If you are renting a bike from Pertt's, you can coincide your rental return with the sunset at the Visitor Center. Clever, huh?
If you want to explore the Twin Falls Visitor Center when it is open, be sure to check it out between 8 am and 5 pm. The views are open 24/7.
Watch the BASE Jumpers from Perrine Bridge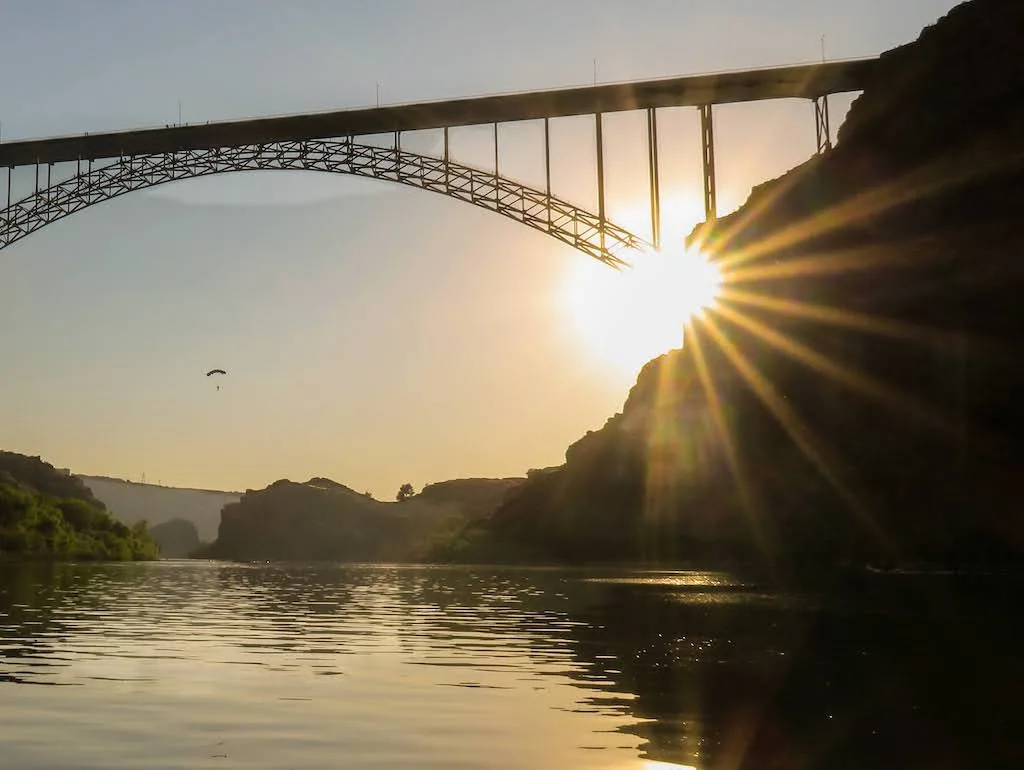 Since you're already at the Twin Falls Visitor Center, be on the lookout for the crazy BASE jumpers who risk their lives for a jolt of adrenaline that comes from jumping off the Perrine Bridge.
BASE stands for the things jumpers leap off using parachutes or wingsuits: buildings, antennas, spans (bridges), and earth.
The Perrine Bridge in Twin Falls is the only bridge in the United States where you can BASE jump legally without a permit year-round. It's a popular spot for jumping and is known all over the world. The bridge is 486 feet above the floor of the canyon, and if you watch long enough you are bound to see someone jump.
During our visit to Twin Falls, we witnessed dozens of people leaping off the bridge. Being a spectator was enough of a thrill for us, but if you have your heart set on trying BASE jumping for yourself, check out Tandem Base Jumping to start planning your adventure.
To watch the BASE jumpers, park at the Twin Falls Visitor Center and head to the viewing platform on the east side of the Perrine Bridge. We also saw people jumping when we were kayaking below the bridge (see photo above).
Explore Downtown Twin Falls
Up until now, we've talked mostly about the outdoor activities that you can experience in and around the Snake River Canyon.
When the outdoor adventures end for the day, or when you just want to relax, head into downtown Twin Falls. We were excited to find multiple parks and common areas, a beautiful splash pad for kids, and all kinds of unique shops.
If you happen to be visiting Twin Falls in the summer, be sure to head downtown for Twin Falls Tonight on Wednesday evenings.
This fun community event features live music, dancing, food trucks, and kids' activities. We were lucky enough to be in town for this event and loved every minute of it. Twin Falls Tonight takes place at the Downtown Commons from 6 – 9 pm.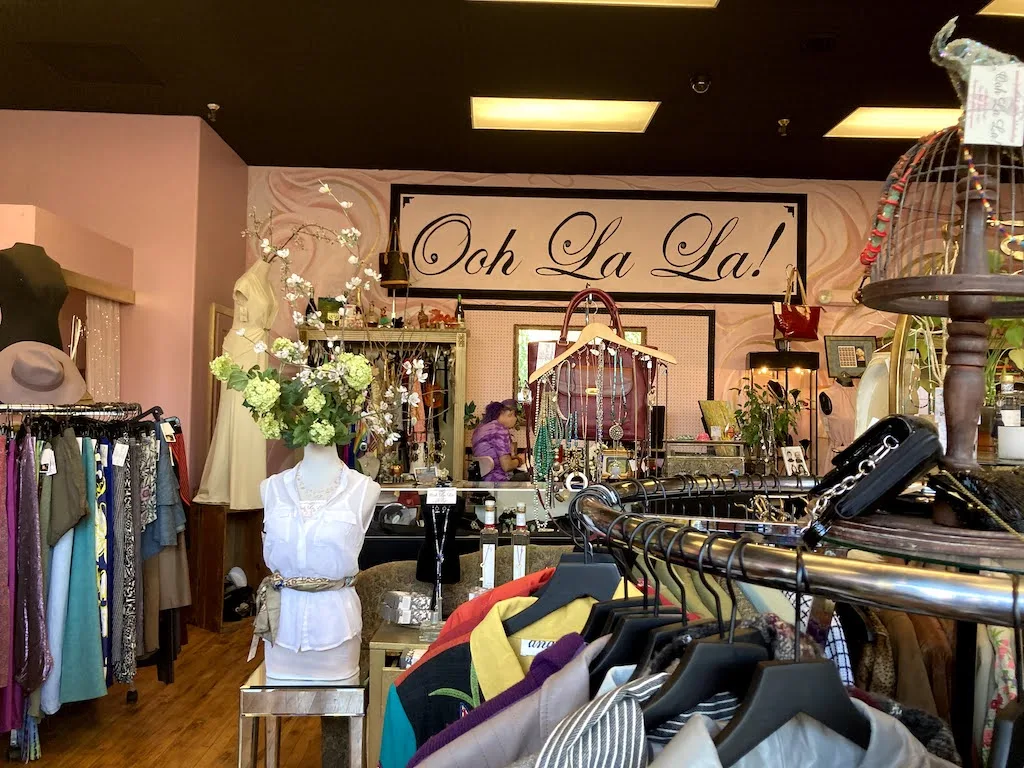 Shopping in Downtown Twin Falls
No matter what time of the year you visit downtown Twin Falls, be sure to check out some of our favorite shops:
Ooh La La: This is a unique consignment shop and boutique featuring some of the most fashionable and gorgeous clothing and jewelry. If you're into fashion, you need to check out Ooh La La! The prices are great too!
The Brass Monkey: Here's another boutique clothing store for men, women, and kids. We loved poking around in here!
Perrine Man Press: Looking for a unique Idahogift to bring home? At Perrine Man Press, you'll find a fun collection of t-shirts, stickers, beanies, and more – all with an Idaho theme.
Eat and Drink Your Way Through the City: Amazing Twin Falls Restaurants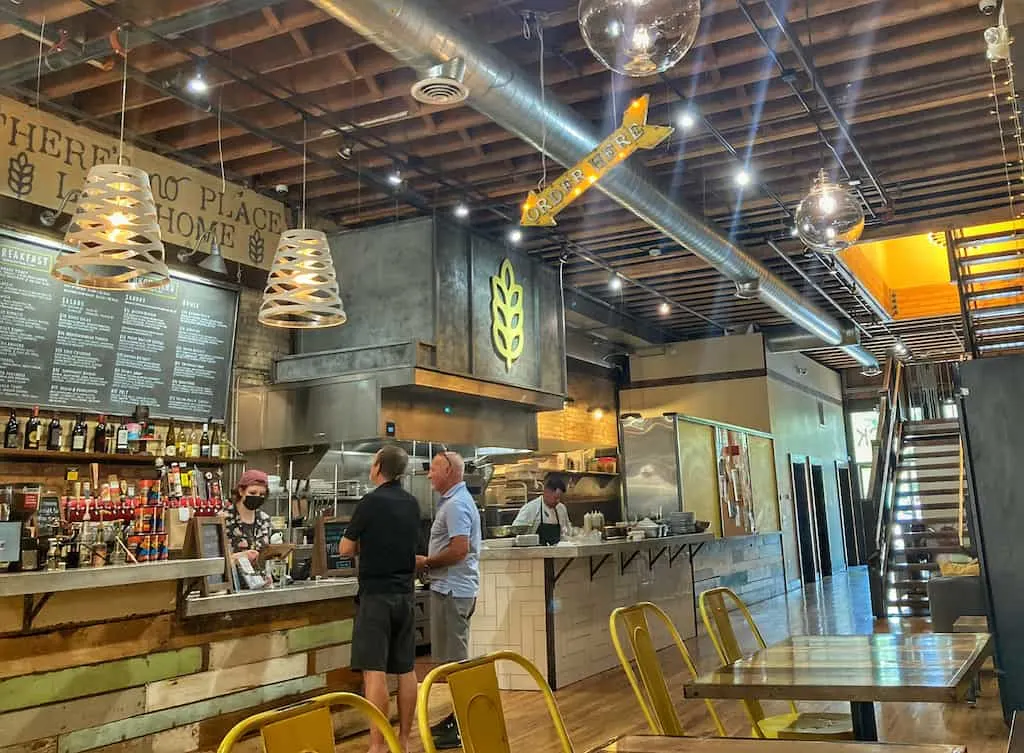 While we normally reserve shopping for last-minute gifts and rainy afternoons, eating local is on our to-do list every single day when we travel, and dining in Twin falls was so much fun!
Here are some of our favorite finds from our culinary explorations in Twin Falls.
FAQs About Visiting Twin Falls, Idaho
Planning a visit to Twin Falls, Idaho? Here are a few tips and frequently asked questions to help you plan your visit!
When is the best time to visit Twin Falls?
Twin Falls is a four-season destination, but there are a few things to consider before planning your trip. If you plan to do a lot of recreating and waterfall viewing, May and June are perfect. Temps are warm, but not hot, and the waterfalls will still be full.
July and August are the busiest months to visit, and the long days and clear nights are great for water-based activities like swimming, fishing, and boating. If you plan to hike in the summer, be prepared for hot temperatures – bring plenty of water, and wear sunscreen and a brimmed hat.

Our most recent visit to Twin Falls was in early July and the temperatures reached almost 100 degrees each day. This was hot, even for Southern Idaho! We woke early to hike each morning and then spent the hot part of the day on the Snake River. The evenings were for hanging out on the rim, watching the sunset, and exploring downtown Twin Falls.
Don't overlook autumn in Twin Falls either! September and October bring a crispness to the air. Summer crowds are long gone, and you'll have the trails all to yourself.
How to Get to Twin Falls, Idaho
We stopped in Twin Falls during a cross-country road trip that took us from Seattle to Vermont, but if you're not gallivanting around the country and you don't live nearby, you can easily fly into Boise and rent a car. It's an easy two-hour journey from Boise Airport to Twin Falls.
For cheaper flights, but a longer drive, consider flying into Salt Lake City, which is three hours and fifteen minutes from Twin Falls. We use Kayak to compare prices on car rentals and flights, and we have found some great deals on the platform.
How to Get Around Twin Falls
Twin Falls is a sprawling city, and if you want to explore the waterfalls, trails, and Snake River Canyon, you're going to want a car to get around. Yes, ride-sharing apps are available, and yes, the downtown is very walkable, so if you plan on spending most of your time downtown and are staying downtown as well, then you can certainly get by without a car.
If you have more than a couple of days to spend, rent a car so you can make a point of exploring the plethora of trails and parks outside of the downtown area.
Where to Stay in Twin Falls
When it comes to choosing a place to hang your hat during your stay in Twin Falls, you've got lots of options.
We stayed in the Holiday Inn Express, which was clean, comfy, and within easy driving distance of trails, parks, and the downtown area.
We took advantage of the indoor pool and exercise room in our hotel but skipped the complimentary breakfast so that we could make the most of the amazing Twin Falls restaurants.
If you want an affordable, convenient option, you can't go wrong with the Holiday Inn Express in Twin Falls, but it's definitely not your only option!
Here are some more choices for lodging in Twin Falls, Idaho:
Stay in a vacation rental: There are a number of great vacation rentals in Twin Falls on VRBO! This cozy farmhouse is big enough for a family and has a fenced-in yard with a front and back patio. Want to stay right on the rim of the canyon? Consider this older home with a spectacular view of Pillar Falls (and a hot tub)!
Go camping or glamping: Miracle and Banbury Hot Springs are both located along the Snake River, about 25 miles from Twin Falls. They're destinations in their own right, with kayak rentals and hot springs, but you can also choose from a bunch of accommodations, including campsites, glamping domes, condos, and cabins. This is a great option if being close to Twin Falls isn't as important.
---
Looking for a perfect day or weekend trip to complement your stay in Twin Falls? Caldwell, Idaho is home to the Sunnyslope Wine Trail and 20 wineries that are open for tastings! It's just 2.5 hours from Twin Falls. We spent a few days discovering all the best wineries in Caldwell (for research purposes). Read about our findings –
---
Have you been to this amazing city? What are your favorite things to do in Twin Falls, Idaho? Let us know in the comments below!
Follow us on social media for more easy outdoor adventures!
Pin for Later?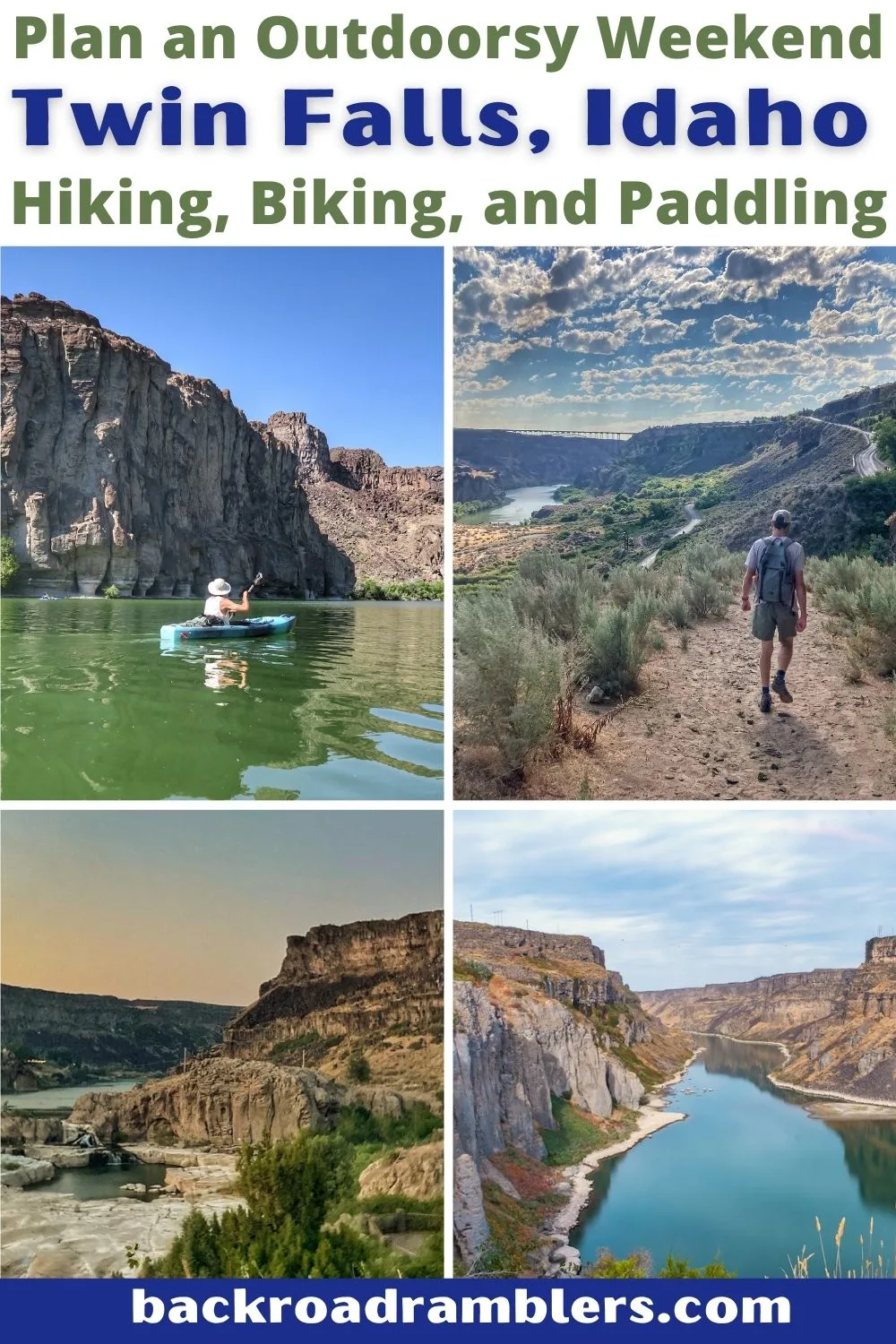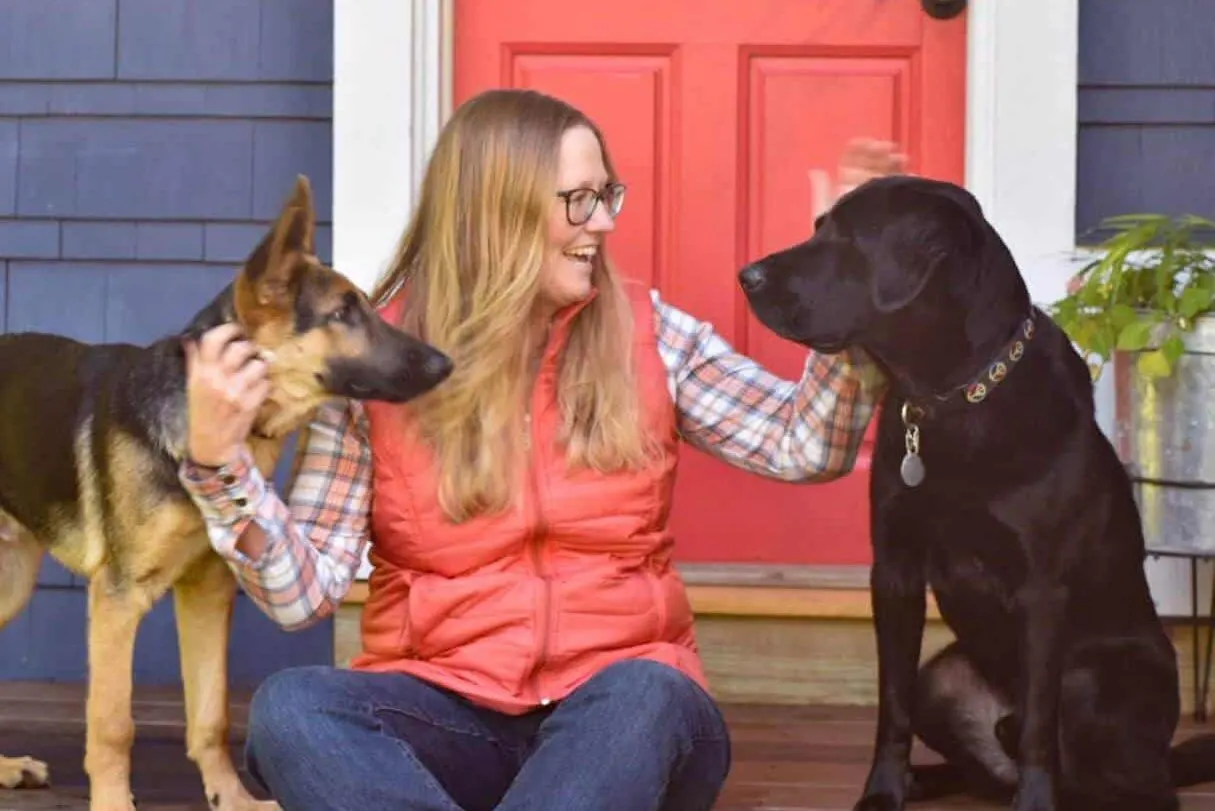 Disclaimer: Our stay was hosted in part by Visit Idaho and Visit Southern Idaho. Both are fantastic resources for trip planning in Idaho.