I'm pretty passionate about this rising trend in the outdoor industry! Glamping is like the gateway drug to the outdoors, a way to fall in love with outdoor adventures — hiking, wildlife watching, outdoor photography, skiing, paddling, birdwatching, conservation, and more — while still sleeping in relative luxury.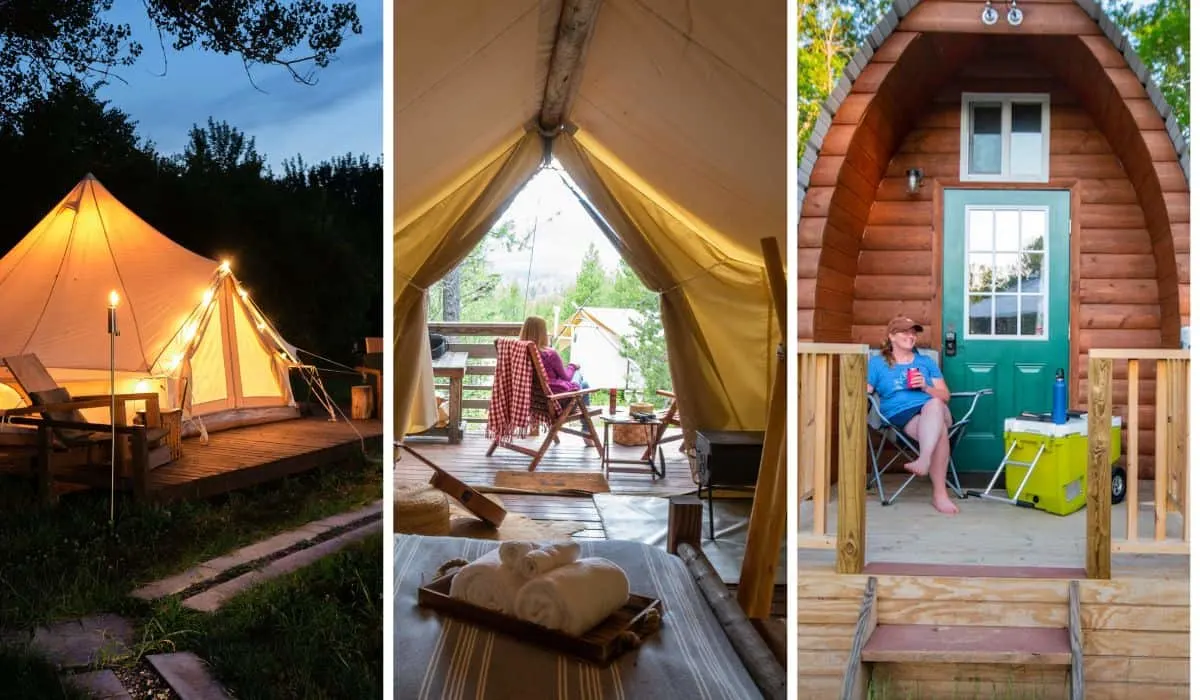 "So, wait, can't I just sleep in a hotel and still have outdoor adventures?"
Sure. But, staying in hotels is a means to an end, with the end result being that you sleep in a bed with some conveniences, and maybe even luxuries, while traveling.
Glamping, by contrast, is an immersive experience. The setting for your glamping experience may be deep in the forest, in the middle of the desert, or in your own backyard. But the focus will always be connecting you with the outdoors.
* This resource page may contain affiliate links from which we earn a small commission.
Glamping Near National Parks
Make your national park vacation even more epic by turning it into a glamping trip. Here are a few of our favorite destinations for glamping near national parks (in the USA and Canada).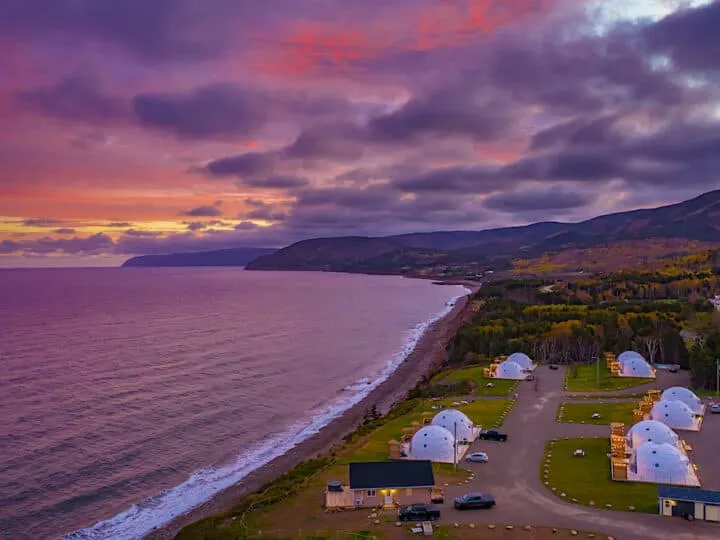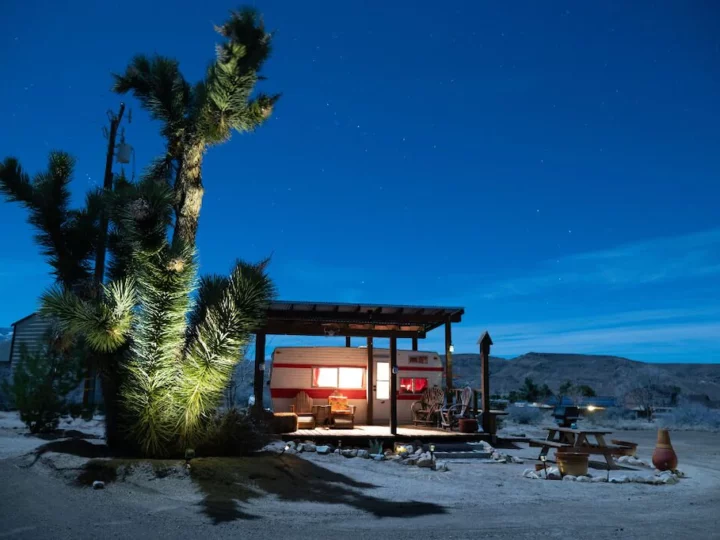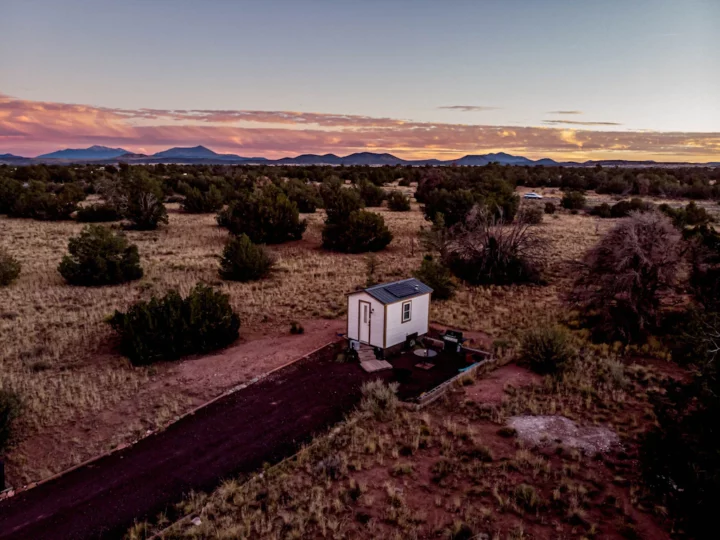 ---
Glamping in New England
Most New England glamping properties are similar in price to a hotel room, but they are more unique with a strong emphasis on the outdoors. It's no wonder we love glamping so much!
Because we live here in New England, it's where we've had most of our glamping adventures.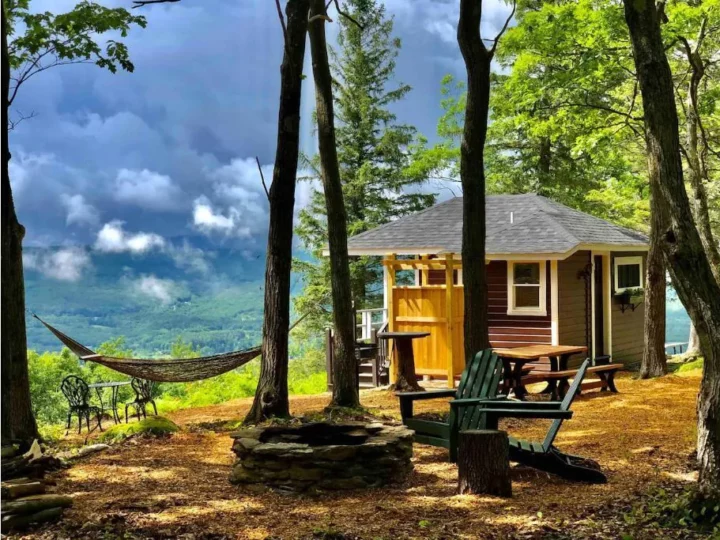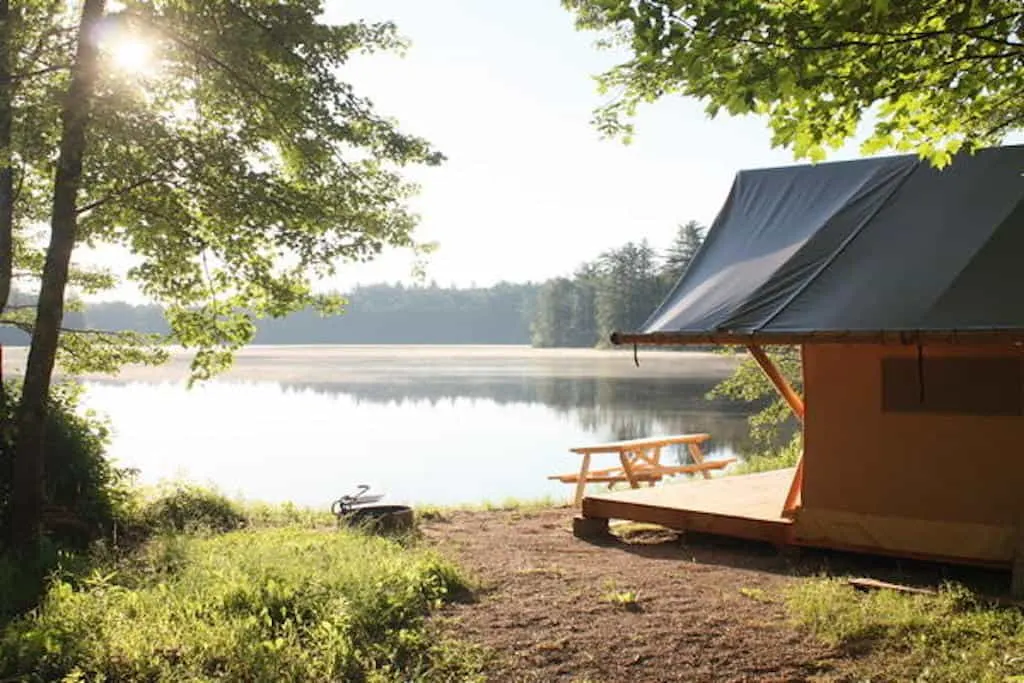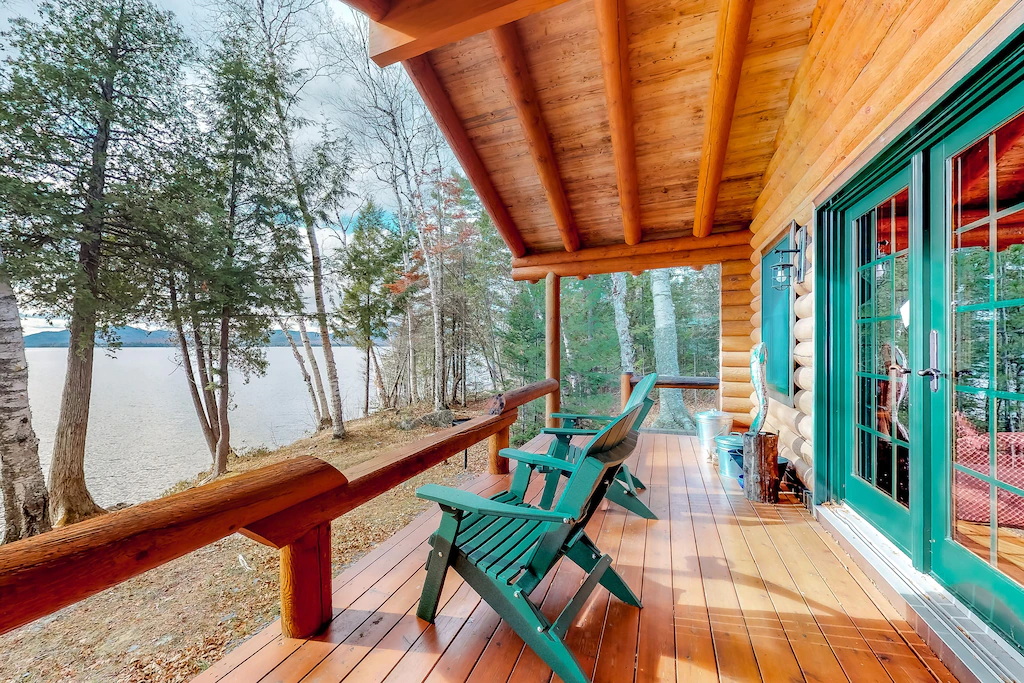 Glamping in New York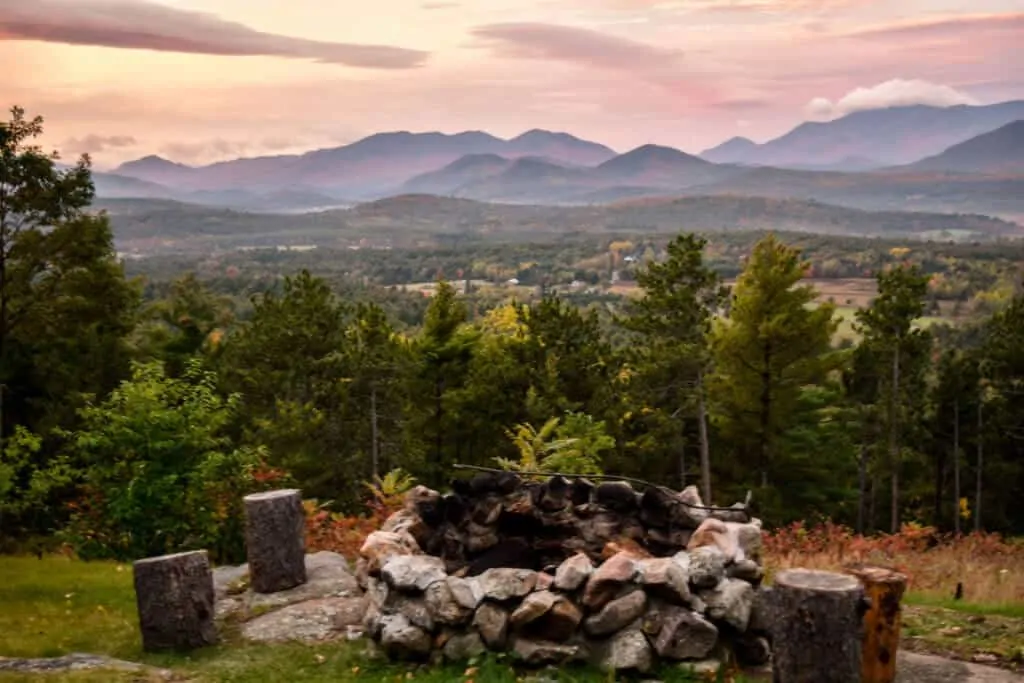 Glamping must have been invented in New York because there are hundreds of glamping properties in New York, spread across the whole state, and all of the booking platforms mentioned above. Here are some of our favorite spots for glamping in New York.
Backyard Glamping
Want to try glamping without ever leaving home? Give it a go in the backyard first, and maybe you'll be hooked. At the very least, glamping is an awesome quarantine activity (looking at you 2020 and 2021), is fun for kids, and is a great party idea!
Now is the perfect time to start planning your glamping adventure, whether it's in some remote place that you've always wanted to visit, or in your own backyard!
Our Favorite Online Glamping Resources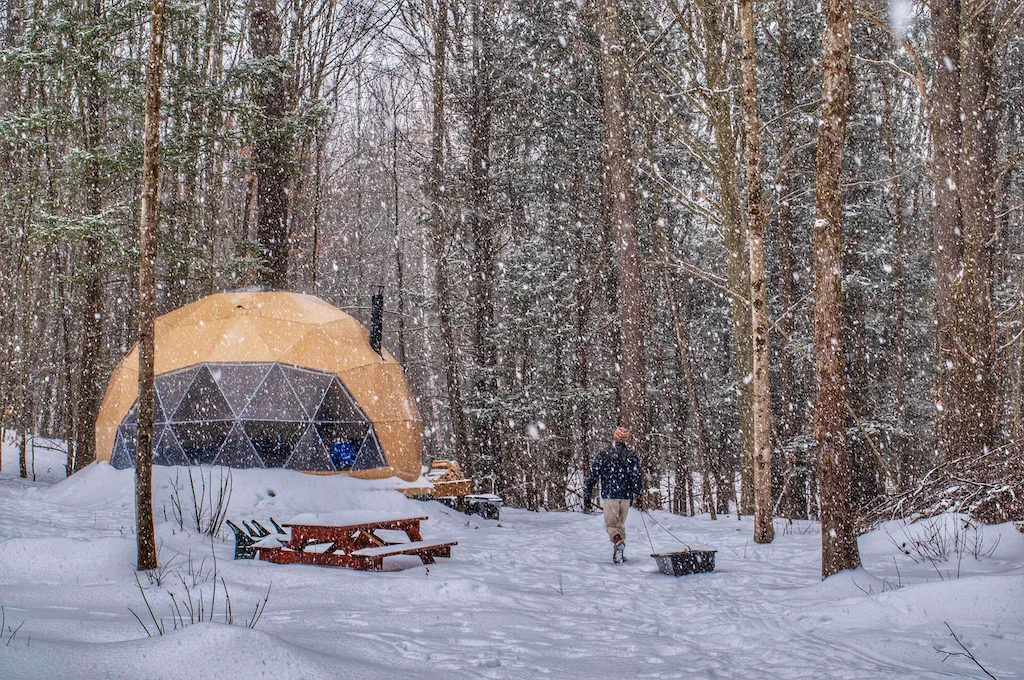 For the most part, I use private booking platforms to find the best glamping near me. Sometimes I resort to more general Google searches for leads, especially if I am unfamiliar with an area.
Once I know where I want to go, I use the following platforms, in this order listed, to look for unique glamping properties. By methodically sifting through the growing number of rentals that are available for outdoor lovers, we have been able to spend the night at some amazing places that we will never forget!
And my new mission may just be to find the most incredible glamping in the United States.
Tentrr – Tentrr puts a different spin on glamping by providing landowners with ready-to-go glamping sites, complete with canvas tents, bed platforms, woodstoves, toilets, and eating areas. We have stayed in a few Tentrr sites, and have always had good experiences. Sites are unique in that they are extremely private. Prices are pretty standard, between $95 and $150 per night. There are lots of Tentrr sites in New England and New York, and they are expanding across the USA.
VRBO – We love using VRBO for its flexible cancelation policies and low service fees, but there is currently no way to search specifically for glamping properties besides cabins. Vacation rentals range from studio apartments to fancy villas and castles. You could get lost dreaming up your next getaway!
Glamping Hub – Glamping Hub is my next choice for finding glamping near me. It has a lot of unique properties, including yurts, treehouses, cabins, and glamping tents. There are also high-end vacation rentals that you have to sift through. Glamping Hub rentals tend to be more luxurious and expensive, but the booking process is easy.
Hipcamp – We love Hipcamp because the booking site offers all kinds of private camping experiences, not just glamping. We have found remote patches of land to pitch our tent on, as well as treehouses, cabins, and fire towers. We don't always love the Hipcamp search engine, as it seems to be glitchy sometimes. Full disclosure: I was a Hipcamp Field Scout in 2016.
Airbnb – Airbnb is a vast network of vacation rentals with some unique glamping properties. Reading Airbnb reviews gives us confidence that every place we choose will meet our expectations, and glamping properties are easy to find using the search filter. One caveat is that the cancelation policies and fees are different for every property, so you have to read the fine print before booking.