Snowy landscapes. Starry skies. Cozy beds. This is how you embrace winter glamping in New England.
For those of you that love camping and can't wait for summer to come around so you can pitch your tent, why not try winter glamping?
Instead of waiting for summer, you can enjoy the beauty of the wintery outdoors without having to rough it (much).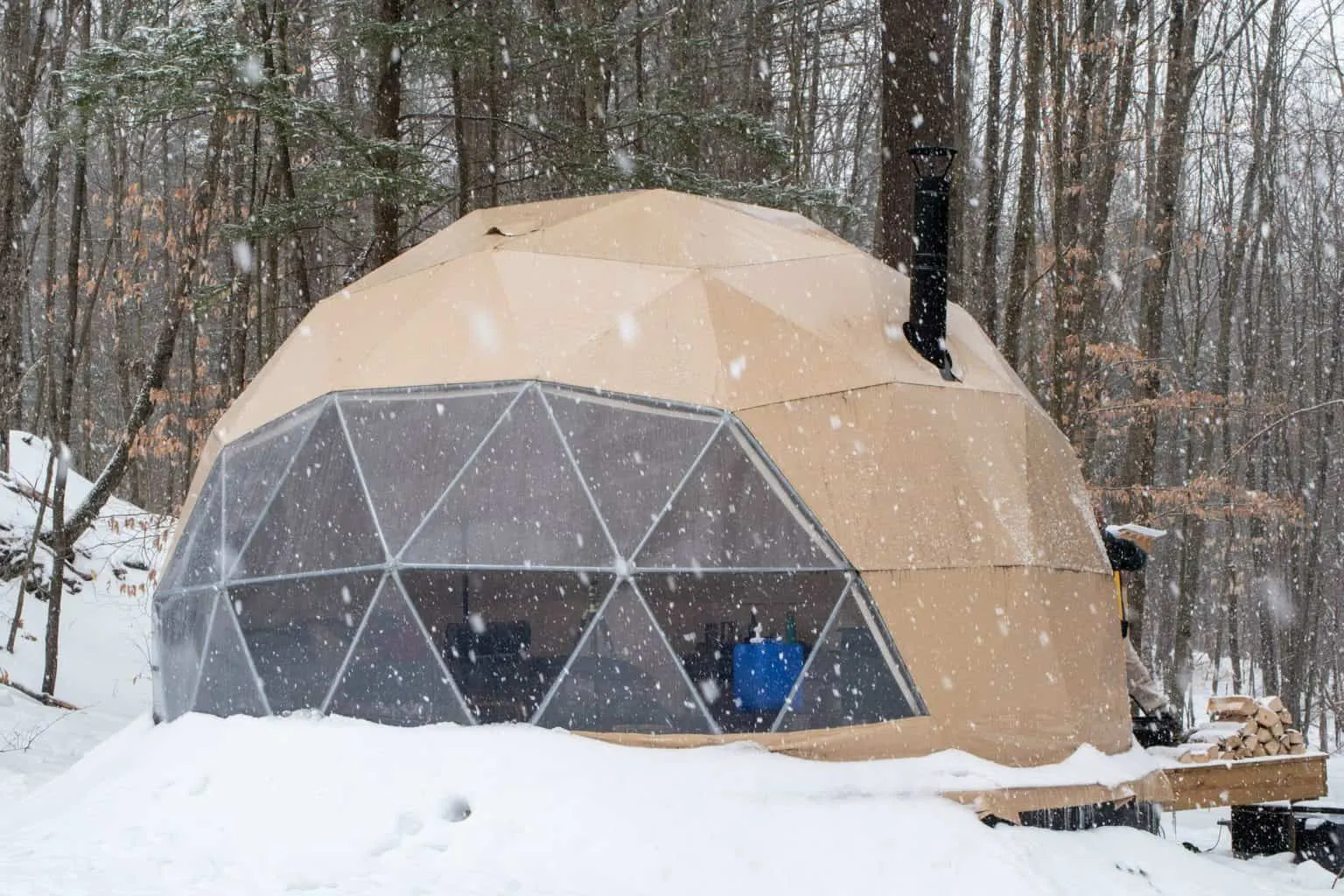 Not only does New England have some of the most gorgeous winter landscapes and recreation opportunities, but it's also got a lot of really cool rentals that are available for winter glamping.
Our top choices for winter glamping in New England include yurts, treehouses, cabins, and tiny homes.
Most of these fabulous winter retreats include a real bed to keep you toasty warm when the outdoor temperatures drop, and many of them include a wood-burning stove, full kitchens and bathrooms, and other luxurious amenities that you would never find at a traditional campsite.
---
---
How to Find Winter Glamping in New England
Ready to plan the perfect winter glamping trip in New England?
Let's start with the basics. How to find that perfect glamping spot. I use several different booking platforms when searching for the best winter glamping near me, in New England and throughout the United States – VRBO, Hipcamp, Glamping Hub, and Airbnb. Here's a brief overview:
VRBO – VRBO stands for Vacation Rental by Owner, and it's our current favorite online platform for finding the coziest winter cabins in New England. It's a little trickier to find yurts and treehouses, as they don't have a dedicated search function for those categories. There are hundreds of great properties to choose from, and it's easy to get lost planning the perfect winter vacation.
Airbnb – For each rental on the site, there are dozens of reviews so it's easy to research whether or not a place will be up to your standards. Also, you can easily find glamping sites and other unique properties. If you navigate to the Airbnb website, you will find icons at the top of the page where you can filter your search to include treehouses, campers, boats, and domes.
Glamping Hub – Glamping Hub has a lot of cool properties, including yurts, treehouses, cabins, and glamping tents. Glamping Hub rentals do tend to be more luxurious and expensive, but the booking process is easy and there are lots of New England glamping properties to choose from.
Hipcamp – We love Hipcamp because they specialize in all kinds of private campsites, not just glamping, and for the most part, the Hipcamp properties are more affordable than on other sites. We don't love the search engine, as it seems to be glitchy sometimes. Still, Hipcamp is worth checking out.
Tips for Winter Glamping in New England
Just because you're glamping and not camping, doesn't mean that you shouldn't prepare for winter conditions.
Winter temperatures in New England can vary dramatically depending on many factors, so just expect it to be really cold and you'll be fine. Here are some tips to make your winter glamping adventure a success:
Read the listing very carefully before booking. Things you should know beforehand: Is the driveway accessible in all seasons? Is there running water? A toilet? A source of heat? Electricity? Some of these New England winter glamping sites will be rustic. Others will be more luxurious. Do your homework to avoid any unpleasant surprises!
Check the weather before heading out. The higher up in elevation you go, the colder and snowier it's likely to be. Plan for winter conditions, especially if you're going to spend time outside (which is the whole point!). Pack your warmest clothes, extra blankets, snowshoes, microspikes, and maybe even cross-country skis.
Ask your glamping host about cell service. New England cell service is getting better, but it's still spotty in some places. It's good to know whether you will have service or not so you can plan ahead.
Plan your meals according to what's available. Yes, some glamping properties have full kitchens. Others may have only a hot plate, outdoor grill, or toaster. If cooking seems like it will be a challenge, consider bringing backpacking meals to make life easier.
Bring books, games, and puzzles. Even if you're lucky enough to have electricity in your glamping retreat, there's a good chance you won't have Wi-Fi. Use this as a time to disconnect from technology and reconnect with yourself or your glamping partner-in-crime.
Unique Winter Glamping in New England
Ready to plan the perfect glamping vacation in New England to whisk away those winter blues?
These properties are perfect for your New England glamping getaway all through the year, but they're particularly enchanting in the winter months when you can take full advantage of the cozy settings that embrace the outdoors.
Winter Glamping in Vermont
We have done the most winter glamping in Vermont because it's our home state. The following glamping properties are so unique and Vermont is such a fun state to explore in the winter.
Geodesic Dome at Quarry Brook: Putney, Vermont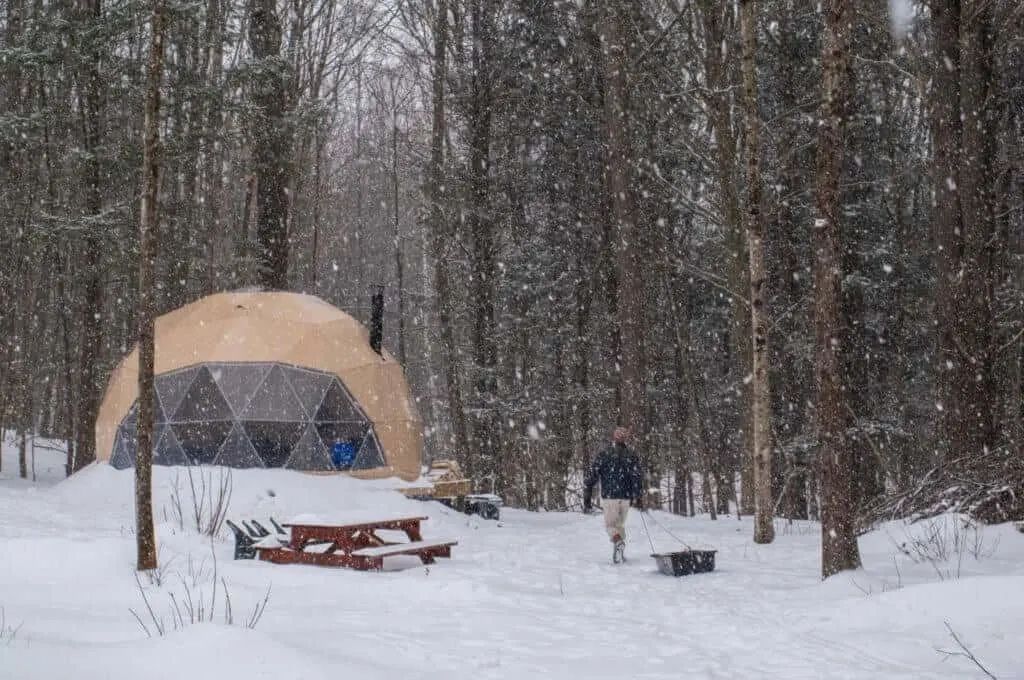 Last year, we headed to Putney to check out this gorgeous geodesic dome that is available on Hipcamp. This cozy spot is perfect for outdoor lovers. It's private, cozy, and situated on 20 secluded acres with lots of trails for snowshoeing and hiking.
While the dome retreat is rustic (read: no running water or indoor plumbing), it is also kind of perfect. During our stay, we were able to totally unplug, spend endless hours hiking, and still come home to a warm bed and a toasty woodstove. It's our favorite kind of weekend getaway.
Winter recreation opportunities near Putney: During our visit, we explored the trails on the property (we needed snowshoes), and we hiked the trails around Putney Mountain. These were awesome with great views (we needed snowshoes).

What we love about the Geodesic Dome at Quarry Brook: It's got a roaring woodstove and a comfy bed. Read more about our winter glamping stay at Quarry Brook.

Some things to consider: You do have to be thoughtful of the types of meals you prepare as the water is limited. The walk to and from the parking area is about a quarter-mile and you use a nearby outhouse to do your business.
New to Hipcamp? Use our referral link to save $10 off your first stay!
---
Green Mountain Tiny House: Jamaica, Vermont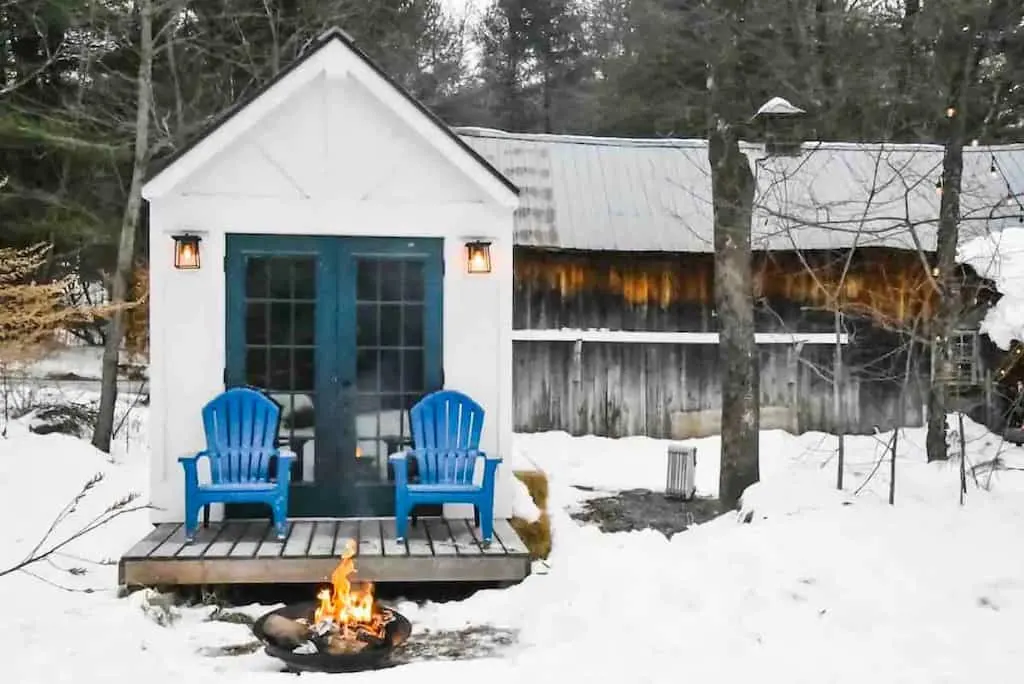 There are so many things to love about the Green Mountain Tiny Home in the mountains of Jamaica, Vermont. First and foremost, while we consider this glamping, you're not really roughing it. The tiny home includes a full kitchen, an electric fireplace, Wi-Fi, a television, and a full bathroom with a shower.
Outdoor spaces include a picnic table and fire pit, with great views of the surrounding woods and mountains.
Winter recreation near Jamaica: Jamaica State Park, just two miles from the Green Mountain Tiny Home is one of our favorite state parks in Vermont. In the winter, you can use the rail trail for great cross-country skiing or snowshoeing. And you're just a few miles from nearby ski resorts – Stratton, Bromley, and Magic Mountains.

What we love about the Green Mountain Tiny Home: You're not really roughing it so it's great for first-time glampers.

Some things to consider: This property is small and suitable for two people only. Pets are permitted, and there is another Airbnb rental onsite.
---
Romantic Off-Grid Cabin in the Mad River Valley of Vermont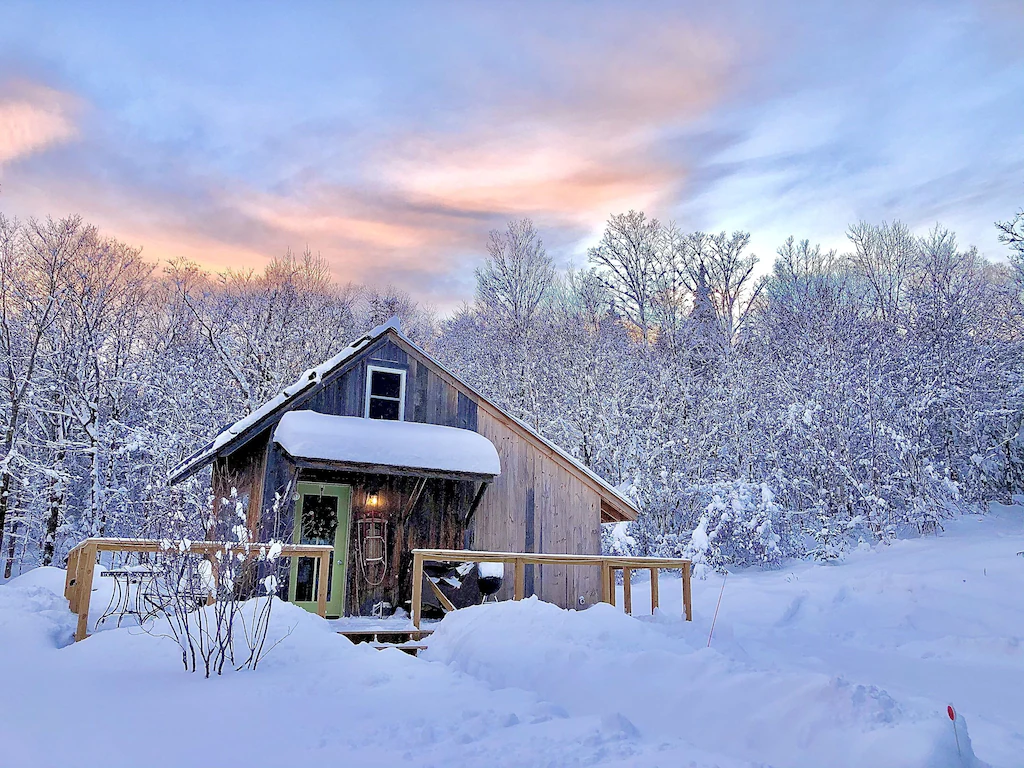 Enjoy 330 acres of woods with trails and a beautiful, sunny cabin for two near Sugarbush Resort.
The first floor has an open living space with a dining area, a fully equipped kitchen, and a living area with a comfortable leather couch, a table with chairs, and a traditional wood stove. You will love watching the sunrise out the large window while sipping your morning coffee.
The bedroom is upstairs with a queen size bed, organic cotton bedding, feather pillows, and a down comforter The bathroom is fully equipped with hand soap, towels, and two terry cloth bathrobes will be waiting on your bed.
A complimentary bottle of wine and breakfast are included: Local eggs, croissants, homemade preserves, maple syrup, and orange juice with coffee and tea.
A large deck surrounds the cabin with a table and chairs. There is a fire pit and barbecue for your use. Located on over 330 acres, you are welcome to explore the whole property for hiking, snowshoeing, cross-country skiing, and more!
Recreation in the Mad River Valley: Sugarbush Resort is just a few miles from the cabin.

What we love about this cozy Vermont cabin: This property has a generous cancelation policy. You'll get a 100% refund if you cancel at least 14 days before your stay.
Something to consider: 4WD or AWD Highly recommended between November till April, or must have snow tires!
---
---
Winter Glamping in New Hampshire
Like Vermont, New Hampshire is a mountainous region with many opportunities for winter recreation. From alpine and cross-country skiing to snowshoeing and winter hiking, winter glamping in New Hampshire is a great way to jumpstart your vacation!
Treehouse at Plummer Shores: Sanbornton, New Hampshire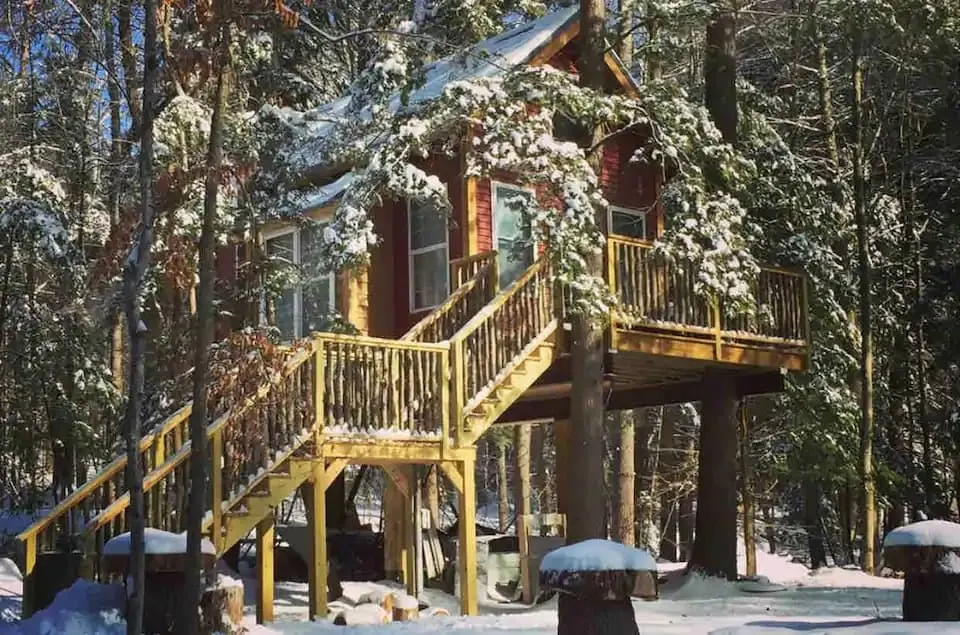 Located in the Lakes Region of New Hampshire, this family-friendly treehouse is nestled 12 feet up in the trees. Created from both new and reclaimed materials, this cozy winter glamping retreat features all the comforts of home, including a kitchenette, a bathroom with a shower, and beds for four guests.
The treehouse is just a short walk from the lake, where you can either kayak or ice fish, depending on how cold it is when you visit. This wooded property is secluded and yet close to all that region has to offer.
Recreation near Sandborton: Gunstock Mountain Resort is a great family-friendly ski mountain with night skiing and tubing.
What we love about this New Hampshire Treehouse: The lake!
Some things to consider: You will have to climb a steep set of stairs to get into the treehouse, and your hosts will have to cancel your reservation if the area experiences wind over 30 miles per hour.
---
Off-Grid Yurt: Chatham, New Hampshire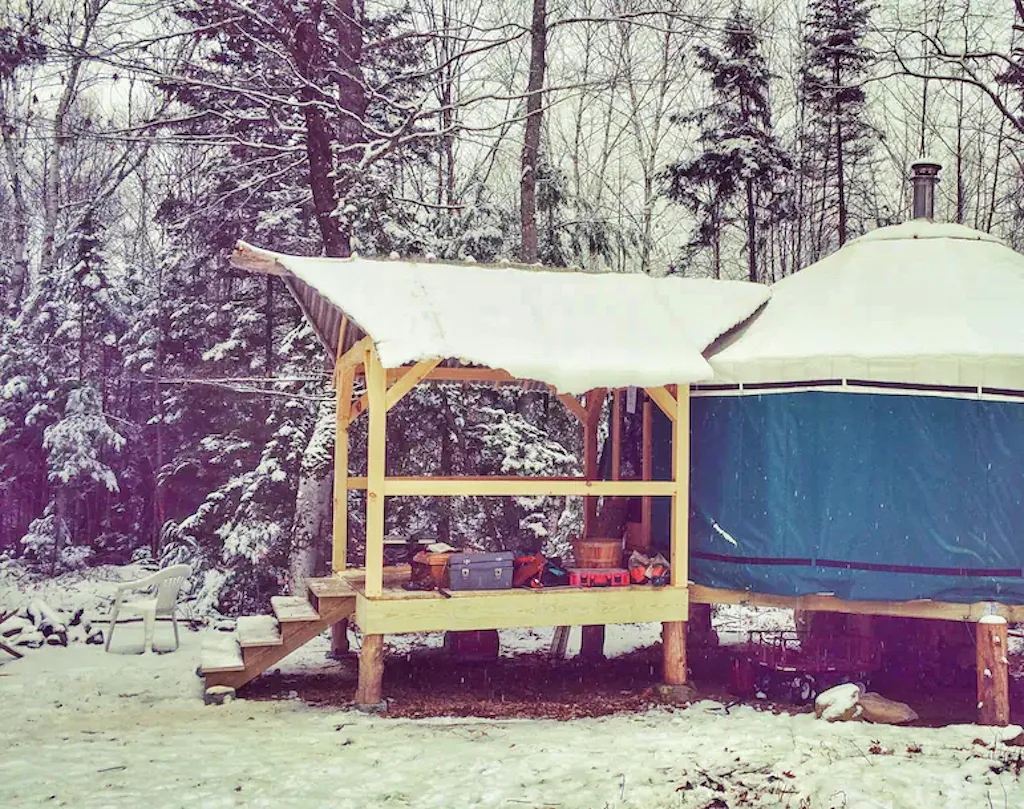 This cozy off-grid yurt is located on 45 secluded acres in the White Mountain National Forest in Chatham, New Hampshire. The yurt is handcrafted from local wood with a spacious interior, a wood-burning stove, a nice collection of board games, solar lights, and a composting toilet. From the yurt, you can hike, bike, snowmobile, or ski from the door to waterfalls, ponds, or just around the property in search of birds and wildlife.
While the yurt has a wood stove and solar lights, there is no running water or electricity, and an adjacent outhouse is provided for when nature calls. It's cozy and warm in the winter, but still roughing it.
Winter recreation near Chatham: The yurt is situated on 45 acres in Evan's Notch and sits close to Langdon Brook. It is completely surrounded by National Forest and has access to snowshoe and hiking trails, as well as snowmobiling corridor 19. When planning your winter hikes, be sure to check out Chatham Trails Association.

What we love about this yurt in Chatham: It's rustic, secluded, and pet-friendly.

Something to consider: You will not be able to drive all the way to the yurt in the winter, but it's a relatively short hike/snowshoe from where you park your car.
---
Winter Glamping in Maine
Maine is about as wild as you can get in the Northeast, making it a great destination for winter glamping in New England, as well as cabin camping, which is a little more rustic. We can't wait to explore more of Maine in the coming months and years!
Tiny Cabin on the Androscoggin River in Maine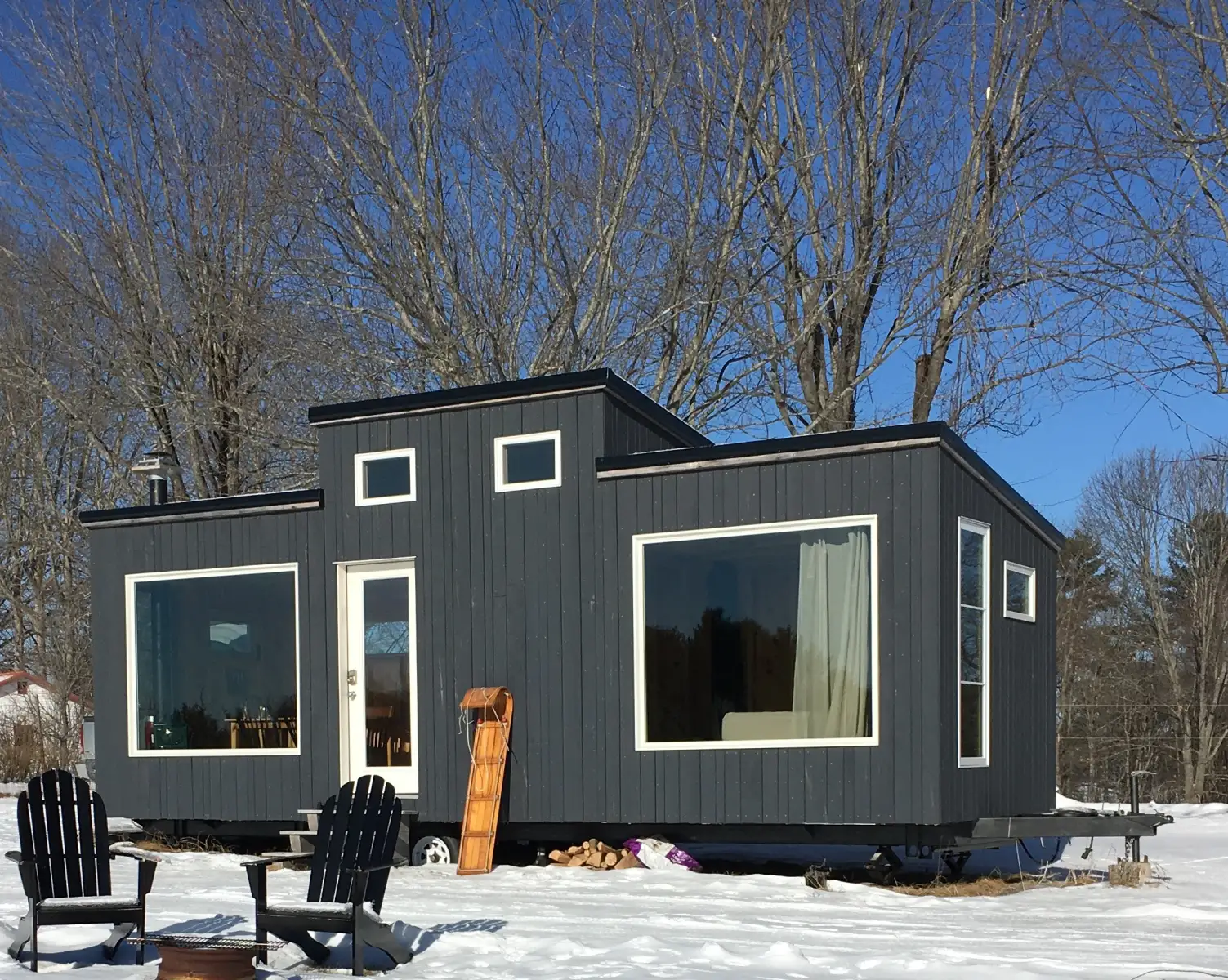 This tiny cabin on wheels is exactly what glamping in Maine should look like, overlooking sprawling meadows on the shores of the beautiful Androscoggin River. It's a heated wooden structure with a queen-size bed, a small sleeping loft, a kitchen table, and large picture windows to gaze at the expansive views.
There is no electricity, but the space does have several LED lanterns, an ice cooler, a two-burner propane camping cookstove, and a five-gallon BPA-free water jug. Pets are not permitted, but it's a great spot for couples or small families.
A dedicated porta-potty is located nearby, and a JOTUL gas-fired fireplace will keep you toasty warm on the chilliest nights.
The cabin is located on 200 acres of forests and fields. Plan to go snowshoeing or cross-country skiing on the 10 miles of private trails. Scout for wildlife and enjoy the beautiful views in every direction.
Slippery Rock Tiny Cabin is located across the river from Riverlands State Park, just minutes from Lewiston-Auburn, Bates College, and local breweries.
---
Sunset Yurt: Denmark, Maine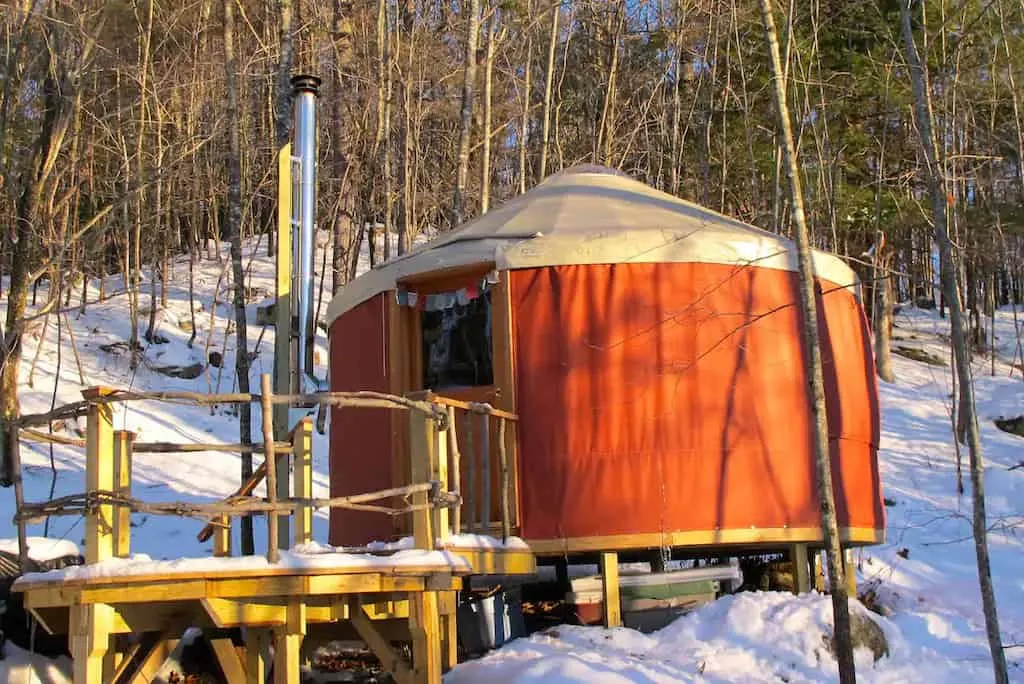 Here's another cozy yurt (we love yurts for winter glamping!) located in Maine's western mountains on the Nurture Through Nature Retreat Center.
Indoor space includes a full-size futon and a twin-size, pull-out chair. There's a small kitchenette, but no electricity or running water. You are sure to stay cozy and warm with the wood stove, just remember to bring your own firewood because it isn't included in your stay.
Outdoors, you will find more than 33 acres of trails for hiking or snowshoeing and a wood-fired sauna that you can use after your hike.
Winter recreation near Sunset Yurt: Pleasant Mountain, which offers day and night skiing is only four miles away!

What we love about Sunset Yurt: The trails are right outside your door!

Something to consider: You do need to bring your own bed linens or sleeping bag, plus a pillow for your winter glamping stay.
---
Winter Glamping in Massachusetts
You would think that there would be a huge number of winter glamping properties in Southern New England, but the truth is that Northern New England fares better. There are lots of great three-season glamping spots in Massachusetts.
Forest Zz Library, Tipi, and Pizza Oven: Warwick, Massachusetts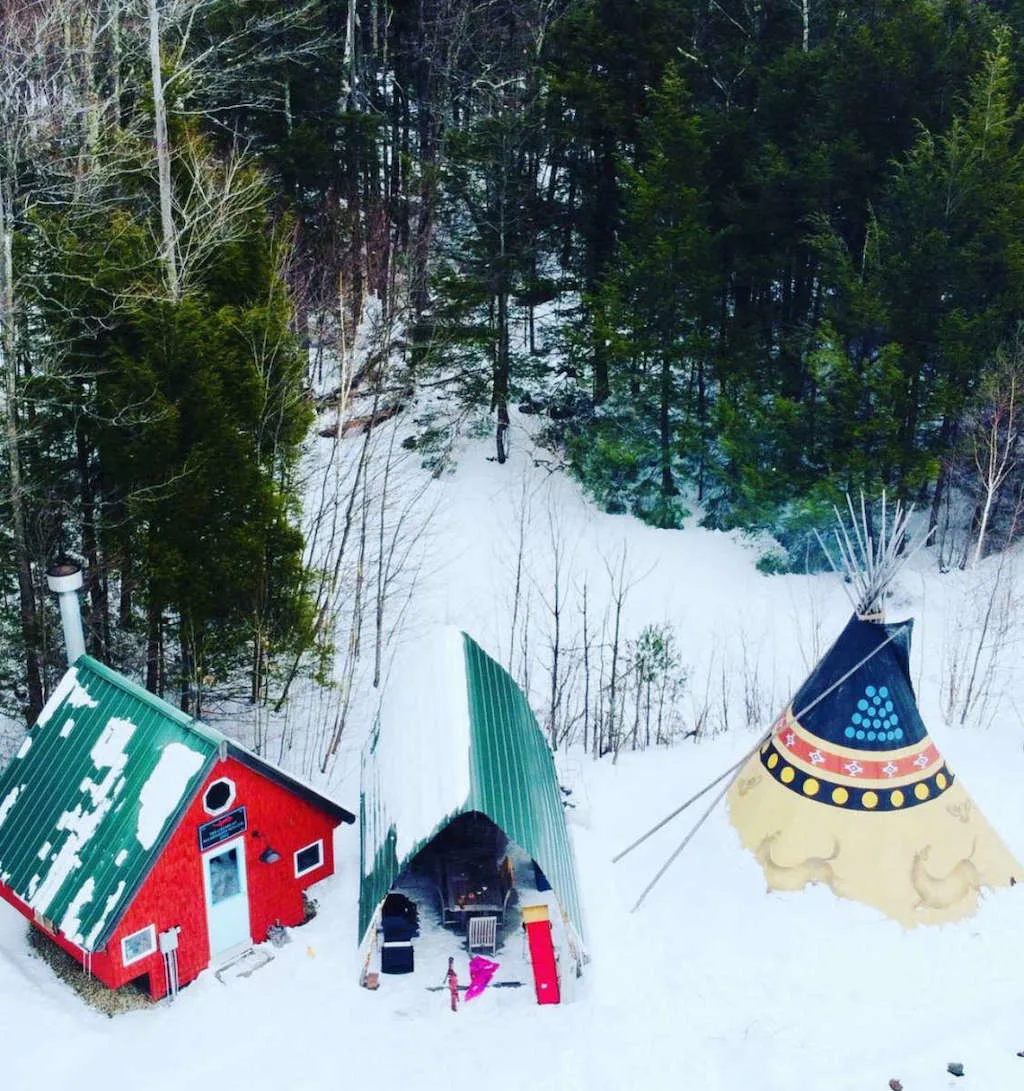 This unique central Massachusetts glamping property includes a heated sleeping loft above a small library, a covered pizza oven and dining area, and a tipi with an inside fire pit. There is a private bathroom with a shower on the property.
Salamander Hollow is a private, evolving honeybee and human being sanctuary on 18 acres of land abutting Massachusetts State Forest.
This remote Warwick, Massachusetts property abuts many miles of New England trails. You can pack a lunch and take a round trip day hike/snowshoe or cross-country ski right off the property to and around Richmond Reservoir.
There is a grill on the property for cooking, but you should bring your own cookware and linens for sleeping.
Outdoor recreation near Warwick: Strap on snowshoes or spikes and hike to the top of Mount Grace.

What we love about this glamping spot: The little library and pizza oven are so unique!

Something to consider: No running water, so plan accordingly
---
Huddle Hut Tiny Home: Wellfleet, Massachusetts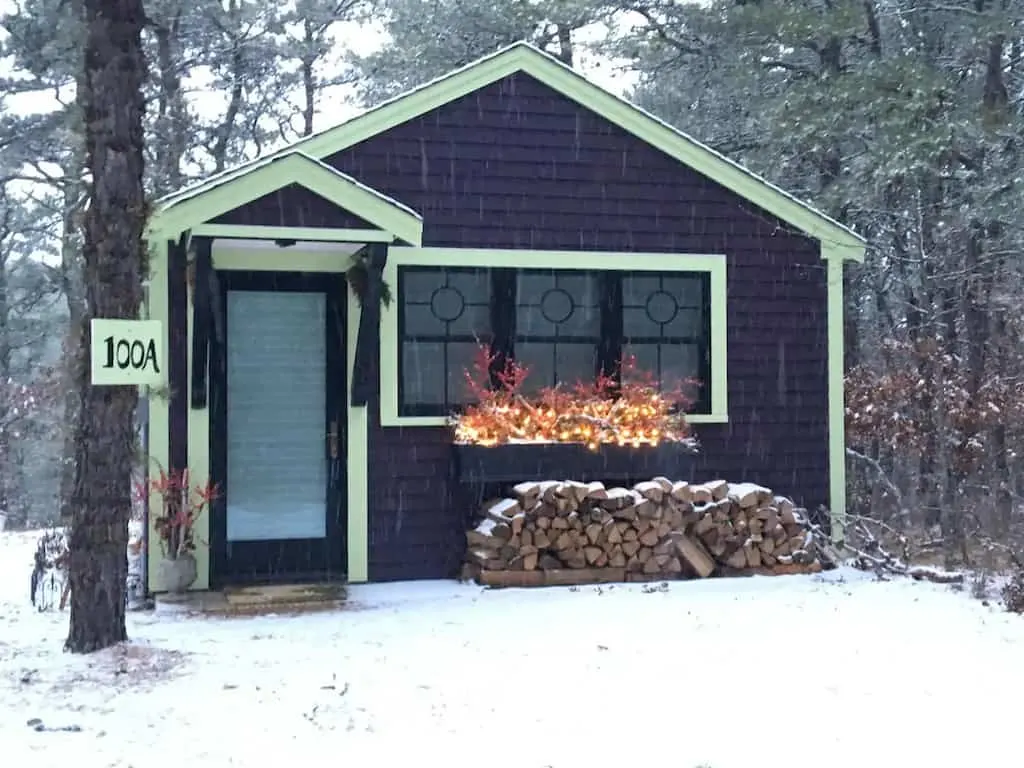 Just thinking about a few nights glamping near the shore in this tiny Wellfleet cottage lowers my blood pressure. This is a popular tourist area in the summer, but in the winter, it's perfect for getting outside without the crowds! The Huddle Hut is a studio bungalow, with a comfy queen-size Murphy bed, a small kitchenette, and a full bathroom. Yes, there is Wi-Fi and a TV, but we still recommend unplugging during your visit.
There is a little deck for relaxing outdoors, plus an outdoor grill for cooking. Nearby, you'll find the towns of Wellfleet, Provincetown, and Truro. This is a small space, but it's perfect for couples!
Recreation near Wellfleet: There's actually a lot of great hiking nearby, including the Great Island Trail, the Wellfleet Conservation Trust, and the Mass Audubon Wellfleet Bay Wildlife Sanctuary.
What we love about the Huddle Hut: The location near the ocean!
Something to consider: The main cottage is right next door.
---
Winter Glamping in Connecticut
For us, Connecticut is unchartered territory. We have yet to explore this state thoroughly and are hoping to add a few more glamping adventures to this list in the near future. For now, here's one unique choice.
Water Forest Retreat Treehouse: Norwich, Connecticut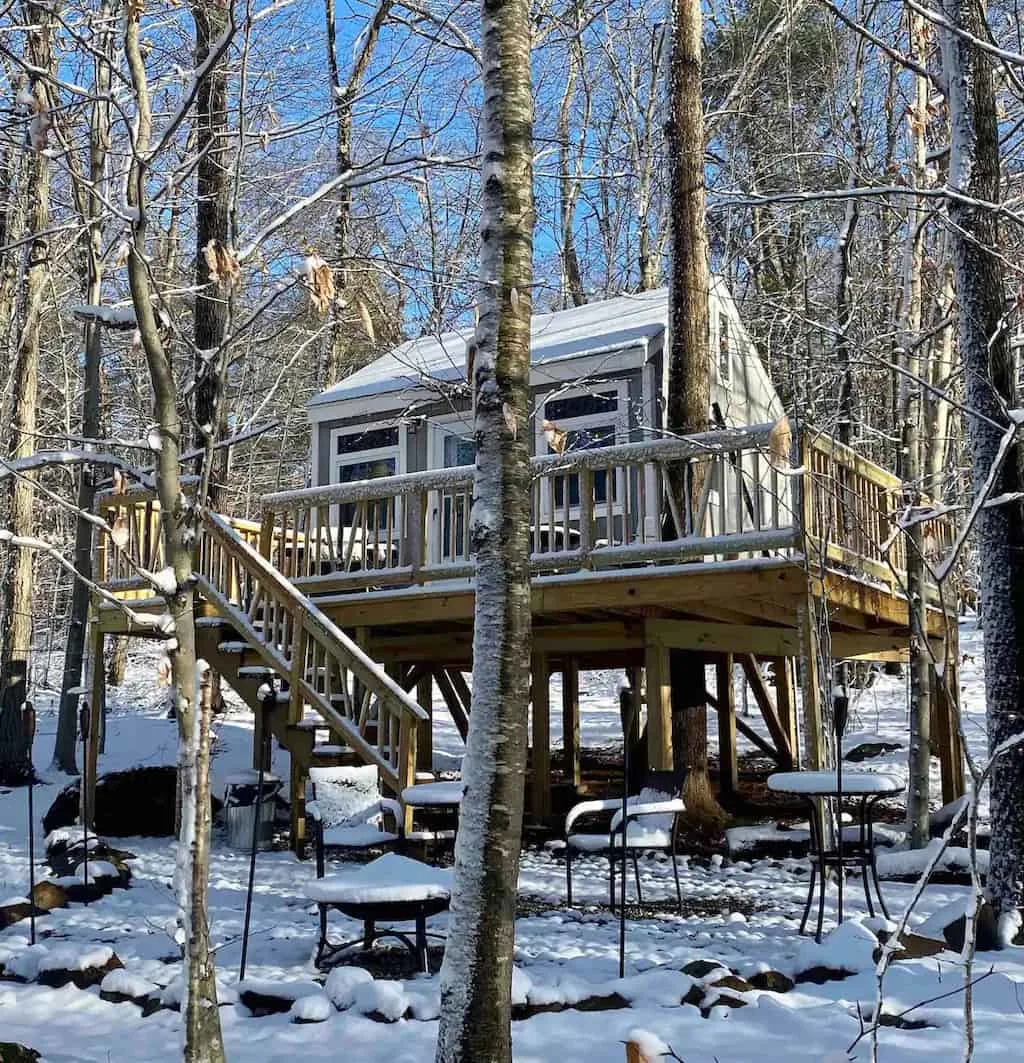 The Water Forest Retreat Treehouse is a 168-foot paradise in the midst of a hundred-acre forest in Norwich, Connecticut. This tiny dwelling in the trees provides a few of the comforts of home like heat, electricity, and. a composting toilet, but lacks others. You won't find Wi-Fi here, or running water, for that matter. There is a portable propane stove with camping cookware, as well as a propane grill outdoors.
Outside this magical treehouse, there are 2.5 miles of trails through the woods, a small brook, and even a waterfall. Relax outdoors near the firepit or indoors next to the electric fireplace. This is a great spot to rough it, but also stay cozy, making it one of the best places for winter glamping in Connecticut.
Winter recreation near Norwich: There are a lot of great trails in Norwich that are perfect for hiking or snowshoeing. You can find a description of the trail offerings over at Walk Norwich.
What we love about the Water Forest Retreat Treehouse: Stained glass and unique decor.
Something to consider: You can access water at the main house for washing and dishwashing.
---
Want to read more about unique lodging, glamping, and camping in New England? Read these next!
---
Do you have any favorite New England glamping destinations? I'd love to hear about your adventures in the comments below.
Follow us on Social Media!
Pin for Later?