One of the things I love about road tripping around America is that there is always more to discover.
On our 2019 summer road trip across the US, the region that really blew me away was the Black Hills of South Dakota. Our explorations took us through vast windswept prairies, up pine-forested mountains, and around jagged rock formations carved by elements over millions of years.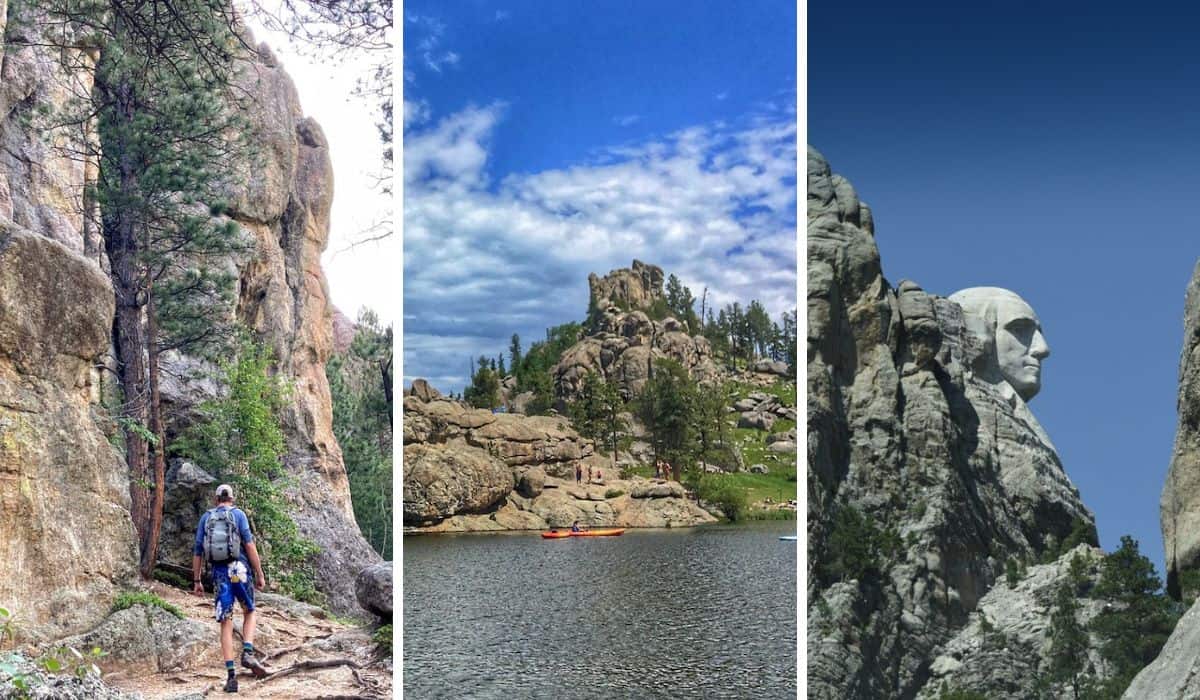 The Black Hill region also features enticing outdoor adventures, a plethora of wildlife, and jaw-dropping scenery around every bend. If you haven't added the Black Hills of South Dakota to your bucket list, I recommend you do that straight away!
To encourage you to start planning your outdoor adventures in the Black Hills, we've created a list of some of our favorite things to do in the Black Hills region with a strong emphasis on getting outside.
A Few Things to Note Before Visiting the Black Hills in South Dakota
I think the most important thing to know before heading to this beautiful spot is that the area was originally owned, and is still inhabited by the Lakota people. In fact, treaties made between the US government and the Lakota people in 1851 and 1868 ensured that the Black Hills would remain as native territory. In 1877, the land was confiscated by the United States, an action that was condemned by the US Supreme Court more than a century later.
The Lakota people consider the Black Hills to be sacred and are continuously working to reclaim their land. Outdoor enthusiasts and visitors to the Black Hills region should be aware of this struggle and walk respectfully on the land.
Keep a Respectful Distance from Wildlife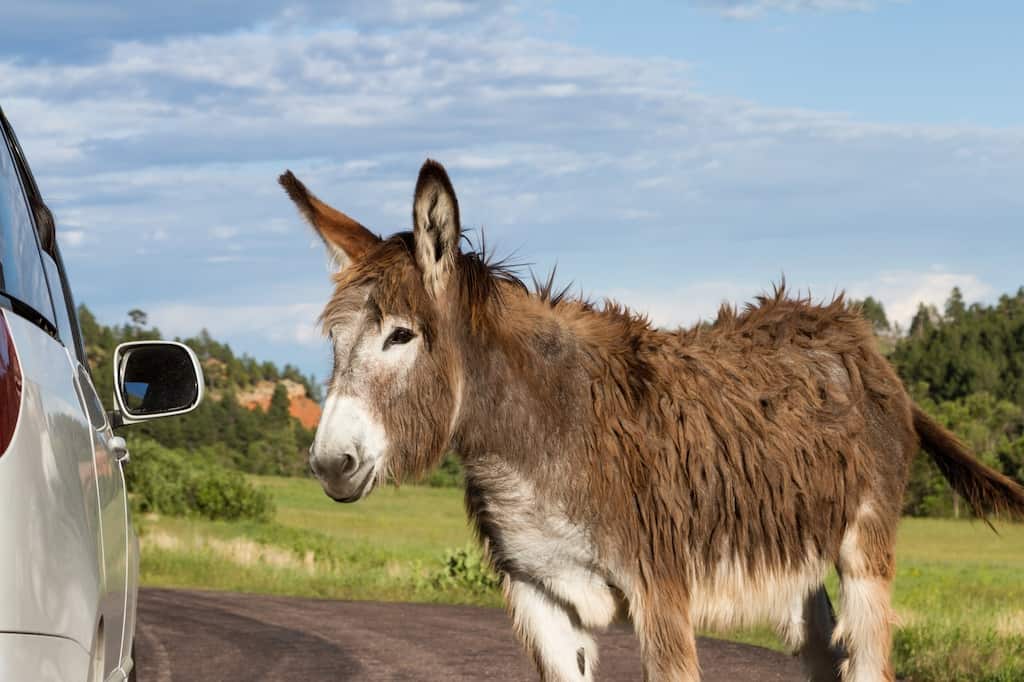 The Black Hills area is home to a great variety of animals, including bison, pronghorn, mule deer, bighorn sheep, coyote, and prairie dogs. Because the wildlife in the Black Hills is so accessible, you may be fooled into thinking you can get closer than you should. Please, be respectful of wildlife and give them the space they need to remain wild and free — that's 100 yards for potentially aggressive animals and 25 yards for all other animals.
If a wild animal is reacting to your presence, then you're too close!
Follow Leave no Trace Guidelines
More than three million tourists visit the Black Hills each year. Do your part to keep this beautiful landscape healthy and vibrant by following Leave no Trace principles.
Stay on designated trails, dispose of your waste properly, and leave natural objects and cultural artifacts where you find them. Most importantly, plan ahead for any outdoor adventure so that you avoid emergency situations that could easily have been avoided.
Outdoorsy Things to do in the Black Hills of South Dakota
Time for the good stuff — the best things to do in the Black Hills. I'm pretty much focusing on the outdoors and stuff that isn't too touristy, but beyond what's listed here, you'll find all kinds of tourist attractions in the Black Hills. Honestly, you could explore the Black Hills for weeks and not run out of things to do. We had to narrow down our explorations a bit, so here's what we'd recommend.
Take a Scenic Black Hills Road Trip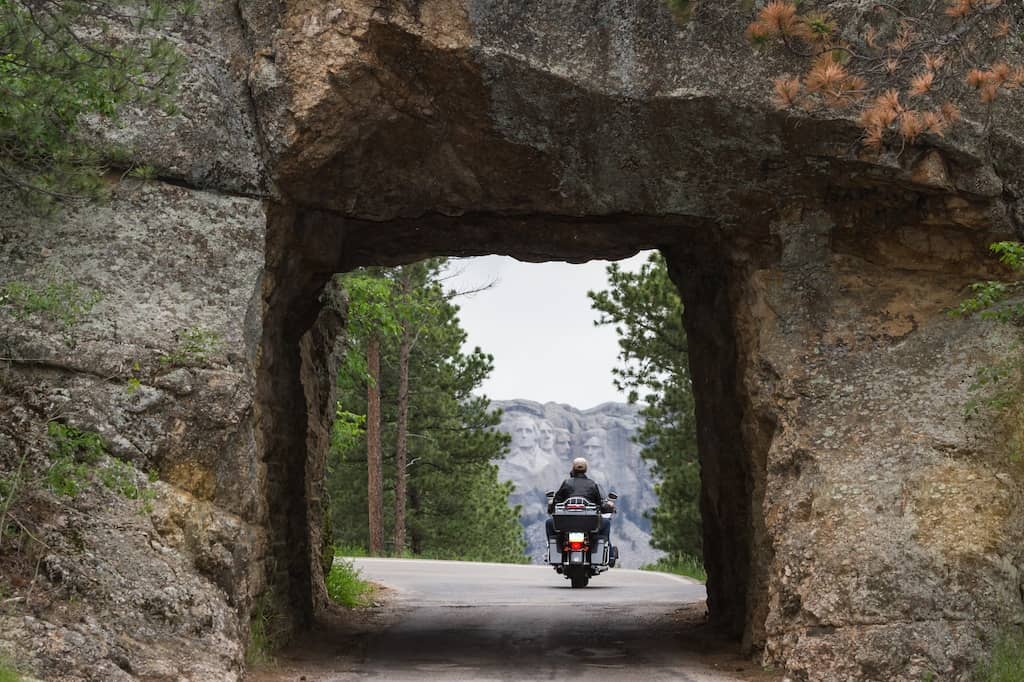 With breathtaking scenery throughout the Black Hills region, you will be hard-pressed to find a road that isn't incredibly scenic. During our stay, we made our home base in Custer State Park in the southern Black Hills region, which is a great start for a number of gorgeous road trips, including:
The Needles Highway in Custer State Park
The Needles Highway is a 14-mile portion of Route 87 that winds through Custer State Park. It took us more than an hour to drive the 14 miles as there were lots of tourists and the road is very winding with plenty of spots to pull off and explore.
The highlight of the Needles Highway was going through the "eye of the needle," which is a narrow tunnel just big enough for your car. Actually, it's more than eight feet wide, but you really do feel like you won't fit until you do. We did it in a minivan and it was fine, just a little unnerving. Definitely not suitable for RVs!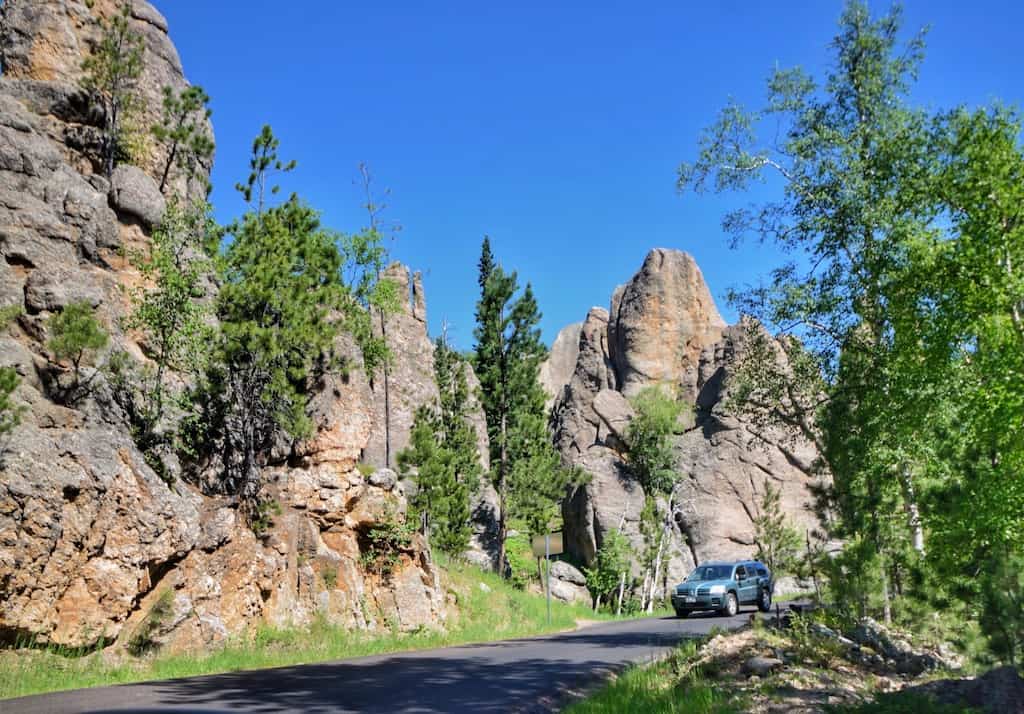 We began our Needles Highway journey at Sylvan Lake, took 87 north to route 244 east, then drove south back into Custer State Park on Route 16A, also known as the Iron Mountain Road detailed below. This spectacular loop is collectively known as the Peter Norbeck Scenic Byway and totals 68 miles. The whole road trip took several hours, but it was well worth it!
Iron Mountain Road in Custer State Park
We had heard about the Needles Highway from so many people that we knew we had to do it. Nobody mentioned Iron Mountain Road to us for some reason, but we found it even more thrilling than the Needles Highway.
Iron Mountain Road is a 17-mile stretch of highway known as Route 16A. We drove the road from north to south, which was awesome, but the road was actually designed so that if you drive it from south to north, you pass through several narrow tunnels that frame Mount Rushmore in the distance.
Another cool feature of Iron Mountain Road is the curly "pigtails" in the road that loop and curve over each other. Like the Needles Highway, you have to drive slow on Iron Mountain Road. There are lots of places to pull off and enjoy the scenery, have a picnic, or go for a hike.
Look for Wildlife in Custer State Park and Wind Cave National Park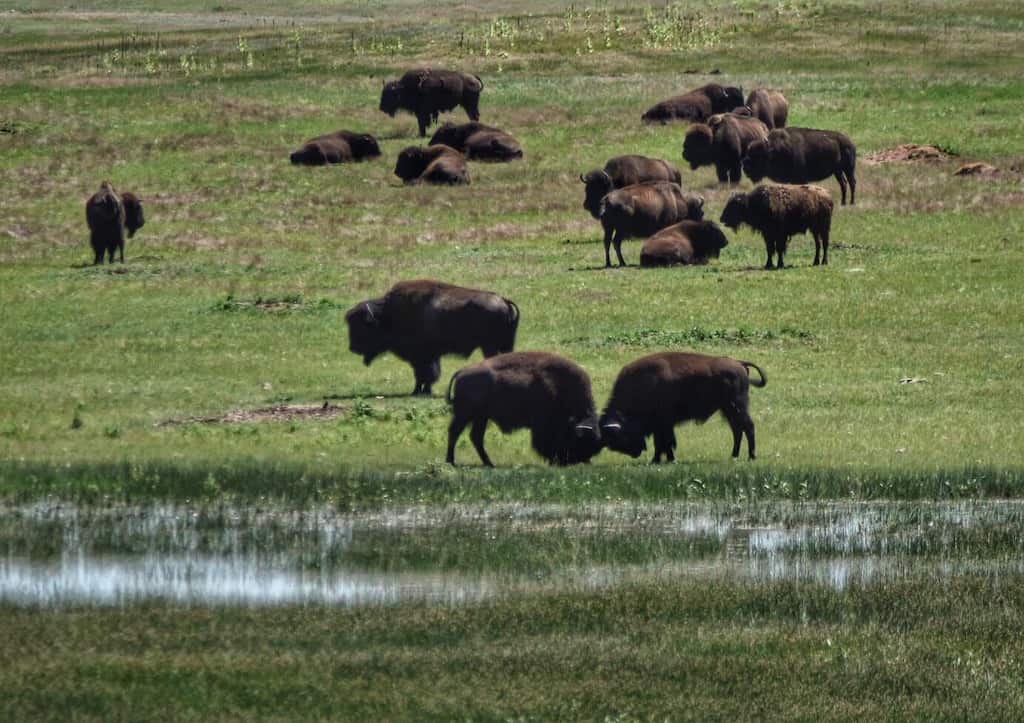 The whole Black Hills region is teeming with wildlife, and the open forests and prairie landscapes make animals easy to spot. I love watching large bison herds, especially in the summer when there are babies. You will almost definitely see bison on Route 87 traveling through Wind Cave National Park or on the Wildlife Loop Road in Custer State Park.
Another favorite on the Wildlife Loop Road is the feral burros. These guys are very used to people, and they tend to hang around looking for handouts. They're pretty hard to resist, but please don't feed them! They are still wild animals, despite what they'd have you believe.
Other animals you're likely to see on the Wildlife Loop Road are pronghorn antelope, prairie dogs, mule deer, and possibly coyotes. We had the best luck driving the loop at dawn or dusk — fewer people and more animals.
Pitch Your Tent at one of the Custer State Park Campgrounds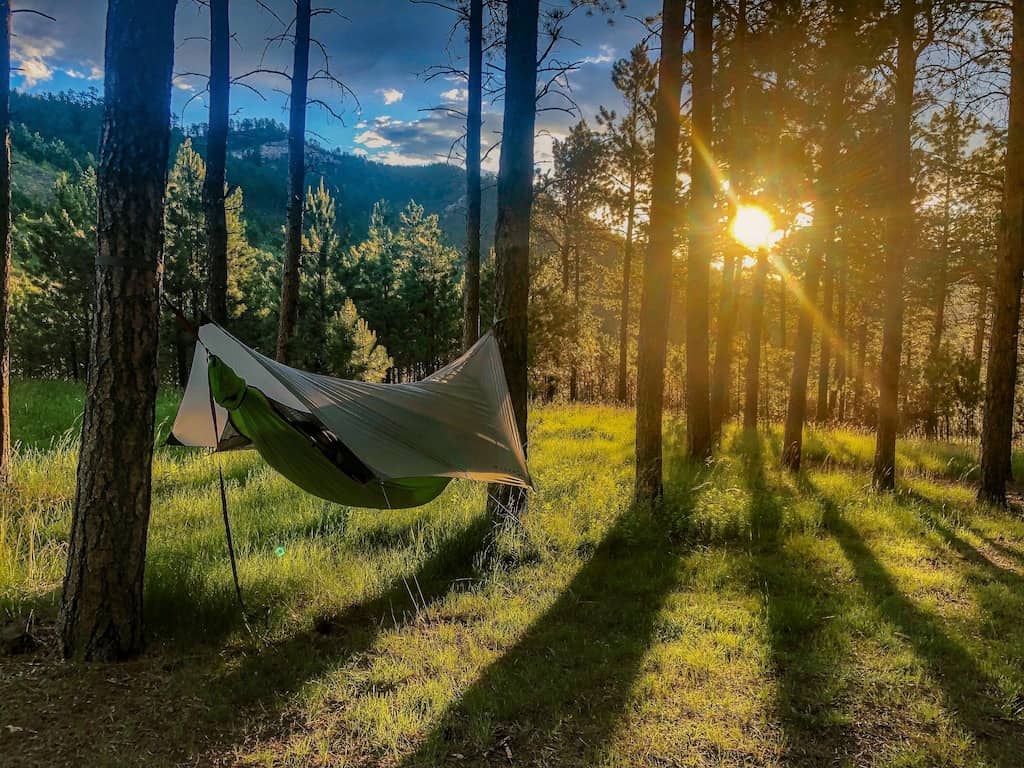 Custer State Park covers more than 71,000 acres, so where you choose to pitch your tent matters! It's a popular spot for RVers and tent campers alike, and you can choose from nine campgrounds scattered around the park as well as primitive backcountry camping.
There are pros and cons to each of the Custer State Campgrounds. The lake campgrounds — Legion Lake, Center Lake, Sylvan Lake, and both Stockade Campgrounds can get very busy during the summer. A few of the campgrounds have RV length restrictions, so be sure to check the Custer State Park website before making a reservation. Cabins are also available in many of the campgrounds for $55 per night.
During our Custer State Park camping trip, we stayed at Blue Bell Campground. We had heard that this was one of the more quiet campgrounds within the park. We made our reservations about a month in advance and crossed our fingers that we'd love it.
The tent-only sites are tucked away in the back with gorgeous views of the hills. There are plenty of trees for hammock camping and platforms for tents. There are only 30 sites at Blue Bell Campground, and everyone was super friendly. Also, the Wi-Fi was decent if that's something that's important to you, and there were ranger-led programs in the evenings.
We'd definitely stay at Blue Bell Campground again.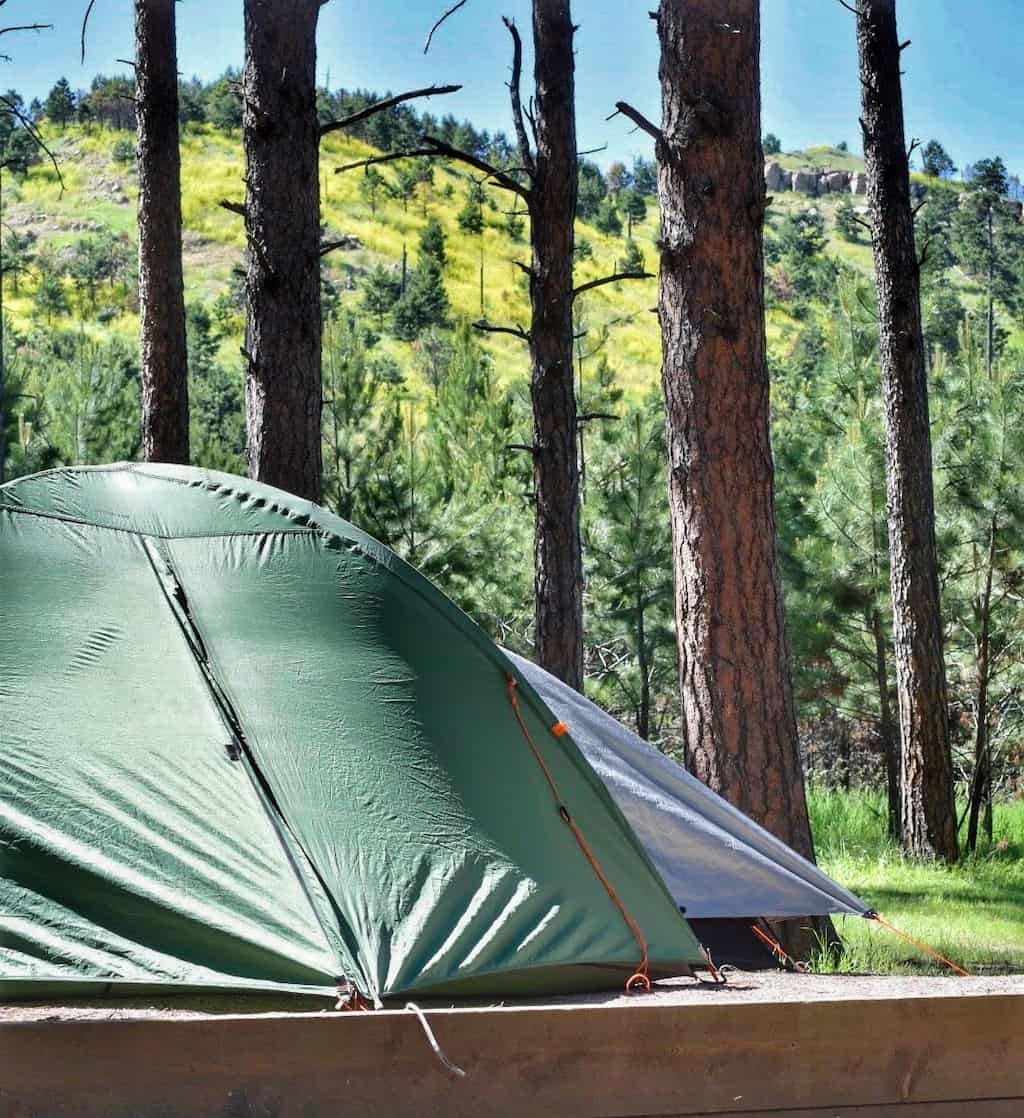 Note: Campsite fees vary from campground to campground and are in addition to the Custer State Park entrance fee of $20 per vehicle, which is good for seven days.
Visit Mount Rushmore National Memorial
We did not visit Mount Rushmore on our most recent trip to the Black Hills, but I had been a few years prior and figured it probably hadn't changed that much.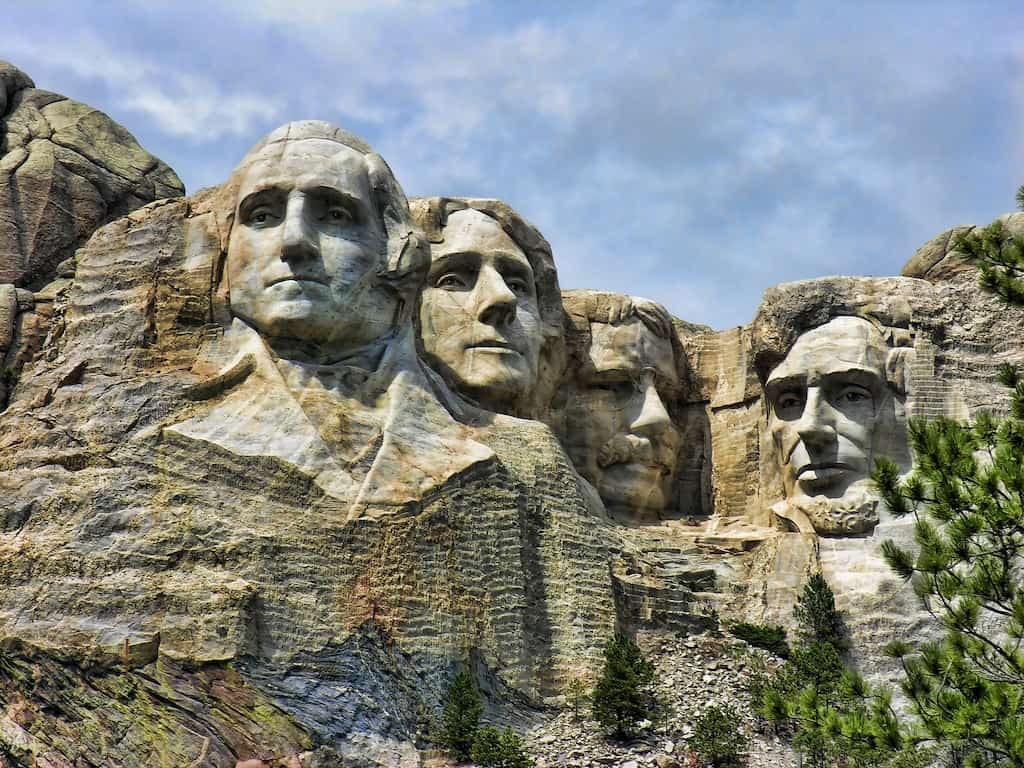 Located in Keystone, South Dakota, this iconic sculpture features the incredibly huge heads of four presidents carved on the side of the mountain. Do you know which ones? Yup – Washington, Jefferson, Theodore Roosevelt, and Lincoln. They were chosen because of their role in preserving the republic and expanding territory.
Mount Rushmore was completed in 1941 and is currently South Dakota's number one tourist attraction. It's an impressive display and worth checking out. Once.
Go Caving at Wind Cave National Park or Jewel Cave
Underground wonders abound in the Black Hills, but Wind Cave and Jewel Cave are the most expansive and well-known. Both are maintained by the National Park Service and open to visitors for ranger-led tours.
Jewel Cave National Monument is the third-largest cave system in the world, with more than 200 miles of plotted passageways beneath the surface. Wind Cave National Park's caverns are still being discovered, but so far, more than 150 miles of passageways have been documented.
Should You Visit Jewel Cave or Wind Cave?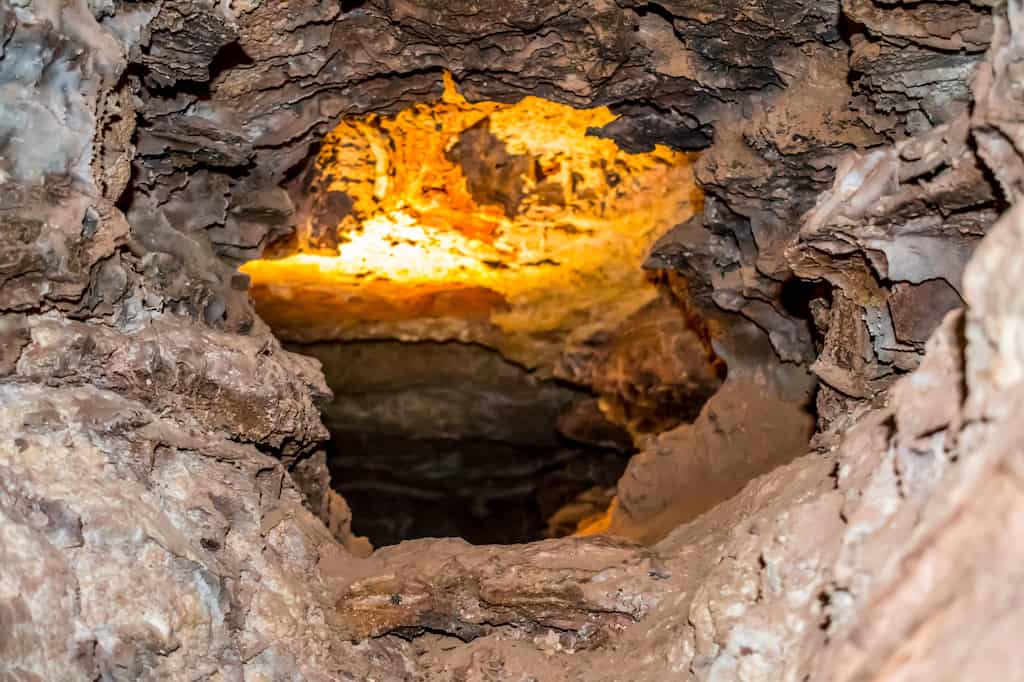 If exploring caves is your thing, visit them both! Jewel Cave is lined with spar crystals — beautiful formations made of calcite that sparkle in the light, plus a variety of impressive rock formations. The tours through Jewel Cave are moderately strenuous with a whole lot of stair climbing. There's also a small network of trails above Jewel Cave.
Wind Cave is one of the only caves in the world to feature boxwork formations, which resemble honeycomb made of thin blades of calcite. Guided tours of various lengths are available, but all of them require some amount of stair climbing. The easiest tour, the Garden of Eden Tour, is ⅓ of a mile with 150 stairs.
Wind Cave National Park includes an extensive prairie ecosystem above ground with lots of trails to explore, plus a campground. For a more varied wilderness experience, choose Wind Cave, but don't pass up Jewel Cave if you love being underground.
Paddle one of the Amazing Lakes, Rivers, or Reservoirs in the Black Hills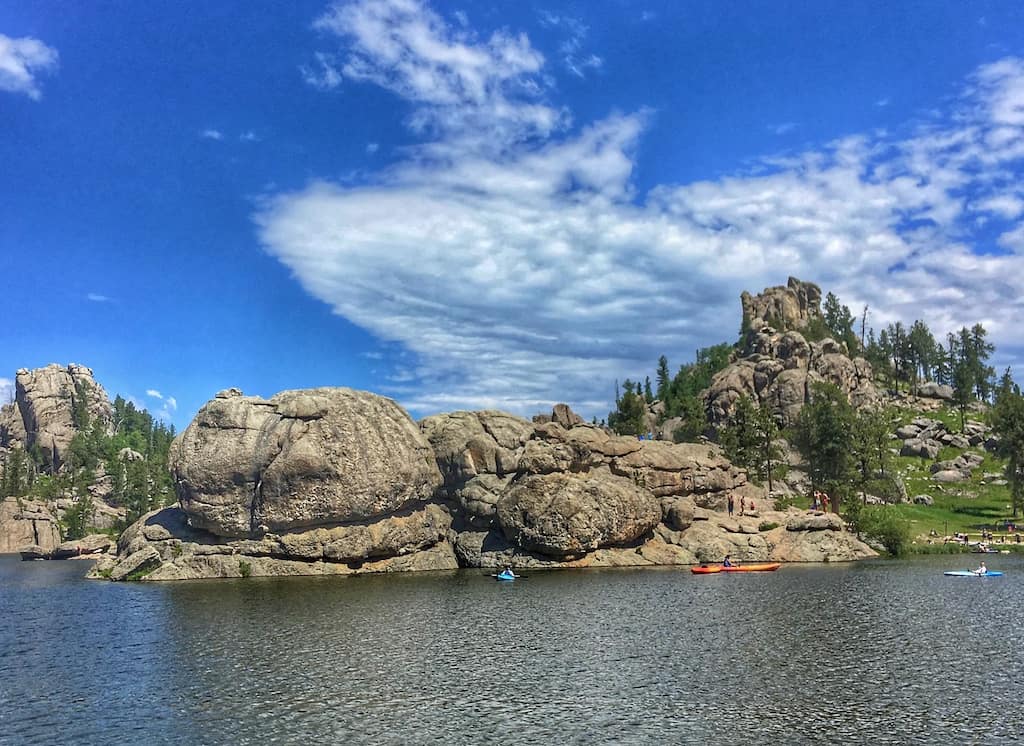 There are tons of options for getting out on the water in the Black Hills. We made our home base in Custer State Park, which allows paddling on four of the five lakes within its borders. We've heard that the rivers in the Black Hills are fabulous for paddling as well, but we haven't had a chance to do that yet.
Here are our top choices for canoeing, SUPing, and kayaking in Custer State Park. We hear the fishing is great too!
Sylvan Lake in Custer State Park – This is the largest and most picturesque lake in Custer State Park. It's also the most popular. At Sylvan Lake, you'll find a fully-stocked store, a full-service lodge, non-motorized boat rentals, and a sandy swimming beach. To avoid crowds and find a parking spot, we recommend showing up before noon.
Legion Lake in Custer State Park – Legion Lake is a bit smaller and a bit less crowded than Sylvan Lake, and it doesn't have as many dramatic rock formations, but it's still incredibly picturesque. When we visited, the rangers were offering free canoe rentals so we jumped at the chance to get out on the water. There is a lodge and restaurant on the shore, a nice trail around the lake, and a sandy beach for swimming.
Stockade Lake in Custer State Park – This is the largest lake in Custer State Park with two campgrounds, a sandy beach, and hiking trails. Of all the Custer State Park lakes, Stockade Lake is the only one that allows motorboats.
Go for a Hike in the Black Hills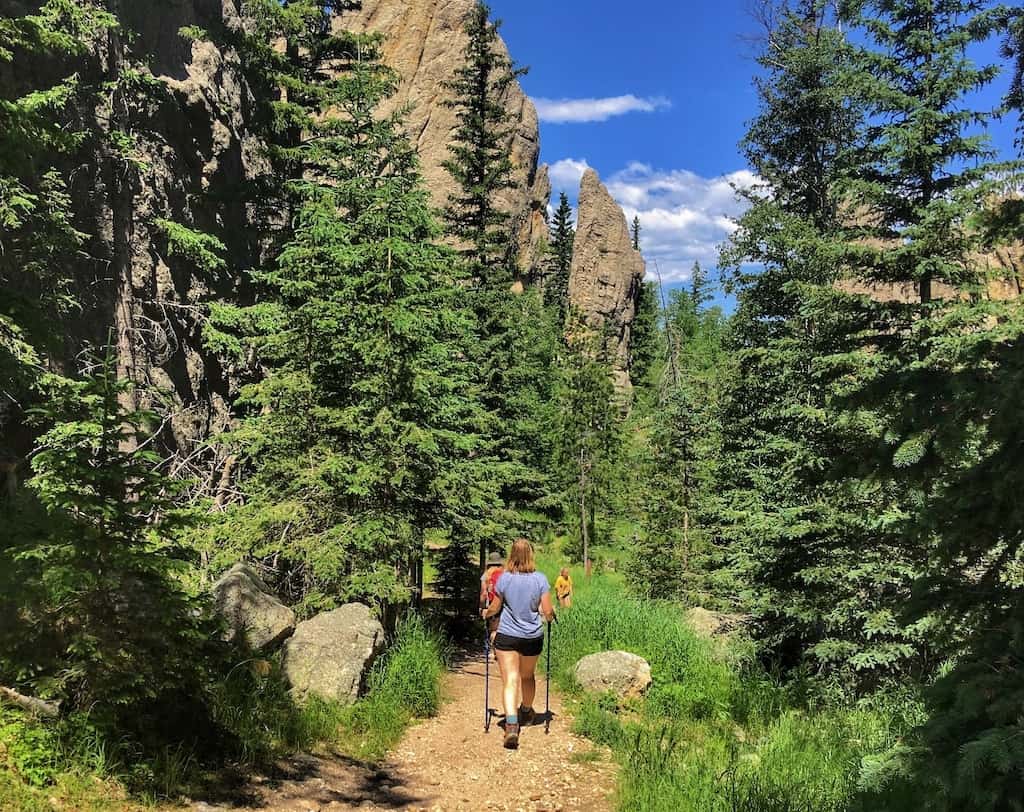 You could hike every day for a year in the Black Hills and not hit the same trail twice — we only scratched the surface on our trip. We hiked several short trails while road tripping, and tackled the Sunday Gulch Trail on our last day in the area.
The Sunday Gulch Trail is rated as strenuous, but really only the beginning (or end depending on which way you hike) of the three-mile hike is hard, with a series of steep staircases and creek crossings. We hiked clockwise from the Sylvan Lake trail and found Sunday Gulch Trail to be beautiful, quiet, and extremely rewarding. Yes, the last quarter mile was tough but so worth it. I highly recommend Sunday Gulch Trail if you're staying in Custer State Park.
Near Sylvan Lake in Custer State Park, you can also hike the Cathedral Spires Trail (3 miles round trip), the Black Elk Peak Trail (6.4miles round trip), and the Little Devil's Tower Trail (2.5 miles round trip).
In addition to all the hiking in Custer State Park, there are also lovely trails in Wind Cave National Park, Black Hills National Forest, Bear Butte State Park, and Thunder Basin National Grassland. The Black Hills really is a hiker's paradise and we can't wait to go back!
Visit Crazy Horse Memorial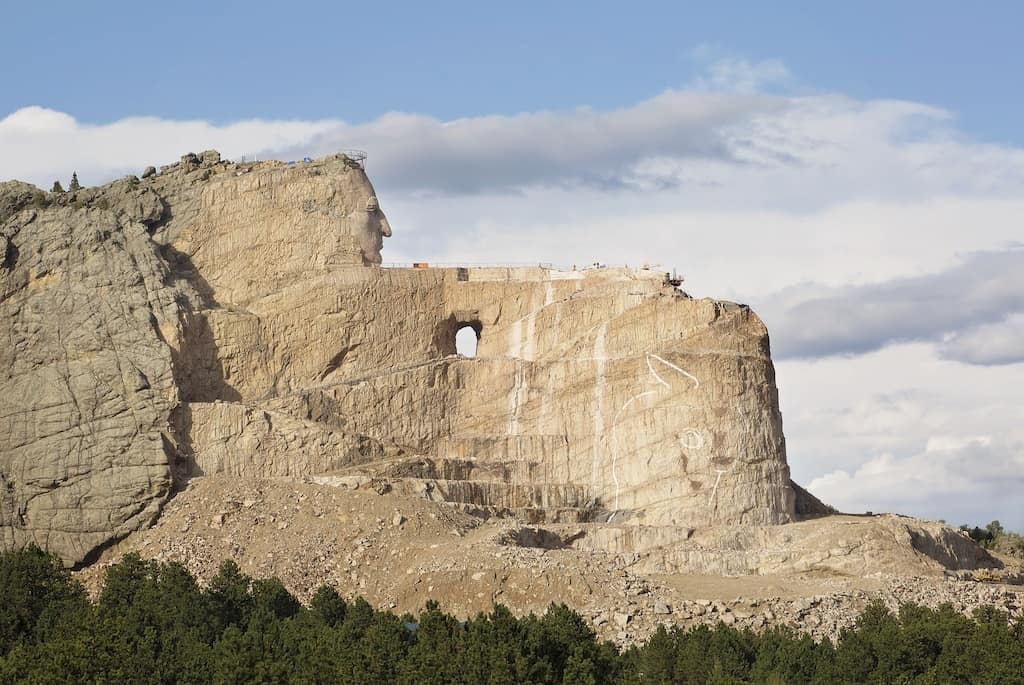 While the Crazy Horse Memorial is far from finished, it is still an amazing work of art that is worth checking out while you're in the Black Hills. When finished, the sculpture's final dimensions will be 641 feet long and 543 feet tall. The Crazy Horse sculpture was started in 1948 to memorialize the Lakota warrior, Crazy Horse, who is best known for taking up arms against the US government for encroaching on tribal land.
Today, you can visit the in-progress memorial, which is owned and operated by the Crazy Horse Memorial Foundation. The Indian Museum of North America is located on-site and tells of the history of the memorial while honoring the living heritage of North American Indians. The whole complex can be explored in an afternoon and is super impressive! The Crazy Horse Memorial is located off of scenic Route 385, which is another gorgeous road not far from Mount Rushmore and Custer State Park.
Tours will take you to the bottom of Thunderhead Mountain, which is the base of the statue. You can pay an extra fee to go to the top of the mountain, where you will be face-to-face with the colossal Lakota warrior. Because the Crazy Horse Memorial Foundation does not rely on government funding, every dollar raised is integral to helping them complete the memorial.
Visit the Crazy Horse Memorial Foundation to plan your trip.
Practical Tips for Visiting the Black Hills of South Dakota
Getting to the Black Hills – The Black Hills of South Dakota is conveniently located for car travel, right off of I-90. The nearest metropolitan area is Rapid City, South Dakota and the nearest airport is Rapid City Regional Airport, with direct flights from Las Vegas, Phoenix, Chicago, Dallas, Denver, and Minneapolis.
Getting around – We visited the Black Hills during a cross-country road trip, so we were able to use our car to explore all of the awesome Black Hills attractions, hikes, and parks. The Black Hills is such a vast area to explore that public transportation isn't really a viable option.
The best time to visit the Black Hills – If you're camping, the best time to visit the Black Hills is during the summer months, with May and June being great times to see baby bison. The annual Custer State Park Buffalo Roundup and Arts Festival takes place at the end of September.
---
Car rentals are often the most expensive part of a trip. Our favorite tip? Use a car rental comparison website to find the best deal. We have had great luck with Discover Car Hire, which has lots of options from major car rental companies.
---
Need more information for planning your Black Hills vacation? Check out the Black Hills & Badlands Tourism Association.
---
Follow us on social media!
Pin for Later?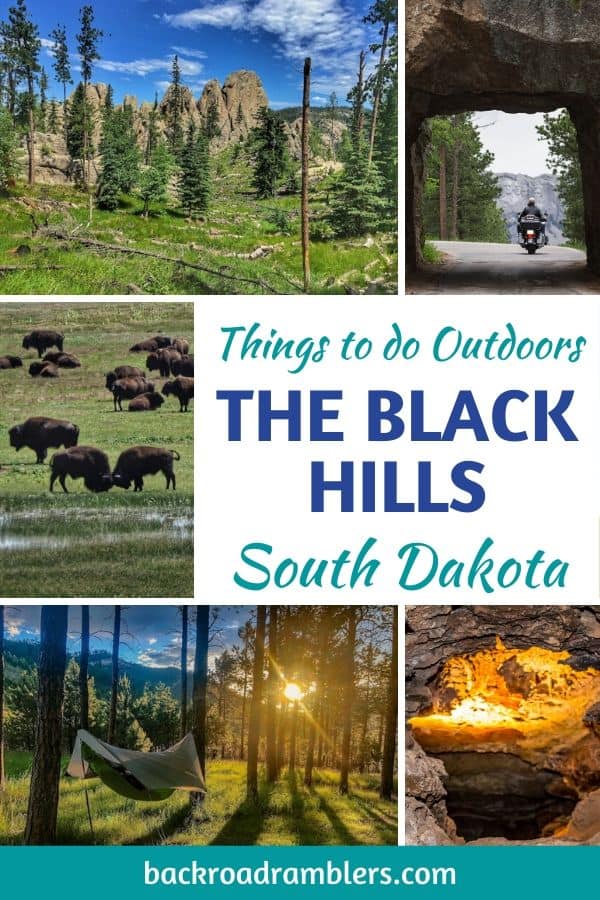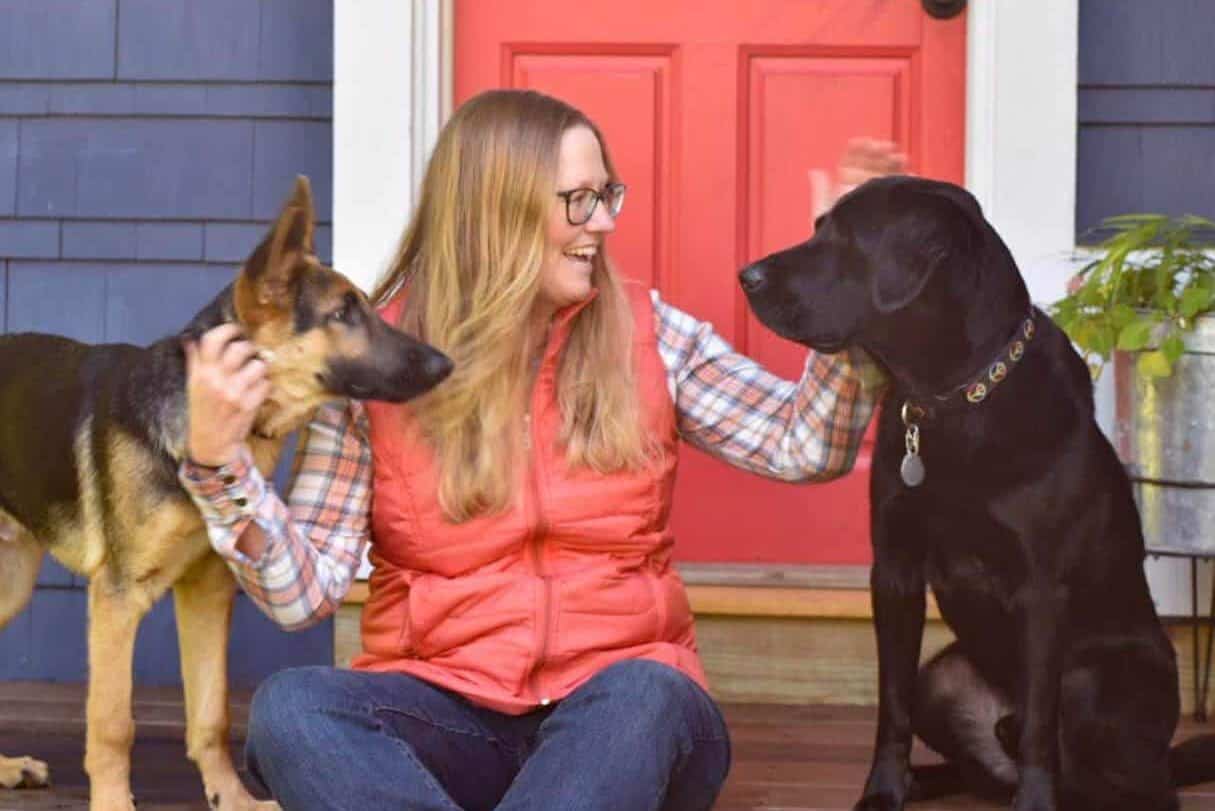 Tara is a freelance writer and travel blogger with a passion for outdoor adventures. She currently blogs at Back Road Ramblers and Vermont Explored, where she shares travel tips, adventure destinations, and vacation ideas for the wanderer in everyone.