Located in the gorgeous Black Hills of South Dakota, Custer State Park is 71,000 acres of protected wildlife habitat, recreation opportunities, and wild-west landscapes.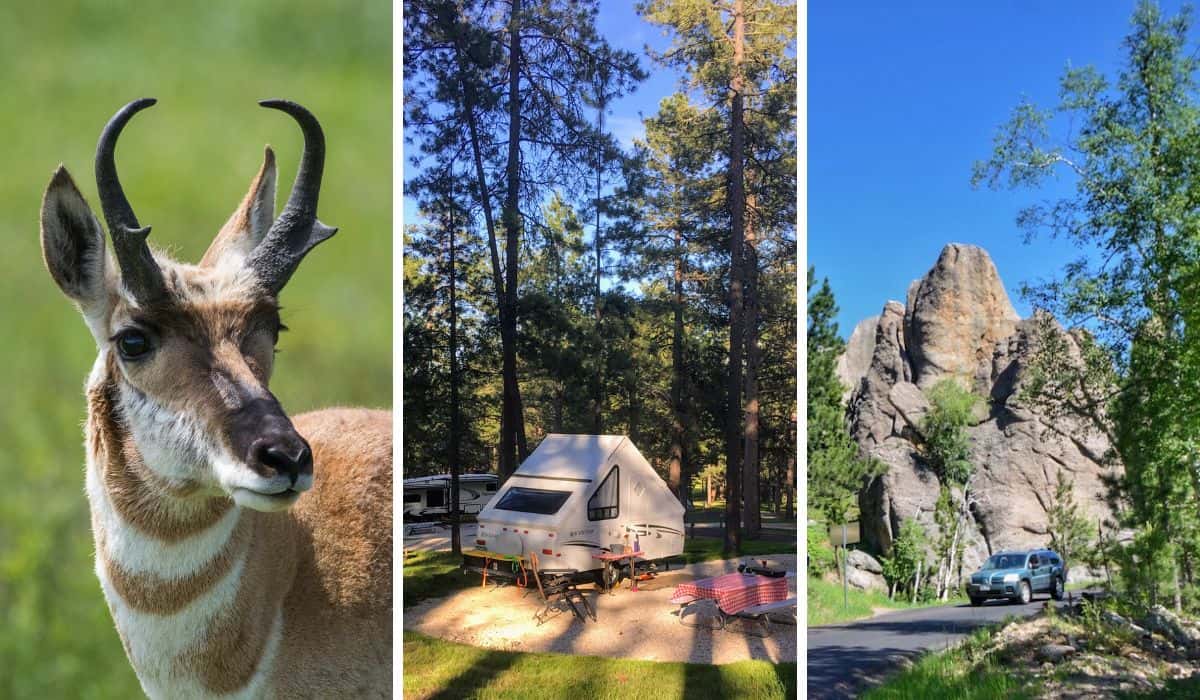 Each time we visit Custer State Park, we discover new trails to hike, lakes to paddle, and landscapes to photograph.
The best way to explore Custer State Park thoroughly is to stay right inside the park so you don't spend all of your time driving.
If roughing it isn't your thing, there are five lodges that offer comfy beds and posh amenities for travelers. If, however, pitching a tent and sleeping under the stars is more your speed, we highly recommend camping in Custer State Park.
During our recent cross-country road trip, we spent several days at Blue Bell Campground, which is small and unassuming, but also pretty amazing.
With just 31 sites that can accommodate tent campers and RVers, Blue Bell Campground was the perfect family-friendly place to end each day, and it never felt crowded, even when it was full. This is Custer State Park camping at its very best!
---
Planning a trip to South Dakota? We've got a bunch of posts to help you plan your vacation:
---
An Overview of Campgrounds in Custer State Park
Custer State Park is a busy place, especially in the summer and early fall. There are eight front-country campgrounds to choose from, for a total of 317 campsites (not including horse sites) and 47 cabins.
All campsites can be reserved up to a year in advance through the South Dakota Department of Game, Fish, and Parks.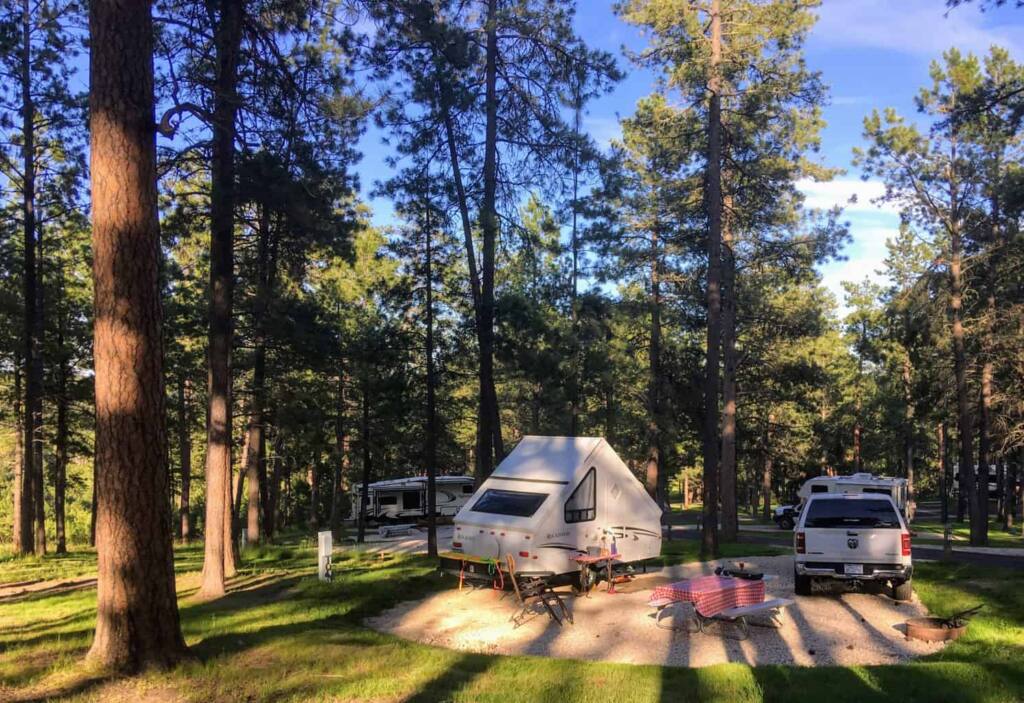 Here's a brief overview of the Custer State Park Campgrounds
Blue Bell Campground: 31 spacious sites interspersed throughout the woods. There are a few tent-only sites that feel really private, and large sites with electricity for RVs. No dump station or water hookups. Great location and a nice, quiet feel. $15-$33. Cell phone service is decent.
Center Lake Campground: Custer State Park's largest campground with 71 sites that are suitable for tents and small RVs. The sites are well-spaced and close to the lake and trails. We've heard that Center Lake is great for fishing too! No electricity hookups. This is also the only campground where you can make same-day reservations. Cell phone service is very spotty here, and all sites are $19.
Game Lodge Campground: 59 centrally-located campsites near a stream with a swimming beach and playground. Some sites have electricity and the amenities are great — showers, laundry, and a dump station. Road noise can be an issue, but the sites by the stream are very quiet, and the main visitor center is right across the road. $26-$30. Decent cell service.
Grace Coolidge Campground: This is a small, quiet campground with 27 sites. The road divides the tent sites from the RV sites and there is a small fishing pond within walking distance. Tent sites don't have electricity but are located right on the stream. $15-$30. No cell service.
Legion Lake Campground: 26 campsites that are fairly open and sunny, but across the highway from the lake. Most have electricity, but a few tent sites do not. Road noise is kind of noisy from the campground. $15-$30 per night with decent cell service.
Stockade North Campground: 42 campsites nestled in Ponderosa pines and very close to Stockade Lake, which is the biggest lake in Custer State Park. The sites are well-spaced and shaded and the location is great. $26-$30. Cell service is spotty.
Stockade South Campground: Secluded campground with 23 sites and 13 cabins on the west side of Custer State Park. The sites are close together, but the overall feel is very quiet. Flush toilets and showers and very near Stockade Lake. $15-$30. Spotty cell service.
Sylvan Lake Campground: Sylvan Lake Campground is the highest in elevation at 6,200 feet. There are 39 sites, some with electricity. The campground is within walking distance of Sylvan Lake, which is beautiful, with great hiking trails nearby. Tent sites are very private and lovely. The other sites are very close together and not suitable for RVs over 27 feet. $15-$30. No cell service.
When is the Best Time to go Camping in Custer State Park?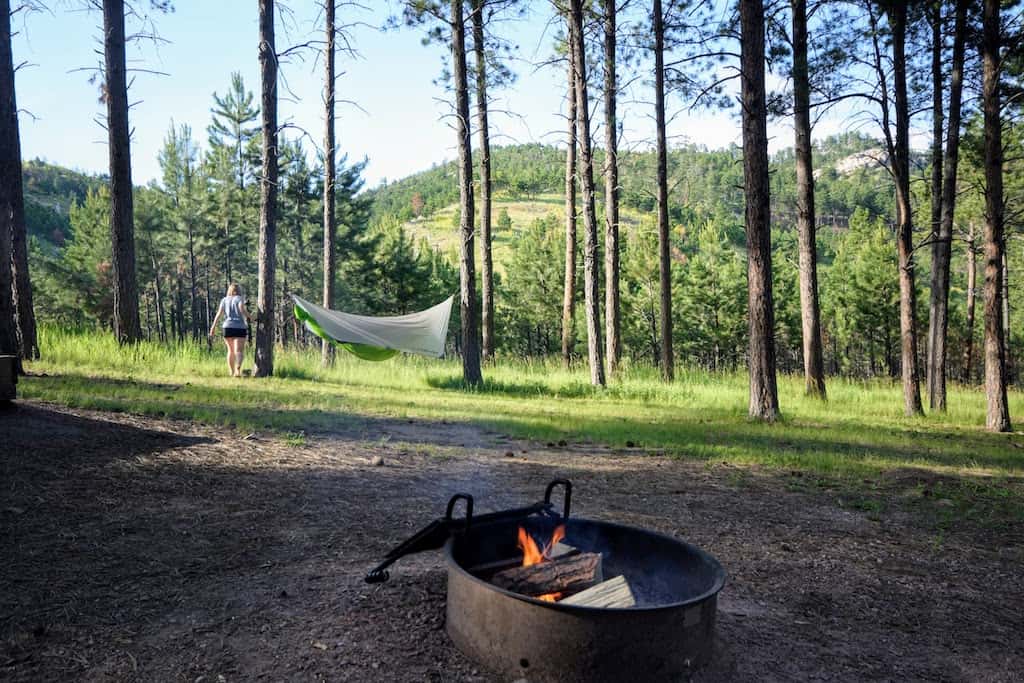 Most of the campgrounds in Custer State Park are open from mid-May to mid-October, but the exact dates change each year, so be sure to check the Custer State Park website before making plans. The exception is Game Lodge Campground, which is open from April to November.
We've camped in the Black Hills in June, July, and August, and have been blessed with warm temperatures and no rain each time.
I prefer Custer State Park camping in June when the temperatures are mild and there are baby bison, but I've also heard that September is a lovely month to be in the Black Hills.
Do You Need Reservations to Camp in Custer State Park?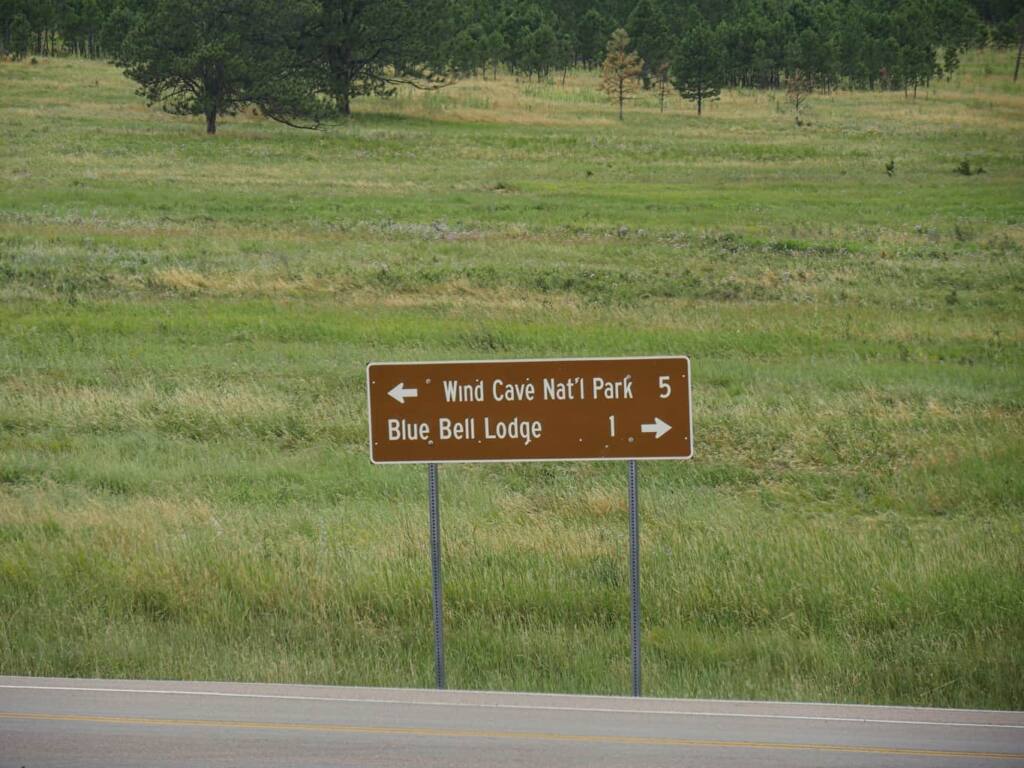 Unless you are visiting in early May or October, definitely try and make reservations through the South Dakota Game, Fish, and Parks website. You can make reservations up to a year in advance — the earlier, the better. During our most recent visit, we reserved our campsite about a month in advance. We found that of the eight campgrounds in the park, five of them were completely full.
Tips for Camping in Custer State Park
If I could give you just one tip for camping in Custer State Park and visiting the Black Hills in general, it's to stay longer than you think you should.
Weekend trips will give you a taste of the area, but four to five days will allow explorations that include hiking, paddling, cultural attractions, and even ghost towns. There are so many things to do in the Black Hills, and Custer State Park is an awesome home base.
Here are a few more tips for a successful trip camping in Custer State Park:
You will need to pay an entrance fee on top of your camping fee. South Dakota is one of the few states that doesn't allow free entrance with a camping pass. The entrance fee into Custer State Park is $20 for one to seven days.
Expect to pay extra if you aren't a South Dakota resident. The charge for out-of-state residents is an additional $7.70.
Pets are welcome in the campgrounds. They must be kept on a 10-foot (or shorter) leash and are not allowed on beaches or buildings.
Cell service is spotty everywhere. We've tried to make note of the reception in different campgrounds, but the service isn't reliable anywhere. There is Wi-Fi at most of the lodges within Custer State Park.
Need something during your stay? There are general stores with provisions at Blue Bell Lodge, Sylvan Lake Lodge, and Coolidge General Store.
Can You Stay in a Cabin in Custer State Park?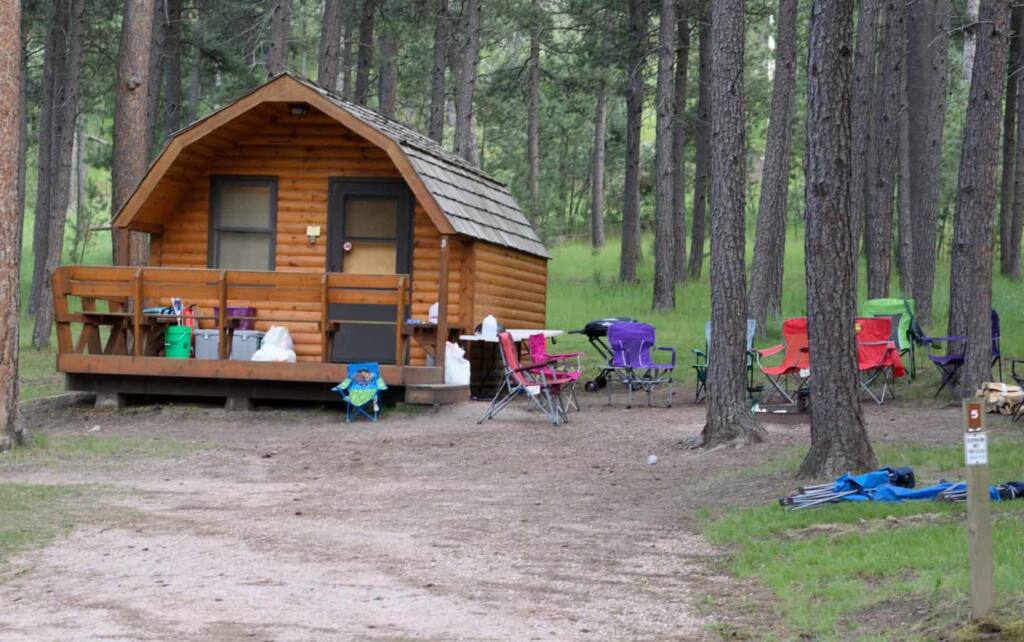 Yes! We have never stayed in a Custer State Park cabin, but we hear that they're lovely.
There are 50 camping cabins, which are part of the Custer State Park campgrounds. Camping cabins are located in Blue Bell Campground, Game Lodge Campground, Stockade Lake South, and French Creek Horse Camp. The cost is $55 per night (plus the entrance fee).
The Custer State Park camping cabins are rustic, with sleeping accommodations for 4-5 people, electricity, air conditioning, and heat, plus a table with benches. Camping cabins have a fire pit outside for cooking and do not have restrooms.
For a more luxurious vacation, you can also book one of several cabins from Custer State Park Resort. This range in style and size from four-person sleeper cabins to massive log homes with room for 20 people. Read more about the resort cabins here.
Why We Recommend Blue Bell Campground in Custer State Park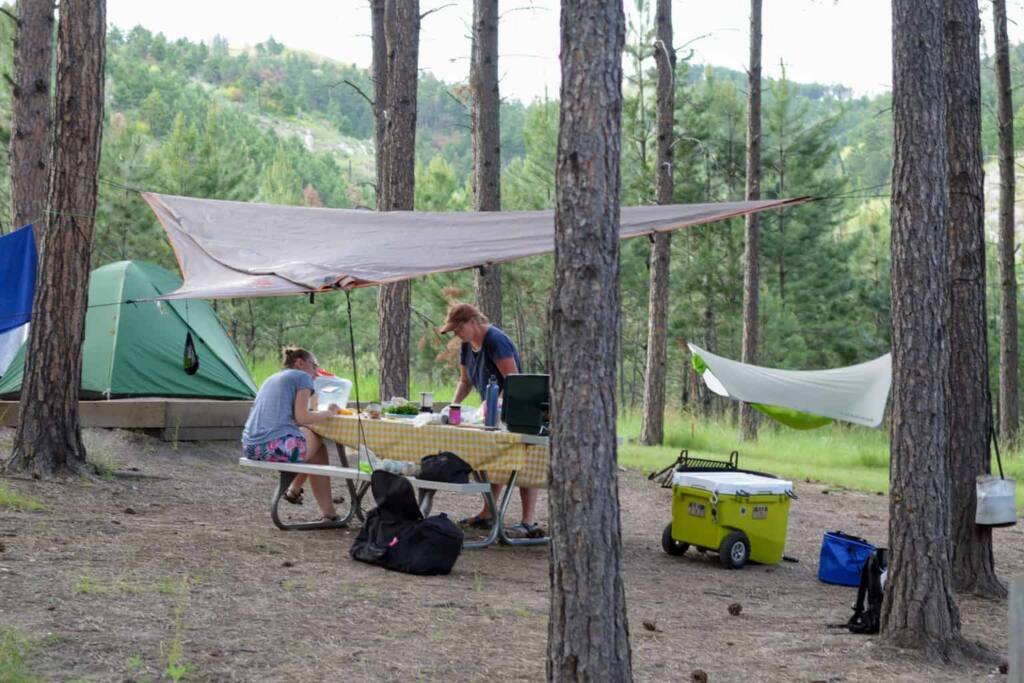 As I mentioned earlier, we spent several nights at Blue Bell Campground during our visit to Custer State Park. It's one of the smaller campgrounds with just 31 sites but has room for large RVs.
As tent campers, we were able to take advantage of the tent-only sites, which are located on the edge of the campground surrounded by open woodland.
All of Blue Bell Campground is family-friendly and very quiet, but the tent sites feel even more private and secluded than the others. We stayed in site #26, which is a close walk to the restrooms and water station.
We loved the central location of Blue Bell Campground as well. It's located right off Route 87 in the western part of the park. From here, you can easily drive the Wildlife Loop Road, head south to Wind Cave National Park, or drive up to Legion Lake for a swim. There is a store, payphone, gas, and laundry at the nearby Blue Bell Lodge.
Don't want to cook? Blue Bell Lodge includes a dining hall with American-style food, all within walking distance of the campground. For a bigger adventure, Blue Bell Lodge hosts a Hayride and Chuck Wagon dinner every evening. Start with a 45-minute wildlife tour, followed by a traditional cowboy dinner in the canyon.
After exploring all of the campgrounds in Custer State Park, I think Blue Bell Campground is our favorite, and I can't wait to go back and check out the cabins!
---
Follow us on social media!
Pin for Later?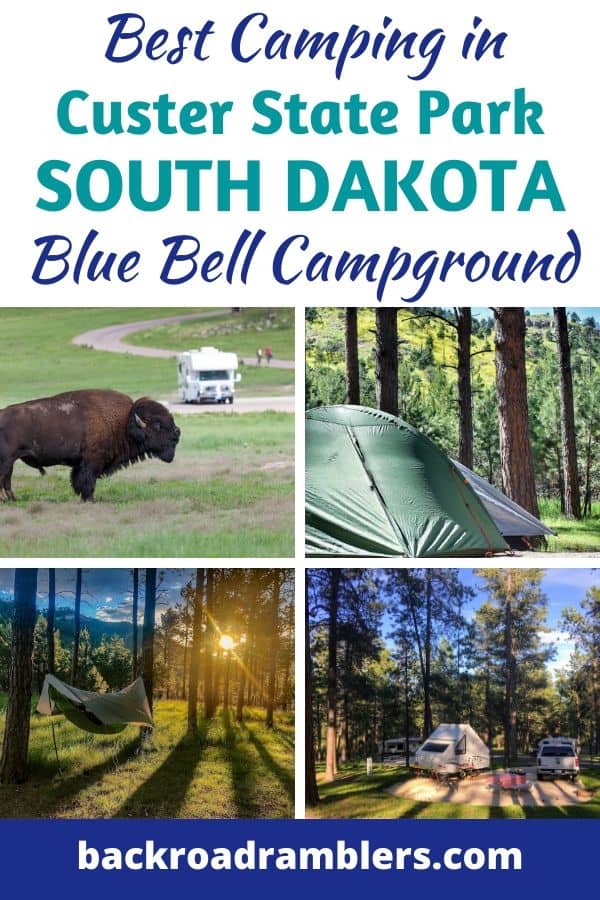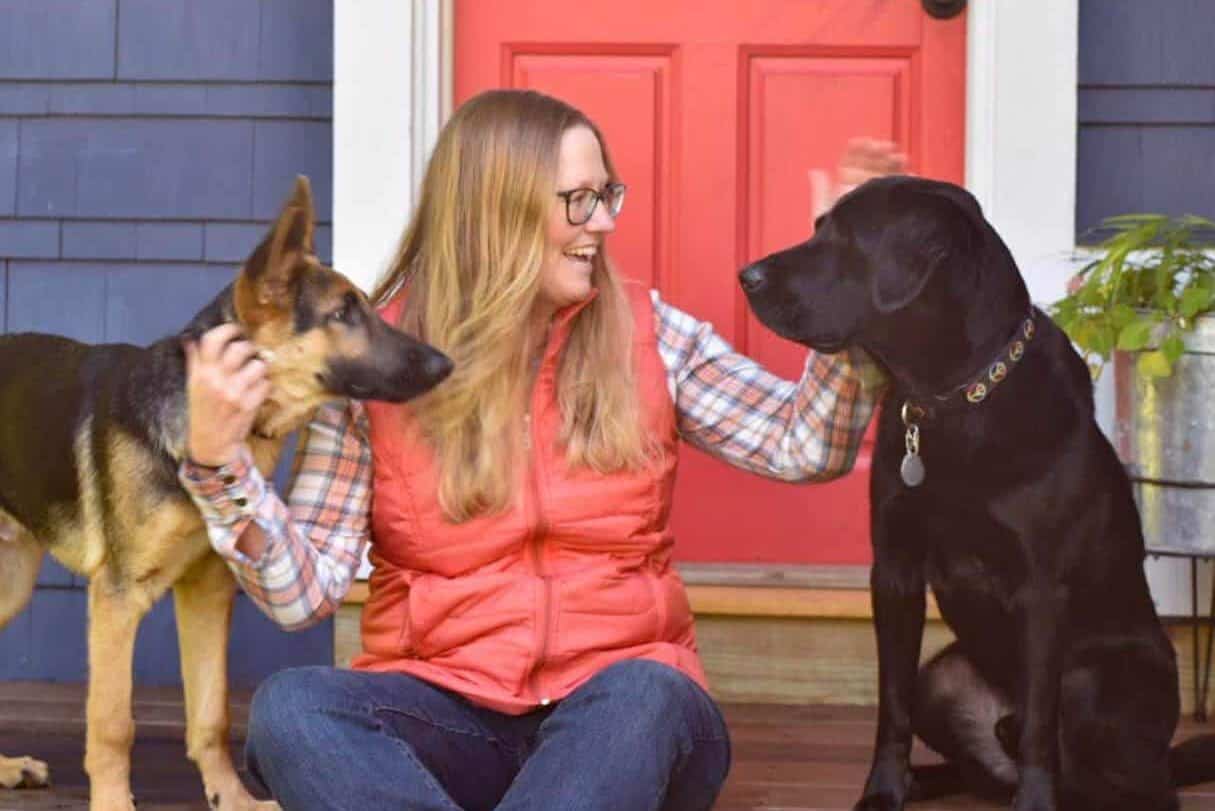 Tara is a freelance writer and travel blogger with a passion for outdoor adventures. She currently blogs at Back Road Ramblers and Vermont Explored, where she shares travel tips, adventure destinations, and vacation ideas for the wanderer in everyone.