Mount Monadnock, the most prominent peak in southern New Hampshire at 3,165 feet, tends to entice non-hikers onto its wilderness trails with the allure of 360-degree views and fun rock scrambles to the summit.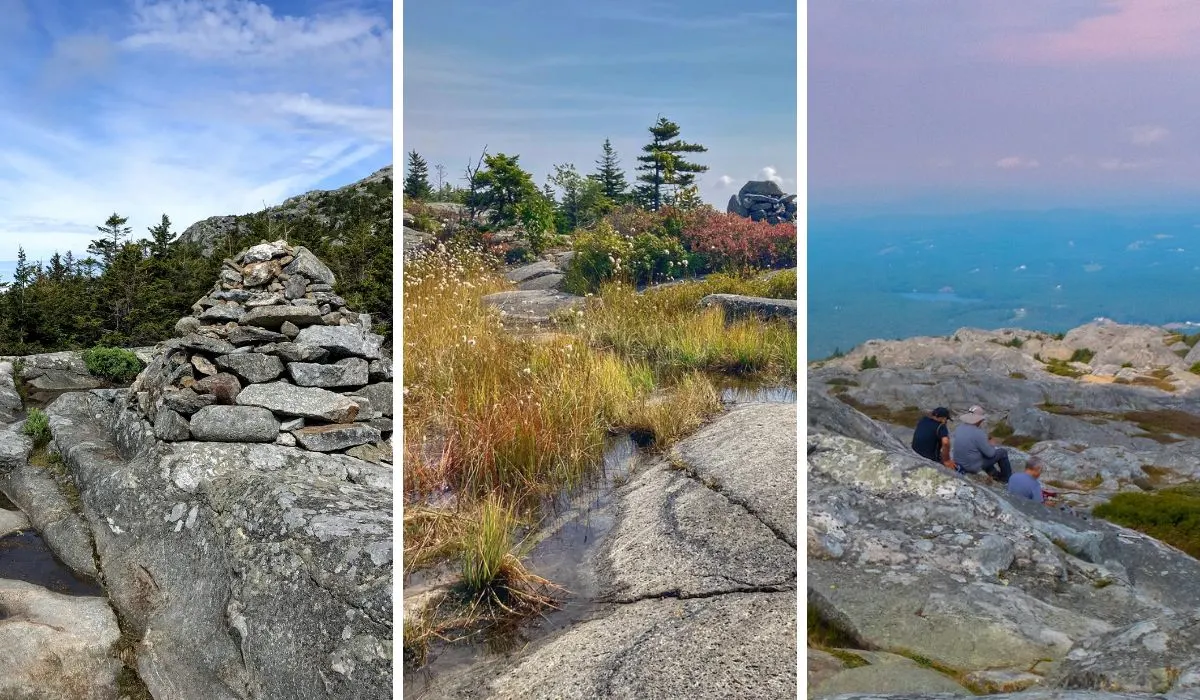 And despite its reputation as one of the most popular mountain climbs in the world, hiking Mount Monadnock is not exactly easy. It does, however, provide hikers with incredible views after only two miles of huffing and puffing.
For those who do enjoy hiking, the trails on Mount Monadnock are both exhilarating and delightful, despite daily crowds that provide little in the way of solitude (at least in the summer).
Hiking Mount Monadnock is a community event, even if you arrive at the trailhead solo — as I did in the early morning hours of the first day of autumn — reservation secured, lunch packed, and limbs stretched.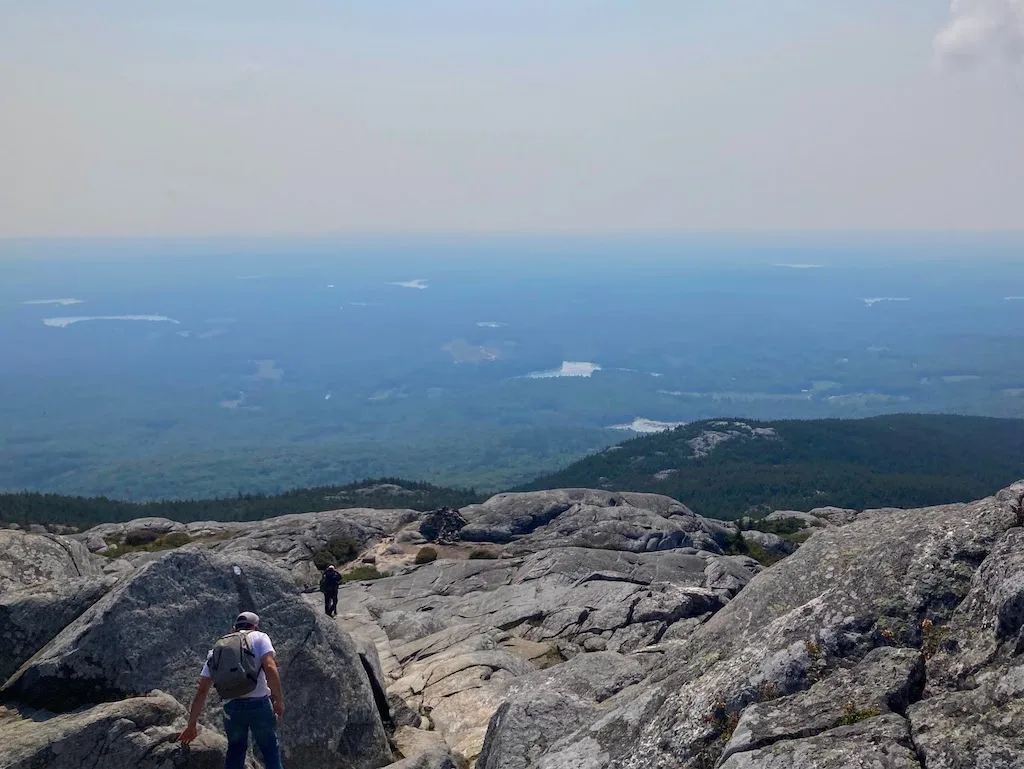 I ended up hiking Mount Monadnock with about 200 other hikers from all over the world, and I loved every minute of it.
This is an overview of the four-mile loop up White Dot Trail and down White Cross Trail (for a more manageable descent). No, it's not an easy trail, but it's still just putting one foot in front of the other, with lots of encouragement from strangers, who are actually new friends.
Novice hikers — just take it slow, and enjoy the sense of accomplishment you'll feel after summiting Mount Monadnock and taking in those breathtaking views.
Quick Facts: Hiking Mount Monadnock (White Dot and White Cross Trails)
Length: 4-mile loop
Difficulty: Strenuous
Elevation Range: 1,350 ft – 3,148 ft
Estimated time: 3-4 hours
Elevation Change: 1,798 ft
Dogs: No
Cost: $15 entrance fee. Reservations recommended
Official Park Website
Directions to Trailhead (Google Maps)
Before You Get to the Trailhead
Before you take a single step, be sure to sign up for an AllTrails account and download the app if you don't already have it. AllTrails will give you access to a trail map, directions to the trailhead, user reviews, and tons of photos from the trail, which can be really useful for planning purposes.
For access to offline maps for use on the trail, upgrade to AllTrails+, which is just $35.99 a year ($2.99 a month).
One more thing: Before heading to Mount Monadnock State Park to tackle this hike, I highly recommend heading over to Reserve America to make reservations.
Reservations help the park deal with overcrowding, both in the parking areas and on the trail. 225 reservations are accepted each day. If there are slots open after that, the park will accept people on a first-come, first-served basis.
Reserving your spot the night before should be fine unless you are hiking on a beautiful weekend during the fall-foliage season.
Hiking Mount Monadnock: Trail Overview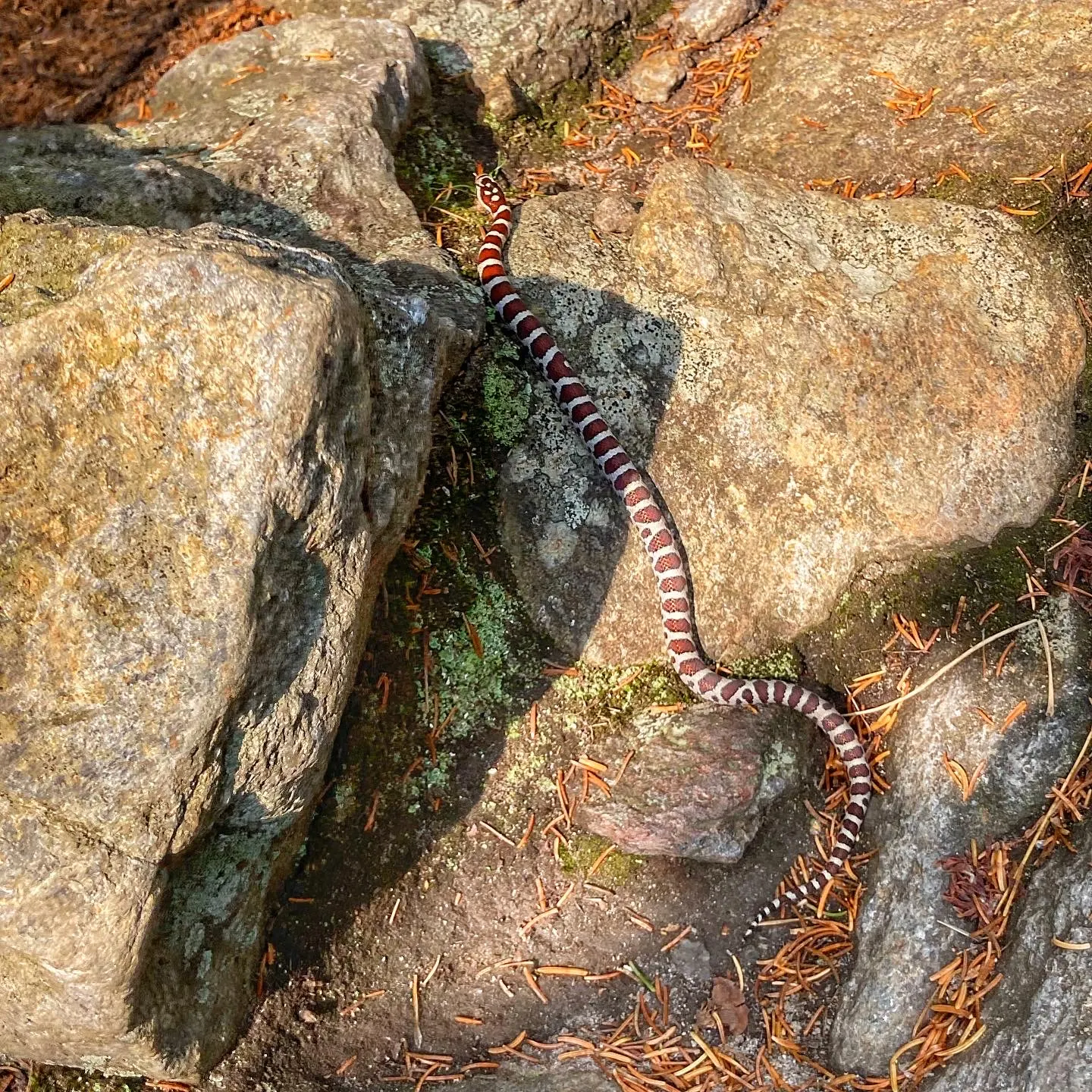 To avoid misconceptions and misunderstandings, here's a disclaimer: I am an avid, but out-of-shape, middle-aged hiker. I love being outside, exploring new trails, and occasionally challenging myself to tackle a strenuous hike. This trail overview is based on my personal experiences.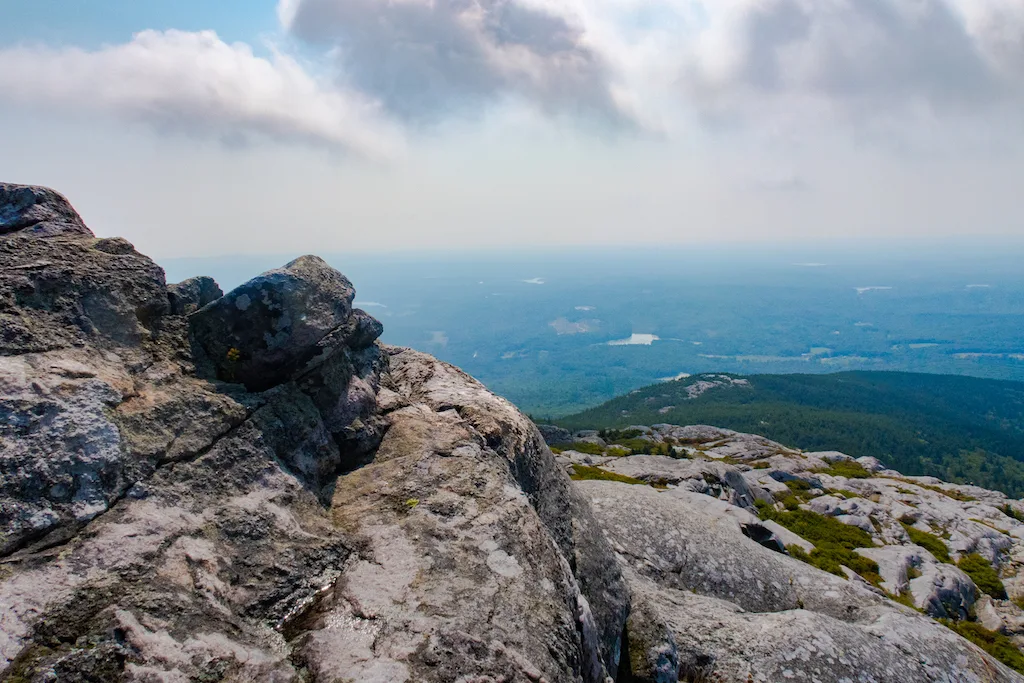 The rangers at Monadnock State Park recommended hiking up White Dot Trail to the summit and down White Cross Trail for an easier descent. This is a wise choice, but you can also hike up and down White Cross Trail to make the whole hike a bit easier.
Hit the restroom near the parking area before embarking, and then follow signs to White Dot/White Cross trails.
The trail begins as a wide path through a mixed hardwood forest. It is blazed with white dots, first on the trees, then on the granite rocks above the treeline.
The elevation gain is hardly noticeable at first, so it's your chance to stretch your legs and get in the groove before your climb. The trail becomes rockier and rootier, the higher you climb, and at 0.7 miles, White Cross Trail departs to the left.
Continue straight, appreciating the shade of the hardwoods as you begin to scramble over elephant-sized granite boulders, sometimes using your hands to pull yourself up (especially if you've got short legs as I do).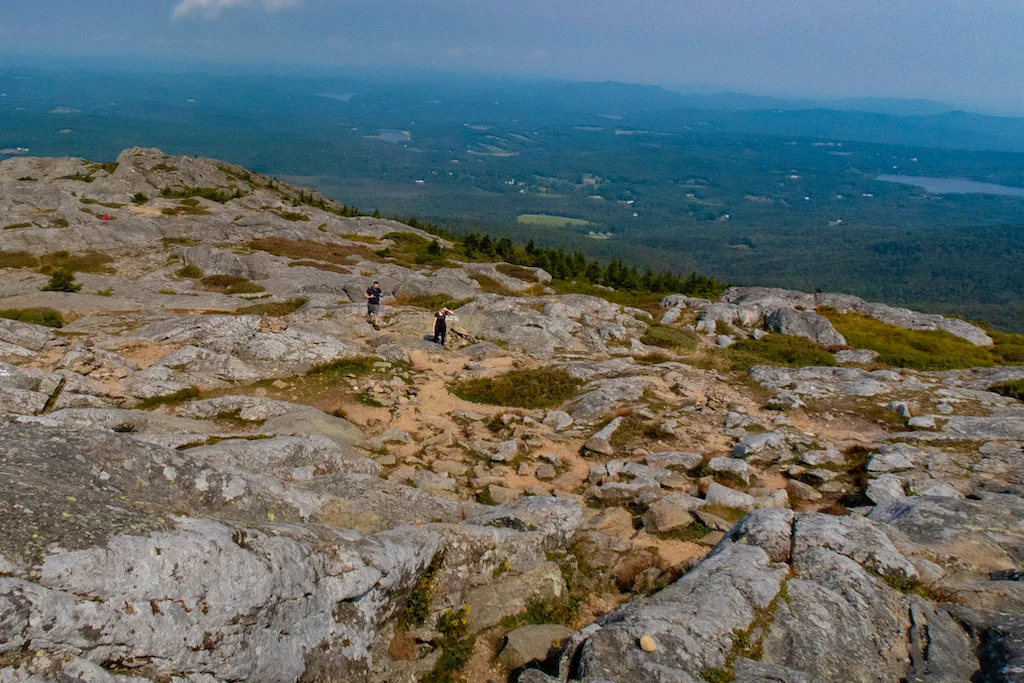 At 1.1 mile, you climb briefly out of the trees, and you can turn around and admire your first view of the climb. Lakes and ponds sparkle like jewels in the vast forested wilderness.
During my climb, I took this opportunity to sit down, rest my weary legs, and enjoy a water break. A kind older gentleman stood beside me and sighed, saying, "You know, sitting will make it much harder to keep going."
I don't know if there's any truth to what he said, but I will agree that after sitting, my body was less inclined to be upwardly mobile!
Before you know it, you'll be above the tree line, and along with the white dots, the trail is marked by cairns (stacked rocks). As this is a navigational aid, it's important not to remove rocks or create new cairns.
At 1.7 miles, you will pass White Cross Trail on the left. This is your return route down the mountain.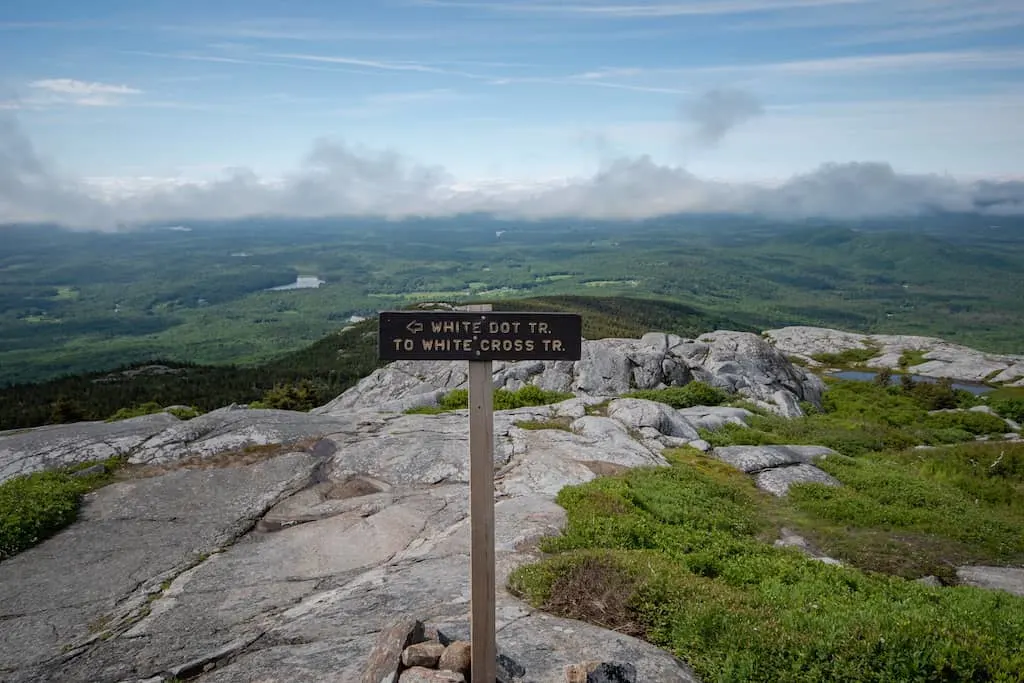 From this point, you're hiking along the ridge of Mount Monadnock with amazing views that won't quit. On a clear day, you can see into five states (about 100 miles).
While the views won't change much from this point, it would be a shame not to plant your boots on the tippy top of Mount Monadnock. Upward and onward!
When you get to the top, you'll likely realize how popular the trail is, but there's plenty fo room to spread out with your new hiking partners. Finally, you can sit down — spread your picnic lunch on the rocks, take some well-deserved selfies, and enjoy the views.
Your Descent on White Cross Trail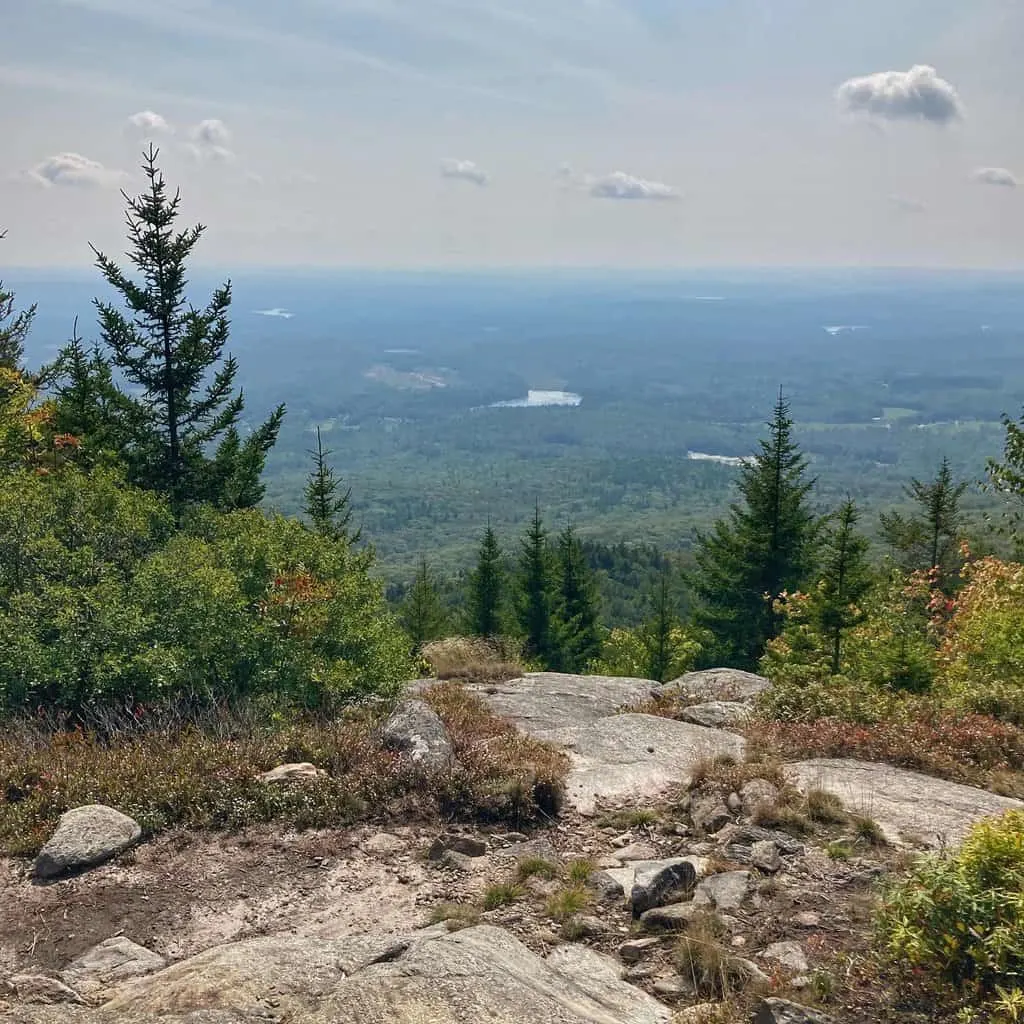 As tempting as it may be, you can't spend all night on the mountain. You'll be pleased to know that the descent on White Cross Trail isn't as tricky as your ascent, but it is a bit longer.
White Cross Trail meanders through rocky alpine meadows. Puddles are home to frogs and the occasional snake, and grasses, sedges, and wildflowers manage to survive.
As my legs were already tired from the ascent, I found the descent pretty difficult. My advice is to take it very slowly and consider every step to avoid rolling an ankle. Trekking poles will be your very best friend while descending White Cross. I was so happy that I brought mine!
Before you know it, you'll be connecting back with White Dot Trail. Hang a right and the trail becomes a walk in the park.
Pat yourself on the back — you've done it!
Final Thoughts on Hiking Mount Monadnock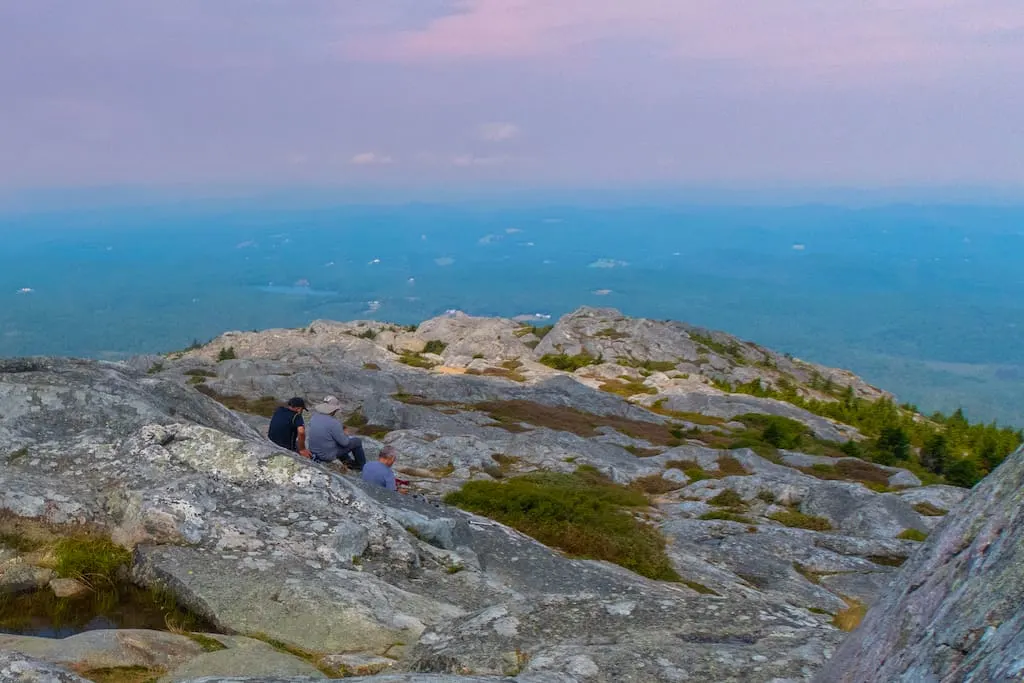 My recent trip was not my first time hiking Mount Monadnock, so at least I knew what to expect. I also knew that I could do it if I took it slow, focused on my breathing, and didn't try to impress anyone with my stamina or speed.
While the rock scrambles on Mount Monadnock are difficult, they also make the trail interesting, challenging, and fun. You spend almost a mile above the treeline, and there's a sense of camaraderie with your fellow hikers.
All-in-all, I do believe this is one of my favorite mountain hikes ever. The photos included in this post were taken on hazy hiking days, and they just don't do the trail justice. You know what that means, don't you?
You're going to have to tackle this trail for yourself to get a better sense of the breathtaking views.
---
Read Next: Six Enchanting Romantic Getaways in New Hampshire
---
FAQs for Hiking Mount Monadnock in New Hampshire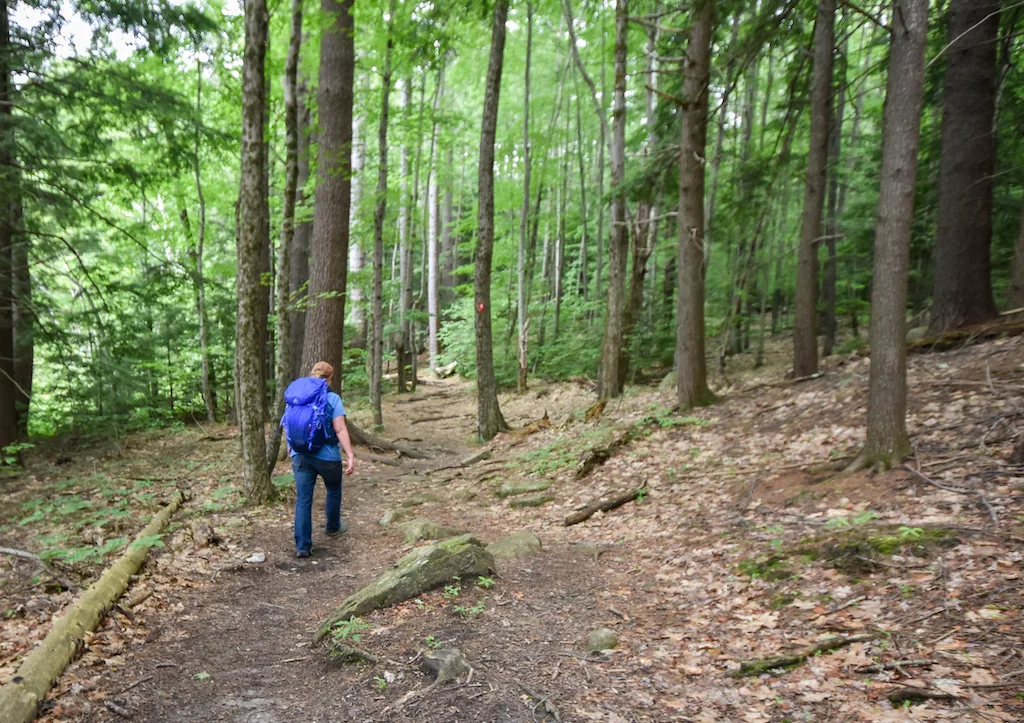 Got questions about hiking Mount Monadnock? We've got answers! Feel free to leave us a comment if your questions haven't been answered.
What is the Best Time of Year to Hike Mount Monadnock?
Monadnock State Park is open year-round for hiking. I have hiked it in both the summer and the fall. I prefer the cooler fall weather for hiking, and of course, the beautiful fall foliage is just an added bonus. Just a word of caution – once the leaves start to fall, the rocks become more slippery.
I have not hiked Mount Monadnock in the winter, but I've heard it's lovely. Invest in layers and a pair of Microspikes and enjoy a crowd-free hike with a gorgeous snow-covered landscape.
Is the White Dot/White Cross Loop Suitable for Children?
I do think this is a great trail for children who are used to hiking, and while every kid is different, I think ages eight and up could do it, and feel incredibly accomplished making it to the top.
Are Dogs Allowed on Mount Monadnock?
I bring my dogs just about everywhere, but they are not allowed on Mount Monadnock, and with the steep climb and many other hikers, I'm very glad that I don't have to deal with dogs on the trail – mine or anyone else's.
White Other Mount Monadnock Trails Do You Recommend?
Well, I've personally only done White Dot and White Cross, but I've heard that White Arrow is another fun one, and perhaps a bit less busy than White Dot/White Cross. To hike White Arrow Trail, you will need reservations and the parking is on Old Toll Road instead of at the main park entrance. Here's a link to the reservations page.
Is There Camping Near Mount Monadnock?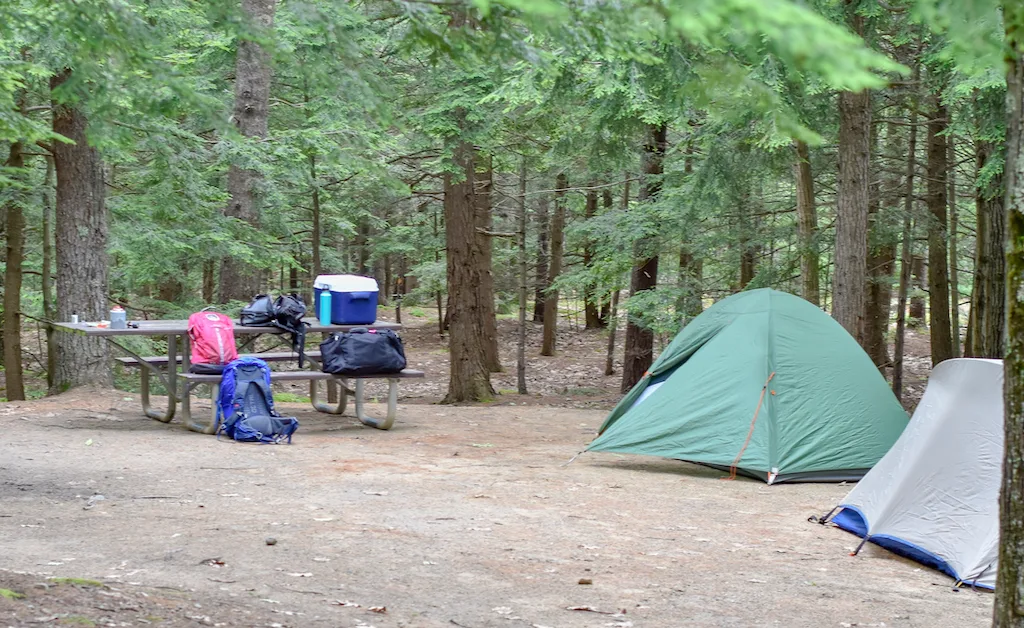 Yes! The first time I hiked Mount Monadnock, we were in town for college orientation and we camped at Gilson Pond, just down the road from the park headquarters. The sites are wooded and private, and there is a nice loop trail to Gilson Pond if you want to get even more steps in.
Campsites run between $23 and $35 per night. The campground is open between May and October. Book your campsite at Gilson Pond on Reserve America.
What about Lodging?
There are lots of cute inns and B&Bs in the area. An affordably rustic choice would be the Monadnock Inn, right in Jaffrey. Friends of ours just stayed at Jack Daniels Motor Inn in Peterborough and had so many great things to say about their trip.
What Gear Do I Need to Hike Mount Monadnock?
While the hike up Mount Monadnock isn't long, it's a tough hike and should be treated as such. Always pack the 10 essentials for hiking to ensure a comfortable and safe hike.
Especially important on this hike is sun protection – sunglasses, SPF lip balm, and a hat with a brim (although hang on to your hat at the top). You also want warm layers for the top, as it is often much colder and windy. During fall (and cool summer days), throw a wool beanie and gloves into your bag so you can comfortably enjoy the view without shivering.
How Much Food and Water Should I Bring?
The rangers at Monadnock State Park recommend two liters of water for hiking White Dot/White Cross. I did as suggested and drank most of what I had, plus I had a full liter in the car.
As for food, I recommend packing a protein-rich lunch and some snacks, plus a granola bar or two for emergency rations.
Mount Monadnock Trail Map and Elevation Profile
Below is the AllTrails map and elevation profile. As you can see there are numerous trails crisscrossing the 6,000 acres of protected land surrounding Mount Monadnock, but if it's your first time visiting, I recommend starting with this loop.
AllTrails+ allows you to download your map and GPS tracks so that you have access to it even without cell service.
Where to next?
New Hampshire is such a fantastic state for outdoor lovers. Here are a few more adventures that I can personally vouch for!
The Best Things to Do in Lincoln, New Hampshire (Fall and Summer Edition)
The Most Romantic Things to Do in Portsmouth, New Hampshire
A Gorgeous Glamping Road Trip Through Maine and New Hampshire
---
Follow us on social media for more outdoor inspiration!
Pin for Later?