Please check to make sure destinations are open to visitors before planning a trip and follow local guidelines. We earn a commission from affiliate links that may be included in this post.
Where can you find hard-core hiking opportunities, spectacular waterfalls and swimming holes, a world-famous scenic byway, and a relaxing resort that will turn your New Hampshire road trip into a true vacation? If you said Lincoln, NH, you're spot on!
This quaint resort town is nestled in the western White Mountains of New Hampshire, and it's a mecca for hikers, campers, roadtrippers, and family vacationers. We had the pleasure of visiting Lincoln, NH in August, and were thrilled to find out that the town is extremely dog-friendly as well. So whether you're embarking on a family road trip, a weekend getaway, or a serious outdoor adventure in New Hampshire's White Mountains, here are some Lincoln, NH attractions you won't want to miss.
Drive the Famous Kancamagus Highway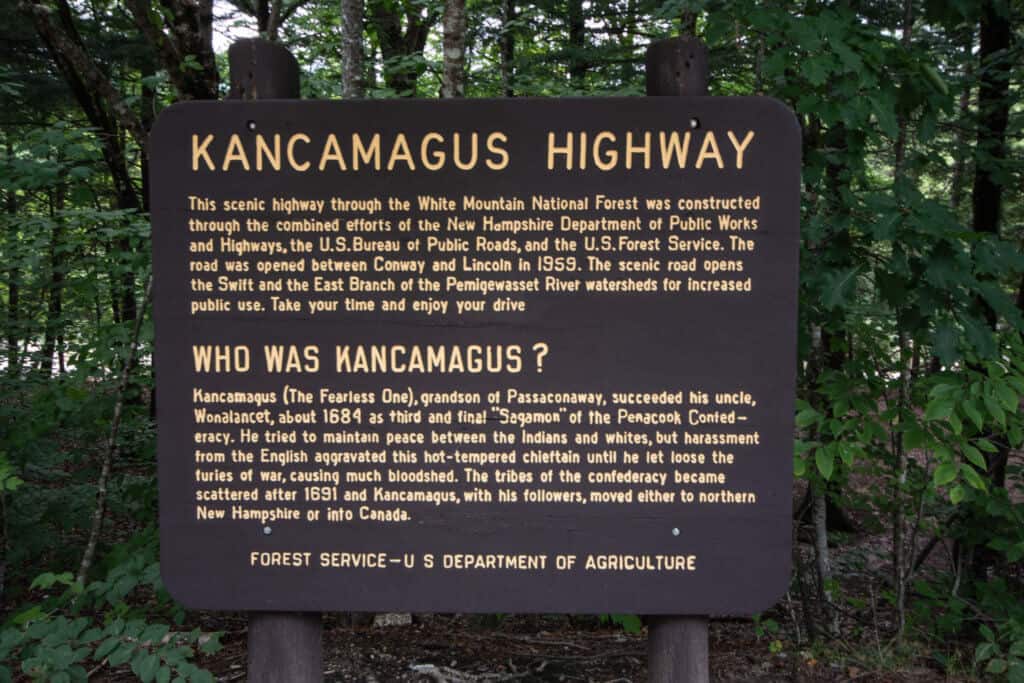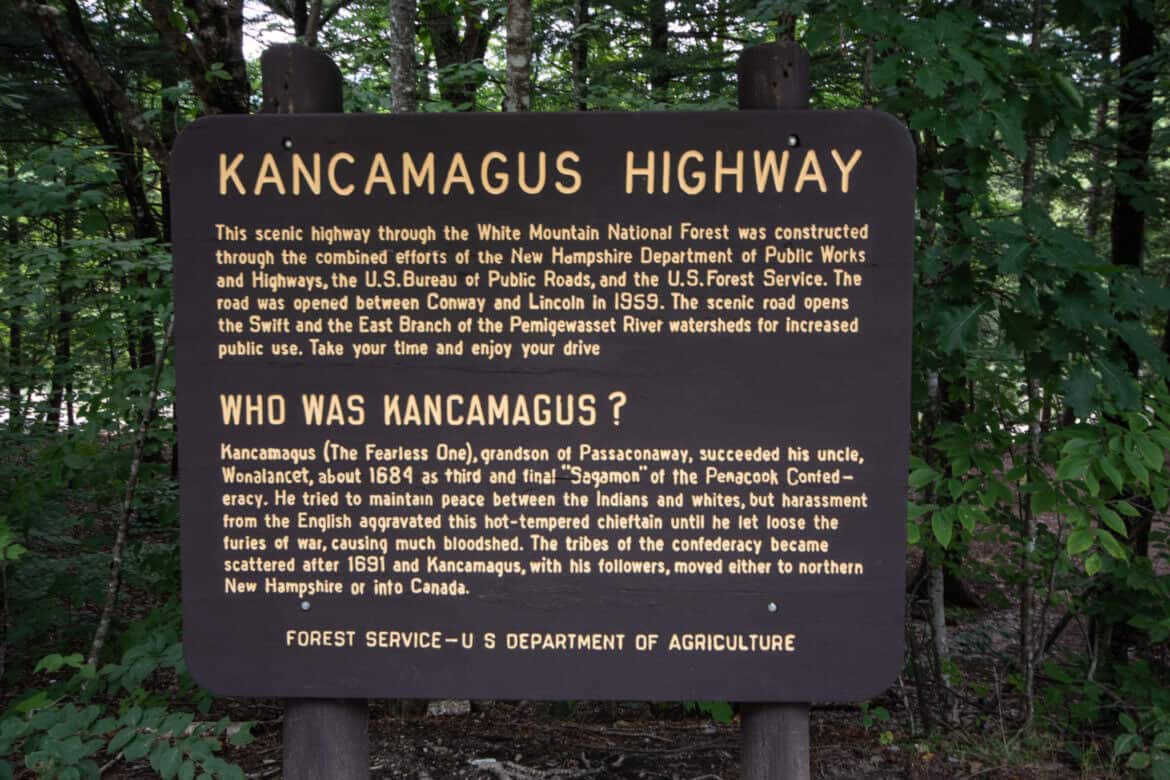 Locals love it when you can pronounce this famous scenic byway correctly, so the first thing you should know is that it's "Kank-ah-mah-gus". The Kancamagus Highway is a 34.5-mile stretch of pavement that winds from Lincoln, NH to Conway, NH. It cuts through the White Mountain National Forest, providing spectacular views of the surrounding mountains. It is particularly lovely in the fall, and has been named one of the most gorgeous fall-foliage drives many times over.
There are no stores, gas stations, or lodging on the Kancamagus Highway. It's a bit like stepping back in time, just you, your car, and the ancient forest. You will find 6 front-country campgrounds, running between $20 and $25 per night. All are first-come-first-serve, except Covered Bridge Campground, which can be reserved on Reservation.gov. The Kancamagus Highway is affectionately known as the Kanc to those who love it, and exploring this scenic byway was definitely one of the highlights of our New Hampshire getaway.
Kancamagus Highway Attractions
There are plenty of adventures to be had on the Kancamagus Highway, but unless you have days and days to spend hiking and camping, it can be hard to choose what to see and do. Here are some beautiful Kancamagus Highway attractions that don't require an all-day hike or an above-average fitness level. They are listed from east to west.
Lincoln Woods Trail
The Lincoln Woods Trail is an easy hike, and an even easier bike ride. It's one of the most popular hiking trails on the Kancamagus Highway, crossing the Pemigewasset River on a suspension footbridge, and traveling into one of the largest tracts of wilderness in the northeastern US. The most popular destination on the Lincoln Woods Trail is Franconia Falls, which is a series of waterfalls, natural rock slides, and swimming holes, perfect for exploring on a hot summer day. The Lincoln Woods Trail is an out-and-back trail that totals six miles. Leashed dogs are welcome.
Hancock Overlook
The Hancock Overlook provides one of the best views on the Kancamagus Highway. There's a little covered gazebo where you can take in the views and eat your lunch, and we were smitten by the tall, lonely "heart tree" near the parking lot. You may not spend more than 15 minutes here, but it's definitely worth the stop, especially if you have a camera.
Sabbaday Falls
Sabbaday Falls is one of the most popular Kancamagus Highway attractions. Normally, we try and stay away from huge crowds at natural attractions, but this one is worth visiting if the parking lot isn't too full. The short path to Sabbaday Falls is handicapped accessible, and after a five-minute walk, you will be greeted with two plunging waterfalls and a five-foot-high punchbowl.
There are boardwalks throughout, and visitors are able to view the falls from many different angles for good photo opps. The only downside to visiting this gorgeous waterfall? The incredibly clear waters are perfect for swimming, which unfortunately isn't allowed.
Sabbaday Falls, along with dozens of other waterfalls in the White Mountains, can be found in the fabulous book, New England Waterfalls by Greg Parsons and Kate B. Watson. This is one of the most dog-eared books I own. I promise you will find it useful if you live in New England or visit often!
Rocky Gorge Scenic Area
Not only is Rocky Gorge an awesome spot for a picnic, the area also provides access to trails for long and short jaunts into the White Mountain National Forest. There is a footbridge that crosses the Swift River as it narrows into Rocky Gorge. Visitors can cross the footbridge and hike the one-mile trail around Falls Pond, or they can head out onto the rocks to get a better view of the cascades. There is no swimming within 400 feet of the gorge, but we saw lots of people swimming upstream.
Albany Covered Bridge
The Albany Covered Bridge crosses the 120 feet over the Swift River, and was built in 1858. It's a beautiful bridge to photograph, especially during the fall foliage season. You can drive over the bridge in three seasons, and pedestrians are welcome year-round. Driving through the Albany Covered Bridge on Dugaway Road will take you to the Covered Bridge Campground. You can also access the Boulder Loop hiking trail from the parking area, which is a 2.8-mile loop with fabulous views of the surrounding mountains.
Explore Franconia Notch State Park
Located just north of Lincoln, NH, Franconia Notch State Park spans 6,693 acres in the White Mountains. The park is home to the Appalachian Trail, numerous lakes for swimming and paddling, world-famous waterfalls, an 8.7-mile bike path, and the Cannon Mountain Aerial Tramway, which was the first passenger aerial tramway in North America. Franconia Notch State Park is truly one of the most stunning state parks I've ever been too.
The highlight of our visit to Franconia Notch was exploring the waterfalls on the Basin Cascade Trail. There are several waterfalls along the trail, which is rated as easy to moderate, depending on how far you want to hike. It's about 1.1 miles to the last waterfall, Rocky Glen Falls. The farther along the trail you hike, the fewer people you'll see.
Another popular attraction is the Flume Gorge, which includes a two-mile, self-guided nature walk, complete with covered bridges, boardwalks, and narrow walkways. We did not visit Flume Gorge, as dogs aren't allowed. We may try and get there next time, especially after watching this video.
Discover Loon Mountain, NH
Loon Mountain is located right in Lincoln, NH, and is best known for Loon Mountain Ski Resort, which has become an all-season recreation area in the heart of the western White Mountains. Loon Mountain Resort maintains an aerial adventure park, a gondola ride to the summit, ziplines, disc golf, bike rentals, and a climbing wall.
I highly recommend taking the gondola ride to the top, as it offers up one of the best views in the Whites. From the summit, you will see the Kinsmans and the Cannonballs, Moosilauke, Liberty, Flume,Lincoln, Lafayette, Big Coolidge, Whaleback, Owls Head, Guyot, Jefferson, Adams,, and Tecumseh. If you want more of a workout, you can hike up the Lower and Upper Walking Boss Trails — it's about 2 miles to the top, and quite a climb!
Loon Mountain Lodging: RiverWalk Resort
RiverWalk Resort at Loon Mountain is located in the heart of Lincoln, NH. We always try and find lodging that allows us to explore local communities on foot, as it's one of our favorite things to do. The resort is set at the base of South Peak, and its dazzling presence makes quite a striking impression. It is affectionately known as the White Castle, with its massive, snow-white exterior and bright-red roof.
All of the rooms at RiverWalk Resort are spacious suites, with fully-stocked kitchens, modern bathrooms, balconies, and electric fireplaces. Whether you need a small studio for one, or a spacious penthouse suite, there's a room at the RiverWalk for you and your family. The furnishings are modern and bright, and the views are spectacular. Dogs are even welcome in many of the rooms, and we were so happy that we got to bring Flynn along on our Lincoln, NH getaway.
While you may never want to leave your suite at the RiverWalk Resort we urge you to do a little exploring. Feeling worn out after a long day of hiking? Book a treatment at the Solstice North Day Spa or unwind with a wine tasting at Seven Birches Winery. The Riverwalk maintains year-round heated pools and hot tubs, a full-service fitness room, an awesome game room (with a pool table and arcade games), and an ice-skating rink in the winter. Be sure to visit La Vista Italian Cuisine Restaurant for awesome wood-fired pizza.
Visit a Lincoln, NH Brewery
Another one of our favorite pastimes is exploring the craft-beer scene in the small towns we visit across the country. On this trip, we were lucky to find One Love Brewery, which was a five-minute walk from RiverWalk Resort and dog-friendly! It was a beautiful evening on the deck, and there were lots of other dogs hanging out with their families.
Eric and I ordered a flight, a selection of six One-Love beer samples for $11. This is our favorite way to try new beers. Our favorite was the Oktoberfest, but all of the beers were pretty tasty. The menu is pretty interesting, but we can only vouch for the burgers. One veggie, one regular. Very tasty, although the veggie burger was on the dry side.
Cool Off in a New Hampshire Swimming Hole
As long as you don't mind cold, clear, mountain water, you will find plenty of spots to cool off near Lincoln, NH. Our favorite swimming spot of the trip was in the Pemigewasset River at the Hancock Campground. There is a short trail leading from the campground to the river. The swimming area is large, deep, and cold, plus there are lots of spots to spread out on the shore for an all-day adventure.
If you happen to be staying at RiverWalk Resort and don't want to swim in the beautiful, heated pool (that's my husband), you can meander along the J.E. Henry Trail behind the resort until you come to a small, private swimming hole. This is on also the Pemigewasset River, and it's a great way to wake up on a summer morning.
Our last recommendation for awesome swimming is just off the Kancamagus Highway at the Lower Falls Scenic Area. It's closer to Conway than Lincoln, but it's a lovely place to picnic, swim, and take pictures. Truly a beautiful spot!
Resources for Visiting Lincoln, NH and the Western White Mountains
Books and Maps for Planning Your New Hampshire Vacation
Websites are awesome, but oh, how I love having a small bag of books and maps in the car for our road-trip adventures. For this particular journey, we used the following, and I can't recommend them enough! Click on the photo for more info:
Pin for Later?
Please note: While the post is not sponsored, we did receive a complimentary night's stay at the RiverWalk Resort so we could include it here. Our goal is to provide our readers with useful, honest information about the destinations we visit.