With more than 1300 lakes and ponds, vast tracts of forest, and 48 peaks over 4,000 feet, New Hampshire is the perfect outdoor playground for active adventurers.
For an immersive outdoor experience that doesn't involve sleeping on the ground, why not try glamping in New Hampshire?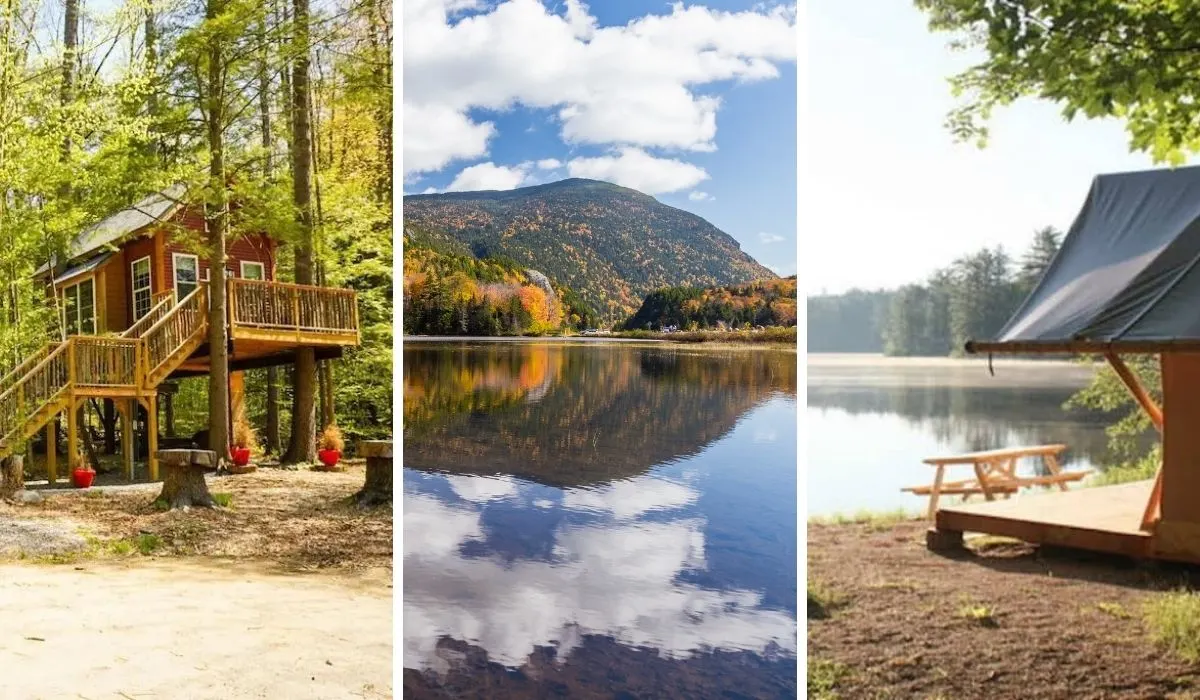 Glamping in New Hampshire is a unique way to spend more time outside without pitching a tent in a crowded campground, and there are plenty of cool glamping spots in New Hampshire to choose from.
Whether you're paddling in the Great North Woods, hiking in the White Mountains, or relaxing next to one of New Hampshire's many lakes, glamping will allow you to do it in comfort!
How to Find the Best Glamping in New Hampshire
When searching for unique glamping in New Hampshire, we discovered some incredibly private spots using VRBO, Tentrr, Hipcamp, and Airbnb. We have used these booking platforms numerous times for glamping vacations, but some have more options than others.
We talk in more detail about our favorite booking platforms on our Glamping Resource Page.
If total seclusion isn't on your list of priorities, we've also included New Hampshire State Park campgrounds that have glamping cabins and/or yurts, as well as one of our favorite private glamping destinations — Huttopia White Mountains.
Ready to discover the best glamping in New Hampshire? These spots are sure to inspire your next outdoor-based vacation in Granite State.
The Best Glamping in New Hampshire: White Mountains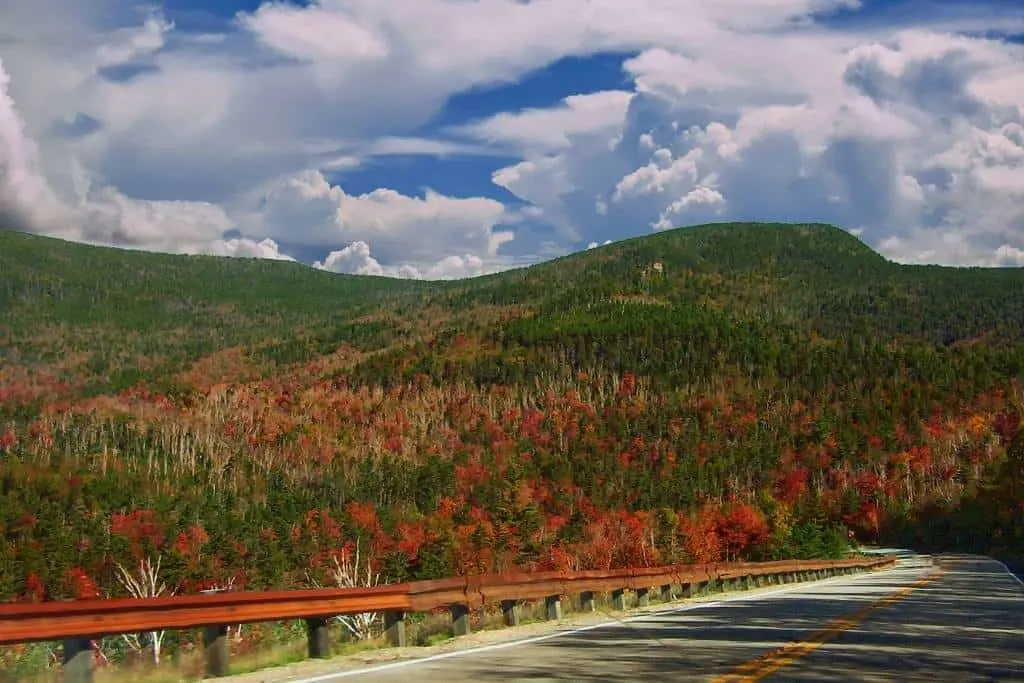 The most rugged mountains in New England are actually part of the northern Appalachians. The Whites can be further divided into the Presidential Range, Franconia Range, Sandwich Range, Carter-Moriah Range, and Kinsman Range, with hundreds of miles of trails for all abilities.
At 6,288 feet, Mt. Washington is the White's most well-known mountain. It's the tallest in New England and famous for its brutal weather patterns.
Hiking may be the most popular activity in the White Mountains, but there are also a number of scenic drives (check out the Kancamagus Highway), lots of gorgeous waterfalls, and lovely lakes and rivers for paddling. Here are some great spots for glamping in the White Mountains, as well as outdoor recreation opportunities nearby.
Huttopia White Mountains: Albany, New Hampshire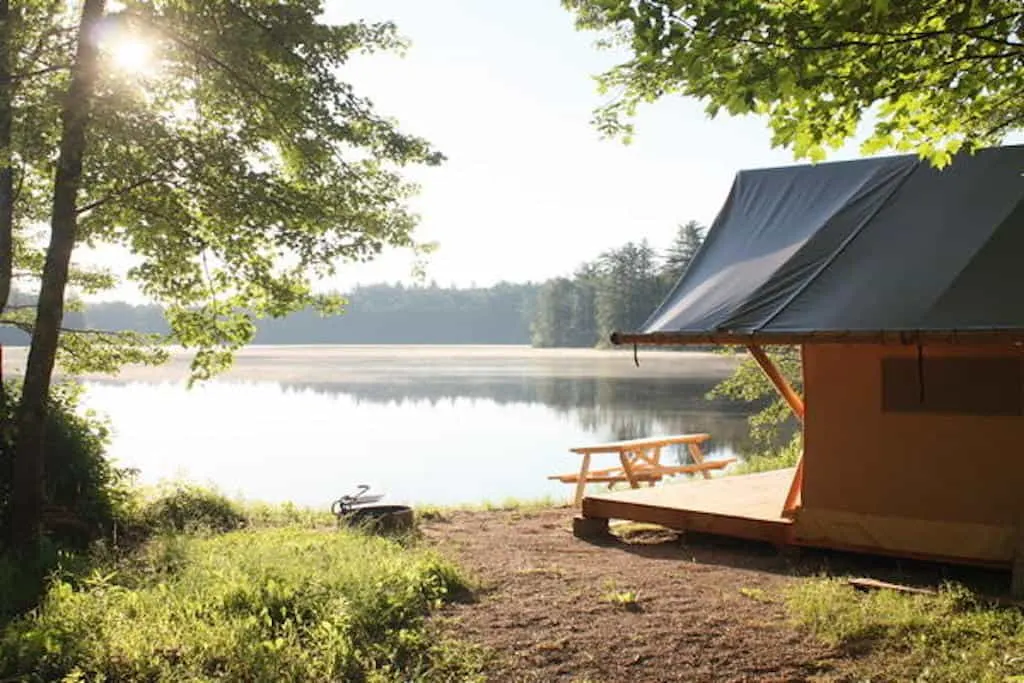 Huttopia runs a collection of five North American glamping resorts in California, New Hampshire, Maine, and the Adirondacks of New York. Huttopia glamping resorts are reminiscent of the summer camps we attended as kids, featuring activities like yoga and live music, along with a playground, cafe, and swimming pool, all nestled in the foothills of the White Mountains.
Huttopia White Mountains is a lakeside retreat in the very heart of the White Mountains, close to great hiking and the White Mountain National Forest. Visitors can choose from several glamping accommodations, including small glamping tents for two, expansive family tents with electricity, heat, and bathrooms, and wooden chalets with full kitchens and several bedrooms.
If you're hoping to relive that summer camp experience with your own family with an eventful New Hampshire glamping trip, Huttopia White Mountains is the place to do it.
Best time to visit Huttopia White Mountains: July and August are best for swimming in Iona Lake. Early October is great for leaf peeping.
Outdoor recreation near Albany: Just a few minutes from Huttopia on Route 16 is the trailhead to White Ledge. This 4.1-mile loop climbs just over 1,400 feet with incredible views of the surrounding White Mountains.
---
Glamp on a Winery in the White Mountains at Alpine Garden in Bartlett, New Hampshire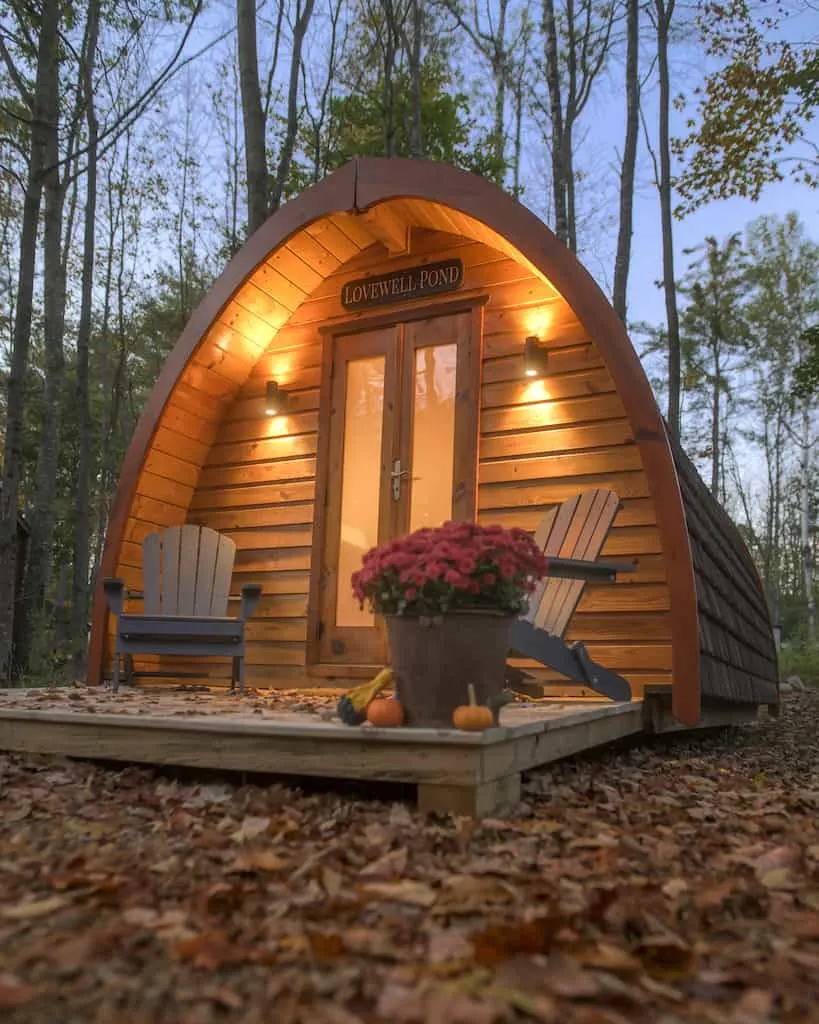 Tucked away in the beautiful White Mountains is a rustic camping village with all the comforts of a modern hotel — a place where you can sip seasonal varieties of wine and cideries, swim in the heated in-ground pool, and retreat to your own little slice of glamping paradise.
Alpine Garden in Bartlett, New Hampshire, offers a range of overnight lodging opportunities, including rustic cabins, tiny glamping pods, and treehouses.
This area makes a great home base for anyone who wants to explore more of the White Mountains.
Outdoor recreation near Bartlett: Alpine Garden glamping is open between May and November, so you can plan lots of mountain adventures to complement your stay. Drive the famous Kancamagus Highway, swim in Echo Lake, and take a ride on the historic Conway Scenic Railroad.
---
Pet-Friendly Treehouse: Conway, New Hampshire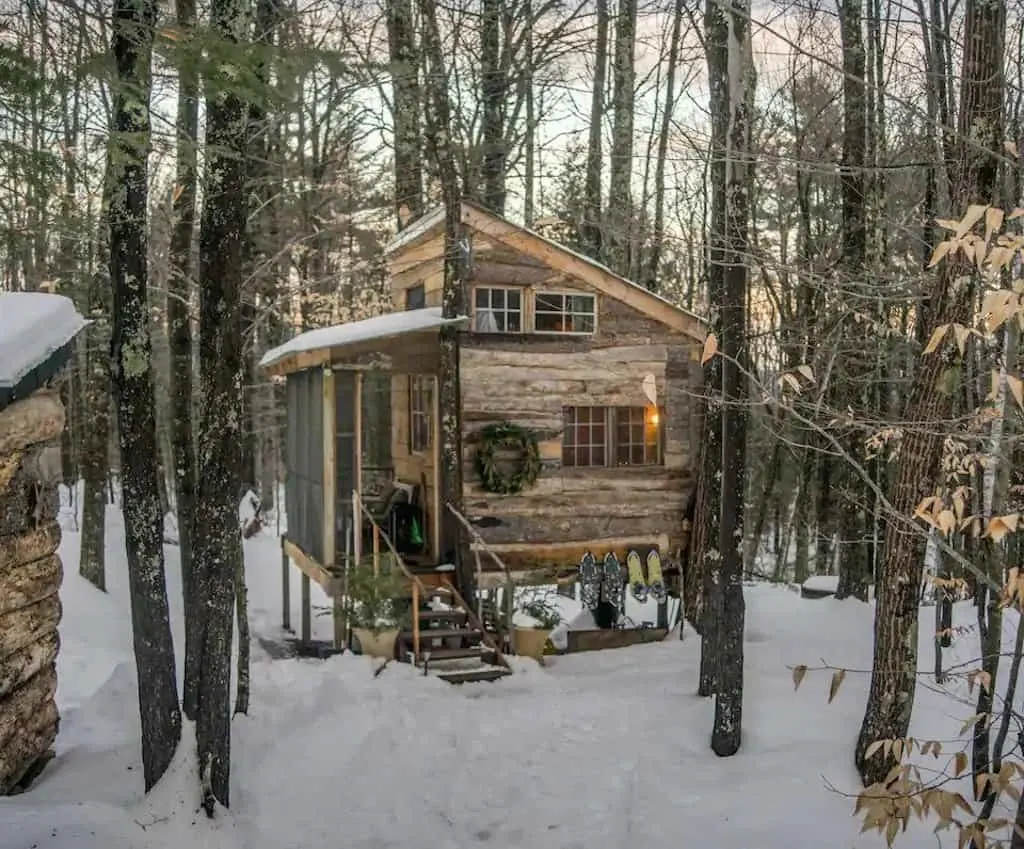 This charming, but rustic New Hampshire treehouse would make a perfect home base for all of your White Mountain adventures. It's a small space with a queen-size bed, a propane heater, and a small kitchenette with basic amenities. Visitors are provided with drinking water and a power strip for charging devices. A year-round outhouse is nearby for when nature calls.
Trails criss-cross the property for hiking and snowshoeing, and if you do visit in the winter, your hosts will provide extra snowshoes for adventuring. While this fun glamping destination in New Hampshire might not be luxurious enough for some, it's a fantastic rustic getaway for those who don't mind unplugging.
Best time to visit this New Hampshire glamping destination: Four seasons! Winter is particularly magical.
Outdoor recreation near Conway: Visiting in the winter? There are great skiing and tubing opportunities at Cranmore Mountain Resort in North Conway, just a few minutes from the treehouse. The Conway Scenic Railroad offers scenic train rides through the White Mountains in four seasons.
---
Magic Hermit Yurt: Warren, New Hampshire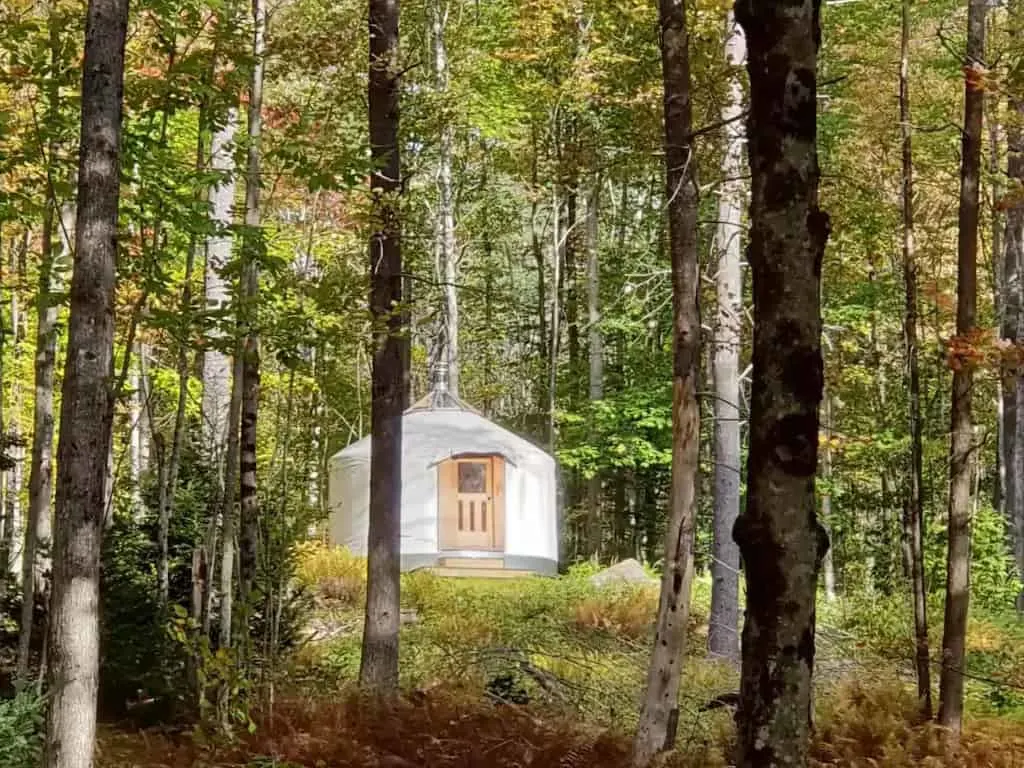 Located on 30 secluded acres, this off-grid yurt in Warren is quintessential glamping in New Hampshire, and perfect for anyway who wants to retreat to the woods for a while. The yurt is fully furnished with a double bed and heated for four-season use. There is no electricity, but you will have access to water for drinking and washing, a small deck, an outdoor fire pit, and a nearby outhouse. There is a small sitting area inside, but no kitchen. You can make use of the outdoor firepit or bring your own camping equipment for cooking.
The hike to the yurt is about a quarter-mile up a slight incline. Outdoors, you will find trails crisscrossing the property which includes a few more glamping rentals. This is a dog-friendly glamping retreat without access to Wi-Fi, cell service, or electricity. It's not for everyone, but it may just be for you!
Best time to visit this New Hampshire glamping spot: Summer is best so that you can take advantage of the outdoor fire pit.
Outdoor recreation near Warren: The White Mountain National Forest trails near Warren are awesome. The trail to the top of Carr Mountain is a steep climb, but the views make it worth the effort. The total mileage is 5.1 miles.
---
The Best Glamping in Sunapee and the Lakes Region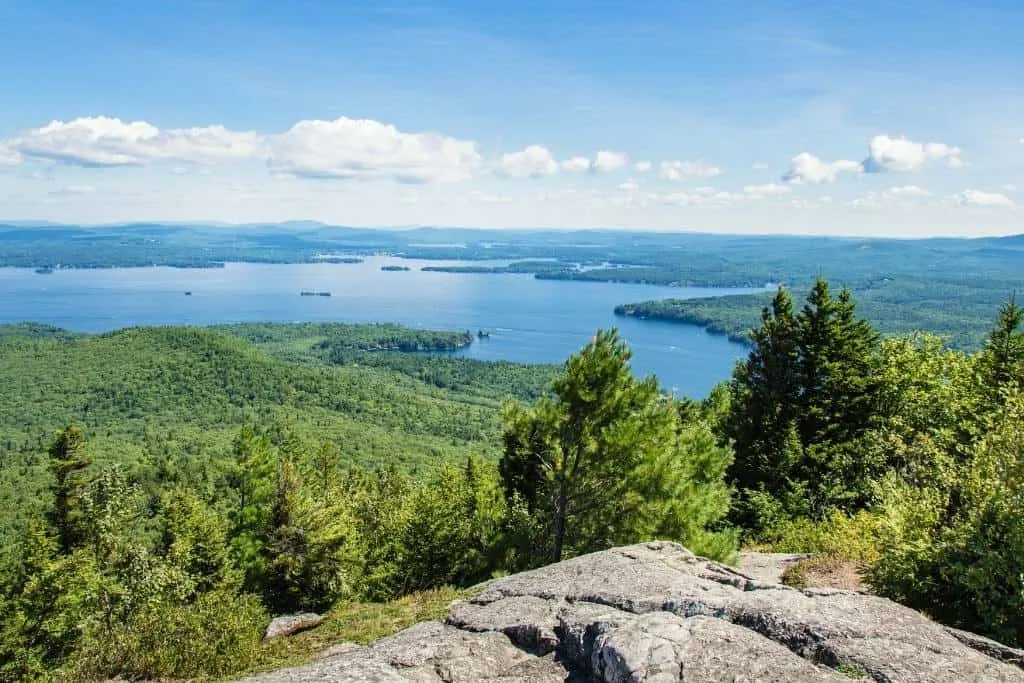 Located south of the White Mountains, the Lakes Region is named for the many pristine lakes that dot the landscape. The crown jewel is Lake Winnipesaukee, which covers 69 square miles and is home to more than 200 islands. There are dozens of smaller lakes to explore in the area, and it's impossible to choose a favorite.
On the western side of this area is the Dartmouth-Lake Sunapee region. Lake Sunapee is the fifth largest lake in New Hampshire with endless opportunities for exploring on and off the water.
Here are some of the best New Hampshire glamping destinations in this region.
---
Read Next: Six Enchanting Romantic Getaways in New Hampshire
---
The Soul Glade Glamping Tent: Unity, New Hampshire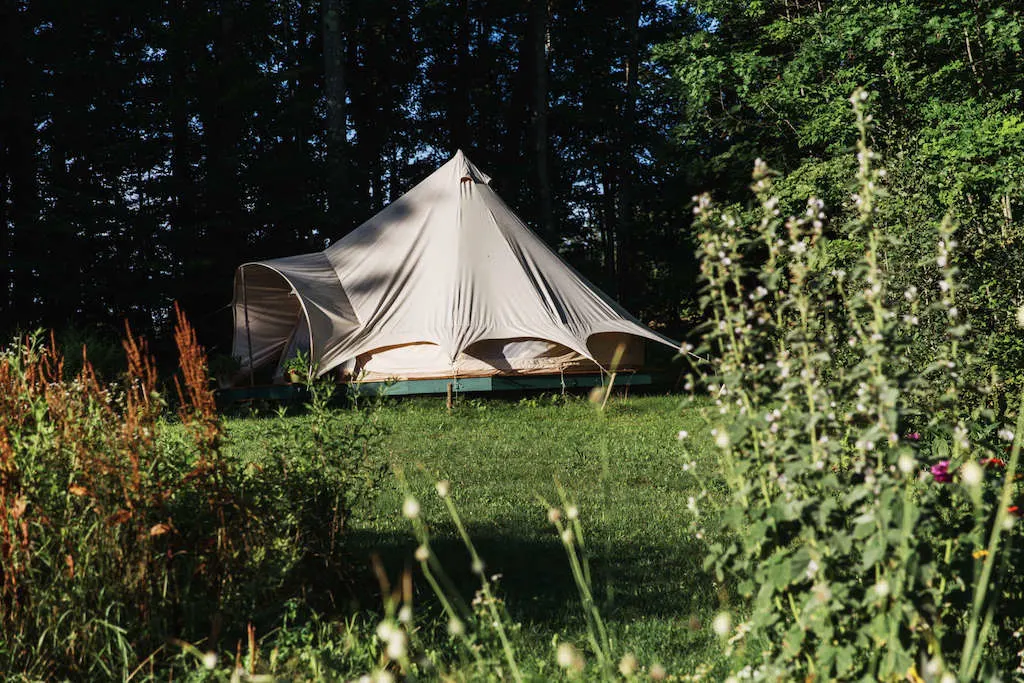 Enjoy beautiful New Hampshire glamping on a 10-acre herbal sanctuary in a well-appointed 19′ bell tent complete with Persian rugs and electricity.
The spacious outdoor kitchen and gardens are just steps away. Glampers have access to the bathroom and shower in the house, the gardens for roaming, the outdoor kitchen, and the fire circle. The outdoor kitchen has electricity, cafe lights, a hot pot, chairs, counter space, picnic tables, and a sink with running water.
There is a brook and seasonal waterfall through the woods at the far east of our property, and two miles of forest trails.
Best time to visit this glamping tent: Summer is ideal since you will be spending most of your time outdoors.
Outdoor recreation near Unity: Pollards Mills swimming hole is just 7 minutes away. Sugar River Rail Trail is a 10-mile section of great biking along the Sugar River.
---
Off-Grid Tiny Home: Gilmanton, New Hampshire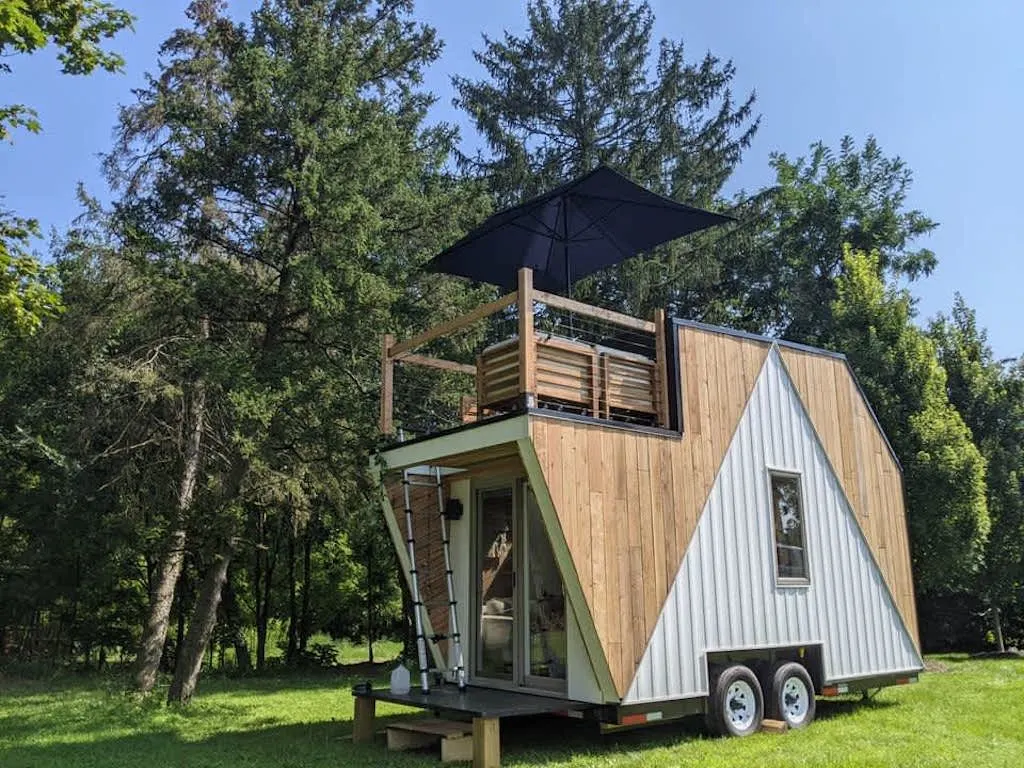 Enjoy incredible glamping in New Hampshire on a tiny farm in Gilmanton. This off-grid tiny home includes a fun roof-top deck, skylight, and outdoor fire pit. The home is in the middle of a field where you can find peace among the horses, wake to the call of roosters, and simply enjoy the beauty of the natural world.
The tiny home features a full kitchen, a bathroom with a shower, a sleeping loft for two, and a cozy sitting area.
Best time to visit this tiny home: This is a year-round destination.
Outdoor recreation near Gilmanton: In winter, you'll find great skiing and snowboarding at Gunstock Mountain Resort.
---
Four-Season Treehouse in Sanborten, New Hampshire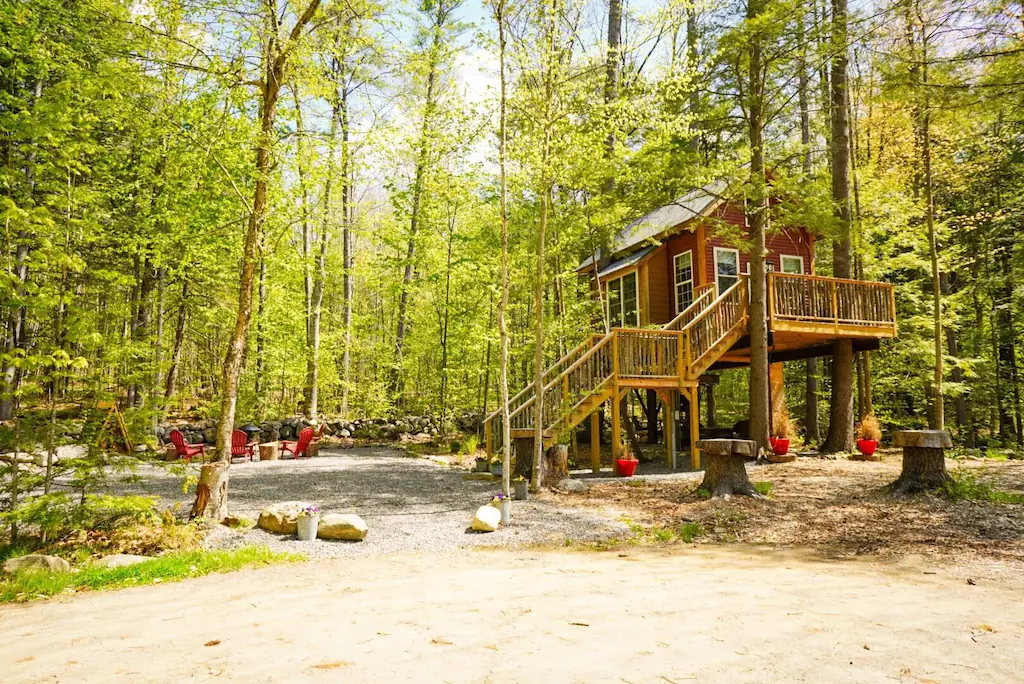 You can walk to the beach from this rustic-chic treehouse in New Hampshire, and it makes for a luxurious and unique vacation in the trees. Inside you'll find plumbing, heating, a kitchenette, and a full bathroom with a shower.
There is a loft with two twins or a king-size bed, a cozy sofa, wi-fi, and a TV with streaming capabilities. Air conditioning will keep you cool in the summer, and there is heat in the winter.
Outside spaces include a covered seating area, a beautiful fire pit, and a grill for cooking. The treehouse is a two-minute walk from a private, community beach. Bring your own paddleboard, canoe, or kayak in the warmer months (or rent them nearby). Pets are not permitted.
Best time to visit this New Hampshire glamping spot: This spot is perfect for year-round getaways.
Outdoor recreation near Sanborten: There are numerous lakes in the area for water-based recreation. Ahern State Park, with a sandy beach and numerous trails, is about six miles from the treehouse.
---
biking, and cross-country skiing. The Connecticut River and the Sugar River are both suitable for paddling in three seasons.
---
Glamping in the Great North Woods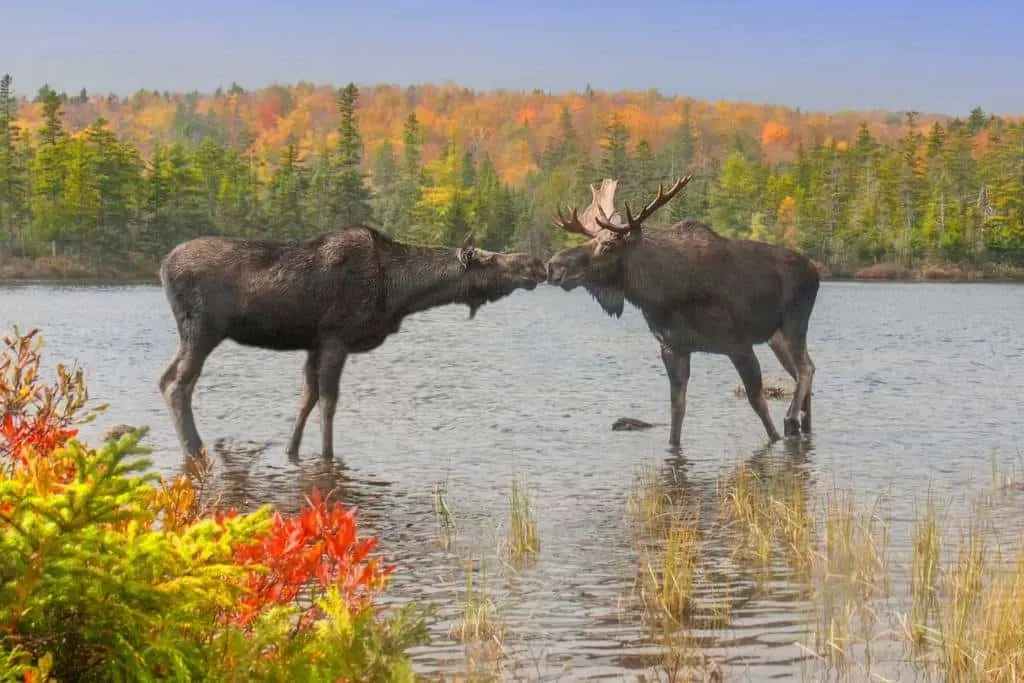 This remote region of New Hampshire is home to vast tracts of forest, along with numerous rivers and lakes. There are fewer people up here, and it's easy to get lost and find solitude. It's also a great spot for seeing moose and other wildlife, as well as fishing, paddling, and ATV riding.
If you really want to get away from it all, then glamping in the Great North Woods may be exactly what you need!
In addition to the private glamping spots mentioned below, New Hampshire State Parks has some cabins and yurts available for rent in the Great North Woods. I've detailed them in the New Hampshire State Parks section further down.
New Hampshire Glamping Tents: Stratford, NH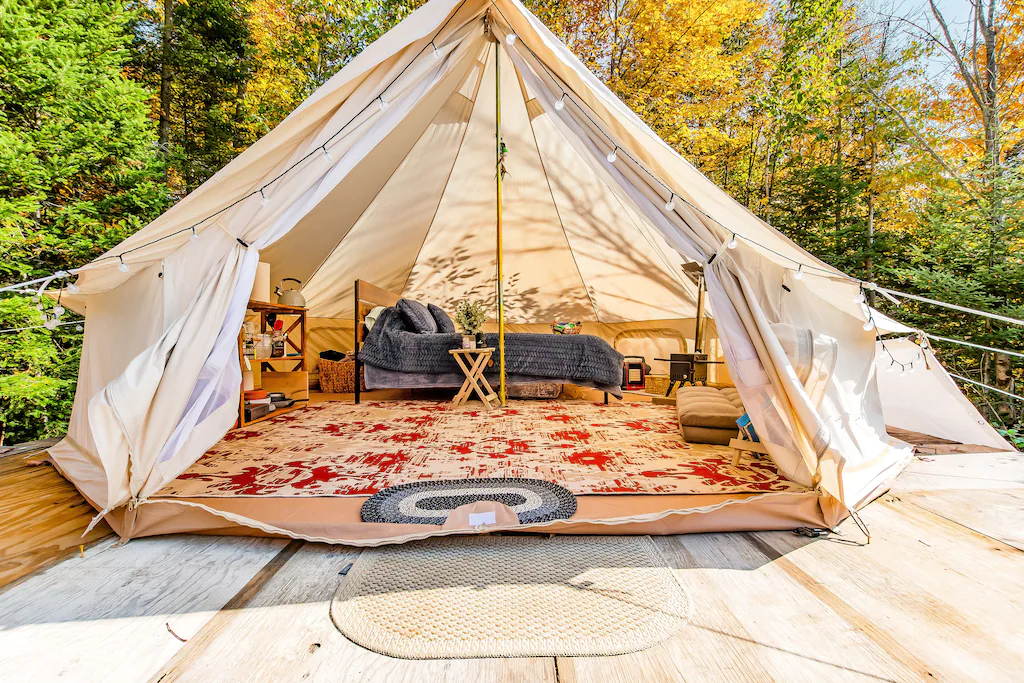 Ready to unplug with a rustic, off-grid glamping experience in a remote part of New Hampshire? This pondside glamping destination in Stratford is located right near local ATV trails (and ATVs are available to rent). While having no electricity may deter some, think of all the stars in the sky that you'll enjoy from your private glamping tent.
There are three tents on the property, each with a queen-size bed, a sleeping couch, and basic kitchen amenities. There is no electricity or running water, but there is an outhouse and a shower house near the tents. Two propane heaters are provided for each tent so you can stay warm at night.
Best time to visit these New Hampshire glamping tents: Summer and fall are ideal.
Outdoor activities near Stratford: Hike to the top of Sugarloaf Mountain or ride endless miles of ATV trails from your glamping site.
---
Glamping at Bear Rock Adventures: Colebrook, NH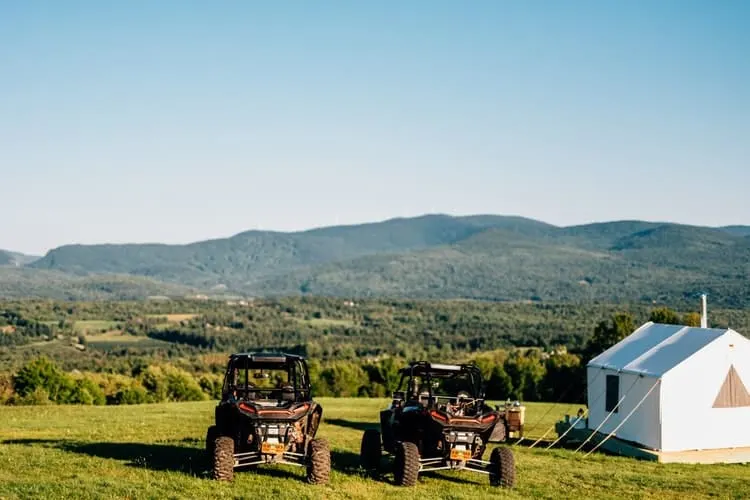 Bear Rock Adventures is a year-round Polaris adventures outfitter providing side-by-sides and snowmobiles for exploring the Great North Woods. With Bear Rock Adventures, you can explore 1,000 miles of trails on guided and unguided tours. More recently, Bear Rock has set up beautifully rustic tents to offer premium New Hampshire glamping adventures to go along with your ATV experience.
Each site includes a canvas glamping tent with a personal wood stove for cold nights, a queen-size bed for maximum comfort, a picnic table, Adirondack chairs, a camp toilet, and a fire pit with a grill. Choose from four different sites, each perched atop a small mountain that shows the vast landscape of the Great North Woods and Canada during the day, and a breathtaking amount of stars and the Milky Way at night.
Best time to visit this New Hampshire glamping spot: Summer and fall are best.
Outdoor recreation near Colebrook: These glamping sites are just off the 'Ride The Wilds' ATV trail system. Dixville Notch & Connecticut have numerous hiking trails as well.
---
The Tea House: Errol, New Hampshire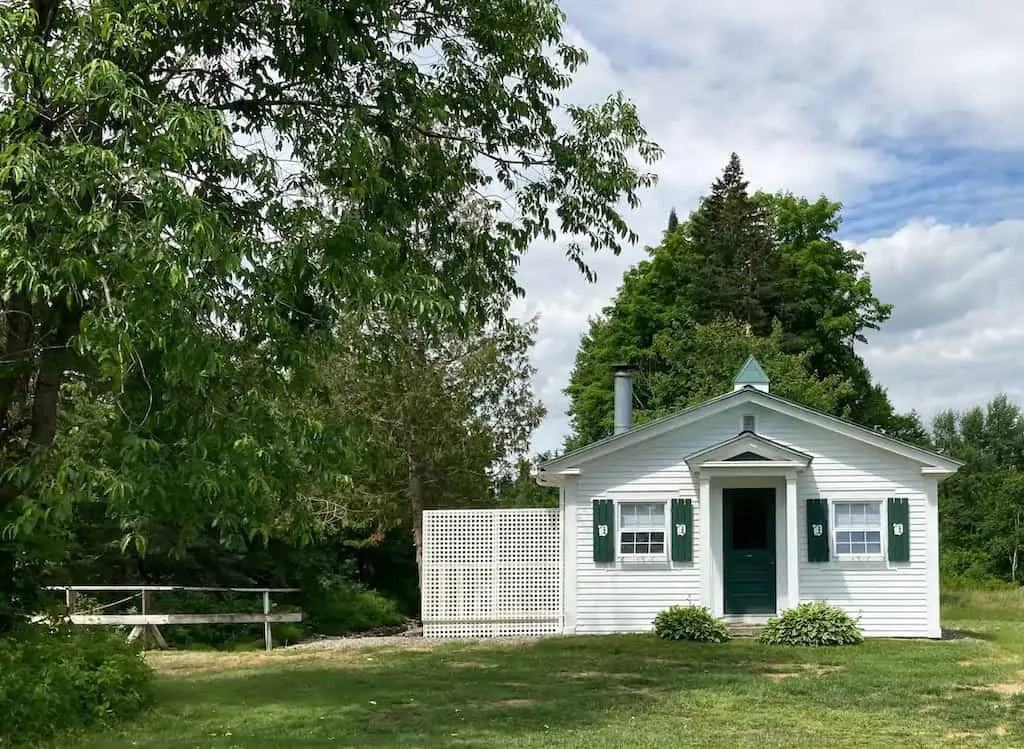 Nestled on the edge of a stream on a 1200-acre bison and elk farm, this tiny cottage in Errol, New Hampshire makes for a relaxing getaway for a single or couple. Swim in the stream, visit the farm animals, hike the trails, or simply relax with a book on the balcony. With a queen-size bed, claw foot tub, and mini kitchen you may never want to go back to reality. The Tea House includes Wi-Fi and is pet-friendly.
Best time to visit this tiny home: Summer and fall would be lovely!
Outdoor recreation near Errol: This is a wild place near the Maine border. Definitely check out Umbagog Lake State Park for hiking and paddling.
---
Glamping in Southern New Hampshire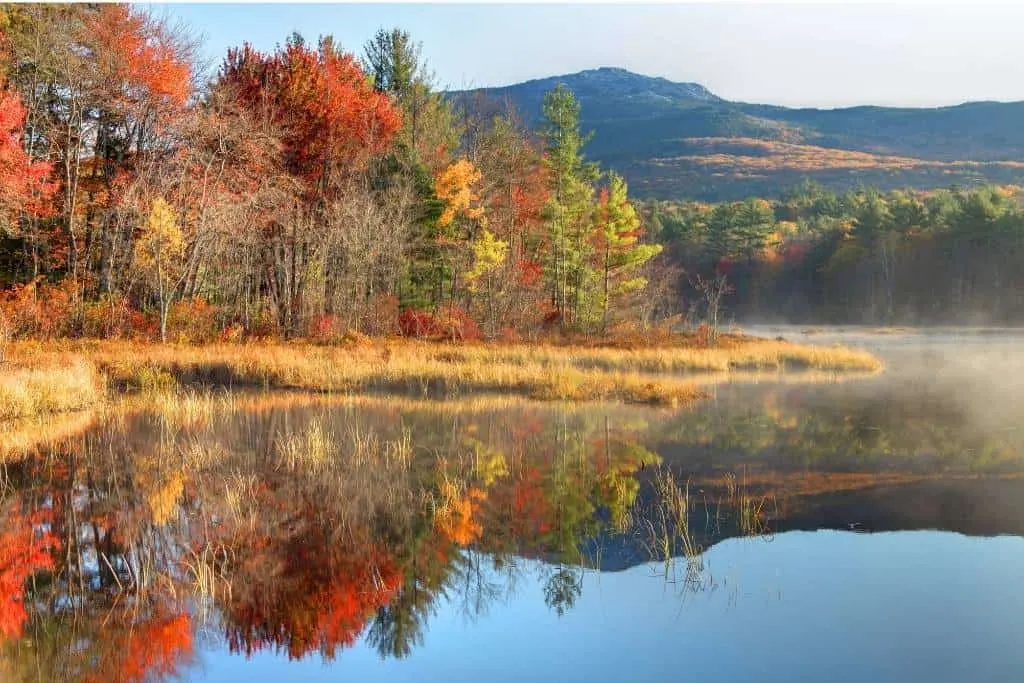 Southern New Hampshire is an enticing getaway because of its close proximity to Boston and other metropolitan areas, but it's also a lovely part of the state with small, picturesque villages, great hiking, and ponds and rivers for paddling. These southern New Hampshire glamping destinations are secluded and unique, perfect for your next vacation.
In addition to the glamping properties listed below, there are some cabin rentals in Southern New Hampshire in the New Hampshire State Park section further down.
Treehouse Glamping in Dunbarton, New Hampshire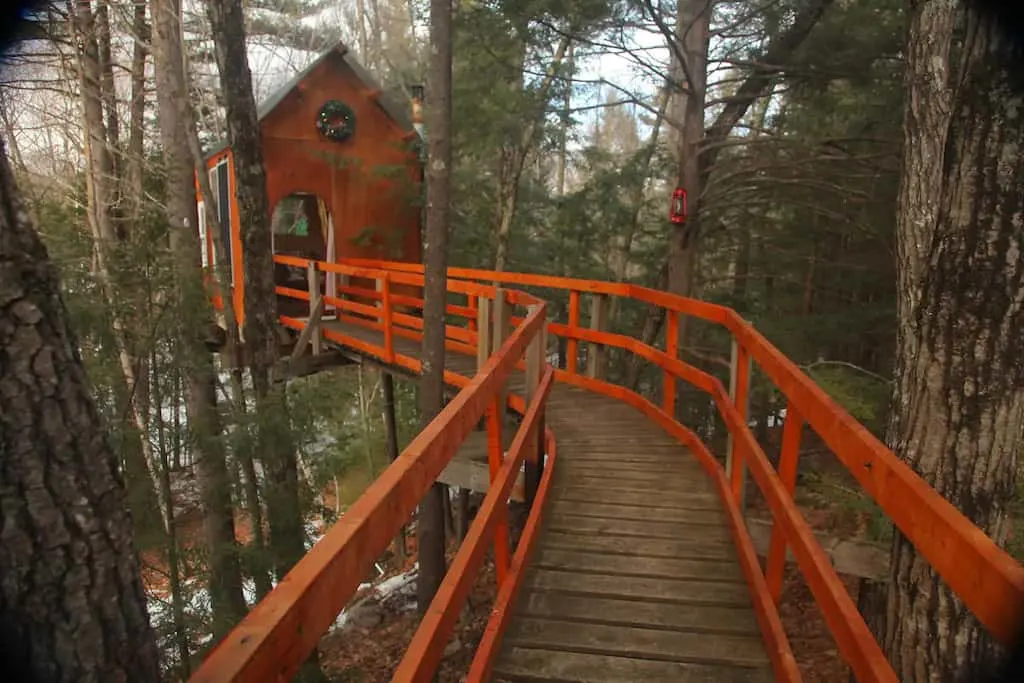 Yes, we've got another treehouse for you! Follow the suspended path through the trees to your own little treetop oasis. This unique treehouse rests 30 feet above the forest floor. Amenities include electricity, Wi-Fi, a composting toilet, a woodstove, a fridge, pots and pans, and flashlights. You do have to bring your own sleeping bags to use on the beds.
The treehouse is located on five wooded acres adjacent to 200 acres of conservation land. There is a large pond for fishing and well-marked hiking trails. Pets and children under 10 are not permitted for safety reasons.
Best time to visit this New Hampshire treehouse: This is a four-season getaway, but winter visitors will need to have a four-wheel drive in the winter months to navigate the road to the treehouse.
Outdoor adventures near Dunbarton: Clough State Park is located on Everett Lake with great paddling and trails for hiking.
---
Solar-Powered Yurt: Rindge, New Hampshire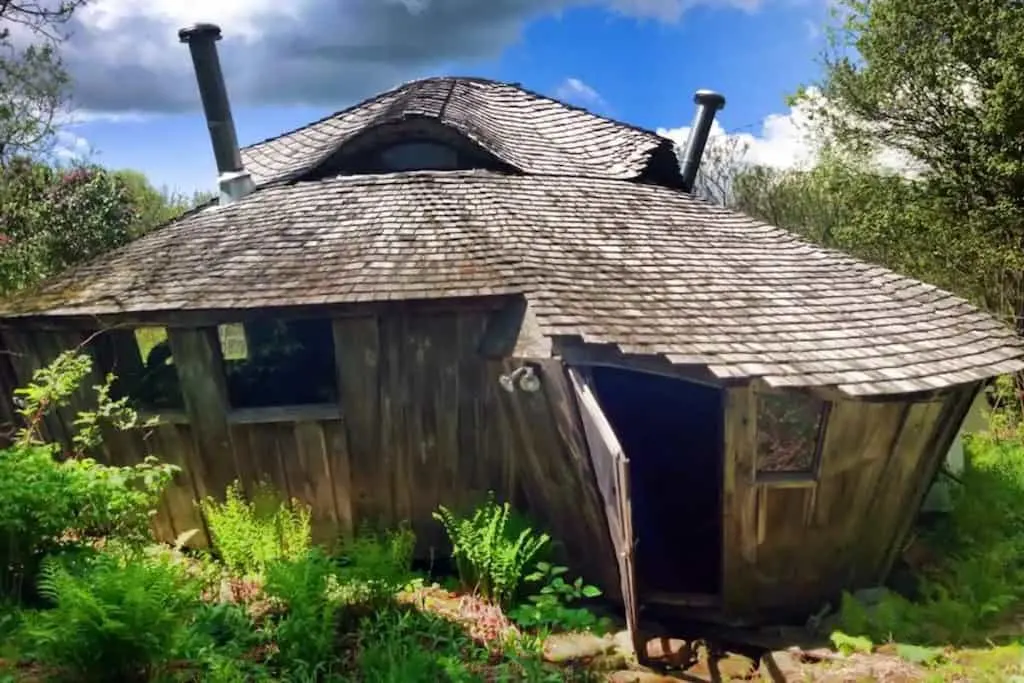 This incredibly unique yurt in Rindge is a Bill Copperthwaite design built in 1974 as housing for a local school. It is located on a beautiful piece of land that is maintained by a South of Monadnock Community. The yurt is 35′ in diameter and includes a small upstairs bedroom, additional sleeping space downstairs, a woodstove, a full kitchen, a bathroom with laundry, and solar electricity. Wi-Fi is available and the space is pet-friendly too!
Outdoor space includes woods for non-motorized recreation, farm animals, and a CSA vegetable farm.
Best time to visit this New Hampshire yurt: It is set up for year-round stays, but summer and fall would be best.
Outdoor recreation near Rindge: If you haven't hiked Mount Monadnock yet, definitely plan to do it. The hike is moderately difficult and the 360-degree views are just incredible! Nearby Contoocook Lake is great for paddling, fishing, and spotting wildlife.
---
Rustic Tiny House: Surry, New Hampshire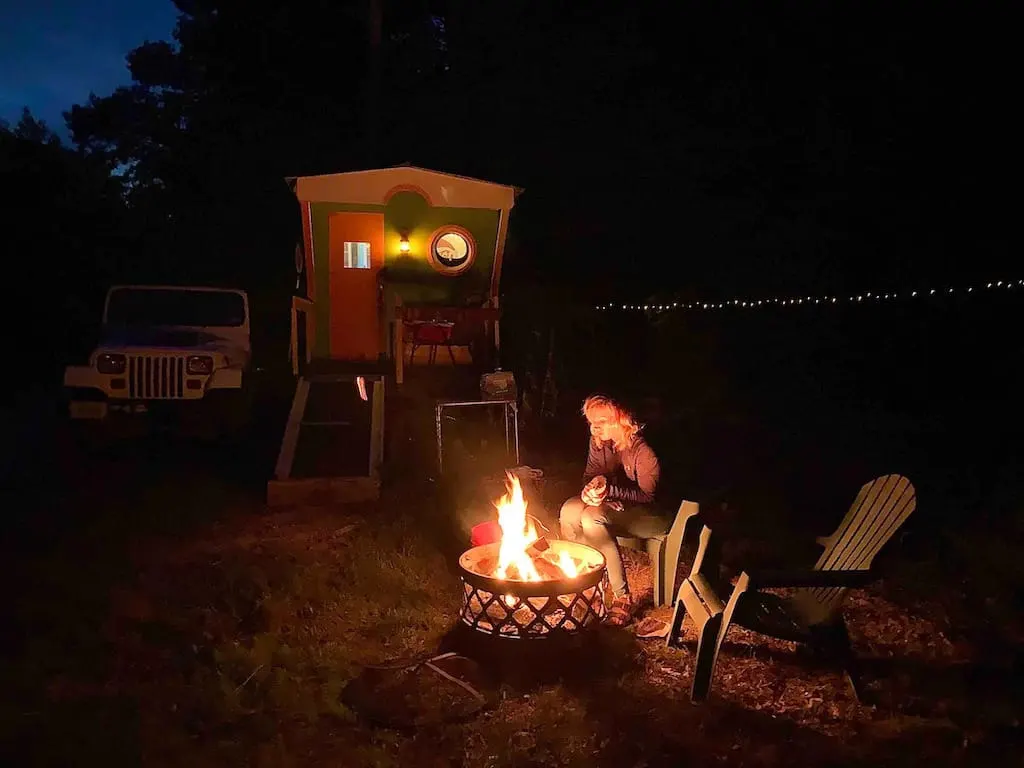 This adorable tiny house in Surry takes tiny to new levels. The footprint is just 8'x8′, so be prepared to spend lots of time outside! There is just enough room inside for a queen-size bed, and there is no electricity or plumbing. What you do get is 130 acres of solitude, a fire pit for cooking, a pond with kayaks, a hammock, and a little outhouse.
If you don't mind roughing it, you will find this cozy New Hampshire glamping destination a lovely step above camping, and the perfect spot to get away from everything but the woods! Dogs are not permitted, and firewood is provided.
Best time to visit this New Hampshire glamping spot: Summer would be best!
Outdoor recreation near Surry: Surry Mountain Lake is great for swimming and paddling, and the trails around Goose Pond are peaceful and beautiful.
---
Glamping in New Hampshire State Parks
Up until now, we've been focusing on privately run properties for glamping in New Hampshire, but New Hampshire State Parks also have some great cabin and yurt rentals.
Here's a brief overview of the New Hampshire State Parks that have lodging or glamping opportunities, as well as the region they are located.
Bear Brook State Park: Located in the Merrimack Valley of Southern New Hampshire, Bear Brook State Park has eight cabins available for rent. Sleeping either four or six people, the cabins do not have electricity, and dogs are not permitted. There is a drop-off area, but you have to walk to the cabins. With more than 10,000 acres, this is the largest developed state park in New Hampshire.
Coleman State Park: Book a private cabin or lodge house and head to the Great North Woods. Some of the cabins are only available in the winter, making them an excellent home base for snowmobiling adventures. Pets are not permitted in the cabins.
Jericho Mountain State Park: The cabins at Jericho Mountain State Park are located in Berlin in the Great North Woods Region. There are lots of ATV trails nearby, and you can ride the trails directly from the park for many miles. Dogs are permitted in the campground, but not in the cabins.
Milan Hill State Park: This hilltop campground is located in the Great North Woods, and features many miles of hiking trails, a fire tower, and incredible views. There are four primitive yurts available for rent. This is a pet-friendly campground.
Pawtuckaway State Parks: There are five cabins available to rent in Pawtuckaway State Park, which is located in Southern New Hampshire. The cabins are equipped with electricity, a picnic table, and an outdoor fire pit. Dogs are not allowed. The park has a lake with a beach, extensive trails, and a fire tower.
Umbagog Lake State Park: Located on the border with Maine in the Great North Woods region, the Ellis Camps at Umbagog Lake can only be reached by boat. These remote cabin rentals are primitive and located right on the water. They sleep between three and six people, depending on the cabin.
Are you ready to leave your tent behind and relax at the best glamping in New Hampshire? Which one of these destinations would you visit first? Drop us a comment below!
---
Looking for more awesome glamping in the northeast? Check out our glamping resource page, or read these posts next:
---
Follow us on social media for more glamping inspiration!
Pin for Later?