What's your favorite way to celebrate winter? If strapping on snowshoes and hitting the trails is near the top of your list, we could be very good friends.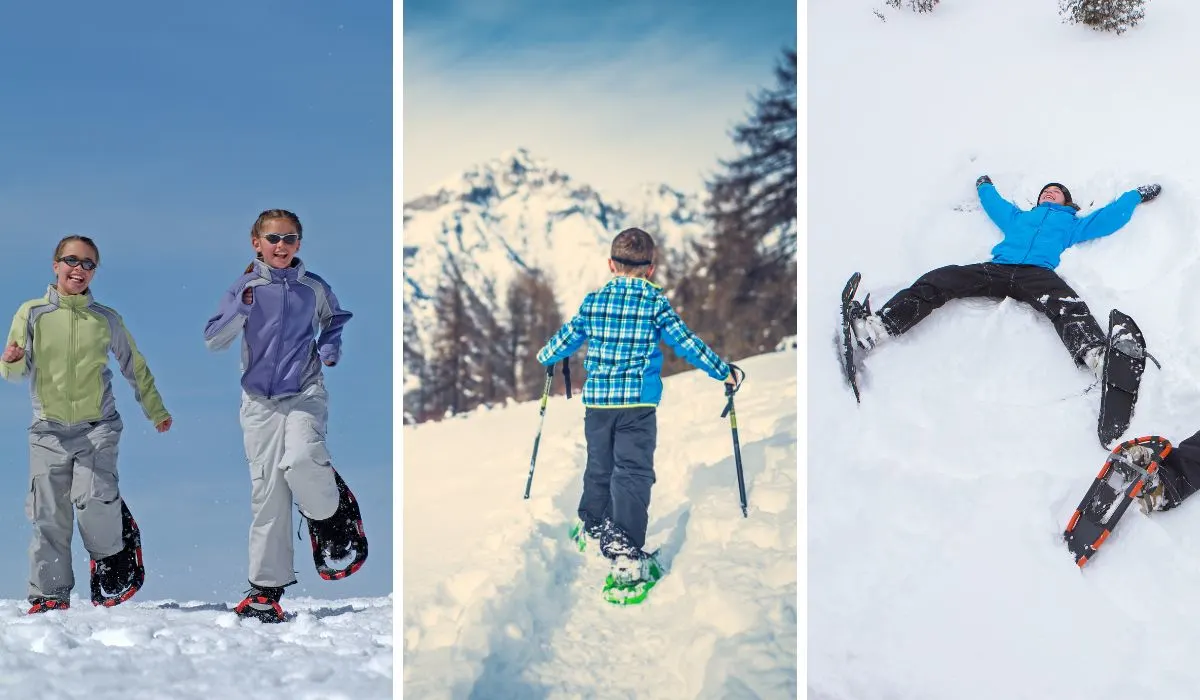 If sitting by a woodstove afterward with a steaming cup of cocoa is up there, then this relationship is going somewhere!
Snowshoeing with kids is a great winter activity for so many reasons. You don't need special skills, and there is very little risk.
Snowshoeing is like hiking in winter, and the best part? Snowshoers can go where skiers and walkers can't.
We've been snowshoeing with our kids for just about as long as they've been alive, and now, as young adults, our kiddos still head into the snowy woods whenever they get a chance!
Why Snowshoeing with Kids is an Awesome Winter Activity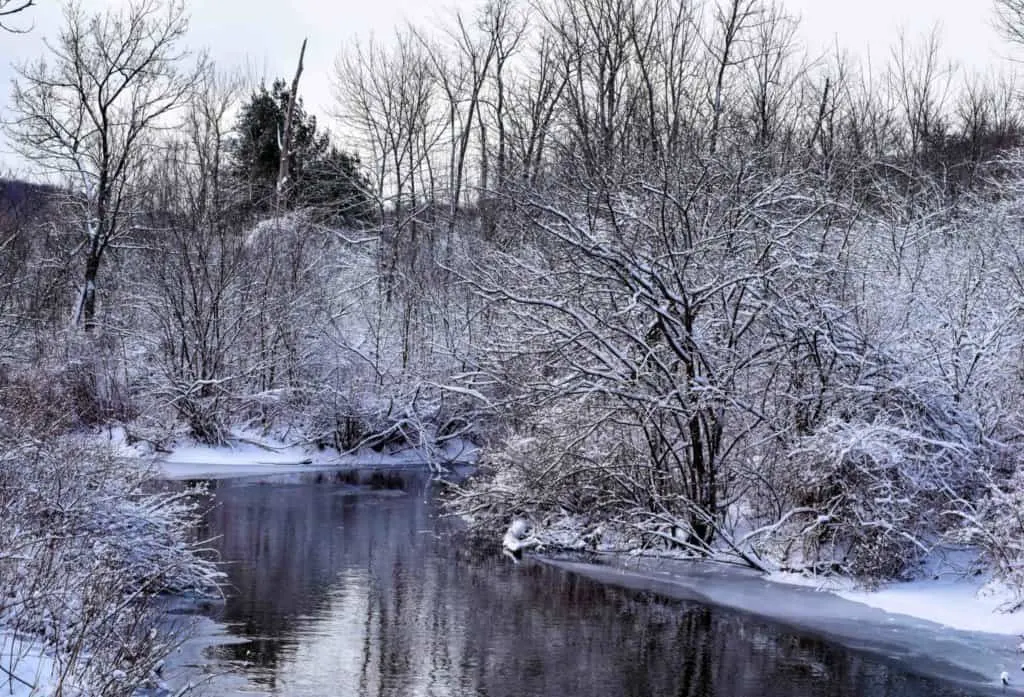 You need very little equipment to get started snowshoeing with kids. Warm clothes and snowshoes. That's it. Buying the actual snowshoes does require an initial investment, but they cost about the same as a decent pair of waterproof winter boots. Totally worth it!
Snowshoeing is a great workout. Walking in deep snow is a bit like jogging on the beach. It works muscles you may not have realized existed until you give it a shot.
Snowshoeing is a slow sport. Bring your camera, a picnic, or binoculars for watching the birds with your kids. Whatever it takes to embrace the frozen world.
Once you've bought your gear, snowshoeing with kids is totally free. You don't have to pay for lift tickets or groomed trails. All you need is snow.
How to Snowshoe with Kids
Yes, there is an art to snowshoeing with kids, and it may not come naturally, but the snow-covered world is an amazing and beautiful place, so it's worth every bit of frustration.
With a little nudge and some advanced planning, your kiddos will learn to love winter, snow, and the cold. Here are some tips for getting outside in the winter and snowshoeing with kids.
Tips for Encouraging Your Kids to Love Winter and the Outdoors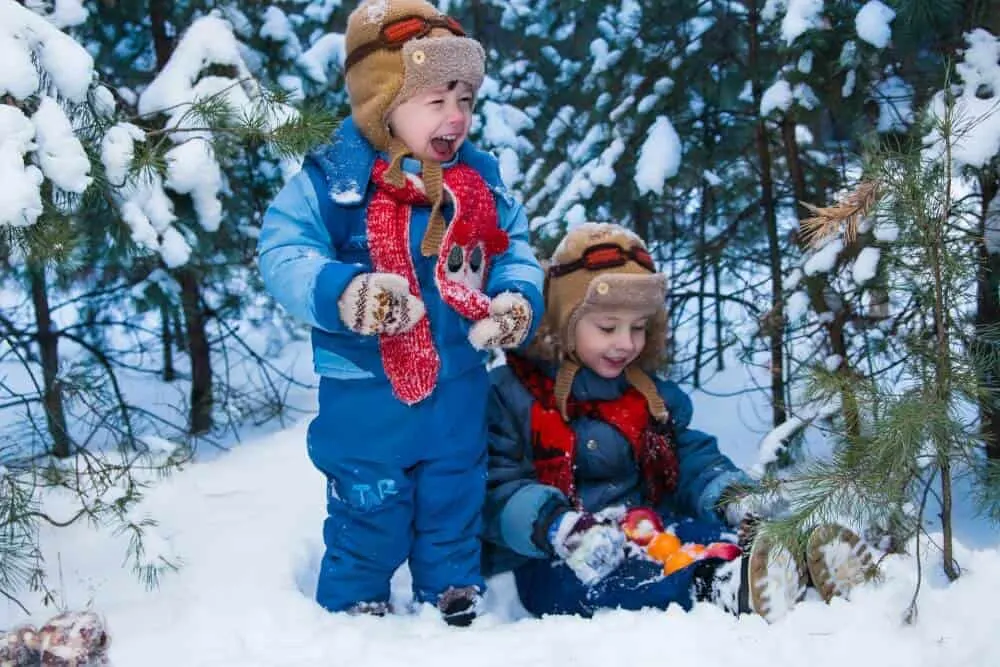 Make sure your kids are dressed properly. Get to know and love your layers — Capilene, wool, fleece, silk. Your kids will have a hard time enjoying the outdoors if they are cold, wet, and miserable. Warm layers will make all the difference. Read more about winter layers for kids, and winter layers for babies and toddlers.

Bring along snacks for energy. Nothing seems to cure grouchy kiddos like a snack break in the winter woods. It can be as simple as a granola bar or as elaborate as a snowy picnic.

Recruit a friend or two. Outdoor excursions are so much more fun with friends — your kids will spend less time complaining and more time giggling.

Make it a habit. Once your kids know that the outdoors is part of their everyday world, they will accept it into the rhythm of their days. It's not "out there", it's home. Here are more ways to get outside all through the year.

Be a good role model. Get yourself outside every day, and please don't complain about the weather. You can't change it, so you either need to book a vacation somewhere warm, or embrace the cold.
Special Equipment for Snowshoeing With Kids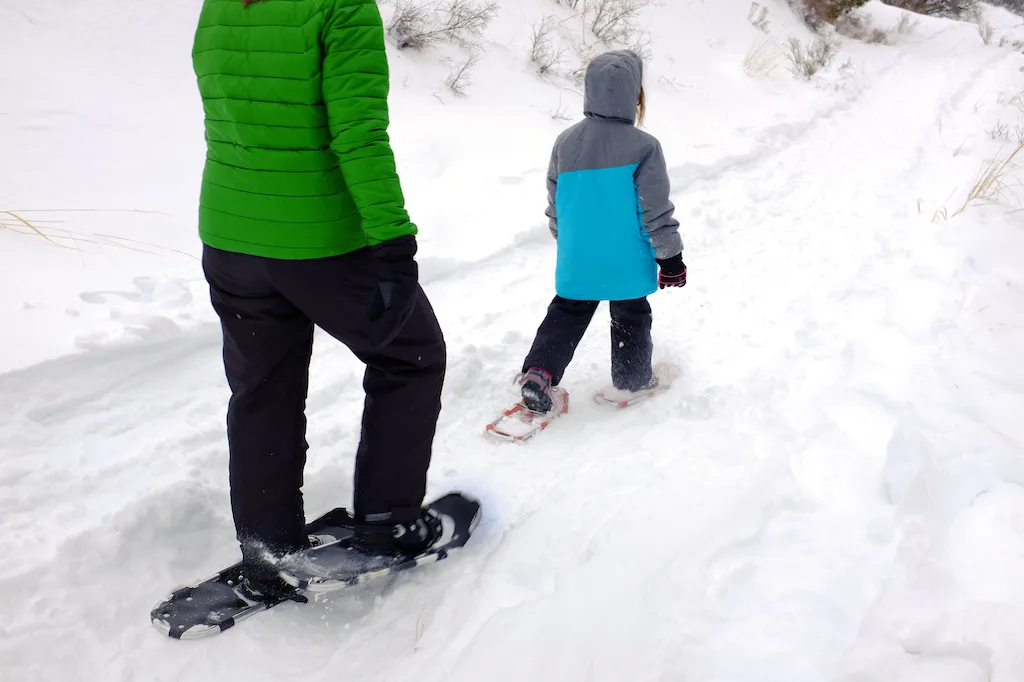 One of the best things about snowshoeing is that you need very little equipment. Snow boots and snowshoes will get you out the door. Poles are handy for really deep snow or climbing mountains.
The Best Snowshoes for Kids in 2023
You can probably score second-hand snowshoes for your kids on Craigslist or at an autumn ski sale, but even if you buy new, they're pretty affordable.
Over the years, we have tried a few different brands. We choose our snowshoes for kids based on price, how easy they are to get on and off (bindings), and weight.
New snowshoe models are incredibly lightweight, much more so than when our kids were small.
Here are our suggestions for the best snowshoes for kids:
Yukon Charlie Youth Snowshoes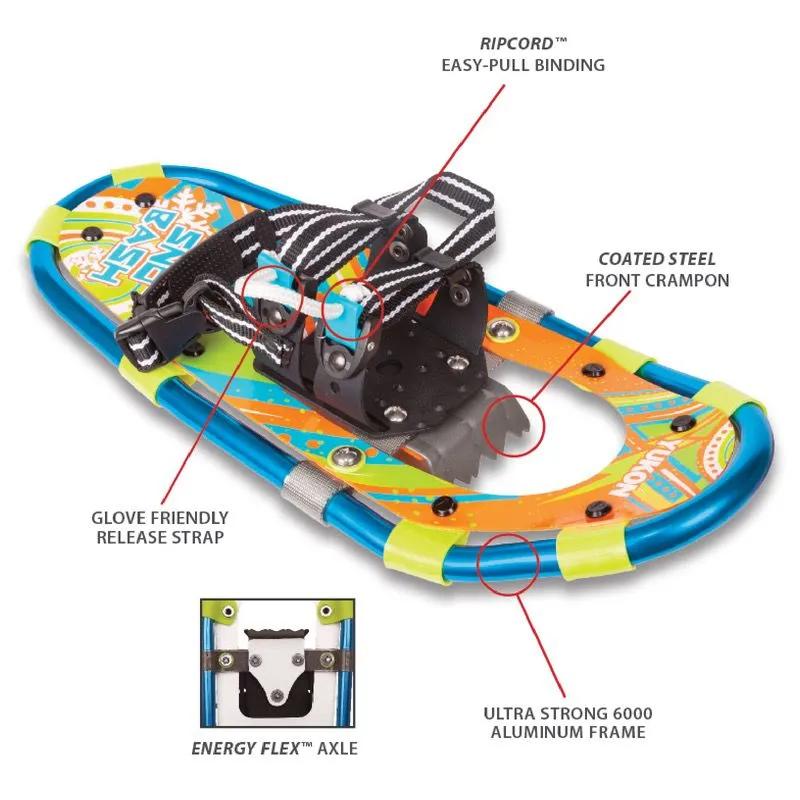 Yukon Sno-Bash snowshoes have everything we look for in kids' snowshoes. At 2.2 lbs. per pair, they are light enough to make learning easy. The bindings can be tightened and loosened with one pull (even if you're wearing mittens), and they are affordable.
These youth snowshoes fit kids from 25 to 100 pounds (ages 6 to 10), so you'll get several years out of them. They are our first choice for kids' snowshoes.
Buy a single pair of snowshoes, or a snowshoe kit, which comes with a carrying bag and a pair of snowshoeing poles.
---
MSR Tyker Snowshoes for Kids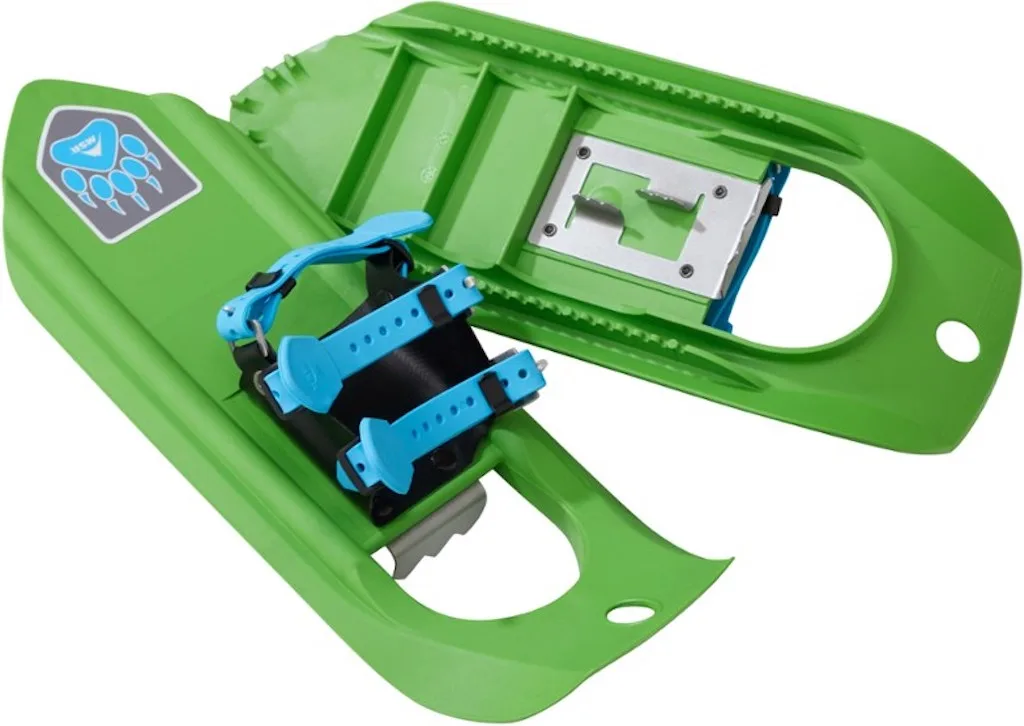 The MSR Tyker snowshoes for kids are a smaller version of the Denali snowshoe model for adults. They are lightweight polypropylene and feature molded traction bars instead of steel.
These snowshoes get excellent reviews on both Amazon and REI and come in different colors.
They fit kids up to 90 pounds, weigh just over two pounds, and are made in the USA.
---
Tubbs Snowshoes for Kids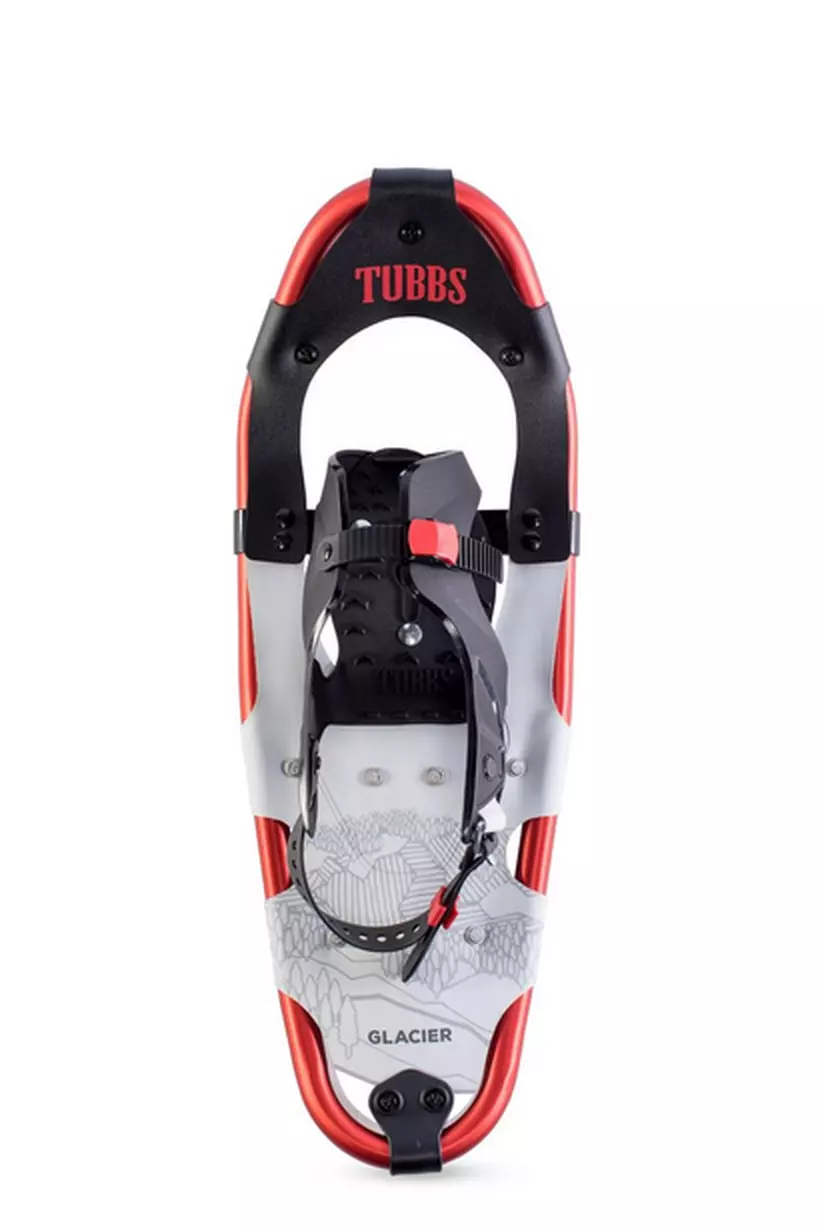 Once your kids outgrow the smaller snowshoes mentioned above, you may want to consider the Tubbs Glacier snowshoes, which feature a tight frame and is perfect for tweens up to 150 pounds.
These are easy to put on and maneuver through all types of snow and terrain.
The new Quick-Fit Jr binding features the perfect blend of comfort and control with easy and intuitive straps for easy in and out.
---
Kids Snowshoe Poles
Snowshoe poles are not necessary to get started snowshoeing with kids, but they can be very useful once you start climbing mountains or trekking through deep snow.
You can use regular trekking poles that are used for hiking, but be sure to look for poles that are easy to adjust, and come with large baskets to prevent them from sinking into deep snow.
Most snowshoe poles will adjust from about 2 feet to 4.5 feet, so you don't need to look for poles that are made for kids. We love the Komperdelli Ti-7 EXP Contour Snowshoe Poles from REI because you can adjust the length with one mittened hand.
Kids Snow Boots
Good snow boots are one of the most important purchases you can make for your kids. Even if you aren't taking your kids snowshoeing, if you want them to spend time outside in the winter, you have to make sure their feet stay warm and dry.
Here are our suggestions for the best kids' winter boots.
Toddler Snow Boots
Sorel Snow Commander Winter Boots for Toddlers. We are huge fans of Sorel snow boots for adults, so when our kids came into the picture, we decided to go with a brand we knew and trusted.
The Sorel Snow Commander boots are rated to -25 degrees Fahrenheit, are lined with fleece and 200 grams of insulation, and are completely waterproof. The hook-and-loop strap makes them easy for toddlers to take them on and off.
Snow Boots for Older Kids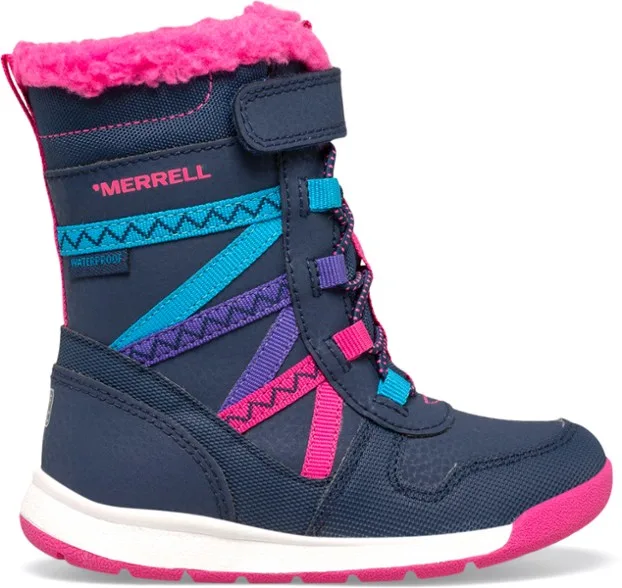 My kids really loved wearing Merrell Snow Crush Waterproof Boots. Why?
Because they are "as comfortable as sneakers and look cool." Okay then.
These are waterproof leather, come with 200 grams of insulation, and are rated to -25 degrees Fahrenheit. They are lace-up, but come with a toggle lace closure for quick tightening.
In general, we have been very happy with all of our Sorel and Merrel boots.
The kids also loved their LL Bean boots, but I don't have a specific recommendation for those.
Another cool thing to keep in mind is that shopping for snow boots at REI gives you a pretty awesome return policy. If you are unhappy with your purchase, you can return it for a full refund within a year.
---
Things to Consider Before Snowshoeing with Kids
Now that you've got your snowshoeing gear, you're ready to start exploring the frozen world with your family.
There's really no right or wrong way to go snowshoeing with kids. Start by strapping on your snowshoes and exploring your yard or a local park.
Walking in snowshoes will take a bit of getting used to, especially for kids, so take it slow and make it fun. Once everyone is comfortable walking in their snowshoes, you're ready for a little hike. Here are some tips for making snowshoeing with kids fun.
Take it easy. How far will your kids reliably walk or hike with you? Take that number and cut it in half. Little legs will get tired quickly trudging through heavy snow, and when they're just starting out, the most important thing is to make it fun. If they are miserable on your adventure, you will have a hard time getting them out the door next time.

Bring a sled. Hiking up that hill is hard work. Bringing a sled will help you make it fun on the way back down. If your kids are small enough, you can also give them a ride when they tire out. Good workout for you. Awesome fun for your little ones.

Bring a thermos of hot chocolate. Nothing is as exciting as a hot cup of chocolate in the woods. A little thermos may just be the best investment you can make. Find a quiet spot in the woods, sip some cocoa, and admire the scenery. Your kids will be warm and happy, and the sugar high will give them a bit of extra energy.
---
Read Next: Our Best Hot Drink Recipes for Winter Camping
---
Stop and play. Let's face it — walking in the woods is peaceful and beautiful, but it's not always an exciting adventure for kids. Remember to stop and have some fun. Throw snowballs. Build a snowman. Make snow angels. You will remember these days forever and so will your kids.
Don't be above rewards. If that hill is looking a bit overwhelming for your youngsters, offer a bribe. "Hey, if we can all make it to that tree, we can stop for a snack." Keep a stash of goodies in your pocket — trail mix, M&Ms, or fruit leathers should do the trick.
Layer up. You will get hot as you're hiking and you may want to shed layers, which is fine. Just be sure to put those layers back on if you stop for a break.
What to Pack for Snowshoeing with Kids
No matter how short your adventure, don't forget to pack some basic essentials.
Preparation is key to a successful snowshoeing outing, no matter how far your adventure takes you. Here's what you need for a foray into the woods on snowshoes, whether you're alone or with your kids.
A basic first aid kit. Always bring along an ace bandage, Tylenol, moleskin for blisters, an emergency blanket, and a few packets of hand warmers.
Your cell phone. For emergencies
Paracord. Handy for all kinds of emergencies and adventures.
Waterproof matches or a lighter. For emergencies or for a mid-day campfire.
A compass
Extra socks for each person
Food and water
Extra mittens for the kids. Their hands are always in the snow!
Lip balm
Sunglasses
---
Read Next: Winter Daypack Essentials – What You Need for Hiking with Kids
---
Snowshoeing is such a great way to enjoy a winter day, with or without kids. The exercise will keep you warm and the beauty of the natural world will inspire you. Now, all we need is just a little bit more snow…
Follow us on social media for more outdoor inspiration!
Pin for Later?