Did you know that cold-weather layers are the secret to raising outdoor kids that enjoy winter? Okay, maybe not the only secret, but choosing the right winter clothes for kids will give them a few extra reasons to enjoy playing outside.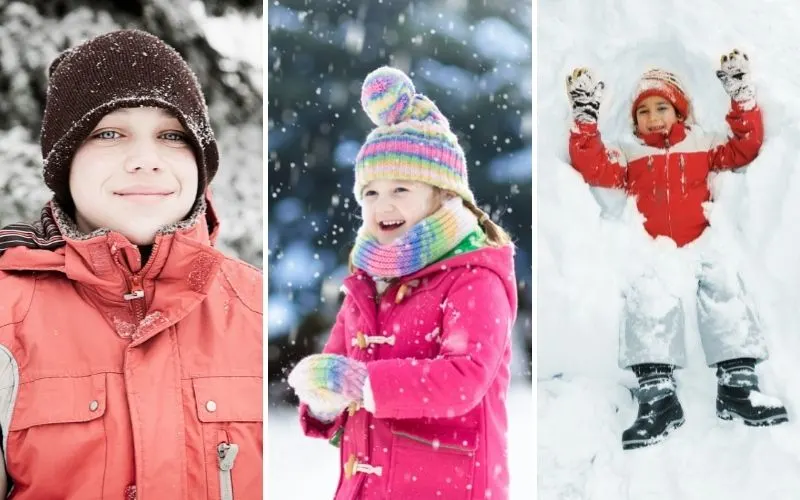 Learning to layer clothing for all types of weather conditions is an important skill for kids and adults, but it's especially important when you want your kiddos to love being outside no matter how cold it gets.
You've likely heard the famous Norwegian saying, "there's no bad weather, just bad clothing." Here in Vermont, we get six months of winter every year, and it didn't take us long in our child-rearing journey to realize that if we wanted our kids to enjoy the outdoors, we needed to start with the right winter layers.
Our kids are older now, but they still love being outdoors in the winter, and they still layer their clothing for warmth, range of motion, and breathability. Occasionally, they even thank us for making them go outside every day, rain or shine.
We are fortunate to live in a time when there is an incredible array of choices for winter clothes for kids, but having a million choices can also make it hard to decide what to get.
After raising kids in Vermont for 13 years, we've got a lot to share about cold-weather layers, from the best long underwear and wooly socks to our favorite insulating layers and waterproof snow pants.
We experimented for years until we found a layering system that worked for us, and we'd love to share what we've learned with you.
How to Layer Winter Clothes for Kids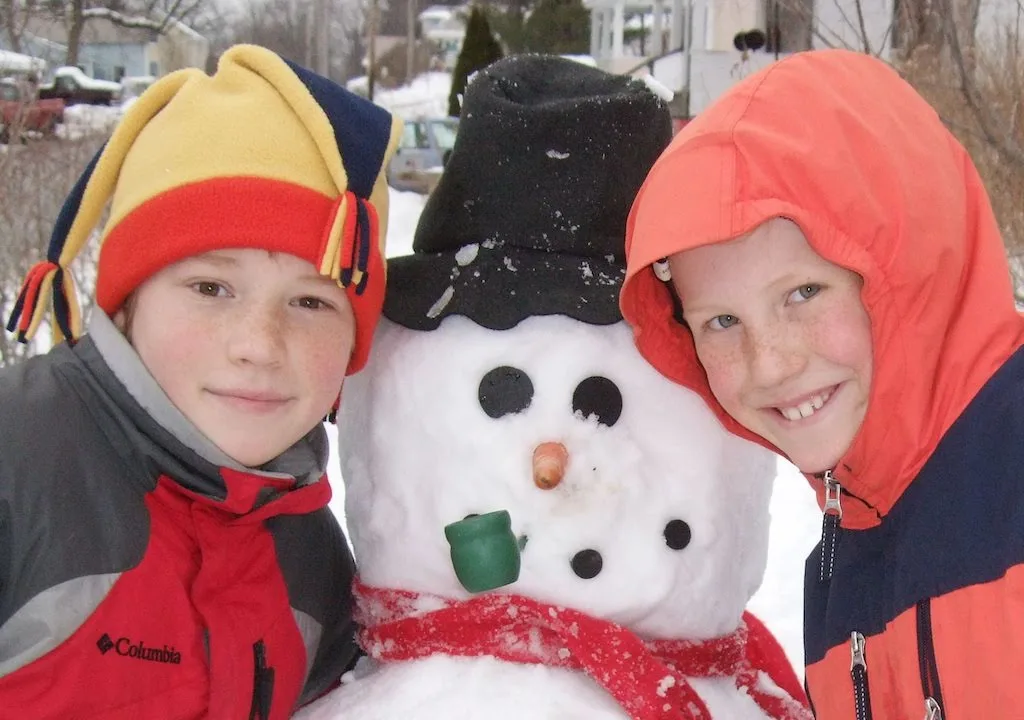 There are a few secrets to layering for outdoor conditions, but I think the most important one for kids that are old enough to dress themselves is to give them some independence while still setting boundaries about what they can and can't wear for winter play.
Not only are your kids old enough to dress themselves by four or five, but teaching them layering techniques that they can use on their own will be a skill that they can use forever. Yes, they'll forget how to layer when they're about 12 or 13, but they'll come back to it when being warm and comfortable is more important than fashion.
The temperature and the wind chill are obviously a huge consideration when layering, as is the distance from your home base. If you are heading away from home, it's better to be over-prepared. If you're hanging out in the backyard, you can make adjustments as needed. Here are a few tips for keeping your kids snug and warm in the winter.
Layers are meant to be stripped off and put back on. It may be tempting to dress your kids in super warm winter clothing all the time " just in case", but the last thing you want is for your kids to get overheated, sweat, stop moving, and then get chilled inside their jackets and snow pants. Teach your kids to remove their insulating layer when they get too hot and put it back on when they are chilled.
A waterproof layer is a must for active kids. Kids run hot and cold, but you can pretty much count on them getting wet if they are playing outside in the snow. Make sure that your kids head out with a waterproof jacket, waterproof snow pants, waterproof mittens, and waterproof boots.
Instead of scarves that are bulky and can get lost or caught in things, try a fleece neck warmer (we love these from Turtle Fur). Even though they're relatively lightweight, warm, and affordable, plus they're easy to wash and soft against your kids' skin.
Keep the base layers snug and the top layers big. Kids grow like weeds! You can save a bit of your hard-earned money by buying your waterproof layer a size too big. Your baby or toddler's waterproof layer can be a size or two larger than what your child normally wears, but be sure the base layer and the insulating layer fit just right.
Just say no to cotton in the winter. Cotton gets wet easily and dries slowly, sucking the warmth out of your kids. Instead of cotton, opt for warm base layers made from either merino wool or Capilene. Both dry quickly and will wick away moisture.
The Best Winter Clothes for Kids Who Love Being Outdoors
When outfitting active kids for cold weather, windy conditions, and snow play, we work with three main layers – the base layer, which goes against the skin, an insulating layer for maximum warmth, and a waterproof layer to keep your kids dry.
Your kids can learn to mix and match these cold-weather layers based on precipitation, temperature, and what kind of activity they're doing outdoors.
Outstanding Base Layers for Kids
Your kids' base layer offers some insulation from the elements, but it should also wick away moisture so that your kids will stay warm and dry, even when they sweat. We love Capilene for thermal underwear for kids because it is so easy to care for.
Merino wool is warmer than Capilene, is naturally antimicrobial, and doesn't smell. Wool often requires special handling when washing, so be sure you read the label so you know what you're getting into!
Here are our top picks for thermal base layers for .kids
Kids' Capilene® Midweight Bottoms at Crew by Patagonia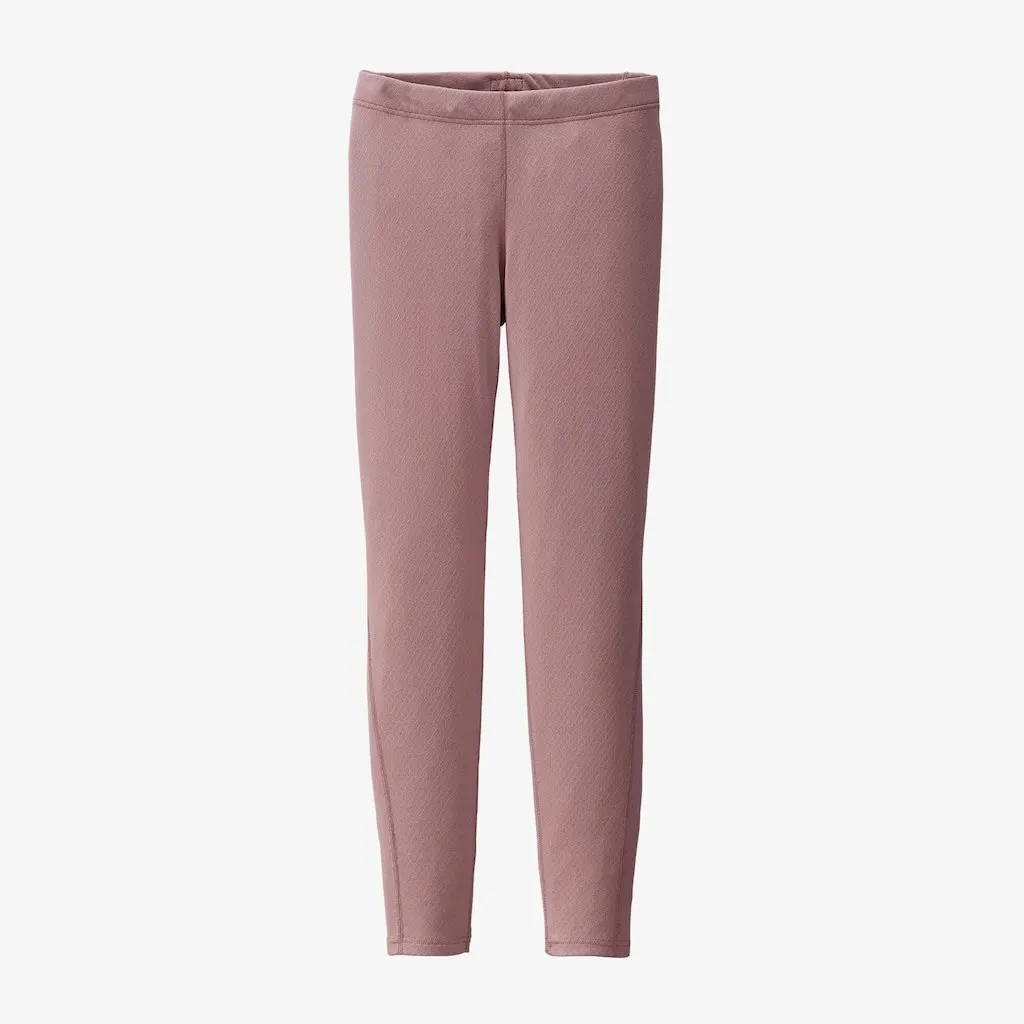 In my humble opinion, Patagonia makes the best winter clothes for kids. Their stuff is so well made and lasts through multiple children. It's definitely money well spent!
Capilene is a synthetic fiber made of 100% recycled polyester fabric with integrated HeiQ® odor control. The smooth, soft face makes for easy, comfortable layering. Hollow-core yarns and a diamond-grid back trap warm air, wick moisture, and dry fast. These are also Fair Trade Certified™ sewn.
We recommend getting both a Capilene top and bottom to use as a base layer for kids.
2 sets of these base layers should do it for the whole winter for your kiddos – one to wear and one to wash. No matter what goes on top of this set, these layers are perfect for every day in the winter.
Wool Base Layer Option: REI Co-op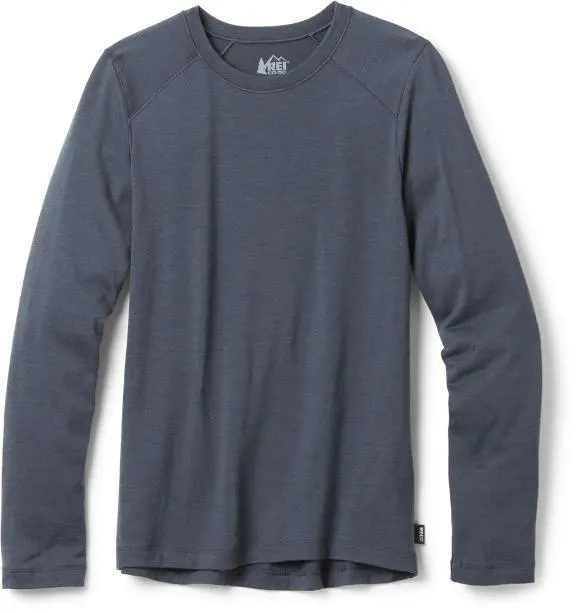 If you want an all-natural, extra soft option for the base layer, you can't beat these affordable midweight merino base layers from REI Co-op.
Merino maintains a comfortable temperature in both warm and cool temperatures, and unlike synthetics, wool feels warm even when damp. Merino wool is also naturally flame-retardant without the use of chemicals, and it is anti-microbial too!
These ultrafine 185 g merino wool layers offer a soft feel without scratchiness, are machine washable, and are designed to hug the body for optimum performance.
Insulation Layers for Kids
While your child's base layer will generally be the same thing throughout the whole winter, what you choose for the insulation layer will depend a lot on the day's weather and what you're doing outdoors with your children.
Down, fleece, and wool all work well to insulate your kids from the cold – adding warmth without the bulk so your kids can still run, jump, and throw snowballs.
Many snow jackets and snow pants for kids include both an insulating layer and a waterproof layer. There is nothing wrong with going this route, but for more versatility, we usually opt for a waterproof jacket for kids that can be used in three seasons and a separate insulating layer that kids can shed if they get hot while playing outdoors in the snow.
Here's what we recommend for an insulating layer for kids:
1/4 Zip Fleece from Patagonia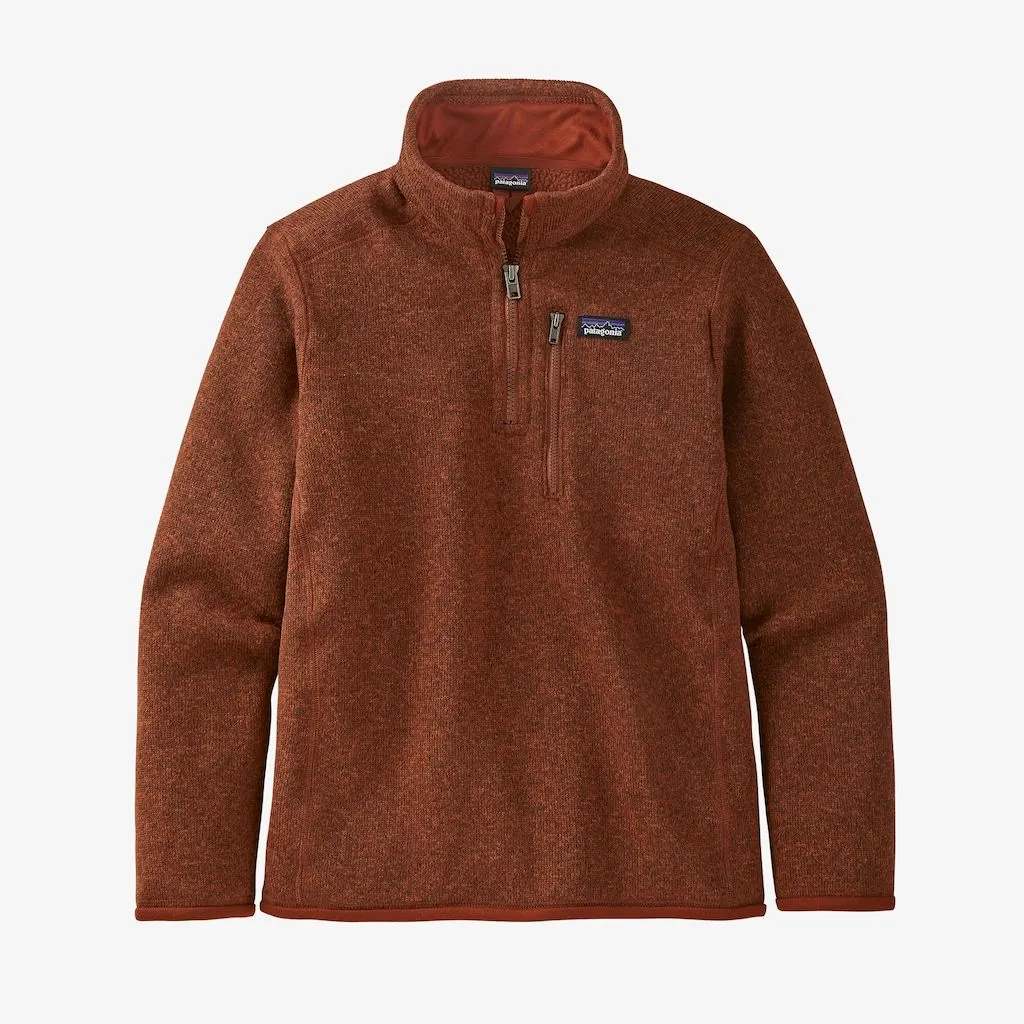 This cozy, lightweight fleece from Patagonia is made from all recycled materials and is dyed with a low-impact process and Fair Trade Certified™ sewn.
This is the perfect insulating layer for cold days outdoors and can even be worn as an outer layer on dry days throughout the year.
REI Co-op 650 Down Vest for Kids
Down vests are great for active kids who don't want a full three layers over their arms when they're playing outdoors. This down vest by REI Co-op is light enough that kids hardly notice it, but it keeps their core warm in a variety of temperature ranges, plus it's got a water-resistant shell for light snow play. As a bonus, it packs down small enough to fit into its own pocket so that it's easy to throw in a daypack on a winter hike, ski, or snowshoe, and it comes in a variety of colors for boys and girls.
REI Co-op Down Jacket for Kids
This down jacket from REI Co-op is basically the same material with the same down filling as the vest above, just meant for colder days. It provides lightweight warmth in fun colors, a water-resistant shell, and compresses down smaller than a water bottle. Because this jacket isn't at all bulky, it's the perfect insulating layer for active kids.
The Waterproof Layer for Kids
For the last layer, you're looking for a waterproof shell, which will usually consist of a jacket and snow pants. Our favorites are either lightly insulated or not insulated at all, which makes them more versatile for three-season use.
Less insulation also means less bulk so that your kids have a better range of motion for different activities. Here are our favorite waterproof layers for kids.
Kids Waterproof Jacket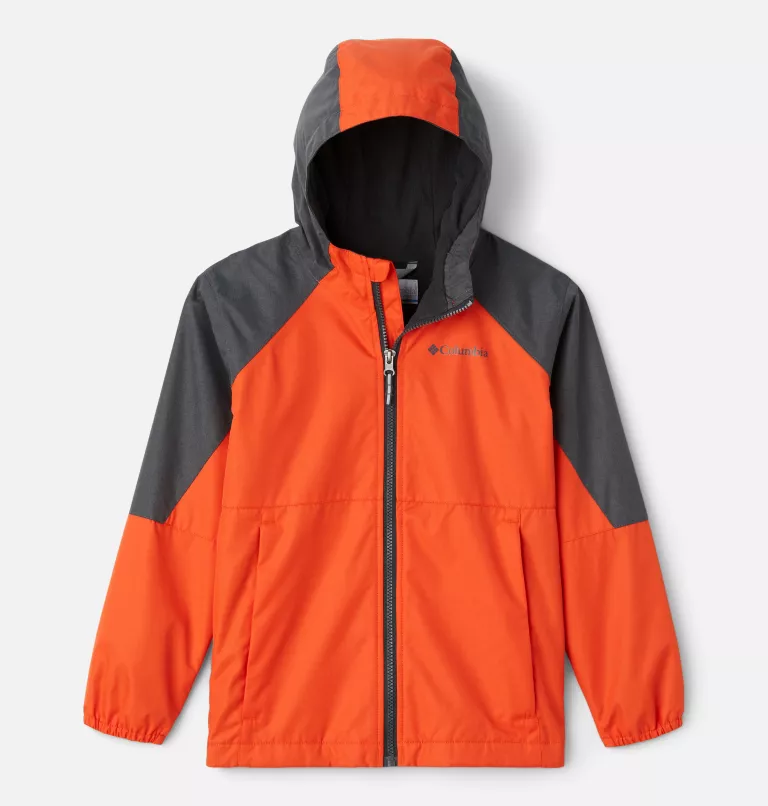 This waterproof jacket from Columbia is both affordable and durable for three seasons of exploration. It's fleece-lined for added comfort and warmth, comes with an adjustable storm hood, and has completely sealed seams for leak-proof snow play.
Best Snow Pants for Kids: Lightweight and Waterproof
When it comes to choosing snow pants for kids, you want a fully waterproof, windproof pair with minimal insulation.
The REI Timber Mountain pants are a fabulous choice for all types of active snow play, from building a snowman to skiing and snowboarding. The nylon shell is waterproof, breathable, and windproof up to 60 miles per hour, and a microfleece lining provides warmth without overheating.
Articulated knees make movement easy, and an ankle zipper helps pants slide over snow or ski boots. A grow-cuff feature lets you lengthen the gaiters by 2 in. so these snow pants will last more than one season.
The Best Socks and Mittens for Kids
The best socks and mittens for kids will stay put while keeping them warm and dry. You don't want socks that will slide down inside your kids' snow boots. We recommend pulling them up over your kids' base layer for added warmth and security. For mittens, look for affordable, waterproof mittens that will provide plenty of warmth.
Darn Tough Wool Socks for Kids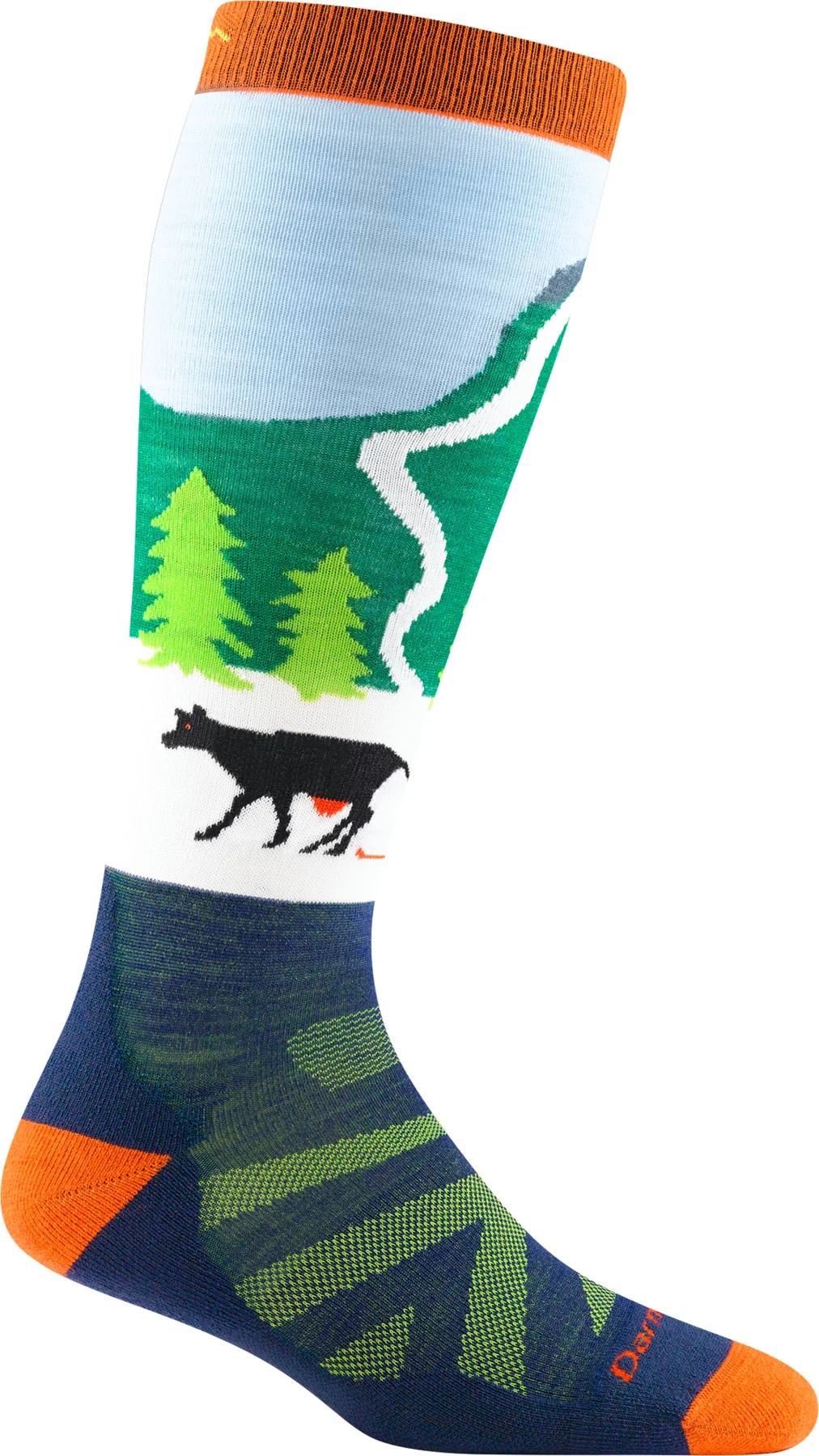 Darn Tough Socks are my absolute favorite. Not only are they made in Vermont, but they come with a lifetime warranty, are made from the softest merino wool, and last forever.
I wish I could buy stock in this company, but for now, I'll be happy to recommend Darn Tough socks to everyone I know, including you.
The kids' socks come in all sorts of colors and patterns. You can buy merino wool hiking socks that will work fine through the winter, but they also have over-the-calf skiing and snowboard boots for more extreme winter conditions.
Try a pair or two on your kiddos, but be sure to get a pair for yourself too. I promise you'll be hooked!
Best Waterproof Mittens for Kids
For the littlest kids, we always suggest getting waterproof mittens because it's harder for young kids to regulate their temperature. As kids grow a bit older, the mittens or gloves question becomes more of a personal preference. Some kids prefer the dexterity that gloves provide. Others love the extra warmth of mittens.
One solution to the mittens vs. gloves question is to buy a pair of waterproof mittens and liner gloves so your kids have the best of both worlds. They can wear gloves on warmer days, mittens for snow play, and combine the two for really cold days. Here are our top choices for gloves and mittens for kids.
The kid's REI Co-op Groundbreaker insulated mittens are waterproof, windproof, and cozy. They're also affordable because you and I both know how easy it is to lose one or both on the way home from the sledding hill.
Polyester insulation adds warmth without bulk, and synthetic leather palms add a bit of grip for all types of outdoor play.
Mistral glove liners are the ideal added layer under shell gloves or mittens to keep kids warmer longer. They provide four-way stretch, wick away moisture, and are touch-screen compatible so kids can use devices without removing them.
These gloves are great on their own for heading to and from school. They're also affordable and easy to wash.
---
Want to learn more about getting outside with your kiddos in the winter? Check out these posts:
---
Pin for Later?