Looking for a beautiful destination where you can hike through an alpine meadow in the morning, meander through a rainforest in the afternoon, and watch a Pacific coast sunset in the evening?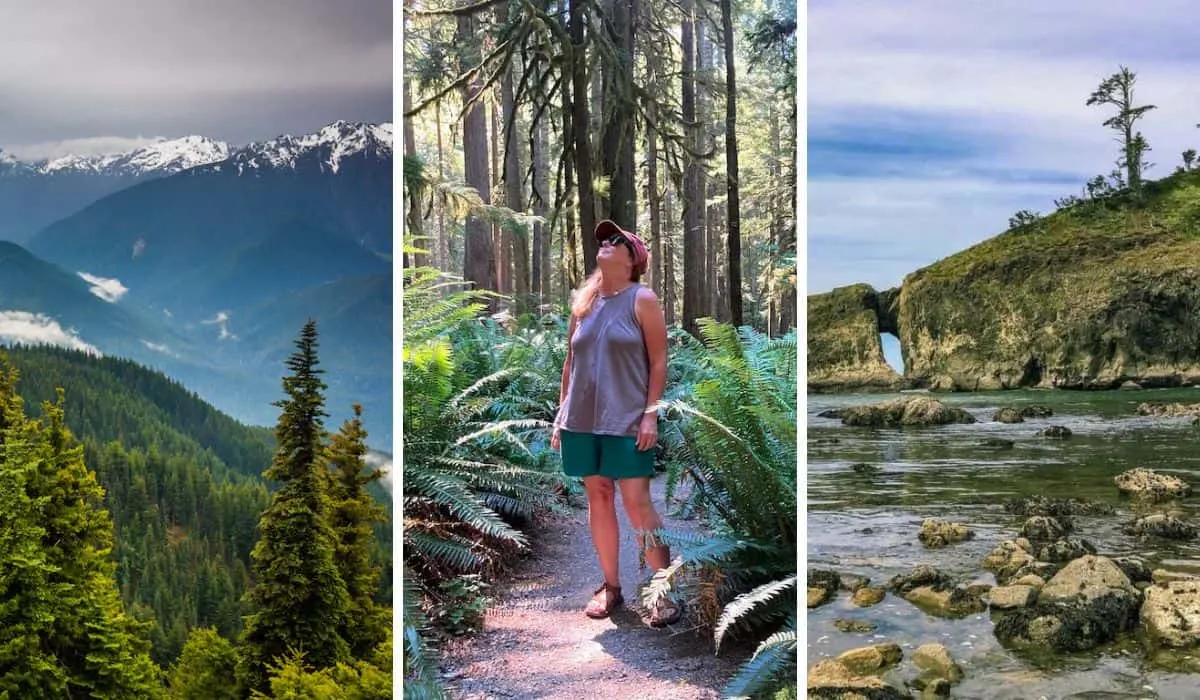 Olympic National Park, located on the tip of the Olympic Peninsula in Washington State, is a land of extremes, home to massive trees dripping with moss, a jagged coastline that is often covered in fog, and glacier-capped peaks that will take your breath away if you try to climb them (ask me how I know…).
This diverse ecosystem beckons explorers and outdoor enthusiasts, with more than 60 named glaciers, 3,000 miles of rivers and streams, 70 miles of undeveloped coastline, 64 trailheads, and 16 developed campgrounds.
No matter how many national parks I check off my bucket list, Olympic National Park remains my favorite, a place that I am drawn to over and over again.
If you've never walked under the canopy of the Hoh Rainforest, watched bald eagles feasting on the rocky coast of Rialto Beach, or soaked away your troubles in Sol Duc Hot Springs, it's time to make amends!
Here are a few enchanting things to do in Olympic National Park for your next adventure.
At-A-Glance: Things to Do in Olympic National Park
Want to skip to the good part? If we had to choose the five best things to do in Olympic National Park, this is what we would choose:
Drive to the top of Hurricane Ridge for stunning views of the Olympic Mountains
Visit the Hoh Rainforest, one of the wettest spots in the contiguous USA.
Go tide-pooling at Second Beach on the Pacific Coast.
Soak in Sol Duc Hot springs
Hike to Marymere Falls
No matter what your interests are, you're sure to find something to love in Olympic National Park. Here's a complete list of incredible things to do while you're there.
Learn About the Park at a National Park Visitor Center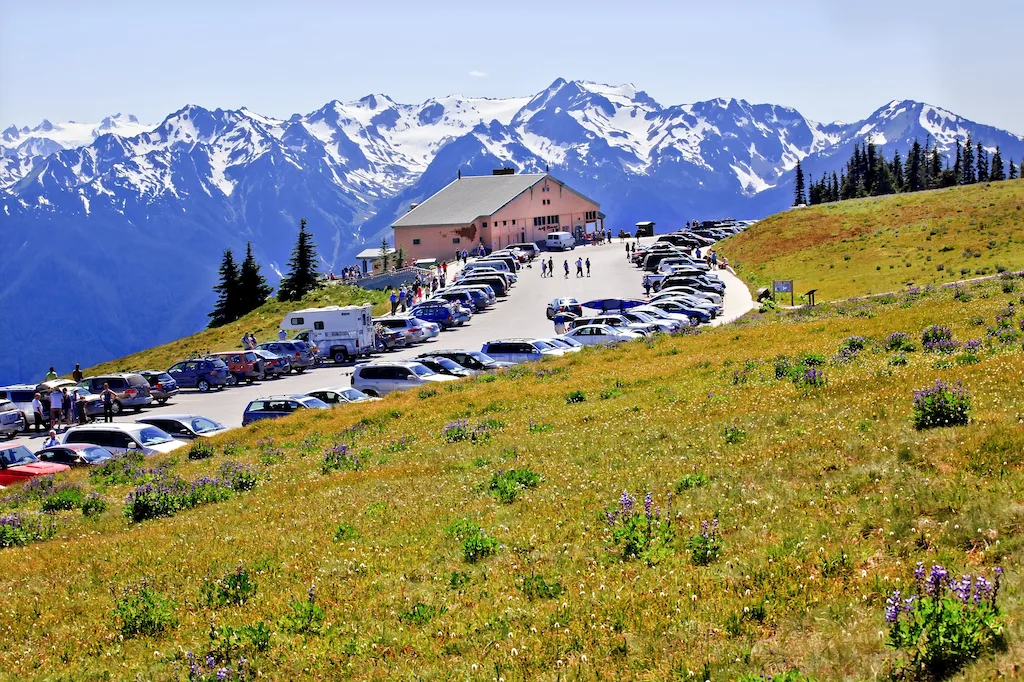 First stop, one of Olympic National Park's fantastic visitor centers where you can get your bearings, ask your most burning questions about exploring the park, and check out some of the many exhibits that showcase this beautiful and memorable place.
Go to the visitor centers to get your National Park Passport stamped, and if you have kiddos that want to take part in the Junior Ranger Program. An onsite gift shop will be your destination for picking up national park stickers, maps, and a one-of-a-kind mug for your dog sitter.
Here's an overview of the visitor centers that are currently open in Olympic National Park. Sadly, the Hurricane Ridge Visitor Center burned to the ground in 2023. We will update this post as plans for rebuilding are finalized.
Olympic National Park Visitor Center is the most popular visitor center in the park, located at the base of Hurricane Ridge Road at 3002 Mount Angeles Road in Port Angeles, Washington. It's open every day except Christmas Day and Thanksgiving. Hours vary based on the season.
This is where you can hop on the short Living Forest Nature Trail that loops through the forest behind the visitor center. It's an ideal spot to stretch your legs, let the kids run wild, and get a taste of the forest ecosystem you'll be spending time with on your visit.
Hoh Rain Forest Visitor Center is the gateway to the beautiful Hoh Rainforest, located 31 miles south of Forks, Washington at 18113 Upper Hoh Road.
This small visitor center is open daily through the summer, Friday to Sunday during the 'shoulder season', and closed in January and February.
There is a small bookstore, and a passport stamping station, as well as informational exhibits on the temperate rainforest. The Hoh Rain Forest Campground is nearby, as are several popular trailheads.
Visit a Beautiful PNW Beach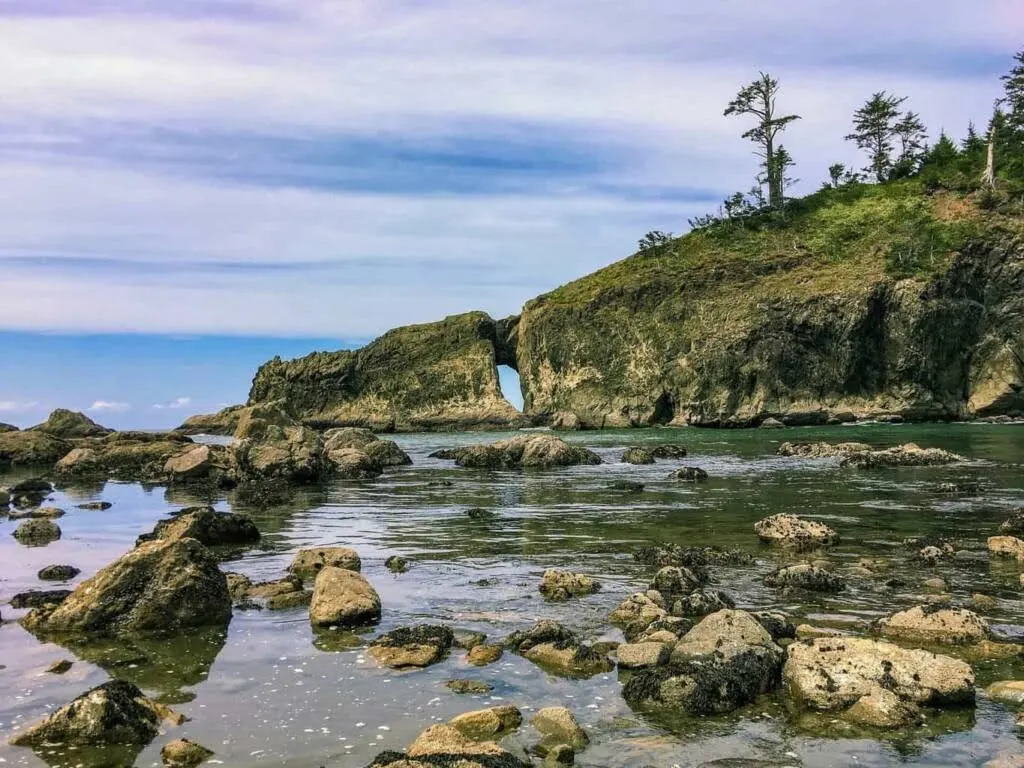 Olympic National Park includes 70 miles of undeveloped coastline, with endless opportunities for tidepooling, backcountry camping, sunset viewing, and wildlife watching.
I'd be hard-pressed to choose a favorite beach in Olympic National Park, but if you've only got time to visit one, and can manage a short hike, I'd recommend Second Beach, which has beautiful sea stacks, tidepools, massive piles of driftwood, and interesting birds and marine wildlife.
The hike to Second Beach is 1.4 miles (round trip). It's enough of a walk that the beach is never too crowded, and backcountry camping is allowed with a permit.
If you have more time, check out these coastal beaches in Olympic National Park:
Rialto Beach: My second favorite beach is Rialto Beach, which you can access right from the parking area without hiking. Not only is this one of the best spots to see wildlife and watch the sunset, but the famous Hole in the Wall hike is a fun coastal trek. It's 3.3 miles round-trip and best done during low tide.
Ruby Beach: The most popular beach in Olympic National Park is one of the pretties. Named for the pinkish sand crystals that catch the light like a jewel, this beautiful spot includes cool sea stacks a tide pools, plus lots of opportunities to glimpse bald eagles and otters.
Kaloch Beach: This popular beach is known as the home of the 'Tree of Life,' a massive tree with exposed hanging roots that cover a small 'cave' in the riverbed. Meander the beach and scan the seas for migrating gray whales.
While these are our favorite Olympic National Park beaches, there are more to explore if you have the time!
Spend the Night in a Historic Lodge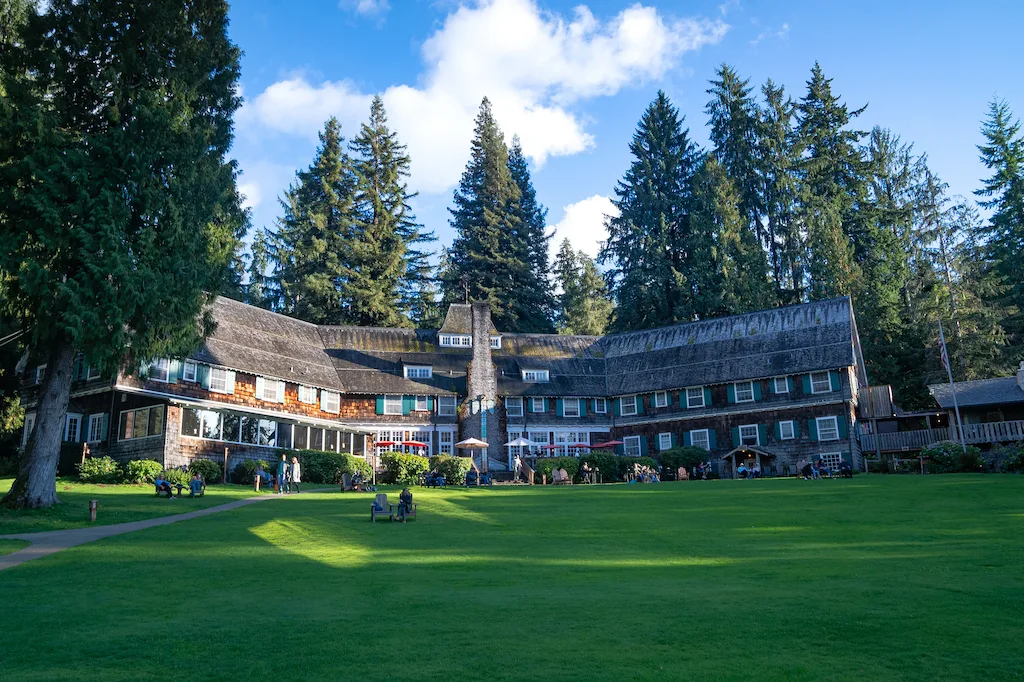 There are three beautiful historic lodges in Olympic National Park where you'll be treated to beautiful views, comfy accommodations, and the convenience of being inside the park close to all the incredible attractions and activities the park has to offer.
Kaloch Lodge: For year-round lodging on a bluff overlooking the Pacific Ocean, Kaloch Lodge is centrally near many of the park's most beautiful beaches, and is just a short drive from both the Hoh Rainforest and the Quinault Rainforest. Choose from rooms in the main lodge or pet-friendly cabins.
Lake Quinault Lodge: While the rooms are bare-bones, the setting of Lake Quinault Lodge is gorgeous, with access to nearby hiking trails, an indoor pool, and beautiful Lake Quinault. This year-round property also includes a few pet-friendly rooms, an onsite restaurant, and a sauna.
Lake Crescent Lodge: The historic Lake Crescent Lodge was built in 1915 on the shores of one of Washington's deepest lakes. From Lake Crescent Lodge, you can easily access Marymere Falls and Mount Storm King without getting into your car, and you're a short drive from Hurricane Ridge and Port Angeles.
Meander Through an Enchanting Rainforest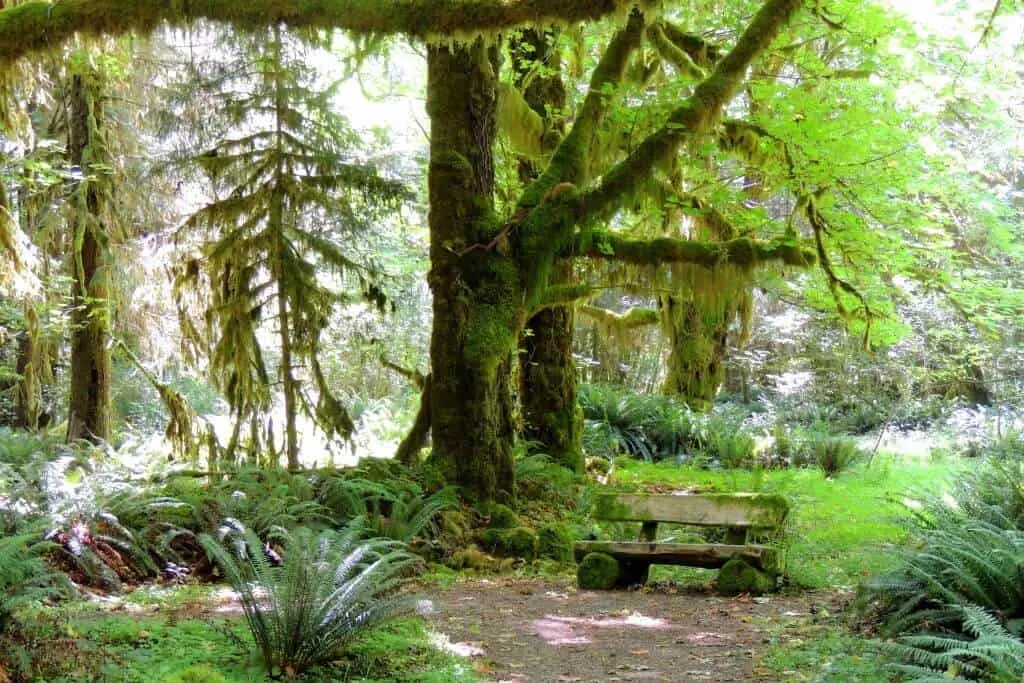 There are three rainforests in Olympic National Park, part of a larger temperate rainforest ecosystem that once stretched from Oregon's southern coast to southeastern Alaska. Grab your raincoat and visit one of these beautifully green and drippy spots:
Hoh Rainforest: The Hoh Rainforest is the only one that has been awarded the distinction of being a World Heritage Site and a Biosphere Reserve by UNESCO. If you only have time to visit one spot, check out the Hall of Mosses, a 0.8-mile loop through the forest.
Quinault Rainforest: Visit the old Kestner Homestead and take a scenic driving loop through the forest.
Queets Rainforest: One of the most remote parts of Olympic National Park, visit Queets Rainforest to find Salmon in Queets River and hike the 2.8-mile Sam's River Loop.
Discover a Hidden Waterfall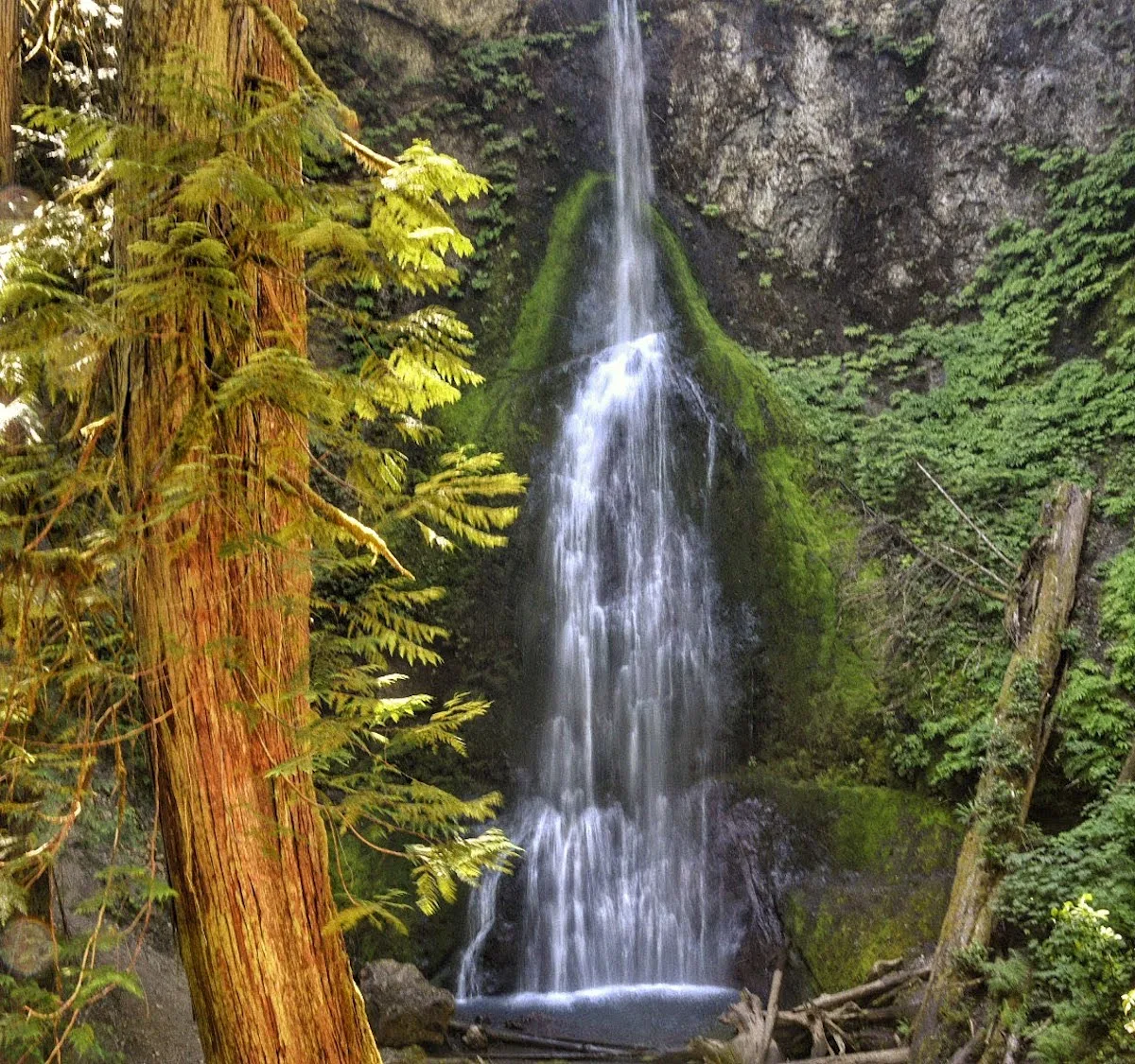 While there are dozens of beautiful waterfalls in Olympic National Park, not all of them are easy to get to. The following waterfalls will require a short hike to see. Just remember — the shorter the hike, the more people you'll have to share the view with.
Madison Creek Falls: This is a very short, universally accessible trail leading to a gorgeous 50-foot waterfall. The road past the parking area has been washed out by recent floods, you can still park here and access the falls. Madison Creek Falls is located in the Elwha region of the Olympic National Park, not far from Port Angeles.
Marymere Falls: Park at Lake Crescent to access the 1.8-mile loop to this beautiful waterfall. If you're staying at Lake Crescent Lodge, you don't even need to get in the car!
Sol Duc Falls: Park at Sol Duc Hot Springs Resort and hike the 1.6-mile trail (round trip) to Sol Duc Falls in a beautiful forest setting. The falls tumble over a ledge, dividing into several smaller cascades.
Soak Away Your Troubles in Sol Duc Hot Springs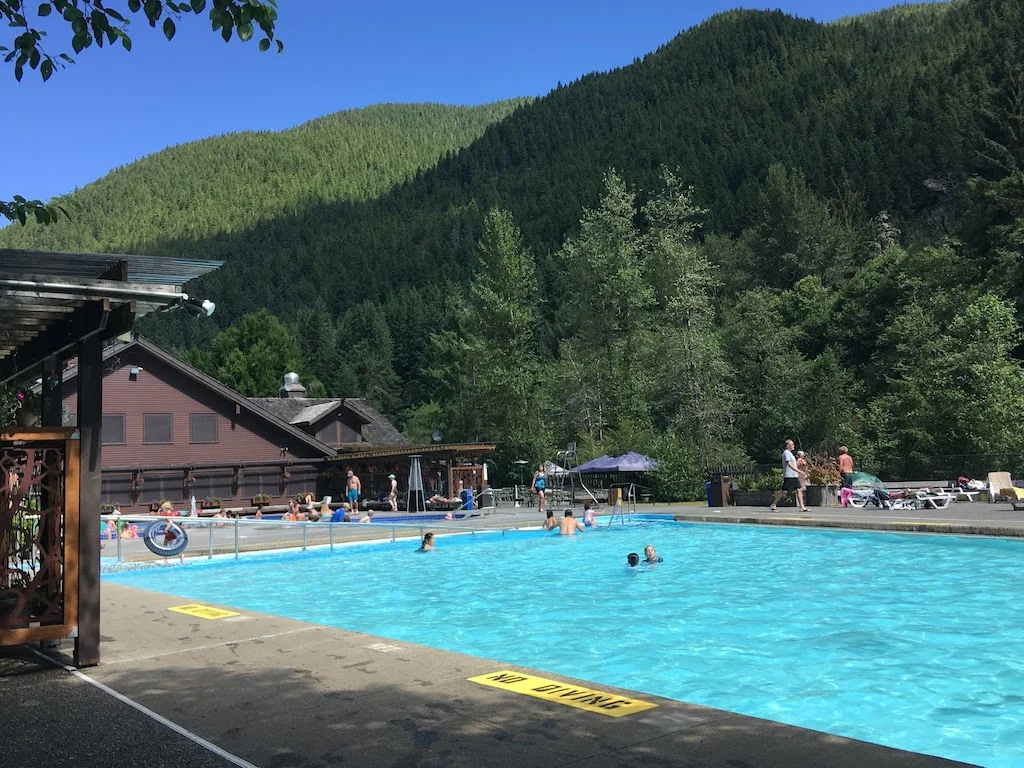 Hot Springs fans will want to take a few hours to soak their weary hiking muscles in Sol Duc Hot Springs.
There are four separate pools in the resort area. Three of the smaller pools are each set at a different temperature for soaking, and the larger pool is an unheated freshwater pool.
Since our last visit to Sol Duc Hot Springs, the resort has changed its pricing policy.
Instead of a day pass, which we loved, you now have to reserve a 1.5-hour time slot. While this helps with overcrowding, it's not ideal for coming and going from the campground. I still think Sol Duc Hot Springs is worth visiting, especially if you are hiking to Sol Duc Falls or staying nearby.
Pitch Your Tent at One of 16 Frontcountry Campgrounds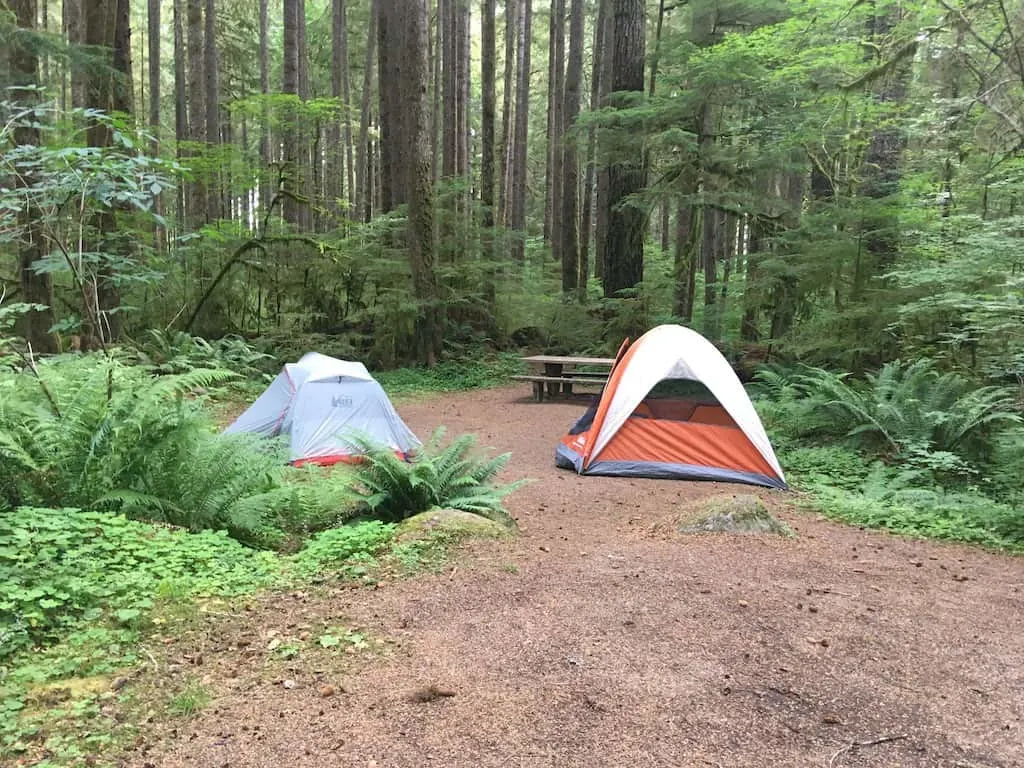 Camping is the most affordable way to explore Olympic National Park, and there are a lot of great campgrounds to choose from. About half of the campsites within the park can be reserved ahead of time (between April and October), but there are also some great campgrounds just outside the park in Olympic National Forest, and many of these are first-come, first-served.
Since we visit Olympic National Park often, we generally just explore the small section of the park closest to our campground, but if we wanted to explore the whole park in one trip, we would likely choose three different campgrounds over the course of a week or ten days. Here are the campgrounds you can choose from.
Reservable Sites:
First-Come, First-Serve Sites:
Deer Park: Located at 5,400 feet, this campground is at the northern tip of the park and close to Port Angeles.
Graves Creek: 30 campsites in Quinault Rainforest. Pit toilets and no running water.
North Fork Quinault: There are just 9 sites in this remote campground, perfect for those looking for solitude. Pit toilets and no running water.
Heart O' the Hills: 97 sites on the way up to Hurricane Ridge in a beautiful, old-growth forest. Open year-round, but sites are walk-in during heavy snowfall.
Ozette: 15 year-round campsites near beautiful Lake Ozette and the Pacific Ocean. The campground has pit toilets and potable water for drinking.
Queets: 20 year-round campsites near the Queets River with potable toilets but no running water. Located in a secluded wilderness area, Queets Campground is our favorite for solitude and looking for wildlife.
South Beach: 55 seasonal campsites near the Pacific Coast in the Kalaloch region. Pets are allowed on area beaches. No potable water (get water at Kalaloch Campground).
Go Glamping on the Outskirts of Olympic National Park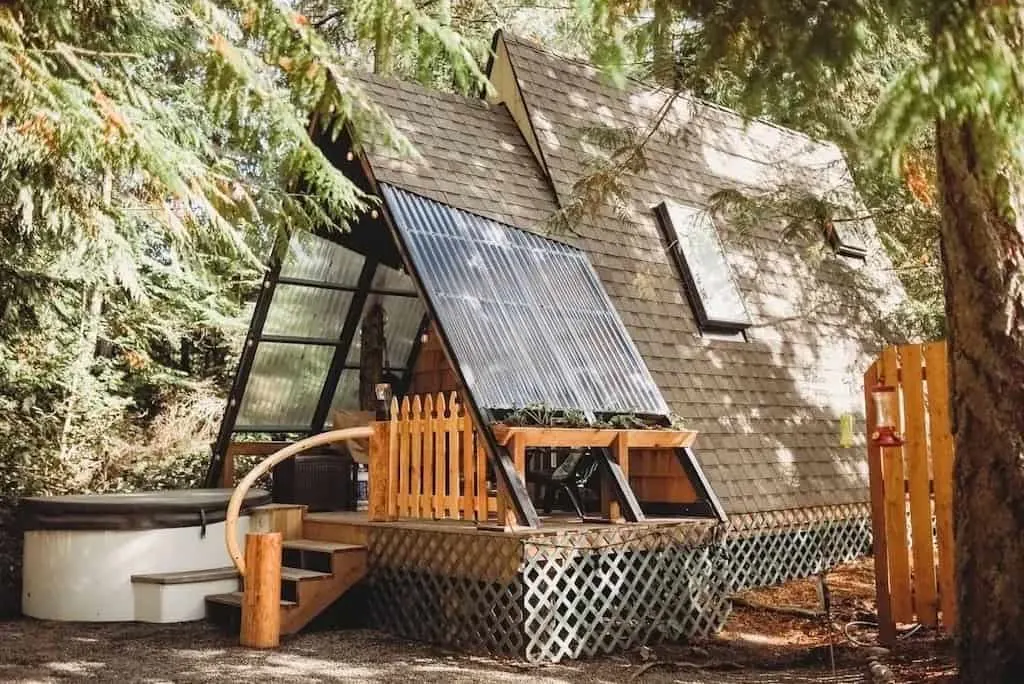 If you want all the benefits of an outdoor based vacation without having to sleep on the ground, why not plan a glamping vacation in Olympic National Park?
Glamping embraces everything you love about camping — campfires, smores, endless starry skies, and a nice dose of wilderness, without the things you could do without — shivering through the night and trying to wash dishes in the backcountry.
Most glamping destinations are located around the perimeter of Olympic National Park. Before you book your stay, decide which part of the park you most want to visit and choose your glamping spot accordingly.
If you want to explore all of Olympic National Park in one visit, give yourself a full week and choose a few different properties in locations around the Olympic Penisula. Here are some fantastic glamping properties near Olympic National Park to help you plan your trip.
Take in the Views from Hurricane Ridge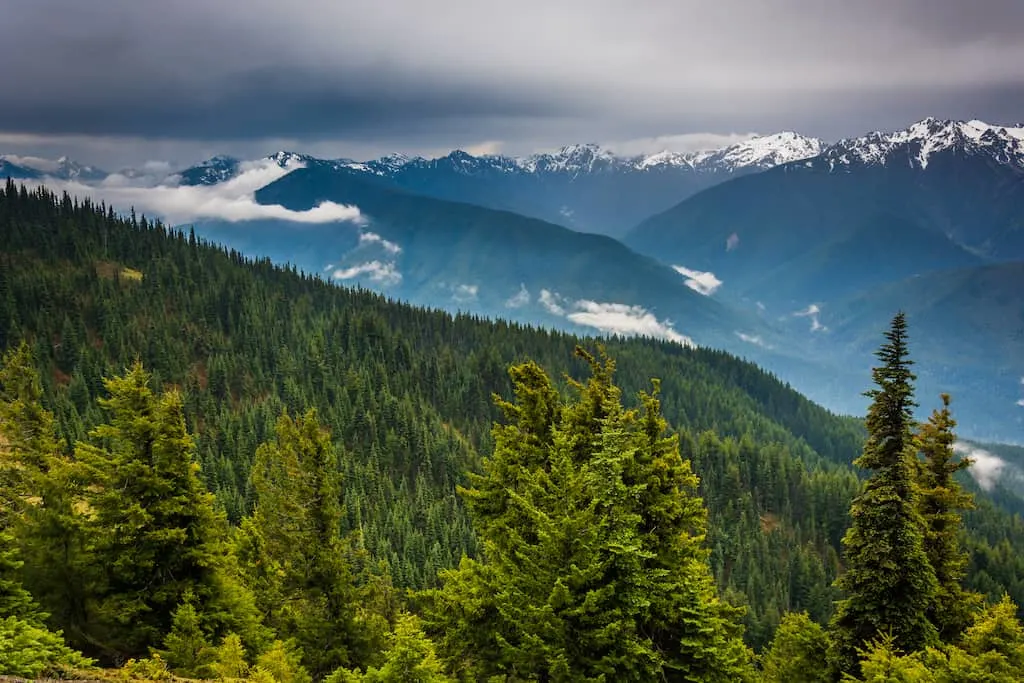 Yes, Hurricane Ridge is incredibly popular — that's because it's one of the best things to do in Olympic National Park. You'll be hard-pressed to find a better view in the Olympic Peninsula — Hurricane Ridge showcases the Olympic Mountains, as well as the Puget Sound and the Strait of Juan de Fuca.
Follow Hurricane Ridge Road to the top, where you can take in the views, look for wildlife, or have a picnic. You can also hop onto several trails from the top of Hurricane Ridge. If you can only choose one, I recommend Hurricane Hill (3.4 miles, round-trip). This is a paved trail with a moderately steep incline and extensive views in every direction.
Plan for temps to be 10 – 20 degrees colder on Hurricane Ridge, with lots of wind.
Hike to Blue Glacier on Hoh River Trail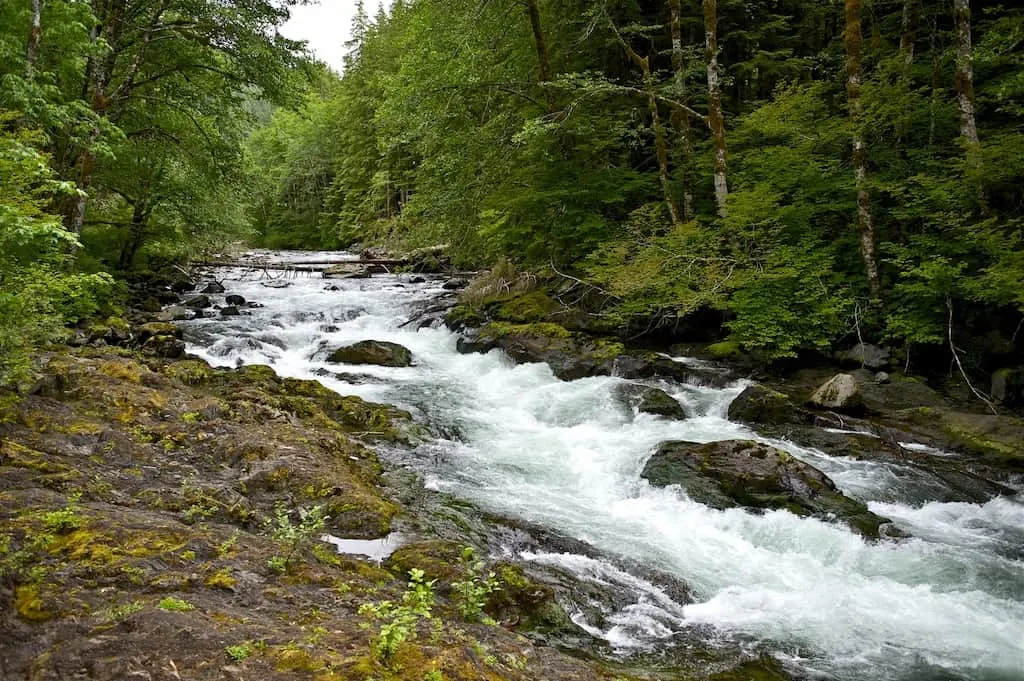 Have you ever wanted to hike to a glacier? If you are up for a challenging hike that requires sleeping in the backcountry, a trek to Blue Glacier on the Hoh River Trail may be just what you're looking for.
While the round-trip hike to Blue Glacier is 35 miles, the first 12 miles are fairly flat, followed by a steep climb up to Blue Glacier. Give yourself two to four days to complete this hike.
Hoh River Trail winds through one of the best-preserved rainforests in the northern hemisphere. This enchanting temperate rainforest is full of ancient trees dripping with moss, followed by a rocky whitewater gorge, and beautiful alpine scenery.
You'll need a permit to camp overnight on the trail, and while summer is the driest season (as dry as it can get in a rainforest), it's also the busiest.
The most popular route is to hike 10 miles to Lewis Meadowson the first day and set up camp. On day two, you can take a lighter pack up to Blue Glacier (14 miles, round-trip), and then hike back to your car on day three.
Hiking Guy has a complete overview of the trail, which is extremely helpful for planning your trek.
Hike Mount Storm King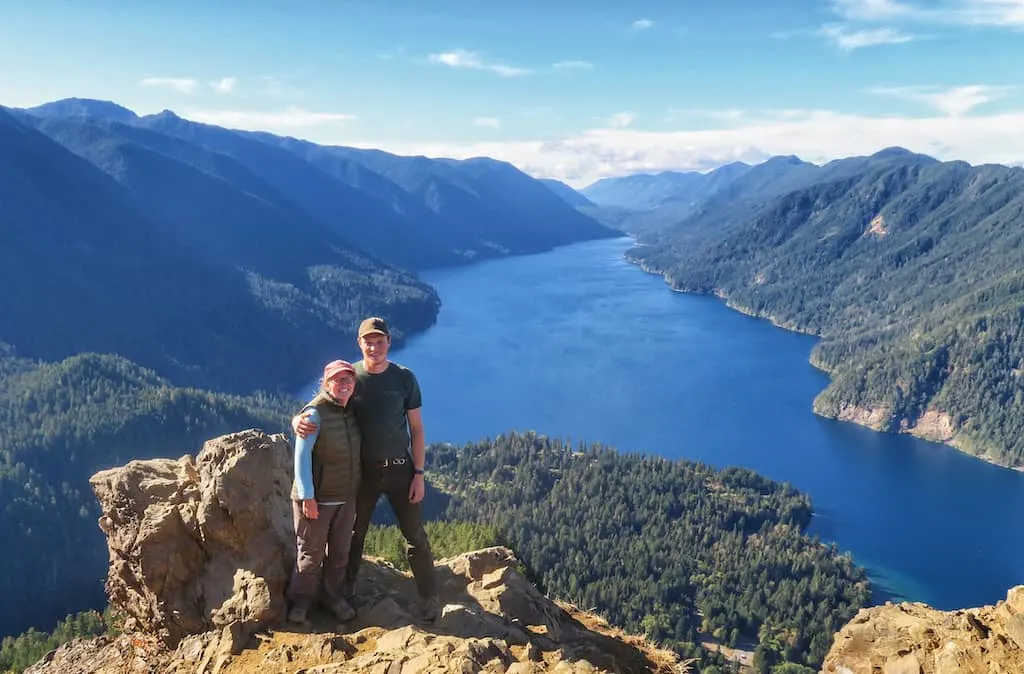 Ready to hike through an ancient forest and up a handful of grueling switchbacks to a gorgeous mountaintop with panoramic views of Crescent Lake on Washington's Olympic Peninsula?
Mount Storm King is a rewarding day hike with crazy views and precarious ropes to help you climb the steepest parts as you work your way toward the ridge.
The total distance (out-and-back) is less than five miles (thank goodness), and the trail itself does not require any fancy footwork, at least until that last sketchy part toward the end.
Hiking Mount Storm King took us just under five hours (we took it slow), and the trail can be combined with a short hike to Marymere Falls, which would make it about 5 miles total. If you visit in the summer, I recommend doing the Mount Storm King hike in the morning and spending the afternoon at Lake Crescent.
Swim in a Beautiful Freshwater Lake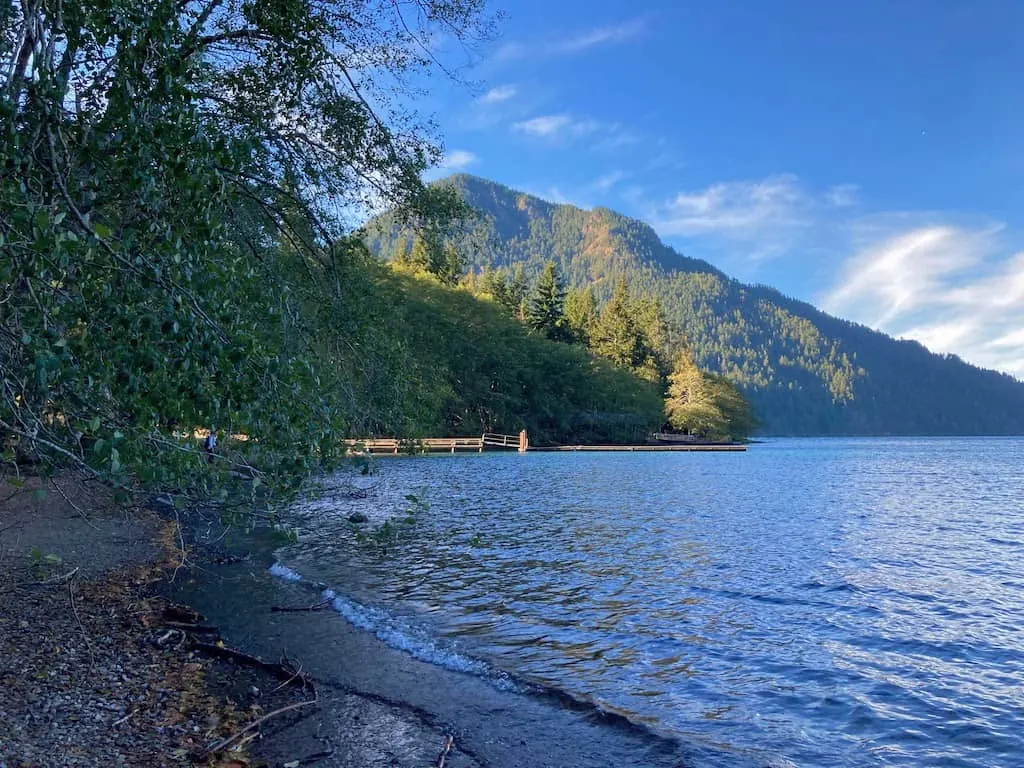 If you visit Olympic National Park in the summer, be sure to take advantage of the deep glacial lakes that are perfect for swimming:
Lake Crescent: Lake Crescent is the deepest lake in Washington state (more than 600 feet deep), and it is known for its crystal-clear water and beautiful mountain scenery. This is my top choice for swimming in Olympic National Park, but it's freezing cold, even in the summer. For the brave souls out there, check out several swimming spots around the lake, including Fairholme Beach, East Beach, and Devil's Punchbowl.
Lake Quinault: Surrounded by mountains and the lush Quinault Rainforest, Lake Quinault is perfect for cooling off. There are several swimming spots around the lake, including Rain Forest Resort Beach and Graves Creek Campground Beach.
Note that the water in all of the lakes in Olympic National Park can be quite cold, even in the summer.
Getting to Olympic National Park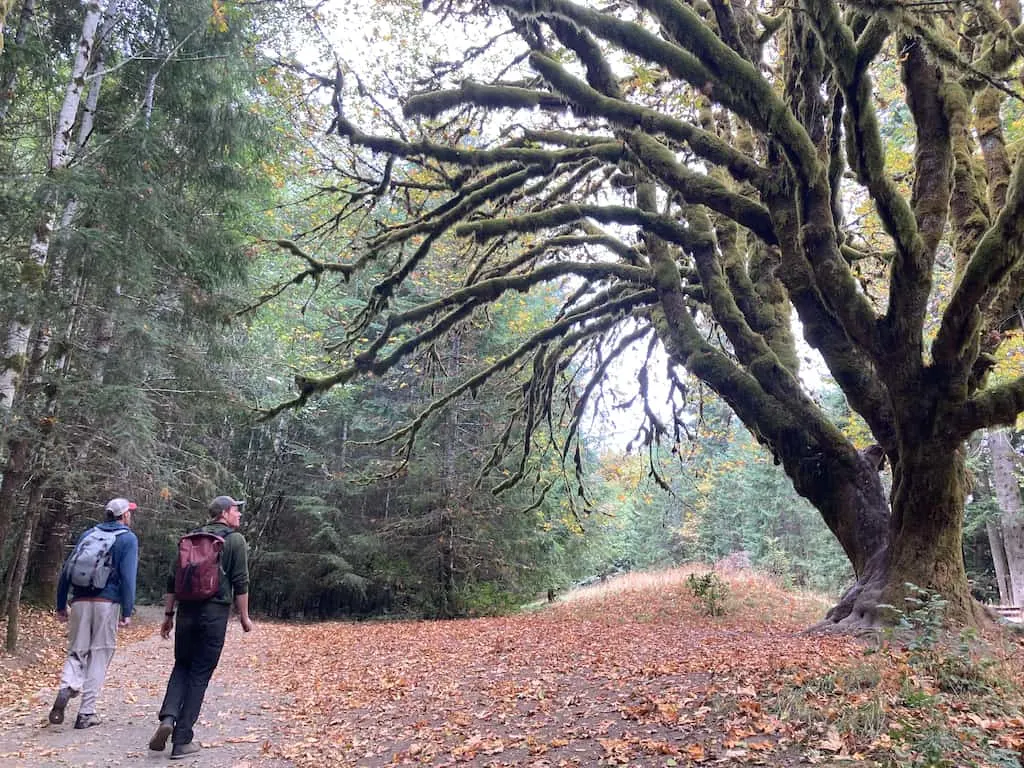 Unless you live within a few hours of Olympic National Park, the easiest way to get there is to fly into Seattle-Tacoma International Airport, which is about two hours from the eastern border of Olympic National Park.
From there, we recommend renting a car to Explore Olympic National Park. The park encompasses nearly a million acres and there are very few roads into the heart of the park.
Most destinations can be reached via U.S. Highway 101, which circumnavigates the Olympic Peninsula, but it's important to plan ahead so you can maximize your time exploring within the park and minimize driving time.
Here's an overview of the mileage between popular sites within Olympic National Park.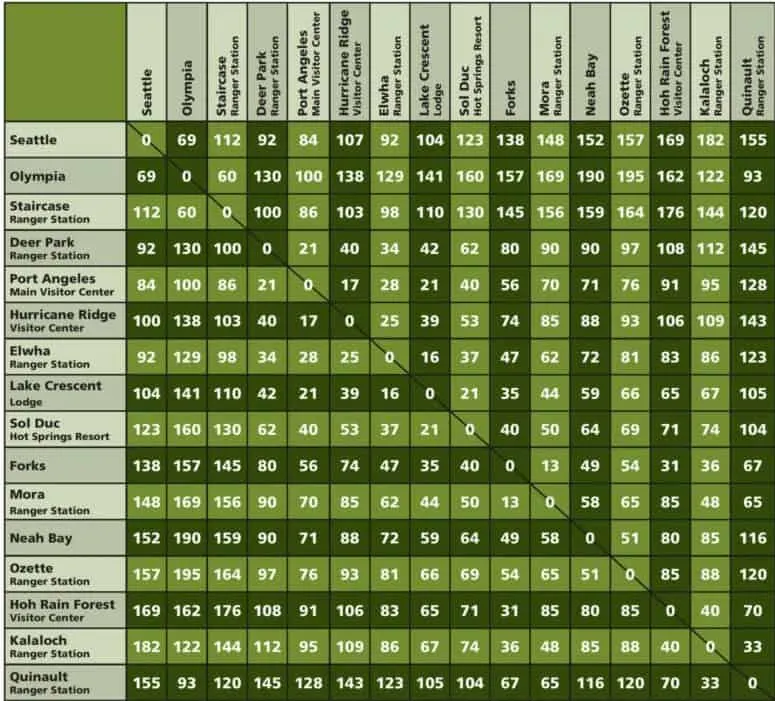 Resources and Tips for Planning Your Trip to Olympic National Park
If you plan on doing some hiking while enjoying Olympic National Park, pick up a copy of Day Hiking the Olympic Peninsula by Craig Romano. This is an awesome guide for planning purposes.
Pick up an Olympic National Park trail map too!
At a minimum, be sure to pack the 10 essentials for hiking.
If you are hiking in the off-season (late fall, winter, and early spring), you may want to pack Microspikes to improve your footing on icy spots. I would not attempt the last push to the summit if it's icy, but you know your ability better than I do.
Trekking poles will be useful for most of the trail, but when you get to the unmaintained section, I recommend packing them in your bag so that you can use your hands and your feet for the last bit.
No matter what season you visit Olympic National Park, you can regulate your body temperature with a merino wool base layer. Merino is a miracle fabric, keeping you cool in the summer and warm in the winter. It's also antimicrobial, which means you can sweat all the way to the top and you'll still smell nice when you get there. We love merino wool base layers from Woolx.
Rent a campervan! Looking for a unique way to explore Olympic National Park? Why not rent one of these beautiful and fully-equipped campervans from Escape Campervans? Pick up your rental in Seattle and explore the park in style. Escape campervans offer deals throughout the year, so be sure to join their mailing list so you know when the Seattle van rentals go on sale.
Finally, if you're going to visit more than one or two national parks this year, invest in the America the Beautiful pass. This is an annual pass that will get your family into every single national park for $80. Buy it at any national park or at REI, which will donate 10% of each sale to the National Parks Foundation.
---
More posts featuring the best things to do in Olympic National Park!
---
Follow us on social media for more outdoor adventure ideas!
Pin for Later?