Please check to make sure destinations are open to visitors before planning a trip and follow local guidelines. We earn a commission from affiliate links that may be included in this post.
We have a dishwashing rule at home and when we're camping — whoever cooks the meal gets to relax while the rest of the crew takes care of clean-up. This rule has been in place since our kids needed a step stool to reach the sink, and it helps so much to have the whole family pitching in when we're camping. Many of the inquiries we get here at Back Road Ramblers are about what to cook when camping. After that, families want to know about how to wash dishes while camping.
We field lots of questions about what kind of camping dish soap we use and what our camp dishwashing station looks like, so I thought it would be fun to answer some of your questions here in a post dedicated to washing dishes while camping. Here we go…
Dishwashing While Camping Using Leave No Trace Principles
Have you heard of Leave No Trace? We try and follow these principles whenever we're camping, whether we're living it up in a rustic cabin, staying in a front-country campground, or roughing it in the backcountry. You can read more about Leave No Trace principles in the link above, but I'll summarize the bit that applies to washing dishes when camping.
Cook only the food you will realistically eat – Unless you have a way to keep food reliably cold, leftovers are a pain. It will definitely take some experimentation, but try and only cook enough food to feed your family without any left over. If you do end up with leftovers, scrape your pots and pans into your campground dumpster. If you're in the backcountry, you'll have to double bag it and pack it out.
Wash camping dishes at least 200 feet away from streams, lakes, or other water sources – Dirty dishwater can quickly pollute streams and lakes, even if you use biodegradable camp soap. Many campgrounds will require you to wash your dishes at your camp, not in common areas, and to do that you'll need a camping wash station (we'll talk about that more below).
Dispose of dishwater properly – Campgrounds will often have a sink or greywater disposal area to dump your dishwater, but if not, strain your dirty dishwater and disperse it at least 200 feet away from your camp, trails, roads, and water sources.
Use biodegradable camping dish soap – No Dawn dish soap, or any other products with polluting sulfites. We have tried lots of different types of camping dish soap over the years, but our favorite is still Camp Suds. We use the tiniest bit of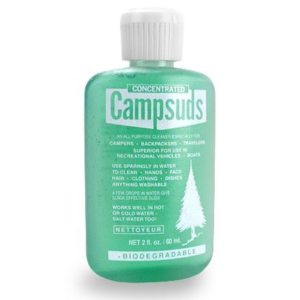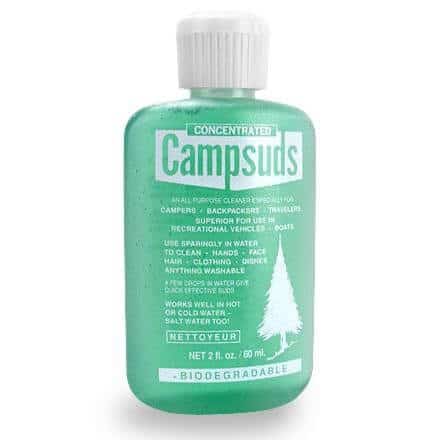 soap for our dishes, and we also use it to wash clothes and dirty hands. I usually buy a 16 oz. bottle at the beginning of each season, then I pour it off into a smaller container for each camping trip. Also, the bottles are 100% leak-proof and reusable.
Our Awesome Camping Wash Station
Our camp dishwashing station comes with us on all of our car camping adventures and canoe trips, plus many short multi-day hikes. When we're backpacking, we often wash our dishes with just one small bucket, and sometimes we wash our dishes with leaves and dirt (for real), and just use our collapsible dishwashing bucket to rinse the dishes.
This is a good overview of how to wash your dishes with dirt, although I wouldn't rinse my dishes with bottled water as the video suggests.
Here's what you need in your camp dishwashing station:
Two collapsible buckets or plastic tubs – You'll need a bucket for washing and one for rinsing. If you do mostly car camping, you can get away with any plastic tubs that will nest together and hold water. If you think you'll need something more portable for hiking and backpacking, opt for lightweight, collapsible buckets that will fit handily in your backpack. These Sea to Summit Ultra-Sil Kitchen Sinks are just 1.7 oz. each and come with a small stuff sack. We use one of these for washing dishes, and then we hang the rinse water from a tree in another Sea to Summit bucket. We like to have the rinse water set up all the time so we can use it as needed, and if we left it on the ground, the dog would knock it over.
Rope – If you want to hang your rinse water, you'll need a good piece of rope. This is also a good time to practice your knots…
A washcloth and towel – We really like using quick-dry microfiber cloths for both washing and drying. We wash our camp dishes, hang up the towels, and they're dry by morning. Unfortunately, we tend to lose them, and sometimes, we just bring sponges and dishtowels from home, especially if we're car camping.
A strainer – A small strainer is awesome for capturing food from your dishwater before you toss it into the woods. It's important to do this because if you've got food in your dishwater, it will certainly attract animals.
A Step-by-Step Guide: How to Wash Dishes While Camping
Perhaps the actual dishwashing is self-explanatory, but I'm going to tell you exactly how we wash our dishes while camping at front-country campgrounds.
Prepare your amazing camp meal.
After you plate up the goods, fill your cook pot with water and let it sit over your campfire. This will make your dishwashing water tolerably warm. It will also keep the food from sticking. If you used your frying pan, add a bit of water to that as well and let it sit.
Enjoy your awesome camp food. This is obviously the easy part.
Fill up one bucket with cold rinse water. If you are anything like my husband, you will have done this upon arriving at camp.
Add a capful of soap to your second bucket and fill it halfway with cold water. Add the hot water from your cook pot.
Convince your kids to wash the camping dishes.
Add the silverware to the soapy water to soak. Now immerse each dirty dish one at a time, starting with the cleanest dishes and moving on to the cookpots and dishes with stuck-on food.
After washing, dip your dish in the clean rinse water.
Hand it to the designated dryer, or if you are flying solo, stack the clean dishes on a rock, stump, etc., where they'll stay clean.
Dry the dishes with your microfiber towel and put them away until the next meal.
Disperse your bucket of rinse water 200 feet from your campsite. Spread the water far and wide to minimize the impact. Ignore this step if your campground has a designated disposal area for dishwater.
Now strain your soapy water into your empty bucket and disperse the dishwater in the same way.
Throw away your food waste or pack it out.
A Few Tips for Making Dishwashing While Camping Easier
Nobody really wants to spend time washing dishes while camping, and over the years we've been able to streamline our system by following a few simple tips:
Go vegetarian – We find that cooking meat just makes a mess and attracts animals. A greasy pan quickly mucks up the dishwater, and then the pancakes end up tasting like burgers. Maybe you like that. I don't. We almost always cook vegetarian while camping. For meat, we bring jerky, pepperoni, and tuna fish, which is usually eaten straight out of the pouch.
Use bread to clean your dishes before washing them – Isn't this the best use of bread anyway? You can sop up all the delicious sauce, soup, or flavoring to make washing easier.
Don't burn your camp food – You know what they say about an ounce of prevention… When you're cooking your camp food, don't take your eyes off the pot. Add more water than you think you need and stir frequently. A burned pot is the worst when camping.
Please don't use disposable tableware – Believe me, I know it's tempting, but as outdoor lovers, you owe it to our one and only earth to tread lightly and reduce your impact.
Don't let the thought of washing dishes while camping keep you from enjoying the outdoors. Once you have a system in place, you won't think twice about it.
---
Read Next: Your Amazing Car Camping Spice Kit
---
If you enjoyed this post, I'd be so grateful if you'd share it on Pinterest.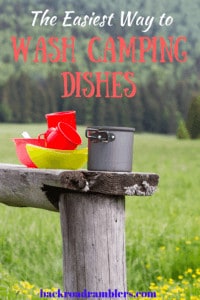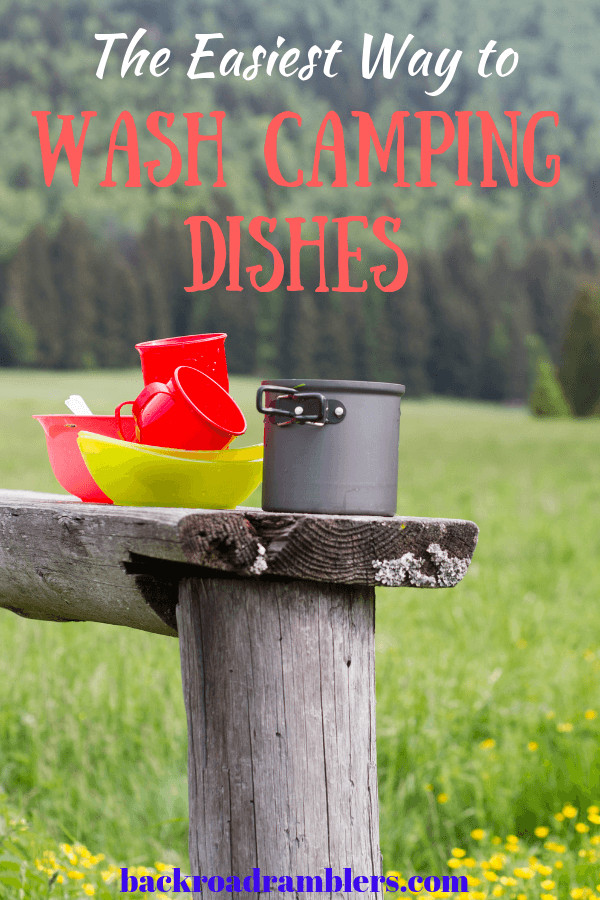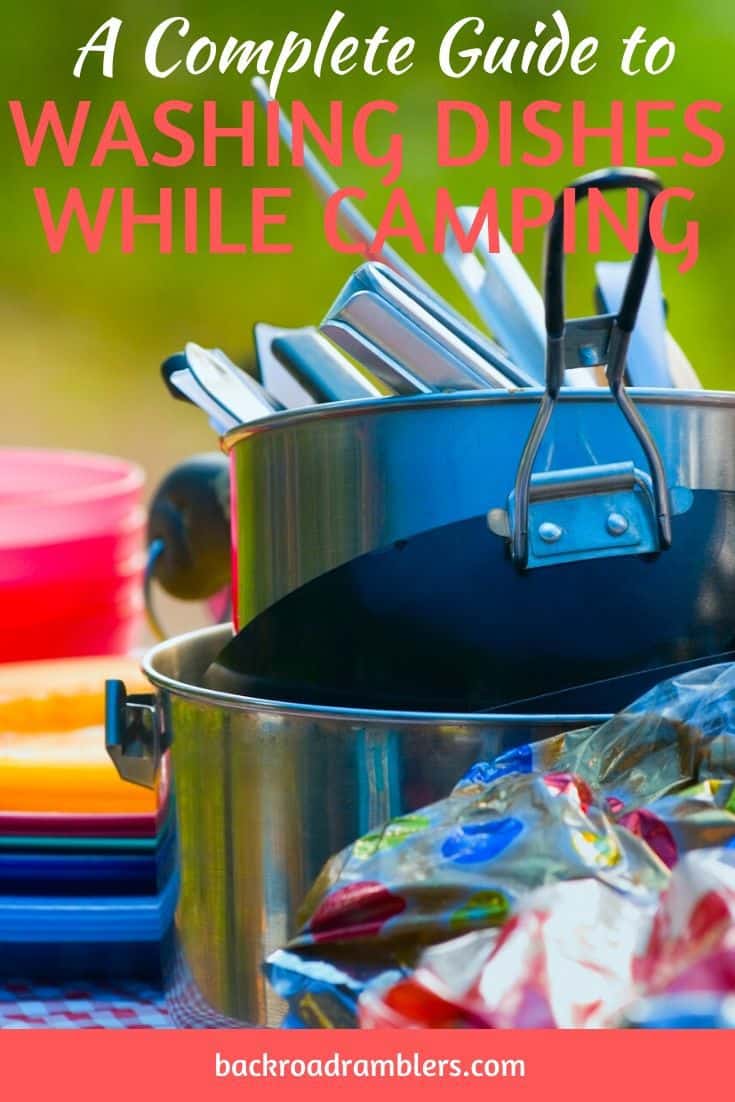 How do you wash dishes when camping? Our readers would love to read about your dishwashing system in the comments below.