Looking for an easy waterfall hike in the Berkshires of Massachusetts? March Cataract Falls is a seasonal waterfall in the Mt. Greylock State Reservation in the Northern Berkshires, and it's the perfect day hike when you want natural beauty without breaking a sweat!
Mt. Greylock State Reservation encompasses Massachusetts's tallest mountain, but also a huge number of trails for the casual day hiker (that's me), vistas, and my favorite — waterfalls. I've visited a number of waterfalls in the Berkshires, and March Cataract Falls is one of my favorites. It's not massive, but it's got a graceful charm, and the trail is perfectly doable in an afternoon.
Quick Facts: March Cataract Falls Trail
Length of trail: 2.2 miles round trip (round trip)
Difficulty: Easy
Elevation range: 2,588 feet – 2,272 feet
Elevation change: 472 feet
Dogs: Yes
Cost: Free
Directions to trailhead
The book, New England Waterfalls: A Guide to More Than 400 Cascades and Waterfalls, describes March Cataract Falls as the premier waterfall of Mt. Greylock, and one of the must-see waterfalls of northwestern Massachusetts.
Because I love the Berkshires, autumn, and road trips, I decided to check out the falls during foliage season this year. Here's what I discovered and why I'll be heading back for another visit in the early summer.
The Hike to March Cataract Falls is Pretty Easy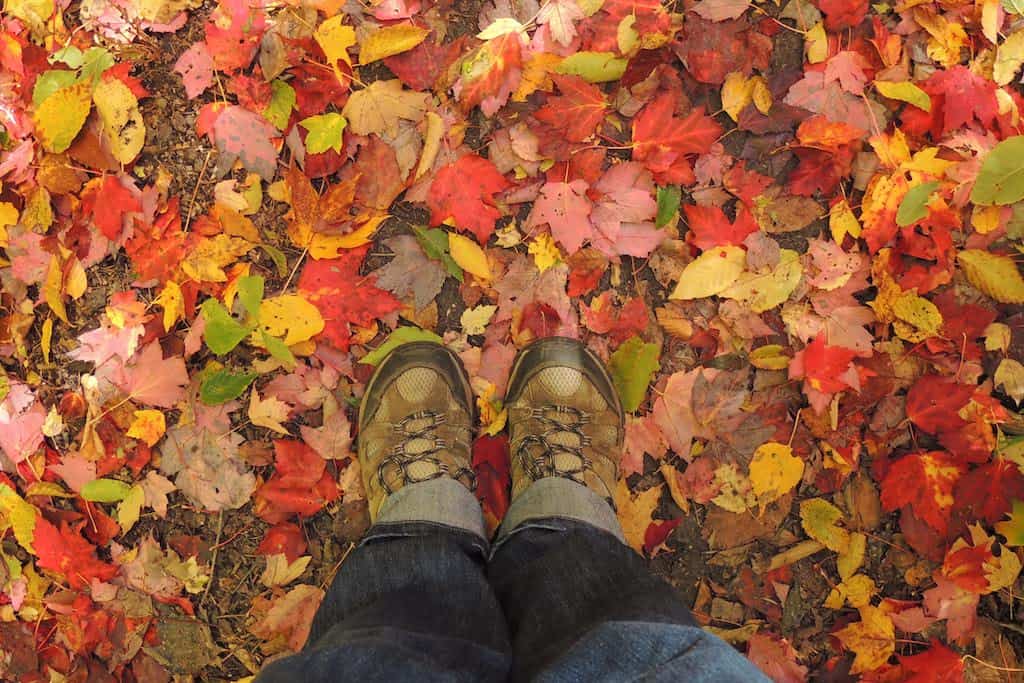 Okay, I knew this beforehand, but guidebooks are tricky — one hiker's idea of easy could be another hiker's calamity.
The hike to March Cataract Falls is truly an easy one. It starts with a .6 mile walk along Sperry Road, which is gated and only open to hikers. The trailhead to the falls is on the right, just past a ranger station and a primitive campground (more about that later). March Cataract Falls are .8 miles from the trailhead.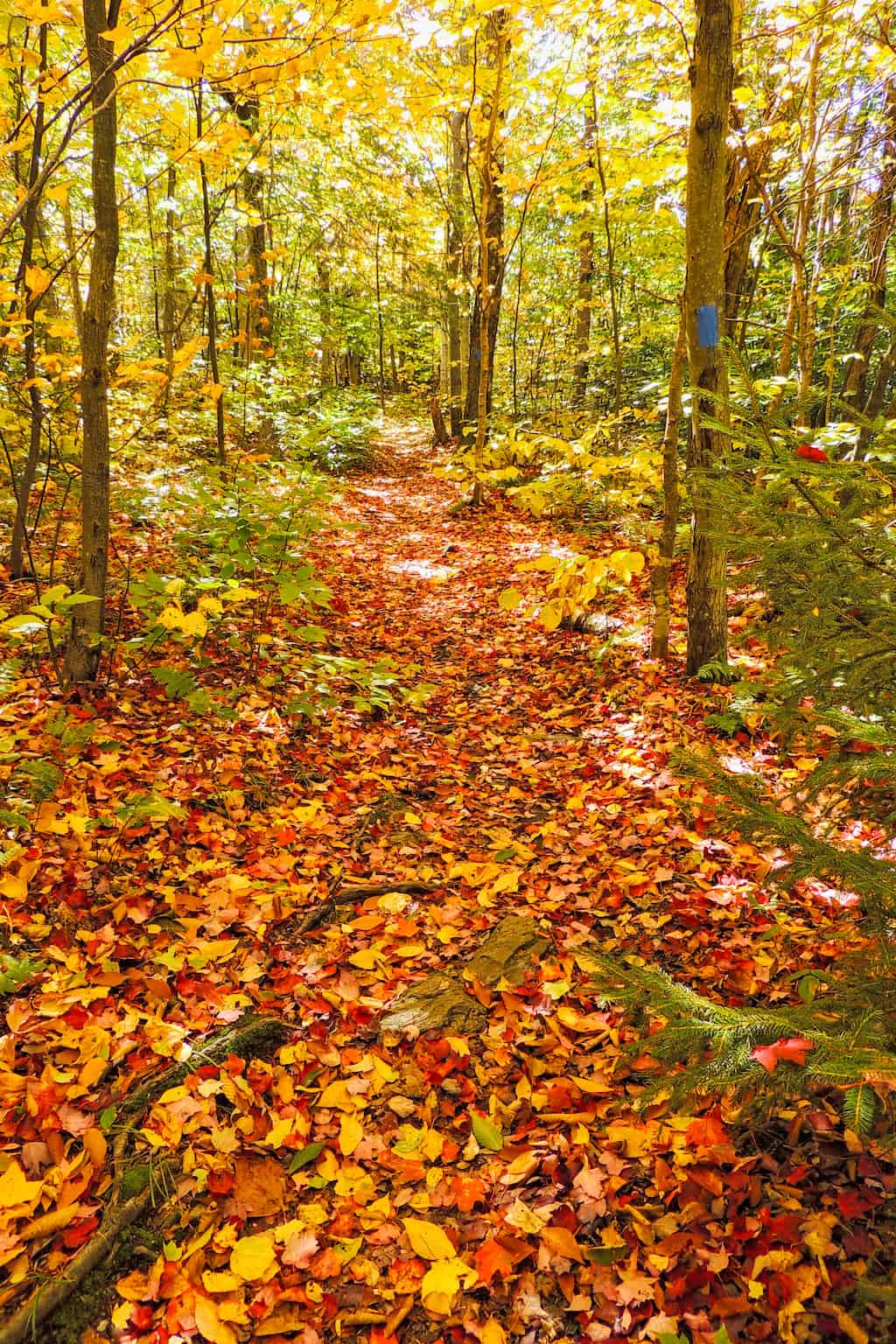 Like all Mt. Greylock hiking trails, the trail to March Cataract Falls is well-marked and well-trodden. In October, the colors are definitely the main attraction, not only are the trees on fire but so is the ground.
I also spied lots and lots of mushrooms (wish I had my field guide) and plenty of songbirds.
---
Read Next: The Best Day Hikes in the Berkshires of Massachusetts
---
March Cataract Falls is Fickle, but Always Lovely
According to my trusty guidebook, the best time to visit March Cataract Falls is between late May and July, and I'm sure that's because the ample snowmelt provides quite a display at the falls.
Here's a photo of March Cataract Falls taken in summer that I found on Flickr – credit in the caption. Quite lovely yes?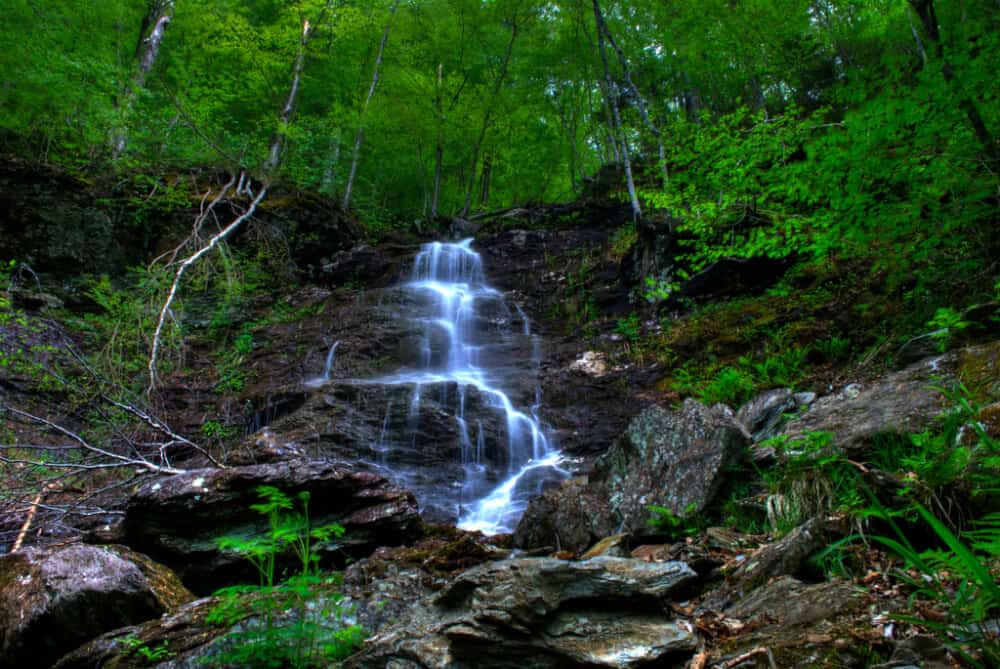 In October, the beauty of the falls is more subtle but still lovely in its own way.
Since I've been practicing my moving water shots, I spent a good deal of time wandering around the falls with the camera. One of the nicest things about March Cataract Falls is how accessible it is — not just the trail, but the falls themselves.
You can easily get within inches of the cascade for a good deal of intimate contemplation (or photography).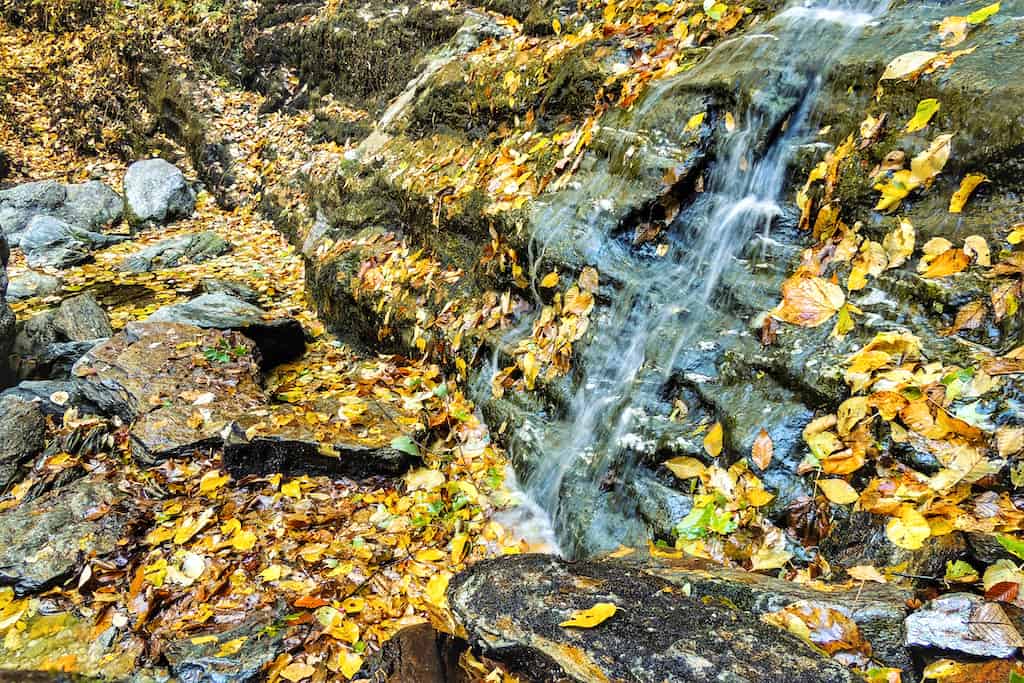 You can Camp Right Near the Trailhead to March Cataract Falls
Primitive camping is available at the Mt. Greylock Campground (also known as the Sperry Road Primitive Camping Area) which sits right at the trailhead to March Cataract Falls.
This is an all-round great base camp for anyone wanting to take advantage of the 70+ miles of trails in the Mt. Greylock State Reservation.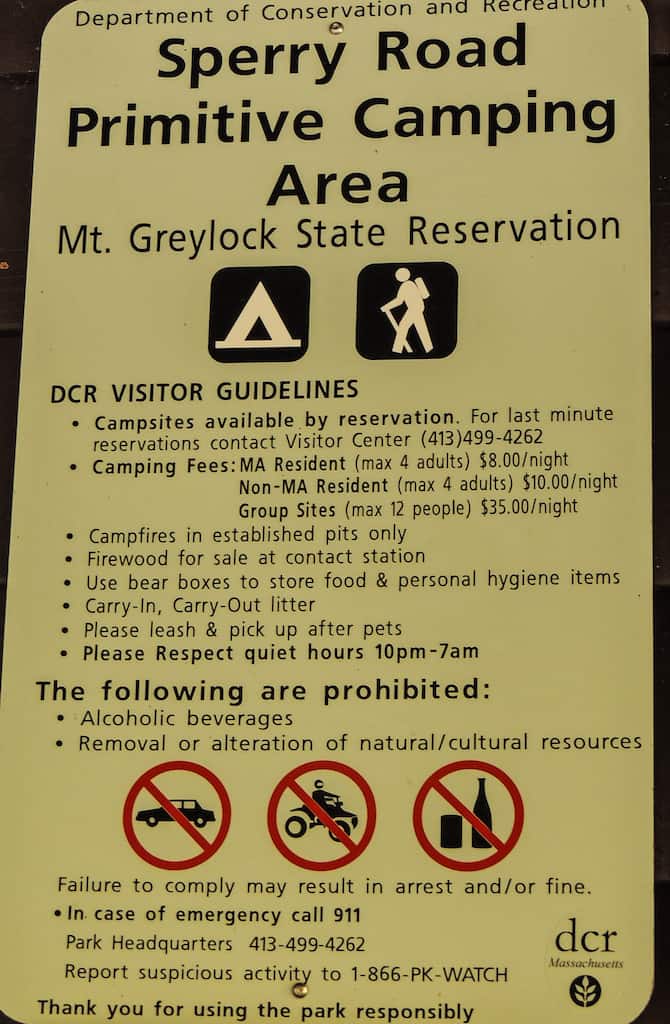 The summit is a two-mile hike from the campground, and you should also explore the popular Hopper Trail. Honestly, I never knew this campground existed, and now I can't wait to get lost on Mt. Greylock for a few days.
A few specifics about camping at Sperry Road Campground:
During the "season" you have to reserve your campsite through Reserve America. The cost is $8 for MA residents and $20 for out-of-staters.
The campground isn't accessible by car. You have to hike about a mile to get there.
This a primitive campground, but you will find pit toilets and running water.
If you want really primitive camping, you can visit in the winter. You'll have to hike in 6 miles from the visitor center. You won't find running water on the mountain, but there's a good chance you'll be able to melt snow.
March Cataract Falls Trail Map and Elevation Profile
The map below is courtesy of AllTrails and includes the hike to March Cataract Trail as well as some of the other trails in the area. As you can see, there are a lot of trails that connect to each other.
If you plan to do more hiking in this part of the Berkshires, I'd recommend getting this trail map, which includes Mt. Greylock, Southwestern Massachusetts, Mt. Tom Reservation, and Skinner State Park and Mt. Holyoke Range.
Getting to March Cataract Falls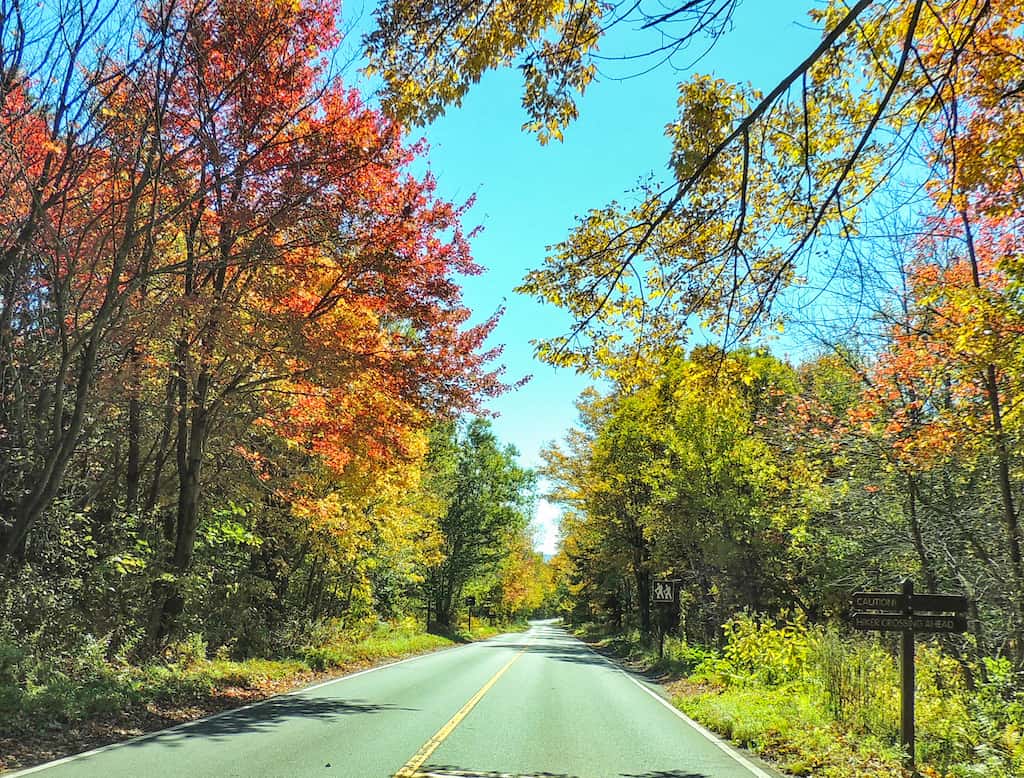 The quickest way to the March Cataract Falls trailhead and the Mt. Greylock visitor's center is via route 7 in Lanesborough, MA. Follow the brown Mt. Greylock signs to the visitor's center.
After you leave the visitor's center and head up the mountain, Sperry Road and the parking area for March Cataract Falls will be on your left.
Side Trip: Drive up Mt. Greylock, the Tallest Mountain in Massachusetts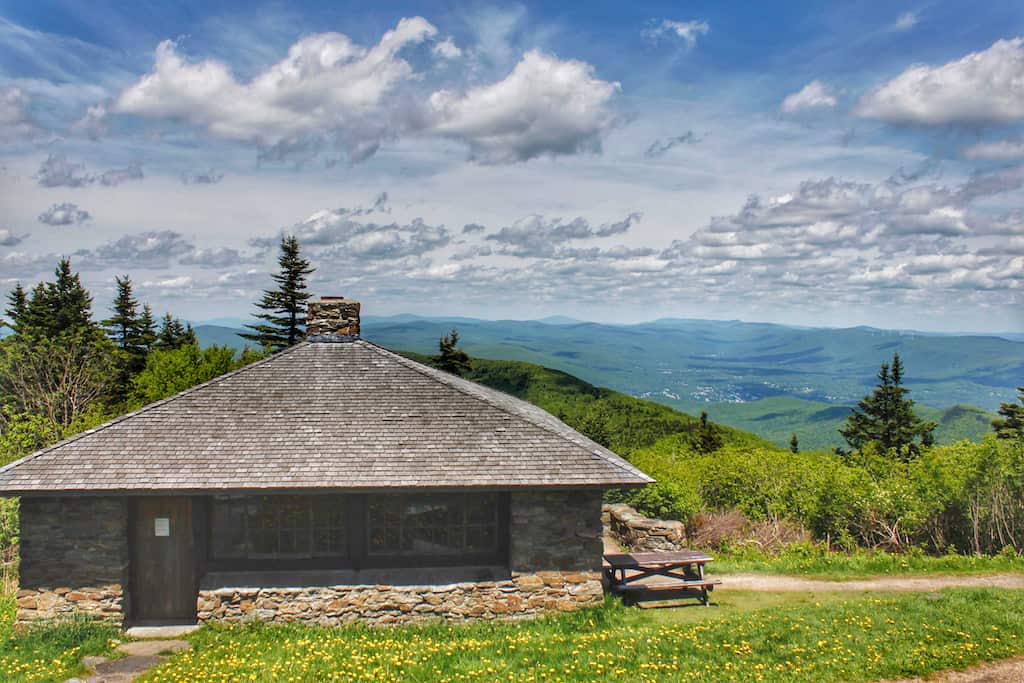 Mt. Greylock is part of the Taconic Mountain Range geographically, but locals and visitors more often associate it with the Berkshire Hills. It's the tallest mountain in Massachusetts at 3,491 feet (1,064 m).
There's a seasonal road to the top of Mt. Greylock, which I highly recommend unless of course, you find yourself in the area on Columbus Day Weekend. In that case, stick to the trails, and hike to the summit.
If you do decide to drive to the summit, you'll have to pay a nominal parking fee, but you'll be rewarded with incredible vistas, not to mention some sweet hidden nooks for picnicking. Mt. Greylock's summit also attracts a large number of hang gliders when the weather is nice. Watching people jump into the sky over lunch is way more fun than watching TV!
With more than 70 miles of trails crisscrossing the mountain, it's not hard to find the perfect hike on Mt. Greylock.
I highly recommend a jaunt to March Cataract Falls, but you may want a more strenuous excursion. Visit the Mass.gov website for a printable Mt. Greylock trail map.
Here's another fun adventure for you – spend the night on the summit at Bascom Lodge! Bascom Lodge can accommodate up to 34 guests in a mix of group bunks and private rooms.
---
The Berkshire Mountains make a fabulous destination for outdoor families or anyone who wants to explore the wild side of New England. I'm so glad I finally got a chance to visit March Cataract Falls, and I can't wait to explore more of Mt. Greylock.
Have any of you ever been to Mt. Greylock State Reservation? Drop your favorite trail suggestions in the comments below!
Pin for Later?