Part wildlife sanctuary and part Wild West, Theodore Roosevelt National Park is a vast landscape of hills, prairies, and floodplains known collectively as the North Dakota Badlands.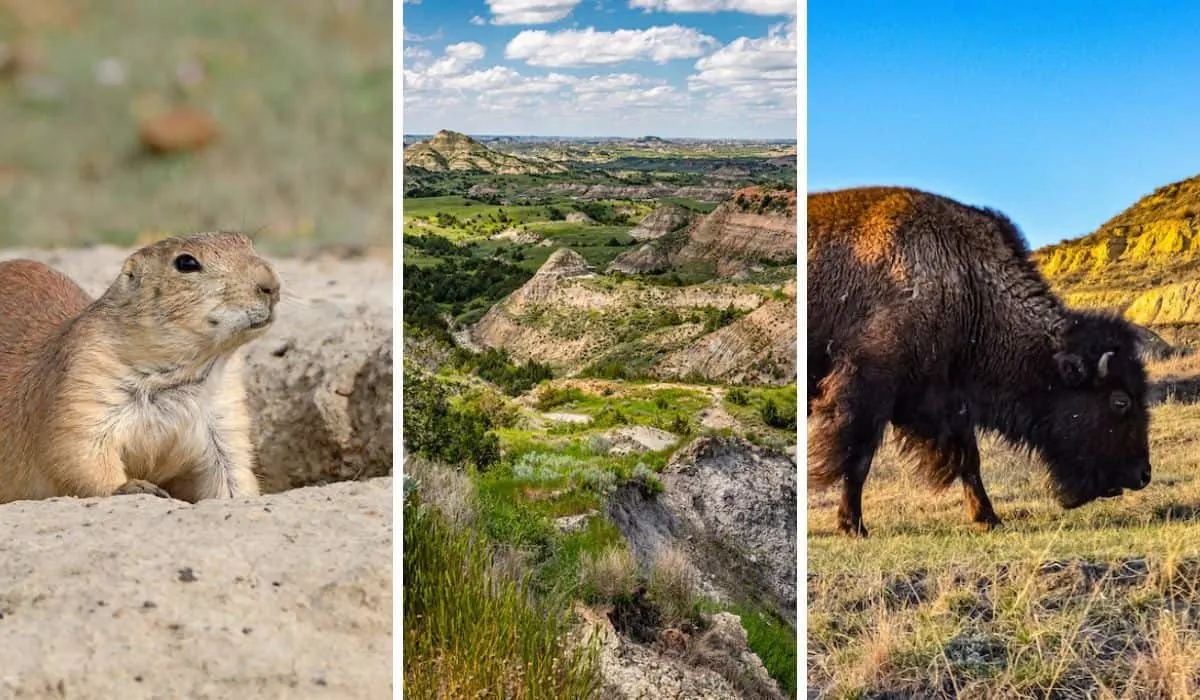 This is the only national park in North Dakota, and it's a very special place. As with all the lesser-known national parks, Theodore Roosevelt will thoroughly reward you for visiting.
You'll embark on an intimate and colorful experience with the burnished hills, the plentiful wildlife, and the people that call this corner of the prairie home.
The park encompasses 70,446 acres of land in three separate sections: the North Unit, the South Unit, and the Elkhorn Ranch Unit.
The South Unit is the largest and most popular, in part because of its convenient location along Interstate 94 near the charming town of Medora.
The North Unit is located 70 miles from the South Unit, along Highway 85. If you are looking for solitude, we can guarantee that you'll find it here. Backpacking is the most popular activity in the North Unit, but there are a few easy day hikes, an abundance of wildlife, and a small campground.
The tiny Elkhorn Ranch Unit is between the other two. This special place was where Theodore Roosevelt called home after the death of his wife and mother (on the same day). There are no facilities here — just the stone foundation of Roosevelt's cabin, gorgeous scenery, and a solemn quiet.
A recent road trip took us through North Dakota in June when the prairie still had a bit of green and the days were just starting to get hot.
This is the perfect time for baby bison, wildflowers, sweaty horseback rides, and stargazing. Here's why you've got to make the trek to North Dakota to go camping and hiking in Theodore Roosevelt National Park.
First Stop: Medora, North Dakota
No wonder their motto is Explore it. Adore it. Medora is pretty dang cute, with every building, including the post office, boasting a wild west facade.
The town is situated right at the entrance to the South Unit of the park. Not only can you stock up on amenities, eat your fill of pizza, and mail out those postcards, but Medora's got its own touristy charm.
Here's what you shouldn't miss in Medora, North Dakota.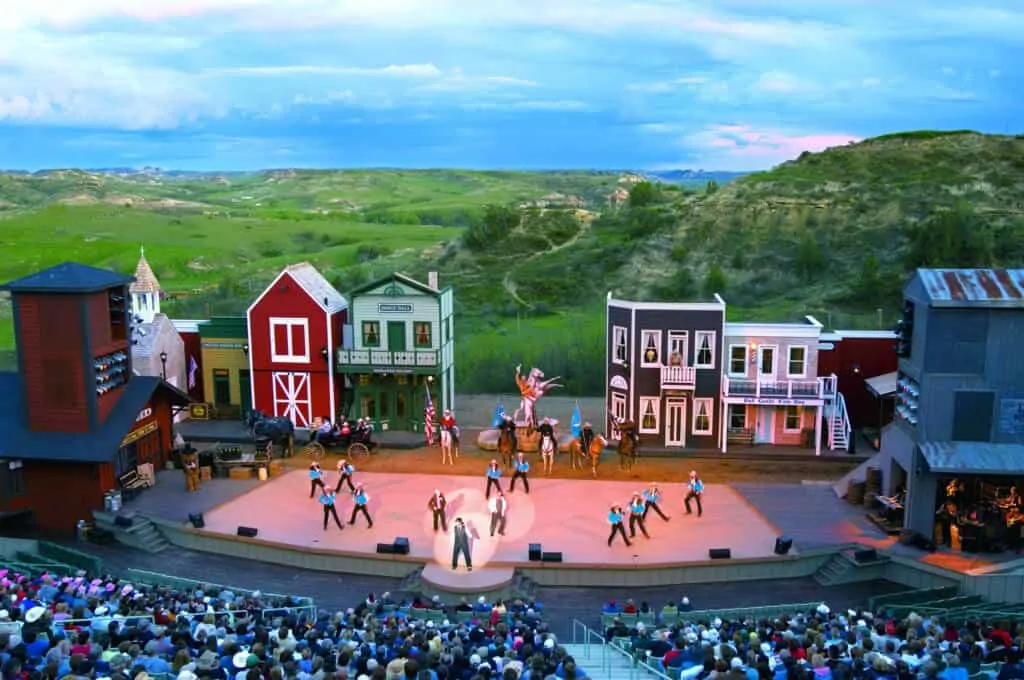 Medora Musical – Starting in June you can attend this outdoor cowboy musical once or every single night of the summer (except Mondays). Expect singing, dancing, comedy, and cowboys. The show pays tribute to the legacy of Teddy Roosevelt and his love affair with the North Dakota Badlands. You and your family will be smitten with this gem of a show.
North Dakota Cowboy Hall of Fame – Located in downtown Medora, this huge museum takes you to the wild west of days gone by. Explore the state's rich cultural heritage from the legacy of the American Indian to the ranching and rodeo scene. This is the place to escape the heat on a hot summer day.
Medora Riding Stables and Trail Rides – Spend an hour or two on horseback riding the trails of the North Dakota Badlands. Ride along buttes and canyons, look for wildlife, and take in the amazing scenery with a seasoned guide.
Exploring the South Unit of Theodore Roosevelt National Park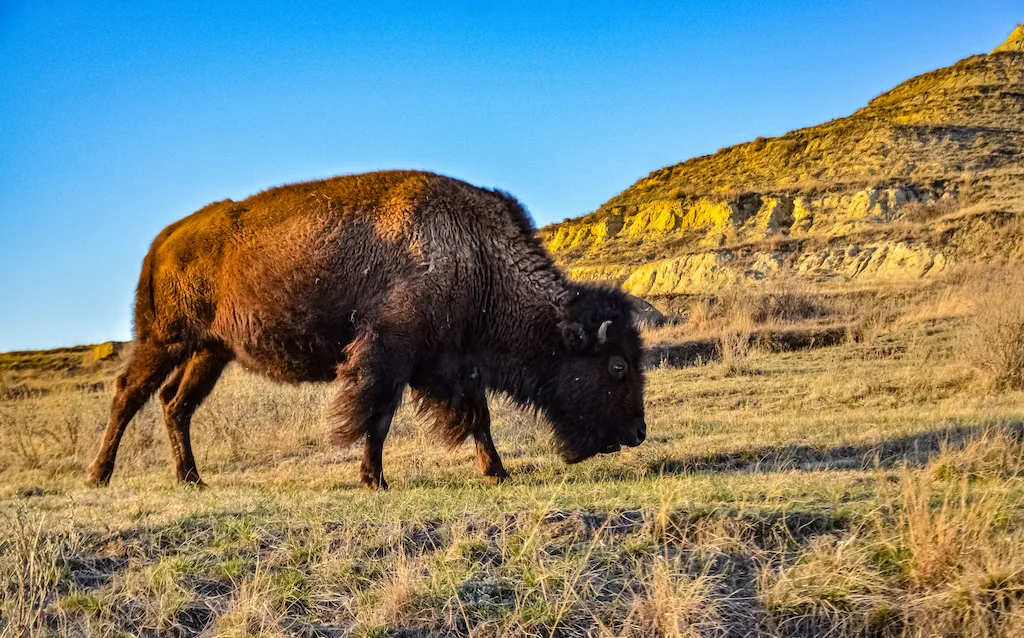 If you are short on time or want to be close to the conveniences of Medora, then visiting the South Unit of Theodore Roosevelt National Park is your best bet. Yes, this is the most popular part of the park, but there is plenty of room to spread out, especially if you can get out on the trails!
Here are the best things to do in the South Unit of Theodore Roosevelt National Park.
Theodore Roosevelt National Park Camping: Cottonwood Campground
Not only is camping in Theodore Roosevelt National Park the most affordable way to explore Medora and the South Unit of the park, but it's also the best way to see wildlife, watch the stars, and see beautiful sunrises and sunsets from some of the many vantage points.
Cottonwood Campground is about five miles from Medora. There are 76 sites to choose from — half can be reserved ahead of time. The other half are first-come, first-served, but we recommend getting to the park by noon during the week and earlier on weekends to score a campsite.
While there are no hookups at Cottonwood Campground, sites are plenty large enough for RVs.
Cottonwood Campground is open year-round, with flush toilets and potable water during the summer and fall.
Cost is $14 for a tent/RV site during the main season and $7 per night during the off-season. This fee is in addition to your park entrance fee of $30 per vehicle for seven days.
Insider tip: If you're planning to visit more than two national parks in a single year, you can save some money on fees buy getting the America the Beautiful Pass. $80 will get your carload of passengers into all national park units for a full year. You can buy your pass at any national park. If you want to purchase one ahead of time, REI will donate 10% of all sales to the National Park Foundation.
During our recent road trip, we scored a beautiful, open campsite with far-reaching views across the grassland. Campsites filled up by about 2 pm on a Wednesday in June. There was a mix of shaded and open sites, but the shady sites filled up more quickly, as it was hot and dusty.
Even though we would have preferred a shaded site, the incredible sunset views made up for it, and then in the morning, a bison meandered through our campsite on his way to graze on the tall grass. It was an awesome camping experience!
Drive the Wildlife Loop Road through Theodore Roosevelt National Park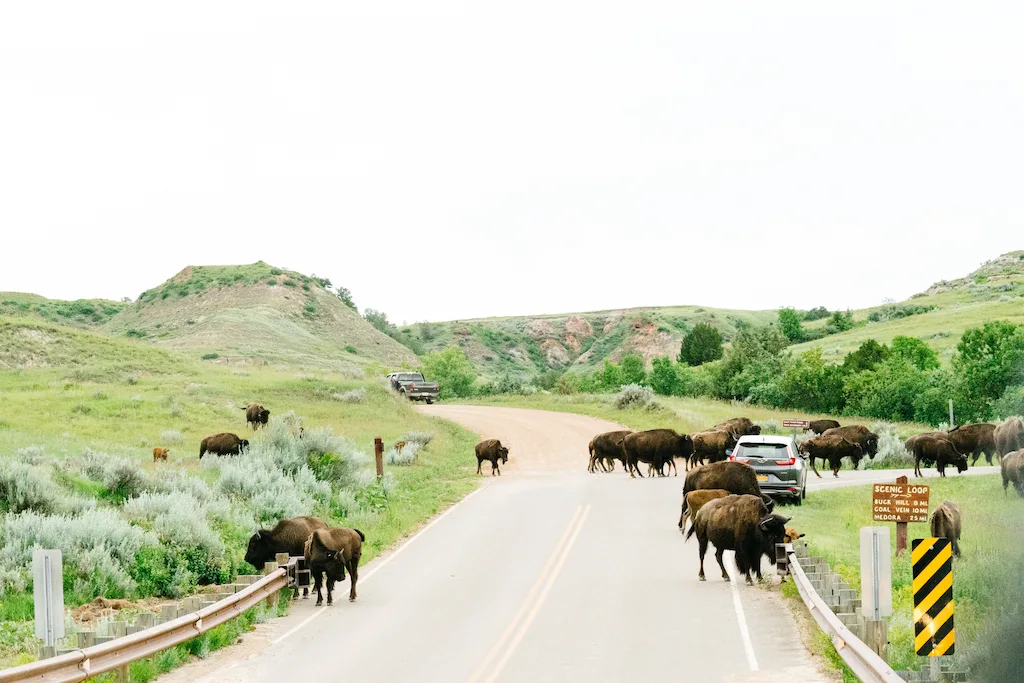 Both the south and north units of Theodore Roosevelt National Park have loop roads that offer incredible vantage points for viewing wildlife. I could watch the prairie dogs in their elaborate cities for hours on end. They are the cutest inhabitants on the prairie, but you will only find them near the loop road in the south unit. In the north unit, you have to hike to the prairie dog town.
One of the best things about Theodore Roosevelt National Park is how accessible the wildlife is. It's not hard to spot bison and wild horses, but you may also see bighorn sheep, coyotes, elk, and pronghorn.
Insider tip: The open prairie makes it easy to spot wildlife from the loop road in Theodore Roosevelt National Park. Be sure to pack binoculars so you can scan for herds of bison and other critters. These binoculars from NOCS Provisions are compact, waterproof, fog proof, and super easy to focus.
We had the best luck driving the wildlife loop road just before sunset. Wild horses and bison meandered along the roads grazing. I made elaborate plans to escape the charging bison we would encounter on our hikes, but we only saw them from the car – thank goodness.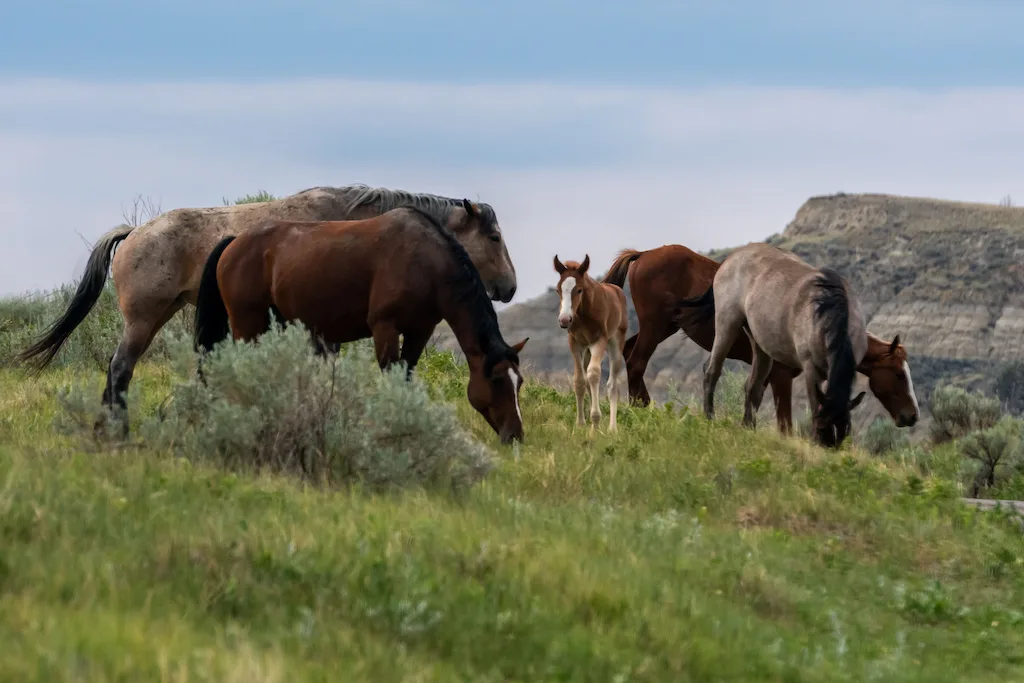 South Unit Hiking in Theodore Roosevelt National Park
Hiking in Theodore Roosevelt National Park is something special. The sky out here is so big and every trail leads to amazing overlooks with expansive views. The park has something for everyone, from easy, paved nature walks, to steep and challenging backpacking trips.
There isn't much shade in these parts and the summer temperatures are enough to bake you through, so be sure to wear sunblock and carry plenty of water, even if you're going out for a short jaunt.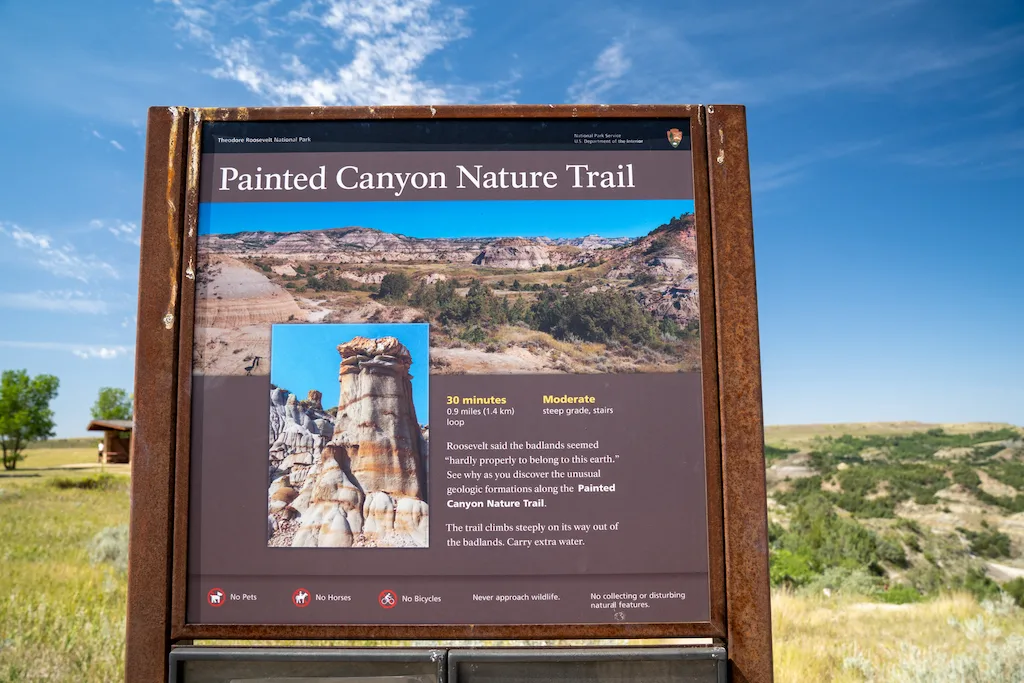 There are tons of options for hiking in Theodore Roosevelt National Park's South Unit, but here are some favorites.
Buck Hill – This short hike (0.2 m/0.3 km) is very steep, but it brings you to the highest point in the park. You'll have 360-degree views of the surrounding hills, canyons, and valleys. Bring your binoculars and scope the prairie for the herds moving across the park.

Painted Canyon Nature Trail – Get right into the canyon for an up-close and personal experience with the geology and wildlife of this amazing ecosystem. Descend in the heat of summer and the painted rock walls will keep you cool. At just under a mile, this trail is moderately steep into and out of the canyon.

Petrified Forest Loop – While not as visually stunning as Petrified Forest National Park in Arizona, this remote trail is rugged and isolated. 10.3 miles makes for a long day hike. If you have kids or just want to take it slow, you can make it a two-day backpacking adventure. You'll be rewarded with amazing views from the ridgeline, huge, stone tree trunks strewn about, and more than likely, not a single other hiker. Be sure to wear long pants for this one. The tall prairie grass is not friendly to bare legs.
Exploring the North Unit of Theodore Roosevelt National Park
Looking for a bit more solitude? Drive an extra 70 miles to the North Unit of Theodore Roosevelt National Park. This unit is best for backpacking, but the front-country campground is lovely too. We recommend spending a weekend in the North Unit if you want to hike and camp — it's a bit of a drive for a day trip.
Here's the low down on camping, exploring, and hiking in Theodore Roosevelt National Park's North Unit.
Theodore Roosevelt National Park Camping: Juniper Campground
Juniper Campground is not nearly as busy as Cottonwood, but because you can't make reservations for any of the sites, I'd still recommend getting to the North Unit by early afternoon. If you happen to be visiting on a holiday weekend, get there even earlier.
50 campsites perched on a bluff overlooking the Little Missouri River. There's a good mix of shaded and open sites, and as with Cottonwood Campground in the South Unit, bison rule the area. Don't let kids or dogs wander around unsupervised!
Campsites at Juniper Campground are basic, with a picnic table, and fire ring. There is running water nearby, but no hookups; flush toilets, but no showers.
North Unit Scenic Drive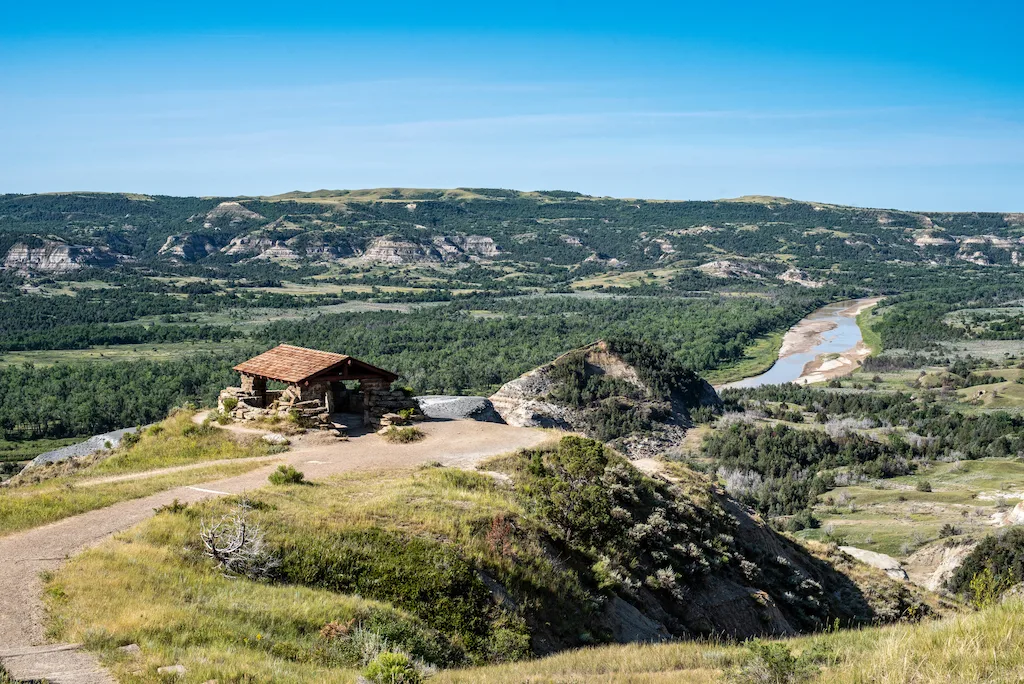 The scenic drive in the North Unit of Theodore Roosevelt National Park is 14 miles long. It's an out-and-back route, but as full of wildlife as the South Unit. Be prepared to see lots of bison, as well as mule deer, coyote, pronghorn, beavers, and a few Longhorns (a demonstration herd of cattle).
In addition to viewing wildlife, there are a few great overlooks along the scenic drive in the North Unit. The Riverbend Overlook provides a far-reaching view over the Little Missouri River, and Oxbow Overlook offers a panoramic view of the buttes of the North Dakota Badlands.
Theodore Roosevelt National Park Hiking: North Unit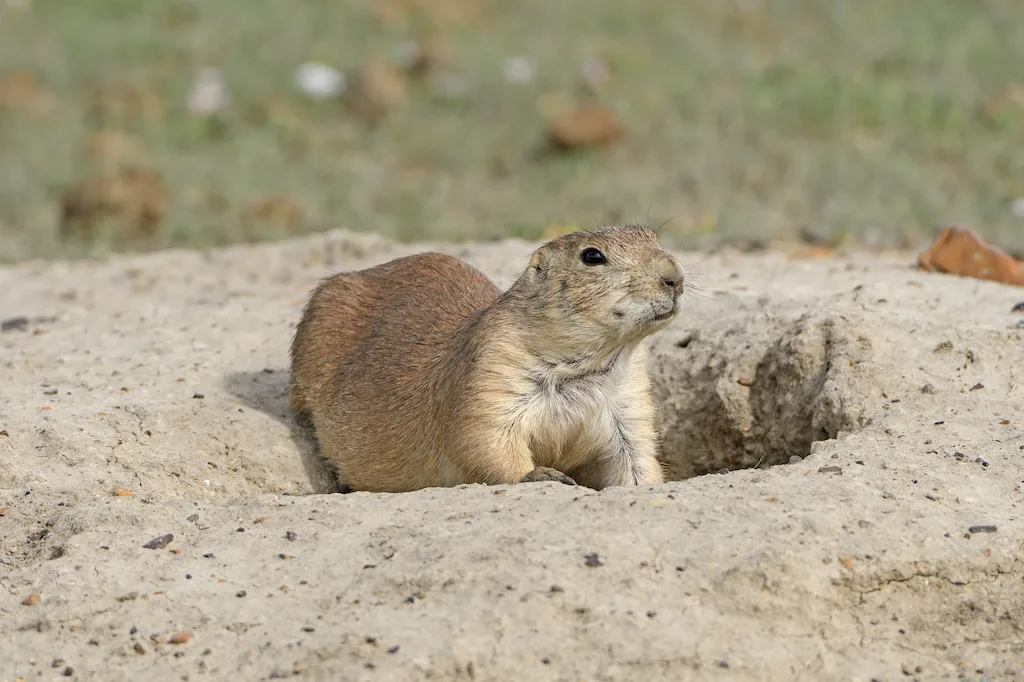 There are a few easy nature trails in the North Unit of Theodore Roosevelt National Park. Most are less than a mile, and some are paved for easy access. Longer trails are suitable for backpacking, but you will need to pick up a permit at the North Unit Visitor Center before setting out.
Here are some of our favorite hiking trails in the North Unit of Theodore Roosevelt National Park:
Little Mo Trail – 0.7-mile paved loop. There are trail brochures at the trailhead and numbered markers along the route so that you can learn about the ecosystem as you walk.

Buckhorn Trail – Hike a total of 11.4 miles through prairie dog towns, sagebrush terraces, deep canyons, and high open prairies. Be mindful of bison near the trail. They sometimes knock over the trail markers, so a GPS or map will be helpful to keep you on track.

Achenbach Trail – This 18-mile loop features a few steep climbs and descents, as well as two river crossings. This is a very quiet trail, and you're unlikely to see other hikers, but you may see bison. Be sure to bring plenty of water, as you're unlikely to find it on the trail. This is a perfect two or three-day backpacking trip.
Theodore Roosevelt National Park FAQs
Got questions about visiting, camping, or hiking in Theodore Roosevelt National Park? Leave us a comment and we'll do our best to answer you. In the meantime, here are some frequently asked questions about Theodore Roosevelt National Park.
When is the Best Time to Visit Theodore Roosevelt National Park?
The park is open year-round, but for wildlife viewing, hiking, and camping, we think the best time to visit Theodore Roosevelt National Park is from late May through June. Not only are the temperatures and crowds easier to deal with, but you can see baby bison and horses grazing the hills. It's a beautiful time to visit.
Summers are hot, dry, and very windy, and the campgrounds are crowded. The temperatures drop in the fall, making September and October another nice time to visit. Winters are often below zero, with blowing snow, making it a hard sell for all but the hardiest souls.
Where is the Closest Airport to Theodore Roosevelt National Park?
Bismarck Municipal Airport is 137 miles from Theodore Roosevelt National Park's South Unit. It's a small airport serving Allegiant, American, Delta, Frontier, and United Airlines. We recommend booking a car in Bismarck and heading to the South Unit from the airport. Compare car rental prices on Kayak to find deals.
Do You Need a Four-Wheel Drive Vehicle in Theodore Roosevelt National Park?
Nope. Most of the roads in the park are paved, and the ones that aren't are maintained well enough for a two-wheel-drive vehicle.
Any Special Packing Tips for visiting Theodore Roosevelt National Park?
Bring a waterproof shell for wind and rain – Nights can be chilly and the wind will cut right through you!
Bring tick repellent – We found ticks every single day of our visit to TRNP. I recommend wearing long pants tucked into socks for hiking, as well as a good tick repellent. Our favorite is made by Sawyer and uses picaridin as the active ingredient.
Use a hydration reservoir so you know you have enough water. Water is pretty scarce in Theodore Roosevelt National Park. Water requirements will vary depending on the length and difficulty of your hike and how hot it is. A general rule of thumb is a half-liter for every hour of hiking. My favorite daypack by Gregory holds three liters of water and works for most day hikes.
Theodore Roosevelt National Park is definitely on our list of favorite parks. It's got all of the awesomeness of the fabulous national park system, with none of the drawbacks that come with some of the larger parks.
We hope to head back before too long and we'd love to hear your stories and tips to help make our next trip even better.
---
Want to read more about our amazing National Parks? Check out these posts, or visit our national park camping and hiking guide:
---
Follow us on social media for more national park trips!
Pin for Later?