America's 63 national parks are breathtakingly beautiful and incredibly diverse, encompassing wild seashores, towering mountains, dark rainforests, and vast deserts. One of the most unique is Joshua Tree National Park in Southern California.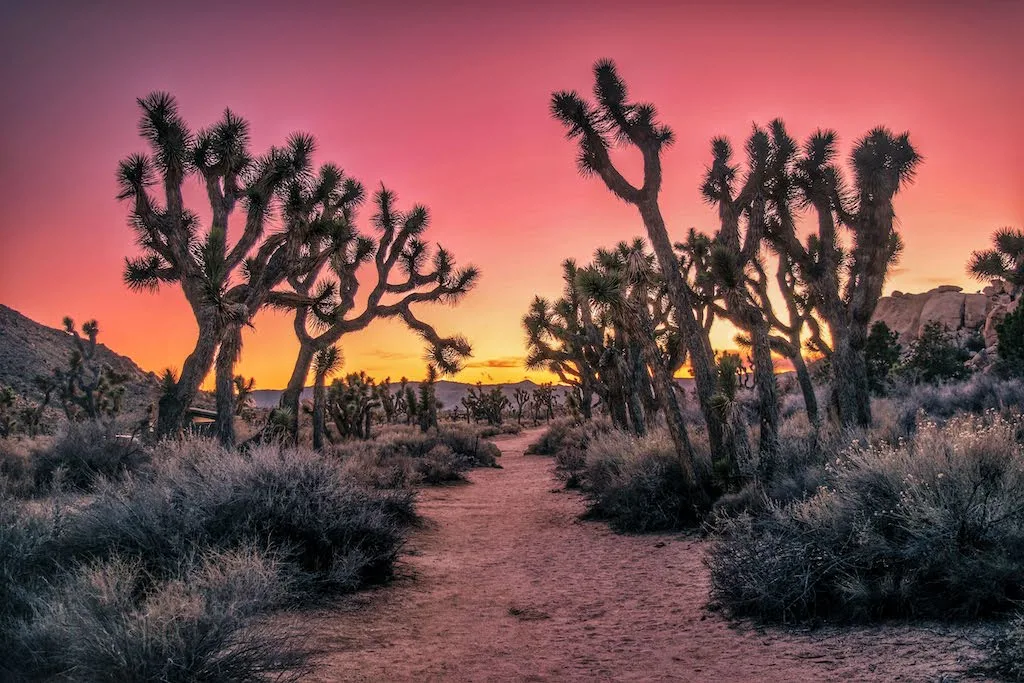 Joshua Tree's otherworldly landscape, easy hiking opportunities, and awesome campgrounds make it a perfect park to explore with kids.
Last winter, I had the honor of exploring Joshua Tree National Park and its harsh and varied ecosystem sprawling across 800,000 acres in Southern California. I'm not lying when I say there are endless opportunities for exploring in Joshua Tree, and despite less-than-cooperative weather (snow!), we did a lot of adventuring!
I think it's safe to say that Joshua Tree National Park is one of my favorite places in the world. There's magic in that desert, and I am already planning my next trip. In the meantime, I want to share some Joshua Tree National Park highlights, including the best hikes in Joshua Tree for families and an overview of Joshua Tree camping.
Joshua Tree FAQs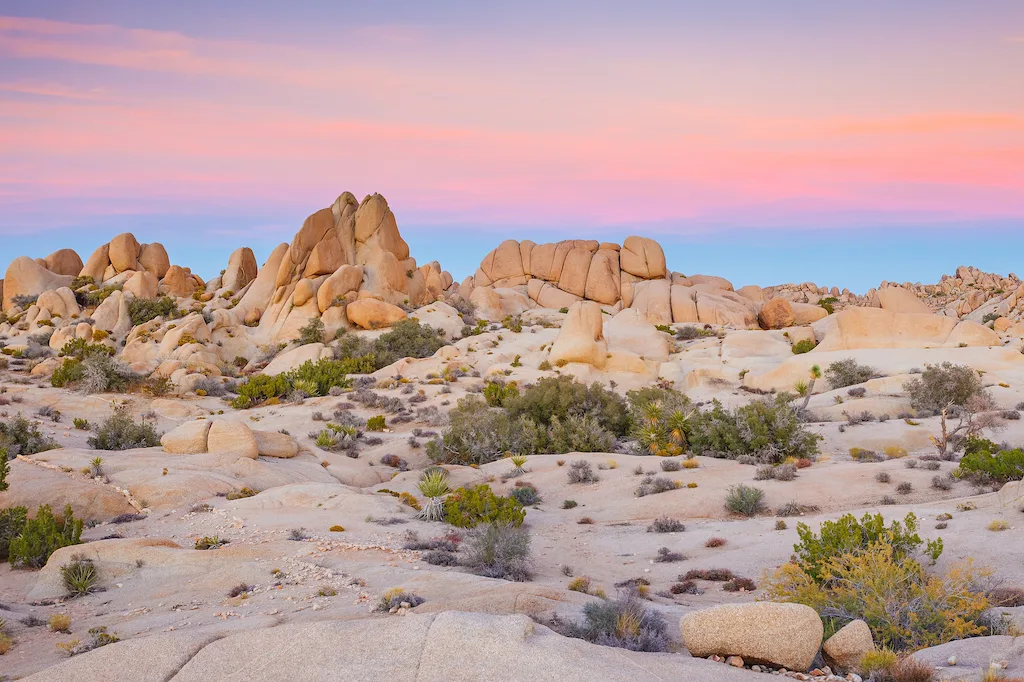 When is the Best Time to Visit Joshua Tree National Park?
Every season in Joshua Tree is special, but visiting with kids between late October and early April is best to avoid the dangers of sunstroke and extreme heat. Winter temps can dip below freezing at times, so if you do visit between December and Febraury, bring warm clothes and camp in the southern part of the park (Cottonwood Springs). If you want to experience the desert in bloom, visit Joshua Tree between late Febraury and April.
How do I Get to Joshua Tree National Park?
Joshua Tree National Park is about 3.5 hours from LAX in Los Angeles, and 3 hours from McCarran Airport in Las Vegas, but the drive from Las Vegas to Joshua Tree is much easier with less traffic. As we fly from the east coast, we also find that flying into Vegas is significantly cheaper. Look for deals on Kayak for both flights and car rentals when you start making your plans.
For a more unique experience, you can rent an Escape Campervan in Las Vegas and use it as your tricked-out adventure mobile. Each campervan comes with everything you need for your trip, plus a custom paint job that looks gorgeous against a desert backdrop.
If you do drive to Joshua Tree from Las Vegas, it's pretty much a straight shot south through an empty, mountainous desert to the Twentynine Palms entrance into the park.
How do I Get Around Joshua Tree National Park?
It's not easy to get around Joshua Tree National Park without a car, and we wouldn't recommend it. The park covers more than 800,000 acres and it can take several hours to drive from one end of the park to another. For this reason, it's also crucial to plan your hikes and explorations so that you minimize driving time and maximize fun.
Camping in Joshua Tree Nationa Park with Kids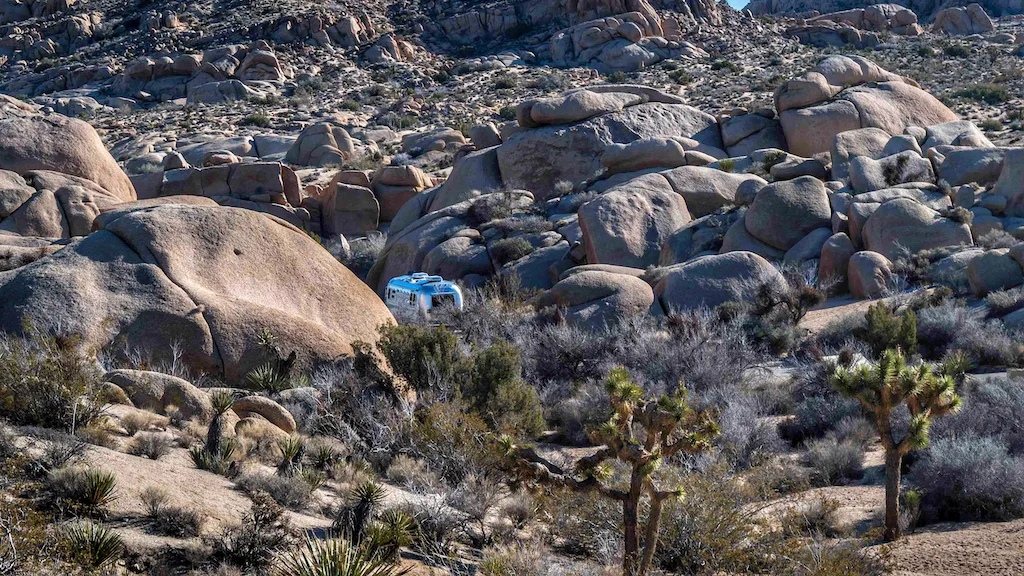 You don't have to camp in Joshua Tree National Park to explore it properly, but I highly recommend trying it!
Sunrises and sunsets are magical in the park, and nighttime is one of the best times to explore, even if you're just walking the campground road and admiring the stars.
I can't speak for every single one of the nine developed campgrounds within Joshua Tree, but I can give you a few tips based on our experiences — we have visited most of the campgrounds looking for the perfect spot, and as long as you bring plenty of water (for drinking, washing, and cooking), I highly recommend Jumbo Rocks Campground for families.
In my humble opinion, Jumbo Rocks Campground provides the best of Joshua Tree camping, but here are some other options:
Black Rock Campground – Reservations required. Just five miles from shopping and restaurants in Yucca Valley. There are potable water and flush toilets at Black Rock, and 99 sites that are suitable for tents or RVs up to 35 feet in length. No hook-ups are provided. Good cell service.
Cottonwood Campground – Reservations required. Located in the southeast corner of the park, Cottonwood has potable water and flush toilets. All 62 sites can be reserved ahead of time and are suitable for tents and RVs up to 35 feet. Because Cottonwood is lower in elevation than other campgrounds, it's also warmer at night and a good choice for winter camping. No cell service and no hookups.
Indian Cove Campground – Reservations required. 101 campsites for tents and RVs up to 35 feet. Indian Cove has vault toilets and no water. Spotty cell service and no hookups.
Jumbo Rocks Campground – Reservations required. Jumbo Rocks is centrally located with amazing rock formations. 124 sites for tents and RVs up to 35 feet. Vault toilets and no water. No cell service and no hookups.
Ryan Campground – Reservations required. 31 sites for tents and RVs up to 35 feet, but no hookups. adjacent to the California Riding and Hiking Trail. Vault toilets and no potable water or cell service.
Belle Campground – First come, first served. Small 18-site campground with vault toilets, no water, and no cell service. A remote and quiet campground suitable for tent campers and RVs up to 35 feet, but no hookups are provided.
Hidden Valley Campground – First come, first served. 44 sites with vault toilets, no water, and no cell service. This is also one of the busiest campgrounds in the park and seems to cater more to climbers who take advantage of the great climbing routes in Hidden Valley.
White Tank Campground – First come, first served. Located in a remote northern section of the park, White Tank provides vault toilets, but no water or cell service. RVs under 24 feet are permitted, but there are no hook-ups.
Insider tip: There is no firewood available in Joshua Tree National Park, so if you've got visions of campfires and s'mores dancing in your head, be sure to buy bundles of wood outside the park and bring it in.
Camping at Jumbo Rocks Campground in Joshua Tree National Park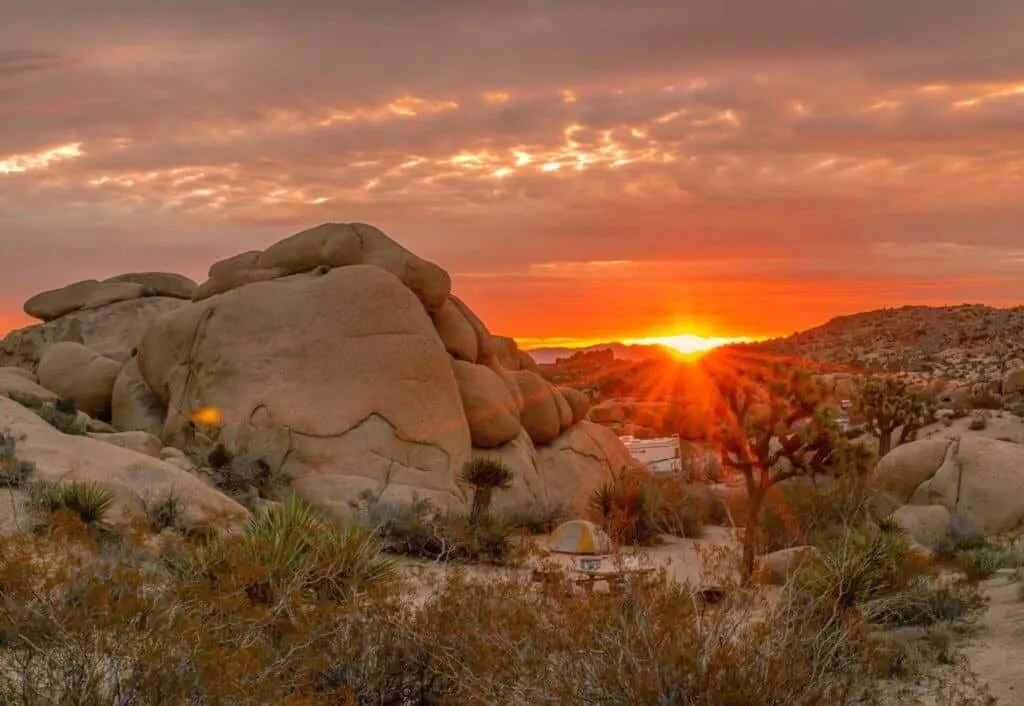 Jumbo Rocks Campground encompasses a surreal landscape in the heart of the park and has 124 campsites that provide ample space and privacy. Reservations are required and can be made online at Recreation.gov. Same-day reservations can be made if sites are available.
Most sites are spacious, nestled into the giant boulders and dotted with Joshua trees for privacy. The endless fields of boulders provide an incredible backdrop for photos, and adventurous kids (and adults) will love exploring the campground.
Jumbo Rocks Campground is centrally located in the heart of the park, making it easy to plan all of your adventures from a central location. The Skull Rock Nature trail begins and ends in Jumbo Rocks, and many of our favorite Joshua Tree hiking trails and adventures are just a short drive away.
The town of Joshua Tree (our favorite for eating out) is 23 miles away, and the town of Twentynine Palms is just 13 miles. We really loved sites #14, 15, and 16 in Jumbo Rocks Campground, but most of the campsites are equally awesome.
There are a few reasons why you may want to choose another campground over Jumbo Rocks Campground. If the weather promises to be chilly through the night, you might want to pitch your tent in Cottonwood Springs, which is a good 10 degrees warmer than the more northern campgrounds.
If running water is a necessity, choose Cottonwood Springs or Black Rock Campground. There is no running water at Jumbo Rocks Campground. We filled up several jugs at the visitor center.
Insider tip: Is having good cell service while camping important to you? The only campground that has reliable cell service is Black Rock Campground near the town of Yucca Valley.
---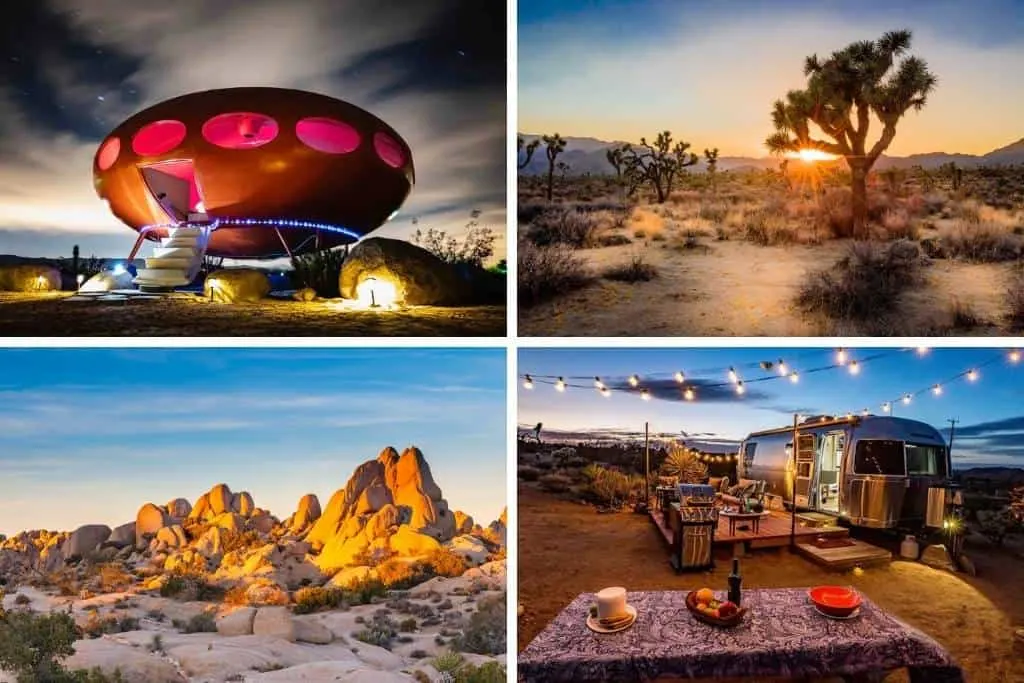 ---
The Best Hikes in Joshua Tree for Kids
Joshua Tree National Park has some of the most family-friendly hikes anywhere, provided you plan ahead and pack appropriately.
The following Joshua Tree hiking trails are relatively easy and fun for all ages. They are all under two miles and without huge elevation gains.
If you're an experienced hiker with older kids, I highly recommend the Lost Horse Mine Loop, which I'm not including in this list. All of these Joshua Tree hikes are located in the Mojave Desert section of the park, not far from Jumbo Rocks Campground.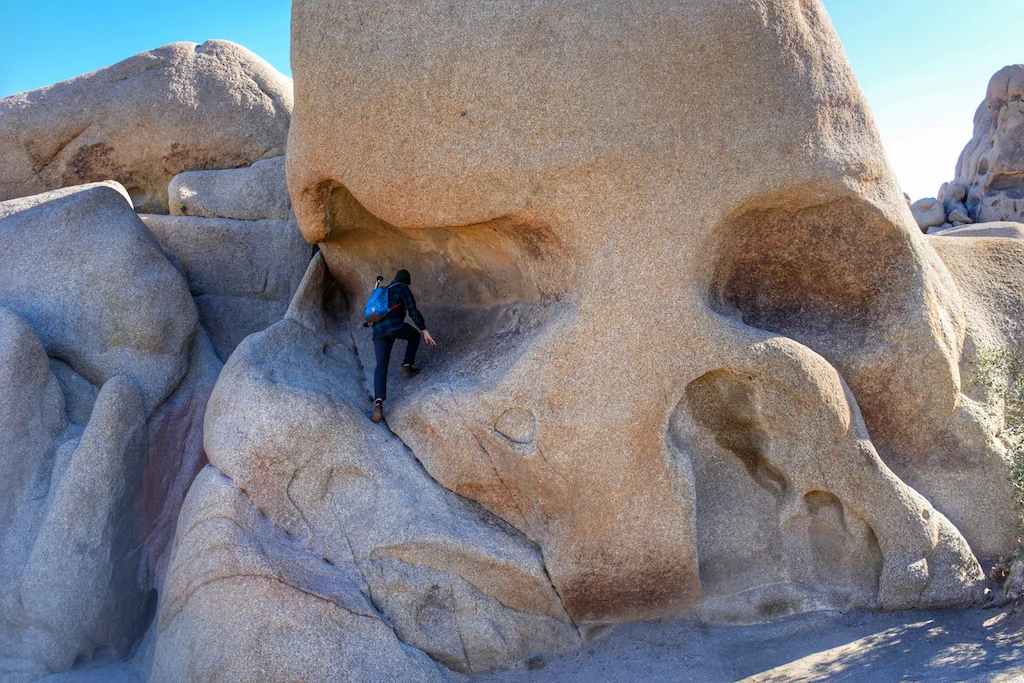 Skull Rock Nature Trail – 1.7-mile loop –This is a super easy and interesting hike that begins and ends at Jumbo Rocks Campground. If you begin at the trailhead inside the campground and hike counter-clockwise, you will come to Skull Rock right away, cross the road, and then head through a large wash and meander among beautifully-sculpted boulders. Interpretive signs dot the landscape, and the kids will enjoy scrambling around on the rocks. The trail ends (or begins) right outside the campground entrance.
Live Oak Loop – .9 mile loop -This great little loop is full of cool rock spires and other formations, with lots of nooks for exploring. The trail gets its name from the giant (and rare) live oak tree nearby. Pack a picnic for this one, and spend some time discovering the Mojave Desert.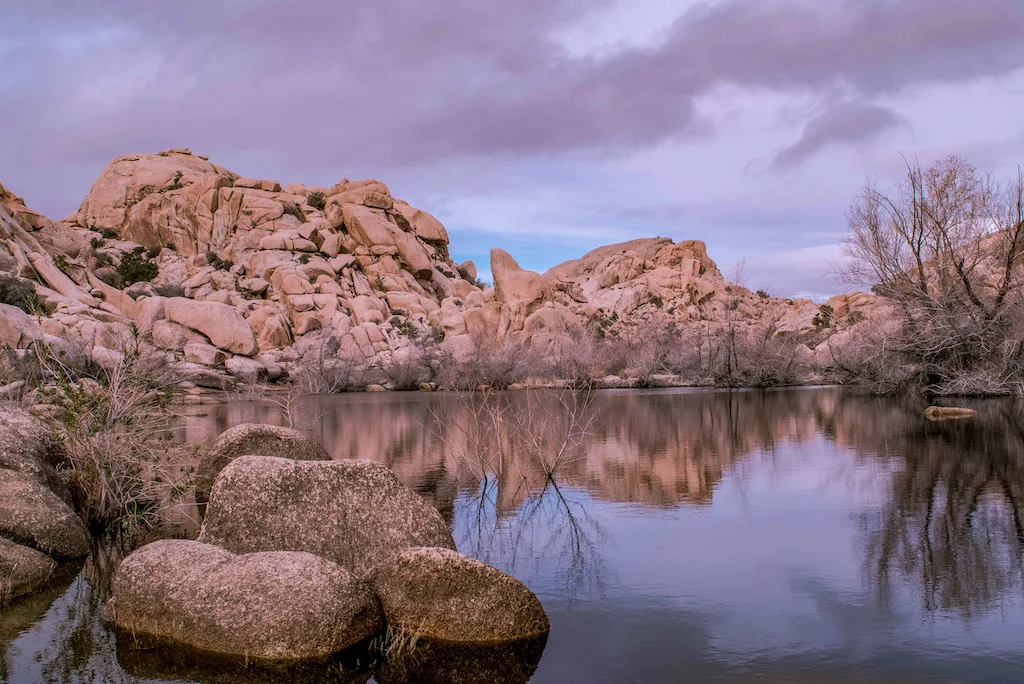 Barker Dam Loop – 1.5-mile loop – This is another favorite! It travels through the southern edge of the Wonderland of Rocks, weaves through narrow rock corridors, past a seasonal lake, and into a beautiful valley surrounded by boulders. Because this is one of the few places where you'll find water in Joshua Tree, there's also a good chance that you'll see some wildlife. Bighorn sheep are common, as are ravens and songbirds. A short spur trail leads to some petroglyphs on the rocks. Unfortunately, the petroglyphs were painted over with bright colors by a film crew back many years ago.
Hidden Valley Nature Trail – 1-mile loop – Explore an enclosed valley lined with huge boulders in an easy hike that is suitable for the smallest kids. Hidden Valley is ground zero for the hundreds of climbers that visit the park each day in the cooler months. Be sure to venture into the verdant canyon, which is just off the trail. Cattle rustlers used to hide their cattle in the canyon, which is covered with dense foliage amid the towering cliffs.
Wall Street Mill Trail – 3 miles (out and back) – Saving the best for last, this was our favorite hike (more like a walk) in Joshua Tree National Park. The trail contains all kinds of relics from the defunct Wonderland Ranch, making it a must-visit spot for photographers. Once upon a time, the Wall Street Mill was the fastest and most modern gold stamp mill in the area. It has been fabulously preserved. Explore the area, and you'll discover a few old cars and crumbling buildings. Kids love exploring here, and the Joshua trees are incredible along the trail.
Where to Watch the Sunrise and Sunset in Joshua Tree National Park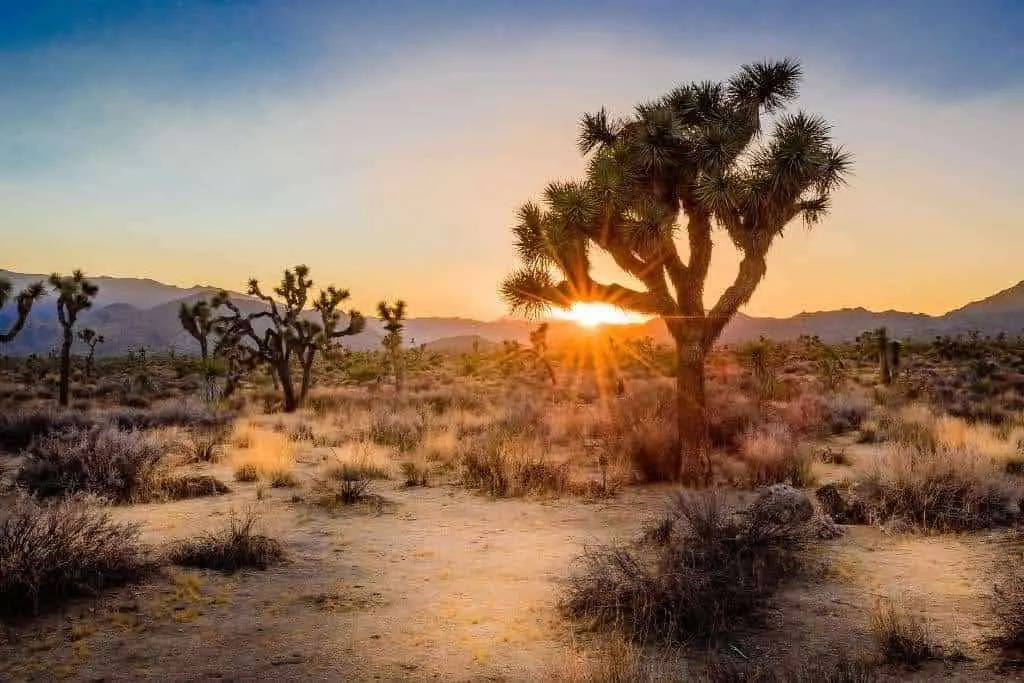 In all honesty, wherever you are in the park, you're probably going to see a fantastic sunrise or sunset, but these are my favorite spots, especially for photography.
Jumbo Rocks Campground –

Those huge rock formations are good for more than a windscreen. Make your

best camp

coffee

, and scramble up the boulders just before sunrise for incredible morning views. I particularly like the area around the amphitheater for photography.

Key's View

– We stayed at a

little motel just outside the park one night, and the owner insi

sted that we had to watch the sunset from Keys View. You can see for hundreds of miles if there's no haze from pollution, and the view is truly stunning. It was cloudy when we explored the area, but this really is

the

spot for sunsetting. No hiking is required here. There's even a wheelchair-accessible viewing platform.

Barker Dam

– Because this is one of the only spots in the park with water, it's a great place to catch the sun's reflections as it sinks behind the boulders. If you catch the sunset at the lake, you should have plenty of time to get back to your car before dark.
Photographer's note: There are endless opportunities for photographing Joshua trees within the park. Some of the most exciting photo ops in Joshua Tree present themselves at night when the park comes alive, and the sky provides a spooky backdrop for the gnarly trees.
A Few Extra Adventures for Families in Joshua Tree National Park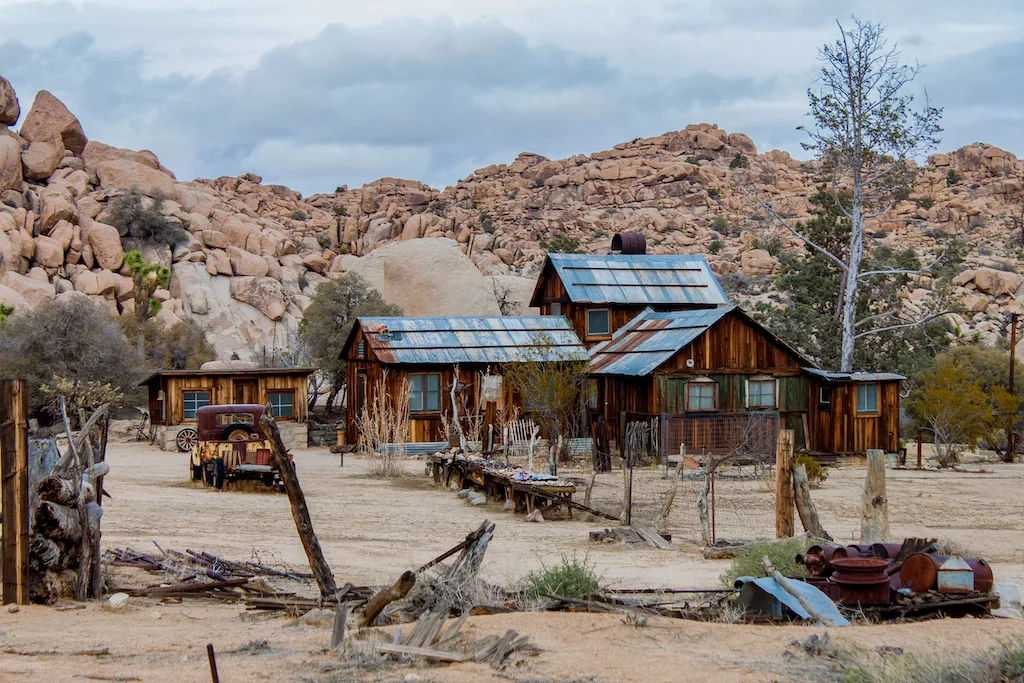 Family Rock Climbing Lesson – This four-hour guided lesson includes all the equipment you need, plus professionally certified rock climbing guides and wilderness first responders that can work with all types of family groups, no matter your level of experience. Experience will focus on 1-2 rock formations so that you can spend the bulk of your trip climbing as many routes as possible!
Hidden Valley Scavenger Hunt – Who is ready for an adventure & dive into the stunning Hidden Valley? This game is an active and challenging non-traditional 2-hour hunt of creative challenges, social experimentation, and amateur detectives searching for the type of local stories a good tour guide would tell you. Works using What's App to get secret clues to help you on your mission.
Guided Hiking Tour Customized to Your Group – Explore the otherworldly landscape of Joshua Tree National Park with a customized, guided hiking tour that takes in the best of the region. Tailor the trip to your interests and abilities, and walk to soaring granite formations with sweeping views of the arid terrain. Learn about the plants and animals that thrive in this unique ecosystem, then see Joshua Tree's fascinating geological history laid bare in the rock record.
Keys Ranch Tour – You have to take a ranger-led tour to see Keys Ranch, and it's only available on Thursdays and Sundays at 9:30 am. You can reserve your place on the tour online at Recreation.gov. Keys Ranch is a gem of a place, with lots of interesting history. The homestead has been expertly preserved and the ranger who gives the tour is funny and engaging. The only caveat is that it's 1.5 hours of walking and talking, which might be hard for some kids. I'd say it's good for 10+. If they really love history, maybe a bit younger.
Tips for Exploring Joshua Tree with Kids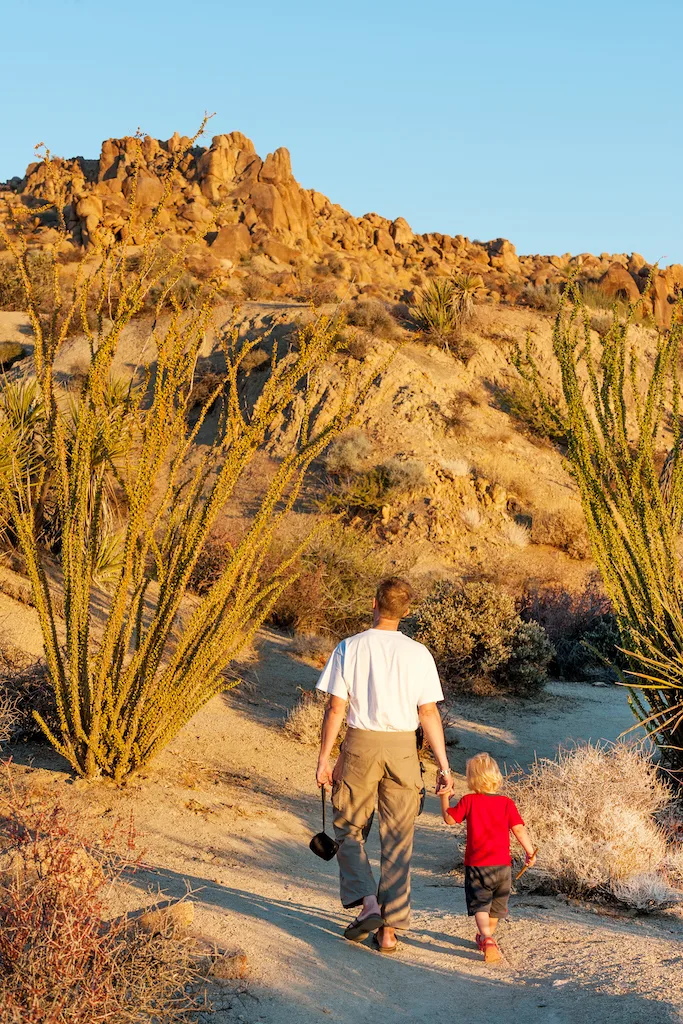 Joshua Tree National Park is a remote park without reliable cell service, so it's important to be prepared when adventuring inside the park, whether you're hiking a remote trail or taking a self-guided driving tour. Channel your inner scout and be prepared by packing the 10 essentials (as a minimum).
Exploring the desert with kids can be a lot of fun, but there are a few risks that parents should be aware of. Follow these hiking tips for safe, fun, and age-appropriate hiking, and be sure to be mindful of these desert-specific dangers —
Cactus, Joshua Trees, and Yucca Plants — In the desert, children should be taught not to touch the plants they come across. A good number of them have been designed to protect themselves with spines, thorns, and prickers. Did you know that the Joshua tree is also called the desert dagger? That's because those leaves can cause serious damage. Many yucca plants grow right at eye-level for youngsters, making them even more dangerous if kids walk into them.
Poisonous Snakes – Rattlesnakes, scorpions, and black widow spiders are active in the park. On warm days, you can find snakes sunning themselves across roads and trails. Remind your children not to reach into rock crevices where these critters may be hiding. Visiting Joshua Tree in the winter months (late November through late February) will definitely minimize your chances of running into these critters.
Dehydration and Sunburn – This is perhaps the greatest threat in Joshua Tree National Park. There is very little water available at the park, so it's important to be prepared. A gallon of water per day per person is recommended for adults — half that for kids. Be sure to encourage your children to drink up, even if they're not thirsty. Sunglasses, hats with brims, and high-SPF sunblock is recommended, even in the winter.
Mine Shafts – There are still open mine shafts in Joshua Tree National Park. These should never be entered!
Make a plan for extreme weather – This is a land of extremes, and depending on the time of year you visit, you are likely to experience debilitating heat, windy days with blowing sand, and below-freezing temperatures at night. Summer heat is absolutely brutal, making it hard to explore in the middle of the day.
What to Pack for Your Joshua Tree Adventure with Kids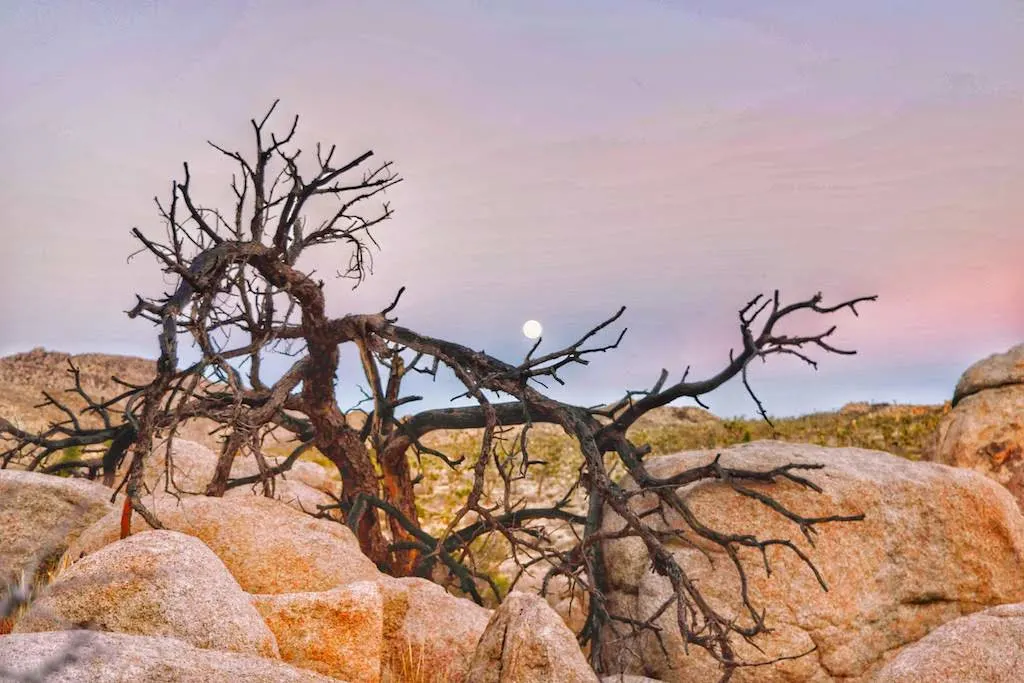 Aside from the typical hiking and camping gear that you need on most outdoor adventures, there are a few specific items that we found particularly useful for exploring in the desert. Here are some packing suggestions for Joshua Tree National Park.
Long pants and rugged shoes. Although it's usually warm enough for shorts and sandals, long pants and sturdy hiking shoes will offer more protection from critters and spiny things. My current favorite hiking pants are the Saturday Trail pants from Columbia. They are one of the few companies that make petite sizes for shorties. For kids, we recommend the REI Sahara Convertible pants for both boys and girls.
Merino wool for temperature regulation. Wool is great for hiking in the desert because it regulates your body temperature and keeps you warm in winter and cool in the summer. Plus wool doesn't smell like synthetic fabrics. My favorite brand for wool clothing is Woolly Clothing Co., which makes clothing for men and women, but not kids (sorry, kids!).
Insulated water bottles – Keep your water nice and cool during your treks by packing insulated water bottles, and be sure to keep them full (you can refill water bottles at the Visitor Centers).
Windbreakers – The wind in Joshua Tree can be fierce in the fall and winter, and it's a good idea to keep one in the bottom of your day pack whenever you venture out. This lightweight windbreaker for women weighs in at about 8 ounces, so there's no excuse not to pack it.
Trial map and hiking guide – Always important to have on hand, and useful for planning your adventures by region so that you don't spend all your time driving from place to place. National Geographic trail maps are waterproof, tear-resistant, and fun to look at! You should also pick up Easy Day Hikes in Joshua Tree by Falcon Guides.
Buy a National Park Annual Pass – The America the Beautiful Pass will get you and your family into every National Park Service site for a year. This includes national monuments and national historic sites – more than 2,000 sites across the country. Buy your pass at REI, and they will donate 10% to the National Park Foundation.
---
Dreaming of more trips to amazing US National Parks? Check out our National Park camping and hiking guide.
Follow us on social – we'd love to keep in touch!
Pin for Later?