Nestled deep in the Mojave Desert is a land of big shining waters, never-ending sunshine, and incredible beauty.
Lake Havasu City is a sprawling waterfront city of more than 52,000 people in northern Arizona. While this lovely desert metropolis is only 60 years young, Lake Havasu boasts an eclectic history, a thriving Main Street, a busy waterfront area, and more outdoor recreation than you can imagine!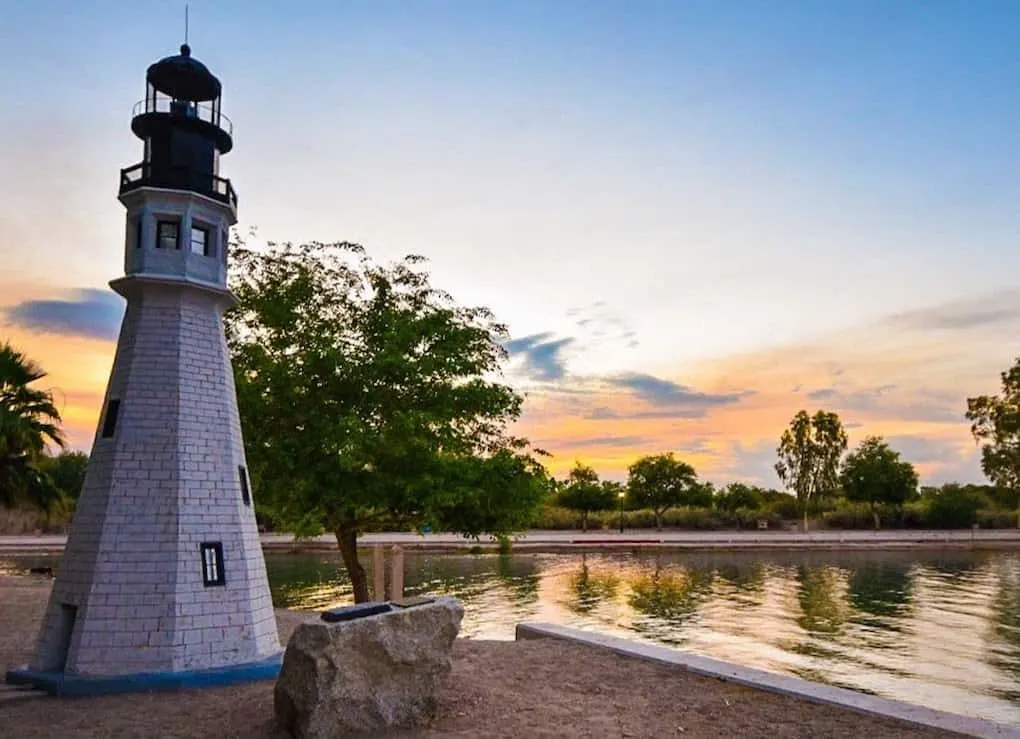 I've been escaping from my home in Vermont to Lake Havasu for many years. It's easy to book cheap flights from New England to Vegas, rent a car, and soak up some rays while my friends back home are shivering by their wood stoves.
Lake Havasu is also within a day's drive of Los Angeles for a perfect weekend getaway from the city.
Of course, I have an even bigger reason for visiting Lake Havasu City — my dad called this beautiful place home for many years.
He originally began traveling to Lake Havasu as a Snowbird — a term for retired folk who flee the cold weather in their northern climates for somewhere more hospitable. Lake Havasu City is a very popular place for Snowbirds!
I fell in love with Lake Havasu after my very first visit. It's a great spot to get outside all through the year, whether you enjoy hiking, paddling, swimming, or landscape photography.
Honestly, Lake Havasu City is an outdoor lover's dream!
I know you have a lot of questions about what to do in Lake Havasu and when you should visit. Let's chat!
The Most Awesome Things to Do in Lake Havasu City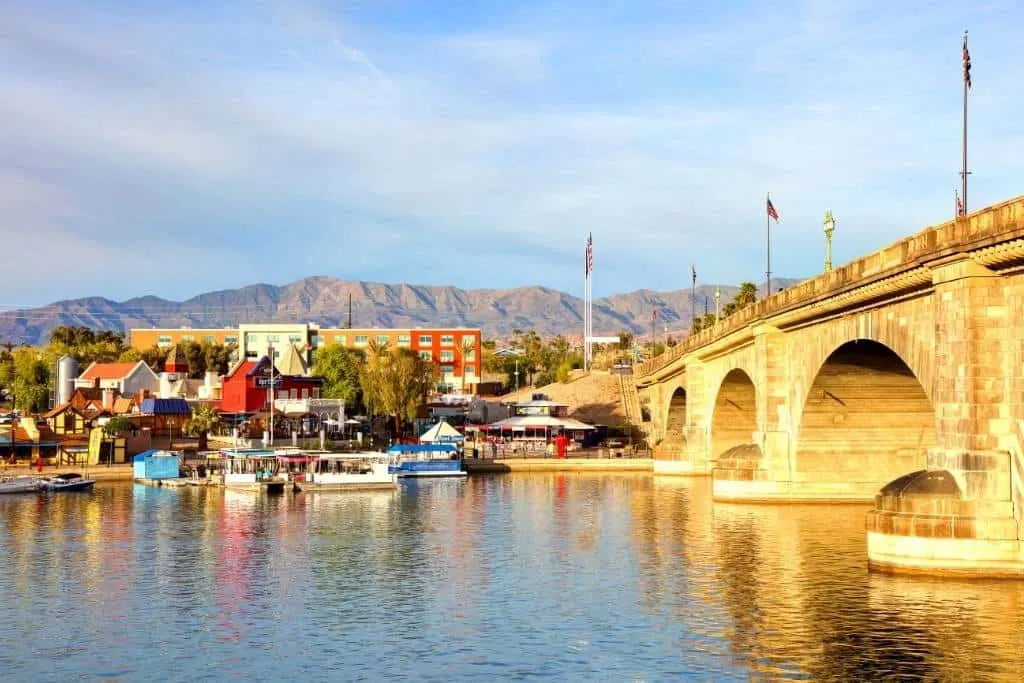 Let's get down to the important stuff – the best things to do in Lake Havasu City. This desert city is so much fun to visit and explore. Let's take a look at all the fun in the sun you can have in Lake Havasu City.
Here's the truth — unless it's high summer, you'll want to be outdoors! Here are the best outdoor things to do in Lake Havasu during your visit.
Visit the London Bridge in Lake Havasu City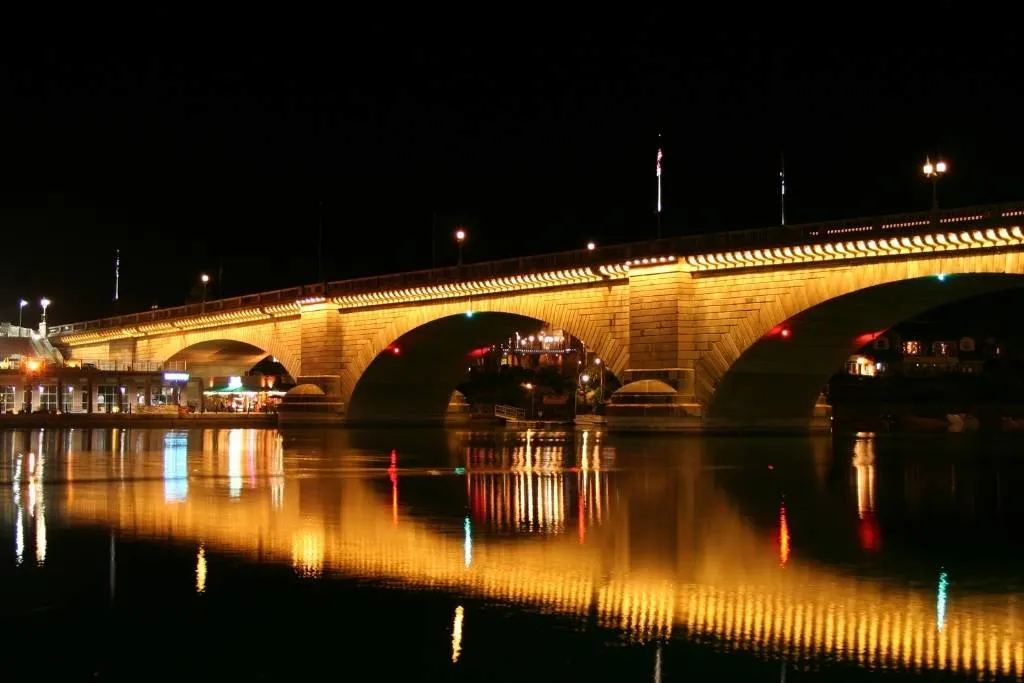 The London Bridge is the most famous landmark in Lake Havasu City and one of the most visited historic sites in all of Arizona. The bridge was originally built in 1831 to span the River Thames in London, but by the 1960s, it was slowly sinking into the river and had to be dismantled.
It was put on the auction block and Robert McCulloch, a rich tycoon from the states, won the bid at $,460,000 for his new city in the Arizona desert. The historic London Bridge was dismantled brick by brick, shipped to Arizona, and slowly reconstructed in Lake Havasu City.
There wasn't actually a need for a bridge in Lake Havasu City, so after the London Bridge was constructed, a channel was dredged underneath it. The London Bridge officially opened in 1971, with much celebration and fanfare. Today, London Bridge is a major tourist attraction, and shops, restaurants, parks, and hotels have sprung up around it.
Not only is London Bridge a fun tourist destination in its own right, but the area surrounding it makes a great home base for vacationers who want a beach vacation with great amenities and conveniences – you don't even need a car!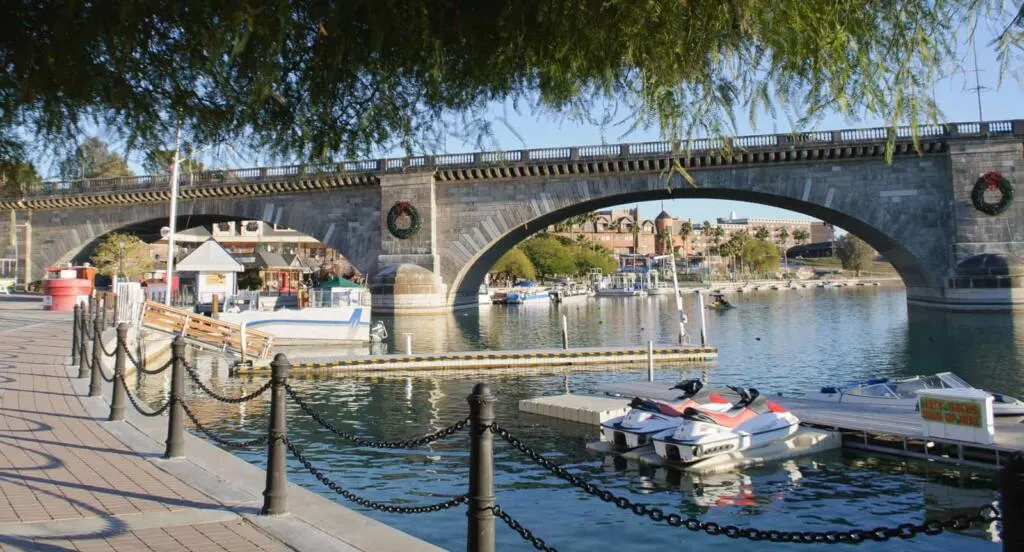 Go Boating on Lake Havasu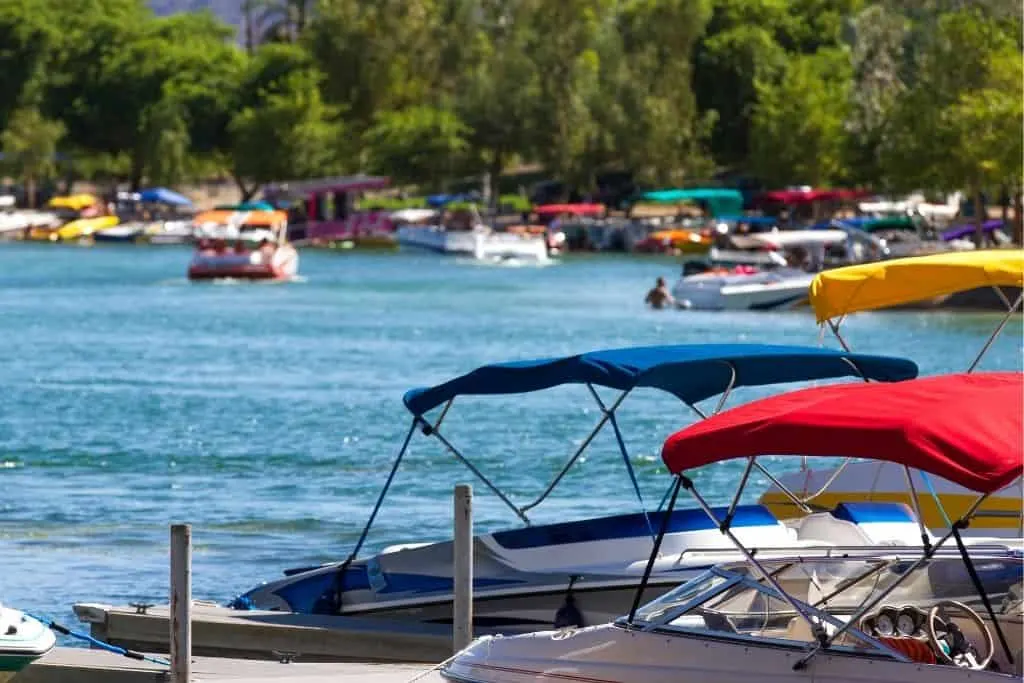 Lake Havasu straddles the border between California and Arizona and encompasses 19,300 acres of sparkling water just waiting to be explored.
This massive lake in the desert is well known for recreational fishing and boating, attracting more than 750,000 visitors every year. Most anglers fish for bass, and there are numerous fishing tournaments held on Lake Havasu with all kinds of trophy fish being recorded.
Boating on Lake Havasu is a favorite pastime for locals and visitors alike. That super clear turquoise water, along with towering cliffs, rugged mountains, and incredible wildlife make Lake Havasu an exciting destination for tourists with boats of all shapes and sizes. And, it's incredibly easy to get out on the water!
Because of the size of Lake Havasu, you can easily find solitude when out on the water.
Renting a houseboat is a unique vacation that has a lot of appeal in Lake Havasu, and although we haven't tried a houseboat vacation ourselves, it's pretty high up on our Arizona bucket list!
If boating on Lake Havasu sounds fun, you'll be happy to know that you don't even need to own a boat of your own to get out on the water.
You can easily rent a boat, from human-powered kayaks to jet skis and pontoon boats, which is one of the best things to do in Lake Havasu on a hot day. Trust me!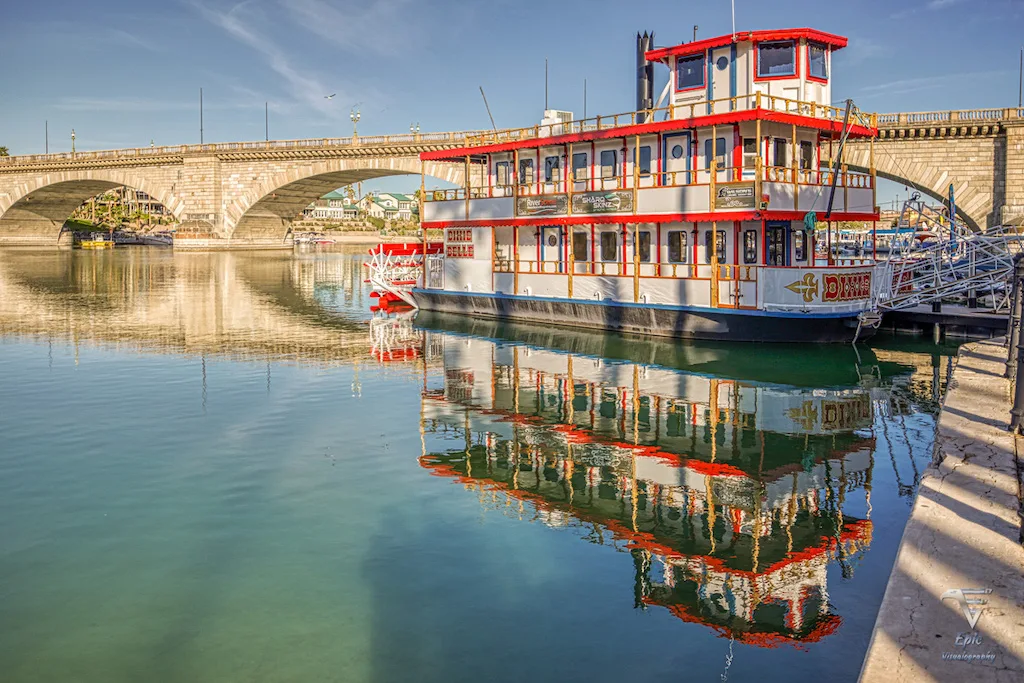 Resources for Boaters on Lake Havasu
Take a sunset boat cruise! Set sail on the beautiful Dixie Bell, a custom-built, 131-passenger paddle wheeler that cruises Lake Havasu year-round. Sunsets on Lake Havasu are beyond compare, and watching the sun sink behind the mountains from the Dixie Bell is a treat you won't want to miss.
Boat Ramps on Lake Havasu – There are eight launch ramps around Lake Havasu for getting in and out of the water with ease. Go Lake Havasu has a complete list of marinas and boat ramps to help you plan your trip.
Rentals – If you don't have a boat of your own, consider renting one for your next Lake Havasu vacation. This handy watercraft rental guide will help you get out on the water in no time.
Boat Camping – You can score your very own boat-in campsite on Lake Havasu courtesy of the Bureau of Land Management for just $10 a night. There are 73 sites on the Arizona side of Lake Havasu, none of which can be reserved ahead of time, so if you know you're going to camp, be sure to claim your site early in the day.
Go Paddling on Lake Havasu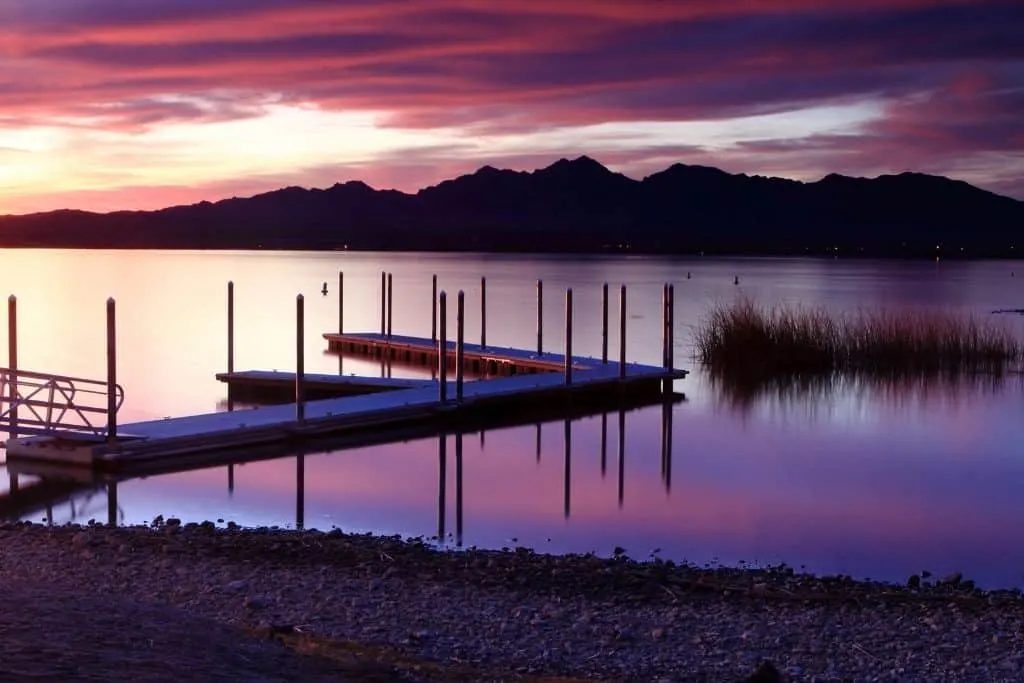 Along with incredible opportunities for boaters, Lake Havasu has lots of quiet coves and wild shores that are perfect for kayaking and canoeing.
During the spring, summer, and fall, you can rent kayaks, canoes, and stand-up paddleboards at London Bridge Beach in Lake Havasu City. You can also find rental companies in the watercraft rental guide above.
The area just north of Lake Havasu City is our favorite spot for paddling, with lots of little coves and secret spots to swim and picnic.
The 4.25-mile water trail takes paddlers along the shores of the Havasu National Wildlife Refuge, where you chance sightings of hundreds of different species of birds, coyotes, foxes, and bobcats.
If you have time, head north to the incredible Topock Gorge — a mountainous, wild canyon north of Lake Havasu City that will take your breath away! Read more about paddling this incredible section of the Colorado River in Scouting Magazine. Y
ou can also take an amazing guided full-moon tour of the gorge — it includes your kayak or canoe rental and an expert guide. If you love to kayak, this is definitely one of the best things to do in Lake Havasu.
Spend Time on the Shore in Lake Havasu City
Just want to chill on the beach, swim in the crystal clear water of Lake Havasu, and watch your kids play in the sand?
Our favorite spot for relaxing in Lake Havasu City is definitely Rotary Park. It's such a beautiful spot, with playground equipment, barbecue grills, swimming, a walking path, and a skateboard park that is to die for!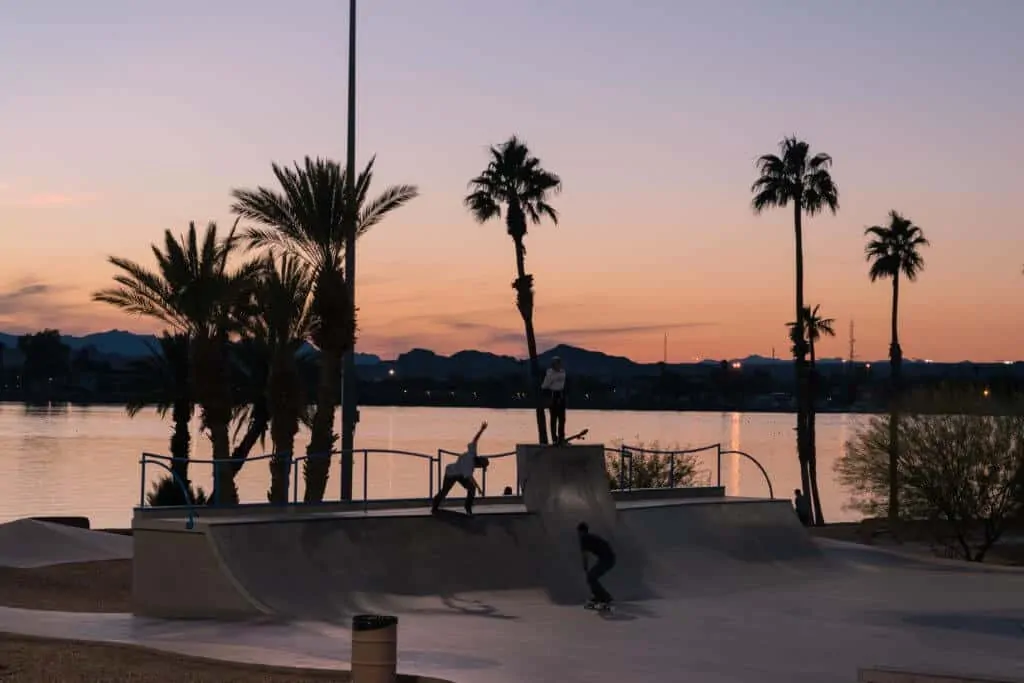 The picnic tables at Rotary Park are covered to provide shade, and even though it gets pretty busy, there's lots of room to spread out. I love hanging out here right around sunset.
From Rotary Park you can meander along the channel, visit the restaurants and bars along the shore, and walk across London Bridge. It really is the perfect way to spend a sunny day or a quiet evening in Lake Havasu City.
Visit the Lake Havasu Lighthouses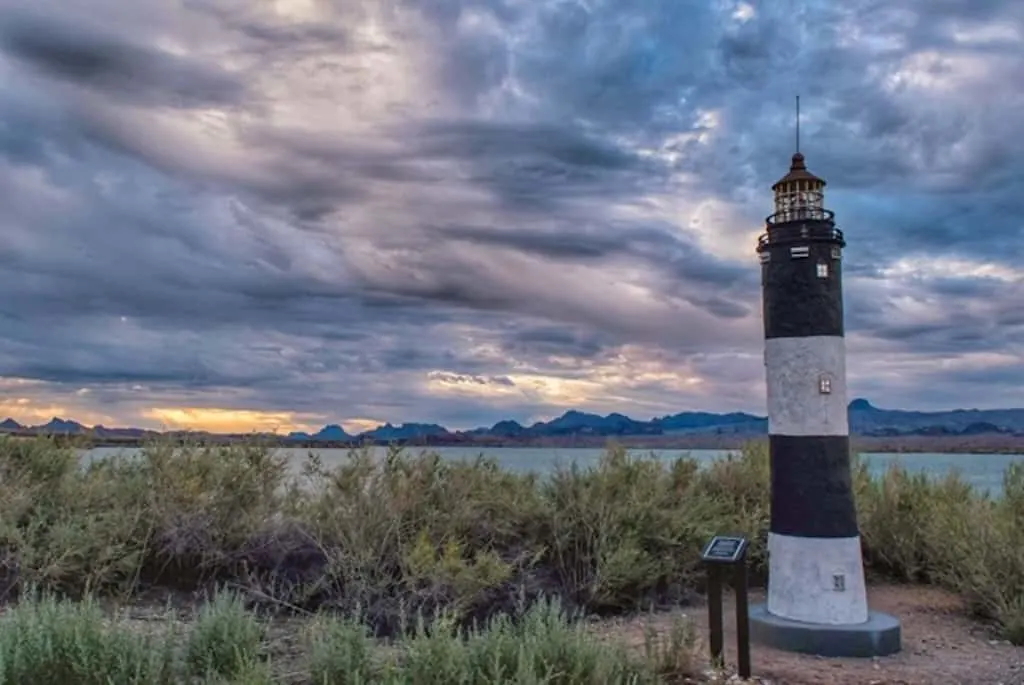 Like the famous London Bridge, the Lake Havasu lighthouses are not typical attractions for a landlocked state in the desert, but they're fun to visit anyway!
There are 25 lighthouses dotting the shores of Lake Havasu, on both the Arizona and California sides of the lake. Touring the lighthouses is always one of my favorite things to do in Lake Havasu. They're so cool!
The lighthouses are fully-functional 1/3 scale replicas of historic US lighthouses still found on the east and west coasts, as well as the Great Lakes region.
You'll find the Fire Island Lighthouse from Long Island, New York; the Cape Hatteras Lighthouse from Buxton, North Carolina; and even a Lake Havasu original.
Most of the Lake Havasu lighthouses can be found right in Lake Havasu City and are easy to visit on foot. Some are hiding in more remote locations, and a couple can only be reached by boat.
Want to embark on your very own lighthouse tour? Check out this map and guide, complete with GPS coordinates for each lighthouse. A narrated lighthouse boat tour is available from October through May.
Celebrate Winter at Lake Havasu Balloon Festival and Fair (January 18-21, 2024)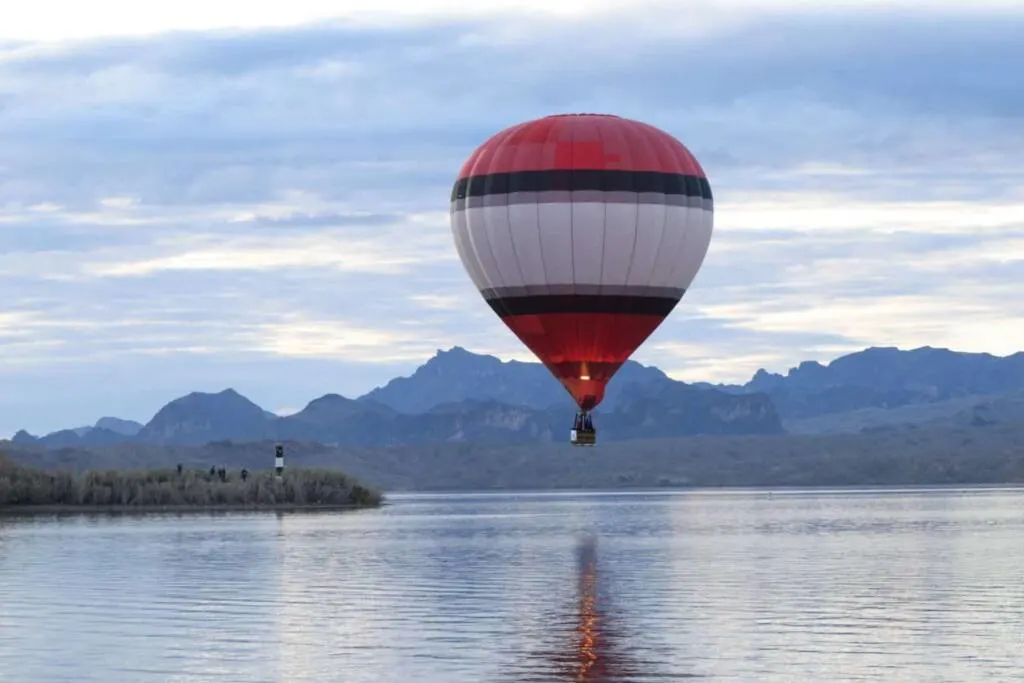 Last year, we were in town for what the locals told me was the big event of the year – the Lake Havasu Balloon Festival and Fair, which takes place in mid-January in Lake Havasu City.
While I've been to my share of balloon festivals on the east coast, none with such an enchanting backdrop!
This weekend festival includes six mass ascensions of more than 80 hot air balloons.
They rise over the lake and the city each morning as the sun rises and the wind dies down. The morning ascensions kick off the festival each day, which is filled with music, activities, demonstrations, carnival rides, and food vendors.
The evening ascension takes place as the sun is setting, but when we were there, they were canceled due to high winds around Lake Havasu. The night ends with the Field of Fire – where all the balloons are inflated and lit up for everyone to enjoy.
If you're thinking of planning your Lake Havasu City vacation for January, consider timing it to coincide with the amazing Lake Havasu Balloon Festival, which is one of the most awesome balloon festivals in the USA.
Go Hiking in Lake Havasu City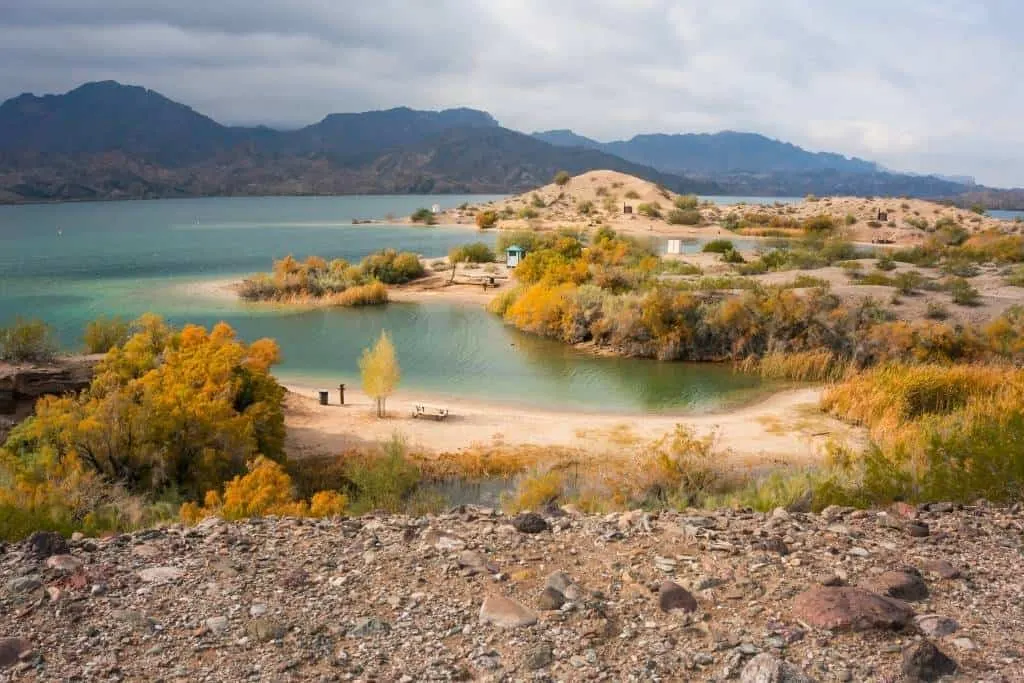 Who says all the fun in Lake Havasu is out on the water? Hiking is one of the best things to do in Lake Havasu City, especially in the winter.
The Lake Havasu region has some fantastic hiking trails, whether you're looking for a simple nature walk or an all-day excursion. We often visit Lake Havasu City in the winter, which provides perfect weather for hiking the desert trails around Lake Havasu.
Our all-time favorite hike is the Crack in the Wall hike in SARA Park. This five-mile loop takes you along a sandy wash, through a beautiful slot canyon, and down to the lake for gorgeous views of cliffs, rock formations, and wading birds.
From there you can return the way you came, or climb to the yellow (upper trail), which provides more stunning views of the lake and the surrounding mountains. If you can only take one hike on your visit, let it be this one!
If you have more time for hiking in Lake Havasu, we recommend the following trails:
Dead Burro Canyon Trail – Does the name alone make you want to head out adventuring in the desert? This 7.5-mile hike is strenuous, but so much fun, heading into Havasu Wildlife Refuge, climbing a canyon, and summiting a saddle with nice views of the valley. Plan on 4 to 5 hours to finish the whole loop, and expect to see bighorn sheep, birds, and other critters. The trail is not well-marked, but you can find

detailed directions here

.
Mallard Cove Trail – This 5.3-mile loop takes you down to some primitive BLM campsites on the lake. The trail offers up some nice views, and there are lots of wildflowers here in the spring. For detailed directions, visit

Go Lake Havasu

.

Water Tank Trail – It's 6.2 miles, but pretty easy. This hike takes you up into the hills with nice views of Lake Havasu. There's not a whole lot of elevation gain — instead you kind of skirt big rock formations and Shiprock Mountain. Want more detailed directions? You can find them

here

.
I should mention that none of these Lake Havasu hiking trails mentioned offer much shade, so I don't recommend hiking them in the summer unless you just like that kind of torture.
The trails are dog-friendly, and only require a car to get to the trailhead. If you've got an ORV, there are lots more trails you can explore in Lake Havasu City.
Mountain Biking in SARA Park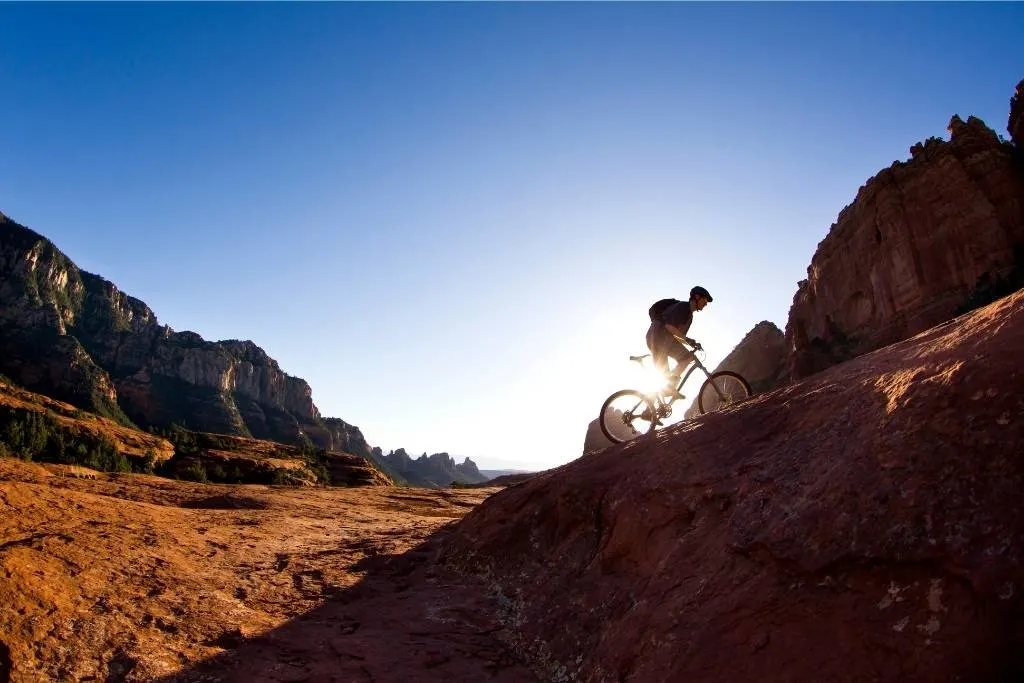 SARA Park in Lake Havasu City has lots of cool hiking trails, along with rodeo grounds, a BMX track, a shooting range, and a dog park. It pretty much takes care of all of your off-the-water recreational needs, and according to my son, the mountain biking trails are fabulous!
We rented a mountain bike and helmet from Cycle Therapy right in downtown Lake Havasu City. The prices were decent and the staff was extremely knowledgeable about the area, giving us lots of advice and recommending that we download the Trailforks app for easier navigation.
The mountain bike trails in SARA park are well-marked, but many are quite challenging. Be prepared to get hot and sweaty!
We also heard a rumor of an area within the park that had been designed and built by a local man with all kinds of features and jumps, We never found it, but we're going to try again next time.
When is the Best Time to Visit Lake Havasu City?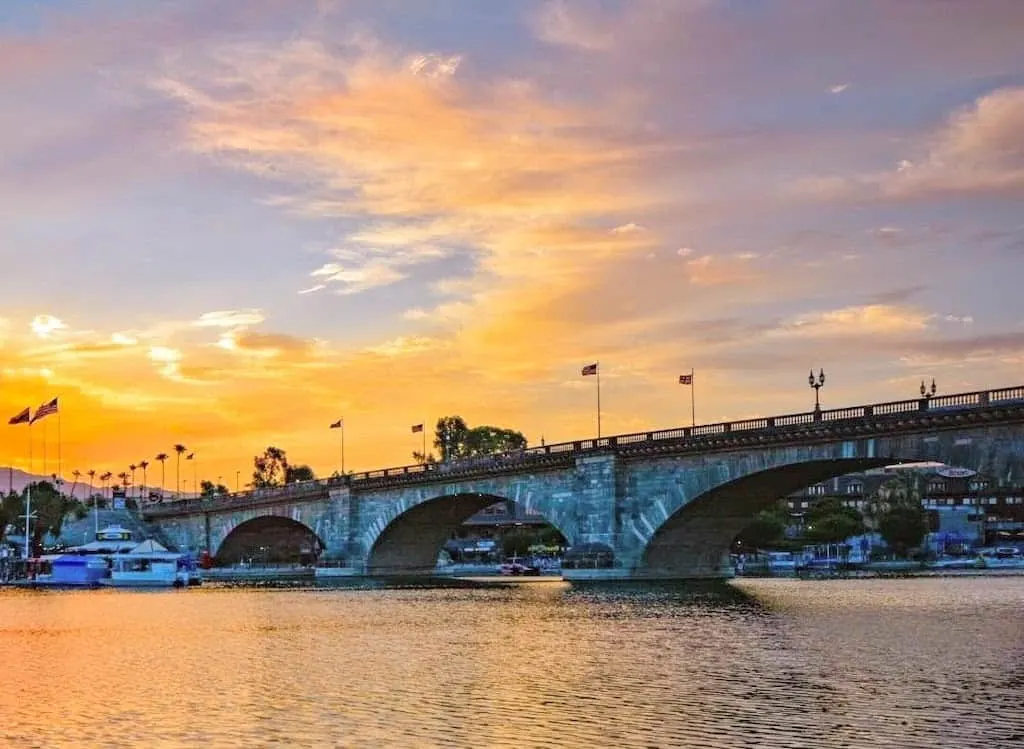 Most people will tell you that the best time to visit Lake Havasu City is during Spring Break when the weather is mild, the crowds are big, and the drinks are flowing, but I've never been a fan of crowds, so Spring Break was never on my radar.
If you are looking for a party scene, then Lake Havasu during Spring Break may be exactly what you've been looking for.
I have visited Lake Havasu in January, April, June, and October, and loved each of my visits for different reasons. June in Lake Havasu is phenomenally hot, but also the off-season, so hotel rooms and vacation rentals are cheaper.
The best way to handle summer in Lake Havasu is to get out early – like 4 am early, and then relax indoors with a good book during the heat of the day. Evenings are still hot, but cool enough to swim in the lake, dine on a waterfront patio, and stroll through town.
January in Lake Havasu was my favorite, with its cool temps. Plus, January is when Lake Havasu City hosts the annual Balloon Festival.
October is a mixed bag in Lake Havasu – it's a great time for swimming and sunning, but it is often too hot for non-water adventures outdoors.
If you are looking for a lot of activities and fun things to do in Lake Havasu City, visit between December and April.
How to Get to Lake Havasu City
Lake Havasu City is a two-hour drive from McCarran International Airport (LAS) in Las Vegas. It's an easy airport to fly in and out of, and I always find great deals on flights (especially in the summer).
We almost always use Kayak to search for deals on car rentals to drive to and from Lake Havasu City, and renting a car gives us more opportunities for exploring farther afield.
If you don't want to rent a car to drive to Lake Havasu, you'll be pleased to know that there are dozens of shuttle services that will pick you up at the airport and drop you right off at your Lake Havasu hotel or vacation rental. This was a great option for us when we visited my dad because he had a car that we could use during our stay.
Finally, if you want to turn your Lake Havasu vacation into a camping trip, you can rent an Escape Campervan in Las Vegas and make it your unique adventure mobile. Park your van in Lake Havasu State Park and enjoy water views without the cost of a fancy waterfront hotel room.
Where to Stay in Lake Havasu City
When it comes to lodging and hotels in Lake Havasu City, you've got quite a few options.
Most of Lake Havasu's hotels are located near the water, which is also a hub for restaurants, beaches, and tourist attractions.
There are large residential neighborhoods up the hill from the lake. If you're looking for Lake Havasu vacation rentals, this is where you'll find them.
Traveling with kids? Check out the best family-friendly vacation rentals in Lake Havasu City
---
Just as Robert McCulloch promised, Lake Havasu City is truly an enchanting desert oasis.
Whether you're planning your own lakeside retreat from the snowy north or are looking for a weekend escape from Las Vegas, you'll have plenty of opportunities to fulfill your outdoor adventure dreams along the rugged shores and in the cold, clear waters of Lake Havasu.
Want to read more about traveling through Arizona? Try these posts:
---
Follow us on social media!
Pin for Later?