Have you ever been to a hot air balloon festival?
There's something magical about watching dozens of colorful bags of air defying gravity in a beautiful spot, and you've got hundreds of chances to experience a hot air balloon festival in the coming year.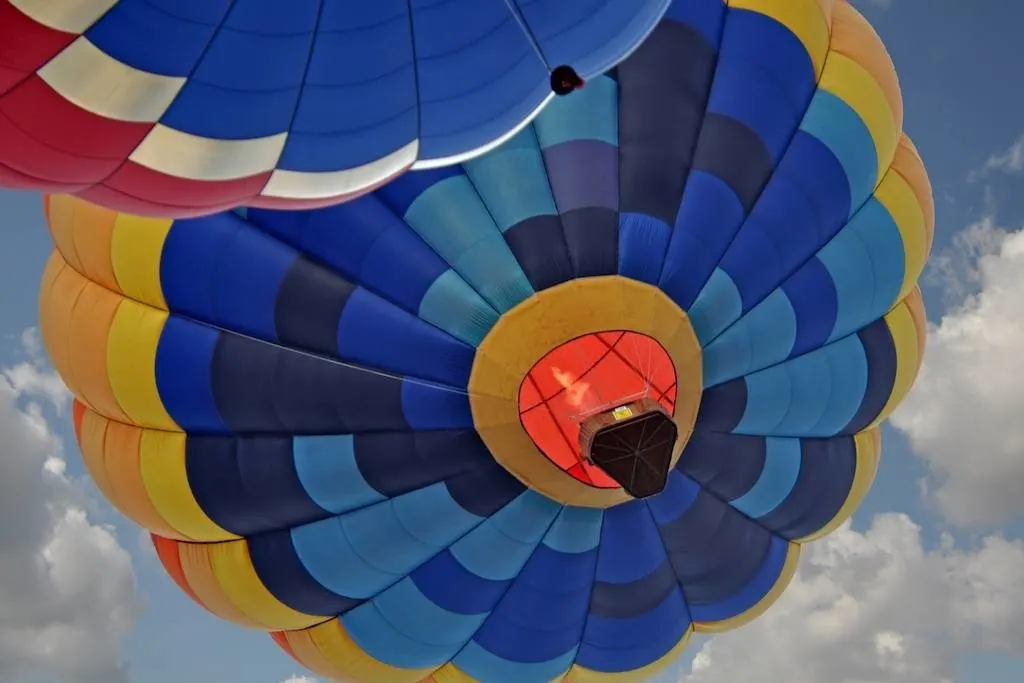 If you've never experienced a sunrise ascension or basked in the festive light of a balloon glow, it's time to add one of these fantastic balloon festivals to your next itinerary.
There are hundreds of hot air balloon festivals across the United States, and no matter where you live, there's a good chance that there's a balloon festival near you.
The main attraction, of course, is the collection of giant colorful balloons rising into the sky, but hot air balloon festivals usually feature their own eclectic mix of local highlights, from live music and carnival-style booths to arts and crafts and food trucks.
I've got a thing for hot air balloon festivals, which is kind of funny because not many people are more afraid of heights than I am.
I become mesmerized by the sight of giant balloons dancing across a magical landscape, but I have never actually been up in a hot air balloon. Please don't hold that against me – I try to visit at least one hot air balloon festival near me every summer, and this year I'm hoping to check out more than one.
Because there are hundreds of hot air balloon festivals that I haven't been to, I have worked with other hot air balloon lovers to feature the very best hot air balloon festivals in America.
---
---
Hot Air Balloon Festivals are family-friendly events that often have something for everyone.
If you're an early bird (like me), you can wake at the crack of dawn for a spectacular sunrise launch. If you're a night owl, check out the glowing balloons set up under the lights of a million stars.
My favorite part about hot air balloon festivals is the way that each event highlights the unique natural environment where it's held. No two hot air balloon festivals are alike, but they all feature beautiful, flying works of art, passionate pilots, and lovers of history, culture, and the outdoors.
America's Best Hot Air Balloon Festivals
Want to get in on the action? The following hot air balloon festivals are some of the coolest events in the United States. Our list of best hot air balloon festivals has been updated for 2023.
Albuquerque International Balloon Fiesta: The Largest Hot Air Balloon Festival in America
Albuquerque, New Mexico
2023 Update: The 51st Albuquerque International Balloon Fiesta will take place from October 7-15, 2023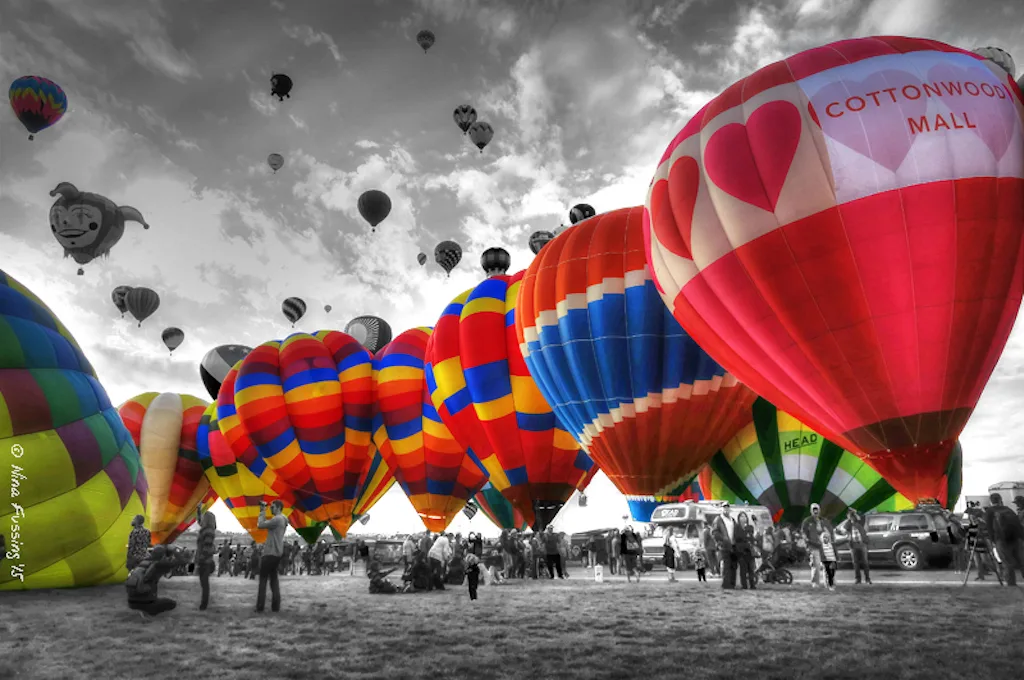 As far as hot air balloon festivals in the USA go, the Albuquerque International Balloon Fiesta is the big one.
It's a pilgrimage for balloon lovers from all over the world, who make the trip each October to experience one of the most amazing sites on Earth. Hundreds of balloons, millions of people, and one of the world's most beautiful landscapes. What could be better?
The Albuquerque International Balloon Fiesta is the largest international event in the United States and takes place over ten days.
The field launch at Balloon Fiesta Park is 78 acres, and the events include morning laser shows and mass ascensions, fireworks, car shows, live music, and kids' activities. If I only get to one hot air balloon festival in my lifetime, this is the one I hope to visit.
As Nina of the blog, Wheelingit, writes – "It's a bucket list item folks, and it's one EVERYONE should do at least once." Read Nina's first impressions of the Albuquerque Balloon Fiesta, and you will simply not be able to resist heading out to New Mexico this fall.
For specific event information and to purchase tickets, visit the official Balloon Fiesta website.
Where to Stay for the Balloon Fiesta in Albuquerque: If you're looking for a unique Albuquerque property while in town for the Balloon Fiesta, check out Nativo Lodge. Not only is it conveniently located near Balloon Fiesta Park and other Albuquerque attractions, but it was also named the "Artsiest Hotel in the USA for 2018." The rooms feature art from local Native American artists and there is an indoor-outdoor pool for families to enjoy.
Teton Valley Balloon Rally: A Four-Day Balloon Festival Against a Stunning Backdrop
Driggs, Idaho
2024 Update: The Teton Valley Balloon Rally will take place in early July 2024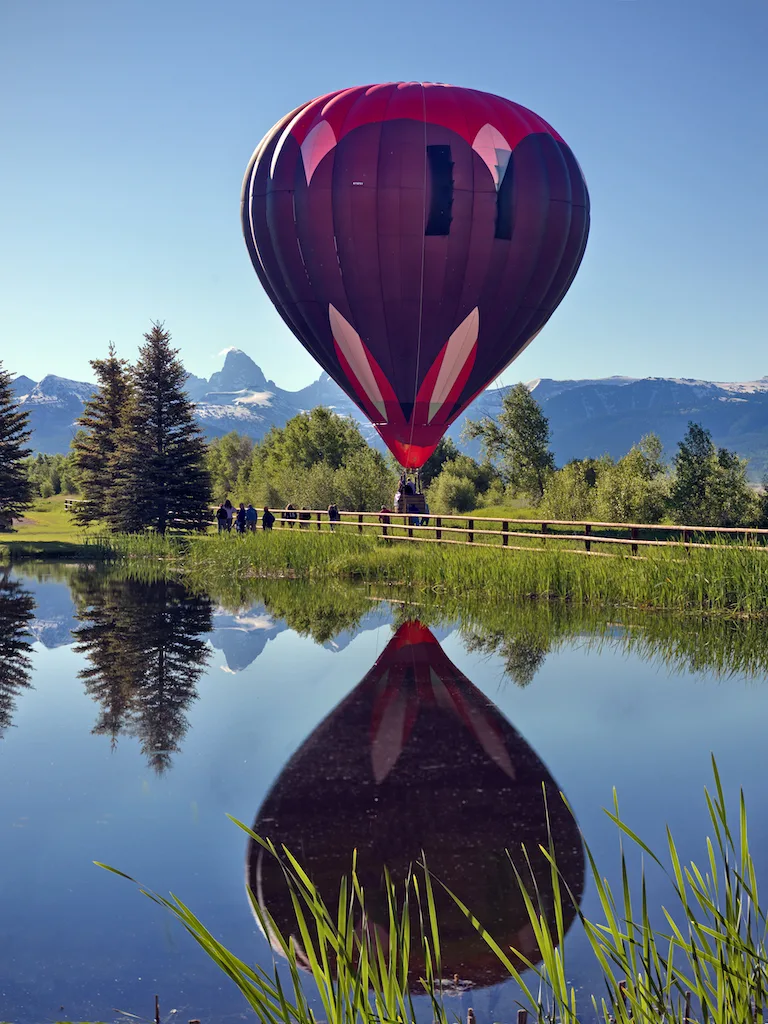 I can't think of many places I'd rather be in July than the Tetons.
This unique four-day balloon festival features hot air balloons, of course, but also a fiddling contest, an Independence Day parade, and public balloon rides. The jagged peaks of the Tetons make quite a backdrop for this spectacular festival.
Lynna, of Art Meets Adventure, wrote about her ballooning adventures in the Tetons, back when the festival was known as the Teton Valley Summer Festival. The event has grown since then, but it's still quite a magical experience.
Want to learn more? Check out the Teton Valley Balloon Rally website.
Where to Stay for the Teton Valley Balloon Rally: Here's something fun to do: Camp right on the Teton Valley Balloon Field! There's room for RVs and a special vehicle-free spot just for tent campers. As for lodging, check out Teton Valley Cabins in Driggs. They are dog-friendly, include outdoor hot tubs, and are close to hiking, fishing, and other outdoor adventures.
40th Annual New Jersey Lottery Festival of Ballooning: New Jersey's Largest Festival
Readington, New Jersey
2024 Update: The 40th New Jersey Lottery Festival of Ballooning will be held from July 26–28, 2024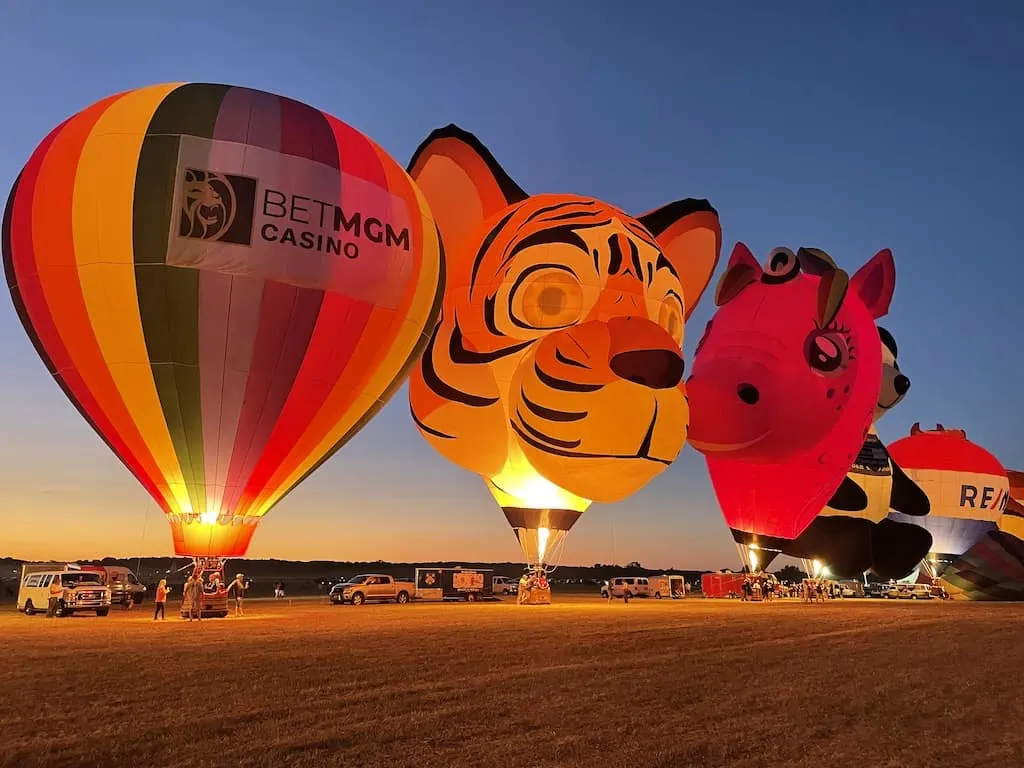 Designated as one of the top 100 festivals in North America, the New Jersey Lottery Festival of Ballooning has been taking to the skies for the past 40 years (it used to be known as the Quick Chek Festival of Ballooning).
First started as a gathering of friends for a weekend of fun and flight in 1983, this magic of ballooning celebrates its 40th anniversary having grown into an international event and a must-attend on everyone's summer calendar.
This is the biggest event of the year in New Jersey, with more than 100 balloons, big-name entertainment, craft and food vendors, fireworks, and more. The New Jersey Lottery Festival of Ballooning attracts more than 165,000 visitors annually, so if you think this might be the hot air balloon festival for you, be sure to get your tickets early.
Where to Stay Near the New Jersey Lottery Festival of Ballooning: If you are traveling to the balloon festival with your family, check out TownePlace Suites Bridgewater Branchburg, which is run by Marriott and just a few miles from the balloon launch. Every room is suite-style so you've got space to spread out. There's a full kitchen or a kitchenette in each room, plus the hotel offers free breakfast in the lobby.
National Balloon Classic: A Midwestern Icon for More than 40 Years
Indianola, Iowa
2024 Update: The National Balloon Classic will be held in late July to early August 2024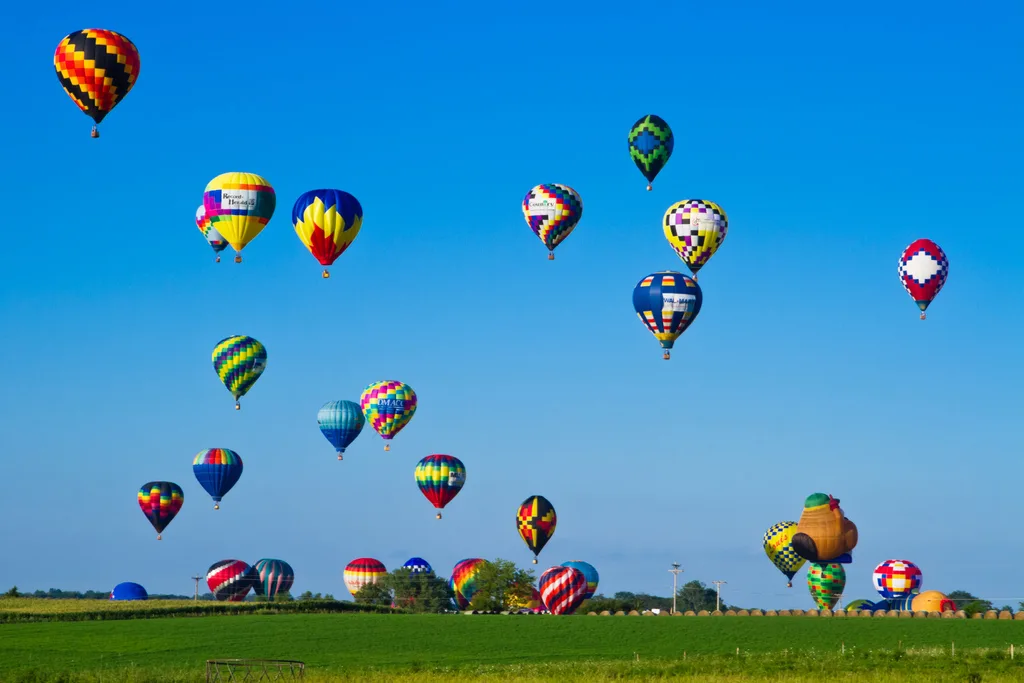 The National Balloon Classic has been around for over 40 years and takes place over nine spectacular days. This is one of the largest and longest-running hot air balloon festivals in the Midwest. More than 100 balloons paint the sky with their vibrant shapes and colors, and the National Balloon Classic also features pilot competitions, an off-road 5K, skydiving demonstrations, dawn patrols, and night glow extravaganzas.
Live music and incredible vendors keep things lively, and the nearby Warren County Fair (also on for 2023) takes place during the same time period.
Where to Stay for the National Balloon Classic: Country Inn & Suites is located right in Indianola and just 18 miles from Des Moines. Be sure to visit the National Balloon Museum while you're in town!
Colorado Springs Labor Day Lift Off: 70+ Balloons in the Rocky Mountains
Colorado Springs, Colorado
2024 Update: Labor Day Lift Off will take place over Labor Day weekend in 2024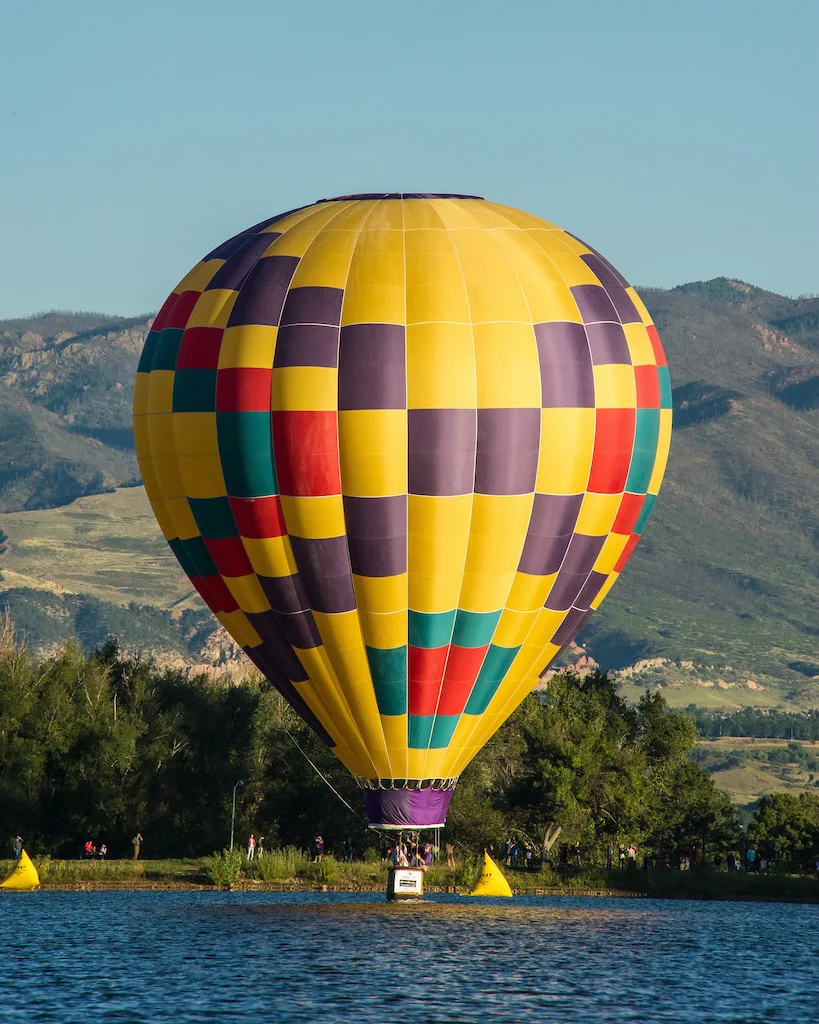 Need another excuse to celebrate Labor Day? Head to Colorado Springs for the Colorado Springs Labor Day Lift-Off in the heart of the Rocky Mountains.
Compared to some of the other festivals on this list, the Colorado hot air balloon festival is on the small side, but it is one of the longest-running festivals in the area.
The unique draw here is the scenery — the rugged Rocky Mountains are a fabulous backdrop for the 70+ balloons, plus you can beat the heat in gorgeous Prospect Lake, where you'll find wakeboarding exhibitions and paddleboarding.
Want to wake up early for the beautiful mass ascension in the mountains? Read Anna's post on Come Join My Journey, and be sure to explore the city while you're in the area.
Where to Stay for Labor Day Lift Off in Colorado Springs: Traveling with kiddos? Head to Great Wolf Lodge in Colorado Springs, with its indoor water park, mini-golf, game room, and family-friendly restaurant. It's sure to make your balloon festival weekend a huge success.
The Great Reno Balloon Race: A Free Hot Air Balloon Festival in the Southwest
Reno, Nevada
2023 Update: The 42nd Great Reno Balloon Race will take place from September 8-10, 2023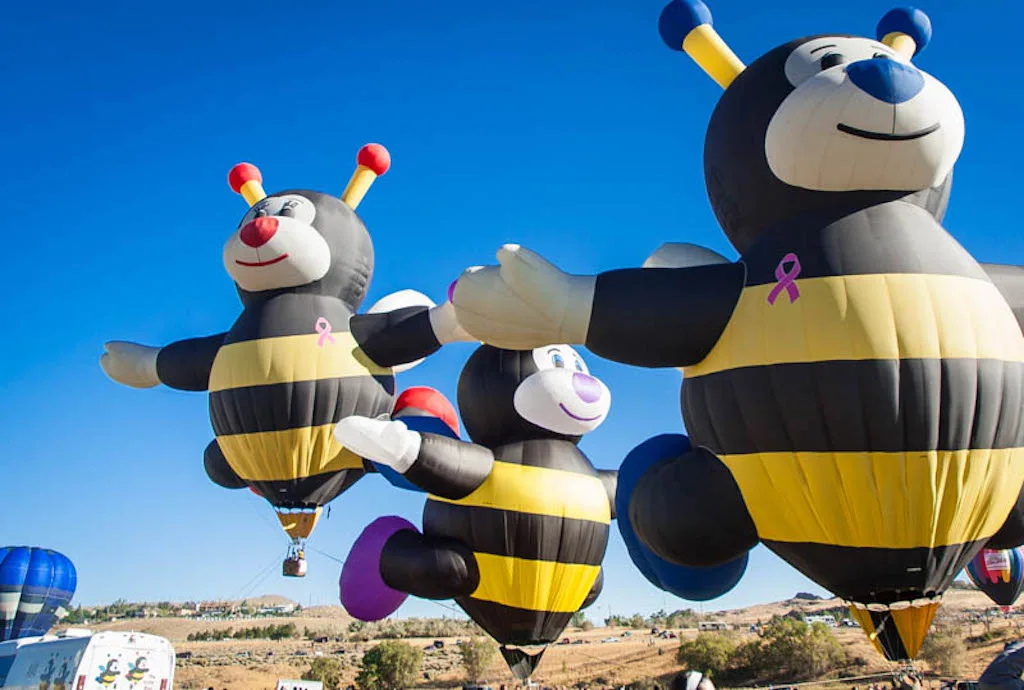 This entirely free hot air ballooning event is the largest free hot air balloon festival in the United States. More than 100 balloons compete each year, and each Great Reno Balloon Race attracts more than 140,000 visitors.
Highlights include the Balloon Blackjack competition, 5 a.m. glow shows, tethered rides, and a launch of more than 2,000 tissue-paper balloon models. The Balloon Race has won several awards over the years including 'Best Special Event in Reno' and 'Best Special Event in Northern Nevada.'
Lita's World has a great write-up about the Great Reno Balloon Race, plus some amazing photos of the balloons brightening up a day in the desert.
Where to Stay for the Great Reno Balloon Race: The Great Reno Balloon Race is on the outskirts of town at San Rafael Regional Park. Staying downtown will put you about 10 minutes from the park by car. There are numerous lodging opportunities, but Circus Circus is a family-friendly hotel and casino with live entertainment and a tasty restaurant, and the prices are incredibly affordable.
Havasu Balloon Festival and Fair: The Best Hot Air Balloon Festival in Arizona
Lake Havasu City, AZ
2024 Update: The Havasu Balloon Festival will take place from January 18-21, 2024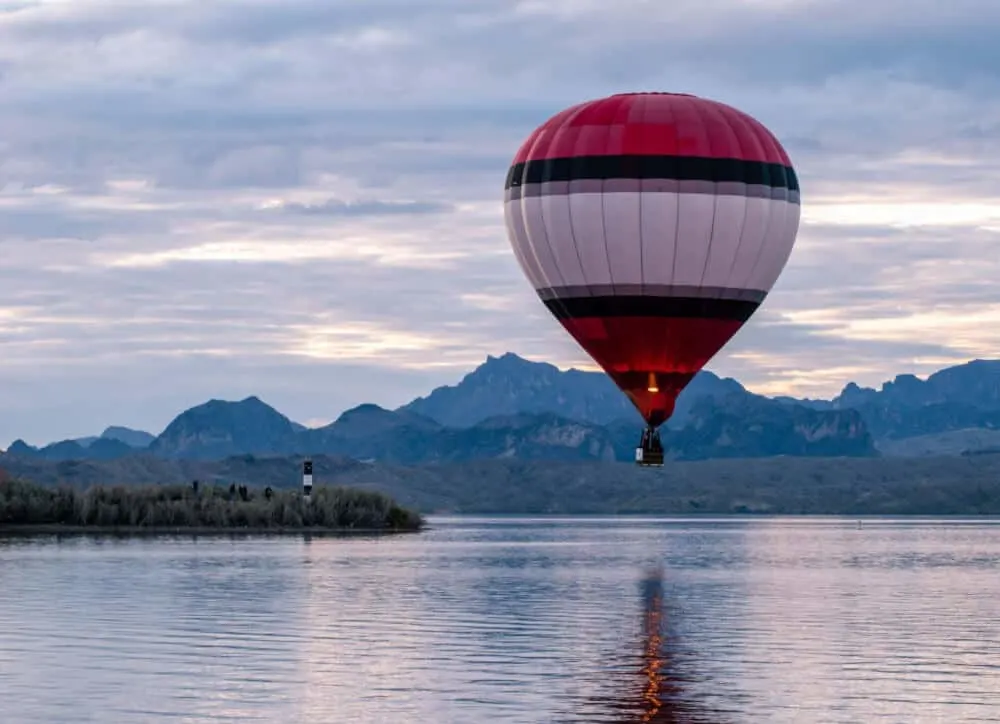 I may be biased because Lake Havasu is my dad's home base, but the Havasu Balloon Festival and Fair is one of my favorites. It takes place in January, which is just when I'm feeling done with winter in the Northeast, and you can't beat the backdrop of the rugged Arizona peaks reflecting on gorgeous Lake Havasu.
The festival takes place over the weekend, and there are two mass ascensions each day. The early morning ascension is my favorite, and many people take their kayaks or boats out to watch the balloons from the lake. Once the balloons are up for the day, the fair begins, with live music, carnival rides, vendors, and performers. There is a night glow each evening when all the balloons light up the sky. You can read more about visiting Lake Havasu City here.
For more about this year's hot air balloon festival, check out the official Havasu Balloon Festival website.
Where to Stay for the Havasu Balloon Festival: You can't beat the views at the Nautical Beachfront Resort on Lake Havasu, which features a pool, kitchenettes in each room, a golf course, and activities for kids. Traveling with your family? Read about these stellar family-friendly vacation rentals in Lake Havasu City!
Plano Balloon Festival: 40+ Years of 40+ Balloons
Plano, TX
2023 Update: The Plano Balloon Festival will take place from September 21 – 24, 2023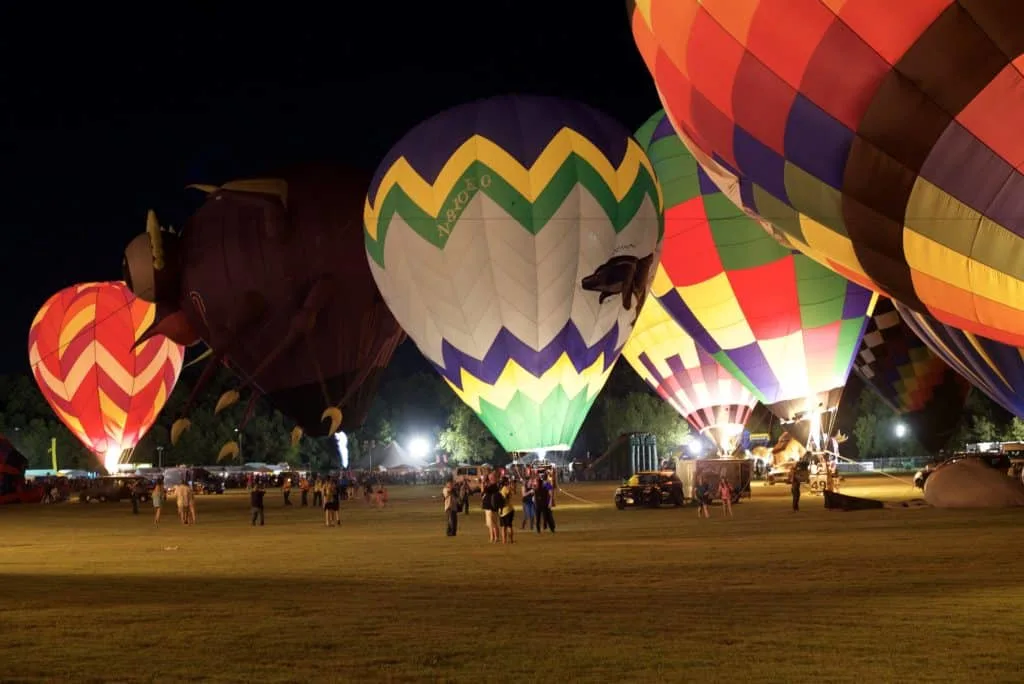 Plano, Texas is the place to be in mid-September when more than 40 hot air balloons and a dozen special characters take to the skies for the Plano Balloon Festival.
This vibrant, family-friendly hot air balloon festival has been going on for more than 40 years, and while the balloons are definitely the main attraction, the festival includes two stages of entertainment, and fireworks, as well as a half-marathon, 10K, 5K, and 1K.
Priya from Outside Suburbia attends the Plano Balloon Festival with her family each year. She loves spotting the special-shaped balloons that attend the festival. "My husband always wonders how old I really am when I start jumping and clapping when I see one of the fun shapes lift off!"
The Plano Balloon Festival is one of the best balloon festivals for families with kids. They will love the inflatable rides, obstacle courses, slides, and art activities, not to mention the night balloon glow and the skydiving events.
Where to Stay for the Plano Balloon Festival: Homewood Suites by Hilton – Plano-Richardson is a spacious all-suite property just minutes from Oak Point Park where the balloon festival is held each year. The grounds are fabulous with an outdoor pool and fitness courts, and the breakfast is delicious.
These may be the best hot air balloon festivals across America, but there are hundreds more. If you want to beat the crowds and check out some smaller events, you can find more on HotAirBalloon.com.
---
Follow us on social media for more road trip inspiration!
Pin for Later?