Looking forward to turning your camping dreams into a reality this year? The Great Lakes are an obvious escape for midwestern vacationers, but the campgrounds can be especially congested during the busy summer camping season. Lucky for us, these lakes are ginormous, and it's easy to get away from the crowds if you know where to look.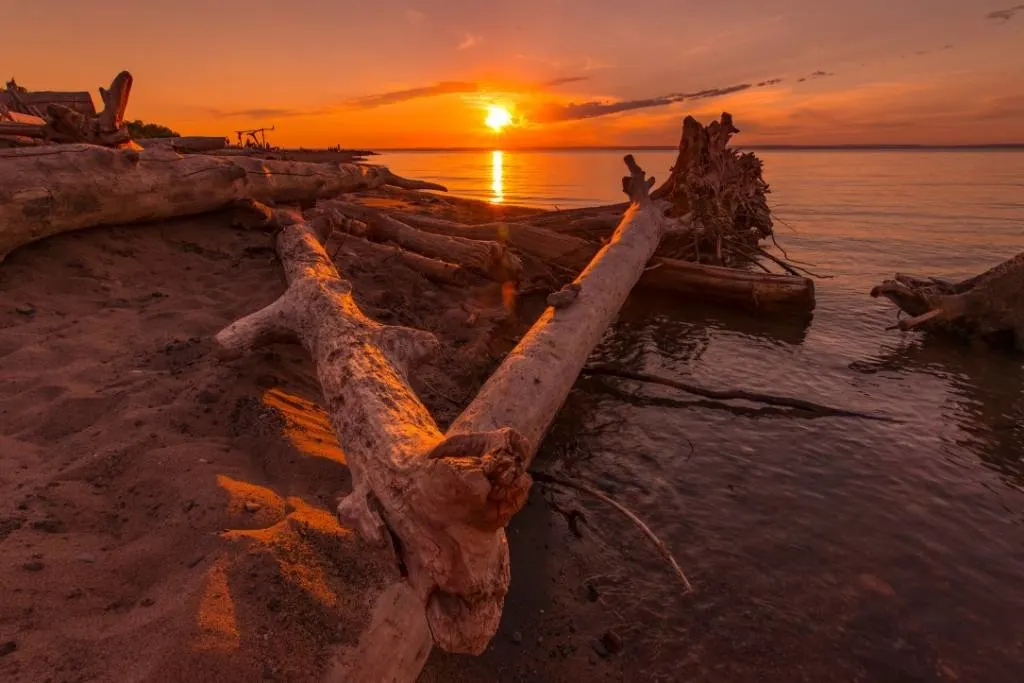 Get ready for sand-crusted swimsuits, reading by firefly light, and wet and wild adventures that can only be found in and around the greatest lakes on earth. Here are some hidden gems for Great Lakes camping that will help you escape the throngs and embrace your inner mermaid.
We've divided this Great Lakes camping list into a section for each of the Great Lakes: Lake Ontario, Lake Erie, Lake Huron, Lake Michigan, and Lake Superior. Click on a section in the table of contents to get there fast.
Great Lakes Camping on Lake Ontario
The last in the Great Lakes chain, Lake Ontario serves as the outlet to the Atlantic Ocean via the Saint Lawrence River. Lake Ontario is the only Great Lake not to border the state of Michigan. It is bordered by the Canadian province of Ontario and by New York State.
It's the smallest of the Great Lakes by surface area and a perfect lake for waterfront camping. The name Ontario is derived from the Huron word Ontarí'io, which means "great lake". Lake Ontario was once a border between the Huron people and the Iroquois Confederacy.
Here are our favorite spots for Lake Ontario camping in both New York and Canada.
Fair Haven Beach State Park: Fair Haven, New York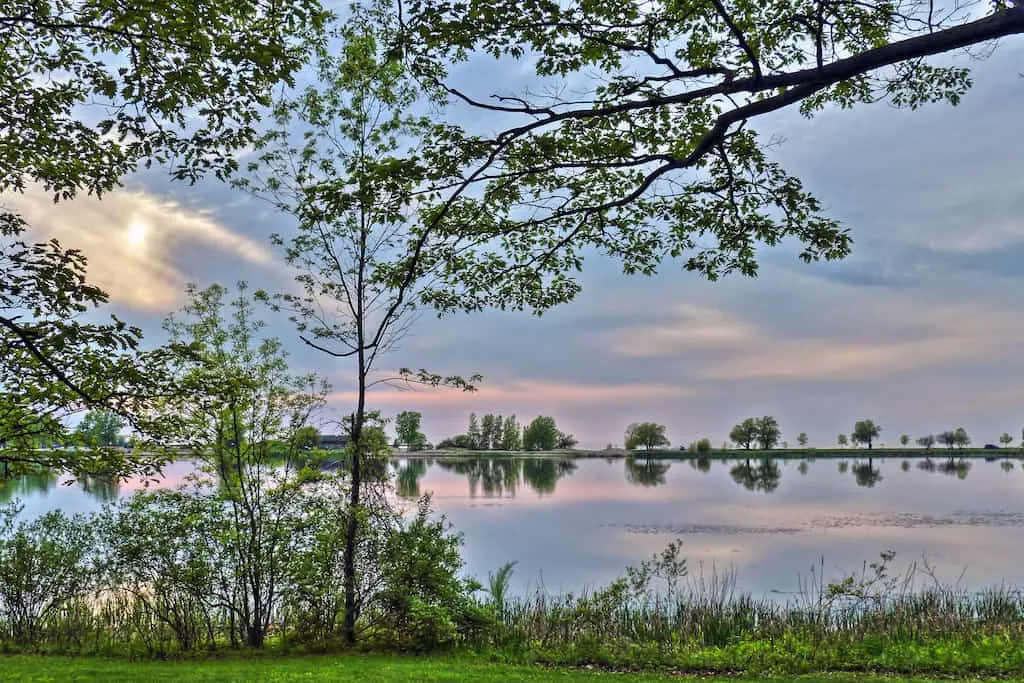 Fair Haven Beach State Park features towering shoreline bluffs, 1,500 feet of sandy beach, and a diverse ecosystem with forests, ponds, creeks, and wetlands. The camping area is huge and spread out among three separate areas. Every manner of campsite is available, including cottages, camping cabins, electric sites, and non-electric sites.
The sandy beach is the main attraction at this beautiful Lake Ontario camping spot, and the fishing in this part of the Lake (Little Sodus Bay) is fantastic. Campers can rent rowboats, paddleboats, canoes, and kayaks for use on Sterling Pond (not on Lake Ontario), and there's even an 18-hole golf course. While this isn't secluded primitive camping, we found the layout to be very private and family-friendly.
Camping rates at Fair Haven Beach State Park are between $18 and $28 per night. There are transient boat slips available as well. Pets are permitted in the campground and on the trails, but not on the life-guarded beach, buildings, or golf course.
What we love about Fair Haven Beach State Park: The camping cabins are really nice!
Something to consider: You can only swim when lifeguards are on duty.
---
Presqu'ile Provincial Park: Brighton, Ontario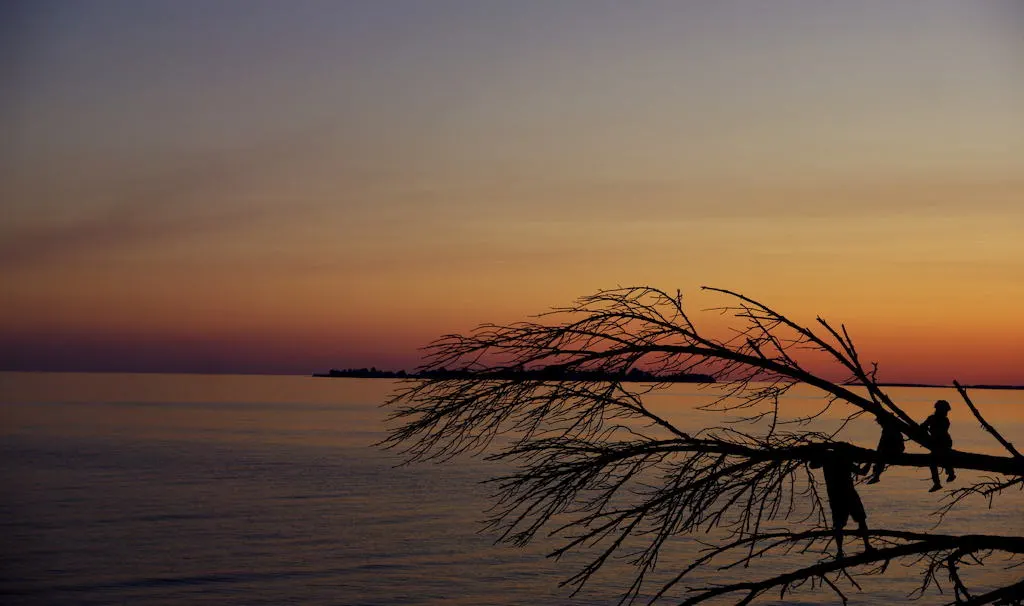 If you're looking for breathtaking views, miles of hiking and biking trails, and spacious campsites, you might want to visit Presqu'ile Provincial Park in Brighton, Ontario. Presqu'ile is also a birding hotspot, with 338 bird species recorded during spring and fall migrations, and 130 breeding species. Be sure to check out the marsh boardwalk trail, which takes visitors into the largest protected marsh on the north shore of Lake Ontario.
The camping season runs from April 30 to October 31, with more than 300 campsites in a variety of locations, including deep in the woods and right on the lakefront.
Whether you seek a primitive spot away from your neighbors, full hook-ups for your RV, or a glamping tent with basic amenities, you'll find it at one of Presqu'ile Provincial Park's eight campgrounds.
Presqu'ile Bay and marsh are sheltered enough to allow for paddling trips, and the whole of Presqu'ile Bay is fabulous for boats. Ranger-led programs are offered to both kids and adults throughout the summer.
What we love about Presqu'ile Provincial Park: Watching the sunset from the beach, or if you're lucky, a waterfront campsite.
Something to consider: Bring your bikes so you can around this large park without having to drive everywhere.
---
Great Lakes Camping on Lake Erie
Welcome to Lake Erie, the southernmost, shallowest, and smallest lake by volume of all the Great Lakes. While being the shallowest Great Lake may not be a claim to fame, I will say that it makes for more pleasant swimming because the temperatures warm up faster in the spring.
Lake Erie borders the Canadian province of Ontario to the north and the US states of New York, Pennsylvania, Ohio, and Michigan to the south, west, and east. Lake Erie's fish populations are the most abundant of the Great Lakes, accounting for an estimated 50% of all fish inhabiting the Great Lakes.
Many of the campgrounds on Lake Erie fill up during the summer. Don't let that discourage you! Book a spot at our favorite Great Lakes camping spot in Ohio!
Middle Bass Island State Park: Middle Bass Island, Ohio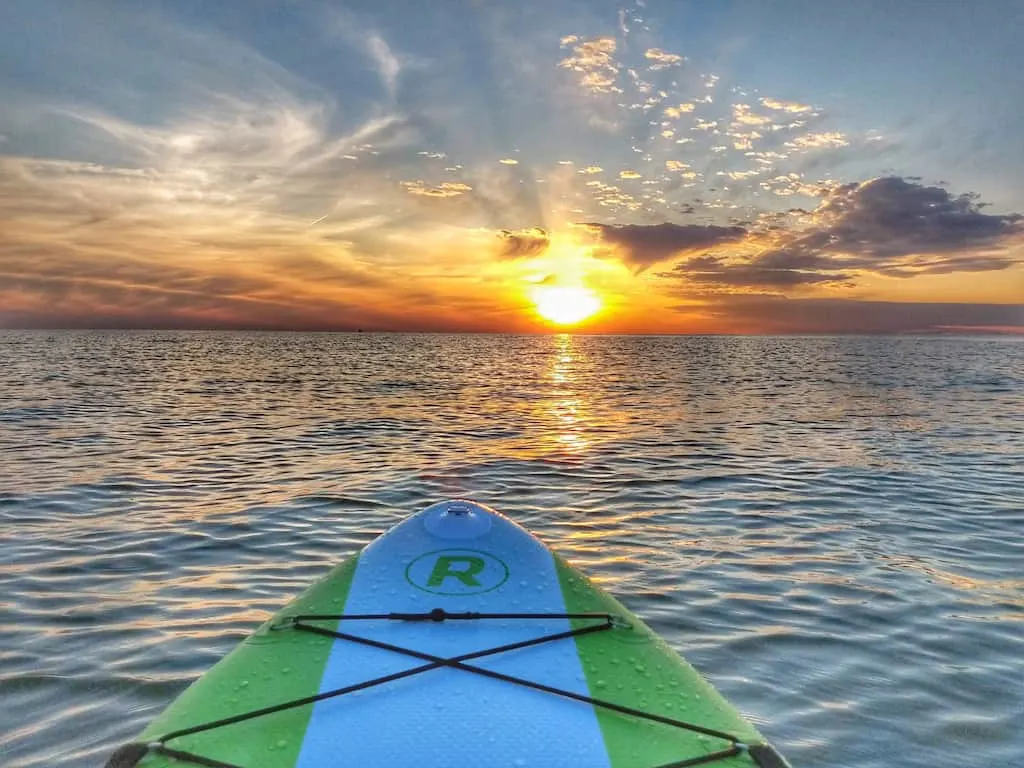 Middle Bass Island is located just north of Put-in-Bay, part of the Lake Erie Islands in Ohio. While Put-In-Bay is a popular summer destination for tourists, the waterfront campsites on Middle Bass Island are less popular and incredibly scenic. Middle Bass and its neighboring Lake Erie islands are composed of dolomite bedrock. Underground caverns can be found on the island, as well as huge stands of red cedar and high numbers of migrating songbirds.
Overnight dockage is available at the marina, or you can reserve one of the walk-in primitive campsites for free between May 15th and Oct 15th. Bicycles, kayaks, and paddleboards are available for rent at the Harbormaster building.
What we love about Middle Bass Island: You can leave your car behind and get around on your bicycle, and the state park is on the grounds of a former winery.
How to get to Middle Bass Island: Passenger and auto ferry services are both available to Middle Bass Island from mainland Catawba. The scenic, 40-minute ferry ride is available several times a day during the summer months. The ferry is able to transport cars, but vehicle reservations are required. You can also ferry to Middle Bass Island from Put-in-Bay/South Bass Island via a regularly scheduled ferry service between the Boardwalk dock and Middle Bass Island.
Great Lakes Camping on Lake Huron
From Lake Erie, let's head north to Lake Huron, which borders Michigan to the south and west and Ontario to the north and east. Lake Huron has the largest shoreline length of any of the Great Lakes, in part because of its 30,000 islands. It is separated from Lake Michigan, by the 5-mile-wide (8.0 km) Straits of Mackinac, making Lake Huron and Lake Michigan hydrologically the same body of water (sometimes called Lake Michigan-Huron).
One of our favorite camping spots of all time is located on Lake Huron, and the huge number of islands, inlets, and bays make for interesting paddling and boating excursions along the shores.
Killbear Provincial Park: Nobel, Ontario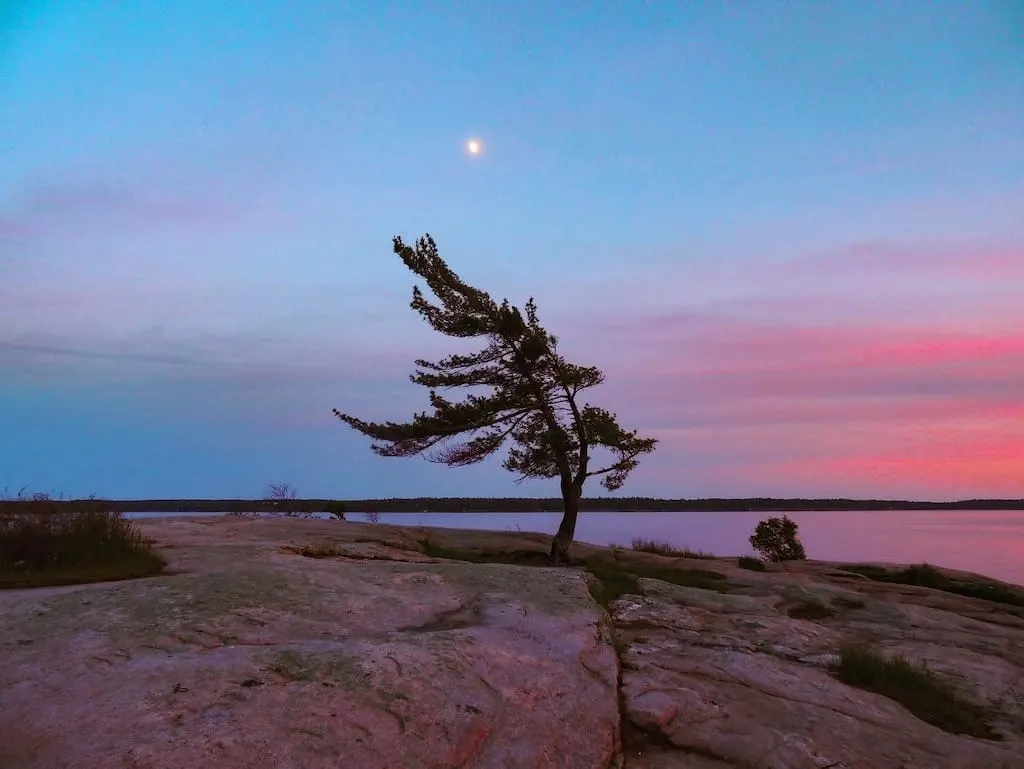 We stumbled upon Killbear Provincial Park quite by accident during a cross-Canada road trip with our kids. It wasn't quite summer and we were looking for a quiet spot to spend a few days before heading west again. This massive park stole our hearts with its abundant wildlife, quiet hiking trails, numerous sandy beaches, and breathtaking sunsets.
There are seven front-country campgrounds in Killbear Provincial Park, providing campers with lots of options. Most campgrounds are just a short walk to the shore so you can take advantage of those Georgian Bay sunsets. A 6 km paved bike trail is a nice way to get around the park, and although Killbear doesn't rent kayaks or canoes, this is a great spot for experienced paddlers to explore.
Most of the hiking trails within Killbear Provincial Park are easy to moderate and suitable for kids and novice hikers.
What we love about Killbear Provincial Park: Just about everything, but especially the sunsets and the swimming!
Something to consider: The critters in Killbear are very savvy and opportunistic! We left the car door open and a raccoon decided to help himself to our marshmallow.
Negwegon State Park: Harrisville, Michigan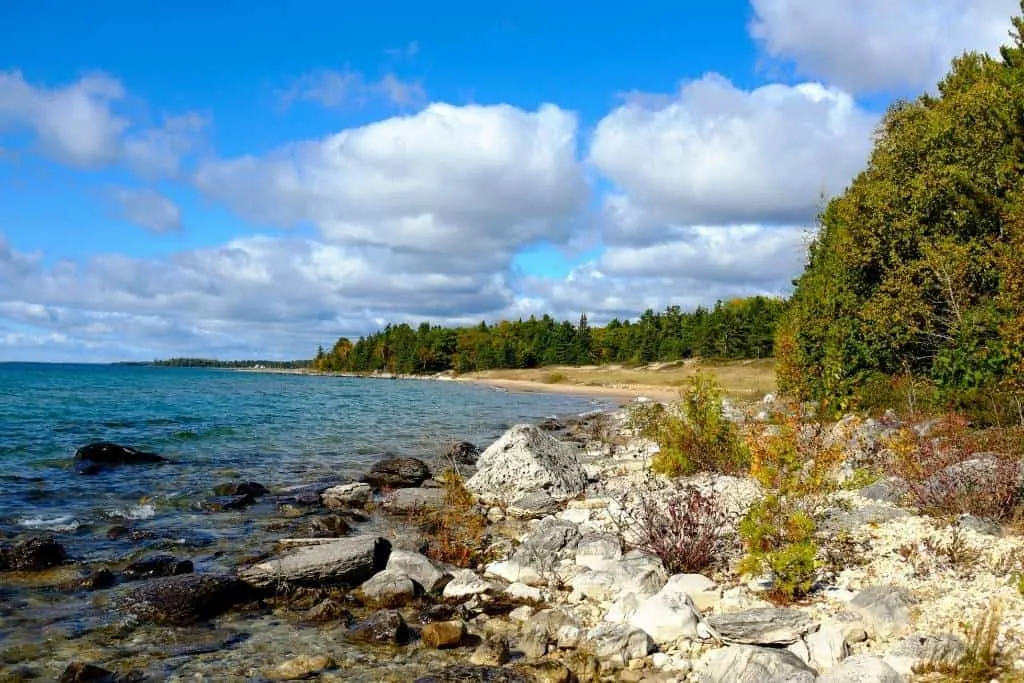 If you don't mind roughing it a bit, consider one of the primitive hike-in campsites at Negwegon State Park.
This is a wild park on Lake Huron's western shore, perfect when you really want to get away. In fact, this magical Great Lakes camping spot is the most secluded and rustic on our list.
The park encompasses more than 4,000 acres of woodland, sandy beaches, and hiking trails. It's also a designated dark sky preserve, so come prepared to stay up late! Trails are all easy to moderate, meandering along the shore and through mature pine forests and meadows.
Four hike-in campsites ($15 each) are available between April and November. The campsites are located approximately 1.1 to 2.2 miles from the main parking lot off Sand Hill Trail. Each campsite is equipped with a pit toilet, fire ring with a cooking grate on top, picnic table, bear pole (must provide own rope), and a backcountry privy.
Potable water is available at the flowing well located between the parking lot and the beach. Sites can also be accessed via the water by boat as they are located along the shoreline of Lake Huron.
What we love about camping at Negwegon State Park: No campground – just you and a beautiful spot on the shore! Sunrises are amazing here as well!
Something to consider: The roads are often covered with sand, so a four-wheel-drive vehicle is recommended.
Great Lakes Camping on Lake Michigan
Lake Michigan is the second-largest Great Lake by volume and the only Great Lake located entirely in the United States. It is bordered by the states of Wisconsin, Illinois, Indiana, and Michigan.
Twelve million people live along Lake Michigan's shores, mainly in the Chicago and Milwaukee metropolitan areas. Despite the huge population that enjoys the shores of Lake Michigan, it's still relatively easy to find fabulous secluded camping spots. Here are a few of our favorite spots for camping on Lake Michigan.
Psst… Have you seen those groovy campervans meandering around America? They're Escape Campervans and you can rent one for all of your explorations around the Great Lakes.
There's an Escape Campervan rental center in Chicago, within driving distance of many of the Great Lakes campgrounds on this list.
These iconic vans include everything you need (and a kitchen sink) for your van camping adventure. Talk about a memorable experience!
Indiana Dunes National Park: Porter, Indiana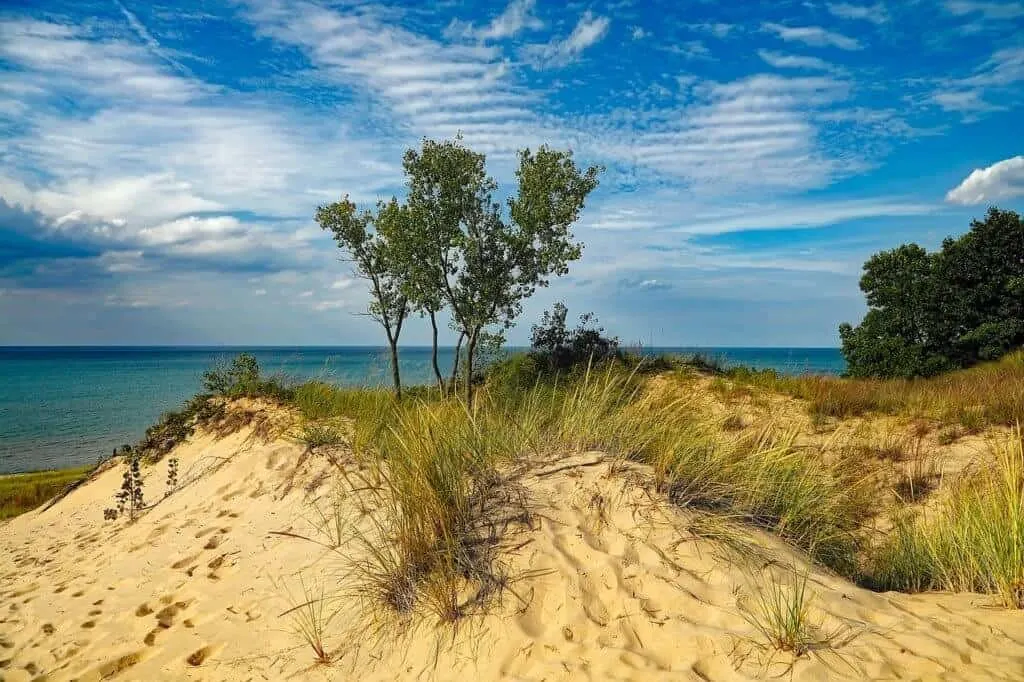 Just a stone's throw from the metropolitan realm of Gary, Indiana, the spectacular Indiana Dunes National Park boasts some of the most biologically rich ecosystems in the nation.
This 15,000-acre park on the shores of Lake Michigan contains more than 1,100 native plant species, world-class birding, and 50 miles of hiking trails.
Although the park sees a lot of visitors every season, you're always a short walk, swim, or paddle from total solitude.
The Dunewood Campground takes reservations for roughly half of its 67 campsites and it's the only choice for Indiana Dunes camping unless you head outside the park to a private campground. The rest of the sites at Dunewood are available on a first-come, first-served basis, so claim your spot early to give yourself plenty of time for exploring. The 13-walk-in sites are prime real estate and worth every extra step you have to take to get there.
Dunewood Campground is totally forested, which is heavenly during the summer months. I won't go so far as to say that this is a private camping experience, but the campsites in Dunewood campground do provide good seclusion from your camping neighbors.
Want to read more about our experiences? We spent several days exploring Indian Dunes National Park in 2019.
What we loved about Indiana Sand Dunes National Lakeshore: Hiking along the dunes and the sandy beaches!
Something to consider: Consider camping out here before or after the kids go back to school. It will make it much easier to get a spot.
Unique camping opportunity: Rent an Escape Campervan in Chicago for your trip to Indiana Dunes. This is a fun way to explore the area and you won't have to schlep all that camping equipment.
Fisherman's Island State Park: Charlevoix, Michigan
Despite the fact that Fisherman's Island no longer exists as an island, this tract of unspoiled Lake Michigan shoreline is still a ruggedly charming getaway for hikers, boaters, anglers, and lovers of wildlife. Characterized by lush forests, a plethora of native wildflowers, rolling sand dunes, and boggy wetlands, you could spend weeks exploring this conglomerate of incredible ecosystems, and bonus – this is one of the most beautiful campgrounds on Lake Michigan.
Rustic campsites, some nestled right in the dunes, are divided up between north and south units with a mile-long sandy beach between them for swimming and sunbathing.
The swimming area is quite shallow, even if you venture far from shore, and the sandy bottom is easy on the feet, making this a perfect spot for families with youngins in tow. You may find crowds on the hottest of summer weekends, but the rest of the year, Fisherman's Island is blissfully quiet camping on Lake Michigan.
What we loved about Fisherman's Island State Park: Waterfront camping right on Lake Michigan!
Something to consider: According to locals, the beach here is a great spot to hunt for Petoskey and Charlevoix stones. We had no idea what we were looking for, so if you're interested in checking them out, do your research ahead of time.
South Manitou Island, Sleeping Bear Dunes National Lakeshore: Glen Arbor Township, Michigan

First of all, if you haven't been to Sleeping Bear Dunes National Lakeshore, it's time to plan your trip. This incredible natural landscape makes quite an impact with its ginormous sand dunes, miles of sandy beaches, and great opportunities to get out on the water in various forms, including tubing, scuba diving, and paddling!
To escape the summer crowds and find totally secluded camping on Lake Michigan, you do have to put in a bit of work. South Manitou Island is only accessible by private boat or passenger ferry.
There are a few different camping options on South Manitou Island, but the most remote is the lovely Popple Campground, with only seven sites on the northern tip of the island. You have to hike 3.5 miles from the ferry dock, but that first Lake Michigan sunrise will make it all worth it!
If you want to skip the long hike and still pitch your tent near the beach, check out The Bay Campground, which is a short walk from the ferry dock. No matter which Lake Michigan campground you choose on South Manitou Island, be sure to bring your own water filtration system. There's no potable water available.
What we loved about camping on South Manitou Island: Hiking through the massive cedar trees!
Something to consider: There's lots of poison ivy on the island.
Lake Superior Camping
Lake Superior is epic in scale and scope, so this list of camping spots is really only the beginning, but you have to start somewhere, right?
This is the largest of the Great Lakes of North America, the world's largest freshwater lake by surface area. Lake Superior is shared by Ontario, Canada to the north, Minnesota to the west, and Wisconsin and the Upper Peninsula of Michigan to the south. We have explored the shores of Lake Superior on numerous occasions, but haven't spent near enough time actually on the water.
Ready to plan a beautifully private camping trip on the shores of the world's largest lake? Here are our top picks for camping on Lake Superior.
Split Rock Lighthouse State Park: Two Harbors, Minnesota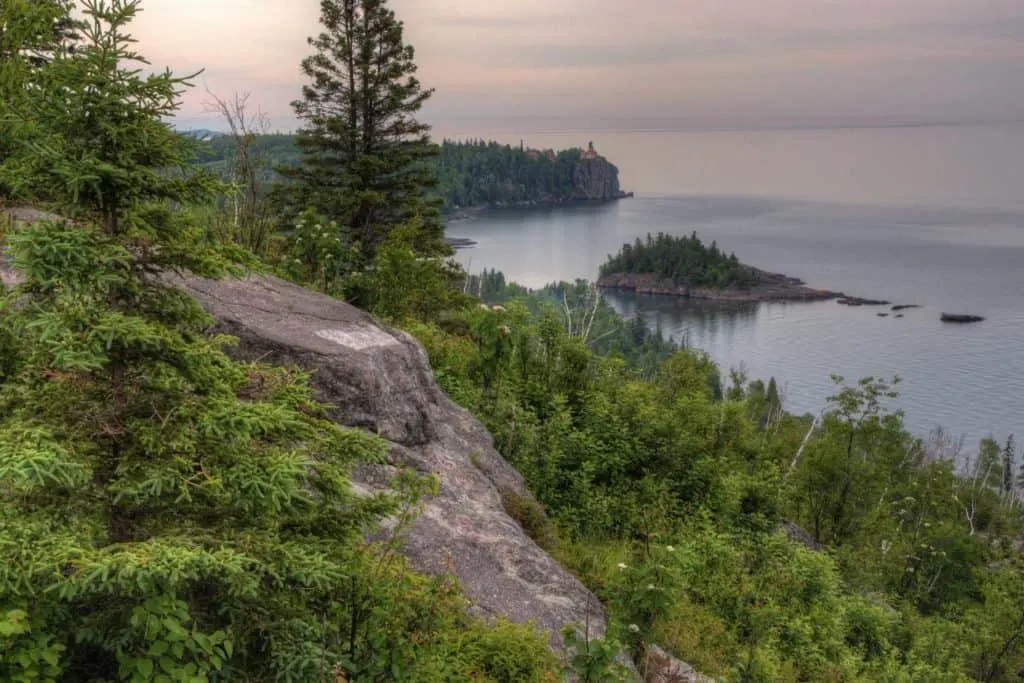 No matter what recreational pleasure calls to you, you'll find it at Split Rock Lighthouse State Park on the rocky shores of Lake Superior. Hikers and backpackers can easily connect to the world-famous Superior Hiking Trail, a 296-mile footpath that follows Lake Superior's wild and scenic shore.
The paved Gitchi Gami State Trail is a work in progress, but one that will eventually let you hop on your bike and cover 86 miles of shoreline from Twin Harbors all the way to Grand Marais. The famous Split Rock Lighthouse, built in 1909 after several tragic shipwrecks occurred near the rocky shoreline, is one of the most photographed lighthouses in the United States.
You'll also find pristine, pebbly beaches, scenic waterfalls, and primitive, shoreside camping. Secluded backpacking, boat-in, and cart-in campsites are what make camping here so special. Each and every campsite is secluded and many are right on Lake Superior, with incredible views of the lake and her magical sunrises.
What we love about Split Rock Lighthouse State Park: Camping is available year-round!
Something to consider: There are no restaurants, gas stations, or stores nearby, so make sure you come prepared.
Big Bay State Park: La Pointe, Wisconsin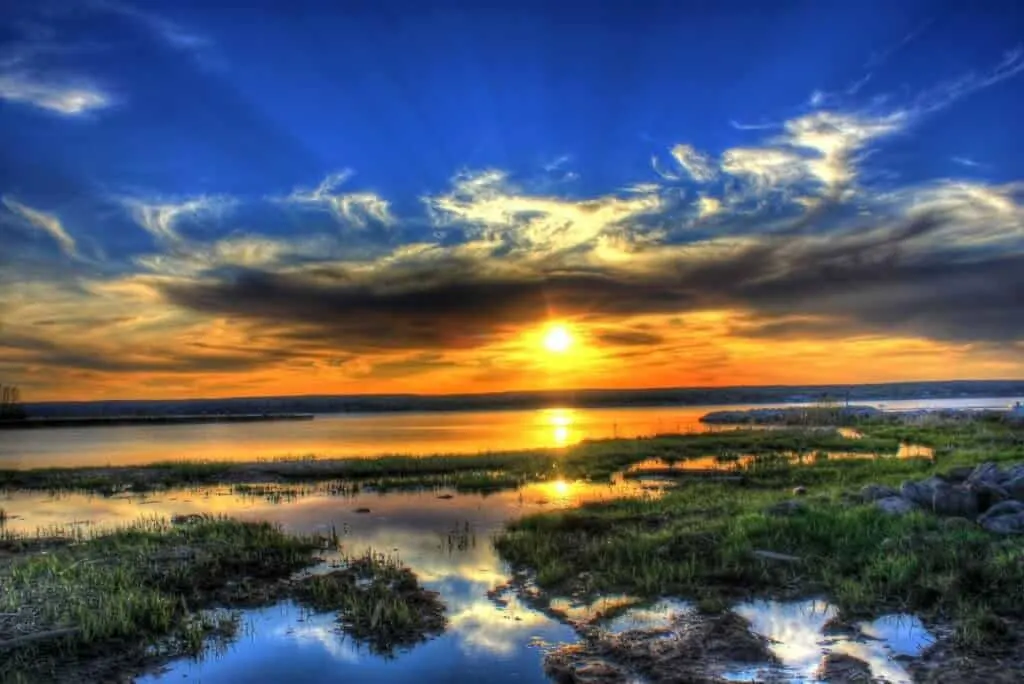 Located on Madeline Island, the largest of all the Apostle Islands in Lake Superior, Big Bay State Park can only be reached by boat. If you don't have access to one of your own, simply hop aboard the Madeline Island Ferry in Bayfield, for a 25-minute cruise across the lake, which will set the stage for your midwestern island vacation.
Once you arrive in La Pointe, it's a 6-mile drive, walk, or bike ride to Big Bay State Park. You'll be greeted by towering sandstone bluffs and an expansive sandy beach. This gorgeous Lake Superior campground is spacious and there's plenty of privacy, especially at the walk-in campsites. Once settled, get busy exploring the miles of trails, quiet lagoons, hidden sea caves, and fabulously cold water of Lake Superior. It's an island paradise if ever there was one.
What we love about Big Bay State Park: The sea caves are really cool. You can see them from the trail, or rent a kayak for a closer look.
Something to consider: Raccoons are a little too friendly.
---
Pictured Rocks National Lakeshore: Munising, Michigan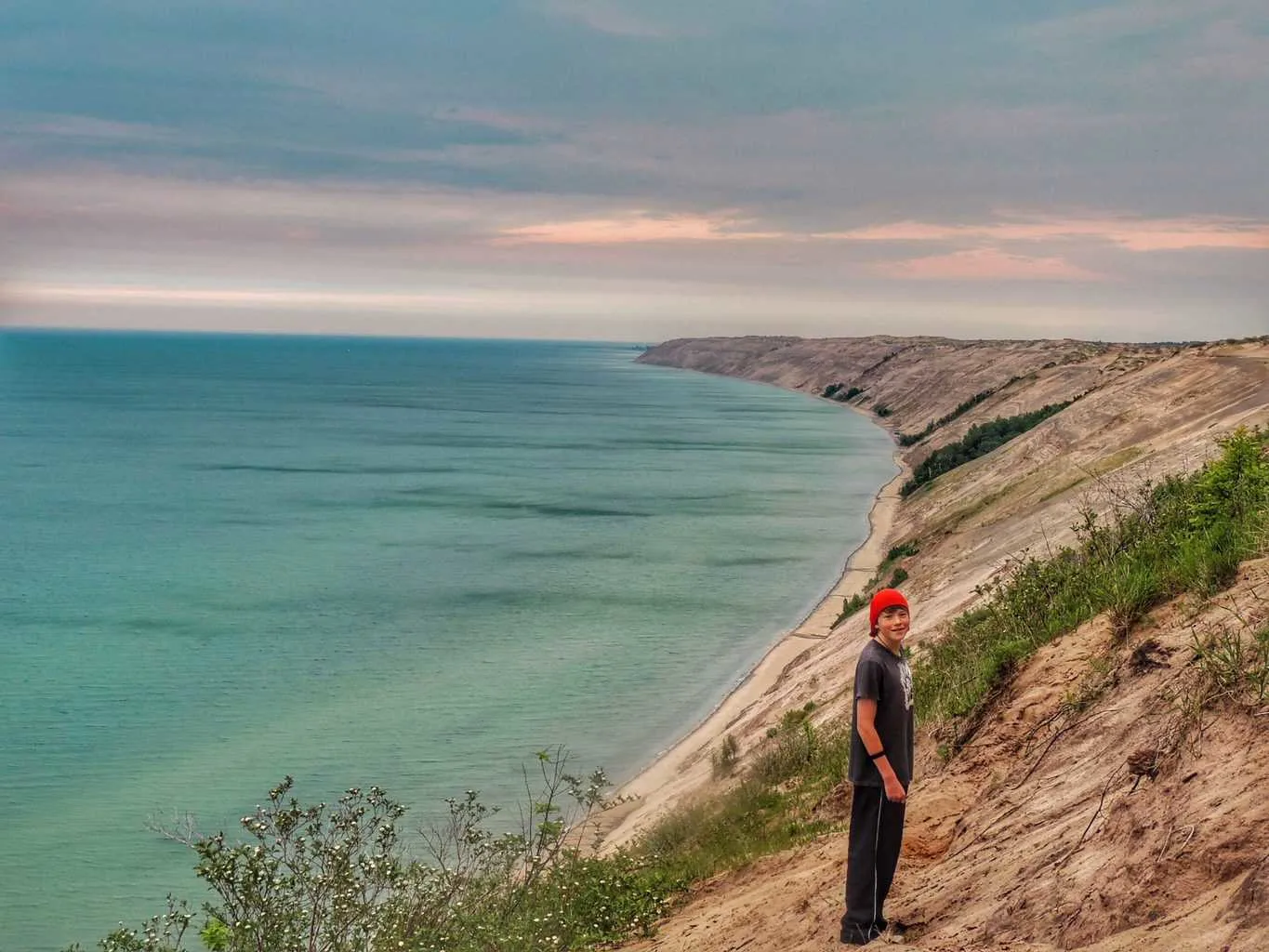 Located on Michigan's Upper Penninsula, Pictured Rocks National Lakeshore is a gem of a park along a narrow stretch of Lake Superior shoreline. Stretching for 42 miles with 15 miles of craggy cliffs, Pictured Rocks includes nearly 100 miles of trails, incredibly wild and scenic beaches, as well as backcountry and drive-in camping.
Pictured Rocks National Lakeshore is open year-round for adventuring, but our family has only visited in the summer. Want to read more about our favorite things to do at this amazing park? Check out our guide to the Best Things to do at Pictured Rocks National Lakeshore.
While we can't vouch for all the campgrounds at Pictured Rocks National Lakeshore, we LOVED Twelvemile Beach Campground, which is located on a tree-covered embankment overlooking Lake Superior. Most sites include a private little trail down to the water. The bathrooms are clean but fairly primitive.
What we love about camping at Pictured Rocks National Lakeshore: The massive dunes are fun to explore.
Something to consider: Biting flies are awful in early summer and they don't seem to mind insect repellent, so plan to cover up!
FAQs for Great Lakes Camping
When is the best time to go camping in the Great Lakes?
Most campgrounds are open from late May through September. July and August are the busiest months for camping in the Great Lakes. The water is warmest in the summer and best for swimming. If you're looking for a quiet camping trip, consider visiting in September after the kids have headed back to school.
What should you pack for your Great Lakes camping trip?
Aside from the regular gear that you need for almost any camping trip, be sure to pack a windbreaker and fleece for those chilly mornings, and an extra bottle of bug spray. The mosquitoes are monstrous!
Which Great Lake is Best for Camping?
Don't make me answer this one!! okay, I've narrowed it down to two massive, wild Great Lakes – Lake Superior and Lake Huron. Both offer lots of parks and wilderness areas, amazing scenery, and ample opportunities to find solitude.
Ready to embrace everything you love about summer? These Great Lakes camping spots are sure to entice you with their beauty and solitude, and those massive Great Lakes? They've been waiting for you to discover all of their secrets!
---
Need more midwestern vacation ideas? Check out these posts!
---
Follow us on social media for more camping ideas!
Pin for Later?