Where can you find 15 miles of secluded shoreline, 50 miles of hiking trails, and 15,000 acres of undeveloped wilderness — all within 50 miles of one of America's largest cities?
Welcome to Indiana Dunes National Park, one of the newest additions to the National Park Service in the United States.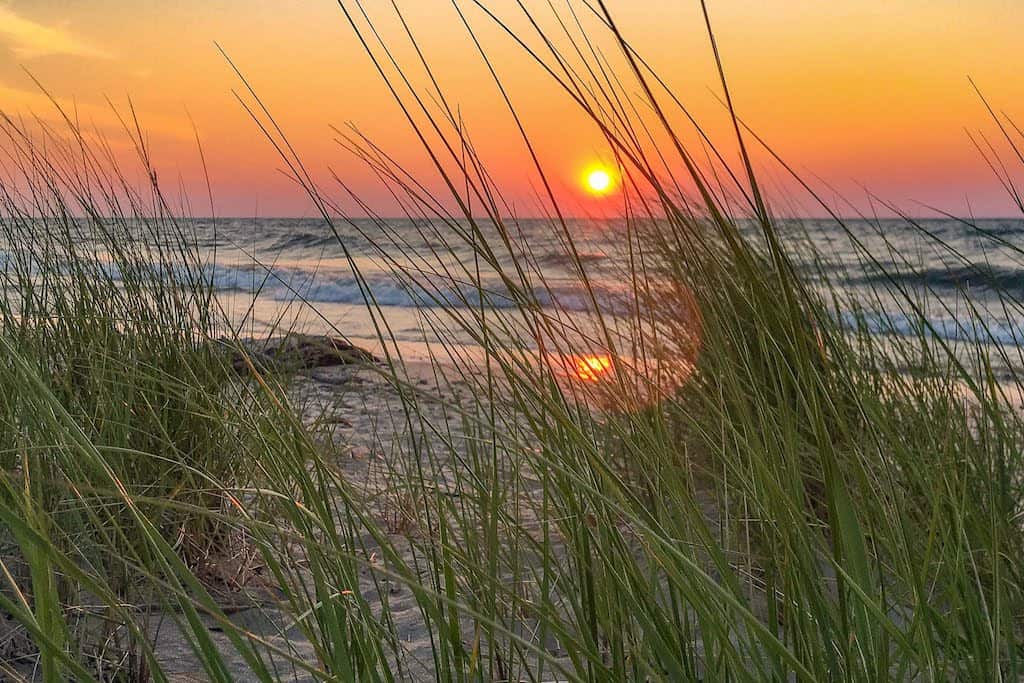 Indiana Dunes is a playground for water sport enthusiasts, but it's also a perfect spot for solitary hiking, birdwatching, and relaxing on the beach with a good book. It's a fabulous weekend destination for those with limited time to adventure, and the fact that it's just an hour from Chicago only sweetens the pot.
I had the opportunity to explore Indiana Dunes National Park with my nieces on a cross-country road trip over the summer. We spent several nights at Dunewood Campground, and several days hiking the dunes, goofing off, and relaxing on the shores of Lake Michigan.
There are definitely worse ways to spend a summer weekend!
Things You Should Know Before Visiting Indiana Dunes National Park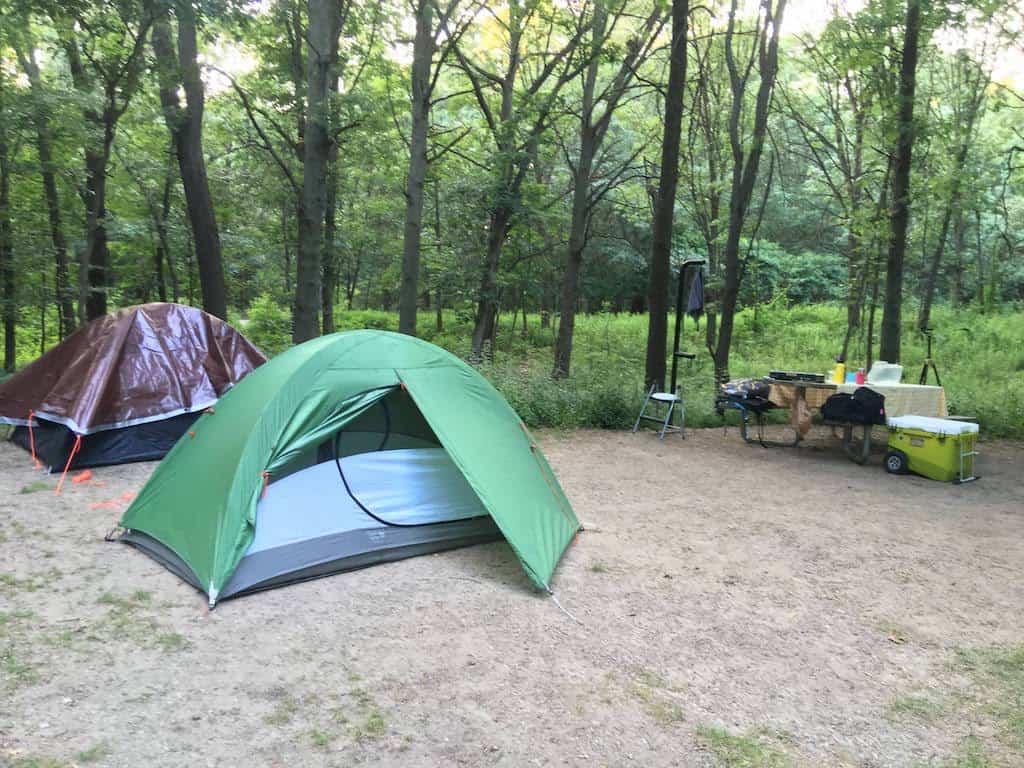 Indiana Dunes National Park was inaugurated into the National Park Service in 1966 as Indiana Dunes National Lakeshore and became our 61st national park in 2019.
Although the park includes 15,000 acres, they are not all connected. National Parkland surrounds an industrial complex in the Port of Indiana, along with some areas that are privately owned.
The park is located right next to the city of Gary, Indiana, and in contrast to other, more remote national parks, Indiana Dunes feels a bit more urban. You can even see the Chicago skyline in the distance from many of the beaches.
More than 3-million visitors flock to Indiana Dunes each year, and that number is only expected to grow. There are numerous railroad crossings and some industrial views, plus the beaches tend to accumulate debris after storms.
---
Insider tip: Instead of renting a car, you can fly into Chicago and rent an Escape Campervan for your adventure in Indiana Dunes. It's a fun way to camp without all the equipment!
HOT DEAL! Use the code BACKROADRAMBLERS10 for 10% off your 2023 trip with Escape Campervans from any location with no blackout dates. Book your trip before 4/31/2023 to get your discount.
---
How Much Does it Cost to Visit Indiana Dunes National Park?
As of 2020, there is no fee to get into many of the day areas at Indiana Dunes National Park. The exception is the popular West Beach, which charges $6 per vehicle per day or $30 per busload. If you planned ahead and purchased an America the Beautiful Pass, congratulations! Unfortunately, your pass won't cover the $6 expanded amenity fee.
Can You Climb on the Dunes in Indiana Dunes National Park?
Yes, some of the dunes make up part of the trail network in Indiana Dunes National Park. These are ancient dunes that are relatively stable — some even have trees growing on them. The younger dunes are prone to erosion and are off-limits for walking.
Are Dogs Allowed at Indiana Dunes National Park?
Yes! Indiana Dunes National Park is one of the most dog-friendly national parks in the US. Leashed dogs are allowed almost everywhere. The exceptions are the lifeguarded area of West Beach, the Pinhook Bog Trail, and the equestrian part of the Glenwood Dunes Trail system.
Where is Indiana Dunes State Park?
So glad you asked. Indiana Dunes State Park is actually located inside the boundary of Indiana Dunes National Park. The park consists of more than 2,000 acres with a three-mile beach and awesome hiking trails. A campground includes 140 campsites with full hook-ups (there are no hookups in the national park).
The entrance fee for Indiana Dunes State Park is $7 per vehicle for Indiana residents and $12 for non-residents. Camping rates vary from $30-$44 per not. Dogs and alcohol are not permitted at the beach in Indiana Dunes State Park.
Visiting the Beaches at Indiana Dunes National Park
There are eight public beaches within the boundary of Indiana Dunes National Park. All have parking available, but many of the parking lots will fill up during the summer. Our advice — if you're going to spend the day at the beach, get there early. Here are some things you should know about the beaches at Indiana Dunes National Park.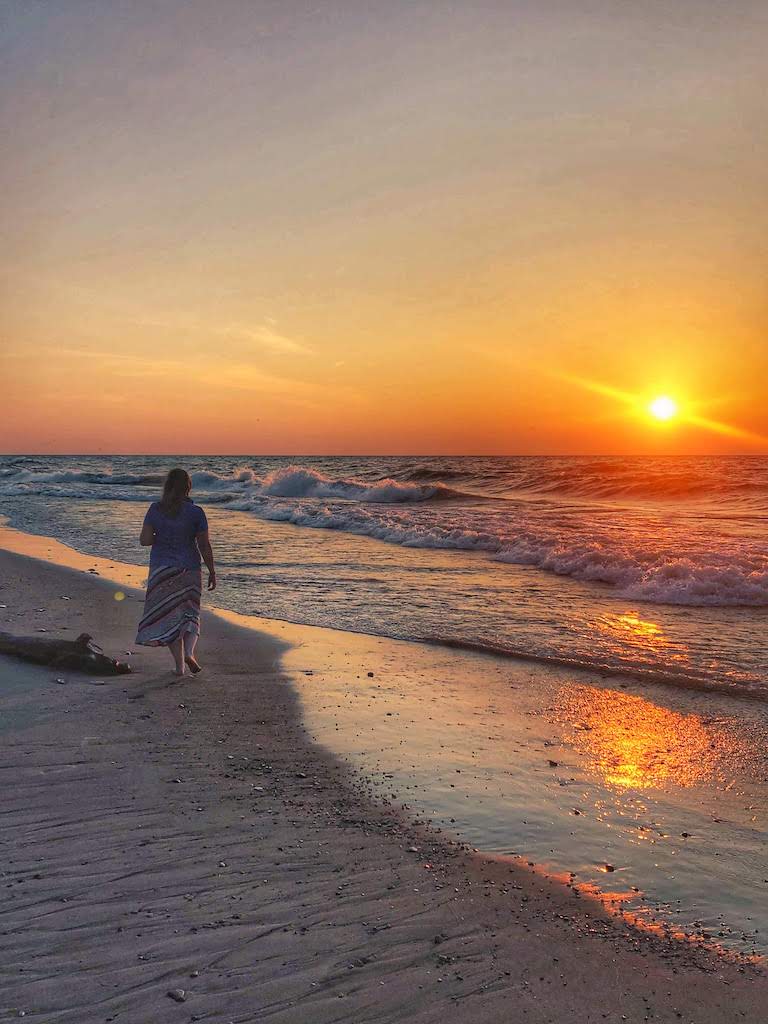 Indiana Dunes beaches are open from 6 am to 11 pm.
Glass containers and fires are prohibited on all Indiana Dunes beaches.
Beach restrooms are open year-round.
Dogs are permitted on all beaches except the lifeguarded area on West Beach but must be kept on a leash at all times.
West Beach is the only one of the Indiana Dunes beaches that has a lifeguard, and only between Memorial Day and Labor Day weekend.
Lake View Beach, Dunbar Beach, and Kemil Beach Beverly Shores, IN
Lake View Beach, Dunbar Beach, and Kemil Beach are essentially the same beach with different access points. They are all within walking distance to each other and located in a residential neighborhood in Beverly Shores, Indiana.
These are the closest national park beaches to Dunewood Campground and are all great spots to watch the sunset. Dunbar Beach and Lake View Beach are on either side of the 1933 World's Fair Century of Progress Homes, a collection of five houses turned historic landmarks that were created to highlight futuristic changes to residential living.
Four of the homes are privately leased, but you can view and photograph them from the outside, just don't trespass on the properties.
Parking is very limited and may require a bit of a walk (pack light). There are restrooms and potable water available near the parking areas. Lake View has several covered picnic pavilions with grills, but again, these fill up quickly, especially on the weekends.
Porter Beach, Porter, IN
Porter Beach is west of Kemil, Dunbar, and Lake View beaches, on the other side of Indiana Dunes State Park. There are 66 free parking spots that fill up quickly in the summer. There's also a bike rack, restrooms, and a foot wash. The dunes here are really lovely and there is plenty of room to spread out. Porter Beach is open from 6 am – 11 pm.
Portage Lakefront and Riverwalk Beach, Portage, IN
This small beach is next to the Port of Indiana and a steel mill, giving it a more industrial feel than some of the other beaches. There's a nice paved riverwalk trail that hugs Burns Waterway, and the beach has restrooms and a snack bar. There is an ongoing issue with erosion here, and Lake Michigan is in a constant battle with the dunes on the shore. In some places, the beach is very narrow, and in other places, there is no beach at all. This is a nice spot to check out the Chicago skyline on a clear day.
West Beach, Gary IN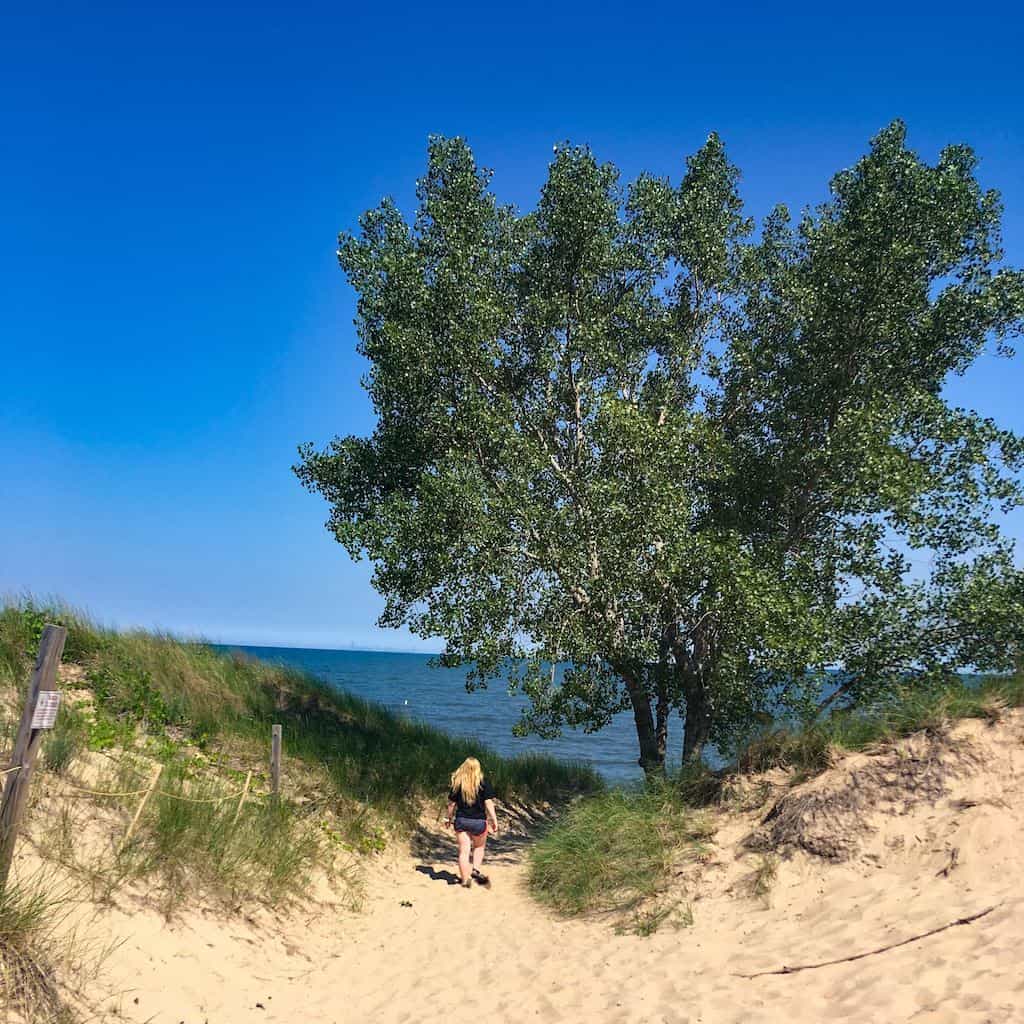 West Beach is the largest and most popular beach in Indiana Dunes National Park. There is a $6 expanded amenity fee to help with the upkeep of this busy area. The parking area at West Beach is also the starting point for hiking the Dunes Succession Trail and other hiking loops in this part of the park. This is the only beach where you'll find a lifeguard from Memorial Day weekend to Labor Day weekend.
West Beach is a lovely family beach, but it does get busy! There are numerous picnic tables, some under pavilions, some in the open, and a full bathhouse with potable water. The parking lot is huge and can accommodate buses and RVs. Park Rangers offer seasonal interpretive programs and are on hand to answer questions. West Beach is open from 6 am – 11 pm, but they stop collecting the amenity fee around 7 pm.
Central Avenue Beach, Town of Pines, IN
Central Avenue Beach was relatively quiet when we were there, but I don't know if it is always this way. It's a narrow strip of sand sandwiched between Lake Michigan and the huge sand dunes, so there isn't a lot of room for sunbathing or Frisbee throwing. The beach was closed for many years due to erosion, but as of 2020 is open to visitors. It's a bit of a walk from the parking area, but the swimming area is shallow and sandy — perfect for families.
Mount Baldy Beach, Michigan City, IN
Mount Baldy is a massive 126-foot tall sand dune on the eastern edge of Indiana Dunes National Park. For many years, you could hike to the top of Mount Baldy, but access has been restricted to protect the dune from erosion, and because there was a dune-related accident several years ago. You can still visit the beach though, which is quite lovely and quiet because you have to walk a trail to access the water. It's a decent .3-mile walk to the beach from the parking area, so it's not a good beach to bring all the toys, chairs, and coolers
Indiana Dunes Hiking
There are 50 miles of trails in Indiana Dunes National Park, and more within the adjacent state park. We were pleasantly surprised at the diversity of the trail system in Indiana Dunes. You can hike along dunes, on the beach, through prairies, oak forests, wetlands, and bogs. All on the same day!
We only spent a few days in Indiana Dunes National Park, but we managed to hike three trails and recommend them all. I would rate all of them as easy to moderate. The biggest issue was walking on soft sand in the sun, which I wasn't used to. Here's an overview of the Indiana Dunes trails that we tackled during our summer visit.
Dune Succession Trail from West Beach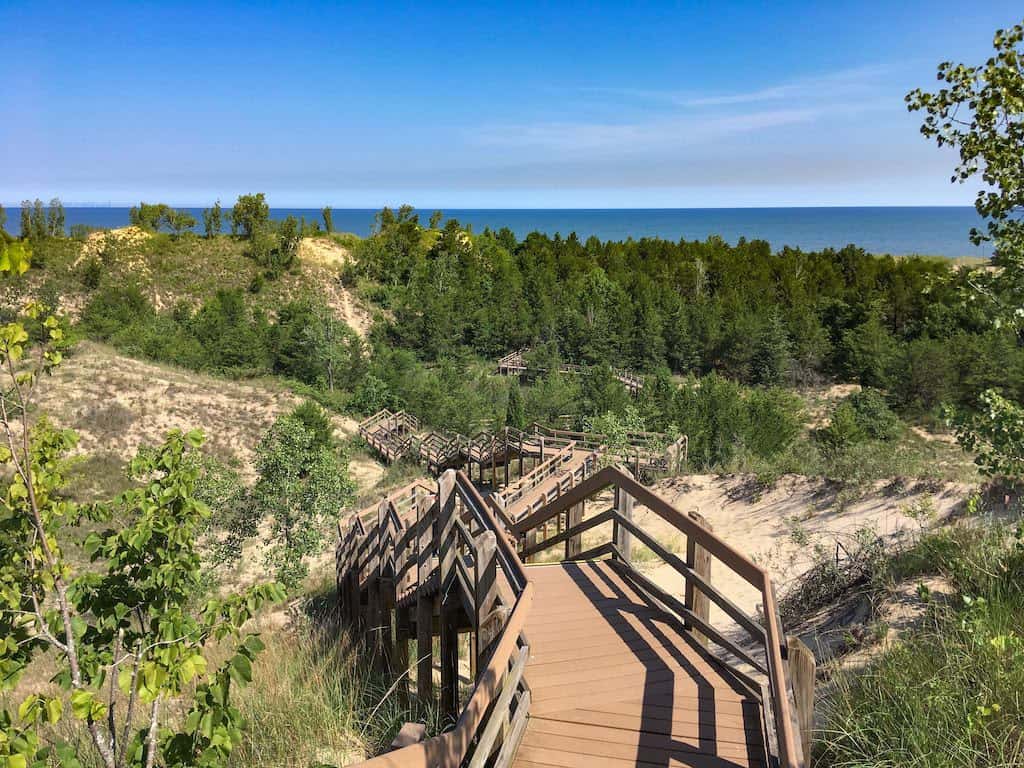 The Dune Succession Trail is a series of staircases that go up and over ancient dunes covered by grass, oak, and poplar trees. There were little brown and green lizards running around everywhere. We later found out they were prairie racers. I'd rate the Dune Succession Trail as moderate. There were lots of stairs to climb and not much shade.
The Dune Succession Trail begins in the West Beach parking area and ends at the beach, so if you've got your swimsuit on, you can stop and take a dip before heading back to the car. Unless you're hiking in the winter, I'd recommend some sort of sandal for this hike. It's very sandy.
Difficulty level: easy to moderate
Length of trail: .9-mile loop
Dogs: Yes, on leash
Fee: $6 expanded amenity fee to park in the West Beach lot
Long Lake Trail from West Beach Parking Area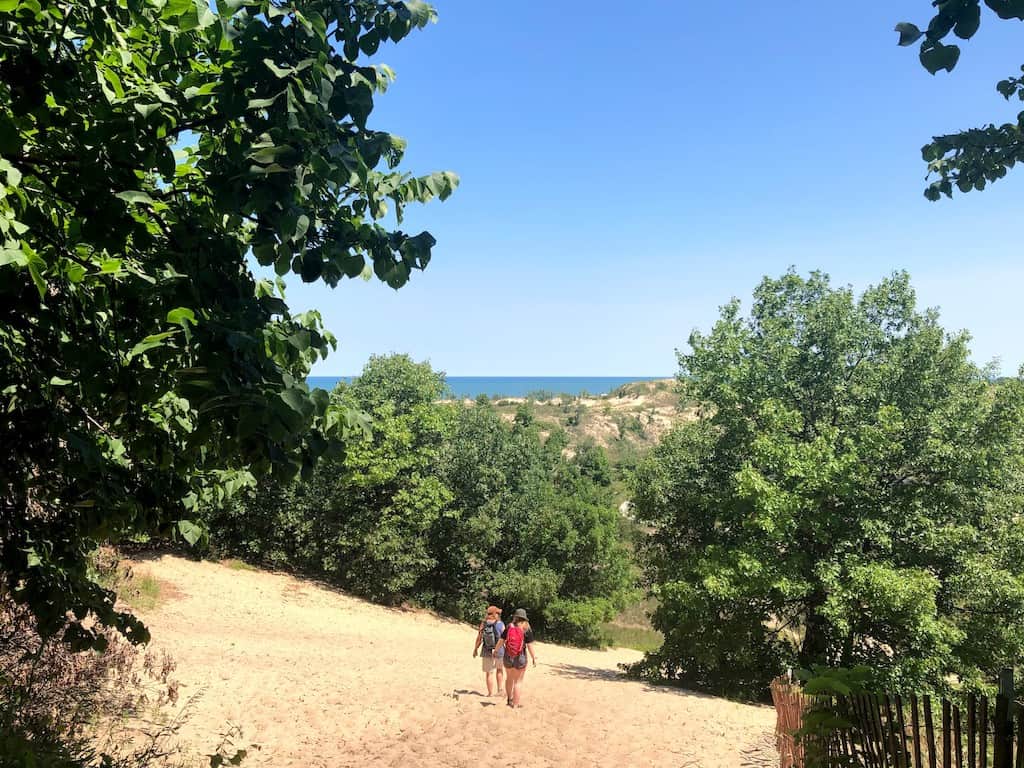 The Long Lake Trail begins in the same parking area as the Dune Succession Trail, but it heads away from the lake. It's a great loop that winds through dunes, around a swampy lake, and through the woods. We saw lots of wildflowers, lizards, birds, butterflies, and toads. The trail was muddy in spots, but not too bad. Watch out for poison ivy.
Difficulty level: easy to moderate
Length of trail: 1.6-mile loop
Dogs: Yes, on leash
Fee: $6 expanded amenity fee to park in the West beach lot
Cowles Bog Trail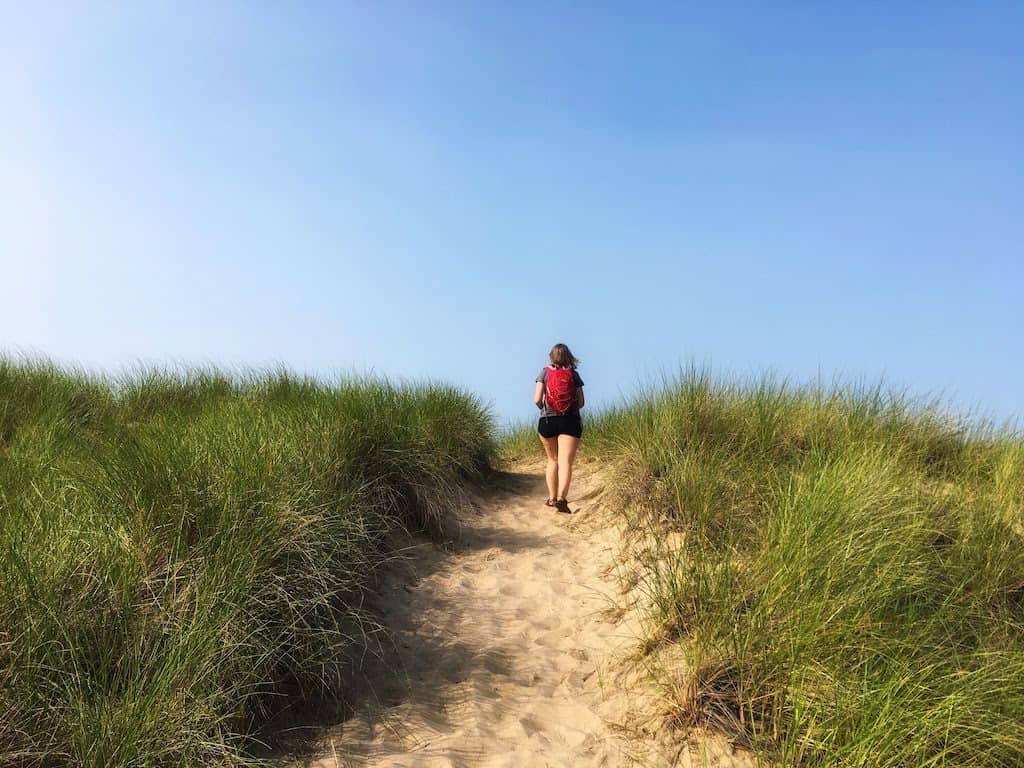 This is an easy to moderate loop that starts in an unassuming parking area and goes along train tracks, power lines, and a buggy swamp. The beginning is not picturesque, but after the swamp, the trail heads into the woods where there are lots of blueberry and raspberry bushes. Finally, it climbs steeply up a forested dune and then steeply back down to a secluded beach. We were the only ones there!
The trail hugs the shore for .2 miles and then cuts back into the woods and through a fen that is known as Cowles Bog. It's not a true bog because it has a water source underground. We saw lots of birds in the fen — mostly red-winged blackbirds, but also a little green heron.
Difficulty level: easy except for the steep dune that you have to climb to get to the beach and back.
Length of trail: 4.7-mile loop
Dogs: Yes, on leash
Fee: None
Indiana Dunes Camping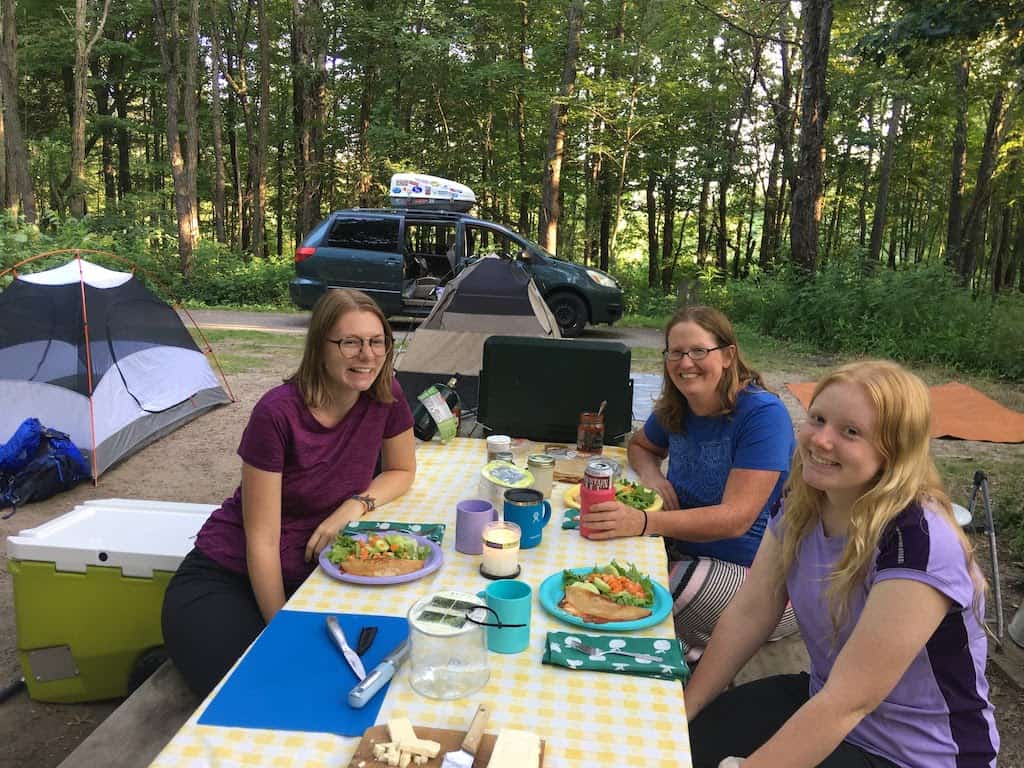 Our home base for the time we spent exploring Indiana Dunes National Park was Dunewood Campground. It's also the only campground inside the national park. We had reserved a site ahead of time (Mather 23) because we knew that we would be arriving late in the day. We loved our spot, which was very private but there was quite a bit of poison ivy. Firewood was not available for sale, but we found some at an empty campsite.
The nearby trains were loud and ran often, constantly reminding us that we weren't in the wilderness that is usually associated with national parks.
Dunewood Campground includes 67 campsites. There are 54 drive-in sites and 12 walk-in sites for tent camping only. No hookups are available. There are restrooms and showers, plus shared potable water. Half of the sites are reservable. The other half are first-come, first served.
Keep your food securely locked up. The raccoons are crafty and will try and steal your marshmallows! Camping is $25 per night.
All-in-all this was a great Indiana Dunes camping experience. We were close to beaches and trails, and the crowds were minimal. We would not hesitate to stay here again.
Final Thoughts on Visiting Indiana Dunes National Park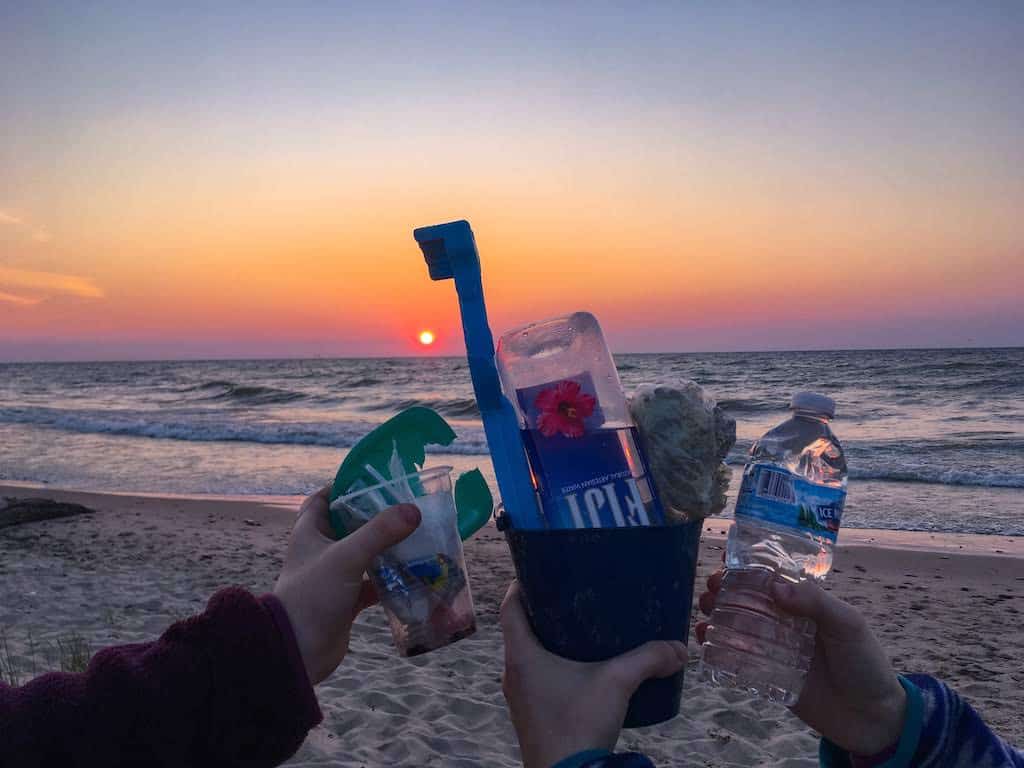 All things considered, we enjoyed our stay at Indiana Dunes National Park. It wasn't a park that knocked our socks off, but the lake and dunes were awesome and the trails were fun.
We were disappointed with the amount of trash on the beaches and the cleanliness of the bathhouses, but more impressed with the swimming, hiking, and sunsets. It would make a fun day trip from Chicago or other nearby cities.
Resources for Visiting Indiana Dunes
Visit the National Park Service to learn more about visiting Indiana Dunes, including trail information, park alerts, and information about the flora and fauna of the area. If you want to read more about hiking and camping in national parks, we've got a great national park resource page too!
Be sure to check out our Indiana Dunes web story too!
---
Want to read more about outdoor adventures in the midwest? Check out these posts:
---
Follow us on social media for more outdoor adventure ideas!
Pin for Later?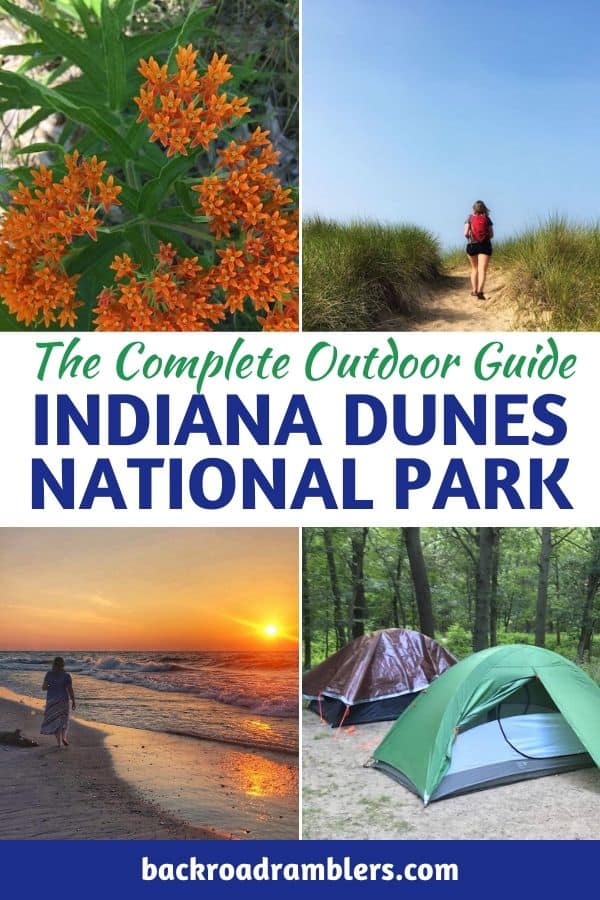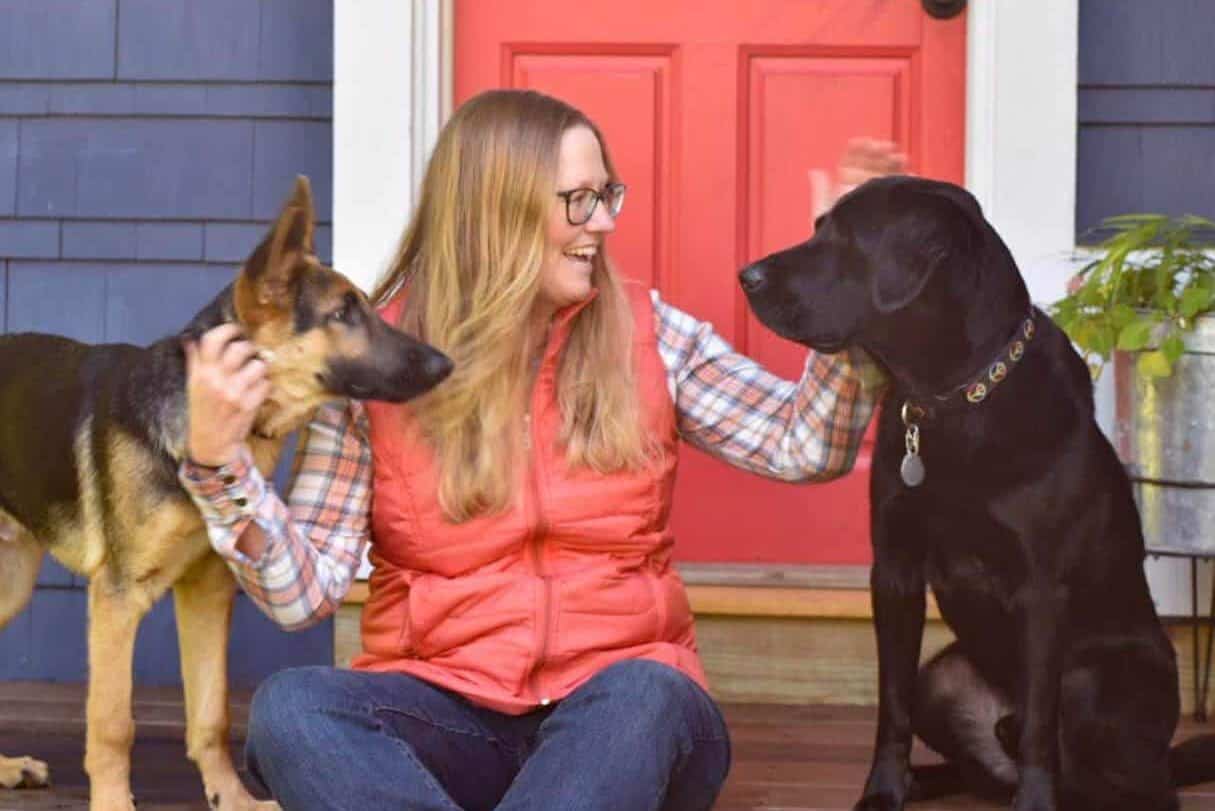 Tara is a freelance writer and travel blogger with a passion for outdoor adventures. She currently blogs at Back Road Ramblers and Vermont Explored, where she shares travel tips, adventure destinations, and vacation ideas for the wanderer in everyone.