Historic buildings and museums, a walkable downtown, and oodles of New England charm. Have you ever visited the small, but bustling town of Bennington in the southwest corner of Vermont?
Not only is Bennington a historic gem, but it's also incredibly beautiful in every season. Oh, and did I mention that Bennington, Vermont is also my hometown?
Beautiful places in Vermont are pretty easy to come by, and the natural beauty in and around Bennington is what made me fall in love with it more than 16 years ago.
In fact, I've lived in Bennington longer than anywhere else, and I can't imagine calling any other place home, no matter how much I love to galivant around the country.
Located just three and a half hours from New York City, three hours from Boston, and an hour from Albany, Bennington is the gateway to Vermont, and well worth a visit no matter where you're coming from.
I may be biased, but I think Bennington is one of the loveliest places to visit in all of Vermont, and it's definitely one of the best spots to visit in Vermont in October.
The first thing you need to plan your trip to Bennington, VT is a little inspiration, so I'm sharing seven of the most beautiful spots in town to encourage you to drop everything and plan your visit.
Ready to explore the oh-so-charming and welcoming town of Bennington, Vermont? Here are some amazingly beautiful places in my hometown, as well as some reasons that I think you should plan a visit.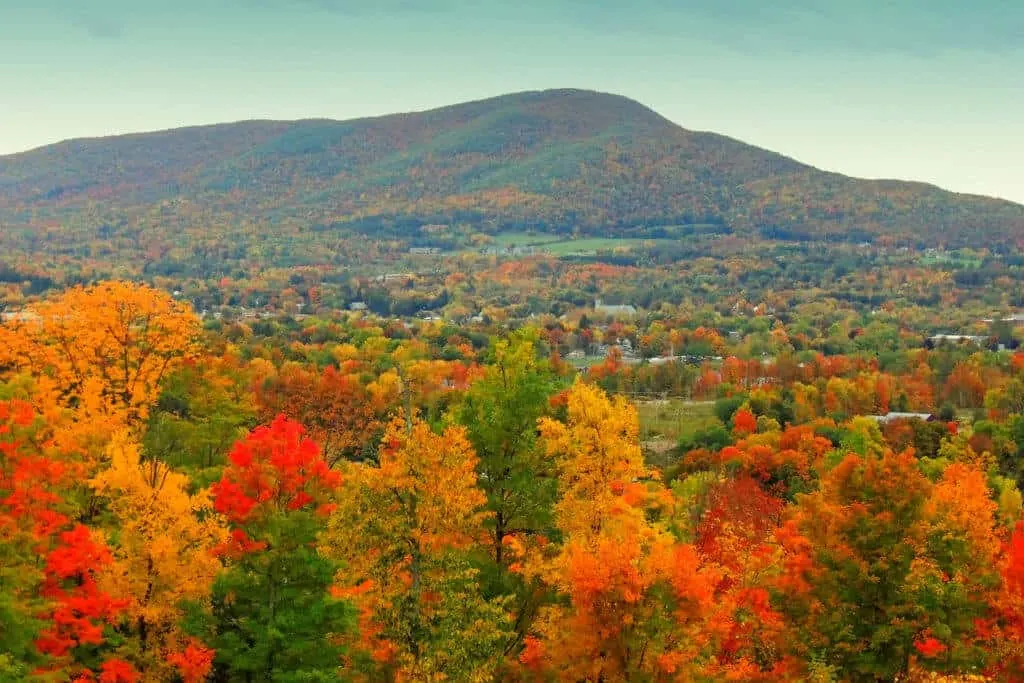 How to Get to Bennington, VT
First, a few logistics to make planning your trip to Bennington easy!
Bennington is located in the southwest corner of Vermont, basically right on the border of both New York to the west and Massachusetts to the south. It's a pretty easy drive from anywhere in the northeast, which is why we recommend it as a great road trip destination.
Pro Travel Tip: Give yourself 2-3 days to explore all of Bennington, especially if you love the outdoors. If you want to explore some of the surrounding towns like Wilmington or Manchester, plan for at least 4 days.
If you're visiting Bennington from out of state, the closest airport is Albany International, which is an easy one-hour drive. Again, maybe it's a biased opinion, but I adore flying in and out of the Albany Airport and always consider myself very fortunate that it is so close.
Why You Should Drop Everything and Visit Bennington, VT
With just about 14,000 people, Bennington is a small town surrounded by rolling hills, the Green Mountains, farms, and forests. By Vermont standards, it's actually a big town – the sixth-largest in the state! Bennington is the county seat and a hub of activity in Southwestern Vermont.
If you love the outdoors, you will definitely fall in love with Bennington, where you can hike, paddle, fish, and mountain bike without leaving town.
Here are a few reasons why you have to visit Bennington, Vermont, as well as some beautiful outdoor spots that you won't want to miss.
Bennington is Gorgeous in Just About Every Season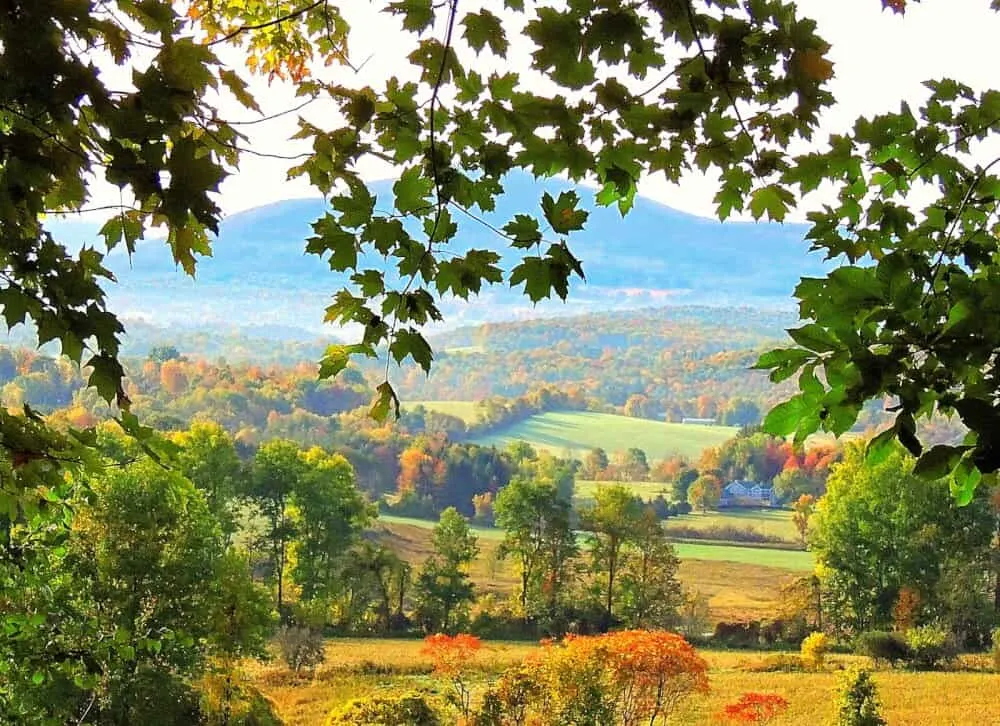 I say just about because I'm not terribly fond of mud season. I've lost whole boots to muddy quagmires in the month of March, and I've known others that have lost cars! Luckily, mud season in Bennington is short, lasting through March, and as long as we keep climate change at bay, I think I can handle it.
Lucky for us all of us, mud season goes hand-in-hand with maple sugaring season, so I guess that's reason enough to cut it some slack!
When you think of a typical Vermont vacation, you are likely thinking about fall and winter.
Autumn in Bennington, Vermont is known for the jaw-dropping foliage that blankets the forests and mountains in colorful displays. And winter, of course, is famous for skiing and snowboarding in the Green Mountains.
Bennington is about 45 minutes from Bromley Mountain and just under an hour from Mount Snow.
I love Vermont in every season, but there's nowhere I'd rather be than here in Bennington in the summer.
We've got swimming holes. Creemee stands. Fireflies. Mountain Sunsets. Farmers' markets. I just wish summer in Vermont lasted a bit longer!
8 Beautiful Places to Visit in and around Bennington, Vermont
Have I convinced you to book your next vacation in Bennington, VT?
Well, let me sweeten the pot by sharing some of my favorite spots with you. The following destinations in and around Bennington are heavy on natural beauty, with a bit of history and pure New England charm thrown in for good measure. I'll admit that I'm an outdoor-lovin' gal, so my favorite places reflect that.
Whether you're just passing through Bennington, or are making it your destination, these are spots you won't want to miss.
The Old First Church in Old Bennington, VT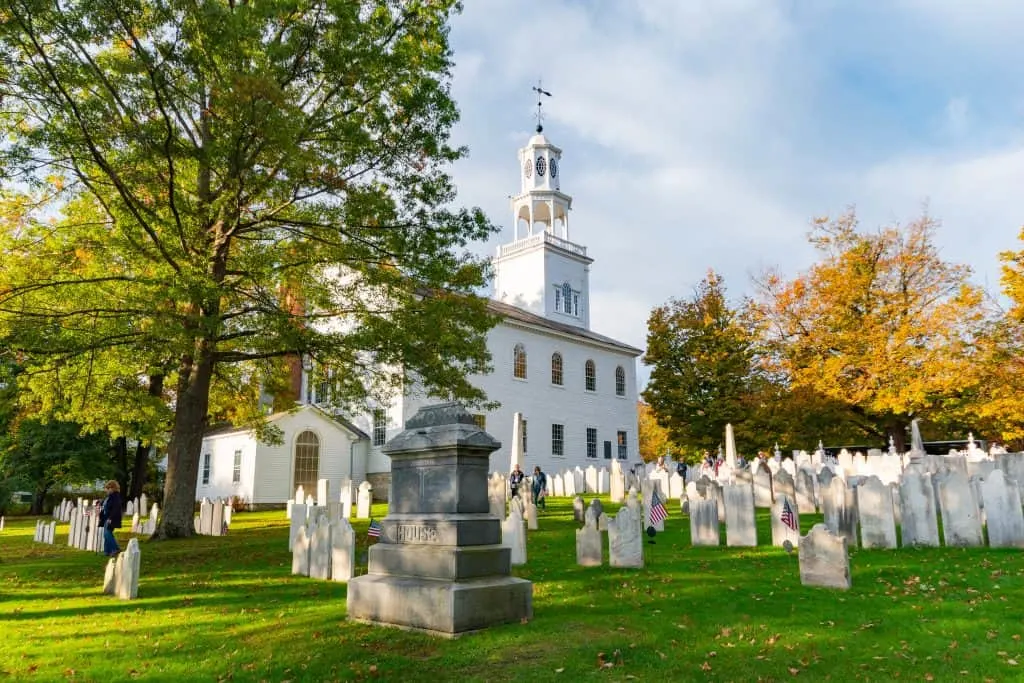 Judging by the number of tour buses and photographers I've seen at the Old First Church over the years, I think it might just be the most photographed building in New England. The Old First Church is such a lovely place to explore, even if you're not visiting during leaf-peeping season.
If you do find yourself here in any season, be sure to check out the rest of Old Bennington. It's like stepping back in time. You can even take a self-guided walking tour around town.
The Old First Church is the first gathered church in Vermont. Although the church that stands there now isn't the original, it's been around since 1805.
Sunday worship takes place at 10 am during the summer months and 11 am during the rest of the year. You can also pop in for a tour with a local volunteer when the church is open.
The Old First Church is open for visitors every weekend from Memorial Day to July 1st, and daily from July 1st to the end of Vermont's fall foliage season.
While you're there, be sure to visit the grave of one of our most famous residents, Robert Frost, who is buried in the beautiful old graveyard between the Old First Church and the Bennington Museum, which is another great stop for lovers of both art and history.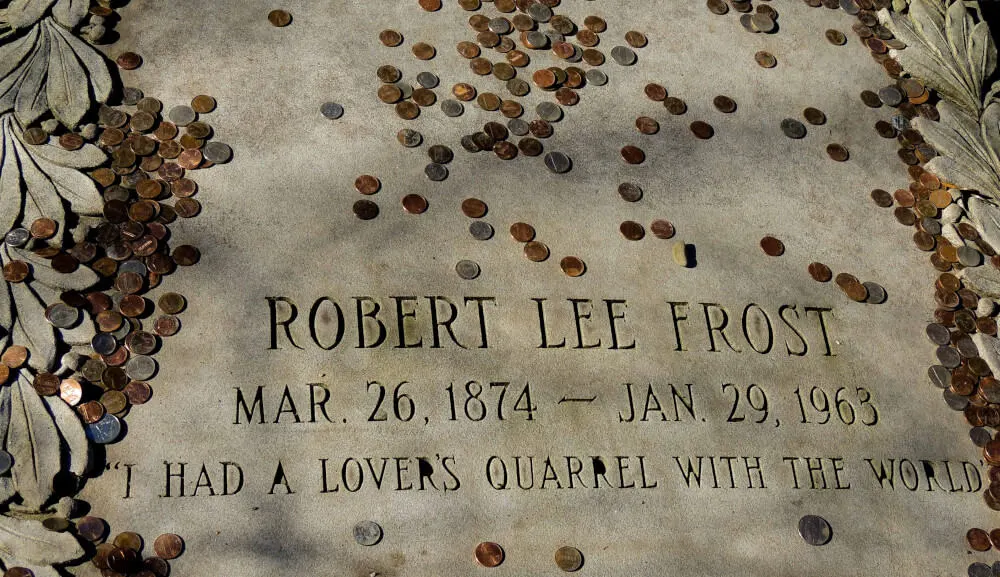 The Bennington Battle Monument
While you're in Old Bennington, you won't want to miss a tour of the Bennington Monument, which you can see from the Old First Church. At 306 feet, the Bennington Monument is the tallest building in the state. It's the most popular of all Vermont state historic sites, and the views from the top are spectacular.
The Bennington Monument was completed in 1889 to commemorate the Battle of Bennington, which took place on August 16, 1777. In that famous battle, Brigadier General John Stark and 1,400 New Hampshire men, defeated two detachments of the British army, who were seeking to capture a store of weapons and food maintained where the monument now stands.
Although the battle is called the Battle of Bennington, it actually took place about 10 miles west in Walloomsac, New York.
Visitors can ride to the top in an elevator from mid-April until October 31st from 9 am to 5 pm. Learn all about Bennington's place in the Revolutionary War and be sure to have a picnic on the lawn.
This is also one of my favorite spots for dog walking on a summer evening.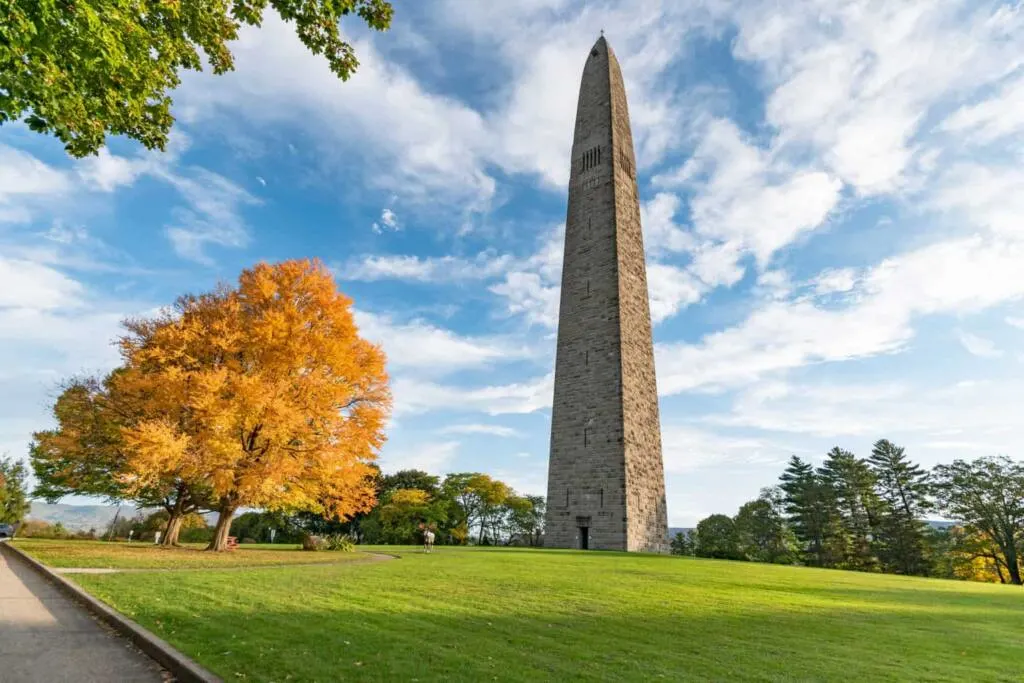 The Robert Frost House in Shaftsbury, Vermont
I've already mentioned that Mr. Frost is buried in Bennington, but he lived for a period in a little stone house in Shaftsbury, the next town over.
The Robert Frost Stone House Museum is run by Bennington College and is open for visitors from Friday through Sunday from 10 am – 4 pm.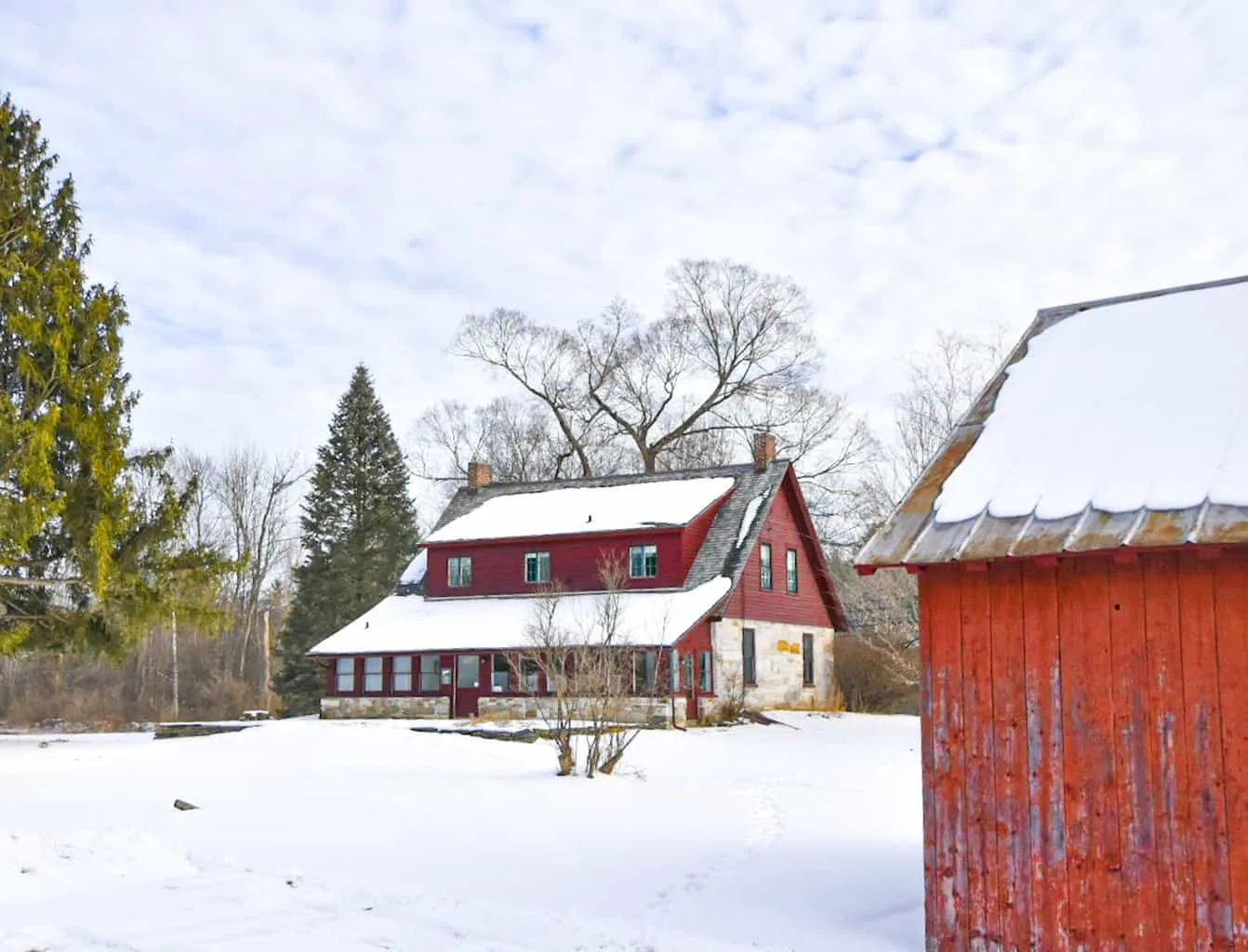 While visiting this literary landmark, be sure to walk the grounds, and perhaps the beautiful nature trail that starts behind the barn and heads out to Lake Paran in North Bennington.
The Robert Frost Trail is 2 miles, one way, and meanders through the woods and along stone walls. It's easy to envision Robert Frost walking these same country trails before heading home to pen some of his most famous works.
Lake Shaftsbury State Park, Shaftsbury, Vermont
While you're in Shaftsbury checking out the Robert Frost House, please take a walk around the lake at Lake Shaftsbury State Park. This is a small, but gorgeous park, with a beach for swimming, great bird watching, and a really nice trail that meanders around the lake.
Dogs are welcome on the trails, but not on the beach. The hike around the lake is just about a mile – it meanders through a gorgeous wetland, onto a ridge, and over two nice walking bridges. Lake Shaftsbury is also a great place to throw a line in and catch some trout.
If you go during the main season (Memorial Day – the second Monday in October), the cost is $5 for adults and $2 for kids. During the off-season, you can park outside the gate and walk into the park. There are kayaks, canoes, and paddleboats available for rent in the summer.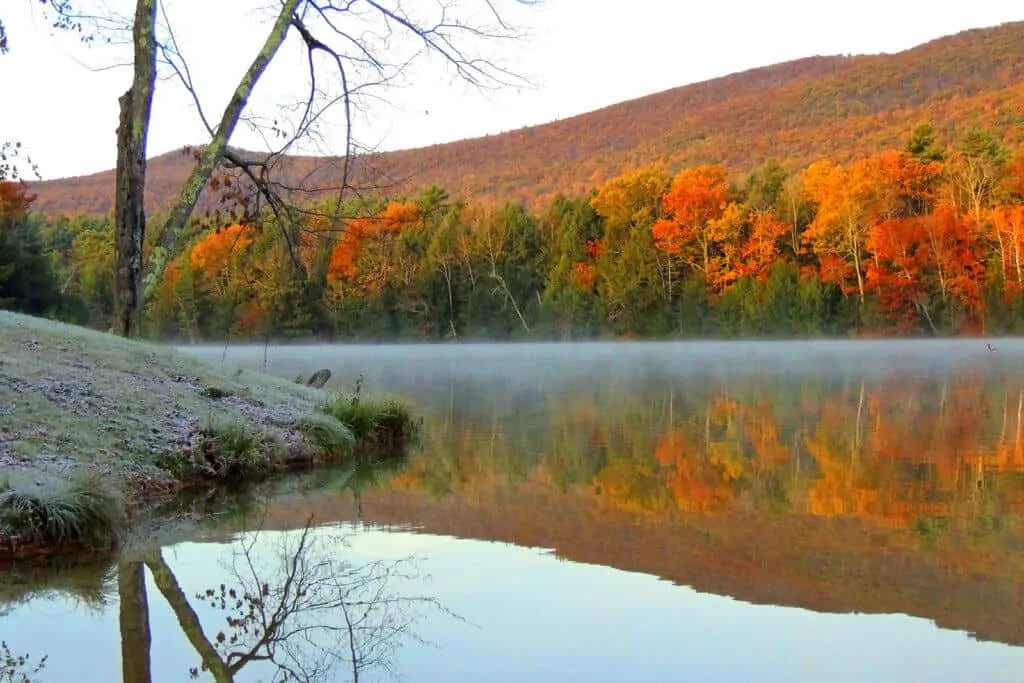 Woodford State Park in Woodford, Vermont
Another gem of a place, just 10 miles outside of Bennington, in the Green Mountains east of town is Woodford State Park. This is a quiet park with several nature trails, a small lake, and kayak/canoe rentals.
If you're itching to go camping, Woodford State Park is where you want to do it. Sites are very private and some are located directly on the water. The lake at Woodford State Park is cold, even in summer, but it's such a paradise!
In my opinion, this is one of the most beautiful places in all of Vermont.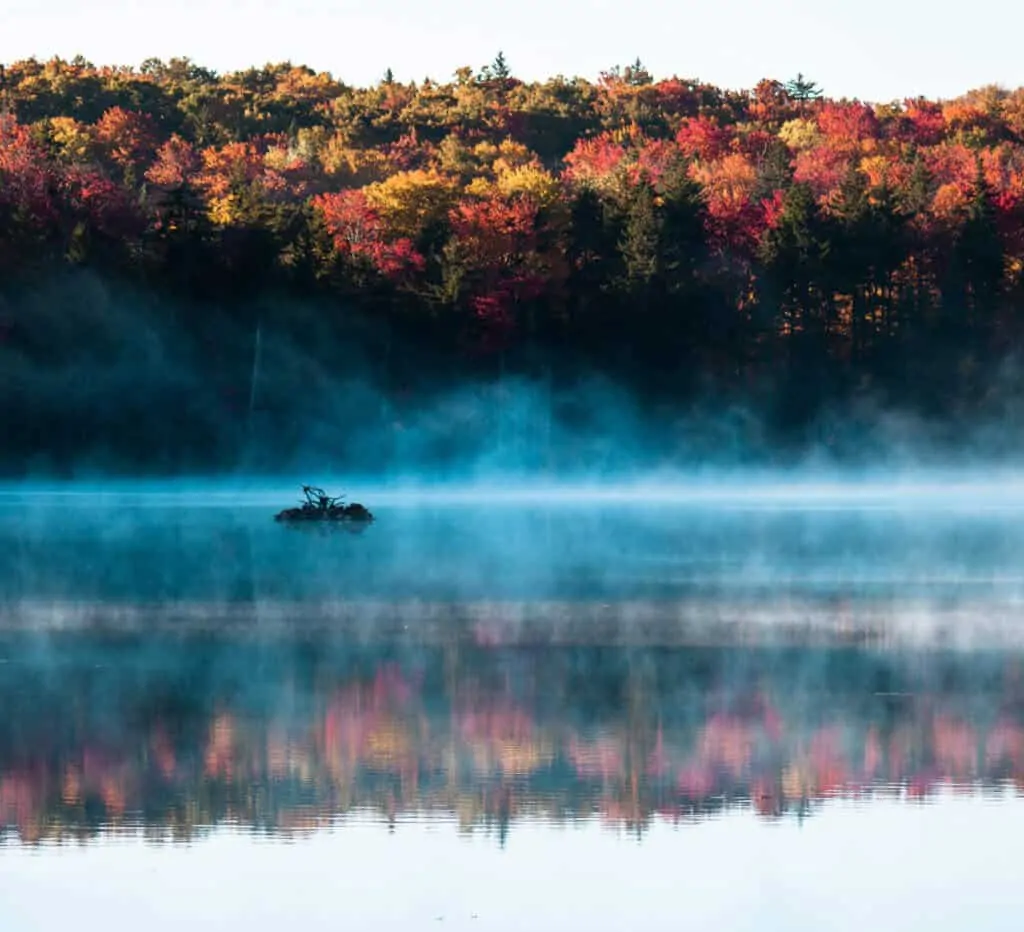 The Appalachian Trail in Bennington, Vermont
The famous long-distance trail runs across route 9 between Bennington and Woodford, and there's a parking area right off the road for hikers. The Appalachian Trail runs north and south, but we prefer hiking south to Harmon Hill, for the beautiful views of Bennington.
The hike up to Harmon Hill starts off really steep for a good, heart-pounding climb. After a mile or so, it levels off and travels through a high meadow, finally opening up to awesome views. The hike totals around 3 miles, with a total elevation gain of 1,000 feet.
If you hike north on the Appalachian Trail, you will head up Maple Hill in the Glastenbury Wilderness. This is another steep hike, but without the view at the end. Still, it's a lovely hike through the woods and worth checking out.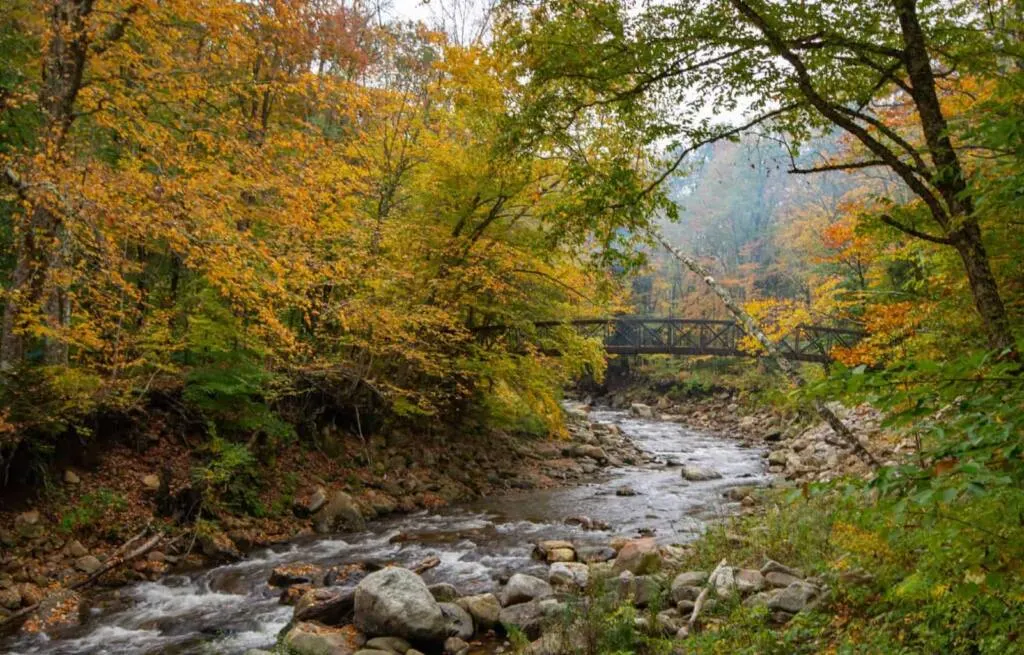 Park McCullough House in North Bennington, Vermont
This historic, Victorian-era house was built in 1864 and is considered one of the finest and best-preserved Victorian mansions in New England.
You can visit this beauty, the working farm behind it, and the lovely, Mile-Around-Woods hiking trail all in one afternoon. This is one of my favorite places to walk and take pictures, and we always bring visitors from out of state here for picnics.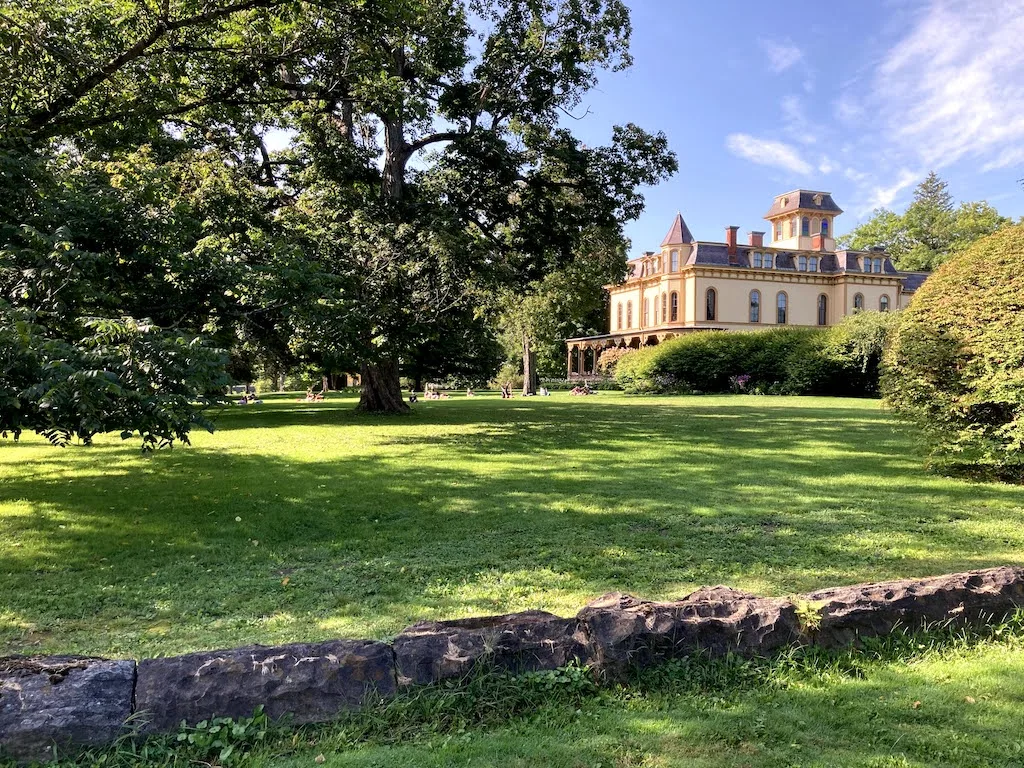 Park McCullough House is open for tours on weekends from summer until the end of fall foliage season. Admission is $15 per person.
Special events are also hosted throughout the summer and include concerts, movies, wine tastings, and free yoga in the garden. There's also a Sunday farmers' market in the summer.
Bennington Area Trail System, Bennington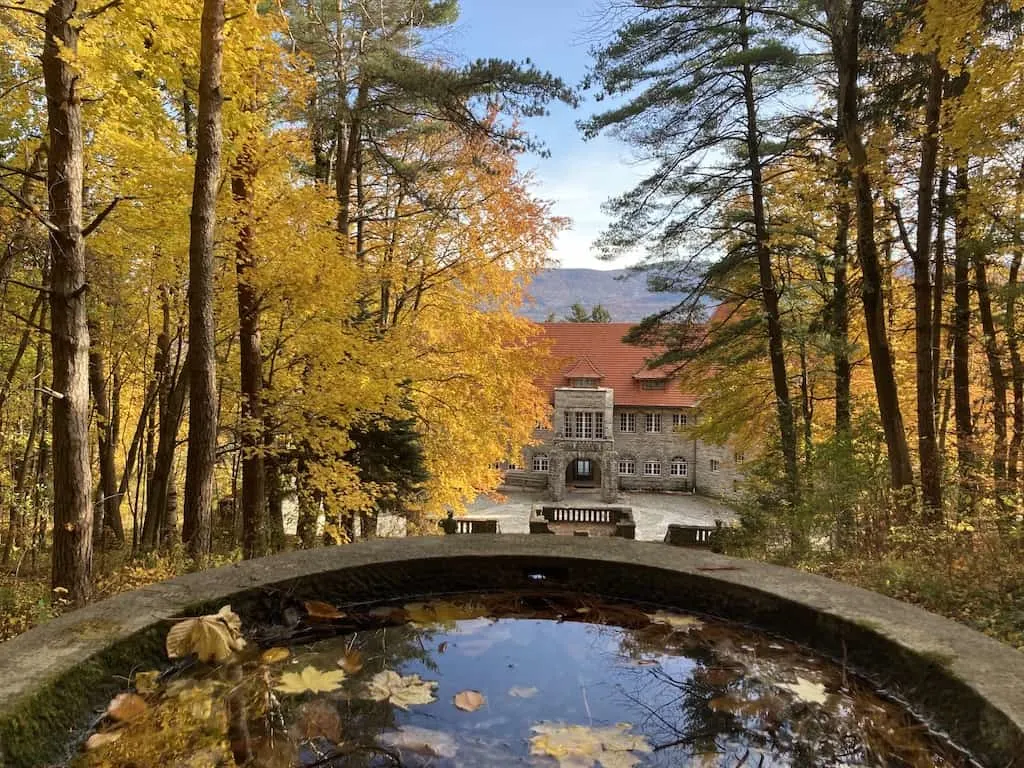 Bennington Area Trail System (BATS) manages trails on the side of Mount Anthony behind what used to be Southern Vermont College. The trails are used by hikers, mountain bikers, and winter enthusiasts, and the views from this part of Bennington are really incredible!
BATS was founded by a group of local bikers, runners, and hikers that advocate for multi-use singletrack trails for the enjoyment of area residents and visitors alike. There are trails for all abilities, lots of wildlife, and even a cave!
Here's a trail map to help you plan your hike/bike.
---
As you can see, Bennington, Vermont is one of the most beautiful spots in the state!
Resources for Exploring Bennington, VT
What to do – The Bennington Chamber of Commerce has a great events page, plus lots of ideas for places to explore while you're in the area. Vermont Begins Here has a great blog that I often contribute to.
Where to eat – Want some ideas for where to get some yummy grub? Bennington has lots of choices, but here's what I'd recommend: For coffee and baked goods head to The Coffee Bar on South Street. Eat breakfast at The Angry Egg on Main Street, lunch at Your Belly's Deli, and dinner at 421 Craft Bar and Kitchen.
Where to stay – We love the Four Chimneys Inn for a splurge and the Harwood Hill Motel for a budget option. If you want to camp, we highly recommend Woodford State Park.
Looking for more ideas for places to stay in Bennington? This map includes both hotels and vacation rentals in the area.
---
Want to read more about vacationing in Vermont? Check out these posts or jump right to our sister website, Vermont Explored!
---
Follow us on social media for more road trip ideas!
Pin for Later?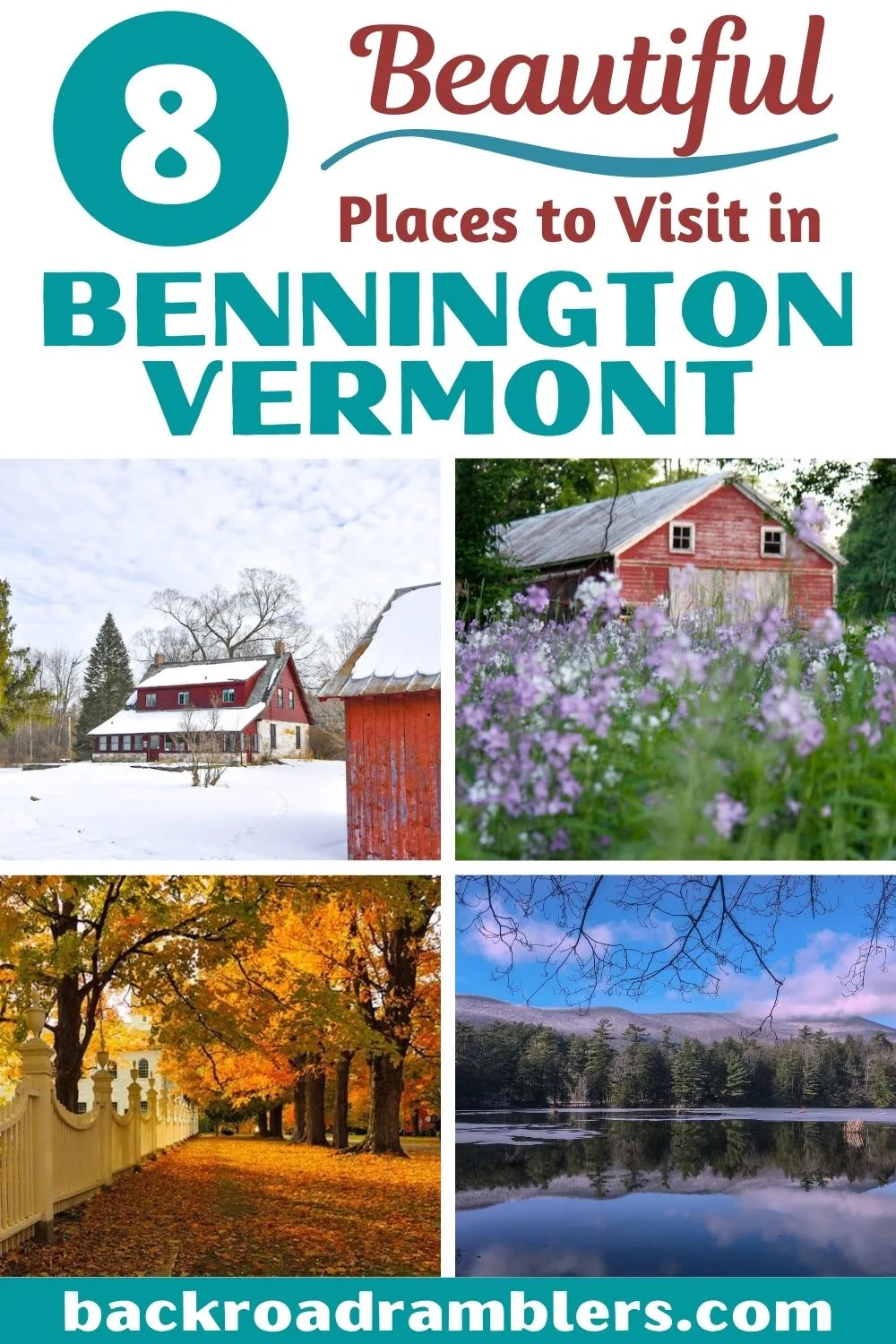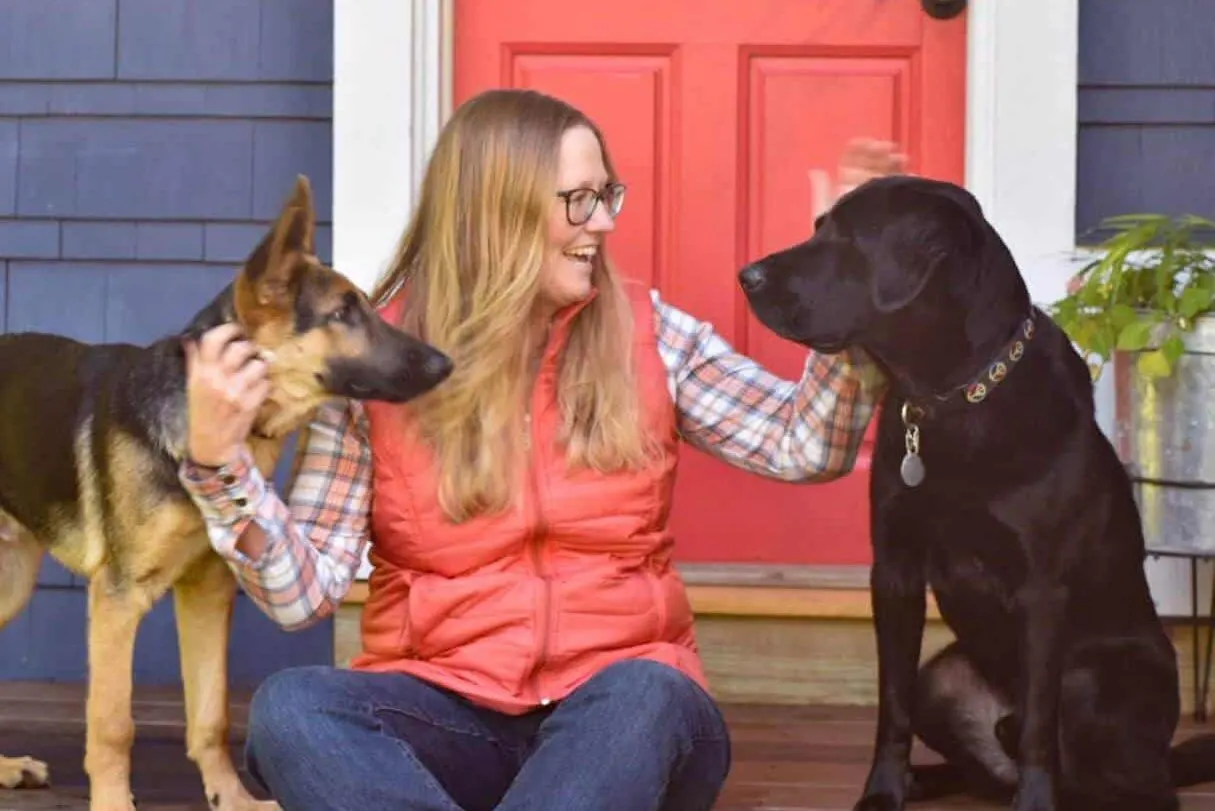 Our Favorite Resources for Road Trips and Outdoor Adventures

These are the resources we use to plan road trips, save money while traveling, and shop for outdoor gear.

Car Rentals: While we use our own car most often for road trips, we also enjoy flying into major airports and then renting a car for more regional road trips. We use Kayak to compare prices and find deals from dozens of car rental agencies at once.

Flights: We use Kayak to search out flight deals.
Money-saving tip: If you find yourself using the same airline repeatedly (we are huge Southwest fans), consider joining their loyalty program and getting an airline credit card. With our Southwest Rewards Visa, we earn a few free flights each year.

Hotels: When it comes to lodging, we seek out small boutique hotels or quirky roadside motels. First, we search for hotels on TripAdvisor so we can read reviews from other travelers. Then, we use Booking.com to make reservations (they have the best prices, plus a flexible cancelation policy).

Camping: Camping is one of our favorite things to do on long road trips. It allows us to explore the outdoors, cook our own food, and save money. We use They Dyrt Pro to find campsites and read reviews before booking on Recreation.gov or state park websites.

Glamping and Vacation Rentals: For weekend getaways and shorter vacations, we love glamping (check out our glamping resource guide). We book glamping properties through Tentrr, Hipcamp, and Airbnb. For cabins and vacation rentals, we like to use VRBO (they have fewer fees and a better cancelation policy than Airbnb).

Guides and Maps: If we are visiting a new region, we usually invest in a Moon Travel Guide for the area. We pass them on to friends and family after our trip. If we are planning on hiking, we also purchase a Falcon guide in the Best Easy Day Hikes series.

Outdoor Gear: We are REI Co-Op members. It cost us $20 for a lifetime membership, but we get a yearly dividend based on our purchases, plus great deals and coupons throughout the year. REI also has a great return policy.

Check out our complete guide for planning a road trip on a budget