Ready to embark on a Vermont road trip you won't soon forget? The drive on scenic Route 100 in Vermont has been called "Vermont's most beautiful road" many times over.
This incredible road trip can be completed in a single day, but what's the fun in that?
Take five days and embark on an enchanting Route 100 Vermont road trip to explore some of the best nooks and crannies in the Green Mountains.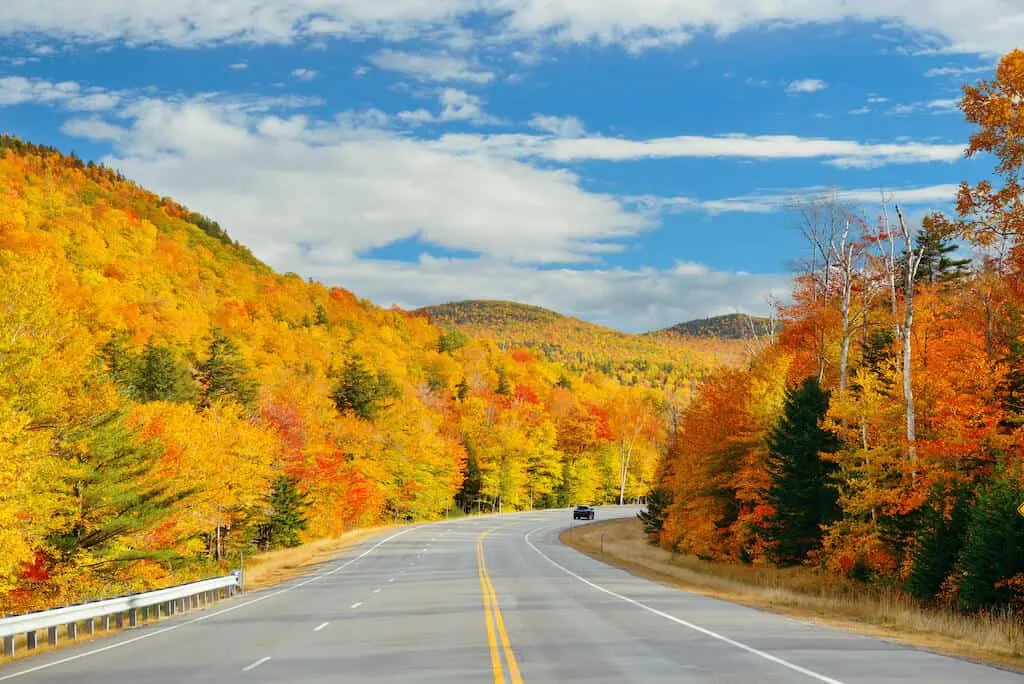 At 216.6 miles, Vermont's longest state highway is also one of the most scenic and well-loved, meandering through the Green Mountains, as well as charming New England villages with all the quintessential Vermont goodness that you've been dreaming of.
Vermont Route 100 runs straight through the center of the state, from north to south.
Along the way, you'll find a wealth of recreation opportunities, not to mention fabulous shopping, dining, and lodging. It's no wonder Yankee Magazine named Vermont's Route 100 one of the best summer road trips in New England.
Of course, summer isn't the only time to experience the charms of Route 100!
If you've got five days to spend in the Green Mountains, then we have the perfect road trip itinerary for you on Vermont Route 100.
Explore all that this beautiful mountain road has to offer, from pristine lakes and secret swimming holes to magnificent vistas and quiet campgrounds. The Green Mountains are a little slice of heaven for outdoor lovers of every persuasion.
---
Did you know that we have a sister site all about travel in Vermont? Check out Vermont Explored to start planning your next adventure in the Green Mountains. From road trips and hiking guides to festivals and small-town itineraries, Vermont Explored is covering it all!
---
Vermont Route 100 Road Trip FAQs
We get a lot of questions about traveling through Vermont, so we just wanted to take some time to answer the ones we get most often. If you have any other questions about road-tripping through Vermont, or about traveling on Route 100, simply leave a comment and we'll answer ASAP.
Should we drive Route 100 in Vermont from south to north or north to south?
We recommend driving this route from south to north. Why? Because the southern end of Route 100 is closer to major metropolitan areas and airports. The beginning of this road trip is 60 miles from Albany International Airport in New York, 126 miles from Logan International Airport in Boston, and 205 miles from JFK in New York City.
Once you've completed the 189-mile drive on Route 100 from Wilmington to Newport, you can hop onto Interstate 91 and head south again.
When is the best time to see fall foliage on Route 100 in Vermont?
You will see fall colors on Route 100 from late September through most of October. October is the busiest month for tourists in Vermont, who come from all over to see the leaves change.
The speed limit on Route 100 varies wildly from 25 mph in town centers to 50 mph between towns, so no matter what time of year you plan to drive it, plan on taking your time!
Will we have access to amenities on Route 100?
Yes! One of the most beautiful things about a Vermont Route 100 road trip is that you travel through the Green Mountain National Forest and the mountains, but you're never very far from a village or town, which means you'll have easy access to gas stations, grocery stores, hotels, and campgrounds.
Psst… Have you seen those groovy campervans meandering around America? They're Escape Campervans and you can rent one for your journey on Route 100 in Vermont (or anywhere else, for that matter).
There's an Escape Campervan rental center in Jersey City, just a short ferry ride from Manhattan.
These iconic vans include everything you need (and a kitchen sink) for your van camping adventure. Talk about a memorable experience!
A 5-Day Vermont Route 100 Road Trip Itinerary
---
Cell service is notoriously spotty in the Green Mountains. Download a printable itinerary so that you don't miss any of these amazing stops!
---
We'll start our journey in Southern Vermont, in the little town of Wilmington, and head north on Vermont Route 100 to Newport, just south of the Canadian border.
This is a five-day road trip that is best completed in the summer or fall. In the summer, you can take advantage of lots of swimming and camping. In the fall, you can explore small villages, charming inns, and of course, that incredible Vermont fall foliage.
Day 1: Wilmington, Vermont
Today you're exploring the beautiful village of Wilmington. Relax by the lake, spend some time downtown, and eat at one of our favorite Vermont restaurants.
Driving time: Depends on where you're coming from.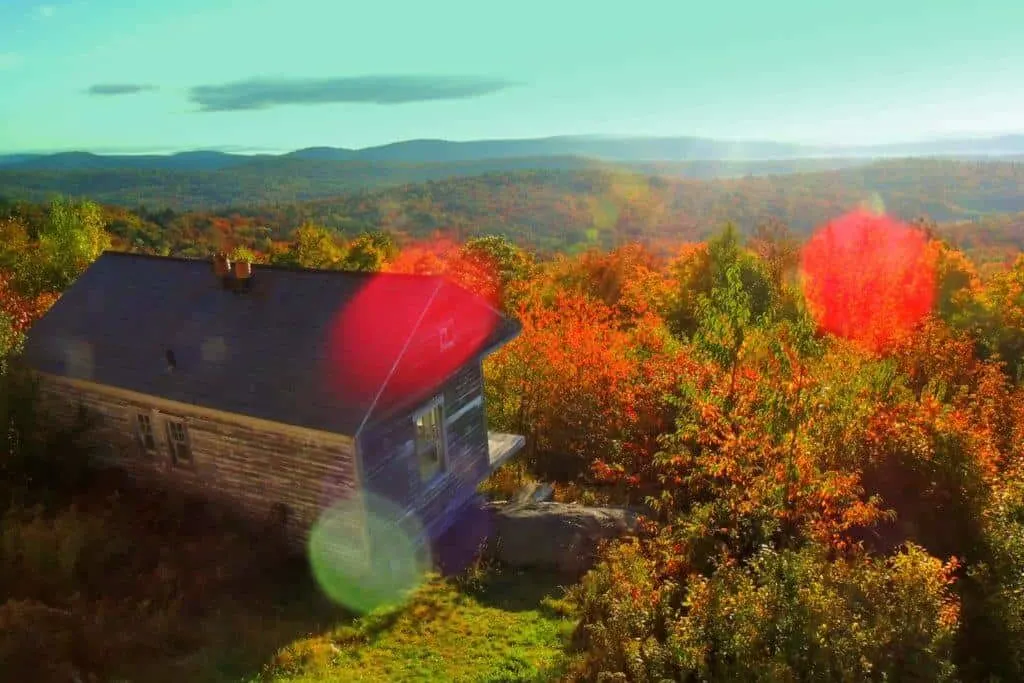 It's no secret that Wilmington is one of my favorite Vermont towns, perhaps because the lakes and mountains are so accessible here. Just south of the village is the beautiful Lake Whitingham, also known as Harriman Reservoir. Covering more than 2,000 acres, Lake Whitingham is the largest lake in Southern Vermont.
Lake Whitingham is the perfect place for swimming, sailing, paddling, and fishing, and yes, you'll see a good number of cruisers, speedboats, and jet skis too. The beaches and picnic areas that surround the lake are free to use, and there's even a clothing-optional zone just a short walk from the picnic area at Wards Cove.
If you're visiting in the fall, don't pass up a trip to the lake! The foliage is stunning, especially if you can capture it early in the morning when the lake is still.
After you spend some time at the lake, head back to Wilmington for a little meandering. The town itself is small, with only 2,000 full-time residents. You'll find a lovely, walkable Main Street, cute stores, and plenty of restaurants. We love browsing Bartleby's Books, the 1836 Country Store, and Red Fox Shop.
---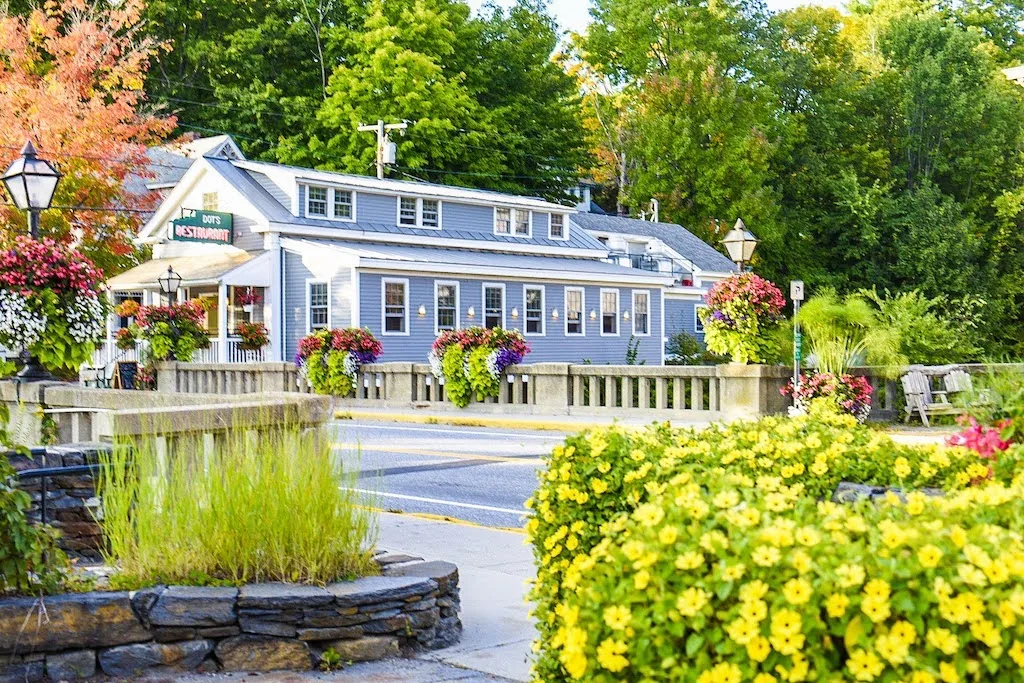 Where to Eat: Locals love Dot's Diner for a big, traditional breakfast, and we'd recommend Alpenglow Bistro for your special date night.
Where to stay: If you're looking to pitch your tent, head a few miles east to Molly Stark State Park, where you'll find a quiet, wooded campground with private sites and hot showers. After setting up camp or before heading out in the morning, be sure to hike to the top of Mt. Olga (a 1.5-mile loop) for stunning views of the surrounding mountains – sunrise from the fire tower is the best!
If roughing it isn't your thing, we recommend checking into the Wilmington Inn, which is located right on Main Street and very close to the Valley Trail if you want. a short hike before setting out in the morning. A stay in this historic inn includes a full Vermont breakfast.
---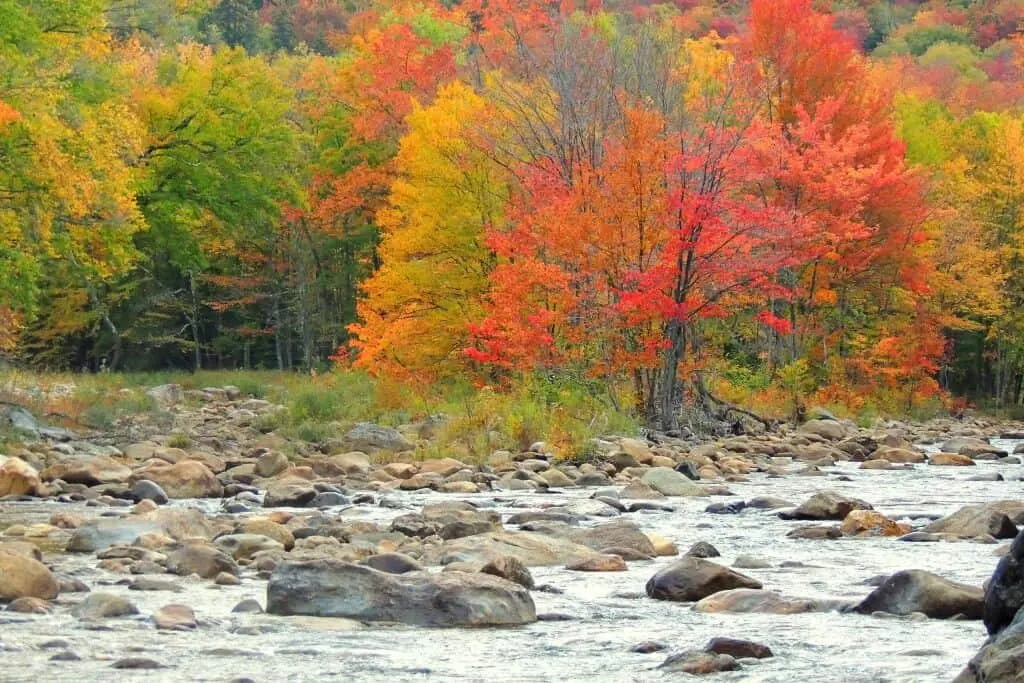 Find out why we adore Wilmington, Vermont!
---
Day 2: Wilmington to Ludlow
This section of Vermont Route 100 heads through the southern section of the Green Mountain National Forest. You'll be stopping in several small towns, swimming in the West River, and taking in the views from the top of Mount Snow.
Driving distance: 53 miles
Mount Snow: Four Seasons of Recreation Opportunities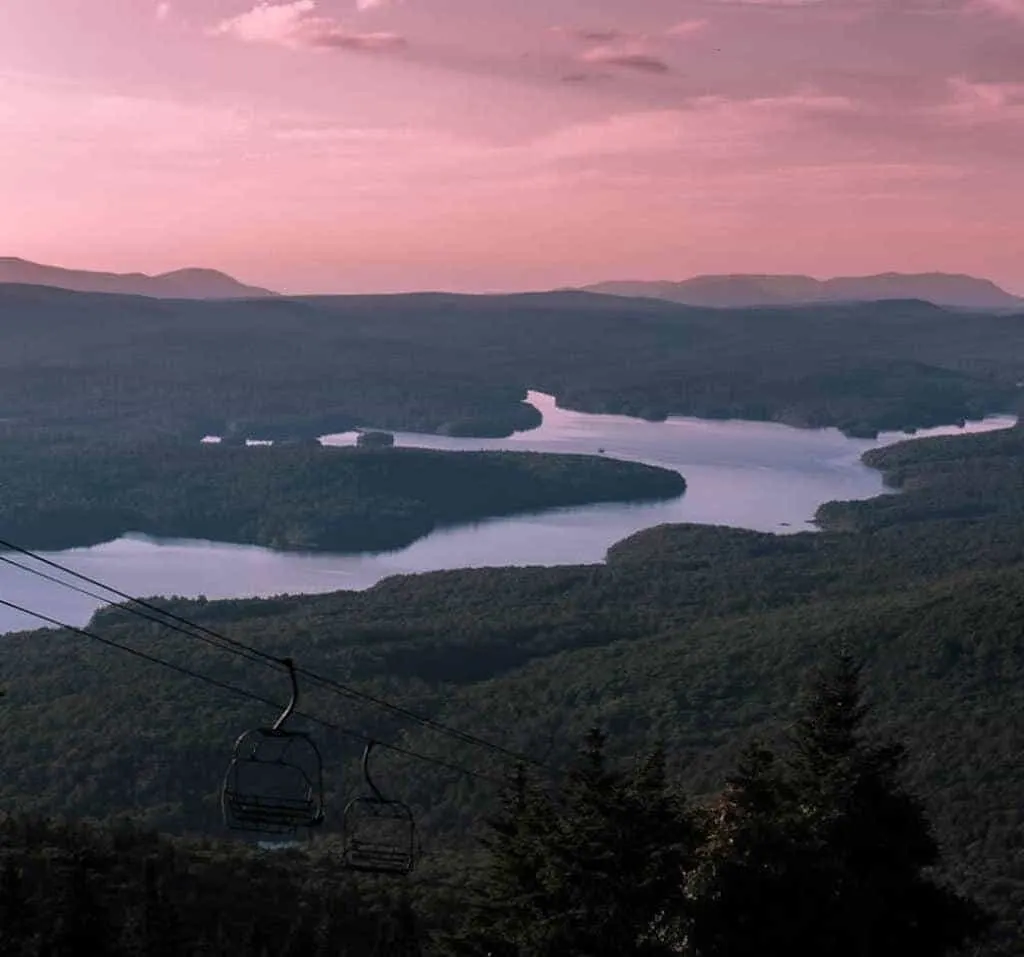 As you head out of Wilmington on Route 100, you'll quickly enter the town of West Dover, home of Mount Snow. This is a very popular ski mountain, but it's open in all four seasons. In the summer and fall, you can enjoy lift-serviced mountain biking, or simply ride the gondola to the top of the mountain for fantastic views of the Somerset Reservoir and the surrounding Green Mountains.
The Bluebird Express gondola runs from 10 am to 5 pm between late May and mid-October. Lift tickets are $24 for adults (13+) and $19 for kids (5-12). Kids under 5 ride for free.
Jamaica State Park: Swim in the West River!
Continue north on Route 100 until you enter the tiny town of East Jamaica, where you will turn left to stay on Route 100 (also Route 30) and head toward the village of Jamaica. While there isn't much to the town, Jamaica State Park is a gem of a spot in both summer and fall.
The park features a rail trail, camping, and a playground, but the highlight is swimming at Salmon Hole in the West River.
This is the site of the "Salmon Hole Massacre" where a group of French men and Native Americans ambushed British Soldiers in 1748.
An archaeological dig in 2010 revealed a large campsite on the banks of Salmon Hole. More than 3,000 artifacts were unearthed, including stone tools and spear points. Most were dated between 1000 and 1600 AD, but the oldest artifact discovered is believed to be more than 7,000 years old.
By now your tummy must be growling. For awesome burgers, sandwiches, and milkshakes, head to Honeypie on Route 30 in Jamaica. This is a quick diner-type stop, but so good!
---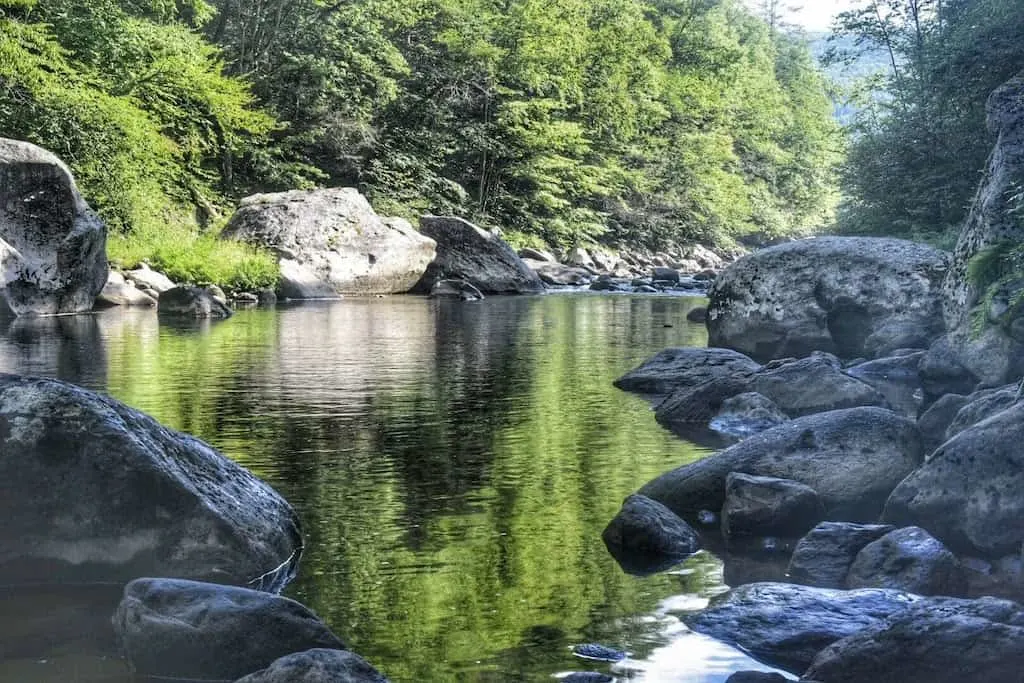 Jamaica State Park is one of our favorites in the whole state of Vermont! Here are our favorite things to do at Jamaica State Park
---
Weston, VT: Visit the Vermont Country Store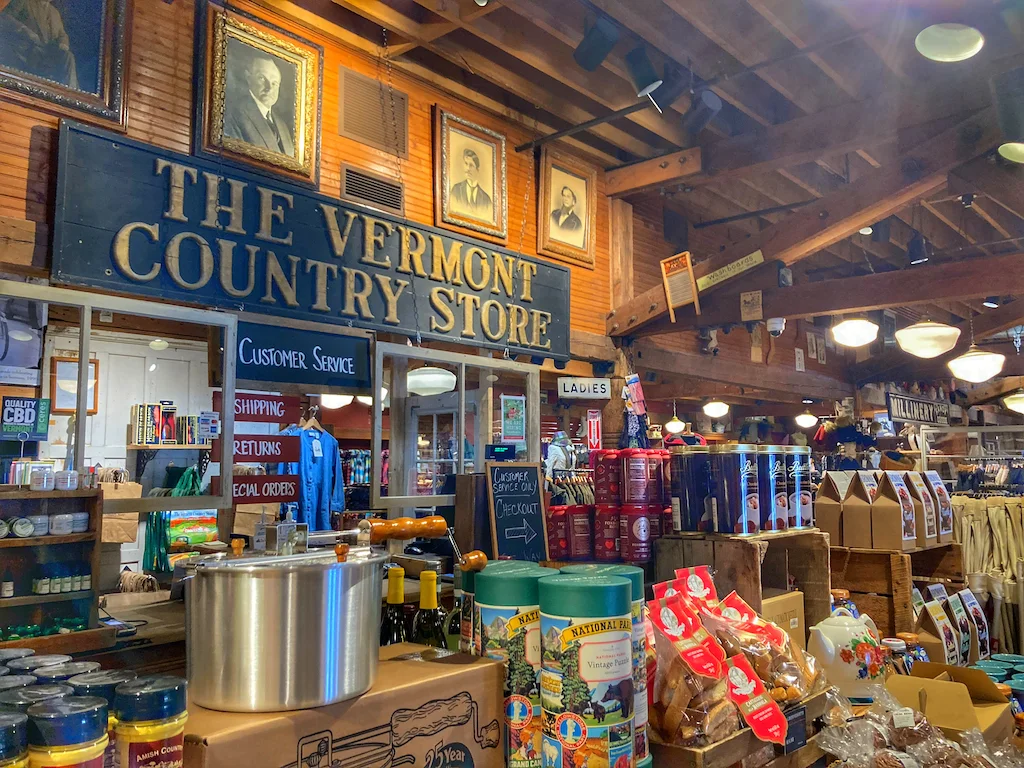 Weston is another one of those picturesque New England villages, complete with a little town green, several unique stores, and the famous Weston Playhouse. Shopping in Weston is like taking a step back in time, so that's what's on the agenda.
Located across from the village green on Main Street, the Vermont Country Store is a step back in time you won't want to miss. The aisles are stocked to the rafters with penny candy, maple syrup, apothecary items, household goods, and lots of local goodies.
Browse the crowded aisles to discover the largest collection of weathervanes in Vermont, the Vermont Scale Museum, and a year-round Christmas shop. And speaking of Christmas, no matter what time of year you visit the Vermont Country Store, it's always a good time to grab some one-of-a-kind Vermont gifts for your friends and family back home.
Ludlow, VT: Settle in at Homestyle Hotel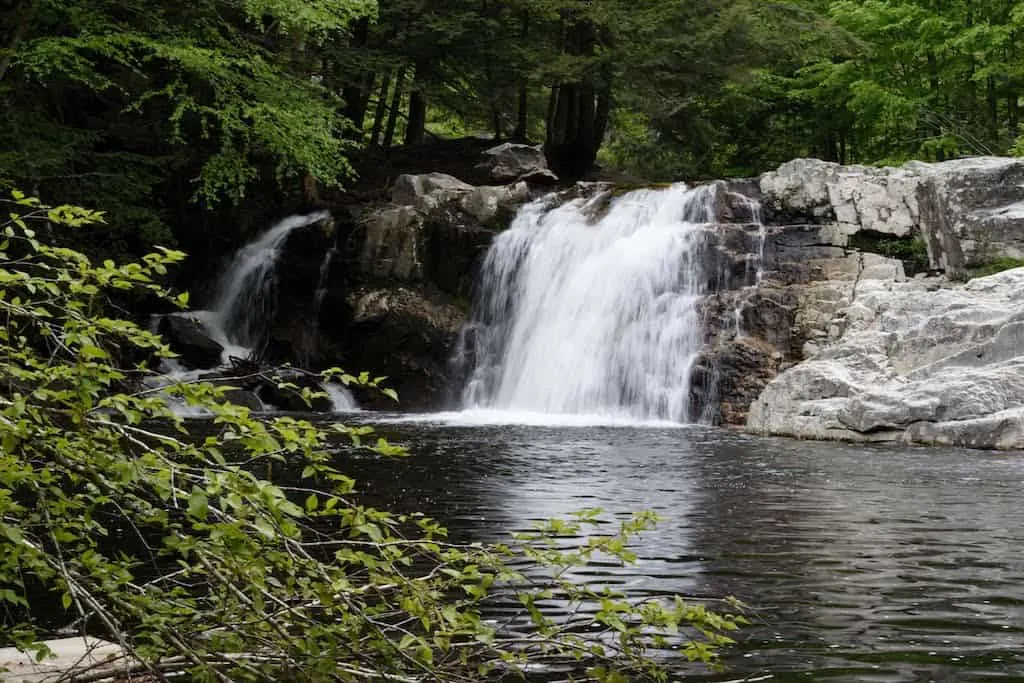 Finally, make your way to Ludlow, Vermont, located in Okemo Valley and home to Okemo Mountain Resort. Ludlow is a small community, but you will find a few unique shopping and dining opportunities, as well as several trails and swimming holes. Buttermilk Falls is a popular swimming spot at the base of a lovely waterfall. Not to be missed on a hot summer day!
Where to eat and sleep: For really unique dining, you have to check out Homestyle Hotel. The small, neighborhood restaurant serves up an eclectic mix of local dishes, all created fresh daily and lovingly prepared. For lodging, we recommend checking out their sister site, Main + Mountain, which has 13 modern rooms in the walkable downtown area.
Day 3: Ludlow to Waitsfield
This section of Route 100 is characterized by very small towns, mountainous terrain, and acres of farmland. For much of the drive, you will follow the eastern slope of the Green Mountains, along the border of the Green Mountain National Forest. There are too many fun stops to mention, so I'm going to focus on my favorites.
Driving distance: 70 miles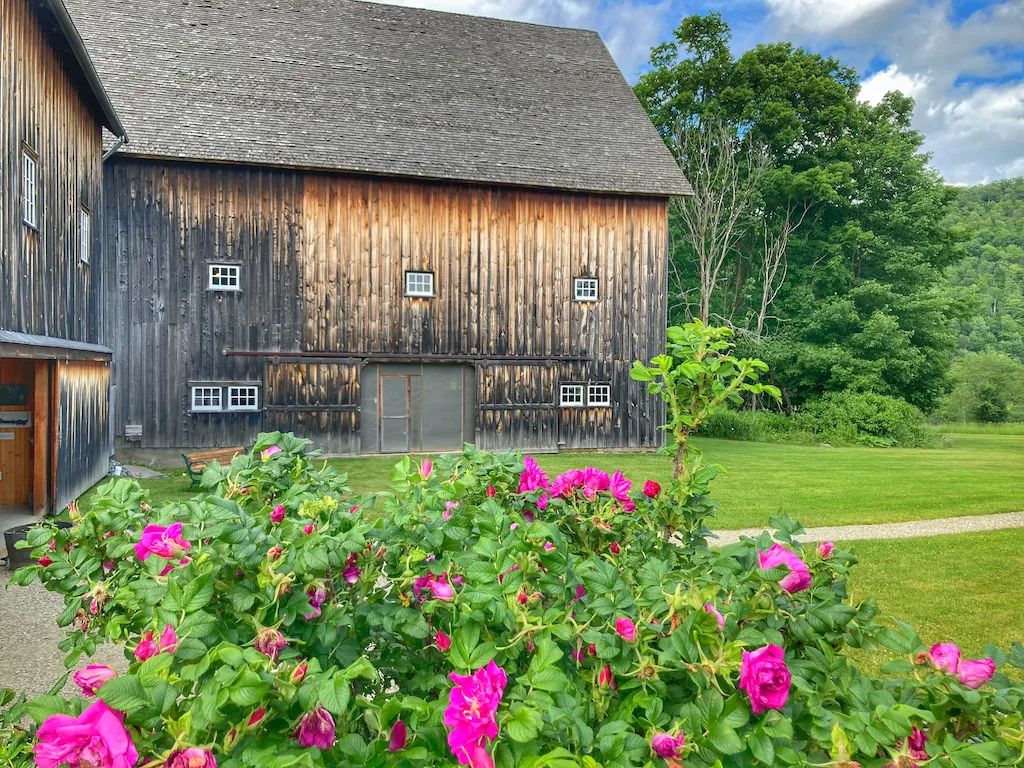 Plymouth Notch, VT: Visit the Calvin Coolidge State Historic Site
About 18 miles north of Ludlow, turn right on Route 100A and drive a mile to President Calvin Coolidge State Historic Site. Plymouth Notch is the birthplace and boyhood home of our 30th president, and his homestead and the surrounding village are virtually unchanged since the 20th century.
The village is known as the Plymouth Notch Historic District and is on the National Register of Historic Places. Meander around the 600 acres, visit the Calvin Coolidge Museum and Education Center, and check out dozens of historically preserved buildings.
Long Trail Brewing Company in Bridgewater Corners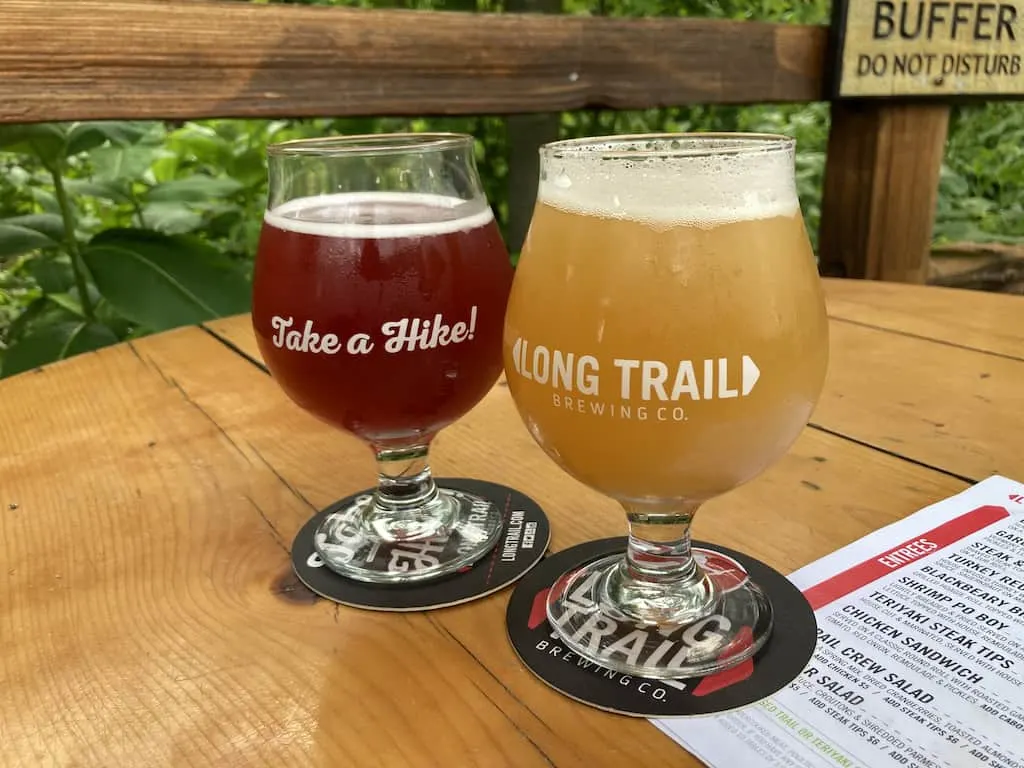 After leaving Plymouth, continue north on 100A to the town of Bridgewater Corners, where you'll find the famous Long Trail Brewing Company.
This quaint riverside pub and restaurant is the perfect lunch spot, and the view is pretty great too! In addition to their popular Long Trail Ale, they make a variety of delicious seasonal craft beers that you won't find in stores.
Moss Glen Falls, Granville, Vermont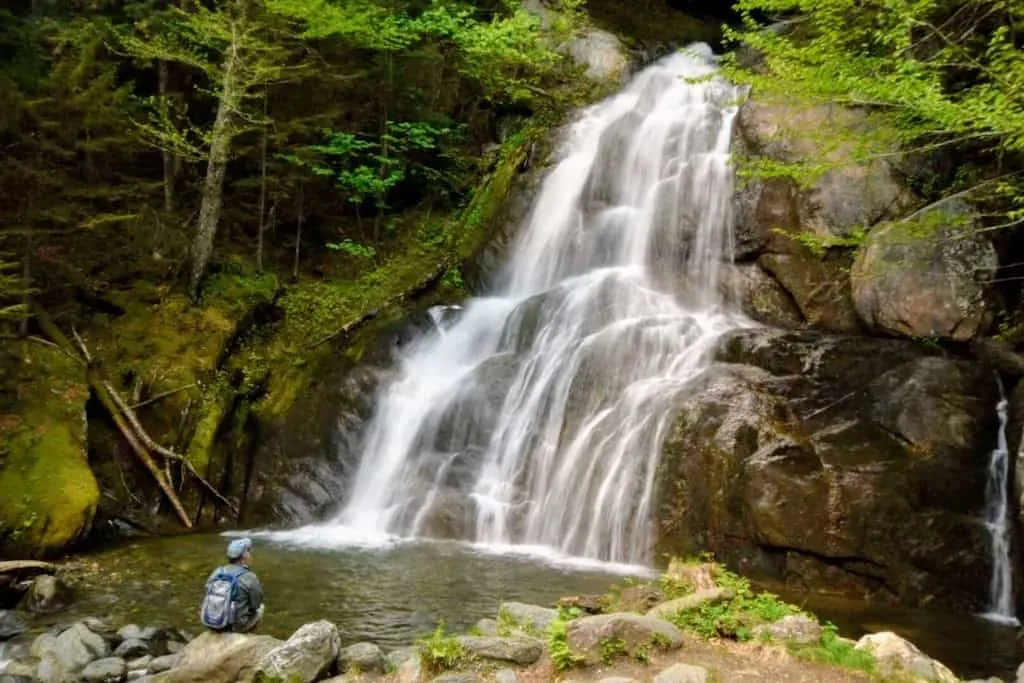 Moss Glen Falls in Granville is one of the most beautiful waterfalls in Vermont. This picturesque waterfall is more of a roadside attraction than anything else, but it's definitely worth a visit. Because Moss Glen Falls is located right off Vermont Route 100, it will only take a few minutes to check it out. Bring your camera!
There's no swimming at Moss Glen Falls, so if you're passing through on a hot summer day, please continue north to Warren Falls for a little dip. Warren Falls can be extremely busy in the summer, but it's a great spot to cool off.
---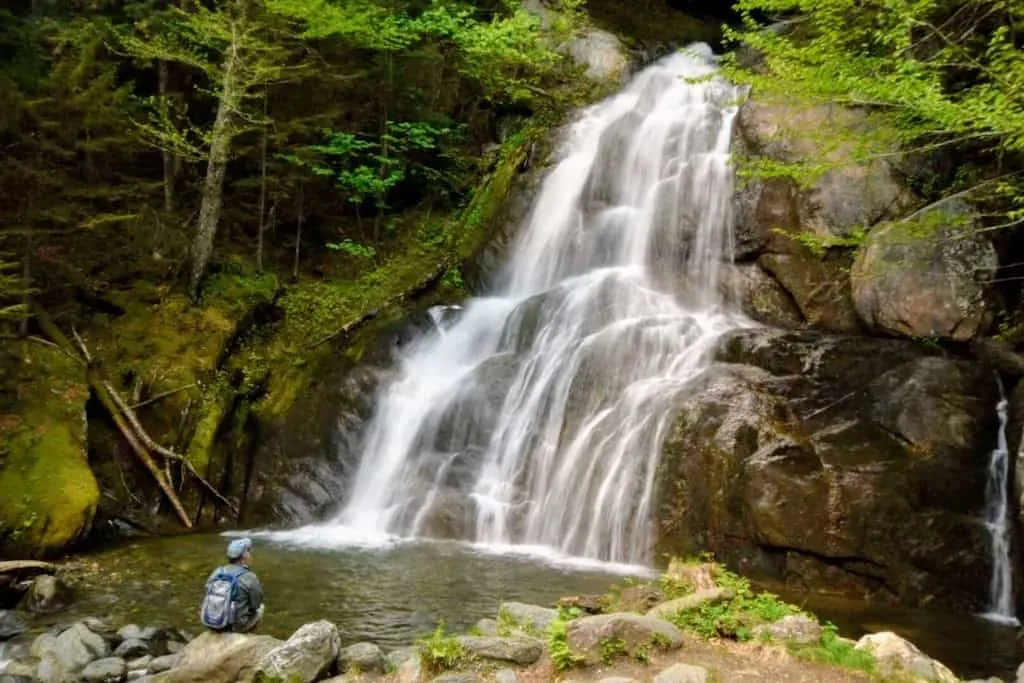 Vermont has beautiful, accessible waterfalls. Here's a review of our favorite Vermont waterfalls
---
Dining and Lodging in Waitsfield, VT
Where to stay: After a long day of driving, swimming, and adventuring, it's time to settle in for the night in the village of Waitsfield. For a unique lodging opportunity, check out this adorable cottage for rent at the base of Mount Ellen, which is available on VRBO.
Where to eat: American Flatbread Pizza — undoubtedly the best wood-fired pizza in the state of Vermont.
Day 4: Waitsfield to Stowe
You won't be driving much today because this section of Vermont Route 100 is packed with things to do! The Waterbury/Stowe area is fabulous in all four seasons, and if you're feeling short on time, I urge you to give it an extra day. Here are some of our favorite tourist attractions and natural areas on route 100 between Waitsfield and Johnson.
Driving distance: 24 miles
Waterbury, VT: Home of Ben & Jerry's Ice Cream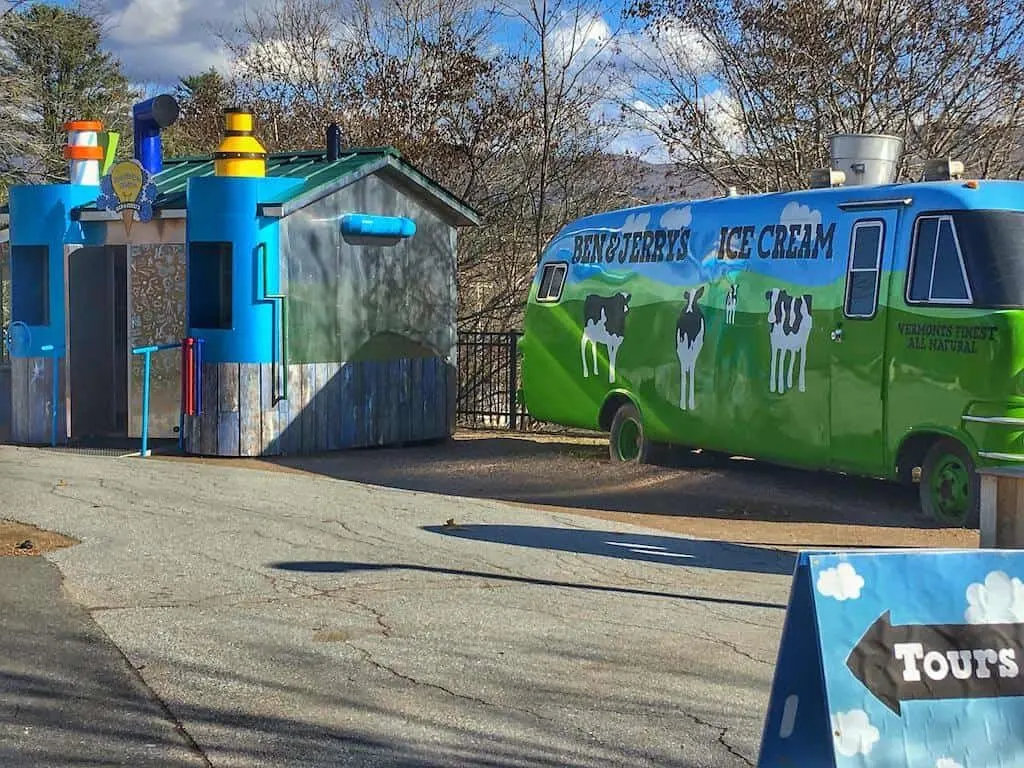 Waterbury is about 14 miles north of Waitsfield. It is home to Ben & Jerry's Factory Store, where guided tours are offered daily. Learn how Vermont's famous ice cream is made, and be sure to stop at the flavor graveyard to pay your respects to the "dearly de-pinted".
After your tour and tasting, head to Waterbury Center State Park, which is located just off Route 100 and is one of our favorite spots for paddling, fishing, picnicking, and remote camping.
The park is located on a 90-acre peninsula on the shores of the Waterbury Reservoir. The reservoir was constructed by the CCC in the 1930s as a flood control project to protect the towns and villages along the Winooski River. The reservoir is surrounded by mountains and is a gorgeous spot to spend the day, hike a trail, or go for a swim.
There is front-country camping available on Waterbury Reservoir at Little River State Park, which is our top state park for kids in the whole state.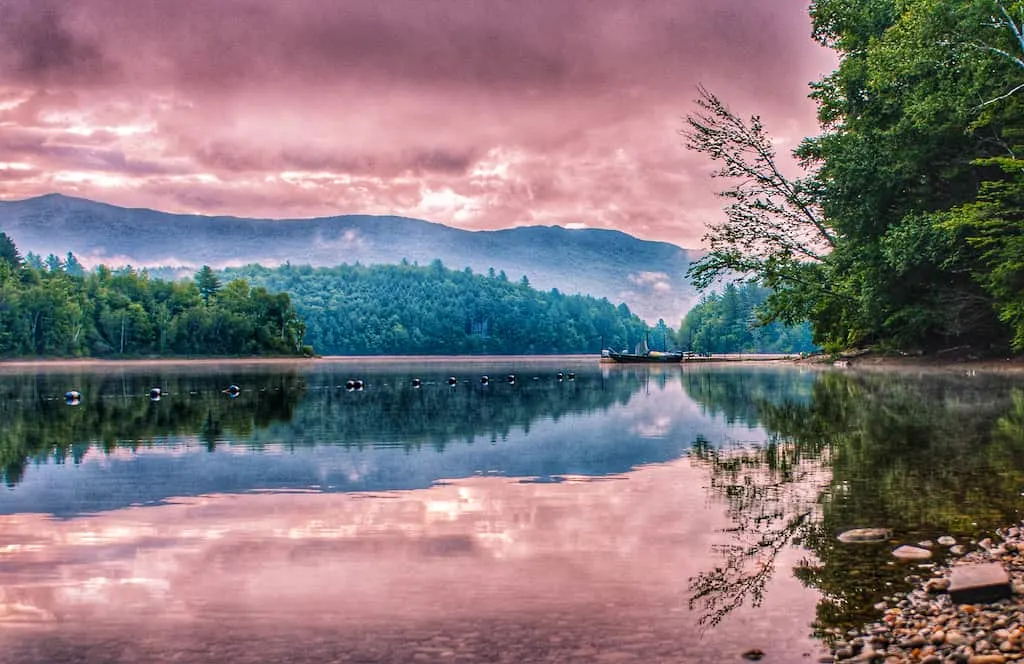 Just a half-mile from Waterbury Center State Park is Cold Hollow Cider Mill. Not only is this one of Vermont's top tourist attractions, but they also have pretty delicious cider donuts. Pop in for lunch or some fresh baked goods, and don't forget a gallon of cider for your cooler!
Stowe, VT: Home to Vermont's Highest Peak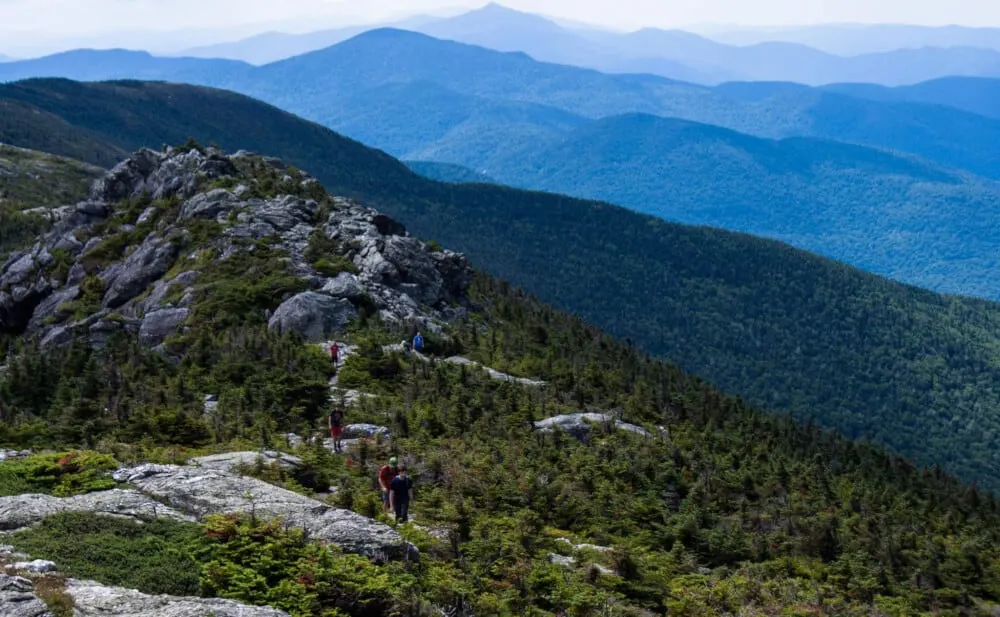 A Route 100 Vermont road trip wouldn't be complete without spending a full day in Vermont's most adorable mountain village. Stowe is known as a ski town, but it's equally lovely in the summer and fall, with all kinds of shops, restaurants, and coffee shops to explore.
At 4,395 feet, Mt. Mansfield in Stowe is Vermont's highest mountain. On a clear day, you can see west to Lake Champlain, north to Canada, and east to New Hampshire. There are several trails leading to the top, but if you don't have time for an all-day hike, consider the auto toll road at Stowe Mountain Resort.
The toll road takes you right to the top of Mt. Mansfield, the peak that is locally called "the nose." From the nose, you can hike along the ridge of the mountain to the chin (2.8 miles round trip), which is the official highest point in Vermont.
The top of Mt. Mansfield is one of two areas in the state where you can find an alpine tundra ecosystem. This is a very fragile area, and hikers are asked to stay on marked trails and to keep dogs leashed at all times.
After your hike, be sure to stop at the Alchemist Brewery and Visitor Center to try out New England's most famous beer, Heady Topper. The brewery and visitor center are located on Cottage Club Road in the village of Stowe.
You will likely meet many fellow road trippers here — people come from near and far to stock up on the Alchemist brews. You are usually limited to 6 four packs of any variety.
If you have time, consider a side trip through Smuggler's Notch on route 108. This is a narrow pass through Mt. Mansfield and Spruce Peak, but not suitable for RVs. The roadside is flocked by huge boulders and dark caves, perfect for scrambling around.
There are several trails along the roadside, including a lovely hike to Bingham Falls. The trail is an easy 1.6 miles round trip and brings you to one of the state's most lovely waterfalls.
Where to Stay: There are numerous lodging options in Stowe, and we would be hard-pressed to pick a favorite. We have enjoyed Stoweflake Mountain Resort & Spa and Trapp Family Lodge on numerous occasions. We would also recommend this beautiful condo rental for longer stays. It sleeps eight people, is convenient to everything, and features amazing views!
Where to Eat: Doc Ponds has a limited menu, but those tacos are divine! Have a root beer float for dessert and you'll be golden 'till morning.
---
Read Next: 18 Delightful Things to Do in Stowe, Vermont
---
Day 5: Stowe to Newport
The last leg of your road trip on Vermont Route 100 is characterized by a wild stretch of road. The further north you go, the better your chances of seeing one of North America's largest mammals, the massive moose. Be on the lookout for these gentle giants, especially along the roadside, where they pose a threat to unsuspecting motorists.
Driving Distance: 48 miles
Newport, VT: Where Vermont Meets Canada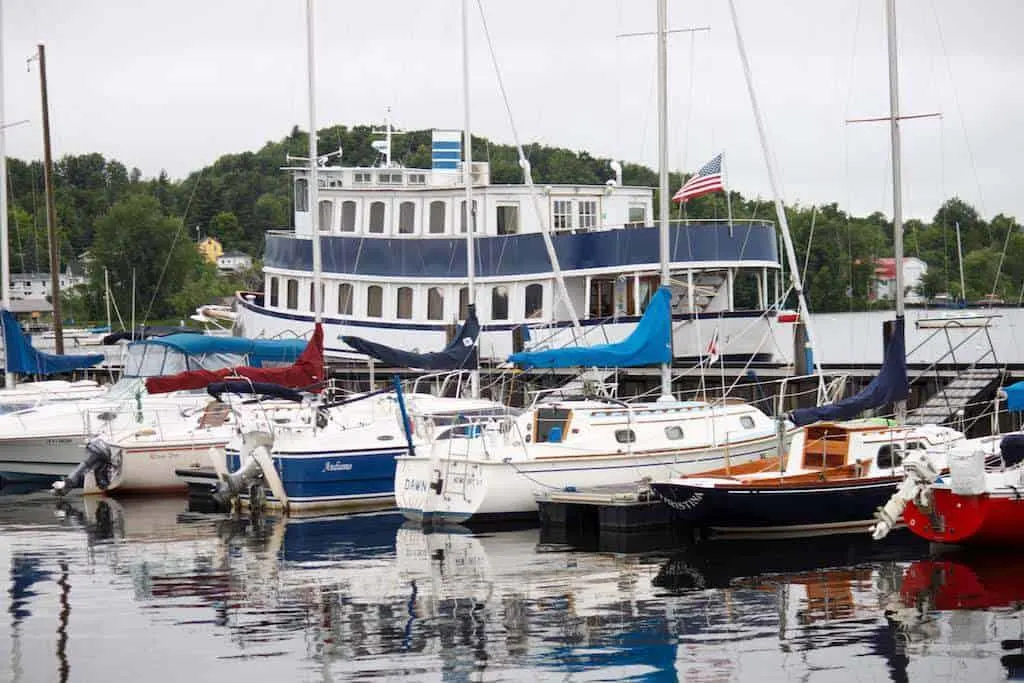 As you head out of Stowe and into Hyde Park, be sure to take in the spectacular views of Mt. Mansfield behind you. You have entered the famous Northeast Kingdom, an area known for its wild and rugged beauty.
Heading north, you'll pass through several small towns, including Eden, Lowell, Westfield, and Troy, before heading into the relative metropolis of Newport.
Located on the shores of Lake Memphremagog, Newport is a bustling place these days. Main Street is lined with restaurants, boutiques, and galleries. Several waterfront overlooks allow you to take in the majestic views of the massive glacial lake, which covers 41 square miles.
In the summer months, you can rent kayaks and bikes from the Great Outdoors to explore Newport's natural beauty. Lake Memphremagog can be windy, so your best bet is to stick to South Bay, as well as the Black and Barton Rivers, which flow into it.
The Newport Bebee Bike Path starts in the downtown area and runs for about six miles along the shore of the lake and into Canada (bring your passport if you choose to cross the border).
Where to Eat: For casual waterfront dining, check out the Eastside Restaurant & Pub. If you're looking for the best Thai and sushi in the Northeast Kingdom, you have to try Dusit Thai Cuisine. The owners relocated from Thailand in 2015, and have been wowing locals and visitors with their delicacies ever since.
Where to Stay: There are a few motels and a bed and breakfast within the city limits, but we've had the best luck with the local vacation rentals. Want to end your Route 100 trip with a lakeside vacation? This beautiful four-bedroom home on Lake Memphremagog sleeps 10!
Where to Camp: With 75 huge campsites for both tents and RVs, a swimming beach, and a playground area, Prouty Beach & Campground is a fun and inexpensive way to explore Newport and the surrounding communities. It's a county park, right next to the bike path, and less than a mile from downtown Newport.
Vermont Route 100 Map and Trip Guide
Where to Next?
After traveling through the mountains on Route 100 from south to north, you can easily hop on Interstate 91 in Newport, which will whisk you away to points south.
If you're up for further adventures, you can head north into Canada (Montreal is two hours away) and the Eastern Townships are right over the border, southwest into Burlington and the Champlain Valley, or south on the Connecticut River Byway.
We've got a lot more travel ideas for New England and the Northeast, so feel free to look around.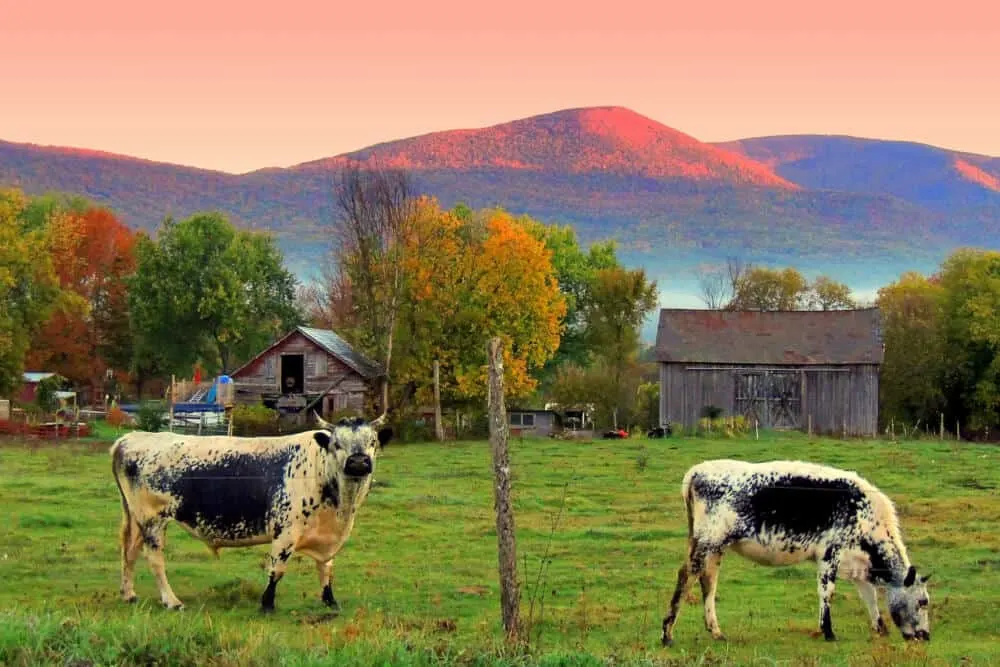 Resources for Planning Your Vermont Road Trip Itinerary on Route 100
We've been traveling around Vermont for a pretty long time, but we're always discovering new places to go and cool things to see. Here are the books, maps, and resources we used to plan this journey.
For our favorite books about adventuring in Vermont, read: Books About Vermont for Exploring Like a Local
Vermont Department of Tourism and Marketing – Vermontvacation.com is a fabulous resource

for finding cool things to do throughout the state. Sign up for their mailing list or order a free vacation guide before your trip.

Discover Newport Vermont – Plan your stay in Newport and the surrounding communities.
Go Stowe

– All the happenings in and around Stowe, VT
What to Pack for Your Vermont Route 100 Road Trip
Not sure what to pack for your Route 100 road trip? Keep it casual! You'll be doing a lot of outdoor adventuring, and even the in-town activities (shopping, museums, and restaurants) don't require fancy duds. One thing you won't find on Route 100 is nightlife, so leave the fancy dress and heels behind. Here are some more packing must-haves to help you make the most of your trip.
Activewear – You'll be spending some time outdoors and you want to be comfy. Opt for sturdy non-cotton pants (like these) and a breathable, moisture-wicking shirt. I love merino wool shirts because they keep you cool when it's hot out and warm when it's cold out, plus they don't stink like polyester blends and they dry quickly.
Sturdy shoes – Again, you want your feet to take you wherever you need to go. In summer, sandals that can double as water shoes are awesome, plus a pair of rugged hikers.
Swimwear – The swimming holes in Vermont are cold and clear. If you do this road trip in the summer, be prepared with a bathing suit and a towel. We use these quick-dry towels when traveling because the heavy cotton ones take too long to dry.
Jackets – The weather in Vermont is fickle, especially in the mountains. In the summer, you will be fine with a fleece and a rain jacket. For fall travel, add a down puffy jacket and a wool hat. These down jackets pack down really small and are perfect for travel.
A Camera – Perhaps your phone doubles as your camera. Awesome! If your phone camera doesn't take great photos, consider bringing a separate camera to capture all the beautiful scenery. If you want a dedicated point-and-shoot camera that packs neatly into a backpack, check out the Canon PowerShot SX740. This little camera takes better photos than the best smartphone with a powerful zoom and 4K video. It's almost as amazing as a DSLR with none of the weight. I love traveling with mine, and have recently started using it for all of my hiking trips too!
---
What's your favorite Vermont road trip? Share it with our readers in the comments below.
Follow us on social media for more road trip ideas!
Pin for Later?