Please check to make sure destinations are open to visitors before planning a trip and follow local guidelines. We earn a commission from affiliate links that may be included in this post.
I'm going to continue my love affair with our national parks today and talk a little bit about romantic winter getaways within our favorite parks. Speaking of love – our national parks are perhaps a bit overloved during certain seasons of the year, specifically in the summer when kids are out of school. Visiting the national parks in the winter is one of the best ways to find solitude and romance too!
Don't wait for summer crowds to start exploring these parks— we've got a few ideas for romantic winter adventures that will make you fall in love with your national parks all over again. The following national parks are perfect for visiting in the winter, and many of them are great for camping as well.
Explore the Crystal Ice Caves at Lava Beds National Monument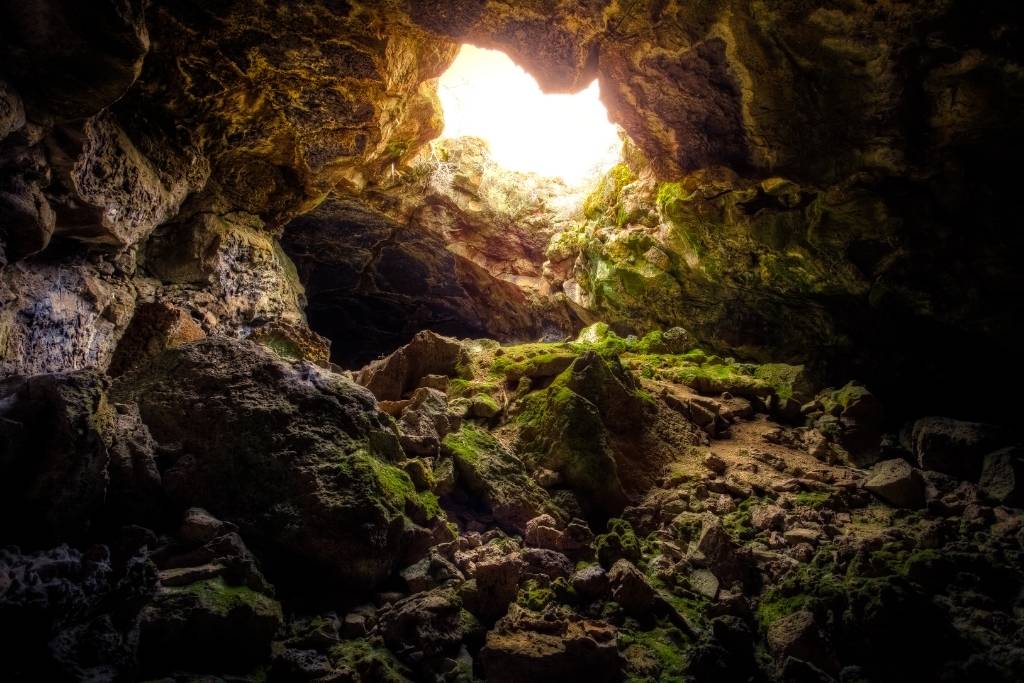 Discover some of the most spectacular ice formations in the world at Lava Beds National Monument in Tulelake, California. This spectacular cave system is actually a massive lava tube that traps frigid air, creating a chamber of frosty features that will literally take your breath away. Special tours of the Crystal Ice Caves are only offered on Saturday afternoons to a small group of visitors, from January through March. It's a strenuous excursion (and an adventurous date), requiring sturdy boots, knee pads, and headlamps, but if crawling around in dark places with the one you love sounds appealing, you should definitely give it a go.
Even if exploring underground isn't your thing, Lava Beds National Monument is still a stunning destination to visit. Yes, there are more than 800 caves, but you'll also find Native American rock art sites, historic battlefields, and secluded campsites. This high-desert wilderness is sure to amaze you no matter what time of year you choose to visit.
Visiting Lava Beds National Monument in the Winter
The park is open year-round, and $15 will get you a 7-day pass for everyone in your vehicle (yes, it's a budget vacation). The small Indian Wells Campground is lovely and costs just $10 per night. They don't take reservations, but you should have no problem securing a spot in the winter.
Because park elevations range from 4,000 to 5,700 feet, cold weather is possible any time of year. Winter day­time highs average 40°F; lows average 20°F.
Don't want to camp? There are several small hotels and motels outside the park if camping isn't your thing. In addition to the fabulous caves found throughout the park, there's also a wide range of hiking opportunities and lots of wildlife.
Take a Hike in Arches National Park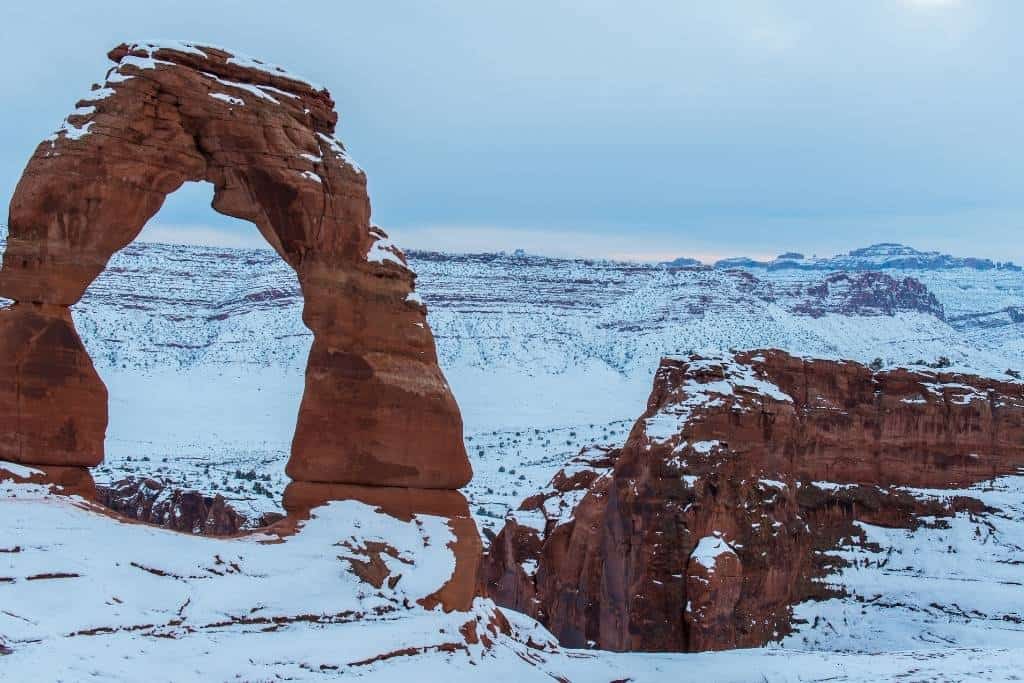 By February, winter's clutches are slowly loosening their grip on Arches National Park, and you will find relatively mild, pleasant days, very few people, and tiny wildflowers making a glorious appearance across the canyon. Even the most crowded trails to the Delicate Arch or the Devil's Garden will see just a handful of people in February, making it the very best month to fall in love with those incredible red rocks. Stormy days are more common in the winter, and those are the days to meander along the scenic drive with your love and your camera by your side. It's pure magic.
Visiting Arches National Park in the Winter
Arches National Park and Devil's Garden Campground are open year-round, but reservations can only be made at the campground between March and October. In winter, it's first-come, first-served, and you are pretty much guaranteed a camping spot. You won't find restaurants, hotels, or lodges in Arches National Park — just a small visitor center for basic necessities.
Winters are cold in Arches National Park, with highs averaging 30º to 50º F, and lows averaging 0º to 20º F, but large snowfalls are uncommon. If camping in the winter is not your idea of a good time, we recommend heading to nearby Moab, where you'll find every manner of lodging, from budget to luxury. We love the super funky and fun Gonzo Inn, which combines a unique sense of style with a bit of luxury. Prices are reasonable too.
Ski the Carriage Road in Acadia National Park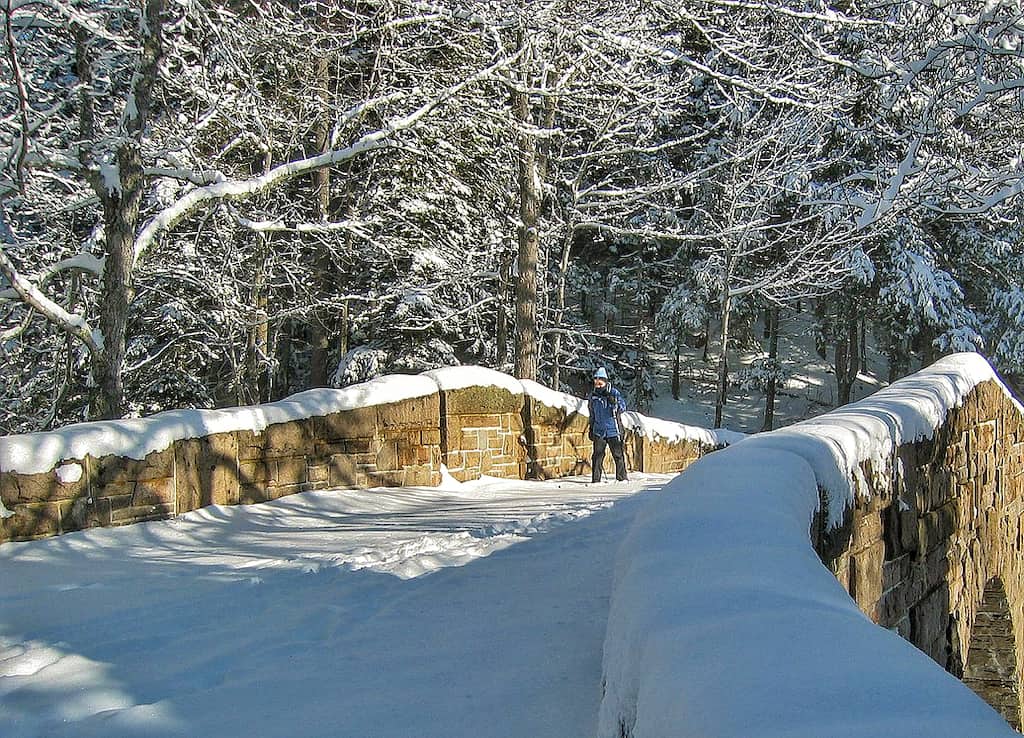 There are more than 45 miles of carriage roads in Acadia National Park, providing stunning views, supreme solitude, and a good workout for cross-country skiers. 32 miles of trails have been designated for grooming by volunteers when time permits, usually when the snowfall amounts to more than four inches. For more information on skiing these incredible trails, please read this lovely cross-country skiing post by Friends of Acadia.
Visiting Acadia National Park in the Winter
While most people visit Acadia in the summer, this New England national park is such a winter wonderland, you will have no trouble finding adventures of every shape and size. Birding trips, guided snowshoes, boat rides, and wildlife watching excursions are scheduled throughout the off-season, but you won't find any of the crowds. Dogs are allowed on Acadia's carriage roads, provided they remain on a 6-foot leash at all times. The park loop road is closed in the winter and there are no entrance fees.
Primitive camping is available for hard-core adventurers, or you can travel just outside the park to Bar Harbor for every manner of lodging and dining opportunities. We adore the Acadia Hotel, which is super convenient to everything, very clean, and affordable.
---
Read Next: Beat the National Park Crowds in these Incredible National Forests
---
Paddle Through the Mangroves in Everglades National Park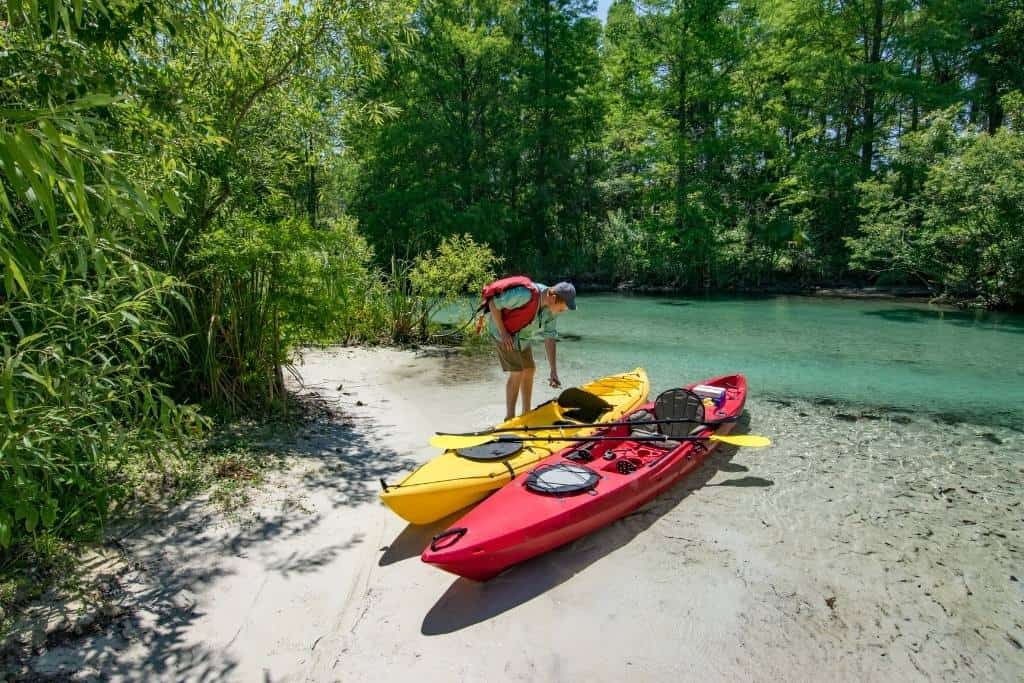 Winter is considered the dry season in Everglades National Park, and it's a secluded paradise for birders and lovers of wildlife. Here you'll find the rare West Indian Manatee, the American alligator and the American crocodile, more than 40 species of mammals, and 360 species of birds. Much of the everglades can only be explored by boat, and there are lots of well-marked canoe and kayak trails to choose from. The 99-mile Wilderness Waterway can be completed in seven to ten days, with plenty of backcountry camping options that offer total seclusion and awe-inspiring beauty.
Visiting Everglades National Park in the Winter
Winter is actually the busy season in the Everglades, but with more than 1.5 million sprawling acres to explore, it's pretty easy to find solitude. $20 will get your vehicle into the park for seven consecutive days. Front country camping sites fill up quickly in the winter and must be reserved in advance. If you're seeking romance in the backcountry, you should have no problem securing a spot.
As for weather, there are two seasons in the Everglades – dry and wet. Temperatures in the dry winter season range from 53°F to 77°F. In addition to the cooler, more desirable temperatures, you also reap the benefit of fewer mosquitoes and a lot more wildlife sightings.
Explore the Dunes, Mountains, and Salt Flats of Death Valley National Park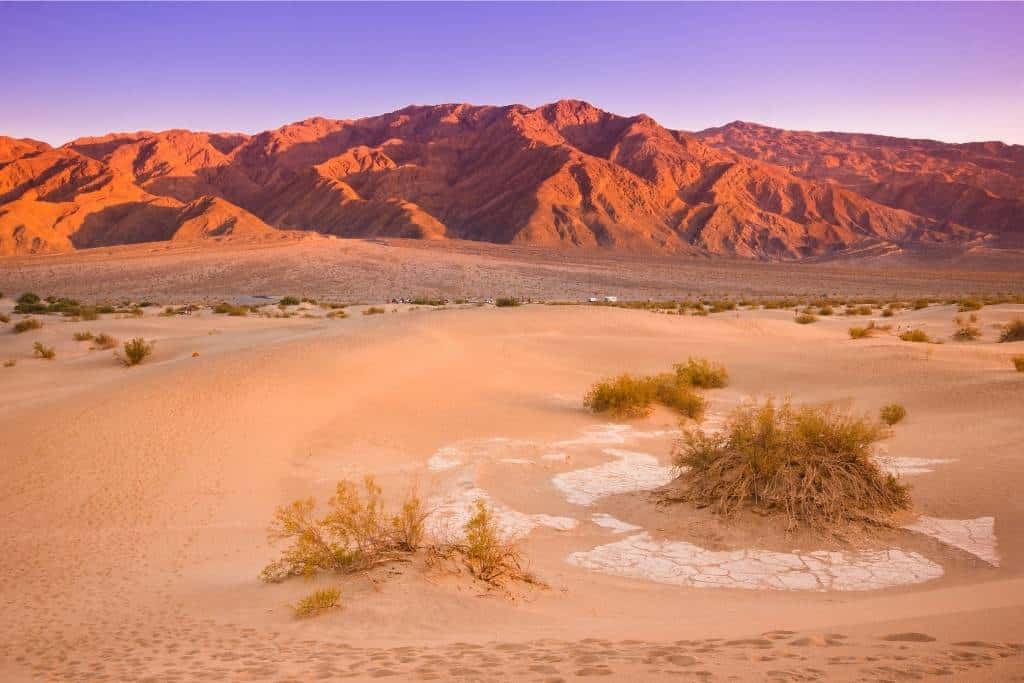 Death Valley's array of surreal landscapes is otherworldly, and there's no better time to explore this incredible desert than in the winter. You'll still find some snowcapped peaks in February, but you will also get a chance to meander through fields of wildflowers, catch incredible sunrises, and glimpse rare wildlife, including bighorn sheep, the elusive desert tortoise, lynx, fox, and mountain lions.
Eric and I had plans to visit Death Valley for Valentine's Day this year, but alas, COVID-19 is still raging, so we had to cancel our trip. We are looking forward to visiting in February 2022 instead.
Visiting Death Valley National Park in the Winter
Winter temperatures are usually pleasant and warm, but Death Valley does encompass a range of elevations, so some areas will be cold at night. In February, you can expect daytime temperatures to be in the 70s and nighttime to range between 45°F and 55°F.
Be sure to visit Badwater Basin, which is the lowest point in North America (282 feet below sea level). Other cool sites include Artists Drive, Zabriskie Point, and Golden Canyon. Camping is available year-round within the park at nine different campsites, and there's great lodging too. We recommend the Ranch at Death Valley, which has an outdoor pool and expansive grounds. It is very close to Furnace Creek and Zabriskie Point.
Go Rock Hopping in Joshua Tree National Park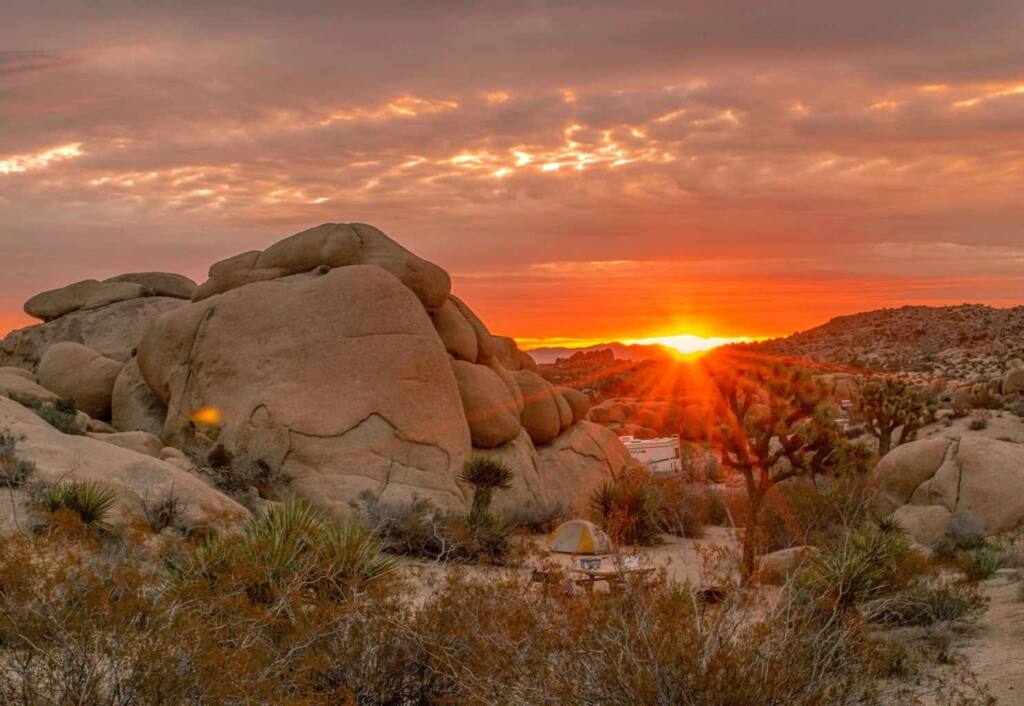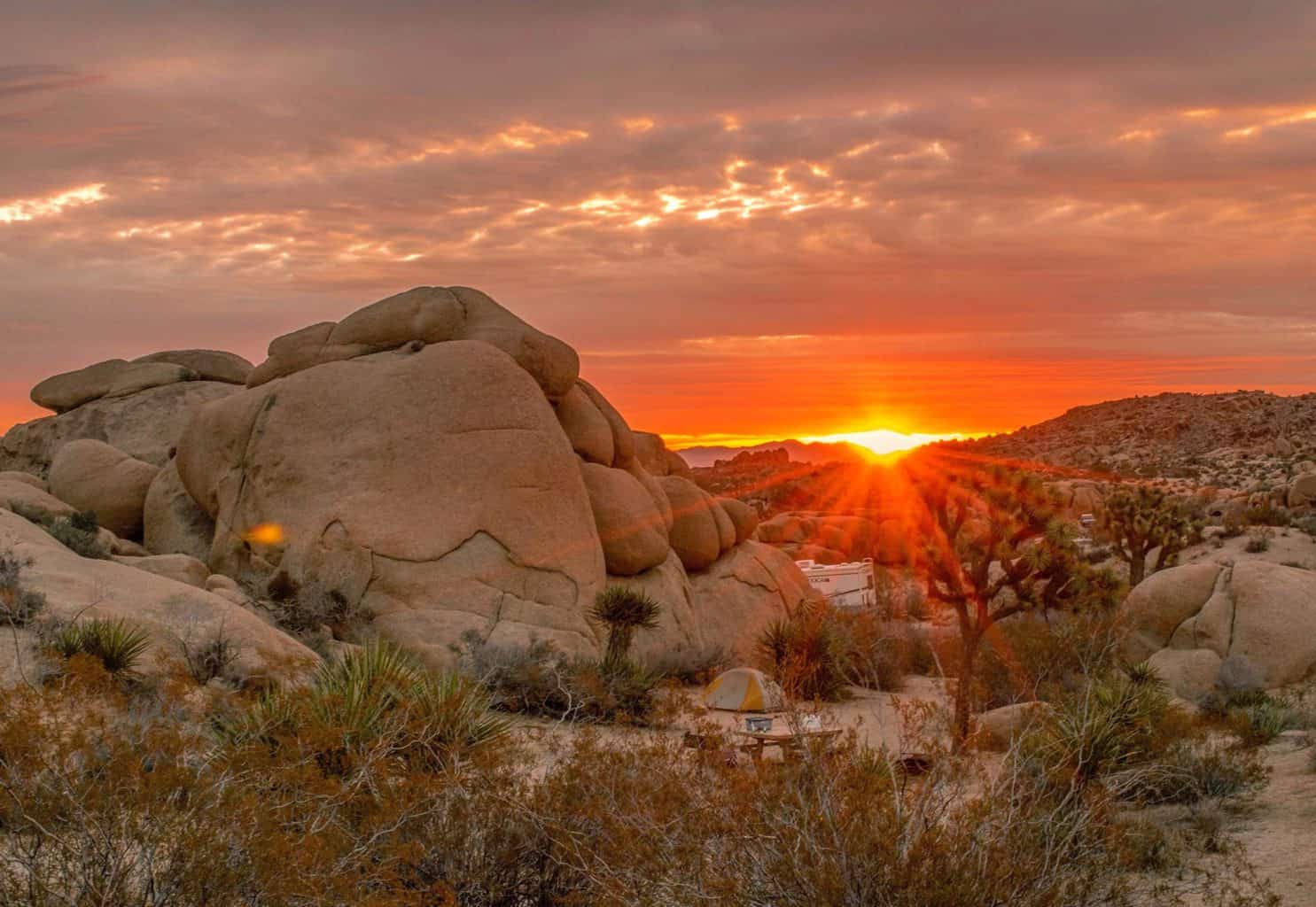 Last winter, we had the honor of exploring Joshua Tree National Park, a harsh and varied ecosystem sprawling across 800,000 acres in Southern California. Franklin D. Roosevelt proclaimed Joshua Tree a national monument way back in 1936, protecting land that most considered harsh and inhabitable. In 1994, Joshua Tree became the nation's 54th national park.
The park is great for rock climbing, bouldering, or simply meandering among the giant rocks. Hike the Barker Dam Loop (1.5 miles), which travels through the southern edge of the Wonderland of Rocks, weaves through narrow rock corridors, past a seasonal lake, and into a beautiful valley surrounded by boulders.
Visiting Joshua Tree National Park in the Winter
Winter in Joshua Tree National Park is characterized by warm days and cool nights, below freezing in some cases. If you are planning on camping, we highly recommend Jumbo Rocks Campground. The rocks in this part of the park are so cool to explore, and there are lots of trails nearby. If the weather looks like it will be particularly cold, try to get a spot at Cottonwood Campground which is lower in elevation, and therefore a bit warmer.
If you don't want to spend a chilly night on the ground, why not try glamping? With glamping, you can still have an immersive outdoor experience and sleep in a comfy bed at night. Here are some ideas for incredible glamping near Joshua Tree National Park.
Have you explored any of these national parks in the winter? We'd love to hear about your favorite excursions in the comments below.
---
Want to read more about hiking and camping in our national parks? Check out our National Park Resource Guide
---
Pin for Later?