There's no shortage of public lands to explore in America, from craggy canyons and remote islands to ancient forests and secluded seashores.
The big question is – where will your adventures take you this year? To one of our iconic national parks? Into the depth of our sprawling national forests? Or perhaps into one of our most underappreciated assets, the humble state park.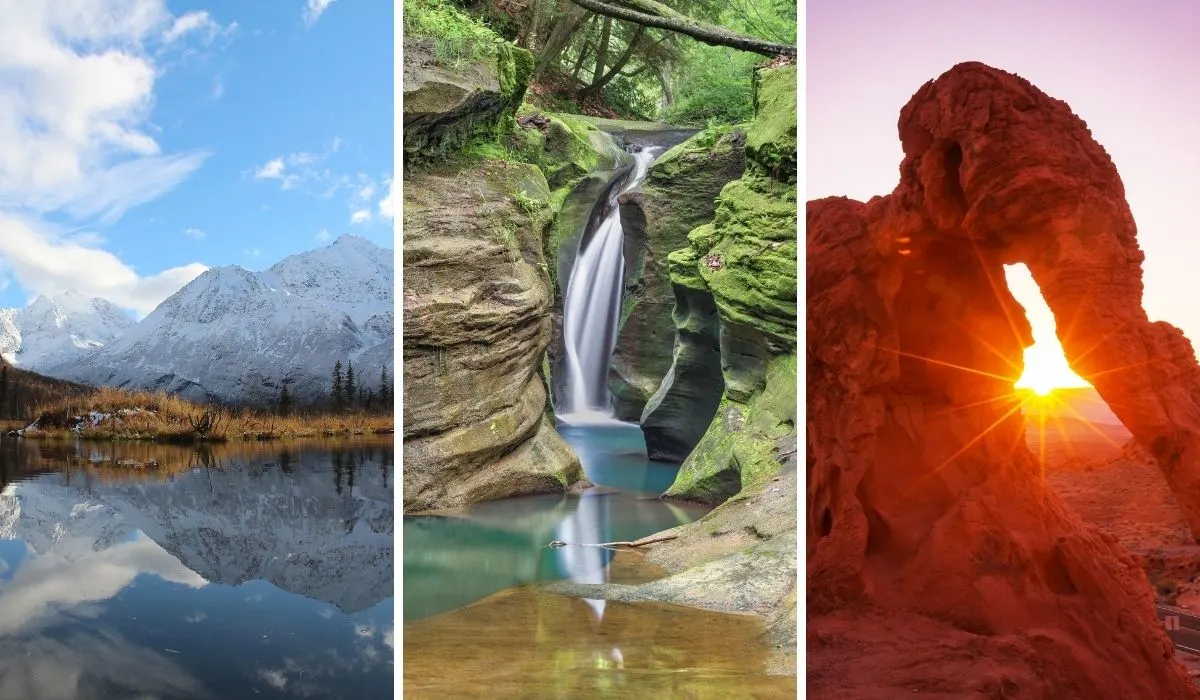 Maybe you're already in on this secret, but there are some amazing state parks spread across the United States, and we're sharing the best of the best with you to inspire your next adventure.
According to the National Association of State Park Directors, there are 6,792 state park units in the United States, and the number grows larger each year.
America's state parks provide adventurers with countless opportunities to explore the natural world, whether you're looking for an easy day hike or a weekend camping adventure. It doesn't matter where you live – every state in the US has incredible state parks just waiting for you to discover.
When looking for the best state parks near me, I almost always start with my favorite outdoor bloggers, so I asked a few of them to share their opinions on the best state parks in the USA, and this is what they came up with.
So next time, you're itching for an outdoor escapade, check out some of these natural areas – the best state parks in the US.
Best State Parks in the Western United States
With huge tracts of desert, forest, canyons, and prairies, the western United States is home to incredible wildlife and opportunities for adventure. A western road trip wouldn't be complete without visiting some of the iconic national parks spread across the landscape.
But, if your goal is to explore some lesser-known spots while beating the crowds, be sure to put some of these incredible state parks on your itinerary.
Dead Horse Point State Park, Moab, Utah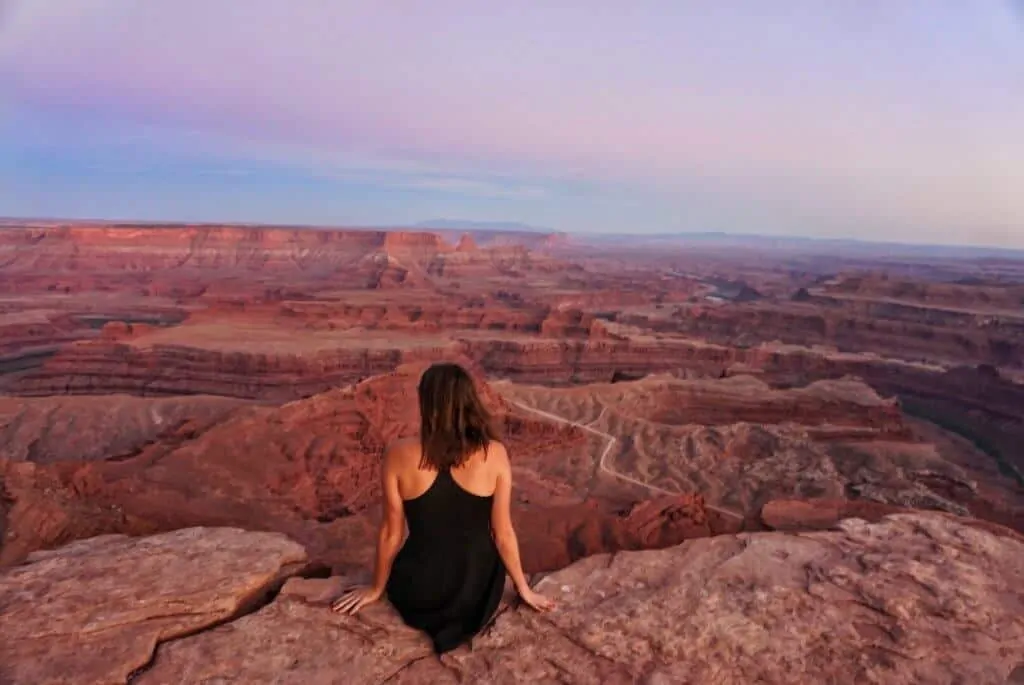 Located in Red Rock Country near Moab, Utah, Dead Horse Point State Park features steep-walled canyons, high desert woodlands, seven miles of easy hiking trails, and two small campgrounds.
It's also an International Dark Sky Park with incredible stargazing opportunities.
Allison Green, from the blog Eternal Arrival, visited Dead Horse Point State Park on an epic Southwest road trip. "To be a bit controversial, I actually found the views at Dead Horse Point State Park to be more impressive than the Grand Canyon or Horseshoe Bend, two other stops on my southwest road trip."
Allison recommends visiting Dead Horse Point State Park any time, but she warns travelers that snow is common in the winter, due to the park's elevation of 5,900 feet.
If you choose to spend the night in one of the park's campgrounds or camping yurts, be sure to take advantage of the ranger-led night programs, including moonlit hikes and stargazing adventures. Both the sunrise and sunset are epic with sunlight dancing with shadows across the canyon walls.
While exploring around Moab, Allison recommends visiting nearby Canyonlands National Park, which is often overlooked in favor of the other nearby national park, Arches.
Visit the Dead Horse Point State Park website
Book a campsite or yurt at Dead Horse Point State Park
---
Roxborough State Park, Littleton, Colorado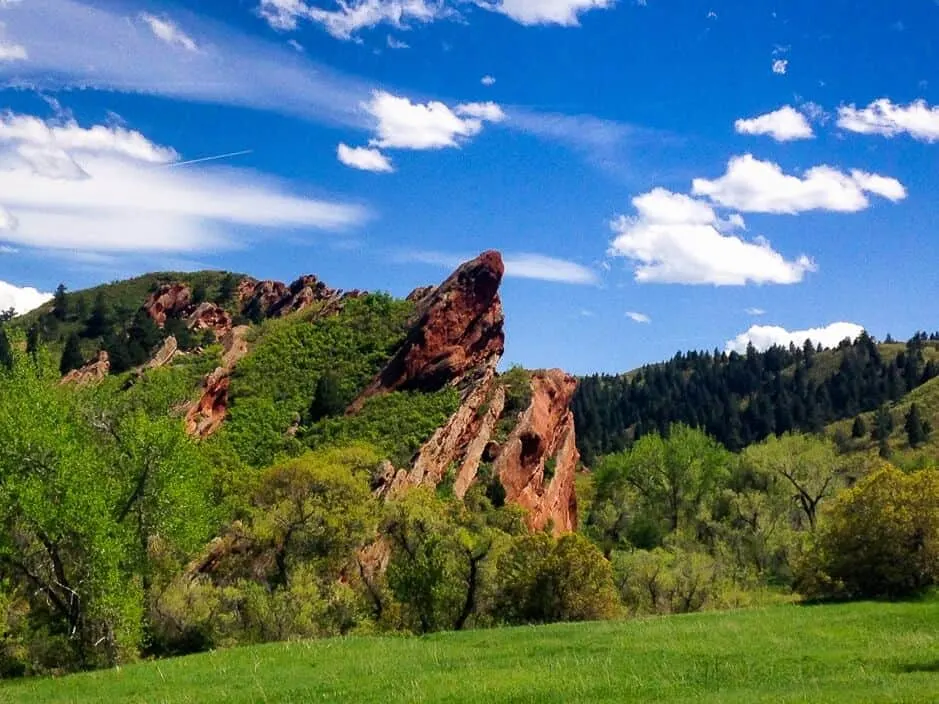 Roxborough State Park is just a short drive southwest of Denver, but it might as well be on another planet.
Featuring dramatic red rocks and cliffs with far-reaching views, this is the perfect park for hiking enthusiasts. In fact, hiking is the only thing permitted here, so be prepared to leave your bikes, tents, and four-wheelers at home. Dogs aren't permitted either.
Meg Atterberry, from Fox in the Forest, recommends visiting during the late spring to catch blooming wildflowers and less mud. Read Meg's Ultimate Guide to Hiking before checking out the Lyons Overlook Trail for pristine views of the park. Or discover the valley floor on the Fountain Valley Trail.
Whether you're a novice or intermediate hiker, a trip to Roxborough State Park makes a fantastic day trip from Denver.
Visit Roxborough State Park's website
---
Pfeiffer Big Sur California State Park, Pfeiffer Big Sur, California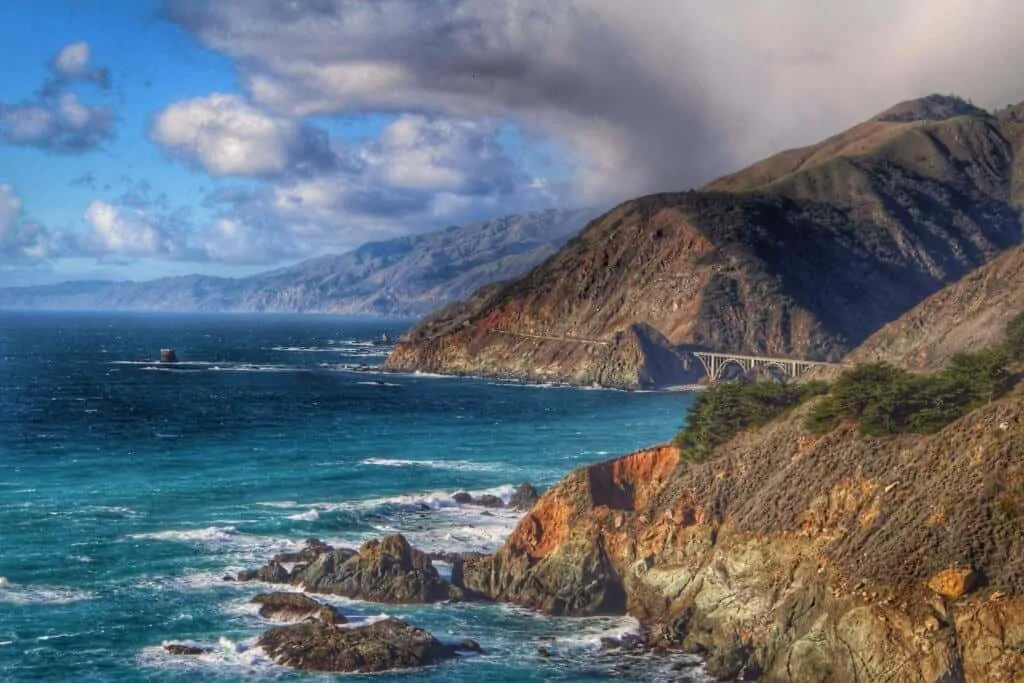 Located along the coastline of Central California, Pfeiffer Big Sur State Park is one of the most beautiful state parks in California and one of the best state parks in the USA. It doesn't hurt that it is accessed by one of the most scenic and dramatic coastal highways in the United States.
According to Allison Boyle, who runs the blog, She Dreams of Alpine, the best part of Pfeiffer Big Sur State Park is that it's beautiful year-round. "You can stick close to Highway One (also known as "The One" to Californians) and see some of its iconic waterfalls, explore its beaches along the rugged California coastline, or venture deep into its redwood forests along one of Big Sur's established trails."
There is a large campground at Pfeiffer Big Sur that can accommodate hikers, bikers, car campers, and RVers. Many campsites are located right on the Big Sur River, perfect for anglers and swimmers. Dogs are permitted in picnic areas and campgrounds, but not on the trails.
A trip to this stunning California State Park is worth any detours you have to make to get there.
Visit the Pfeiffer Big Sur State Park website
---
Valley of Fire State Park, Overton, Nevada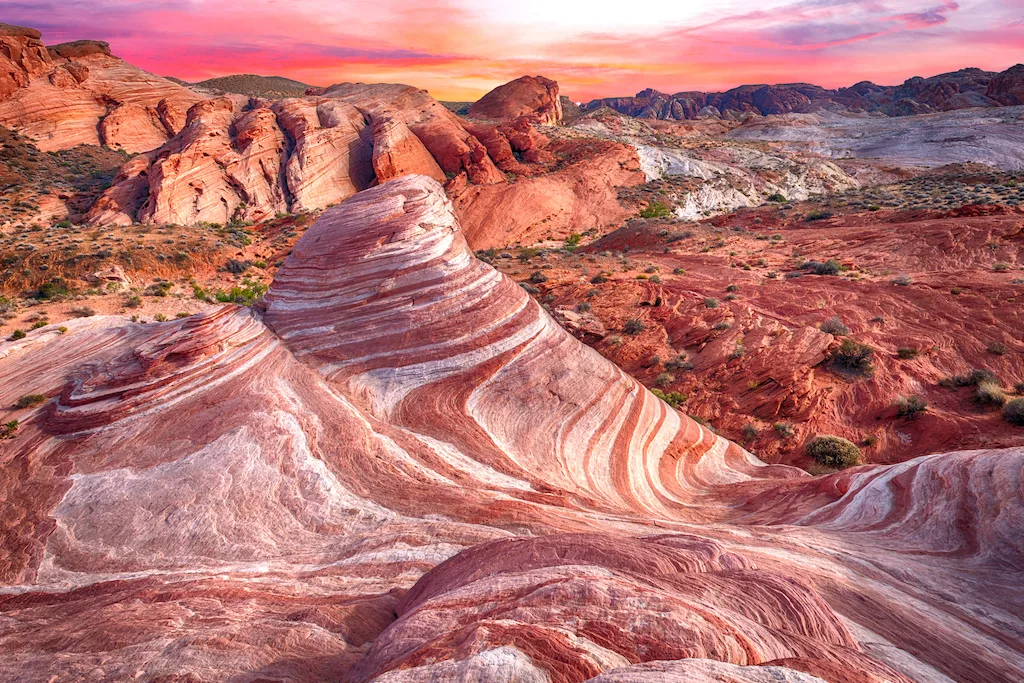 Your first reason to visit Valley of Fire State Park in Overton, Nevada may be that it's an easy day trip from Las Vegas. You'll soon realize that this iconic state park is a geological wonderland, encompassing 40,000 acres of rock formations, ancient petrified trees, and numerous easy hiking trails.
Janet Newenham, from Journalist on the Run, explored Valley of Fire State Park on a Pink Jeep Tour and was mesmerized by the deep red rock and dramatic landscapes within the park. "Most of the main rock attractions, such as the Wave and Elephant Rock, are short hikes from the road, which makes this park a very accessible one for people who might not be able to walk long distances."
Valley of Fire State Park is one of the best state parks for camping. There are a total of 72 first-come, first-serve campsites, each with a shaded table and grill.
Visit Valley of Fire State Park's website
---
Chugach State Park, Girdwood, Alaska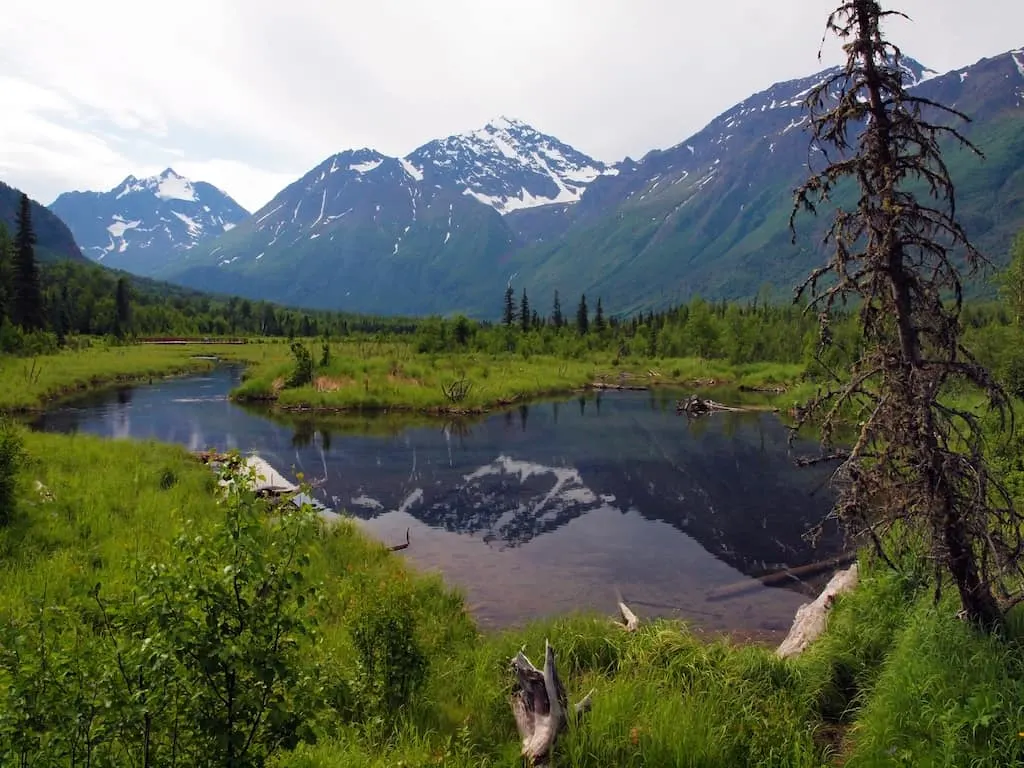 If you find yourself in Anchorage, Alaska, don't miss the opportunity to hike, ski, snowshoe, or paddle into the wilds of Chugach State Park.
Covering approximately 495,000 acres, Chugach State Park is one of the largest in the United States. Bounded on the north and west by the Alaska Range, and on the east by the Chugach and Wrangell Mountains and Prince William Sound, this diverse landscape provides a lifetime of recreation opportunities.
If you've only got a few days, you can still have a solid wilderness experience. Mike Still, from the blog Live Travel Teach, recommends renting a cabin on Eklutna Lake to search for the northern lights. A hike on the Eklutna Lake Trail is a 12.9-mile, four-season adventure, complete with incomparable views and the chance to see lots of wildlife.
Mike loves that Chugach State Park is so close to Anchorage. "With multiple trailheads ranging from 20 minutes to over an hour from town, you'll have plenty to pick from. The hiking trails turn into ski or snowshoe trails in the winter and you can easily grab a kayak or some fishing or hunting gear throughout the rest of the year."
There are four front-country campgrounds in Chugach State Park and seven camping cabins. All campsites are first-come, first-served, but you can reserve the cabins ahead of time.
Visit the Chugach State Park website
---
Kodachrome Basin State Park, Cannonville, Utah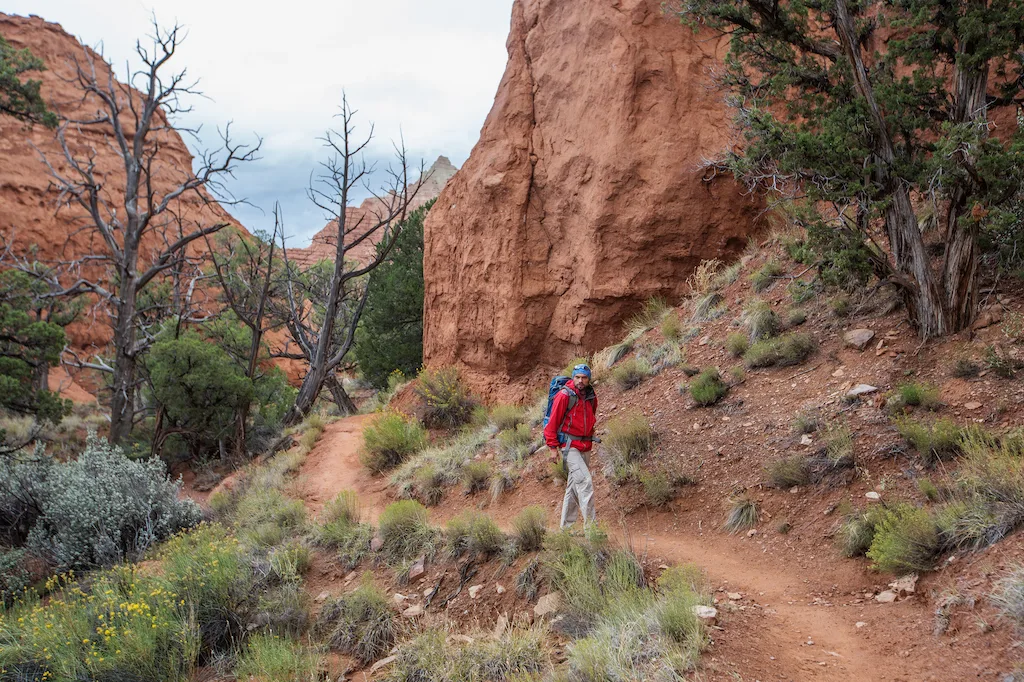 The vibrant colors found within this Southern Utah landscape prompted a National Geographic Society expedition to name the area Kodachrome in 1948, after the popular color film. Today it is Kodachrome Basin State Park, one of the best state parks in the US for slot canyons and arches.
Towering monolithic spires or chimneys rise from the valley floor or protrude from the sandstone rocks throughout the park. The towering monoliths range in height from three feet to 170 feet tall.
Janiel, from the blog Culture Trekking, visits Southern Utah frequently and has published a guide to her favorite hiking trails in Kodachrome Basin State Park.
Janiel's favorite trail? Angel Palace (1.4 miles). "We spent quite a bit of time here, taking pictures, enjoying the view, and wishing we could pitch a tent in this spot and forget the world and let nature heal our souls. If you do not have time to do any other trail, this is the trail I would suggest doing."
There are three small campgrounds in Kodachrome Basin State Park. Some are reservable, and others are first-come, first-served.
Visit the Kodachrome Basin State Park website
---
Emerald Bay State Park, South Lake Tahoe, California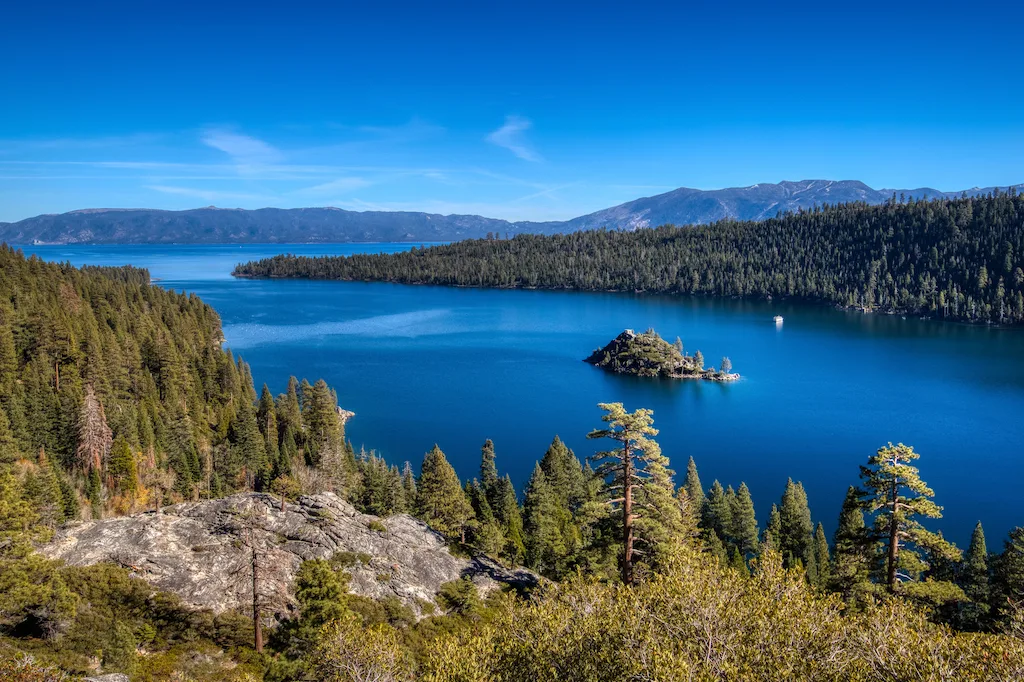 Lake Tahoe's Emerald Bay is one of the most photographed spots in the entire world, and Emerald Bay State Park makes a great spot to check out the panoramic vistas.
In 1969, the federal government designated Emerald Bay a National Natural Landmark for its brilliant panorama of mountain-building processes and glacier-carved granite. Visitors come to hike the numerous trails, stay in the campgrounds, visit the Scandinavian-style castle, Vikingsholm, and explore California's only underwater park.
Hike the shore on the Emerald Point Trail, or head into the hills for scenic views and a waterfall on Cascade Falls Trail.
To get out on Lake Tahoe, book a tour with Cruise Tahoe, where you can book an excursion on Emerald Bay followed by a walking tour of Vikingsholm Castle. The cruise includes wine, light appetizers, and lots of Tahoe History.
Two popular campgrounds, Eagle Point and Emerald Bay Boat Camp can be reserved up to six months in advance. Mark your calendars, as these sites book very quickly.
Finally, SCUBA and snorkel divers can experience California's first Maritime Heritage Underwater Trail, where the country's largest and most diverse collection of scuttled watercraft rest on the bottom of Emerald Bay.
Visit the Emerald Bay State Park website
---
Antelope Island State Park, Davis County, Utah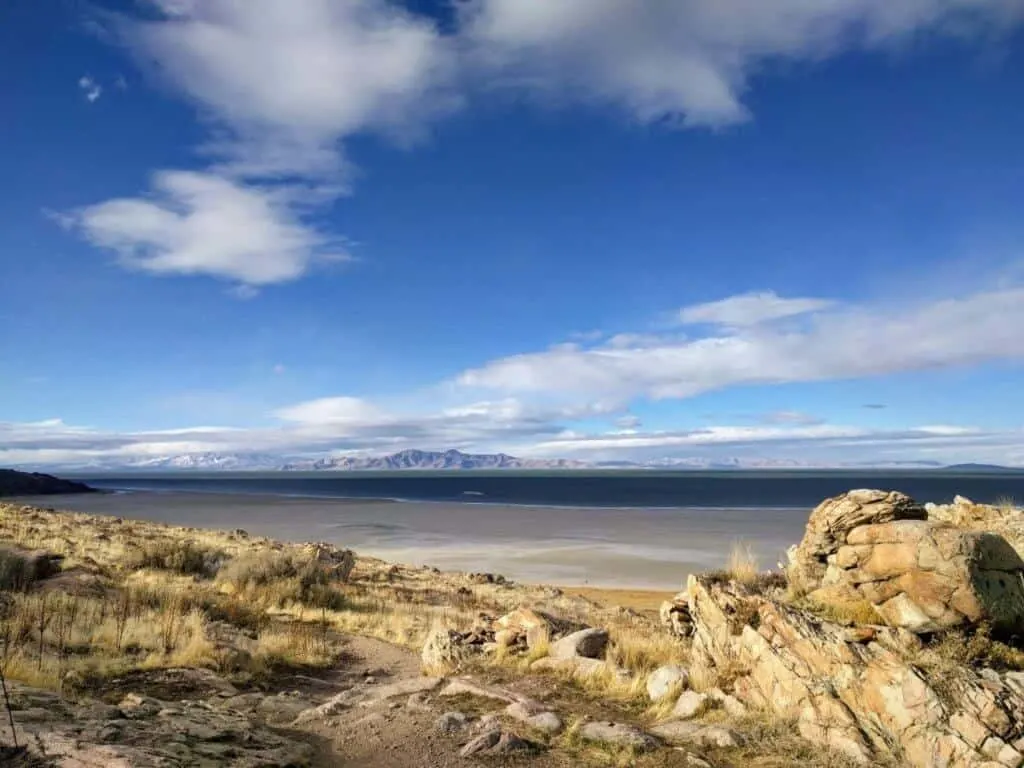 Located in the southeastern part of the Great Salt Lake near Salt Lake City, Antelope Island encompasses 42 square miles, making it the largest in the lake. Although the island is surrounded by salt water, more than 40 freshwater springs produce enough water to support an abundant array of wildlife.
Antelope Island is one of the best state parks in the US for viewing wildlife, especially migrating birds, but also a herd of wild bison, pronghorn antelope, mule deer, bighorn sheep, coyote, and birds of prey.
With 40+ miles of trails, Antelope Island is the perfect destination for hikers, trail runners, and mountain bikers.
Once you're out on the trails you'll be able to see the weather rolling in from miles away, with plenty of time to scamper back to your car or your campsite. Bridger Bay Campground is suitable for tents or RVs and has 64 sites. Dogs on leashes are welcome.
Visit the Antelope Island State Park website
---
Custer State Park, Custer, South Dakota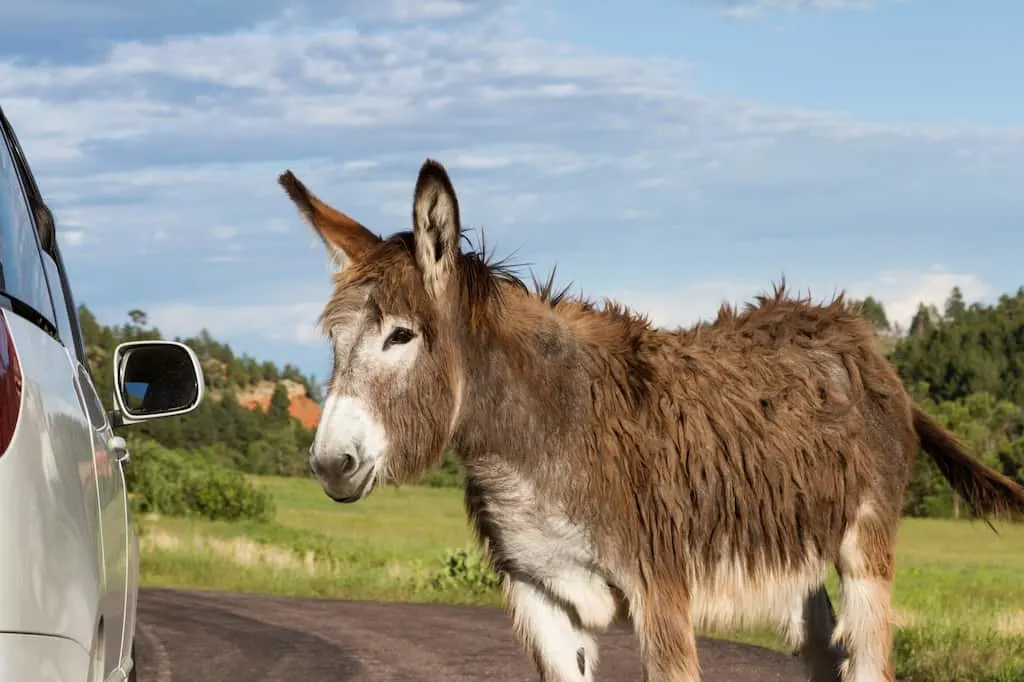 Custer State Park encompasses 71,000 acres of wilderness in the Black Hills of South Dakota. Honestly, it feels more like a national park than a state park in scope, with hundreds of miles of hiking trails, five lakes, and nine front-country campgrounds.
Drive the Wildlife Loop Road in the early morning or late evening, and you're sure to see herds of bison, friendly burros, and perhaps even pronghorns, coyotes, and elk.
Drive the Needles Highway north through the park to experience narrow, winding roads, imposing rock spires, and access to some cool hiking trails. We recommend stopping at Sylvan Lake, which is considered the crown jewel of Custer State Park.
If you hike to the backside of the lake, be sure to hop on the Sunday Gulch Trail to climb among the boulders and check out the expansive views and waterfalls. If you decide to pitch your tent for a few days, we highly recommend the tent sites at Blue Bell Campground.
Visit the Custer State Park website
---
---
Smith Rock State Park, Terrebonne, Oregon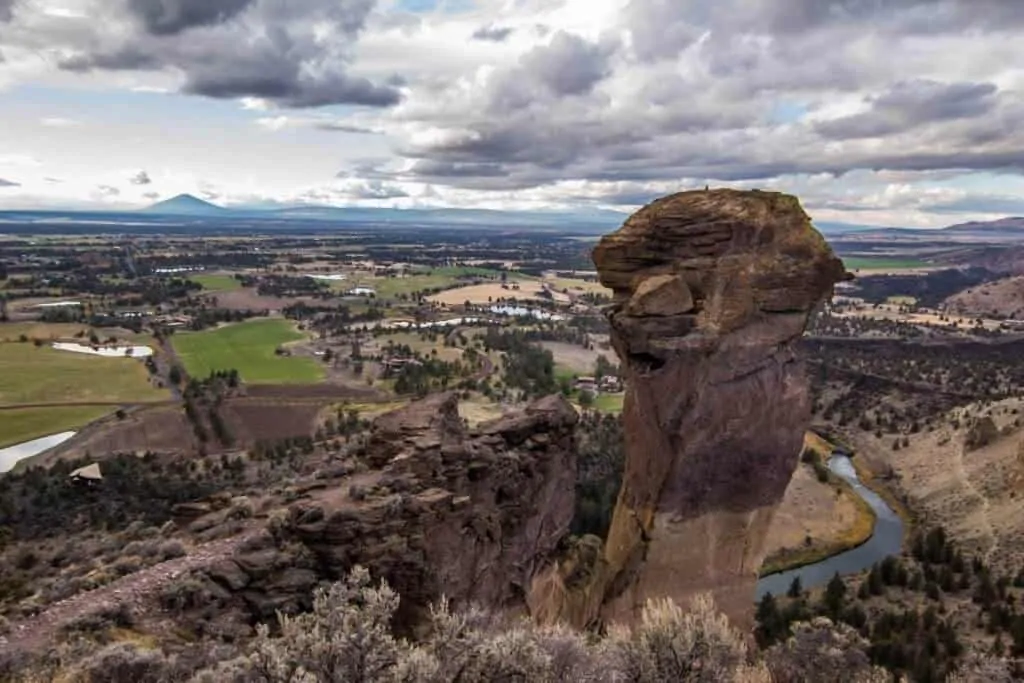 Scenic views of deep river canyons, endless opportunities for rock climbing, and an abundance of cool wildlife. Welcome to Smith Rock State Park – an outdoor playground for adventurers.
Nina Ragus is no stranger to adventuring in Oregon. She writes for the blog, Oregon is for Adventure, where she shares her favorite things to do outdoors throughout the state. Smith Rock State Park is one of her favorite places.
Nina recommends taking the Misery Ridge Trail on your first visit. The main trail is a 2.2-mile out-and-back hike, but you can easily combine it with other trails within the park to make a longer loop. "You'll tackle rocky and sandy terrain and gaze at the surrounding stunning mountains or the crazy rock formation around you like Monkey Face Rock."
If you want to spend a few days exploring, be sure to read Nina's guide to Smith Rock State Park hiking trails before setting out.
Walk-in tent camping is available at Smith Rock State Park (no reservations), but RV camping and sleeping in your car are not permitted.
Visit Smith Rock State Park's website
---
Best State Parks in the Eastern United States
Don't neglect the eastern United States when searching for the best state parks in the US. The state parks in this part of the country may be smaller overall, but they are numerous and so beautiful! As Vermonters, we spend a lot of time driving up and down the eastern seaboard, and we've discovered some of the most beautiful wilderness along the way.
Burton Island State Park, St. Albans, Vermont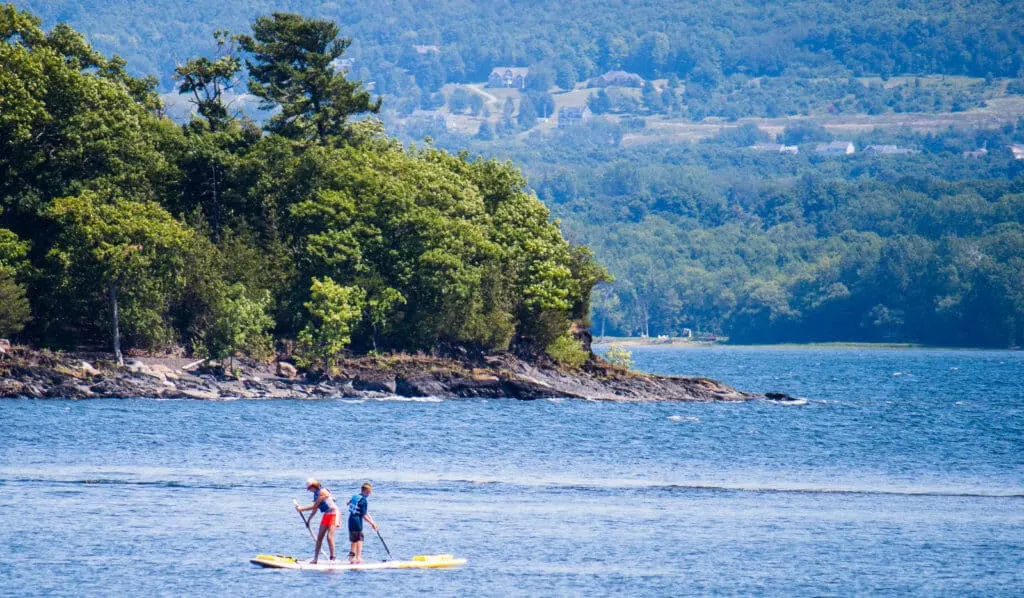 Burton Island is a 253-acre park just off the shores of St. Albans, Vermont in northern Lake Champlain. It's one of the most beautiful state parks in Vermont, especially in the summer.
You can only get there by boat, and there are no cars on the island. The Island Runner, a Vermont State Park ferry, runs campers and day-trippers out to Burton Island several times a day through the summer. If you have your own boat, Burton Island provides slips for overnight use, complete with hook-ups and your own fire pit.
Burton Island State Park has a variety of camping opportunities — from secluded, primitive sites and waterfront lean-tos, to brand-new cabins with beds and electricity.
The small marina is the hub of the island, with free Wi-Fi and a lovely cafe and store called the Burton Island Bistro. The bistro provides campers with breakfast, lunch, and snacks, plus a nice selection of beer and wine.
Life is a bit slower on Burton Island. It's the perfect place to hang the hammock, catch fireflies, and tell stories 'round the campfire.
Visit the Burton Island State Park website
---
Grayson Highlands State Park, Mouth of Wilson, Virginia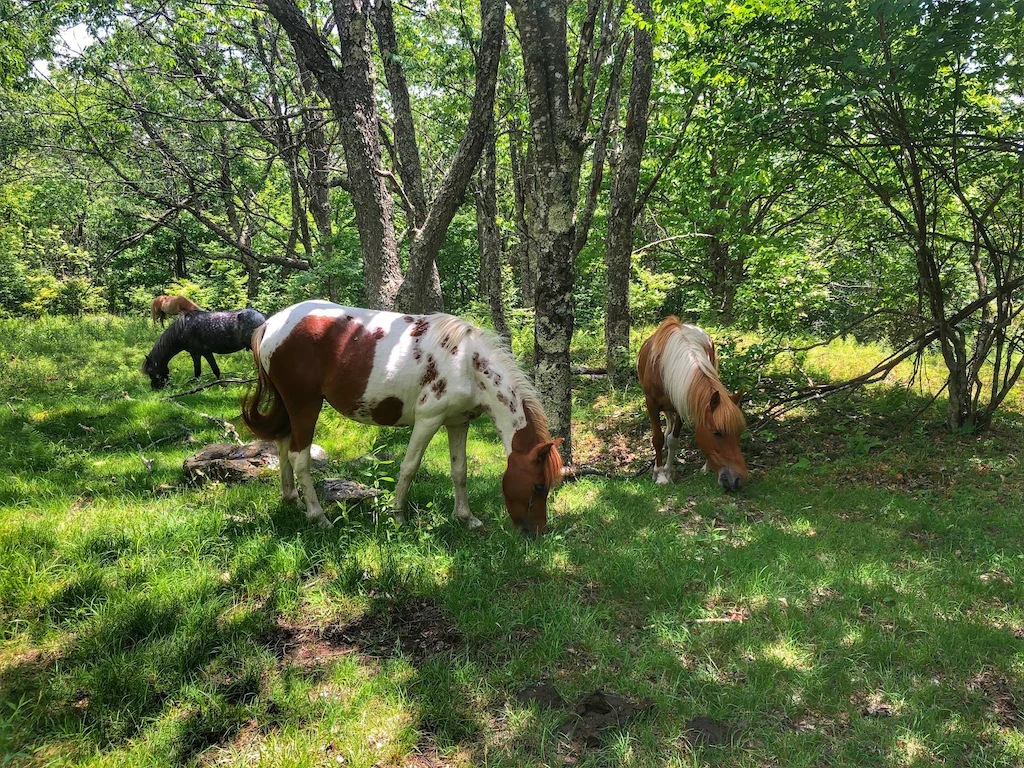 Looking for a unique park in the Appalachian Mountains where you can hike with wild ponies?
Tucked away in the southwest corner of Virginia are 4,502 acres of rolling hills, windswept ridges, and dense forest that make up Grayson Highlands State Park.
This massive park maintains more than 25 miles of hiking trails, as well as access to the Appalachian Trail and backpacking loops within Jefferson National Forest. It is a very popular destination for hikers, backpackers, mountain bikers, horseback riders, and campers.
Grayson Highlands completely wowed me with its gorgeous scenery, amazing hiking trails, well-appointed campgrounds, and feral ponies. Ponies! You can hike alongside these beautiful creatures, which is an absolute highlight in my humble opinion.
This enchanting spot in the Virginia mountains rivals many of the national parks we've been to, and it's at the very top of our list of best state parks in America.
Visit the Grayson Highlands State Park website
Reserve a cabin or campsite at Grayston Highlands
---
Grandfather Mountain State Park, Banner Elk, North Carolina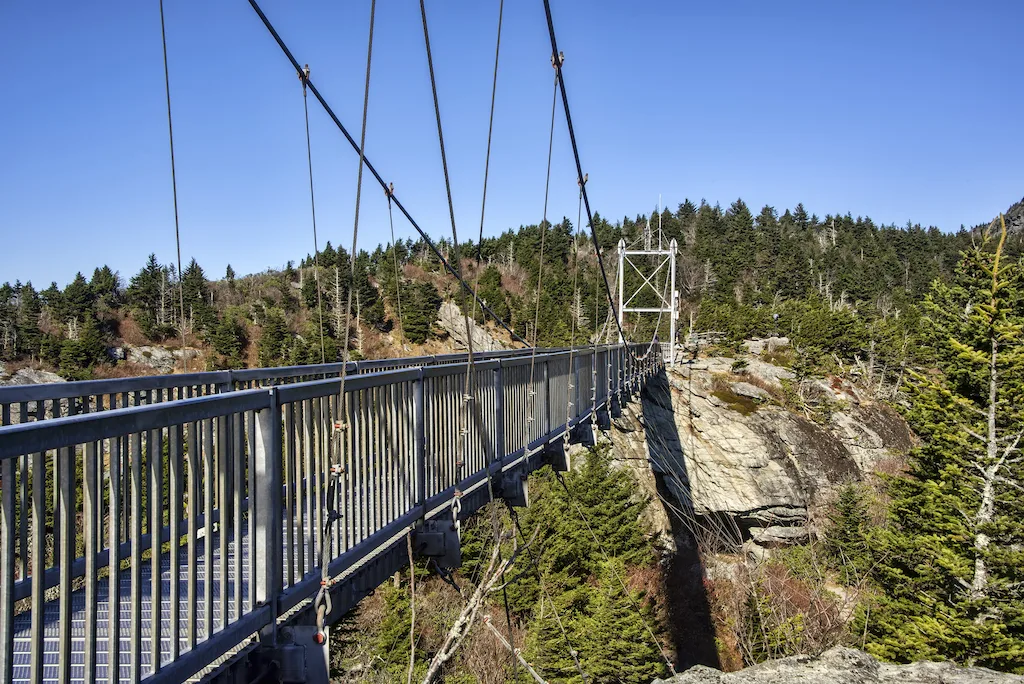 The iconic Grandfather Mountain is a beloved site along the Blue Ridge Parkway in North Carolina, offering breathtaking scenery, recreational opportunities, and ecological diversity. Grandfather Mountain State Park encompasses 2,456 acres of backcountry, providing spectacular hiking and backpacking on challenging terrain.
12 miles of trails and backpacking campsites can be accessed from Route 105 or from trailheads on the Blue Ridge Parkway. To visit the popular mile-high swinging bridge, visit Grandfather Mountain Stewardship Foundation and purchase tickets before visiting.
Carl Hedinger, who runs the blog NC Tripping with his wife, Christina, recommends hiking to the swinging bridge to avoid parking issues. "The wind when trying to cross it is just a bit too scary to describe. The beautiful view from the bridge is also impossible to capture."
Carl recommends stopping at the nearby nature museum on your way to Grandfather Mountain. Don't forget to buy fudge!
While camping is available at 13 backpacking sites, there are no front-country campgrounds in Grandfather Mountain State Park. NC Tripping recommends staying in nearby Blowing Rock, which is a small mountain town on the Blue Ridge Parkway.
Visit Grandfather Mountain State Park's website
Reserve a backcountry campsite
---
---
Cape Henlopen State Park, Lewes, Delaware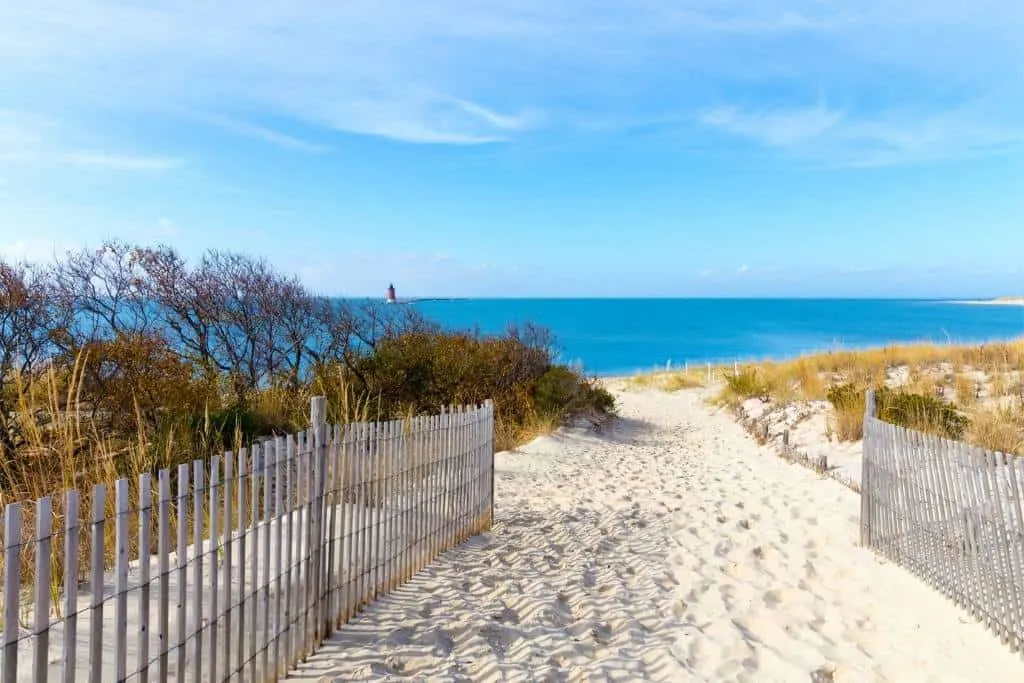 Crashing waves on a stretch of wild Atlantic coastline, miles of beautiful hiking trails, and affordable camping and cabins near the beach. Welcome to Cape Henlopen State Park in Delaware, the perfect stretch of sand for your next ocean getaway!
This gem of a park encompasses 5,193 acres in Sussex County, and according to the Delaware State Parks website, Cape Henlopen Beaches are some of the most popular in the state.
What makes Cape Henlopen State Park so awesome, though, is that there is way more to do than swim in the ocean or lie on the sand. Hiking, biking, fishing, disc golf, and kayaking are all easy ways to relax at Cape Henlopen. You could spend a week here and not run out of amazing things to do!
Visit the Cape Henlopen State Park website
Reserve a campsite or cabin at Cape Henlopen
---
Blackwater Falls State Park, Davis, West Virginia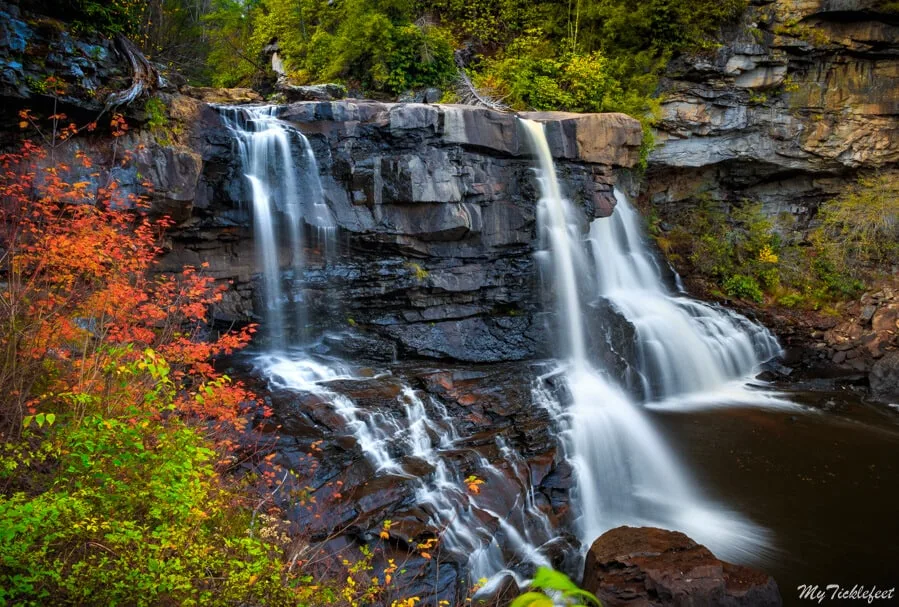 Located in the Allegheny Mountains of West Virginia, Blackwater Falls State Park is named for the amber waters of Blackwater Falls, a 57-foot cascade tinted by the tannic acid of fallen hemlock and red spruce needles.
These beautiful falls, along with some of the other natural features in the park, are some of West Virginia's most photographed spots. Blackwater Falls State Park has 20 miles of hiking trails, a comfortable lodge, a front-country cabin with 65 tent and RV sites, and 10 pet-friendly cabins.
Richa Joshi, from the blog My Ticklefeet, is no stranger to West Virginia's charms. She recommends visiting West Virginia in the fall for an epic weekend getaway. "Scenic views can be seen from a few different viewing platforms at Blackwater Falls. The best season to visit would be early autumn when the waterfalls and lakes are covered in shades of green, yellow, and orange."
Visit Blackwater Falls State Park's website
---
Adirondack Park, New York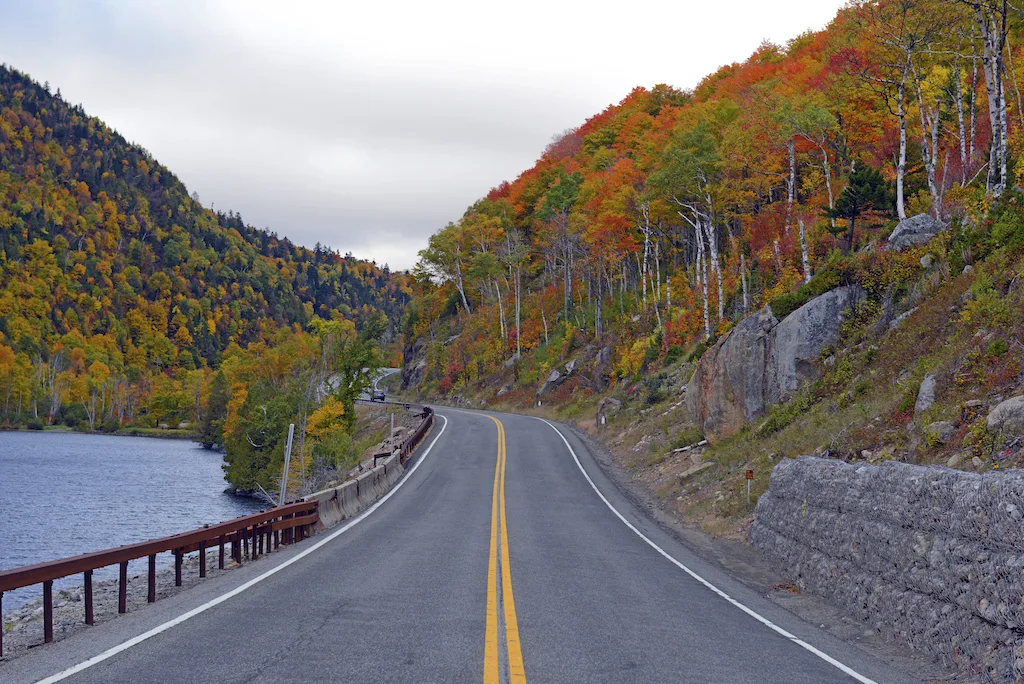 Created in eastern upstate New York in 1892 as one of the first Forever Wild Forest Preserves in the nation, Adirondack Park is a unique wilderness area and National Historic Landmark.
With more than 6 million acres, Adirondack Park is the largest publicly protected area in the contiguous United States and one of the best state parks in New York. The state of New York owns approximately 2.6 million acres and the rest are privately owned for forestry, agriculture, and recreation.
Technically, Adirondack Park isn't a state park, but as most of the land is state-owned, we're including it here. It's the largest National Historic Landmark in the United States, covering an area larger than Yellowstone, Yosemite, Grand Canyon, Glacier, and the Great Smokies National Parks combined.
This huge tract of wild land includes more than 3,000 lakes and ponds, 46 high peaks, and 2,000 miles of trails for all types of hikers.
With so many gorgeous spots to discover, you may have difficulty planning a visit to Adirondack Park. A long weekend is plenty of time to hike a few trails, check out some waterfalls, and paddle a lake or pond.
The secret is to choose a geographical region within the park and plan for recreation nearby. There are dozens of public and private campgrounds to choose from in Adirondack Park, not to mention a range of lodging, from the quirky to the luxurious.
To see a list of specific recreation areas in Adirondack Park, visit New York State DEC's website.
---
Read Next: Plan a Fall Weekend in Lake Placid and Adirondack Park in New York
---
Niagara Falls State Park, Niagara Falls, New York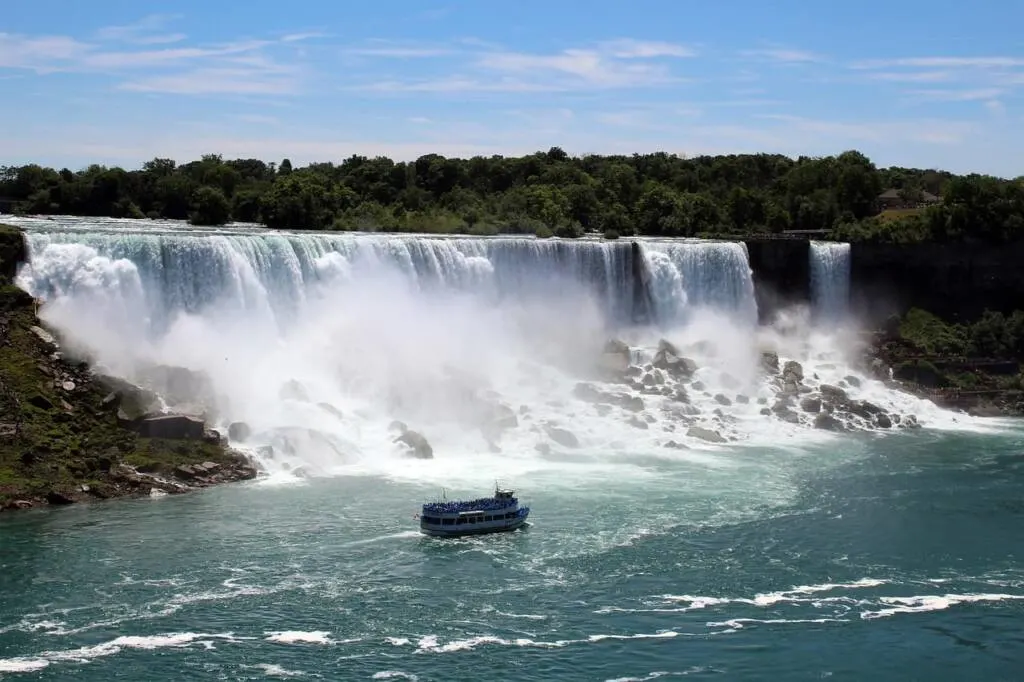 Established in 1885, Niagara Falls State Park was the first state park in the United States. Geographically, the falls or 12,000 years young, forming during the last Ice Age. Large torrents of water were released from the melting ice, draining into what is now known as the Niagara River.
Today Niagara Falls State Park is a popular tourist attraction that is open 365 days a year. Simply visiting the park is free, but there are fees for the special attractions, such as the Maid of the Mist boat ride and the Cave of the Winds tour.
Niagara Falls State Park is a day-use park with several easy hiking trails and viewing spots to take in the falls.
Karen Turner, from the blog Wanderlustingk enjoys viewing the falls from both New York and Canada. "One of my favorite things is to sit listening to the roar of the falls, a reminder of how mighty nature is."
Karen recommends visiting Niagara Falls during the summer and has published The Ultimate Guide to Niagara Falls to help you plan your trip.
Visit the Niagara Falls State Park website
Find lodging near Niagara Falls State Park
---
Purgatory Chasm State Reservation, Sutton, Massachusettes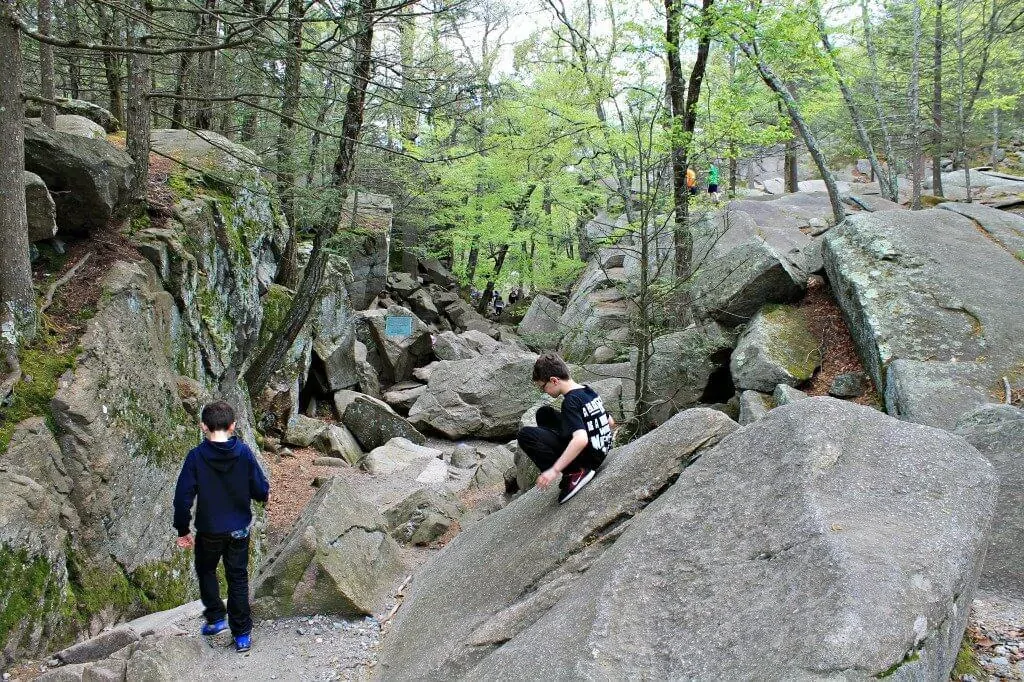 Purgatory Chasm in Massachusettes is full of fun geological formations just begging to be explored. It's a natural playground that kids love, although parents of toddlers may not agree.
Jamie Italiane-Decubellis, from the blog The Daily Adventures of Me, brings her kids here to release pent-up energy. "We start on the one-mile main trail that goes right through the center of the chasm. We end by climbing up onto the top of the chasm and exploring the nooks and crannies such as Fat Man's Misery, a cracked rock with a skinny trail through it."
Jamie's favorite highlights of the hike are the 75-foot Lover's Leap rock face and the jutting Devil's Pulpit. Read Jamie's guide to Purgatory Chasm State Reservation before planning your own adventure.
Purgatory Chasm State Reservation is a day-use park with steep fees for out-of-staters. If you are fortunate enough to have Massachusetts plates, you will pay $5 to get in. Otherwise, the fee is $20 for the day.
Visit Purgatory Chasm State Reservation's website
---
Anastasia State Park, St. Augustine, Florida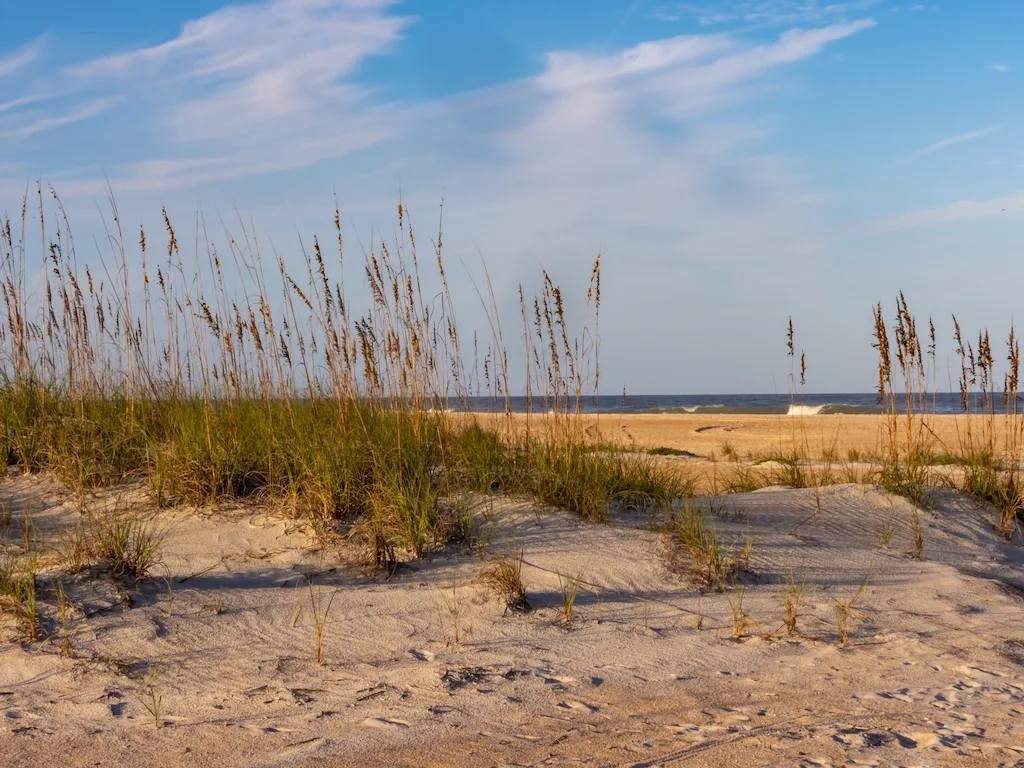 Anastasia State Park in St. Augustine, Florida encompasses more than 1,600 acres of unspoiled beaches, tidal marshes, and ancient sand dunes, making it a captivating destination for visitors. It's a haven for wildlife, with huge populations of birds, including the colorful roseate spoonbills, osprey, eagles, painted buntings, and different types of warblers.
For beach-based activities, Anastasia is one of the best state parks in the US. Visitors can observe wildlife along the beach, from a canoe or kayak, or on the Ancient Dunes Nature Trail.
The park's 139 campsites are just a short stroll from the beach, making the campground a wonderful home base for numerous outdoor adventures in the area.
Mary Chong, from Calculated Traveller, recommends riding your bike from the park into the historic city of St. Augustine, where you can enjoy a bowl of local Minorcan clam chowder. If you do decide to follow Mary's advice, read her guide to St. Augustine before planning your adventure.
Visit Anastasia State Park's website
Franconia Notch State Park, Lincoln and Franconia, New Hampshire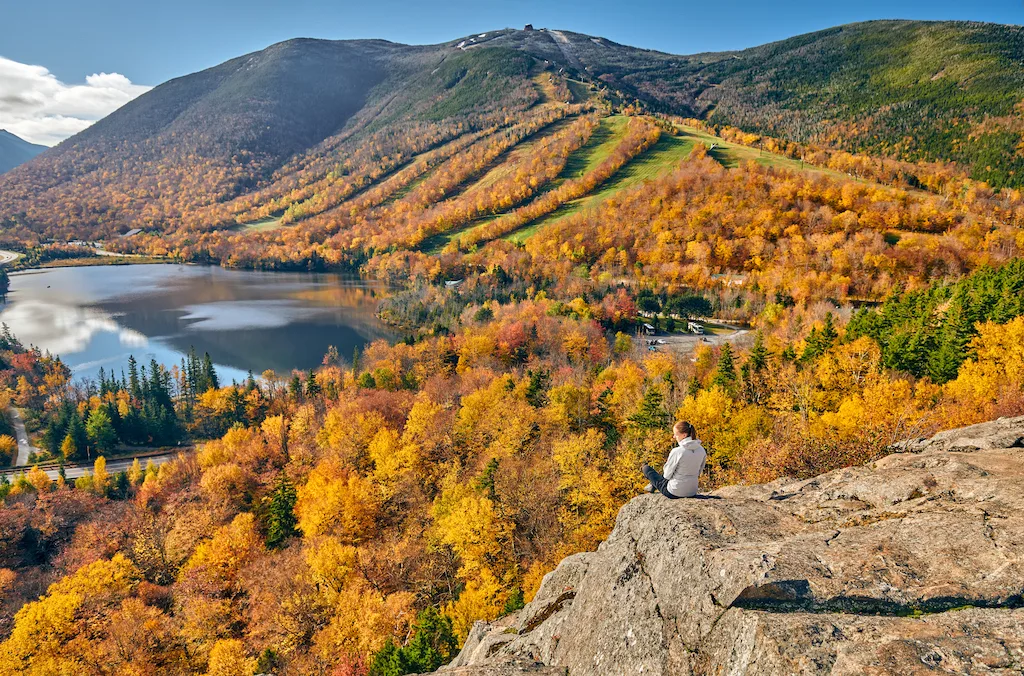 Cascading waterfalls. incredible hiking trails. Mind-blowing fall foliage. The White Mountains of New Hampshire are an outdoor lover's playground in the summer and fall, and the best place to find all of this is in Franconia Notch State Park in Franconia and Lincoln, New Hampshire.
Franconia Notch State Park spans 6,693 acres in the White Mountains and is one of those state parks that rivals many national parks in the United States.
Spend at least a weekend exploring this massive park. Ride the Cannon Mountain Aeriel Tramway, hike to the top of Artist Bluff, discover the amazing waterfalls on the Flume Gorge Trail, and rent a kayak to paddle Echo Lake.
In Franconia Notch State Parks, you will need to make reservations and pay an extra fee to visit Flume Gorge, Echo Beach, and Cannon Mountain Aeriel Tramway.
Dogs are permitted on the trails in Franconia Notch State Park, but they aren't allowed on the Flume Gorge or in campgrounds.
Visit the Franconia Notch State Park website
Reserve a campsite in Franconia Notch State Park
---
Best State Parks in the Midwest
Welcome to the midwest – home of secluded forests, amazing waterfalls, and the Great Lakes! These incredible state parks provide so many opportunities to unplug and explore.
Tettegouche State Park, Silver Bay, Minnesota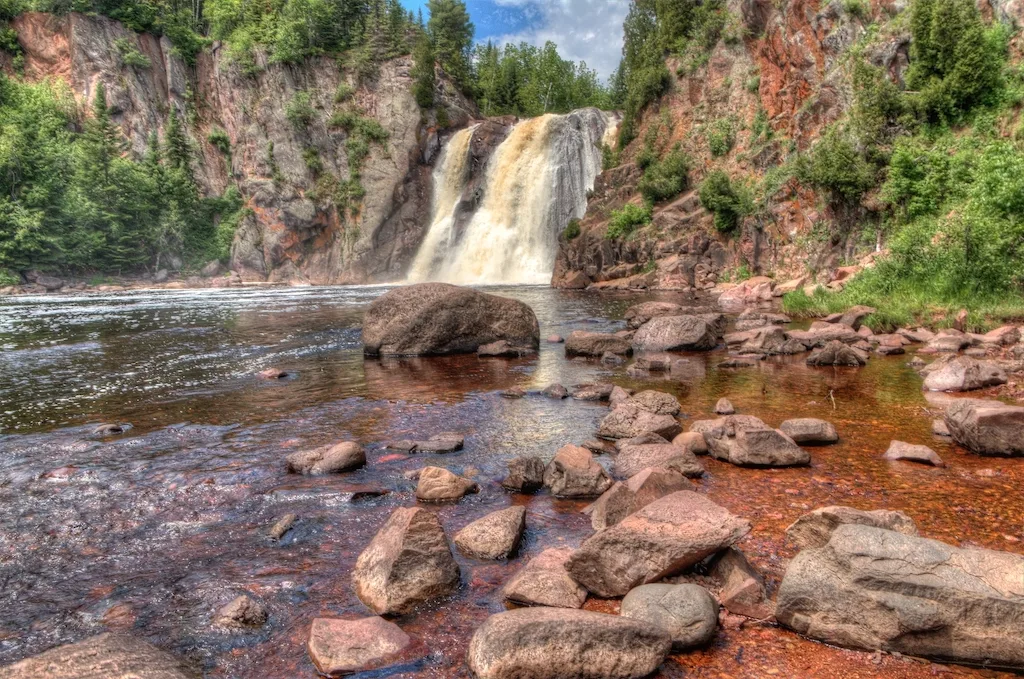 There is no shortage of gorgeous state parks in Minnesota, and Tettegouche State Park includes Lake Superior viewpoints, cascading waterfalls, beautiful year-round campsites, beaches, and hiking trails. The park is also known for rock climbing, paddling, and birdwatching.
This is Marth Lueders favorite state park on Lake Superior. Marth writes the blog Quirky Globetrotter, where she shares about her adventures around the world. "Make sure you hike the Shovel Point trail to bask in the 180-degree views you get of Lake Superior and the cliffed coast as well as the hike to High Falls."
While Marth doesn't recommend swimming in Lake Superior because of its frigid temperatures, she advises that you come prepared for lots of hiking.
There are numerous camping and lodging options. Choose from traditional car camping sites, walk-in sites, or rent a cabin for a little bit of luxury.
Visit Tettegouche State Park's website
---
Hocking Hills State Park, Logan, Ohio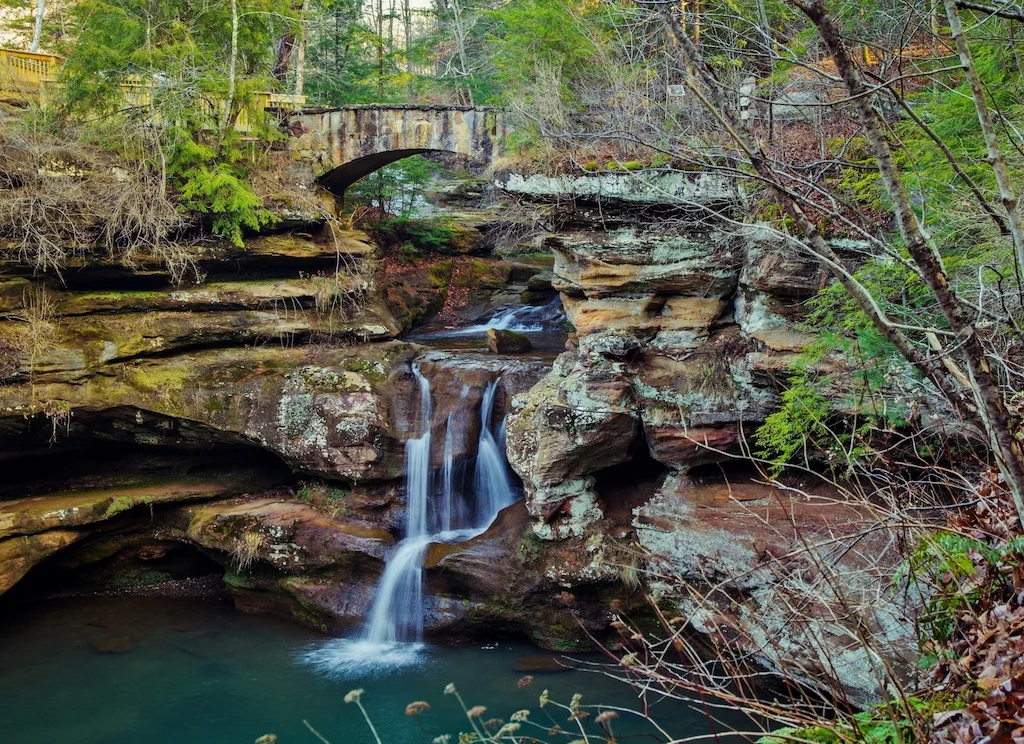 Located in southeastern Ohio, Hocking Hills State Park is the most popular state park in Ohio and one of the best state parks in the USA. It has received national and international acclaim as a top park to visit in all four seasons.
The park features towering cliffs, numerous waterfalls, and deep, hemlock-shaded gorges for hikers and nature lovers to enjoy. Visitors can look forward to views of wildflowers adorning the forest floor in springtime and vivid foliage in the fall.
Tonya Prater, who lives in Ohio and writes the blog, Travel Inspired Living, loves visiting Hocking Hills. She says the park is most popular among photographers, bird watchers, and hikers, but also provides endless opportunities for canoeing, rock climbing, and stargazing. "My favorite trails are Old Man's Cave, Ash Cave, Cedar Falls, Cantwell Cliffs, and Rock House"
Lodging options range from tent and RV camping and comfortable cabins in the park to nearby hotels, cottages, and luxury cabins. Tonya has reviewed many of the nearby lodging choices, as well as the trails and other activities. Read all of her Hocking Hills articles before planning your trip.
Visit Hocking Hills State Park's website
---
America's state parks are outdoor playgrounds for adventure lovers. Whether you planning a hike, a camping trip, or just want to find a place to relax for the afternoon, there's a beautiful state park with your name on it.
Do you have a favorite state park in the US? We'd love for you to share it with our readers in the comments below.
---
Follow us on social media for more explorations of the best state parks in the US!
Pin for Later?
Pin for Later?