Today I'm welcoming guest-blogger Annie from the blog, Adventure of the Day. She shares some insider information about visiting her hometown of Peterborough, NH. Welcome, Annie!
---
Peterborough is a charming small town nestled in southern New Hampshire. A mix of culture and outdoor beauty make this town the perfect destination for a quaint weekend away from home.
The Peterborough town center is located right off Route 101, so it is easy to find. It is only an hour and a half drive north from Boston, Massachusetts, and an hour drive from Concord, New Hampshire. If you live in New England, then Peterborough, NH is a must-see.
I was lucky enough to be raised in this wonderful town and have spent over fifteen years exploring it. There is no better way to plan a visit than asking a local for travel advice. Here are my favorite aspects of the lovely community of Peterborough, NH.
Peterborough, NH Culture
Peterborough is one of the many towns in the Monadnock Region of New Hampshire. The Monadnock Region has a strong community that encompasses much artistic and historic culture.
It is known for its local artisans and historical landmarks. Peterborough alone encompasses so much of the enriching culture the region is famous for.
The Peterborough Players is a theater company that puts on amazing shows in its historic theater. With its talented actors and diverse show lineup, this theater provides a great source of entertainment for both locals and visitors.
Peterborough, NH Restaurants and Shopping
Downtown Peterborough is a picturesque scene of small clothing boutiques, hip coffee shops, and flower-lined sidewalks.
Locally-owned small businesses make up the bulk of the Peterborough economy. You can find some truly unique gifts in these shops, many of which are made by local craftsmen. There is also a good selection of dining options, which is impressive for such a small town.
Peterborough is renowned for Harlow's Pub. This funky, affordable pub serves the ultimate comfort food while providing a cool atmosphere. You can enjoy a nacho platter or hearty sandwich while listening to a local band perform.
For a nice night out in Peterborough, the Water House or The Pearl are two classy restaurants that serve great food. Twelve Pine, The Bagel Mill, and Aesop's Tables are just a few of my preferred lunch destinations.
Whether you need a homemade bowl of soup or cup of joe, these are two of Peterborough's most popular spots to eat. Yet if you want an authentic, freshly brewed cup of coffee then you must make your way over to Parker's Coffee House. Located in an old mill factory, this coffee house freshly roasts its coffee beans, which makes for a rich, smooth cup of coffee that is hard to come by at any old coffee shop.
Regardless of where you wander around Peterborough, NH, there is no shortage of good food and drink.
Exploring the Outdoors in Peterborough, NH
Though Peterborough is home to enjoyable small-town shopping, dining, and entertainment, by far my favorite aspect is the nature and outdoors that surround the town.
Peterborough has acres of lush pine and hardwood forests. The leaves turn bright colors in autumn. The vibrant yellows, reds, and oranges of the treetops attract hundreds of visitors each fall. Yet even in the spring and summer, there is much nature to explore in the area. From hiking, swimming, and boating, to biking, the Peterborough area is a hub of outdoor activity.
Within Peterborough's borders, there are a few great recreational locations. If you own a kayak or canoe, then McDowell Dam is a great location for an afternoon of paddling. The dam creates a small reservoir that is open to kayakers.
This dam is home to unique wildlife. From geese to turtles, to fish, to even deer, the area is full of life. There are also a plethora of birds flying about. For anyone with a passion for bird watching, McDowell Dam is the place to go.
Pack Monadnock is also located in Peterborough and offers a short hike with a beautiful view at the top. This small mountain only takes an hour or so to hike up, but still offers a beautiful view of the Monadnock Region. For those interested in biking, there is one main bike path that runs through Peterborough, bringing you through downtown, along residential streets, and eventually through the woods. Biking along this path is another great way to spend the morning or afternoon.
Communities Surrounding Peterborough, NH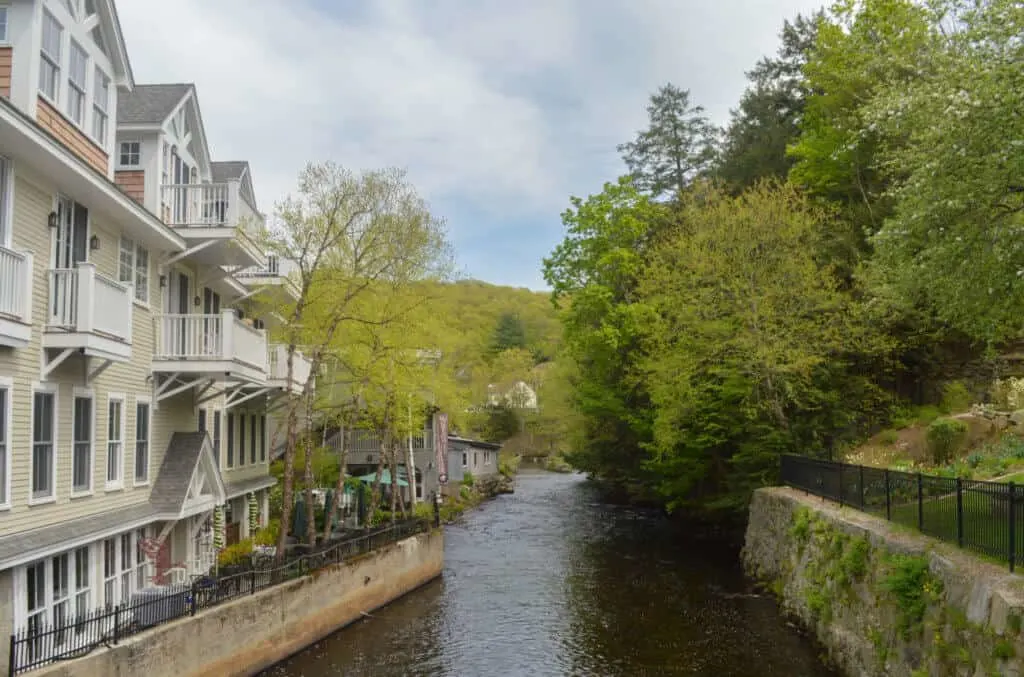 If you venture beyond Peterborough's borders to neighboring towns you will find more spots for hiking and kayaking. Mount Monadnock, which is located on the border of Dublin and Jaffery, NH, is an amazing hike. Over 125,000 hikers hike it each year, likely because of the beautiful, 360-degree view at the top. The hike takes about four hours round trip. Though some spots along the trail may be challenging due to rocky terrain and a steep incline, it is still doable for families with older children. Mount Monadnock is one of the most popular attractions the Monadnock Region has to offer and is easily one of my favorite hiking spots.
Neighboring towns also offer many lakes for kayaking and canoeing. Harrisville, New Hampshire is home to Silver Lake. Silver lake is a decent-sized lake large enough for a half-day of kayaking and swimming. Dublin Lake in Dublin, New Hampshire is another one of my go-to kayaking spots.
It is only a fifteen-minute drive from Peterborough and has clean water. If you are willing to drive about half an hour, then Willard Pond is a beautiful pond to visit as well. Perfect for swimming or some light kayaking, this pond is a quaint, pristine haven. Gilmore Pond is another great kayak location that is under a half-hour drive away from Peterborough.
Peterborough has an intriguing small-town charm that is well worth a visit. It is the perfect destination for a weekend getaway and will leave you feeling fulfilled and relaxed. From its charming town center to its endless potential for outdoor exploration, Peterborough, NH encompasses all the very best features New England has to offer.
Resources for Exploring Peterborough, NH, and the Monadnock Region
Explore New England – For more on what to see and do in Peterborough, NH, I recommend this article over at Explore New England.
Camping – While there are no campgrounds in Peterborough, the surrounding communities have plenty of spots to pitch your tent. Check out Monadnock State Park, or Woodmore Campground, which are both within 30 minutes of Peterborough.
Books and Maps About the Peterborough, NH Area (click on the photo for more info and prices):
Annie writes for

Adventure of the Day

Annie Henry is an outdoor enthusiast passionate about hiking, camping, and kayaking. She fell in love with the outdoors when she first began hiking as a young girl and has since spent many years exploring the nature of New England. She grew up in Peterborough. Even after fifteen years she still enjoys exploring the small town.