Ready to slow down and catch some fireflies on a wooded hillside?
Or maybe you're longing to sip a cup of coffee over a game of checkers on your private balcony in the forest? I think what you need is a one-of-a-kind getaway glamping in Lake George, New York.
And I have just the spot.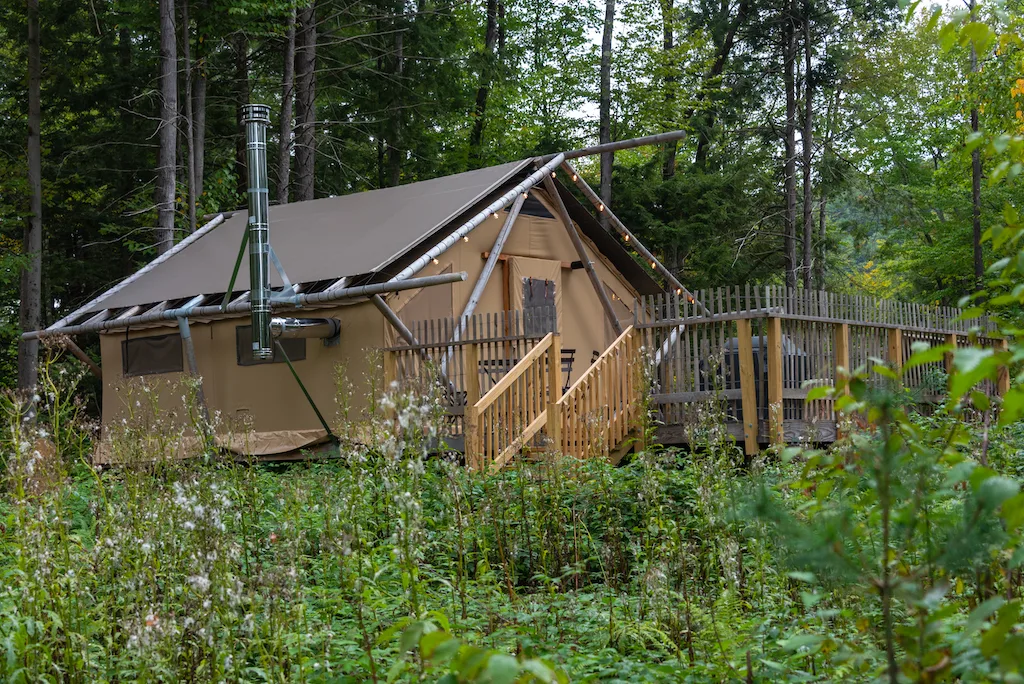 Huttopia runs a collection of beautifully rustic glamping resorts in North America, and the company just opened its fourth glamping resort near Lake George Village in New York's Adirondack Park.
Huttopia Adirondacks is tucked away in the woods near Lake Luzerne, just five miles from Lake George Village. If you want to discover all that the Lake George Area has to offer without the throngs of people that congregate downtown, a stay at Huttopia may be exactly what you need.
If you simply want to escape from the world for a few days, a stay at Huttopia is definitely what you need.
I spent a few very relaxing rainy days and nights at Huttopia Adirondacks in September.
This "shoulder" season was the perfect time to visit the Lake George Region. Many of the tourists fled with the fading summer sun, and the leaf peepers were still a couple of weeks from arriving.
Anytime is a good time for glamping in Lake George, though, so if you're looking for a relaxing solo trip, a romantic couple's getaway, or even a family escapade, read on.
This itinerary is the perfect mix of relaxation and fun.
Your Homebase for Lake George Glamping: Huttopia Adirondacks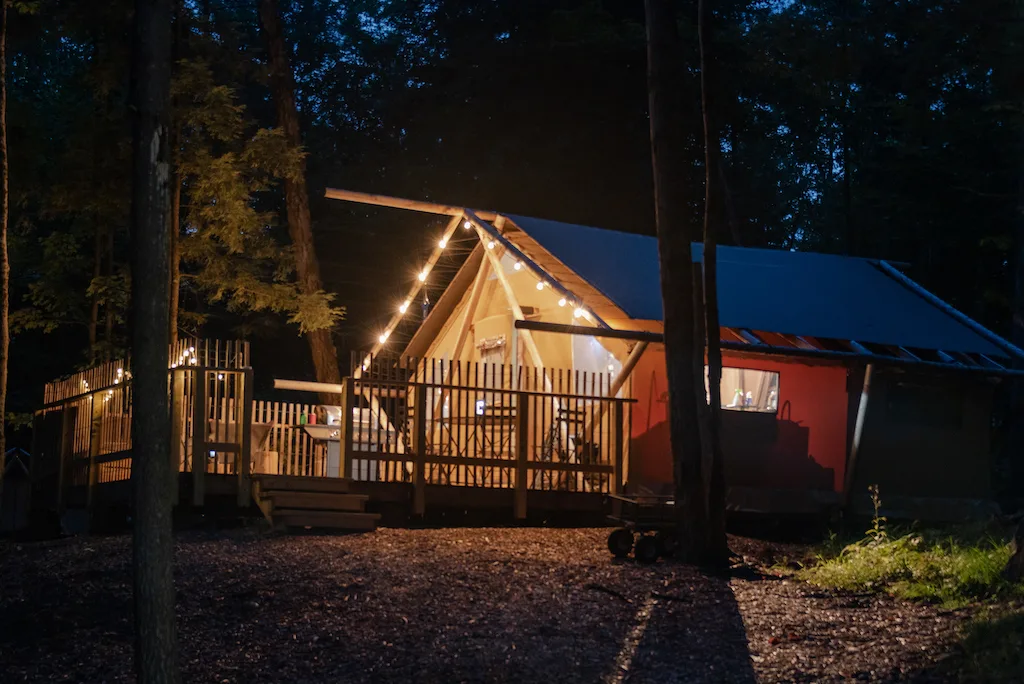 Huttopia has been offering unique opportunities for glamping and camping since 1999 with a few choice locations in North America. Huttopia Adirondacks opened in the spring of 2021, and another one opened in Paradise Springs, California in the summer of the same year.
Glamping brings together both comfort and camping, and Huttopia Adirondacks offers the perfect mix of the two in their premium Trappeur tents.
Family-size Trappeur tents are ideal for up to five people, and they provide glampers with many of the comforts of home, including real beds and woodstoves for chilly evenings.
The Huttopia Trappeur tents are made from canvas and wood with simple, but comfortable amenities so you can get back to nature without sacrificing a bit of comfort. While Huttopia offers a range of tents and cabins, we think the Trappeur tents are the perfect home base for your Lake George glamping vacation, and they recently made our list of best Adirondack cabin rentals.
---
Also Read: Hudson Valley Weekending – Minnewaska State Park in New York
---
Glamping Amenities at Huttopia Adirondacks
Trying to decide whether glamping in Lake George s is right for you? Here's what you can expect to find in Huttopia Trappeur tents.
Electricity – There are two outlets in the Trappeur tents – one in the bathroom, and one in the kitchenette.
Lighting – There is an overhead light that works for most tasks, but no electric lighting in the sleeping areas.
Mini fridge – No need to worry about keeping your cooler stocked with ice.
Gas grill – This is located outside on your deck.
Kitchen utensils – Everything you need for basic meals – pots and pans, silverware, a coffee percolator, a can opener, and a corkscrew. I think Huttopia thought of everything.
Kitchen sink for washing up – Plus a dish drain, sponge, towels, dish soap, and a multipurpose cleaner.
Full bathroom with a shower – I'm not going to lie, the bathroom in my Huttopia Trappeur tent was nicer than my bathroom at home. There's plenty of hot water, fluffy towels, and shampoo.
Lantern – With a rechargeable battery for indoor/outdoor use.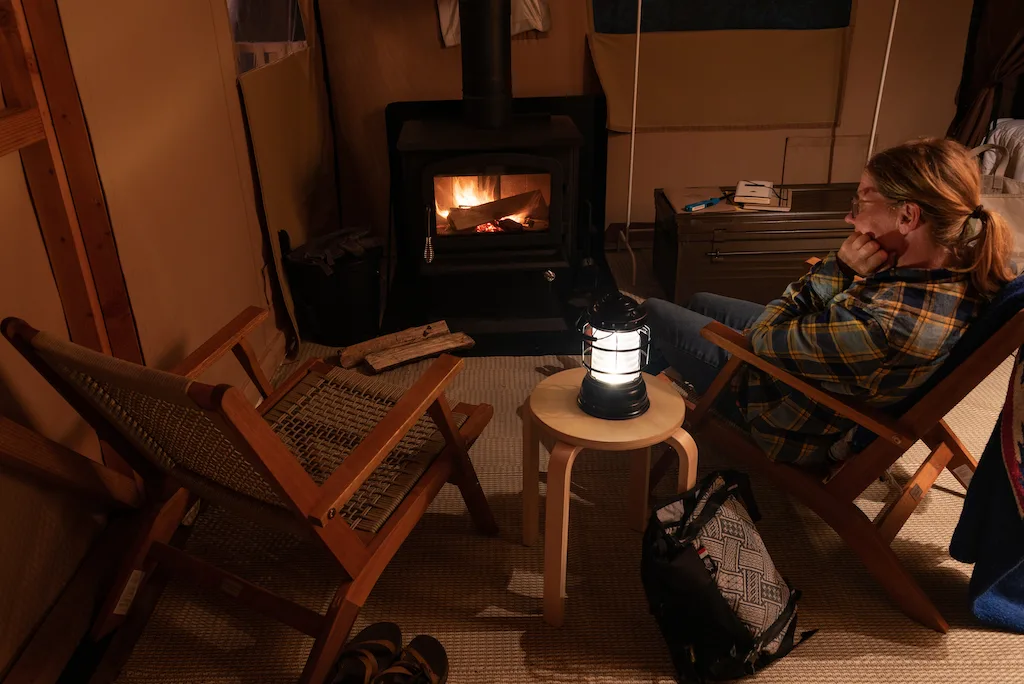 Comfy beds with linens – No need to pack sleeping bags and sleep on the ground when you're glamping. The beds are firm and comfortable, and there are extra blankets if needed. The Trappeur tent has beds for five. The Trappeur duo has one bed for two people.
Woodstove – Perfect for keeping your glamping tent warm on chilly nights.
Deck furniture – Deck chairs and a dining table for relaxing outside.
Onsite Amenities at Huttopia Adirondacks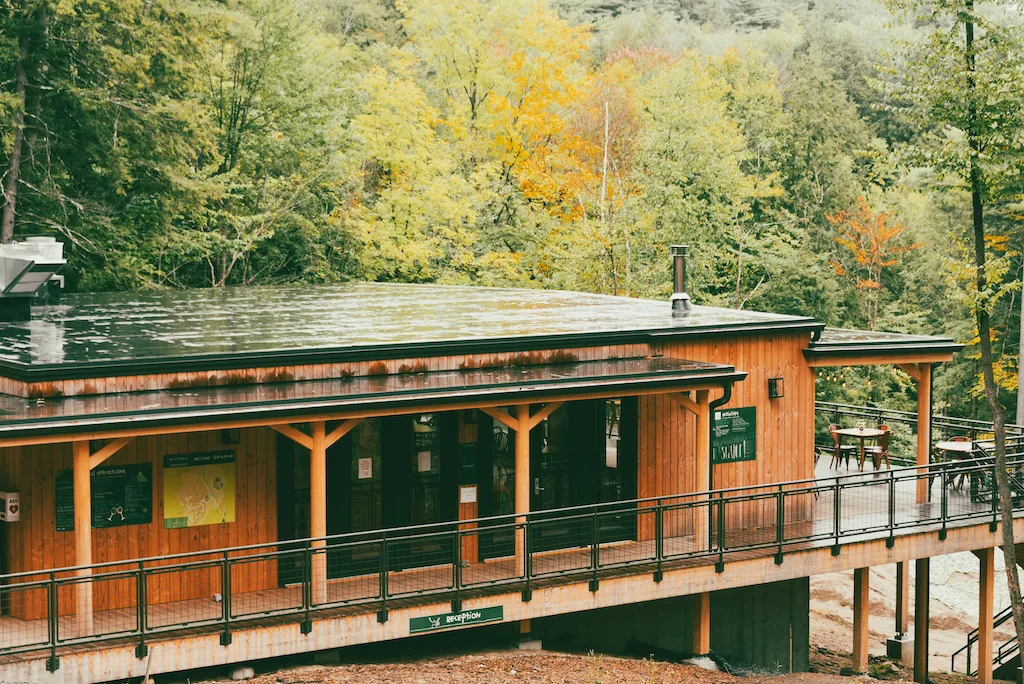 Huttopia Adirondacks is more than just a collection of Lake George glamping tents. You can also take advantage of an onsite heated pool, a full restaurant (with crepes every morning), a camp store, hiking trails, and a playground.
Firewood and ice are both available for purchase, and there's Wi-Fi at the lodge if you need to stay connected. The lodge is also stocked with board games, a foosball table, and a library, making it the perfect retreat for rainy days.
What You Should Know Before Booking Your Lake George Glamping Vacation
Huttpoia is pet-friendly!
You have to park your car in a central lot and walk to your glamping tent.
The restaurant is only open on the weekends during the off-season (spring and fall).
You will have to purchase firewood for your woodstove and/or the outdoor fire pit.
What You Should Bring to Huttopia Adirondacks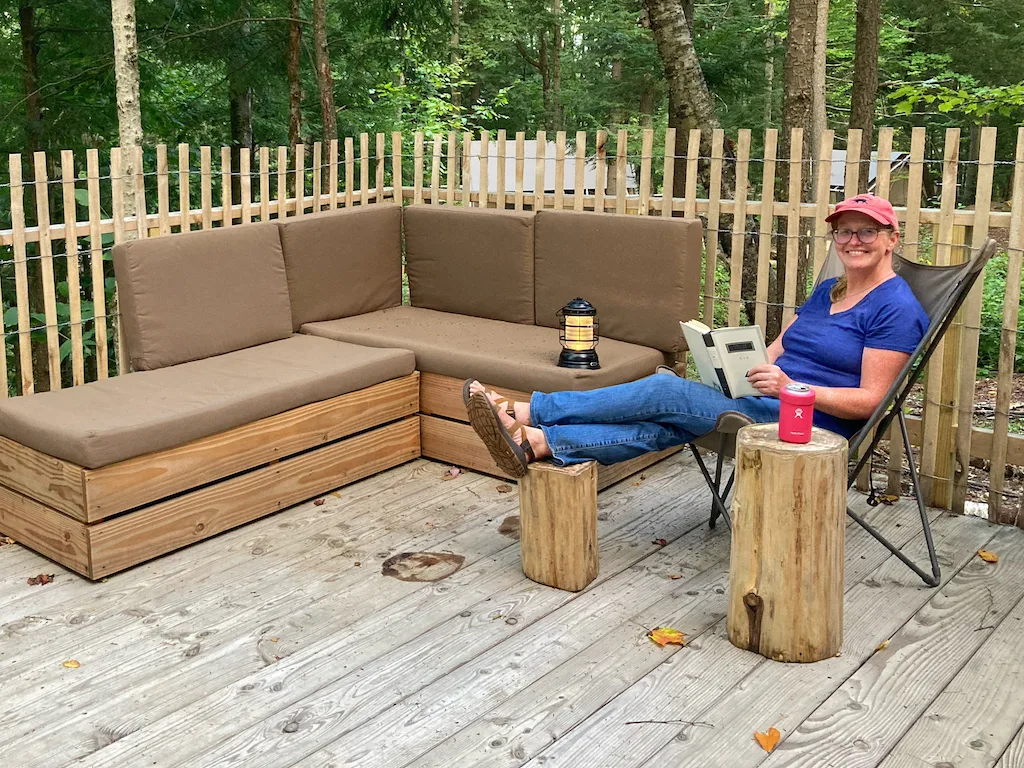 Because you have to park your car in a central lot and walk to your glamping tent, you should pack light.
Huttopia does provide wagons that you can load up and pull through the woods, but that isn't always easy, depending on where your tent is located on the property. Here are the essentials that you'll need for your Huttopia stay.
Food – You have access to an outdoor gas grill/burner for cooking, and you pretty much have everything you need in the small kitchenette, except your food of course.
Clothing – The weather in the Adirondacks can be unpredictable, so be sure to bring a mix of clothes for summer and cooler weather. A rain jacket and sturdy footwear are essential!
Extras – Bug spray is necessary, plus a selection of board games, a portable speaker, and some books/magazines. The glamping tents do have electricity, but the sleeping areas don't. If you like to read in bed, bring a headlamp.
The Perfect Lake George Glamping Itinerary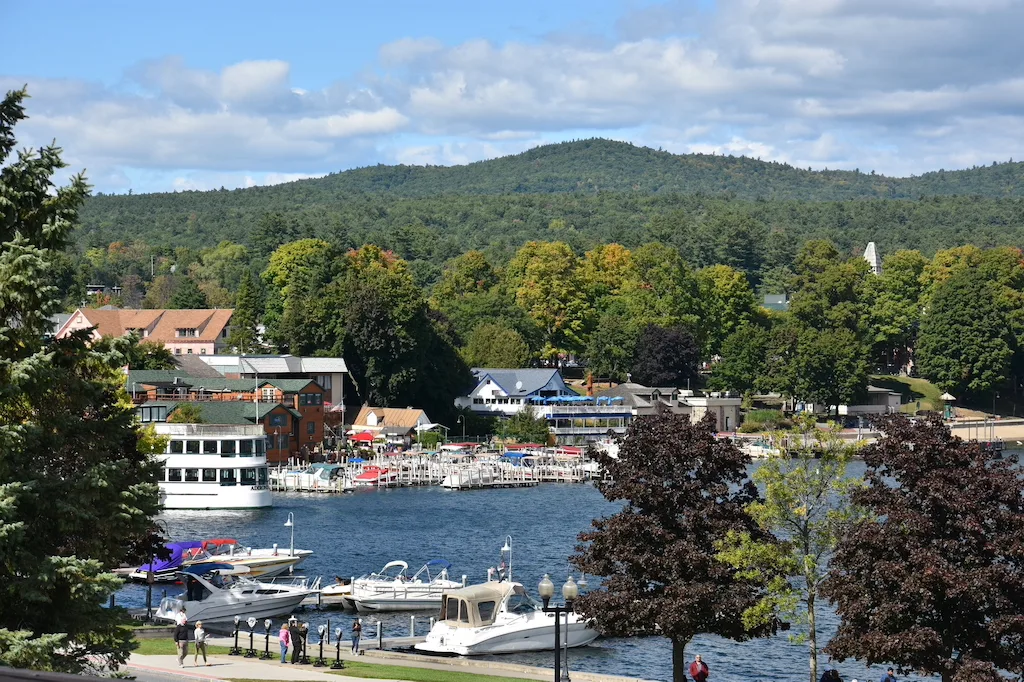 Ready to plan an unforgettable glamping vacation in the Lake George area of the Adirondacks? This weekend glamping itinerary is perfect for summer or fall and is based on a trip I took in mid-September.
Day 1: Prospect Mountain in Lake George
Your afternoon on Prospect Mountain is a choose-your-own-adventure kind of outing.
Looking for a good hike to get your heart pumping? Hike the 2.8-mile trail to the top, starting in Lake George Village and climbing 1,535 feet in elevation before getting to the top, where you'll see a decent number of friendly tourists taking photos of each other in front of several breathtaking vantage points.
The view from the top of Prospect Mountain looks out onto Lake George and the Adirondacks, and on a clear day, you can see 100 miles, all the way into Vermont.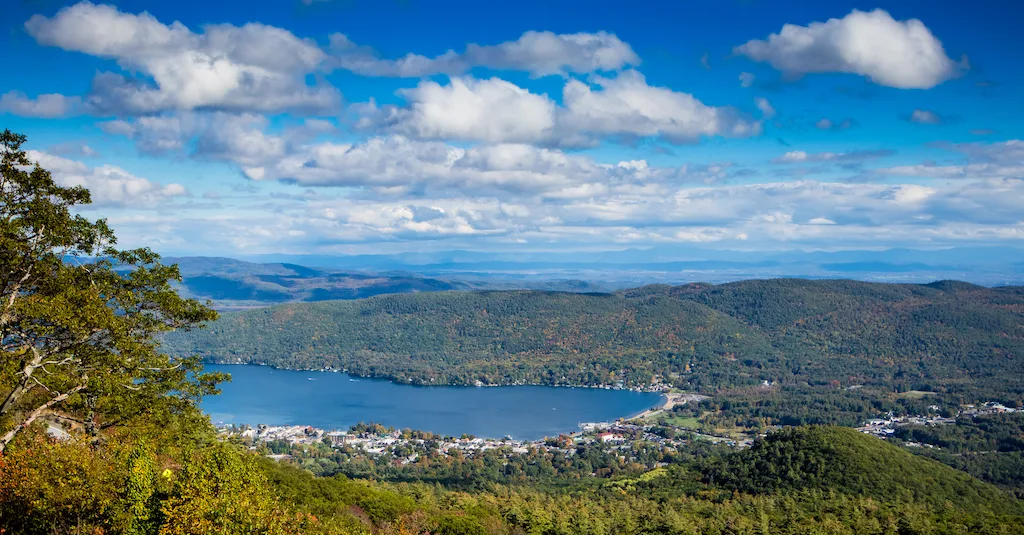 Don't feel like slogging up the mountain to meet up with all the folks that drove to the top?
If you can't beat 'em, join 'em, right? It'll cost you $10 to drive to the top of Prospect Mountain, where the signs at the bottom promise "picnic tables galore" at the top. To sweeten the pot, the powers that be have waived the $10 fee for 2022, so you can drive to the view (and the picnic tables) for free.
Whether you reach the top via your own power or that of your vehicle, it's worth heading up to Prospect Mountain, where you'll find a large parking area, restrooms, and picnic tables, plus the view, which is why all the other stuff exists.
After coming down the mountain, head into Lake George for ice cream or a walk along the lake before driving to back to your Lake George glamping retreat.
Dinner: Since this is a glamping vacation, I'm going to recommend that you rustle up some camp food. Your Lake George glamping tent has a fire pit and an outdoor gas grill. I went with the gas grill as it was spitting rain all through my visit. Throw some steaks on the fire if that's your thing, but you should also make loaded baked potatoes topped with broccoli and cheddar cheese. Yum!
Day 2: Excursion on Lake George with Lake George Steamboat Company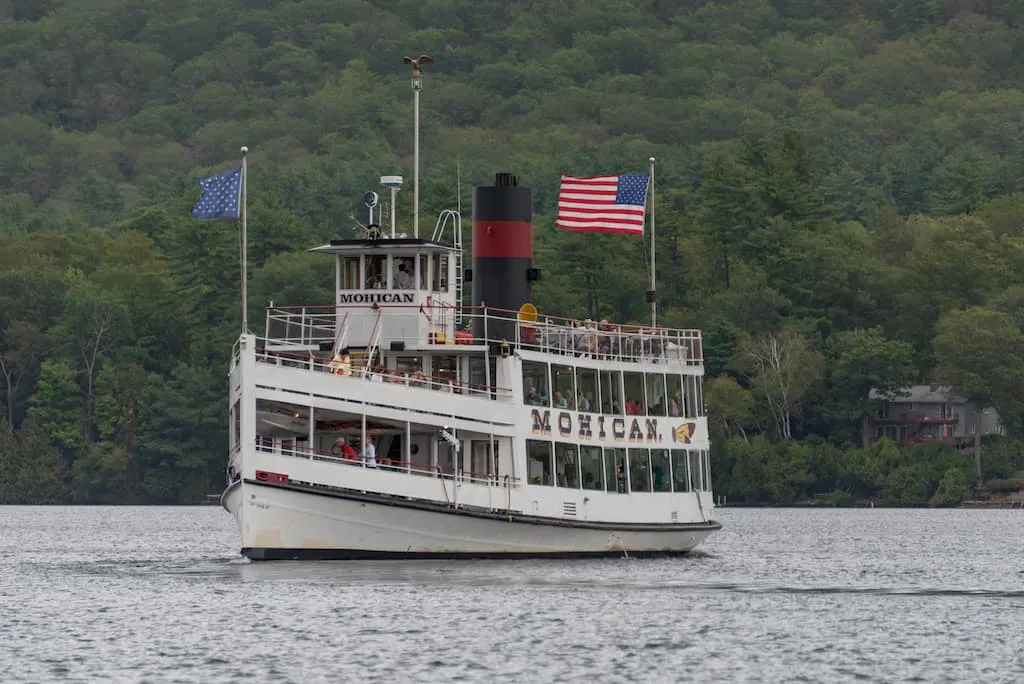 Today, we're heading back into Lake George for a tour of the lake with Lake George Steamboat Company, which began cruising the lake in 1817. It's the oldest continuously operating steamboat company in America. Alas, two of the boats are diesel-powered now. The third – Minne-Ha-Ha, still operates on steam!
During my visit, I choose a two-hour noontime cruise, which sailed from 11 am to 1 pm and went as far north as Bolton Landing.
The captain narrated as we motored north, telling us about all the rich and famous folk the lived (or still live) on Lake George. This information went in one ear and out the other, but I did retain some of the natural, geological, and historic information about Lake George to share with you, including –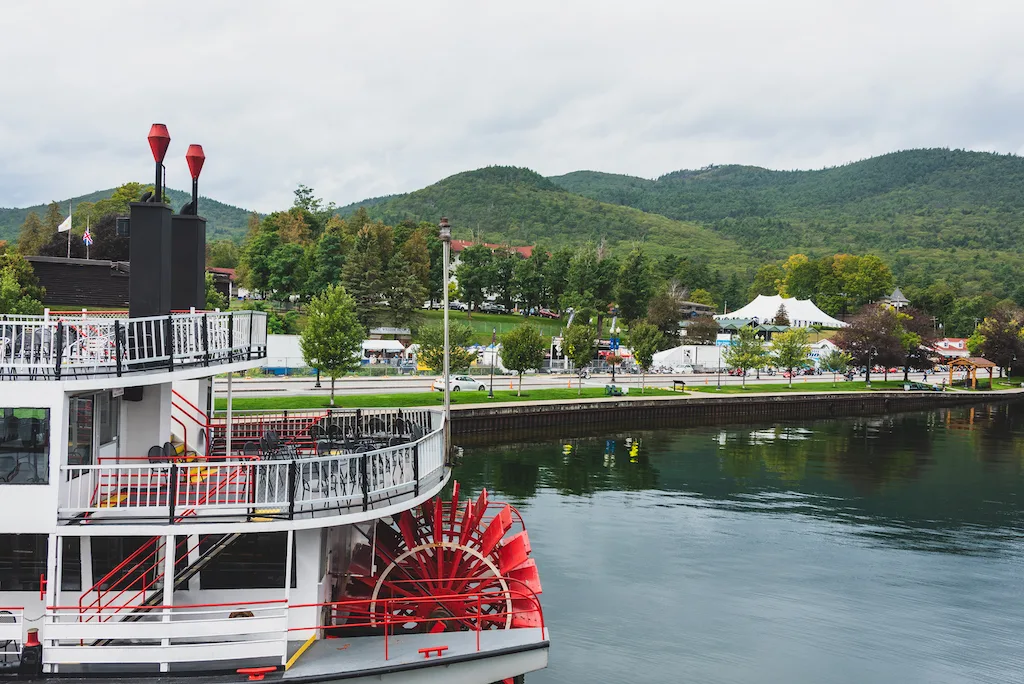 Once upon a time, the area that is now Lake George was actually two side-by-side rivers – one flowing north and one south.
The area surrounding Lake George was used for hunting by the Mahican and the Mohawk people of the Iroquois Confederacy.
The French discovered the lake and named it Lac du St. Sacrament, or Lake of the Blessed Sacrament in 1646.
It was controlled by the Iroquois Nation until 1740 and then disputed by the French and English in the French and Indian War.
The British named it Lake George after King George II.
The lake is 32 miles long, 200 feet deep at the deepest point, and has 108 miles of shoreline.
There are 183 islands in Lake George, and only 29 are privately owned. The rest are owned by the state, and many of them can be used for camping or picnicking.
Lake George is 25% spring-fed and flows north into Lake Champlain.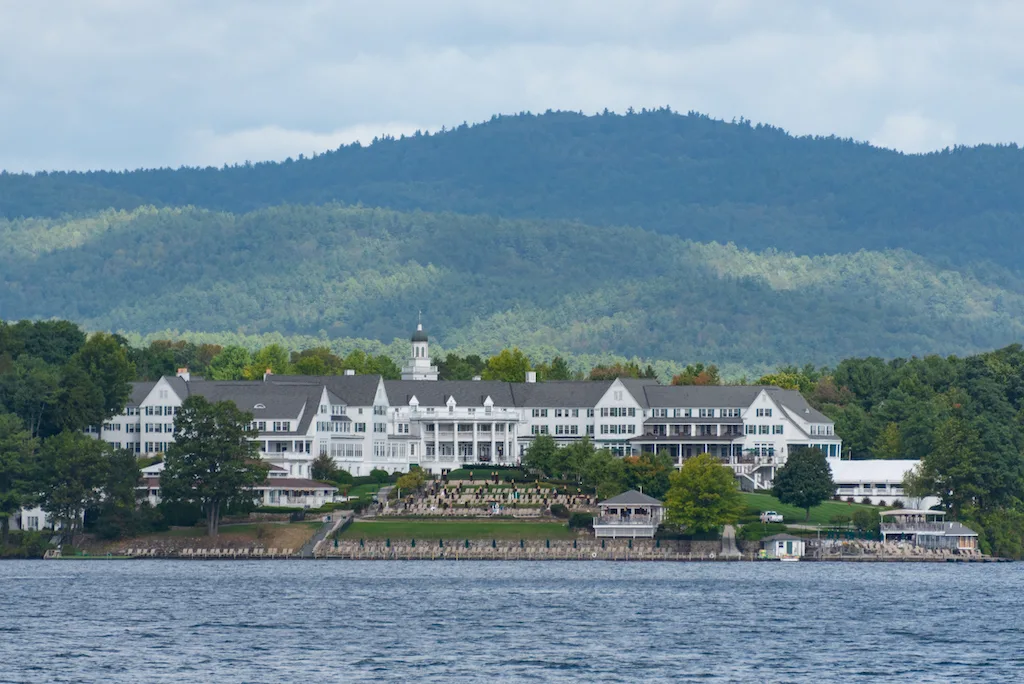 If you want to know more about Millionaire Row, as well as celebrities and notables who are associated with Lake George, you're just going to have to buy yourself a ticket to one of the Lake Goerge cruises. The scenery makes it 100% worth the money, and there's a bar and lunch service too.
Insider tip: In addition to your ticket, be sure to budget for parking. The official parking area for Lake George Steamboat company charges $15 to park. You can get a $5 refund if you show your parking ticket at the steamboat ticket window.
Day 3: Nettle Meadow Farm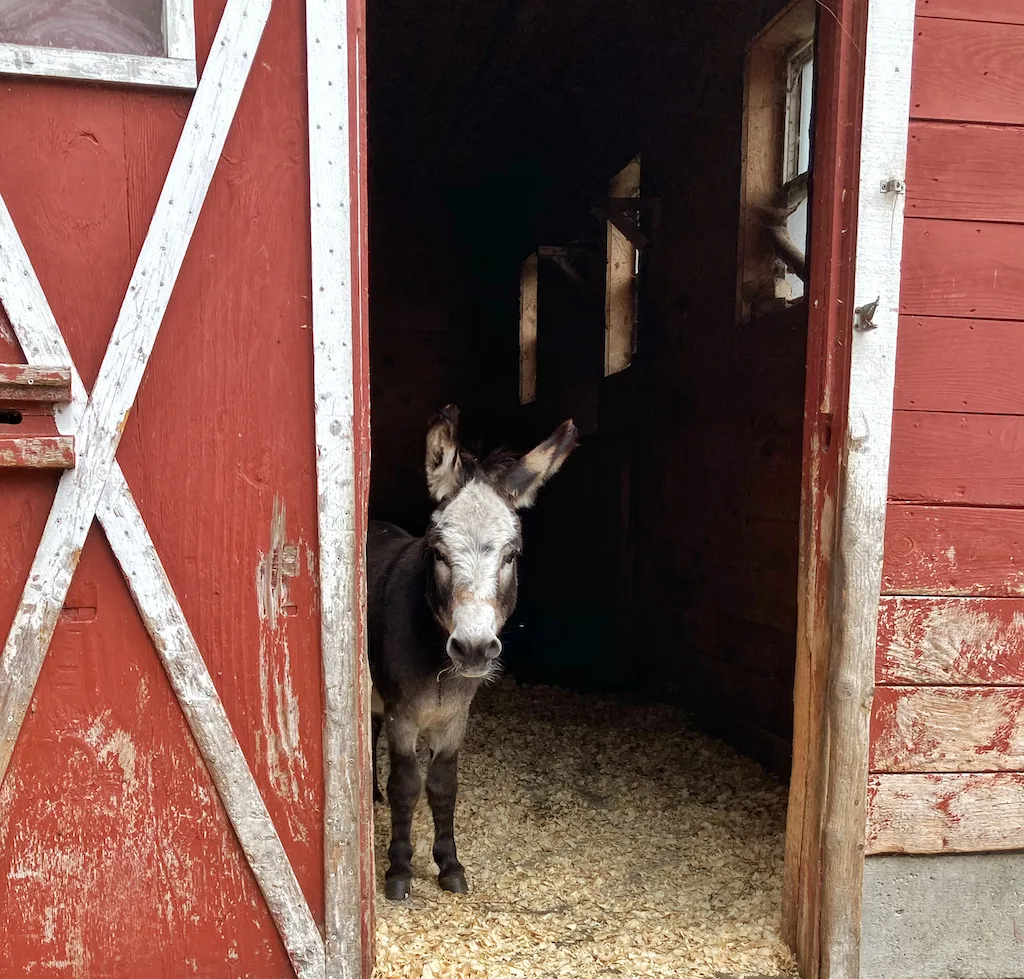 Located in nearby Warrensburg, Nettle Meadow Farm is a fun field trip for animal lovers and foodies. Not only do they make several varieties of award-winning cheese, but Nettle Meadow is also a farm animal sanctuary with over 100 farm animals that are elderly, differently abled, or have been abandoned.
Nettle Meadow Farm was founded in 1990 and is committed to the principles of natural and organic ingredients, happy and healthy animals, and carefully handcrafted artisan cheese.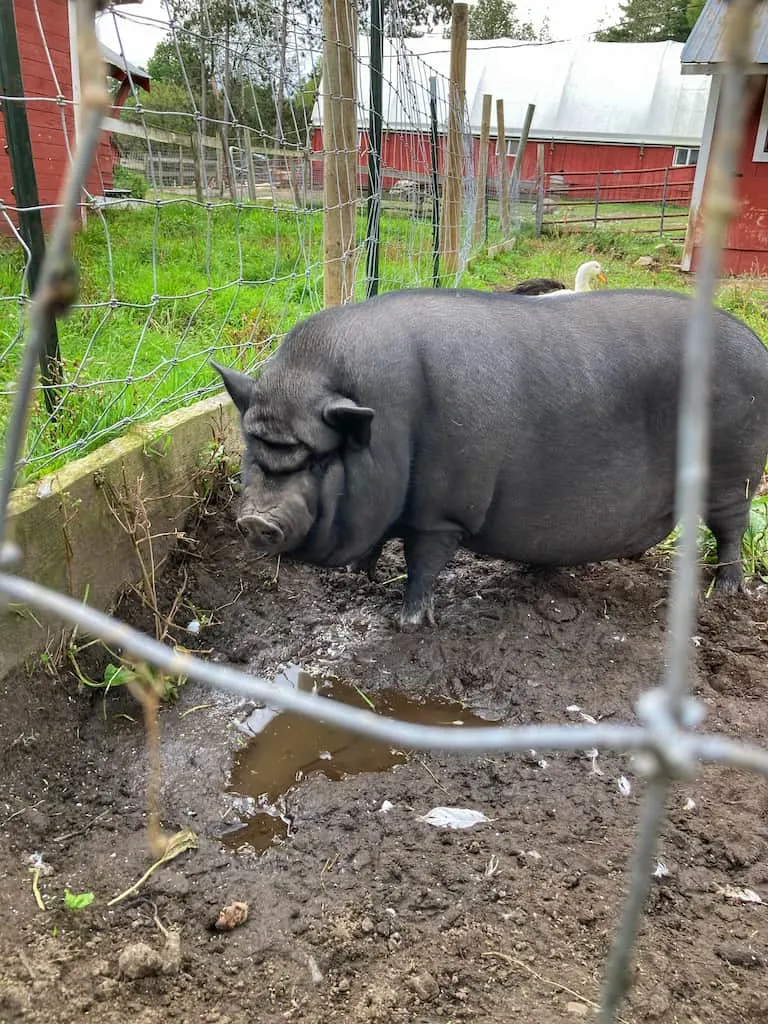 You can tour the farm, meet the animals, and purchase some amazing cheese while taking in the beauty of life at an Adirondack farm.
I admit that this was one of the highlights of my Adirondacks vacation. I got to hang out with goats, sheep, cats, donkeys, horses, and ducks. So much fun!
More Things to do in Lake George, New York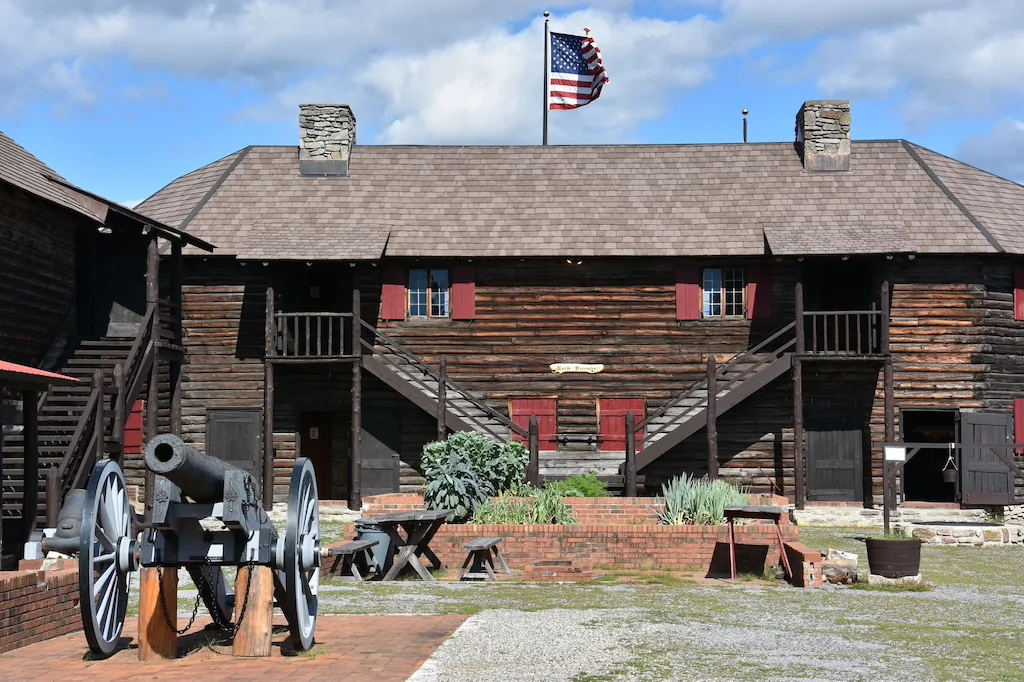 What's next? Lake George Village has every manner of attractions, including amusement rides, mini-golf, a wax museum, arcades, souvenir shops, breweries, and restaurants – enough to keep most people happily engaged for many hours.
If the regular tourist attractions aren't your scene, you've got other options. Here are a few other fun activities that we'd recommend in Lake George, New York.
Fort William Henry – Fort William Henry was a British Fort at the southern end of Lake George. It was built in 1755 during the French and Indian War. It was part of a chain of British and French first along the important waterway from New York City to Montreal. Today, Fort William Henry Museum allows you to step back in time, tour the reconstructed fort, and experience a musket and cannon fire demonstration.

Warren County Bikeway – This is a 9.4-mile paved bike path that travels from Lake George south to Glens Falls. Rent bikes on the Beach Road Steel Pier in Lake George, or at one of these locations.

Fort George Battlefield State Park – If you've already visited Fort William Henry and are interested in more 18th-century history, be sure to walk around the Fort George Battlefield, where you can see the sites of the Battle of Lake George (1755). There are picnic tables, ruins of an unfinished fort, and several monuments and interpretive signs.

Great Escape: Six Flags – Classic amusement park fun, just eight miles from your Huttopia glamping retreat.
Meals: Have lunch on the water. The food available on the Lake George Steamboat cruises is surprisingly tasty! For dinner, head back to Huttopia and make vegetarian white bean soup to enjoy on the deck.
Resources for planning your Lake George Glamping Trip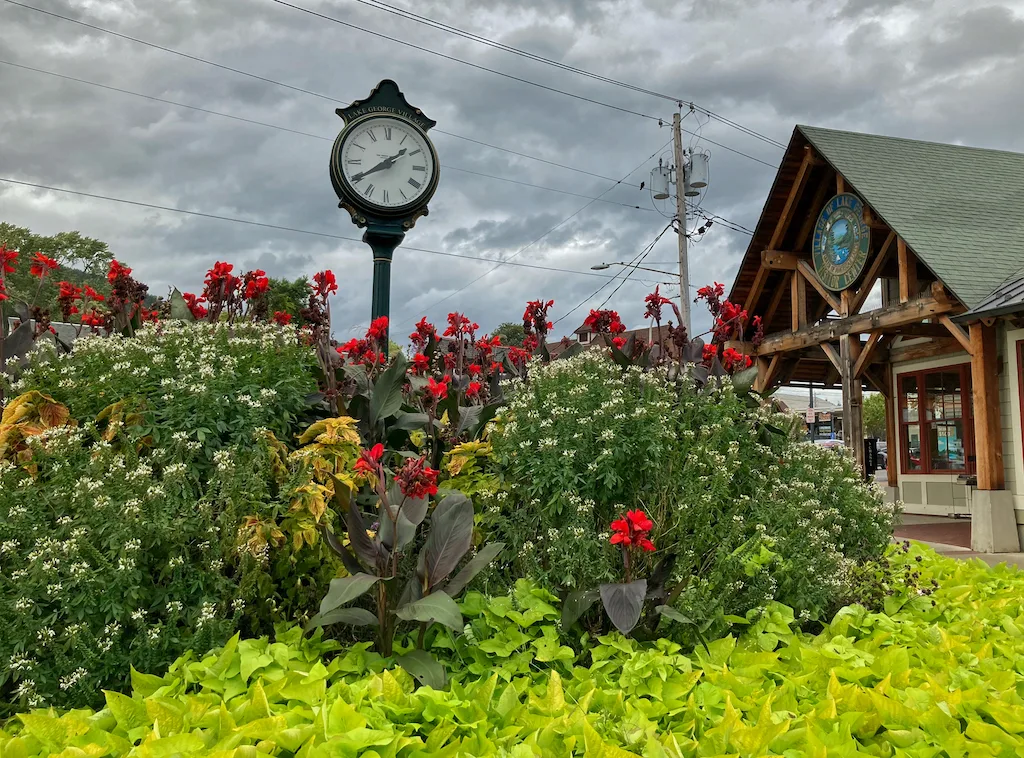 These are the resources we used to plan our Lake George glamping trip and ones we hope you will take advantage of too!
Huttopia – We booked our Adirondacks glamping vacation directly through Huttopia.

Visit Lake George – We found many of these activities through Visit Lake Geoge – the tourism and marketing website for the Lake George Area in the Adirondacks.

Alltrails – We use Alltrails for finding local hikes in new areas.
Have you ever been to Lake George or glamping in the Adirondacks? Tell us about it in the comments below!
---
Explore more of New York! Read these posts next:
---
Follow us on social media!
Pin for Later?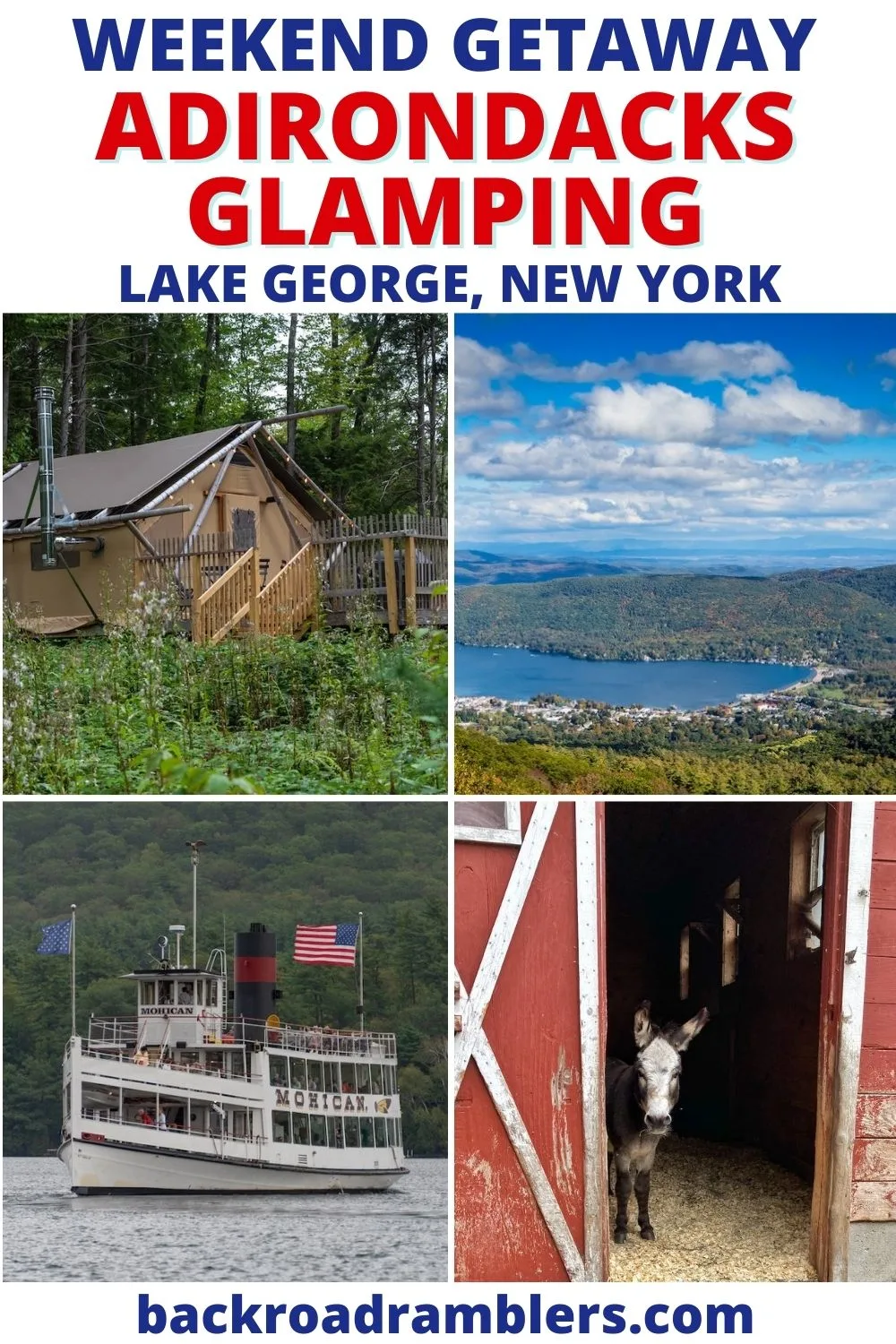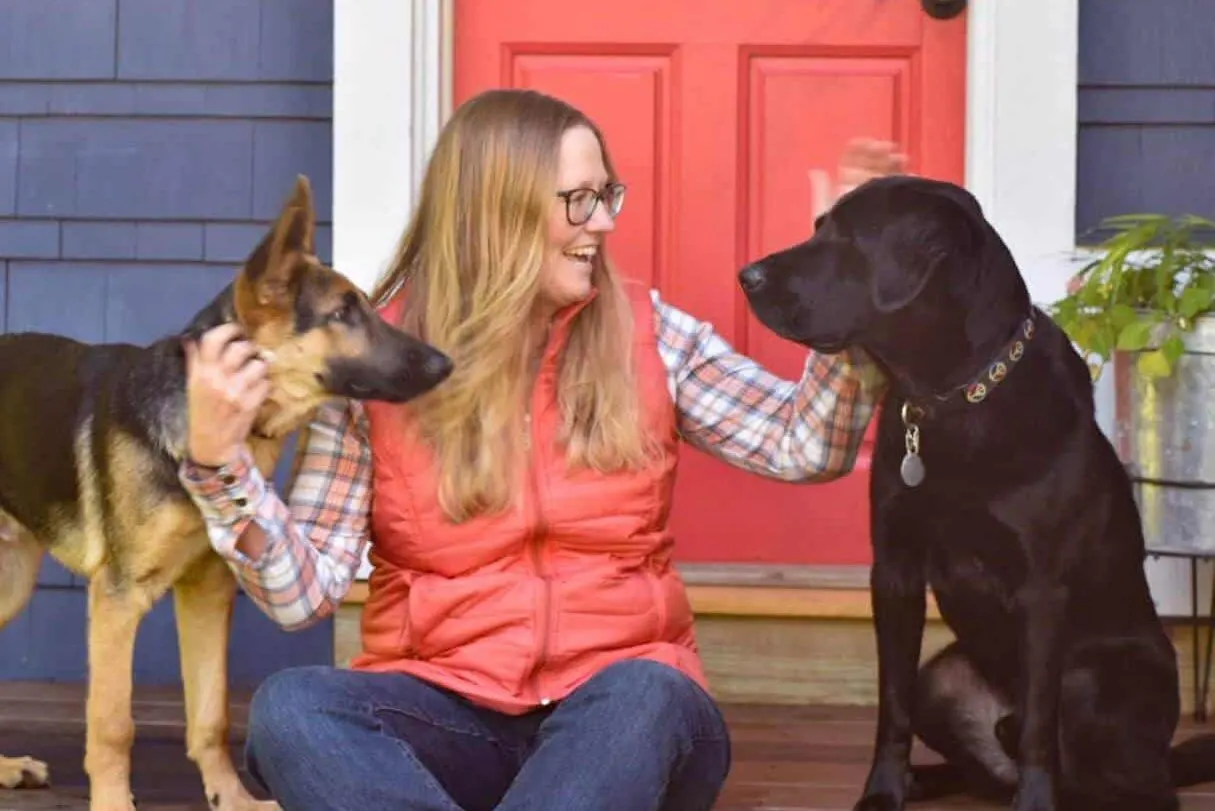 Our Favorite Resources for Road Trips and Outdoor Adventures

These are the resources we use to plan road trips, save money while traveling, and shop for outdoor gear.

Car Rentals: While we use our own car most often for road trips, we also enjoy flying into major airports and then renting a car for more regional road trips. We use Kayak to compare prices and find deals from dozens of car rental agencies at once.

Flights: We use Kayak to search out flight deals.
Money-saving tip: If you find yourself using the same airline repeatedly (we are huge Southwest fans), consider joining their loyalty program and getting an airline credit card. With our Southwest Rewards Visa, we earn a few free flights each year.

Hotels: When it comes to lodging, we seek out small boutique hotels or quirky roadside motels. First, we search for hotels on TripAdvisor so we can read reviews from other travelers. Then, we use Booking.com to make reservations (they have the best prices, plus a flexible cancelation policy).

Camping: Camping is one of our favorite things to do on long road trips. It allows us to explore the outdoors, cook our own food, and save money. We use They Dyrt Pro to find campsites and read reviews before booking on Recreation.gov or state park websites.

Glamping and Vacation Rentals: For weekend getaways and shorter vacations, we love glamping (check out our glamping resource guide). We book glamping properties through Tentrr, Hipcamp, and Airbnb. For cabins and vacation rentals, we like to use VRBO (they have fewer fees and a better cancelation policy than Airbnb).

Guides and Maps: If we are visiting a new region, we usually invest in a Moon Travel Guide for the area. We pass them on to friends and family after our trip. If we are planning on hiking, we also purchase a Falcon guide in the Best Easy Day Hikes series.

Outdoor Gear: We are REI Co-Op members. It cost us $20 for a lifetime membership, but we get a yearly dividend based on our purchases, plus great deals and coupons throughout the year. REI also has a great return policy.

Check out our complete guide for planning a road trip on a budget