Camping soups are the backbone of a busy camping trip. They're easy to whip up, don't make much of a mess, and offer a nice dose of nutrition that so many camping meals seem to lack. This white bean and tomato soup is vegetarian, packed with protein, and rich enough for cool nights at camp.
Even better, this camping soup incorporates sturdy vegetables that don't need a cooler – onions, potatoes, and carrots. Fresh kale is delicious in this soup if you're craving something green, but you can also use dried kale powder or even fresh wild greens from the woods, like nettles or dandelion leaves.
We've been making this soup for at least a decade, always without a recipe. It's very forgiving, so if you don't have one of the ingredients, no worries. This soup won't let you down!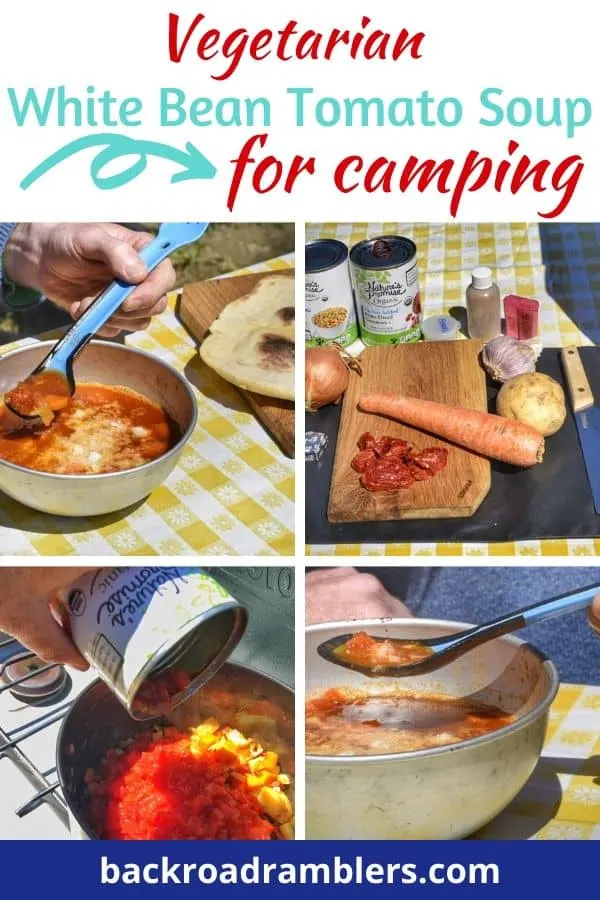 Our family consists of a mix of vegetarians and meat-eaters so we almost always make this soup vegetarian with grilled Portuguese sausage on the side. If yours is a family of meat-eaters, you can certainly slice up any type of sausage and add it to the soup before bringing it to a boil.
This soup is awesome served with grilled cheese sandwiches or fried flatbread. I'll try to get that recipe up next week.
Why We Love this White Bean Soup for Camping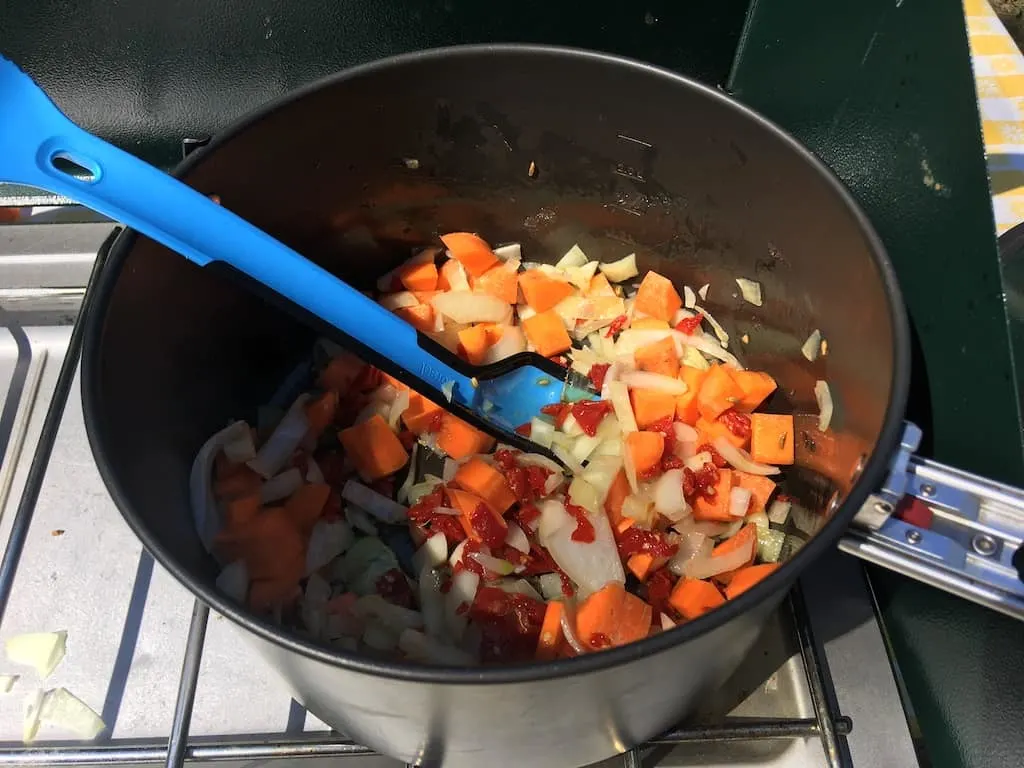 You basically chop everything up and throw it in the pot. It comes together very quickly and easily.
It can be made with ingredients that don't need to be kept in a cooler.
It's a hearty soup with lots of protein.
This soup tastes fresh, with a lot of different textures and flavors. We make it at home too!
Essential Camping Equipment for this Recipe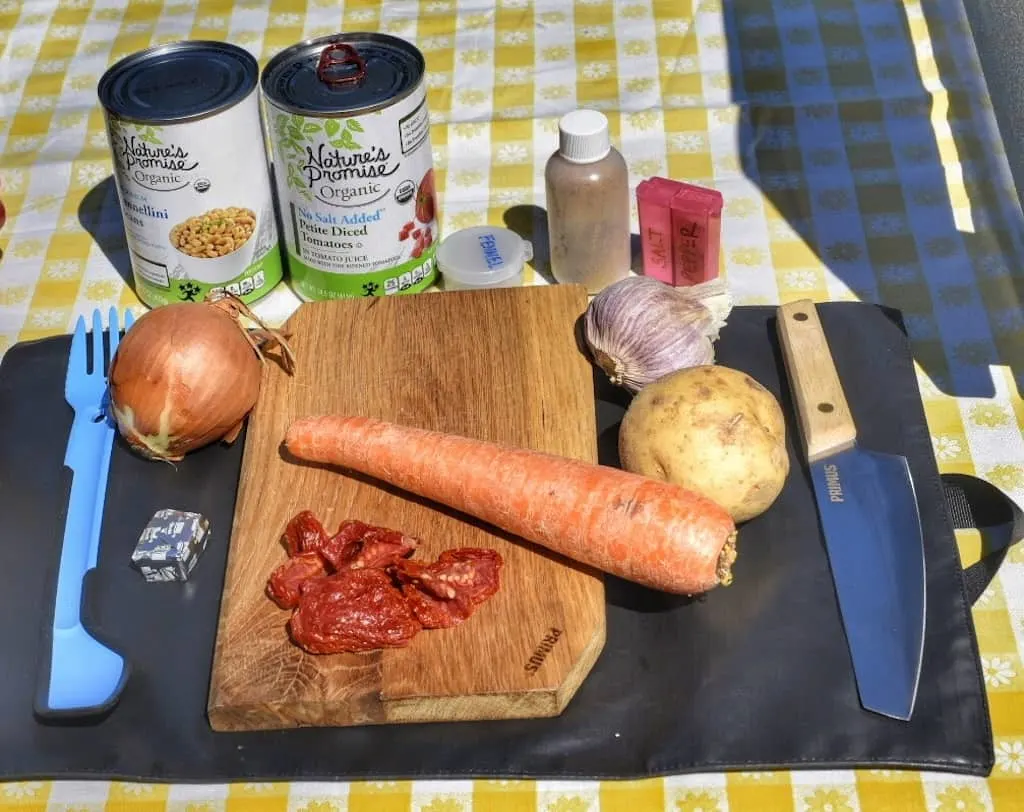 This is a one-pot camping meal, so you don't need much to get it up and running. Here are the necessities for making this delightful soup on your next camping trip.
A cutting board and a sharp knife – We love this campfire cutting set from Primus. We bring it with us on picnics and day trips, and wouldn't go camping without it. The chef's knife is super sharp and lightweight and the board is a light bamboo that's easy to clean. It all wraps up in its own carrying case, making it incredibly portable.
A 2.5-liter saucepan – A 2-quart saucepan is fine for this soup and will serve a family of four, no problem. We have a 2.5-liter camping pot from MSR, which we've had for ages and have never had to replace. This pot is lightweight aluminum, and it comes with a detachable pot gripper and lid with drainage holes for pasta (super useful.
A 2-burner camp stove – Technically you can make this over a campfire, but we wouldn't go camping without our trusty Coleman stove.
---
---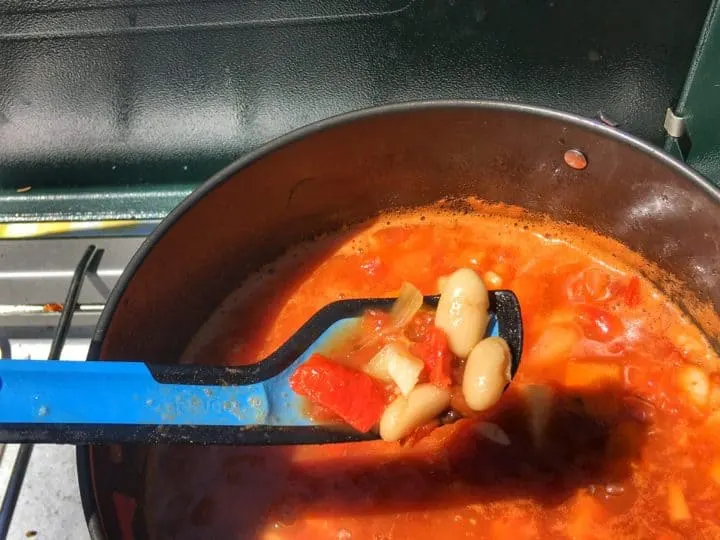 Yield:

4
Vegetarian White Bean Tomato Soup for Camping
Made with sturdy, fresh vegetables that will hold up in your camping pantry, this one-pot soup is a real crowd-pleaser after a day of outdoor adventures.
Ingredients
1 onion
1 garlic clove (you can substitute garlic powder if you want)
1 carrot
5 sundried tomatoes
1 small potato
1 tablespoon olive oil
1 teaspoon fennel seeds
salt/pepper to taste
1 can (14.5 ounces) diced tomatoes
1 can (15 ounces) white beans (great northern or cannellini)
2 cups water (you can use your empty bean can)
1 vegetable bouillon cube
Optional Ingredients:
Chopped fresh kale or a few tablespoons of dried kale
Wild greens - this soup is great with nettles, but you can also add ramp leaves or dandelion leaves
A squeeze of fresh lemon juice
Parmesan cheese for serving
Instructions
1. Chop onion, garlic, and carrot.
2. Heat a 2-quart saucepan on your camping stove over a medium flame.
3. Add a tablespoon of oil.
4. Add onions, garlic, and carrot and cook for a few minutes.
5. While the veggies are cooking, chop up the sundried tomatoes and add them to the pan with the fennel seeds.
6. Season well with salt and pepper.
7. Chop up the potato and add it to the pot.
8. Cook for 5 minutes until the onion is starting to brown.
9. Add the diced tomatoes, undrained can of beans, can of water, and bouillon cube to the pot.
10. Stir until the bouillon cube is dissolved.
11. Bring the soup to a boil and then turn down the heat and simmer for 20 minutes.
12. If you are including kale or wild greens, now is the time to add them.
13. When the vegetables are tender, remove soup from heat and add a squeeze of fresh lemon juice (optional).
14. Serve with Parmesan cheese and a side of crusty bread.
Notes
This soup is awesome with kale, but it's not always the most convenient vegetable to bring camping. If you do decide to bring it along, be sure to wash and dry it thoroughly before bagging it and putting it in your cooler.
For a more traditional Portuguese white bean soup, add sliced Portuguese sausage to the soup before bringing it to a boil.
Recommended Products
As an Amazon Associate and member of other affiliate programs, I earn from qualifying purchases.
Nutrition Information:
Yield:
4
Serving Size:
1
Amount Per Serving:
Calories:

224
Total Fat:

6g
Saturated Fat:

1g
Trans Fat:

0g
Unsaturated Fat:

4g
Cholesterol:

4mg
Sodium:

769mg
Carbohydrates:

41g
Fiber:

9g
Sugar:

12g
Protein:

9g
*Nutrition is an estimate based on information provided by a third-party nutrition calculator.
Just Starting Out? This is the Camp Kitchen Gear that We Use the Most:
Pin for Later?