Quinoa is a camping superfood.
This ancient grain is a complete protein, containing all nine essential amino acids, plus it contains loads of iron, lysine, magnesium, and trace minerals.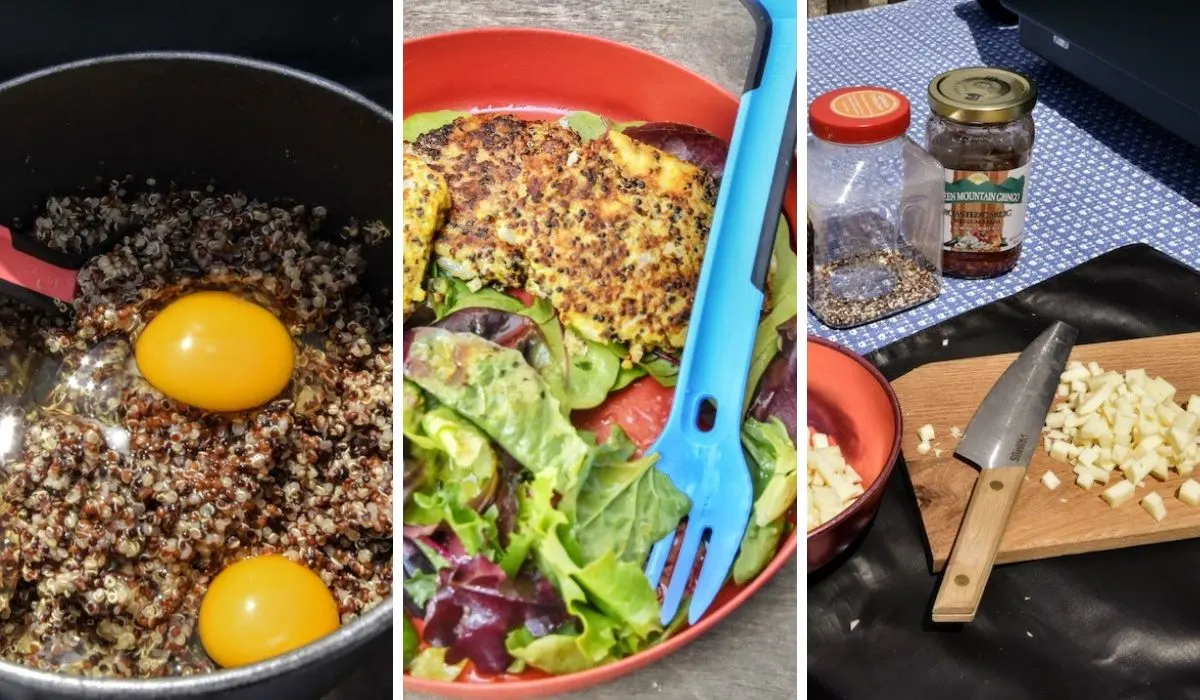 Quinoa keeps well in a camp pantry, cooks quickly, and tastes amazing, especially when combined with eggs, cheese, onions, and garlic to make these sturdy patties.
It's one of the most perfect vegetarian camping meals.
We've been making these quinoa patties for years and years, but it wasn't until we were stuck home during the dreaded pandemic that we had a chance to experiment with them and tweak the recipe until it was perfect.
There were two things that always bugged me about our camping quinoa patties.
1) We needed to pre-grate the cheddar cheese or bring our cheese grater camping and
2) We had to hand-form the patties, leading to gooey fingers and big ole messes.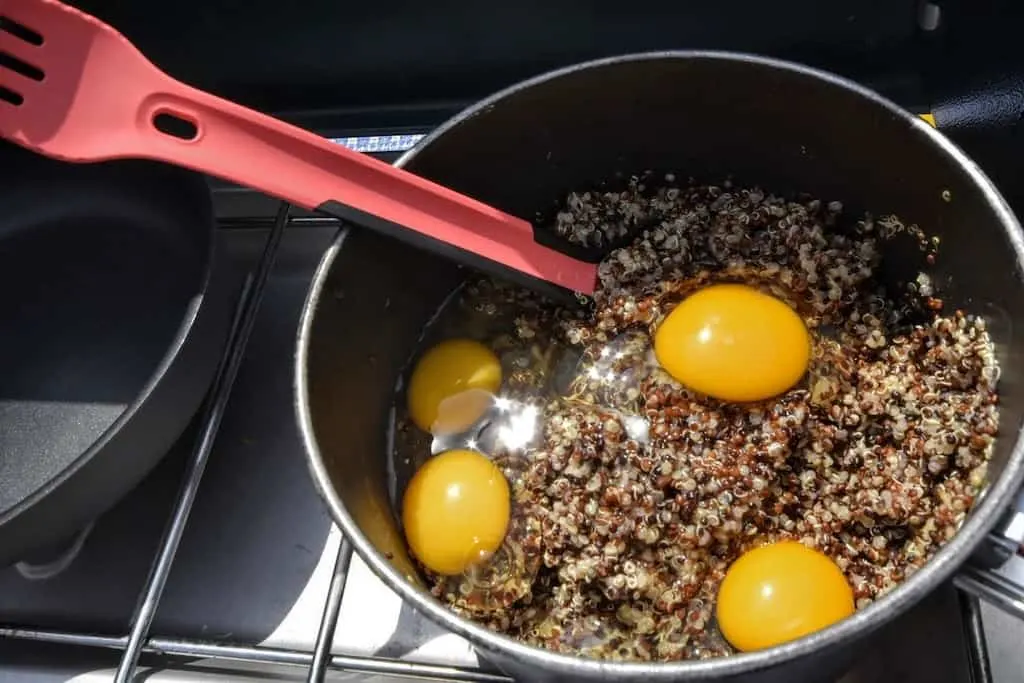 This new recipe is so easy and so delicious.
I tried chopping the cheese instead of grating it and found that it's even better that way. Now we get little bits of crusty cheese on the outside of the patties. Delightful!
I also made the batter a little looser than normal so I could just spoon it into a hot pan. Why didn't I think of that sooner?
Now making these camping quinoa patties couldn't be easier, although it is a two-pot meal — one pot and a frying pan actually, but totally worth it.
How to Make Vegetarian Quinoa Patties when Camping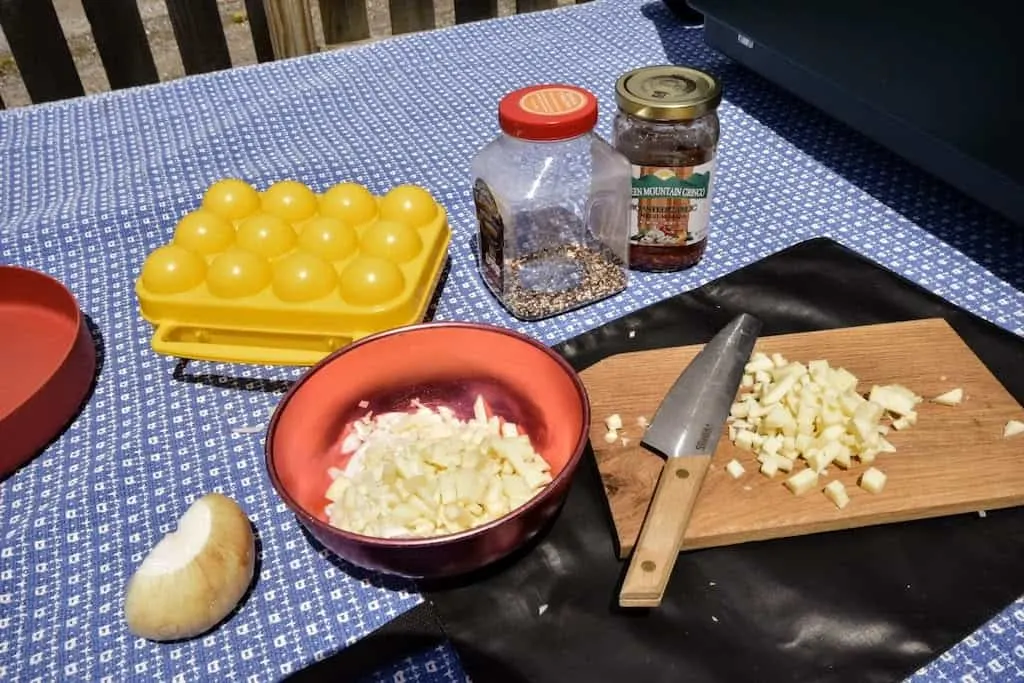 Making these quinoa patties isn't quite as easy as opening a jar and dumping it into a pot, but it's a pretty easy from-scratch meal that goes with any green vegetable. Grilled sausages complement them pretty well too.
First, you get your quinoa cooking with some water on your camp stove. Once it's simmering, turn down the heat and start chopping your onions, garlic, and cheddar cheese.
Let your cooked quinoa cool a bit and add all of the ingredients — onions, garlic, bread crumbs, salsa, cheese, and spices.
Now fry them up in a lightly oiled pan and serve. Quinoa patties also keep really well for the next day's lunch.
Eat them with any manner of condiments. We've tried them with honey-mustard sauce (my personal favorite), salsa, and salad dressing. They're delicious with whatever you put on them!
Essential Camping Equipment for this Recipe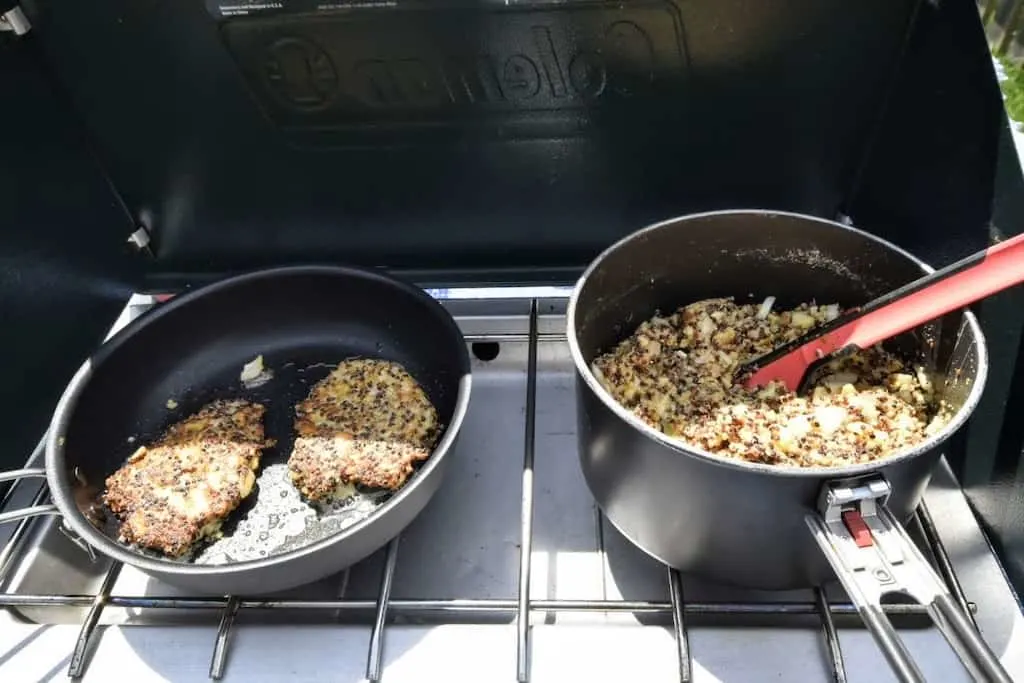 A Cooler – This recipe includes eggs and cheese, which should be kept in a cooler. We currently use a ROVR 45-liter cooler. Yes, it's pricey, but it keeps ice cold for 8+ days, and it's amazingly rugged — the wheels go over anything.
A 2-quart saucepan with a lid and a frying pan.
A long-handled spoon and a lightweight spatula.
A sturdy plastic egg carton – The one we've recently started using is completely waterproof to protect your eggs from gross cooler ice.
---
Read Next: Your Amazing Car-Camping Kitchen
---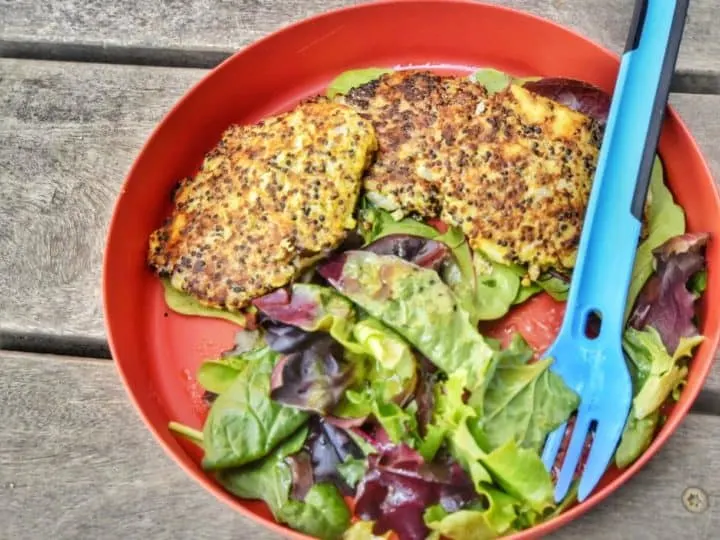 Yield:

4 servings
Vegetarian Quinoa Patties for Camping
Perfect for vegetarian camping and for camping with families, these fantastic quinoa patties are full of protein and so easy to make.
Ingredients
1 cup quinoa
4 eggs
1 small onion
5 cloves of garlic
1/2 cup cheddar cheese
1 cup breadcrumbs
2 tablespoons salsa
1 teaspoon cumin
salt and pepper to taste
2 tablespoons olive oil
Instructions
Add quinoa and 2 cups of water to your saucepan and bring to a boil.
Turn down the heat and simmer, covered, for 20 minutes or until all the water is absorbed.
Let cool for 5-10 minutes before adding the other ingredients.
While the quinoa cooks, chop your onion, garlic, and cheese.
Add eggs to cooked quinoa and give everything a stir.
Add chopped onions, garlic, cheese, salsa, cumin, and salt/pepper to the pot, followed by the breadcrumbs.
Heat your frying pan over a medium flame and add a splash of olive oil.
Spoon dollops of quinoa batter into your hot pan. You can use your spoon to kind of smoosh the batter into a pancake shape.
Fry for 2-3 minutes on one side, then flip and fry for another 2 minutes.
Continue in this vein while drinking your favorite camp beverage.
Serve with a green vegetable and your favorite condiment - salsa, salad dressing, or honey mustard are our favorites.
Notes
You can use any type of quinoa for this - white, red, or a mix of different types and colors.
Nutrition Information:
Yield:
4
Serving Size:
1
Amount Per Serving:
Calories:

375
Total Fat:

19g
Saturated Fat:

6g
Trans Fat:

0g
Unsaturated Fat:

12g
Cholesterol:

201mg
Sodium:

514mg
Carbohydrates:

34g
Fiber:

4g
Sugar:

3g
Protein:

16g
This recipe makes 10-12 patties, depending on their size, which is perfect for our family of four. Sometimes we have leftovers, but usually, we devour these in one sitting. Nutrition information is an estimate based on a third-party nutrition calculator.
Follow us on social media for more recipe ideas!
Pin for Later?