Did you know that car camping is tied with RVing as America's favorite way to road trip across the country? When you embark on a camping road trip, you've got the freedom of the open road without the expense of hotel rooms and restaurants.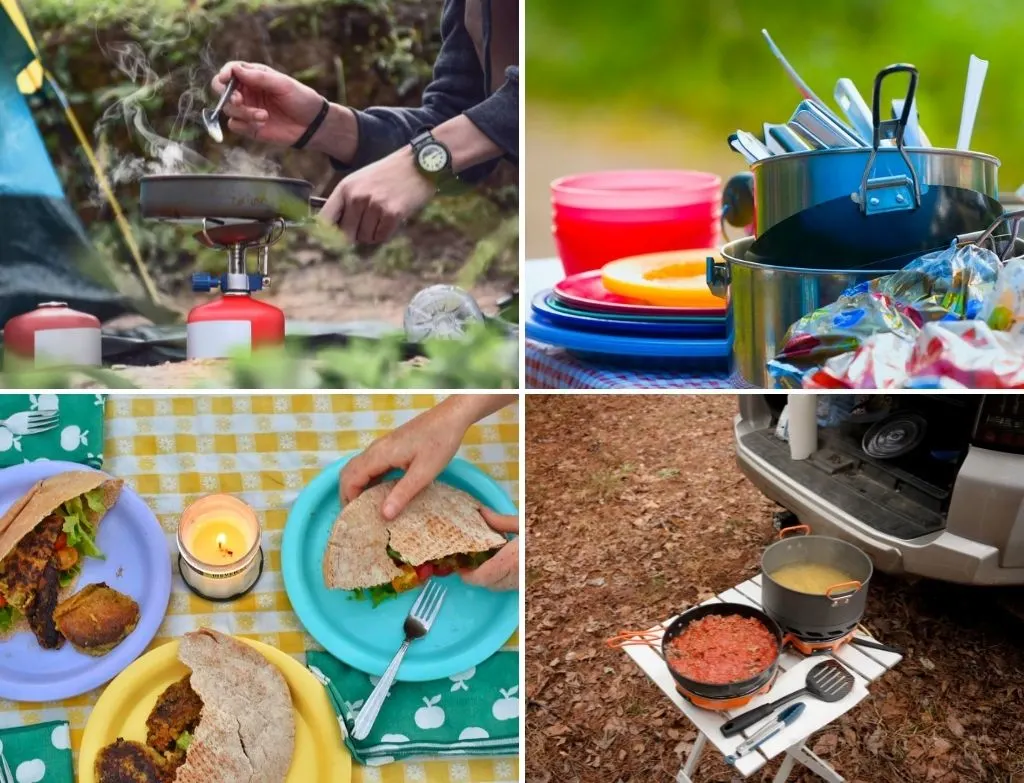 If cooking your own food when you travel makes you nervous, read on – once you have a car camping kitchen setup, you'll realize that camping is the easiest, most affordable, and most fun way to travel.
Road tripping is our favorite way to see America, and since decking out our portable car camping kitchen, we've had the pleasure of impromptu lunches at awesome drive-by picnic spots, afternoon tea on a rocky bluff overlooking the ocean, and amazing candlelight dinners in the shadow of the world's tallest trees.
We wouldn't change it for the world.
Creating the Best Car Camping Kitchen Setup
When I use the term car camping, I don't mean that we're actually sleeping (or cooking) in the car.
Car camping just means that we're taking advantage of campsites near our car so that we don't have to pack as light as we would if we were backpacking.
It's taken us years of practice to create the perfect car camping kitchen, but we've got it down to a science these days. Our "kitchen" is actually a big duffel bag that holds all of our cookware and supplies, but a large plastic tub would work too.
Our camping kitchen is very compact since we have to cram everything into our tiny car. It's even small enough to bring on an airplane (in a checked bag) when we go camping farther from home.
First Things First: Get a Portable Camping Stove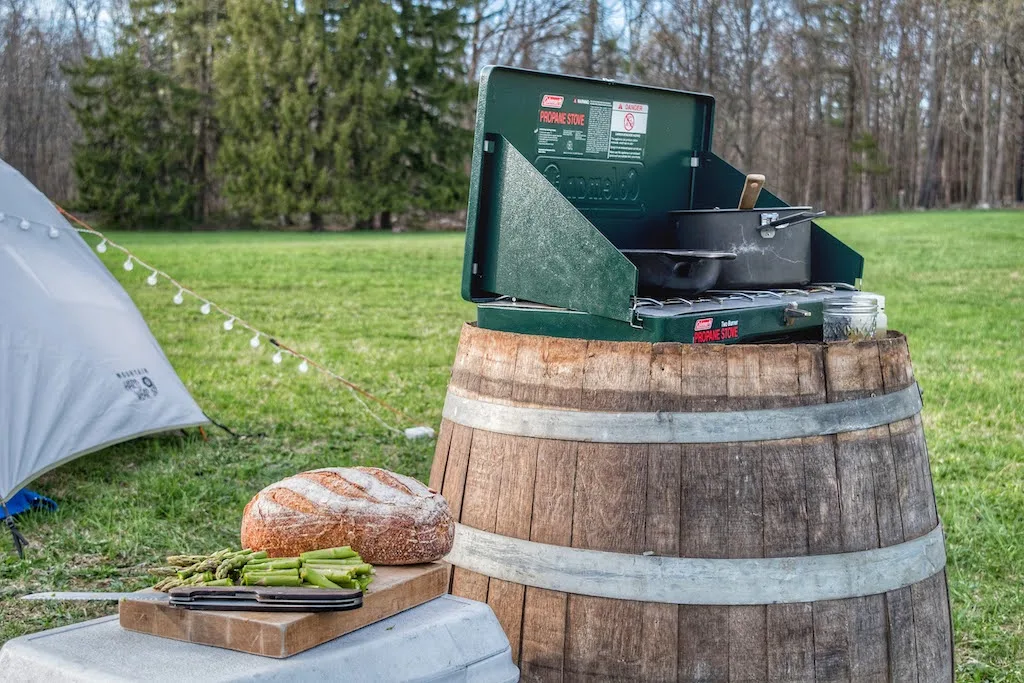 The hub of our car camping kitchen is a Coleman 2-burner propane stove that we use for most of our camp meals. This is a workhorse of a stove, and we don't leave home without it for most trips. It folds flat and fits easily into the trunk of our car.
Since we have an electric stove at home, we also use our Coleman Stove when the power goes out. Small propane tanks are easy to find at grocery stores, gas stations, and discount stores while traveling.
If space is tight, like when we're flying to a destination and renting a car, we swap our two-burner stove for a small backpacking stove and buy fuel when we get where we're going.
Backpacking stoves usually use a combination of butane and propane. This type of fuel is a bit harder to find, but they do sell it at large outdoor, camping, and discount stores.
---
Read Next: Home is Where You Pitch it – How to Create a Cozy Campsite
---
The Best Car Camping Cookware and Tableware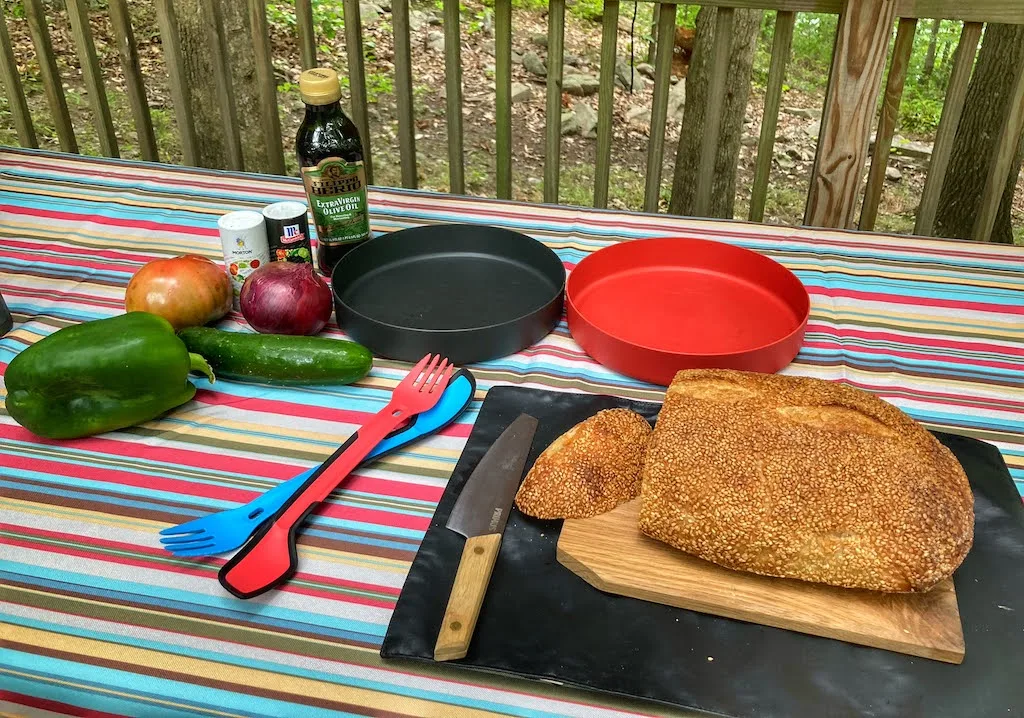 Once you have a good camp stove, it's time to outfit the rest of your car camping kitchen. The following items have proved themselves time and time again, mostly for their durability and portability. Most of the items in our car camping kitchen are light enough to double as weekend backpacking gear in a pinch.
This is what we pack when traveling as a family of four people. When it's just the two of us, we pare things down significantly.
2 Saucepans, a two-quart, and a four-quart – Our all-time favorite set is made by MSR. Two nested saucepans that are incredibly light and suitable for car camping or backpacking. The pots are made of hard-anodized aluminum with a ceramic nonstick coating so that they disperse heat evenly The lid fits either pot and has a strainer built-in for pasta, plus the set comes with a removable pot grabber.

We have had a few other cooking sets over the years, but this one is our favorite. This requires an initial investment, but we've had ours for more than 10 years, and it is also the set that we gift to all of the new campers in the family.
A frying pan with a removable handle – We use this frying pan from GSI Outdoors. We use it for making pancakes, eggs, and sauteed veggies. When we are short on space, we leave it home.
Plates and silverware for everyone in the family – We love these plates from MSR because they work as a plate or a bowl. They are lightweight, easy to clean, and come in different colors. We're not picky about silverware, but we do adore these Morsel sporks!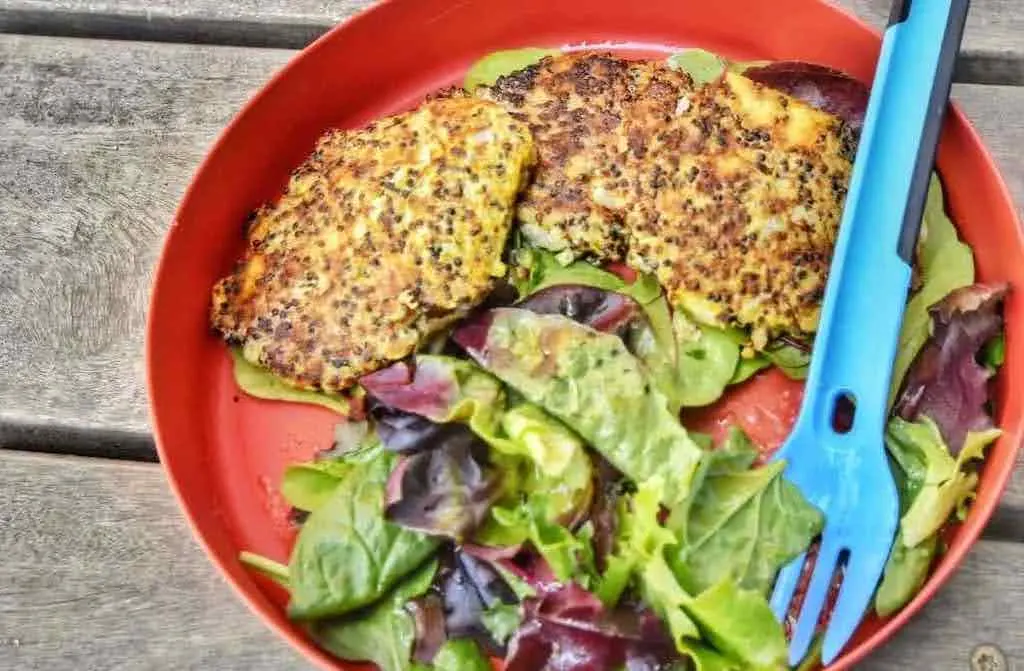 Travel mugs – We love our Contigos, which are available at many outdoor/discount stores. We have one for each member of the family in a different color. They're totally spill-proof, which means I can throw my tea in my backpack when I head out to watch the sunset after dinner.
A small cutting board a chef's knife – We got this set from Primus, and while I think the price is kind of high, I love that it wraps up in its own little bundle. We bring it with us to the beach, on road trips, and even when we're staying at hotels.
A serrated, folding picnic knife – We LOVE this bread knife, which is probably our most coveted item when we're out camping or picnicking with friends. It's also our all-time favorite gift idea for outdoor lovers. If you're not addicted to crusty bread and fresh tomatoes, you may not need one of these.
Various cooking utensils: A small whisk, rubber spatula, wooden spoons, big serving spoons, and a bench scraper.
A plastic liquid and dry measuring cup
Fuel for the stove, a lighter, and matches
A roll of tinfoil, plastic Ziploc bags, and grocery bags for the cleanup
A 12-egg plastic carton – Everyone who car camps needs this egg carton. It keeps our eggs safe and dry in the cooler.

A dishwashing setup: Two collapsible buckets (one for washing, one for rinsing), biodegradable dish soap, washcloth, and towel.

A spice kit – For all the cooking emergencies, it helps to have a dedicated camping spice kit. We make our own spice kit at the beginning the camping season so we can throw it in our camping kitchen without a second thought.
---
Read Next: 10 Easiest Camping Meals for Families on the Go
---
This is the Perfect Car-Camping Cooler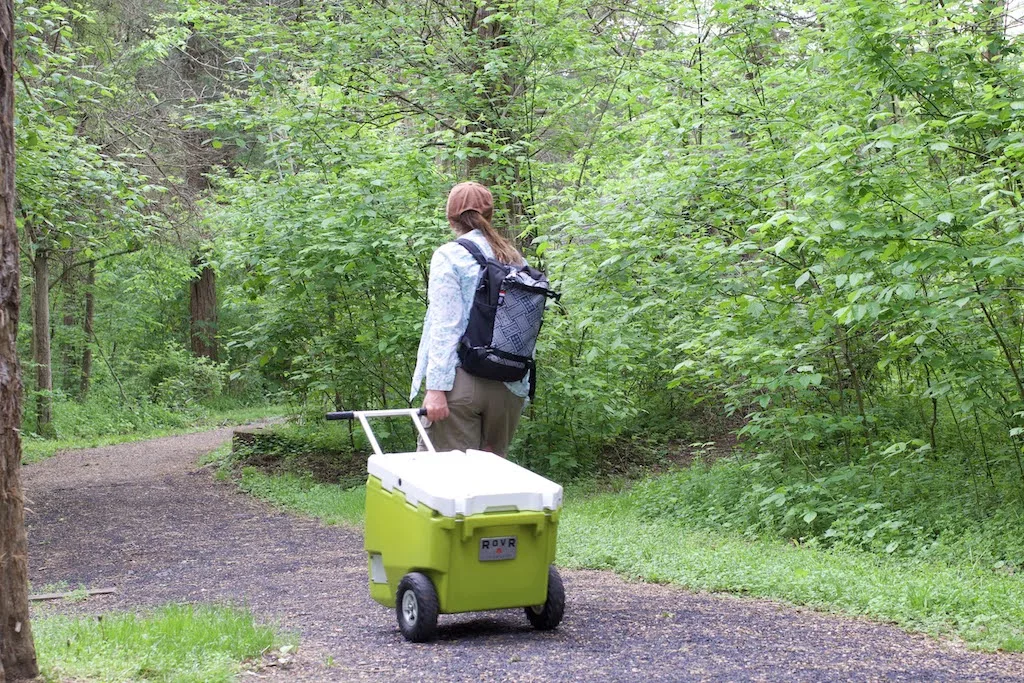 And speaking of coolers, we finally splurged on a fancy cooler that actually keeps our food cold for more than a day! The RovR 60 is a big cooler, but great for family camping and car camping kitchen setups for foodies.
RovR coolers are made with high-density foam insulation so ice lasts for a full week, and it also comes with a dry compartment to keep your veggies and meats from becoming waterlogged. Now that we are heading into an empty nest, we have our eye on the RovR 45 for weekend trips.
You may balk at the price tag of the RovR coolers, but we found that they are comparable to other high-end coolers, and we haven't found one with such rugged wheels or accessories out there.
The RovR is a workhorse, and pretty too!
Tips for Using Your Car Camping Kitchen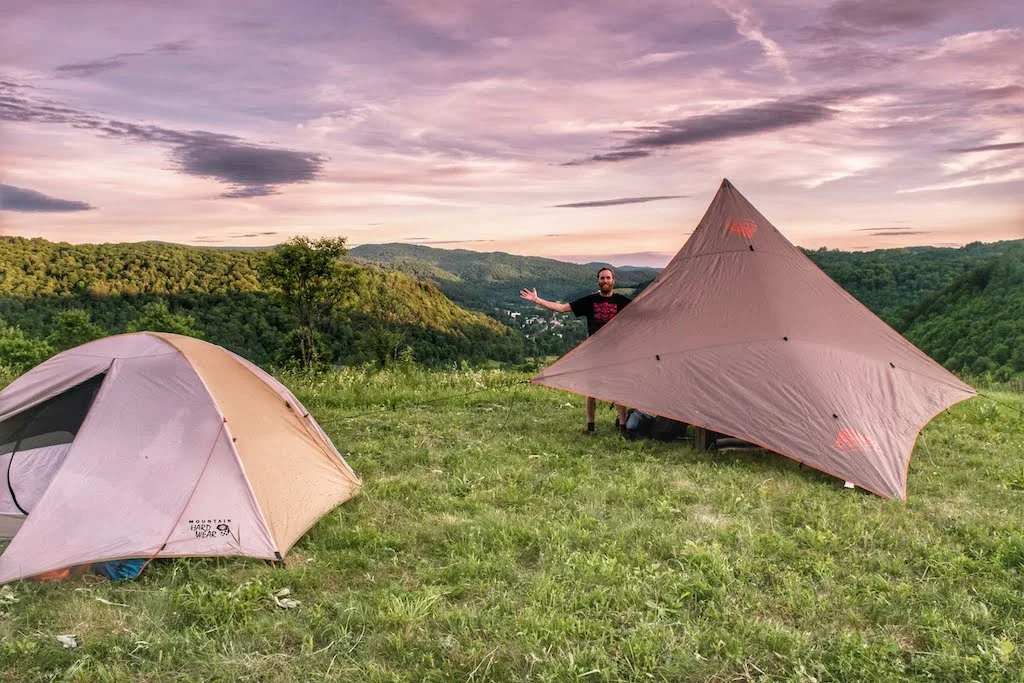 Now, the fun begins! Here are some first-hand tips for making the most of your car camping kitchen wherever you happen to wander.
Make sure your cookware serves more than one purpose. We use plate/bowl hybrids in our car camping kitchen so we can eat pancakes or soup out of them, and we try and buy the lightest cookware we can find so that we can also use it for backpacking.

Create a special recipe book for your car camping meals. I know the smartphone revolution is long past, but I still prefer real books when we're camping (nothing to recharge). We paste our camp recipes in a compact little journal so that we can access them easily. We have a handful of favorite recipes that are easy to prepare, delicious to eat, and don't make a lot of dishes. The notebook lives in the side pocket of our kitchen bag.

Hot beverages are the cat's meow. Tea, coffee, hot cocoa – whatever makes you happy at home will thrill you when you're on the road. Generally, we keep things simple, but sometimes we need special hot drinks to pacify the masses.

Leave the bacon at home. Obviously, you bacon lovers will keep on keepin' on, but I'm done. Leaving the bacon behind on camping trips was a hard lesson to learn, but I love not scrubbing greasy bacon pans in the woods. They are nearly impossible to clean, and the fat attracts animals and makes everything smell bad. If you do cook bacon or other meat when camping, wrap it in tinfoil and throw it over the fire for less mess.

Create a spice kit and learn to love it. The spice kit is magic in the woods and a must for all outdoor camping kitchens. It can fix almost every cooking problem, at least the ones that revolve around taste. Our spice kit is a menagerie of plastic bottles filled with our favorite seasonings. This is all packed into a zippered bag that we keep in the pantry (plastic bin).

Invest in a kitchen tarp. Rainy days are part of the deal, and without a cover for cooking and eating, you're either snacking on granola bars in the car or heading to the nearest restaurant. This inexpensive tarp has been worth its weight in gold, and we will never go car camping without it.

Don't forget the finishing touches. A pretty tablecloth, candles, and cloth napkins make every meal feel special, and there is nothing better in the whole world than watching the sun go down in a beautiful place while eating an awesome camp-cooked meal in luxury.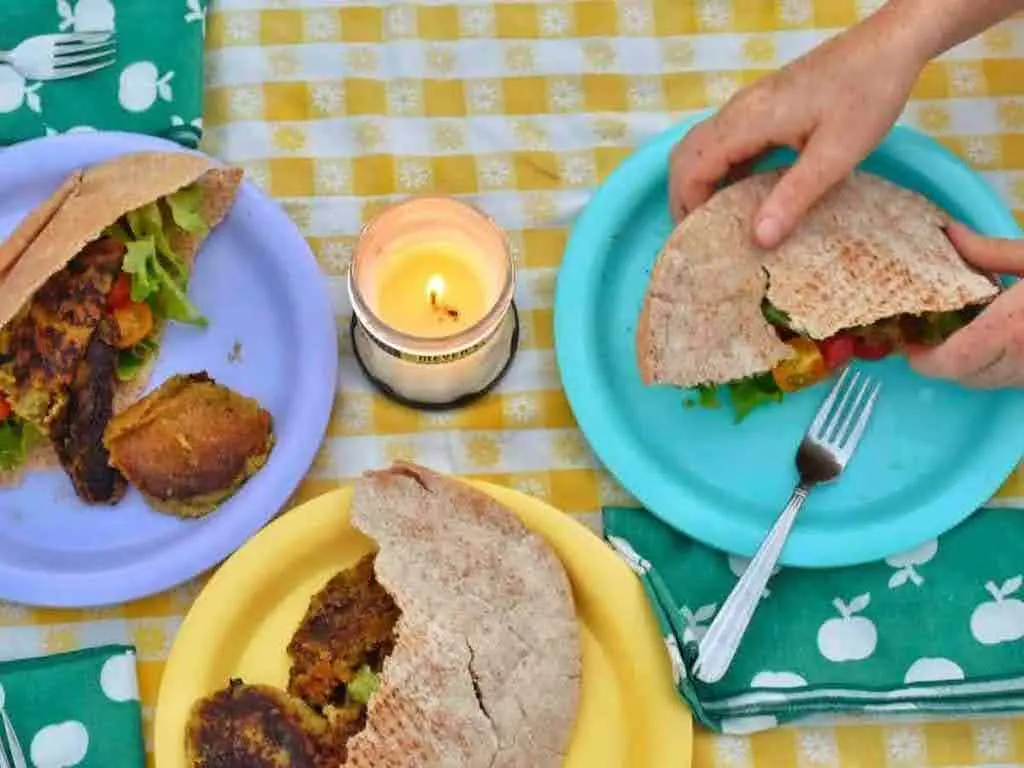 ---
Read This Next: How to Wash Dishes While Camping
---
Whether we're relaxing at home or livin' it up on the road, eating is still one of our family's favorite pastimes.
We refine our packing, cooking, and organizing skills with every camping trip. We'd love to hear some of your tips for making the most of your car camping kitchen.
---
Follow us on social media for more tips for getting outside!
Pin for Later?