Is there anything more enchanting than a leisurely cross-country road trip?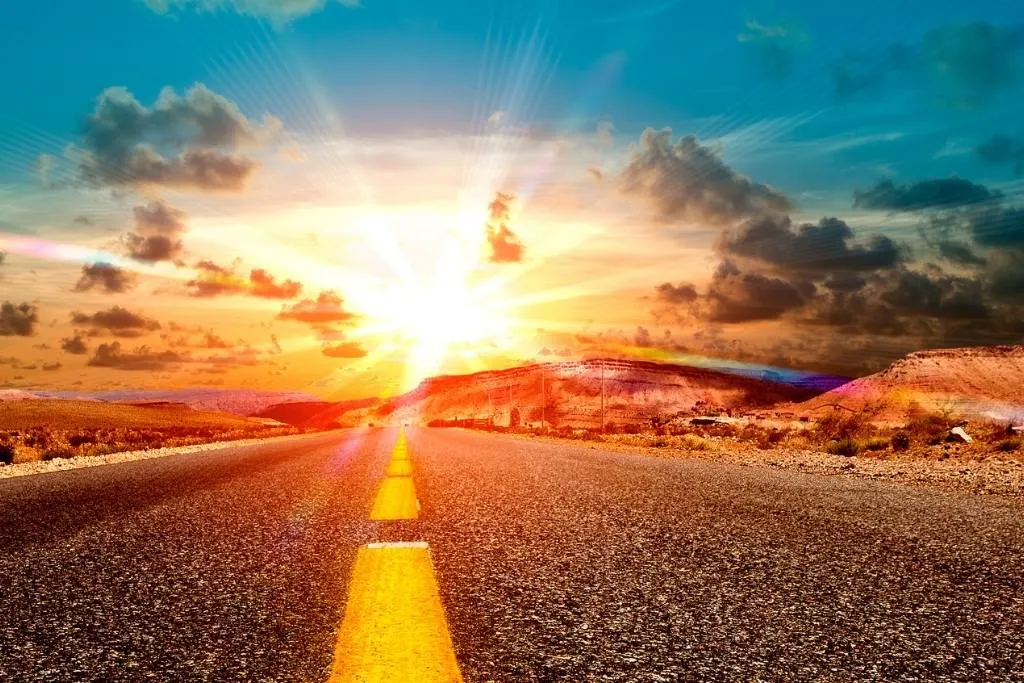 If you're anything like me, you've been pouring over maps, researching campgrounds, and creating your perfect travel playlists in anticipation of this epic adventure.
And if you've got frugality in your blood, you're stressing over your travel budget. Even frugal road trips that involve lots of peanut butter and jelly and rustic campgrounds can put a dent in the old bank account.
My wanderlust is hardcore, but my wallet definitely isn't! To make cross-country road tripping possible, I've learned to stretch every dollar, which also stretches out the time I get to spend on backroad adventuring!
Our travel philosophy is to prioritize outdoor adventuring over other types of travel. We'd rather spend weeks in a tent than a few days in a posh resort.
Going without the luxury of four solid walls will certainly keep the green in your wallet, but even if camping isn't your thing, you can still plan an awesome (and cheap) cross-country road trip while still sleeping in a comfy bed at night.
Ready to plan the most awesome budget road trip ever? Here's how to plan a cross-country road trip that won't break your bank account.
Step 1: Make an Adventure Plan
Every awesome road trip starts with deciding where to go. For me, this is half the fun! You already know that you want to embark on an adventurous road trip and that you don't want to spend a lot of money. Now it's time for dreaming!
Gather your family or your road trip partner for dinner and discuss destination ideas. Keep your cost goals in mind, but don't let them dictate your whole journey. Find some balance by considering high-cost destinations and deciding if visiting would be possible. If the goal is Disney World, which is extremely expensive, you may have to make the rest of your trip super frugal.
If, on the other hand, your goal is to visit national parks, historic sites, and small towns, you will be able to stretch your dollar further. Try and balance big-ticket destinations with frugal side trips. If you have time constraints, keep these in mind too.
Now, plug all of those great ideas into Google Maps and Roadtrippers before moving on to the next step.
---
Pro tip: During the planning stages, you can dream big, but your time and budget constraints may mean that you will have to whittle down your plan as the road trip starts to take shape. That's okay!
---
Step 2: Make a Road-Trip Budget and Start Saving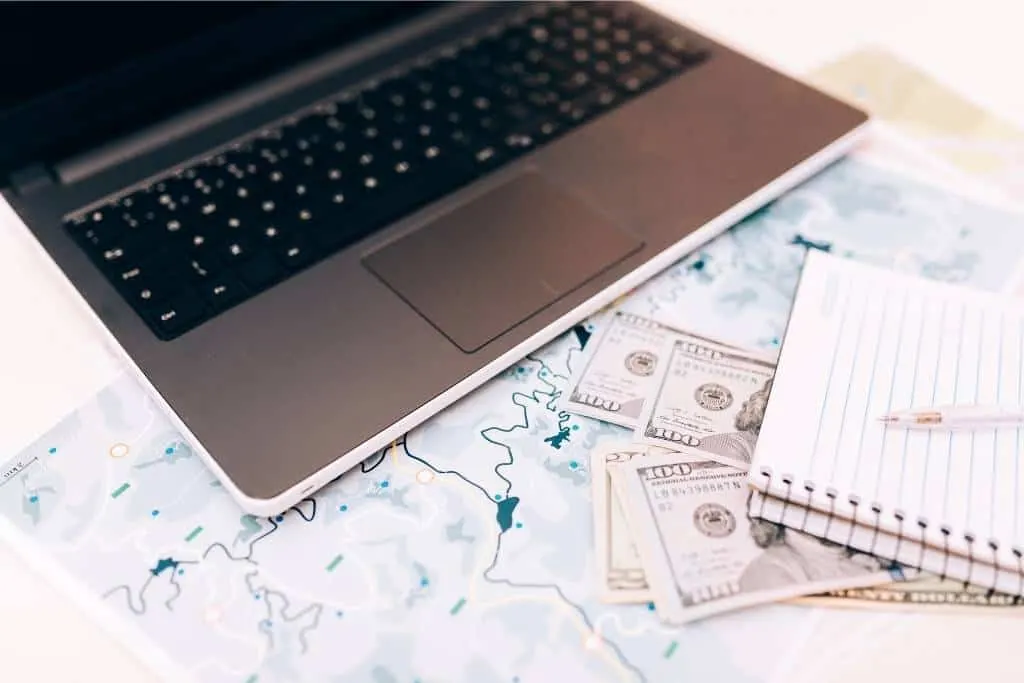 While you don't have to budget for every single expenditure of your road trip, it is useful to have a ballpark idea of how much your trip will cost so you can start saving. Your big expenditures will fall into four main categories: transportation and gas, food, lodging, and fun. How much you need will depend a lot on your priorities.
When planning your cross-country road trip on a budget, it will be helpful to ask yourself and your family a few questions, and face a few hard truths head-on.
Budgeting for Transportation and Gas Expenditures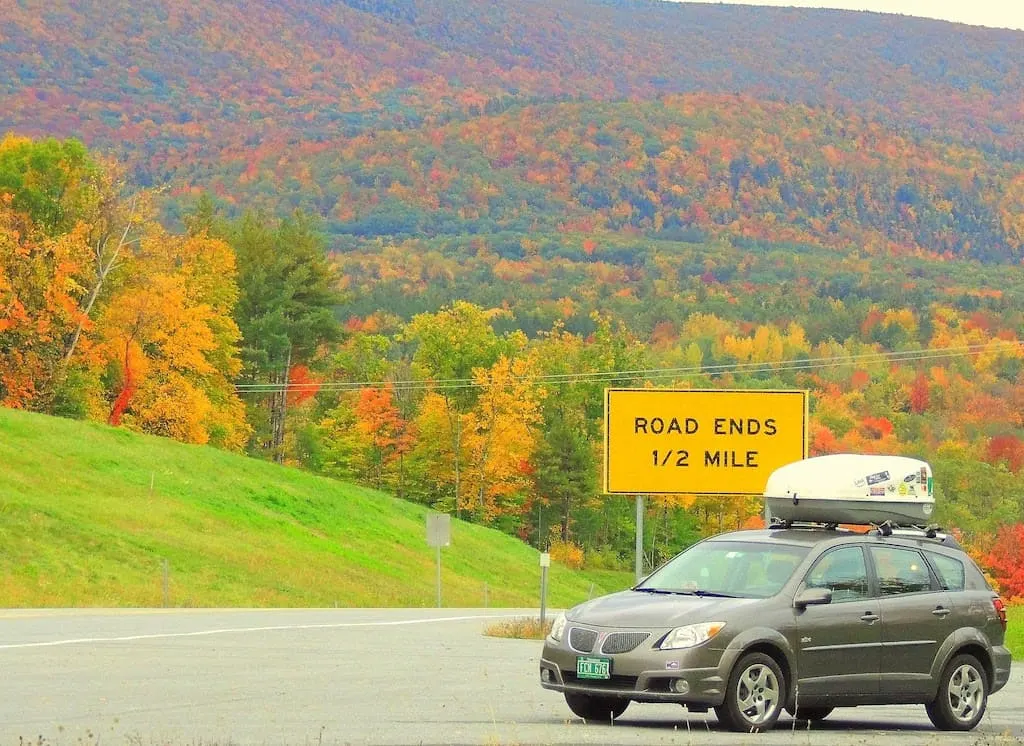 Is your car reliable enough for long-distance travel? How many miles does your car get per gallon? How far are you planning on traveling on your road trip (just a rough estimate)?
Let's start with the reliability issue. I imagine that most cross-country road trippers will have a car that is reliable enough to make a long journey, but I would recommend having your mechanic take a good look under the hood before your trip. In almost every situation, it will be far less expensive to deal with potential issues now than when you're on the road.
Now, for the big-budget line item. Gas. You can't change your car's MPG, but you can change the distance that you will travel on your trip to save money. Remember, this is just an estimate. Don't get bogged down in the details!
Here's our budget breakdown for gas from our last big trip:
Our car's MPG: 33. We have a small car that gets pretty good gas mileage. The downside is that we have to pack light! Read: Packing a Small Car for a Big Trip for more on that!
Average price per gallon: $2.20. This varies wildly depending on where you travel. We live in a state with fairly expensive gas prices, so we just used the going rate.
Estimated mileage: 6,500 miles. We were heading to Port Townsend, Washington from Vermont to visit our boy. We typed it into Google Maps, along with a few destinations we didn't want to miss. Then we rounded up because we never take the quickest route anywhere!
Do the math: Total miles / our car's MPG x price per gallon. 6,500/33 =197 x $2.20 = $433.40 in gas. I'm going to round it up to $500 to give ourselves an extra cushion.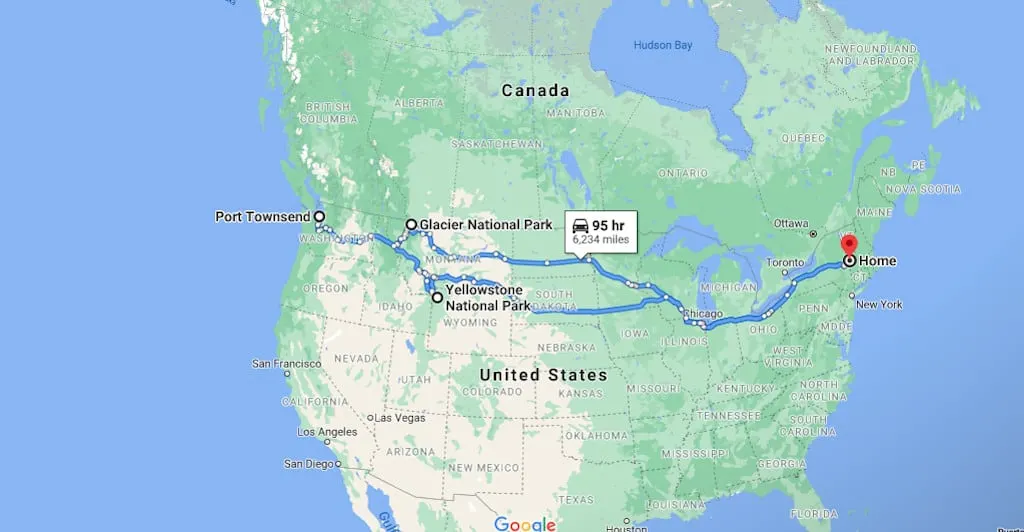 Once you have an estimate of your gas cost, you can estimate additional transportation costs like tolls and parking fees.
---
Pro tip: When planning your trip on Google Maps, you can choose to avoid tolls to save a little bit of $$. You can also choose to avoid highways, which will sometimes give you fun routes to try.
---
Budgeting for Food on the Road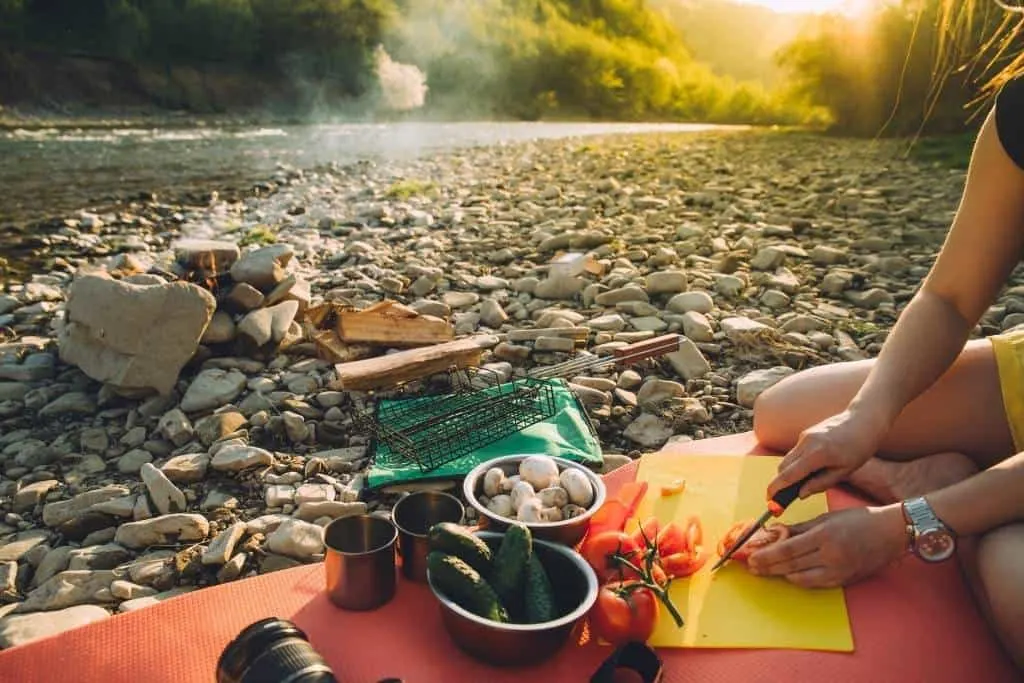 You can save a bundle of money on your road trip just by packing a cooler and a picnic basket and stocking up on food at grocery stores instead of restaurants. Save even more by cooking your breakfasts and your dinners, either at a campground or an Airbnb.
Budgeting for road trip food is not an exact science.
First, be realistic about your habits and budget more than you will need. There is no doubt that you will want to eat out occasionally. Decide if you can afford to splurge on a restaurant meal every few days or every week. You may find it helpful to create two separate budget categories – restaurant meals and groceries.
Now, if you are willing to do most of your own cooking and food prep while traveling, take your at-home grocery bill and multiply it by 1.5. You will spend more on the road because you will be buying smaller quantities and more convenience foods.
We spend about $120 a week on groceries for me and my husband, so I budget about $180 a week for road trips. Then I add in another $50 for eating "out" each week, which includes ice cream cones, gas station coffee, and food trucks. That works out to about $230 a week for our food. We multiply that by the number of weeks of our trip.

Our total food budget for 3 weeks: $690! A few caveats – We would have been spending $360 during this time period even if we weren't traveling. Also, we have traveled on a much smaller food budget than this by totally eliminating the restaurant budget, and eating very simple, affordable meals. It can be done! If this is an area that you need to cut back on, here are some posts to help:
Budget for Cities and Attractions You Want to Visit on Your Road Trip
Divide your attractions budget into non-negotiable destinations that you are willing to splurge on and attractions that may come up on your journey.
If you know that you want to spend time in a big city, plan ahead! Cities are way more expensive than smaller towns, so be realistic.
You will have to pay for parking, more expensive food, museums, and historic sites. CityPASS is a good option to help you save money on attractions in big cities across the United States – well worth it if city travel is important to you.
As for attractions and tours, budget for the big ones that are important to you, and then budget a reasonable amount for things that will come up along the way.
---
Pro tip: Buy the National Parks Pass! If visiting national parks is on your list, buy the America the Beautiful Pass. At $80, this will get you into every National Park Service site for free for a full year.
You only need to visit a few sites to make it worth your money. You can get your pass at any national park, or at REI, which will donate 10% of your purchase to the National Park Foundation. The pass is good for the whole carload, and it's the best $80 you'll ever spend. Traveling with kids? Read Trekaroo's Best National parks for Kids.
---
Step 3: Plan and Budget for Your Camping or Lodging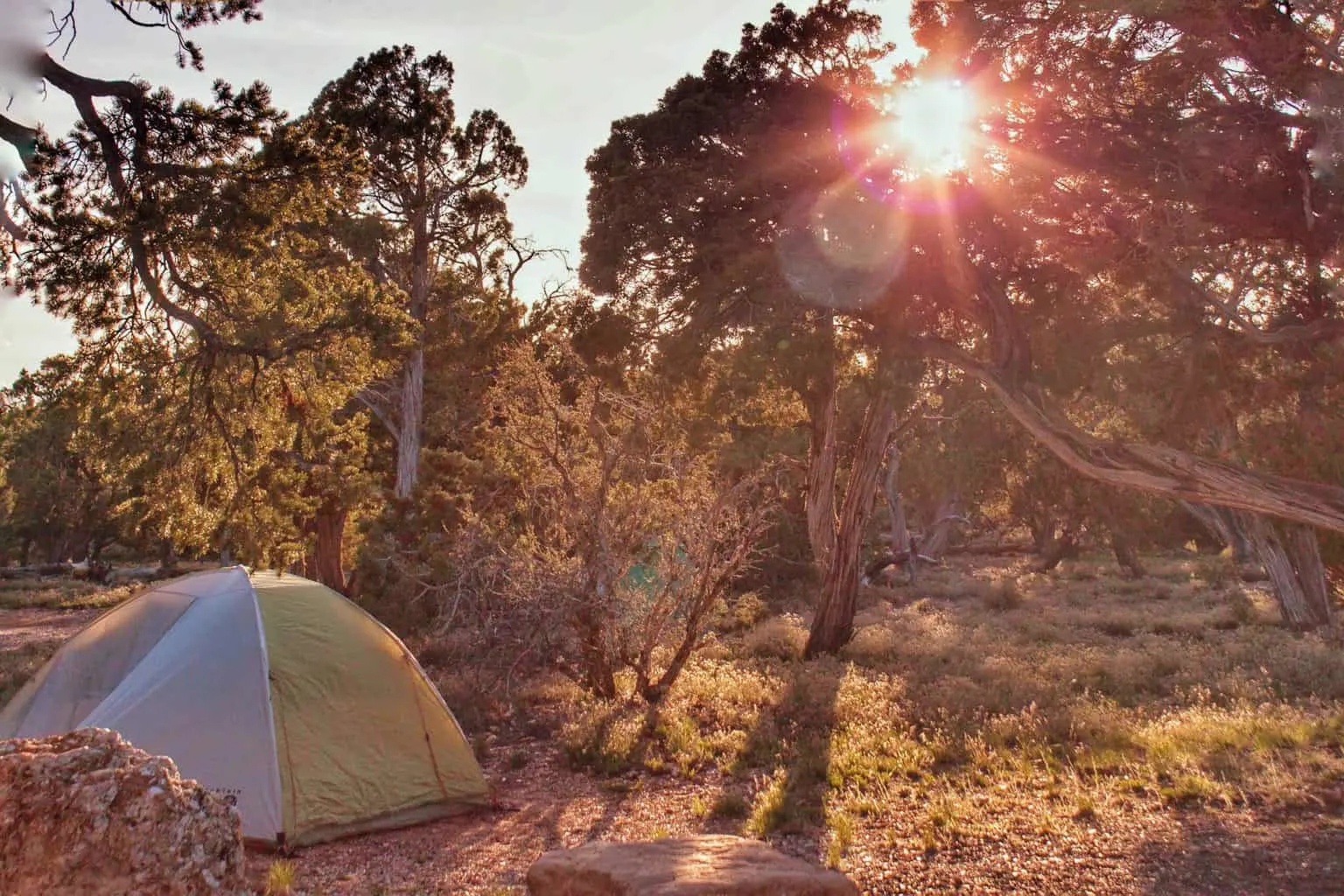 Lodging can be another huge expenditure for road trips. If you are planning a cross-country road trip on a budget, I highly recommend camping as a way to stretch your dollar. A good tent will set you back about the same amount as a night or two in a hotel. Well worth it in my opinion!
If you aren't convinced that sleeping on the ground every night is the way to go, then what about planning a hybrid road trip, where you camp during the week and then splurge on an Airbnb on the weekends?
Finally, if camping really isn't your thing, we recommend booking hotel rooms or vacation rentals in non-touristy destinations along your route, and booking them well in advance. This will certainly take some of the spontaneity out of your road trip, but it will also allow you to budget accurately.
Here's what we budget for camping lodging –
Strictly camping – We budget $25 a night, knowing that some days will be cheaper and some will be more expensive. Multiply that by the total number of days you will be traveling.
Strictly lodging – We budget $75 per night. We tend to drive farther each day when we aren't camping so our trips can be shorter, saving us a bit of money. It's still the most expensive way to travel.
Hybrid camping and lodging – We budget $50 per night and try to camp more often than not.
Here are some more tips to help you budget for camping and lodging during your road trip.
Remember, there will always be trade-offs. For example, you can camp in many places for free, but you may not have running water or flush toilets.
If you choose to camp instead of staying in hotels/Airbnbs, you will save a lot of money, but the trade-off is that you will have to set up and break down your camp each day.
Reserve your weekend and popular destinations in advance – To find the balance between spontaneity and frustration, I recommend booking lodging and camping for all your weekends and popular destinations early so you are sure to have a place to stay. During the week, you will probably be okay reserving the day before (for lodging) or not at all (camping).
Campsite prices vary wildly – Here's what we've found over years and years of road tripping: private campgrounds are the most expensive (around $50 a night), followed by state parks ($25 – $50 a night). National Forest sites are quite affordable (free – $20), and there are lots of BLM sites that are free! Check out The Dyrt Camping App to find camping along your route.
Vacation rentals and hotels are fun once in a while – We love finding quirky lodging when road tripping. From cool glamping sites to quirky motels and remote cabins, we enjoy all of them! When road tripping on a budget, we look for places with kitchens or kitchenettes to save money. Laundry is a huge plus as well. Our favorite booking site for motels is Booking.com. For vacation rentals, we try and use VRBO, which has fewer fees and a more flexible cancelation policy than Airbnb. There are more choices on Airbnb, though, so go with whichever works best for you.
Stay with family and friends along your route – This is one of the most fun parts of a road trip! We love reaching out to family and friends along our route to see if they have a bed or floor space we can use for a night or two. Not only does this save us money, but it makes for memorable experiences!
Step 4: Secure Your Road Trip Gear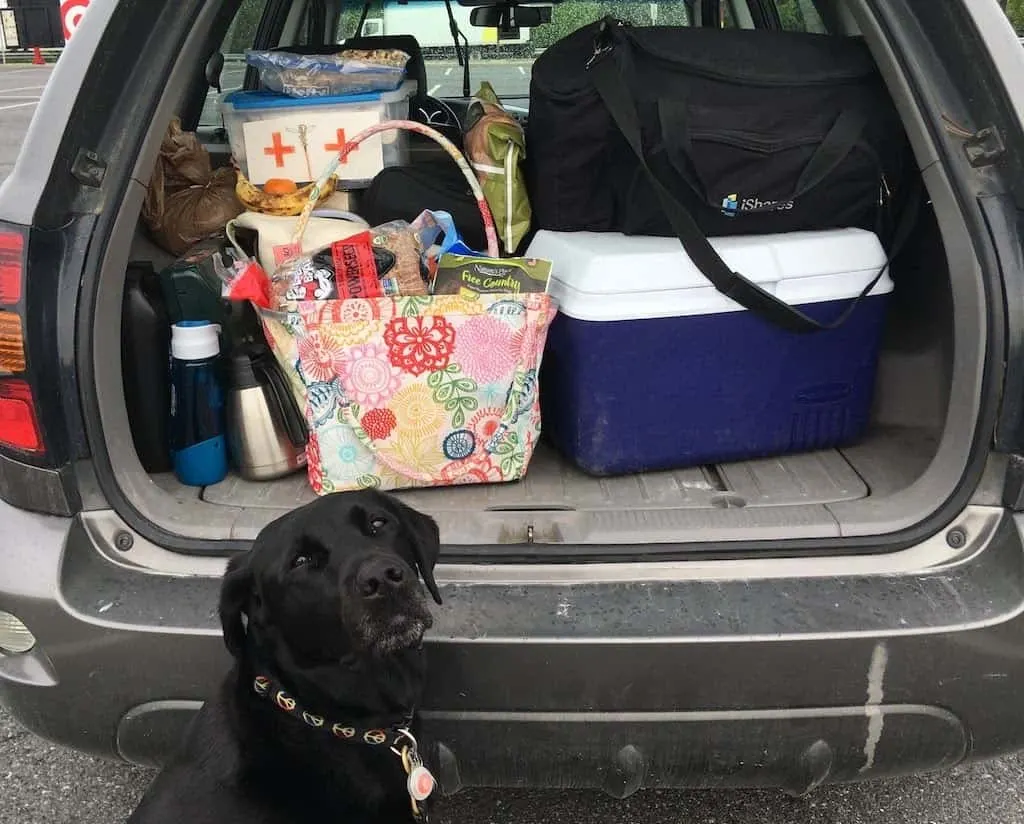 Once your plans start to take shape, you can begin collecting your road trip gear. What kind of gear, you ask?
Basic camping supplies, if your plan is to camp along your route. Looking for cheap gear? Buy used! REI sells used gear, as does Geartrade (you can sell your gear too!).
Suitable clothing for all types of weather – Pack clothing that doesn't require ironing and will do double-duty – skirts and sandals you can hike in, a jacket that is warm and waterproof, etc. Pack light and plan on doing laundry on your journey.
A basic car repair kit – If you have basic car repair skills, you should bring your basic tools for emergencies, and even if car repair isn't part of your skillset, bring extra fluids, and a roadside assistance card.
Technology – Pack whatever you need to stay connected on the road, plus a way to keep it all charged. Less is more, but your definition will be different than mine.
Step 5: Hit the Road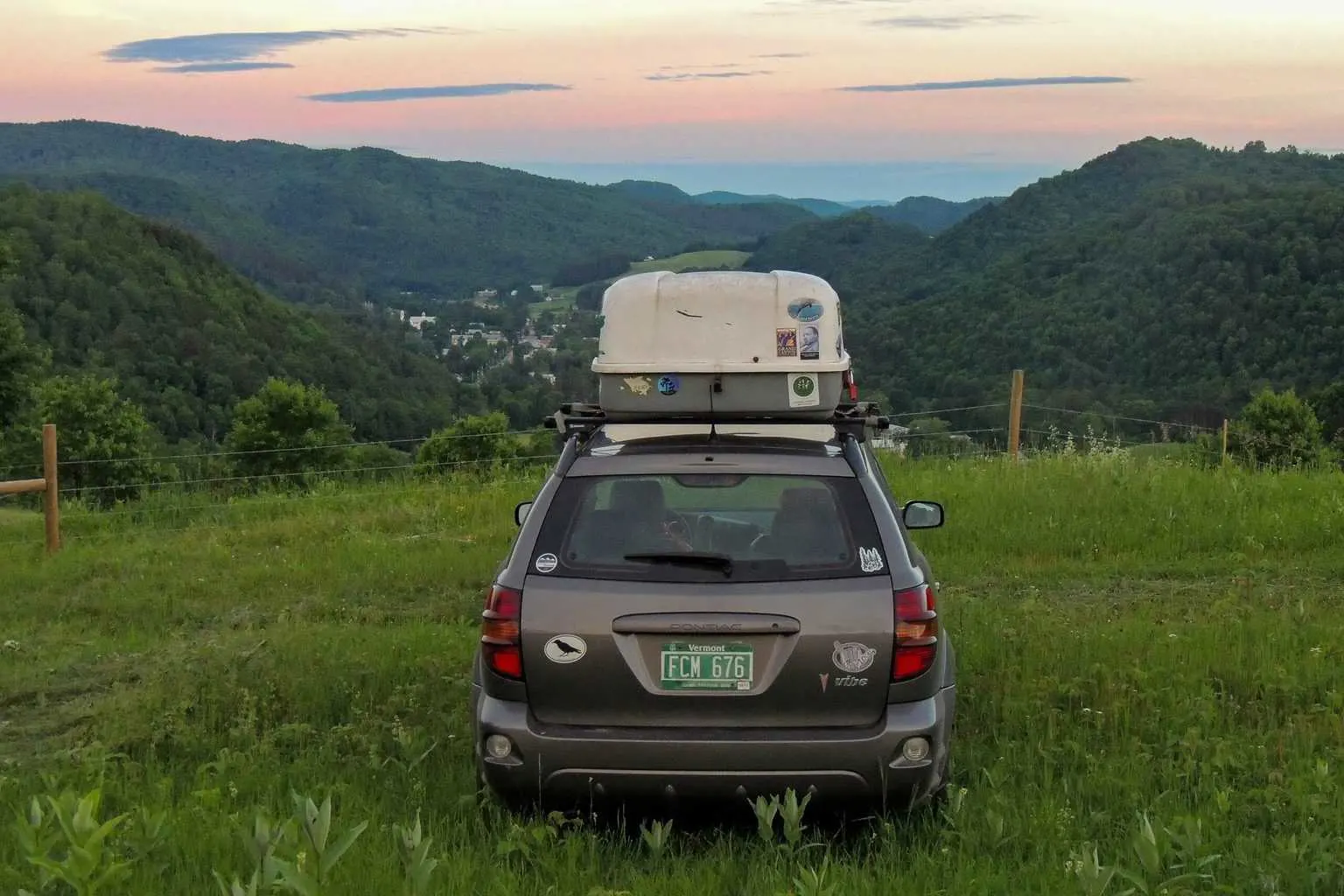 All your hard work has paid off and now it's time to hit the open road. Here are a few more tips to help you save money and enjoy every minute of your road trip.
---
Follow us on social media!
Pin for Later?