Please check to make sure destinations are open to visitors before planning a trip and follow local guidelines. We earn a commission from affiliate links that may be included in this post.
Have you heard of The Dyrt? It's a camping website that allows campers to search for campgrounds, read reviews, and look at photos of campgrounds to help them decide where they want to pitch their tent or park their RV.
As anyone who's tried to plan a camping trip knows, finding a great campground can be really frustrating. It may even be the least exciting part of the whole camping experience. The Dyrt website has been making the camping search process more fun since 2013.
The Dyrt was founded by Sarah Smith, who was " tired of trying to search for campgrounds on maps and online without ever knowing what the campground was actually going to look like. " Sarah built The Dyrt as a way for people to find a campsite and know exactly what they were getting—before going into the wild.
The Dyrt camping app launched in 2018, making it even easier to find the perfect campground from your mobile device. This year, The Dyrt camping app has gone PRO, with amazing new features, downloadable maps, and discounts on both campground reservations and amazing camping gear.
We have been using The Dyrt for several years and recently signed up for a free trial of The Dyrt PRO. While we love using The Dyrt to find camping, we wanted to be able to download maps and reviews so that we could discover cool spots even when we didn't have cell service or WiFi. Here's an overview of both The Dyrt and The Dyrt PRO, as well as what we're loving about the app so far.
Using The Dyrt Camping App to Find Camping Near You
The Dyrt is currently the fastest-growing camping app and website out there, with more user-generated reviews than any other platform. Their plan is simple: to conquer the wild behemoth that is the camping industry, without giving users a headache. The platform currently boasts more than one million photos, videos, and reviews, all submitted by The Dyrt's loyal camping community.
You can use the Dyrt website or camping app to create an account, and then you can get busy reading and leaving reviews, planning trips, and entering contests. If you are a dedicated phone user, you may want to use the app exclusively, but I love searching for campgrounds on my laptop and then solidifying my plans en-route using The Dyrt App.
Here's a quick overview of how to get started using The Dyrt camping app to find amazing campsites:
Download the free version of the app and create an account. You can add personalized photos and links to your relevant social media accounts and website if you have one.

When you're ready to search, type in the city, state, or region where you are looking for campgrounds, or simply click on "Near Me". You will then be able to browse campgrounds using the integrated map or list function.

Click on a campground that looks promising to read reviews, browse photos, and get a

summary of the campground's offering. It's that simple.
Benefits of Using The Dyrt PRO Camping App
The free version of The Dyrt camping app is super useful, but for an annual subscription fee of $35.99, you can take advantage of PRO features, including:
Offline access to their top-ranked camping search app
Downloadable maps for access offline
PRO gear discounts
PRO camping discounts at hundreds of campgrounds across the U.S.
To start using The Dyrt or The Dyrt PRO, create an account on The Dyrt website. You can start a free trial of The Dyrt PRO before deciding to purchase an annual subscription.
Using The Dyrt PRO to Find Camping Offline
As long as you know where you're going camping, you can download a map of your location on The Dyrt PRO before you leave home. Using offline maps, you can search for campgrounds, read reviews, and find phone numbers so that you can book your campsite without eating up all of the data on your phone.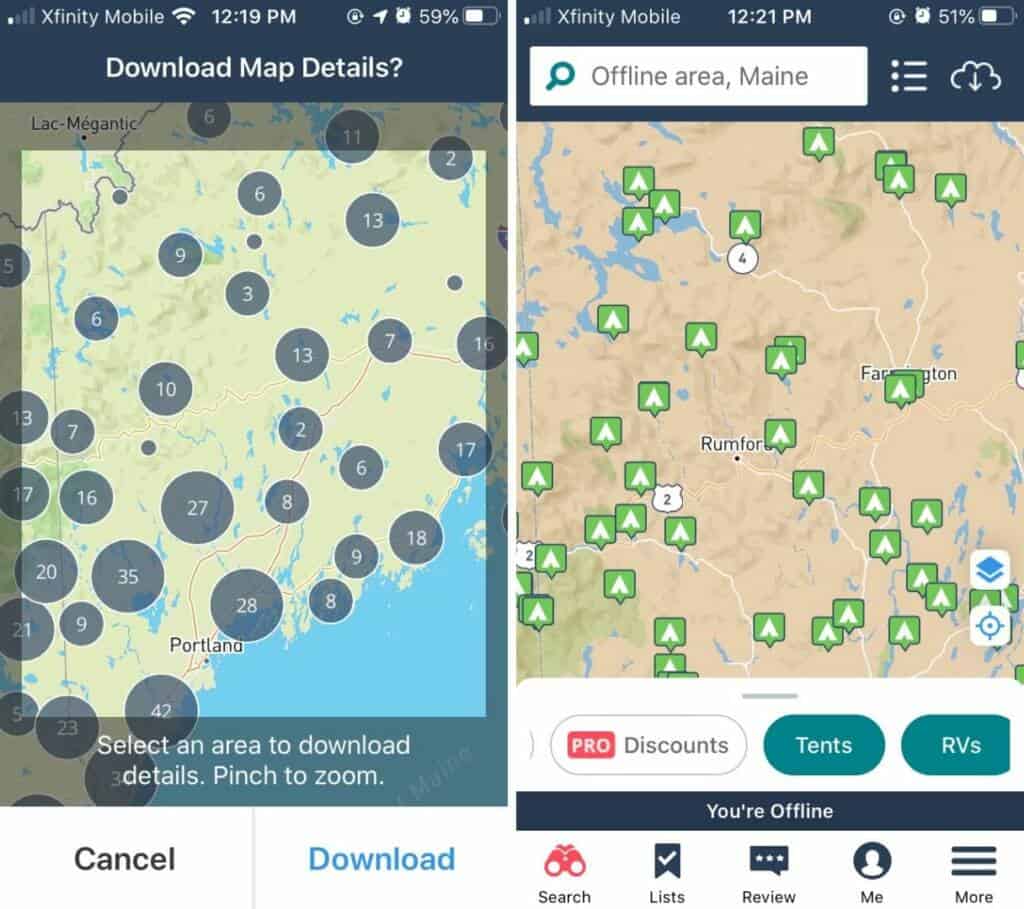 Here's how to use The Dyrt PRO to find camping when you don't have cell service or want to save on data usage:
Download, and open The Dyrt before leaving home. If you haven't already, be sure to subscribe to the PRO version of the app.
In the search bar at the top of the screen, type in the location you are traveling to. You can search for a whole state, a city, or a region.
Tap the download cloud, and when the new window opens up, tap on "+ New Offline Map."
Use your fingers to zoom in or out on the are you want to download, and then tap Download.
When you leave for your trip and want to access offline maps, simply tap the download cloud in the corner of your screen. All of your offline maps will appear so you can choose the one you want to use.
A thumbnail of your map will appear. Tap "View on Map" to open the map.
You can click on campgrounds to read a summary and reviews and access contact information.
If you scroll through the listing, you will see a "Get Directions" button above the contact info. If you have data available, you can tap this to open Apple or Google Maps with directions to the campground you've chosen.
When you return home, you can delete the map you've downloaded to save storage space. Tap on the download cloud, and "Delete Map."
Creating Lists using The Dyrt Camping App
I'm already a chronic list maker, so I love the List function on The Dyrt, which you can access in both the free and the PRO versions, as well as on the Dyrt website. When planning a camping trip, you can use the list function to compile promising campgrounds for your adventure.
To create a list, tap on the list icon on the bottom of the screen. Click on the "+" next to My Lists at the top of the screen, and give your list a name and description. Now whenever you find a must-visit campground, you can add it to your list, making it even easier to plan the best camping trip ever. If you need some list-making inspiration, The Dyrt highlights lists from the camping community in their online magazine.
Using The Dyrt Camping App to Leave Reviews and Win Prizes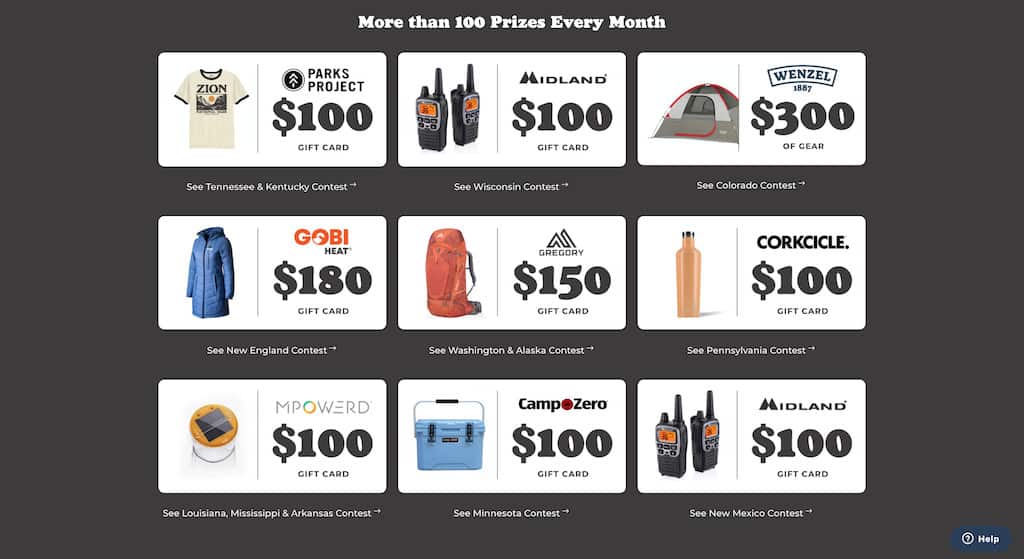 The Dyrt makes the campground review process fun by encouraging the community to compete with other users and win prizes in exchange for their campground reviews.
The contests are region-specific, allowing you to review campgrounds and win contests in ten different United States regions. You earn points for your review, as well as for photographs, videos, and for sharing your review on social media. You can track your progress on the camping leaderboard, which is reset every month. Prizes include gift certificates to cool outdoor brands like Gregory Packs, Tentstile, and Rumpl.
To get started reviewing campgrounds, simply visit The Dyrt website or open your app. Simply navigate to the campground you want to review and tap "Add Review." Not only is reviewing campgrounds simple and fun, but it is also extremely useful to the camping community!
Finding the Best Campgrounds Has Never Been Easier
A new member signs up every 50 seconds on The Dyrt, taking them one step closer to easily planning the perfect camping adventure. In fact, The Dyrt is currently the #1 ranked app for "camping" on both the Apple Store and Google Play Store. Ready to join a cool community of outdoor enthusiasts? Create your free account on The Dyrt website.
Pin for Later?