We like to eat.
A lot.
Although we don't do as much backpacking as we did when we were younger (and in better shape), when we do plan for a long-distance hike, getting our backpacking meals together is always the most time-consuming part of our journey.
For our most recent hiking trip, we decided to try something different — prepackaged backpacking meals for the entire journey.
We chose Trailtopia backpacking meals for this hike because they have lots of high-protein options for vegetarians. Plus, they sounded really yummy.
We ate Trailtopia meals for every breakfast and dinner, plus a few lunches and desserts during our four-day hike.
Some meals were better than others, but none were terrible. Keep in mind, that we are new to the world of prepackaged backpacking food, so we're basically comparing the Trailtopia meals to the ones that we usually prepare from scratch.
Here are our thoughts about Trailtopia's vegetarian backpacking meals, but first a brief overview.
About Trailtopia Backpacking Meals
Trailtopia is a family-run company that began in 2013 after the founder, Vince Robichaud, embarked on a backpacking trip in Idaho's Sawtooth Mountains.
He made his own food for the trip and was happy enough with the results to launch Trailtopia Adventure Food.
The company currently creates 16 dinner options, 4 lunch options (ramen), 9 breakfasts (oatmeal or eggs), and 9 desserts. Gluten-free, vegan, and vegetarian meals are available. All meals are created in a from-scratch kitchen in Rochester, Minnesota.
How Much do Trailtopia Meals Cost?
Single-serving dinners start at $6.99 and double-serving dinners start at $9.99. Oatmeal packs are a single serving and run for $2.99. Ramen noodles are $3.99 and serve one.
How Much do Trailtopia Meals Weigh?
Reducing our pack weight was a huge factor in our decision to choose prepackaged meals for our trip. Trailtopia meals are lightweight! The meals vary in weight from 2.1 ounces for a single serving of oatmeal to more than 7.8 for a two-serving dinner.
A few of the dinners are 5 ounces, so if weight is super important to you, check the weight on the product label before purchasing. We are not ultralight folks, so the difference between 5 and 7.8 ounces was not a huge deal for us.
What is the Protein Source for Trailtopia's Vegetarian Backpacking Meals?
All vegetarian meals are made with hemp seed protein. The hemp seeds look a bit like cooked quinoa, and to me, they didn't have a noticeable flavor.
Because getting enough protein is important when hiking long distances, I was happy to see that Trailtopia's vegetarian dinners averaged 16 grams per serving, which is on par with their meat offerings.
Breakfast oatmeal comes in with 6 grams of protein and the ramen averages 12 grams per serving.
Vegetarian Trailtopia Meals Reviewed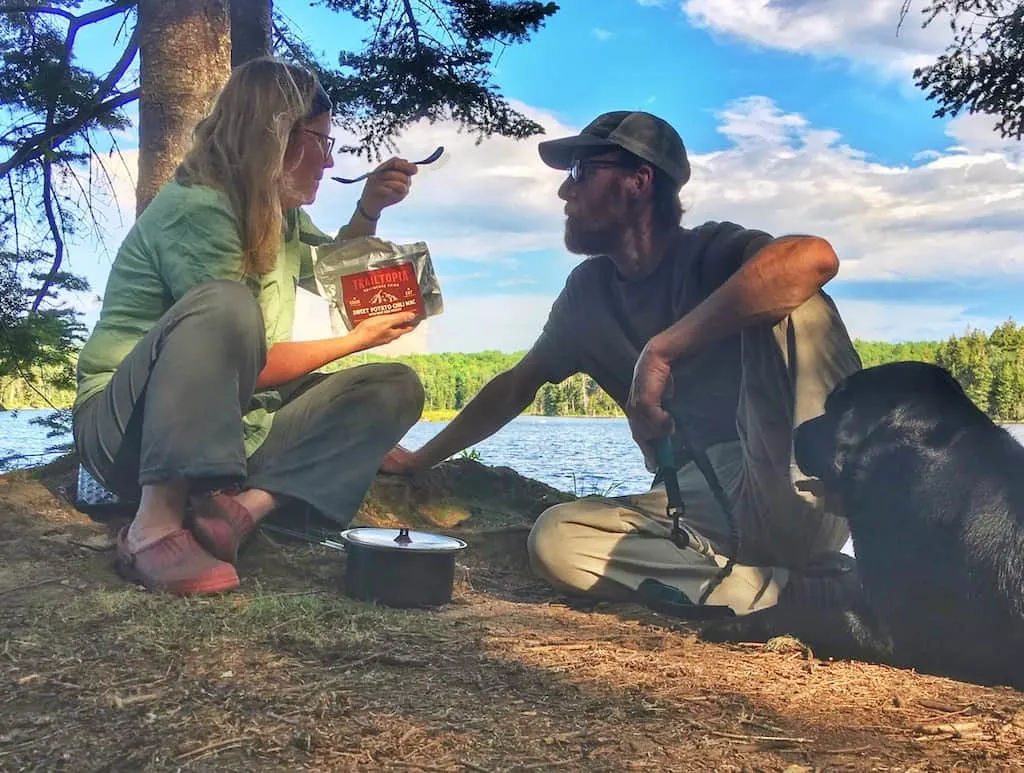 Now for the fun part. Here are the meals that we tried during our recent backpacking trip and what we thought about each one.
Trailtopia Dinners
Sweet Potato Chili Mac with Hemp Seed Protein – This was the first meal we tried, and we made some mistakes during the process. We didn't accurately measure the water or stir it as much as we should have. The taste was okay, but nothing to write home about. There were dry patches at the bottom that didn't rehydrate (our fault).
Pesto Pasta with Hemp Seed Protein – Made with rotini, hemp seeds, and pesto, this had a really nice flavor. Would definitely purchase it again.
Garden Vegetable Pasta – Our favorite of the bunch. I think we loved this one so much because it was chock-full of veggies. The freeze-dried vegetables have a much nicer flavor than we are used to. Broccoli, peppers, spinach, mushrooms, zucchini, and onions in a tomato sauce. I imagine this will be our go-to camping meal for quite a while.
Trailtopia Lunch
Ramen Noodles Curry – Okay. I like the curry flavor, but I think it could be ramped up a bit. I prefer not to cook lunch and don't think this would be enough for dinner, so we probably wouldn't go the ramen route again.
Trailtopia Breakfasts
Apple Cinnamon Oatmeal – Tasty! I love the apple flavor, but it could use a bit more cinnamon and/or sweetener.
Brown Sugar Raisin Oatmeal – This reminds me of the instant oats in the packet I had as a kid. Nothing wrong with that, but I could get those little packets for way cheaper.
Trailtopia Desserts
I admit that we loved all the desserts we tried. It must be my sweet tooth coming out!
Chocolate Strawberry Cheesecake – Five stars. So yummy with awesome strawberry and cheesecake flavors and a nice crunch.
Rocky Road Pudding – Weird at first – the pudding should be cold, but after a few bites, we were seriously chowing down.
Apple Crisp – So delicious!
Triple Berry Crisp – So delicious!
Tips for Using Trailtopia Backpacking Meals on Your Next Trip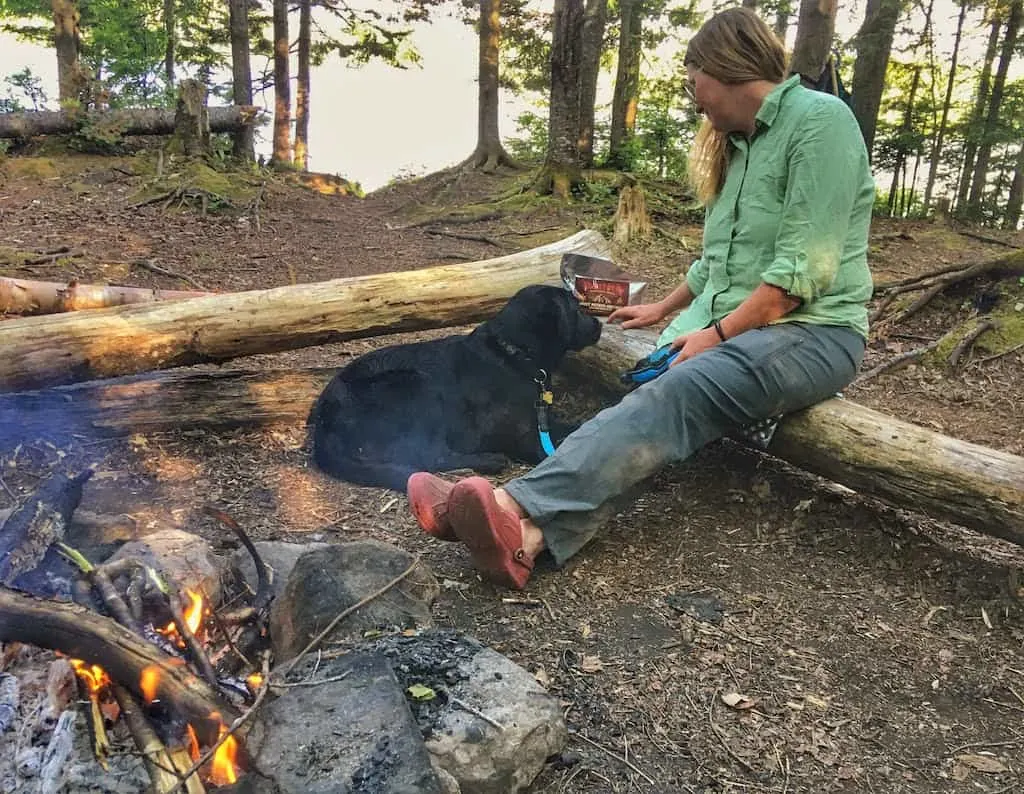 If you are thinking about trying Trailtopia dehydrated meals on your next backpacking trip, you might as well learn from our mistakes. Here are some tips for making the most of your Trailtopia meals.
Bring only what you need. I think the portions are pretty accurate, but we weren't sure when we were packing, and we brought extra just in case. No need! Unless you are really taxing your body with huge miles, the portions will be appropriate.
Measure the water! Yeah, we figured an estimate would be good enough. It's not. Too much water will dilute the flavor. Not enough will make your food dry and pasty. If you use Nalgene bottles, they have handy measuring lines on the outside of the bottle.
Let sit for longer than the package instructions. We found that letting our meals sit a few minutes longer than what was recommended on the package made for a softer and more flavorful meal. If it says 10 minutes, go for 12-13 just to be safe.
Stir and stir again. The last thing you want is a mouthful of dry, pasty food. Pour your water in and stir. Let sit for half the recommended time, and then open and stir again. Finally, when you are ready to eat, give it one last stir, making sure to really scrape the bottom of the bag.
Bring a few extras. Salt and pepper definitely. I'd also bring some tortillas to scoop up the juices at the end.
What We Loved About Trailtopia Meals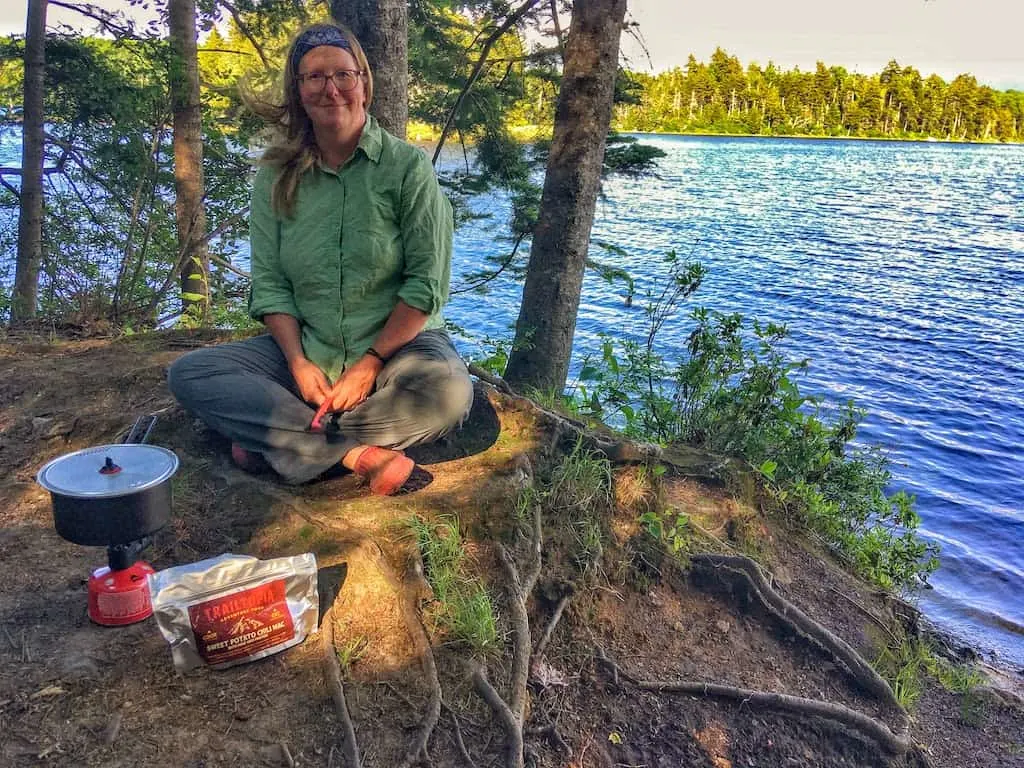 Trailtopia meals are convenient. This is our #1 reason for using prepared meals when hiking. It saved us so much time! Also, the package labels are color-coded so you can easily find what you need in your pack – light yellow is breakfast, dark blue is lunch, brown is dinner, and orange is dessert.
High-protein vegetarian options. As a vegetarian, I really appreciate the selection of meals. I hope Trailtopia will create more vegetarian recipes.
No dishes! On our recent backpacking trip, we brought a pot to boil water and two sporks. We cleaned our sporks with duff and rinsed, which was so awesome. This alone makes Trailtopia meals so worth it.
The dinners are super tasty. Backpacking meals don't have to be gourmet, but we do appreciate some flavor. The dinners were awesome. The desserts were better. We chalk this up to the abundance of freeze-dried fruits and vegetables.
What We Didn't Love About Trailtopia Meals
They aren't cheap. Of course, they aren't. The meals are created from scratch with high-quality ingredients. Still, the cost is significant, and making our own meals is definitely cheaper.
Extra trash. It's a trade-off. We didn't have to do dishes, but we did end up with significantly more trash that we had to pack out.
Not a huge fan of the breakfasts. I mean the oatmeal was good, but it's oatmeal. We can definitely make oatmeal ourselves that tastes as good and is much cheaper.
Will We Use Trailtopia Meals on Our Next Trip?
Our favorite Trailtopia meals by far were the Garden Vegetable Pasta and the desserts, but we would eat any of the dinners we tried again.
Next time, we will probably do a combination of Trailtopia meals and our own stuff.
The dinners offer the most convenience. After hiking all day, I love being able to quickly rehydrate my calories and not clean up. We will likely make our own breakfasts to save money and reduce trash. And we prefer our lunches to be cold anyway.
All-in-all, we really appreciated how fresh and flavorful the vegetarian meals from Trailtopia were.
We're not total converts to prepackaged meals, but we're definitely swinging in that direction. You can buy Trailtopia Adventure Food on their website and from many online retailers including Moosejaw, which has a great selection of Trailtopia meals.
---
Want to read more about our camp meals and food prep? Check out these posts!
---
Follow us on social media for more outdoor inspiration!
Pin for Later?